ActiveCampaign is by far one of the best AI CRM software that I've used. And specifically, if you want to automate as much of your business as possible.
Over the years I've been using HubSpot in my agency which I have to say is one of the other best CRM systems out there.
HubSpot has a ton of features that many CRM software don't have like ticketing, chatbots, ad campaign integration, social media, and more.
But one thing with HubSpot is that if you want to put any real level of automation into your CRM then you need to spend around $800 per month to upgrade to their professional pricing plan.
On the other hand, with ActiveCampaign you can achieve nearly all of that with one of their base tiers at just $49 per month.
Say today, I'm going to show you the automation that I have set up within my own ActiveCampaign account as I recently went through setting this for my business.
Firstly, I'll show you how I handle new leads coming into the system. Then I'm going to show you how I handle new customers signing up. And then lastly, I'm also going to show you how I do some of the admin for these new clients, like creating packages and setting invoices – 100% automatically.
And if you haven't already signed up for an ActiveCampaign account, then here you can start your ActiveCampaign 14-day free trial and work along with me.
ActiveCampaign CRM: Onboarding New Leads
So first what happens here is that I use Calendly to book all of my initial calls with clients.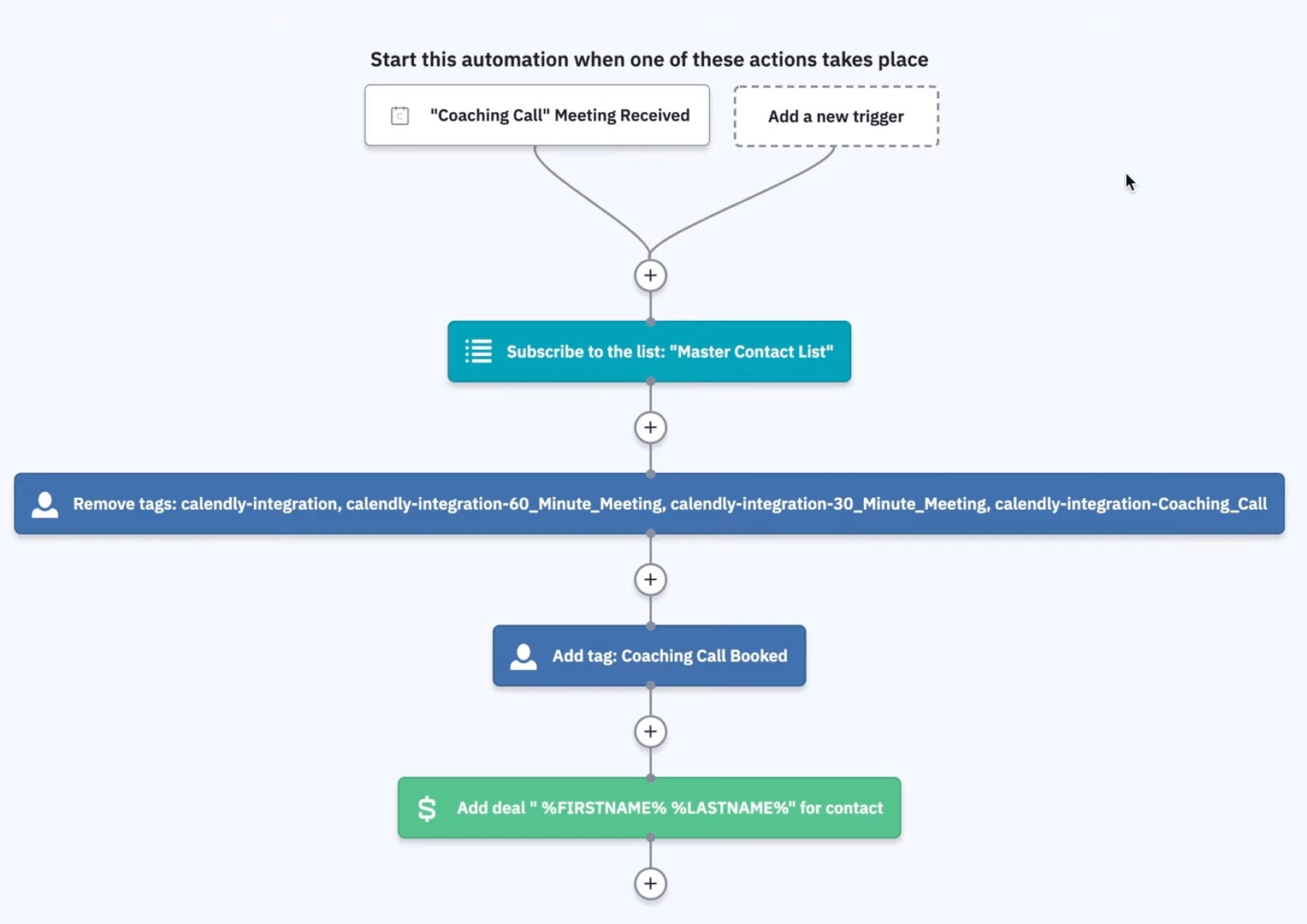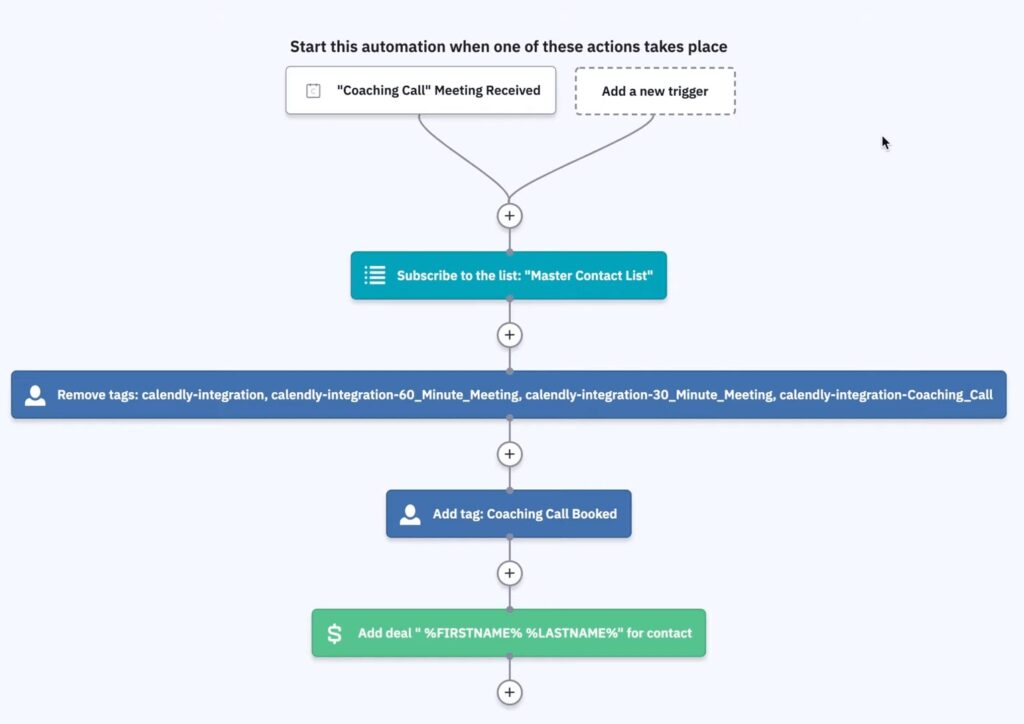 I'm actually triggering this lead when someone books a new phone call with me. And as you can see here in the meeting received a trigger at the top.
Next, I add them to my contact list so I can email them. Of course, make sure you are including all the relevant GDPR things so you're being legal.
Then I remove all of these Calendly tags because things got a little bit messy when I first set this up but you likely won't need these.
After that, I add a tag to them to say that I've booked a coaching call so I know that I've actually booked a coaching call with them.
And then finally I create a deal for that contact which is just basic top-level information that says who they are and when they've booked a phone call with me.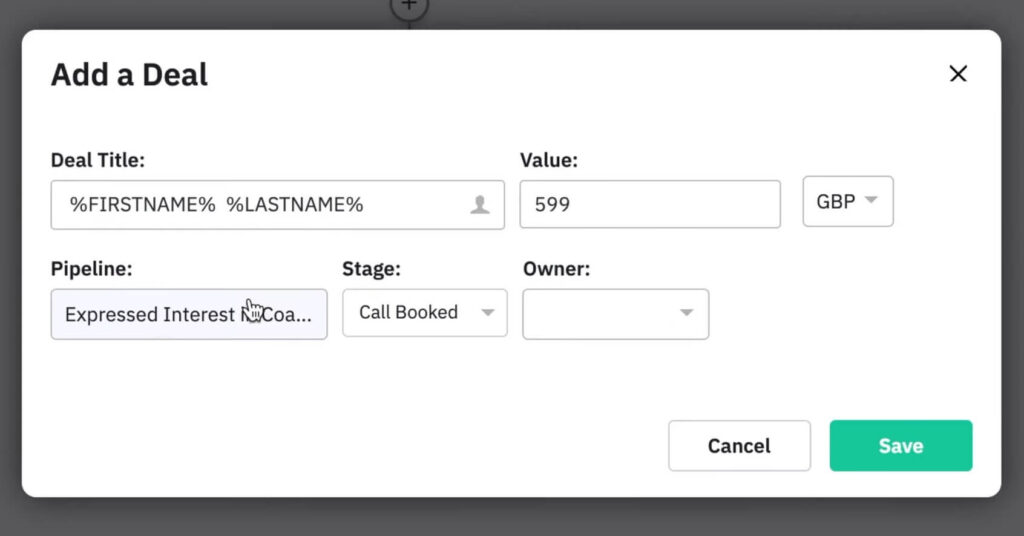 You can preset a value for each client and that is basically it.
All that happens next is that I wait for that phone call and after the call, I head into my deal section within ActiveCampaign and I move that deal card over to whichever category they fit in.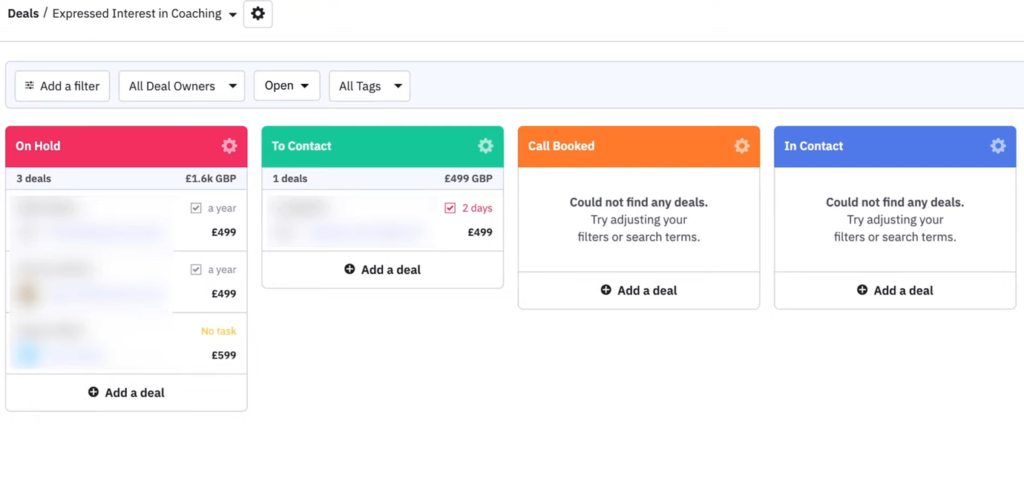 If it's someone who wants to proceed, maybe if they are not a right fit for me, or perhaps I just can't work with them yet.
And for those who do want to proceed, we head over to part two of this ActiveCampaign CRM automation system which is onboarding new customers.
ActiveCampaign CRM: New Customers
So to onboard new customers, first off much like the last one where I triggered this with someone booking a phone call, this time, I'm triggering this automation with a form.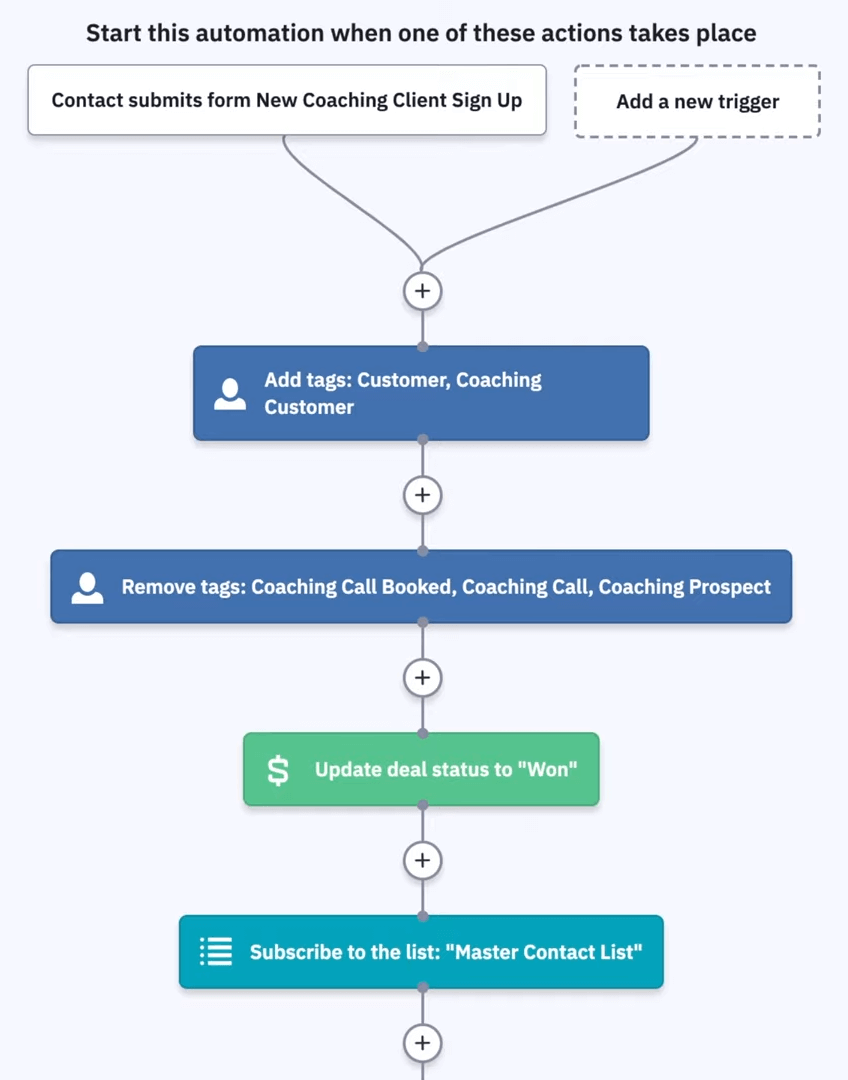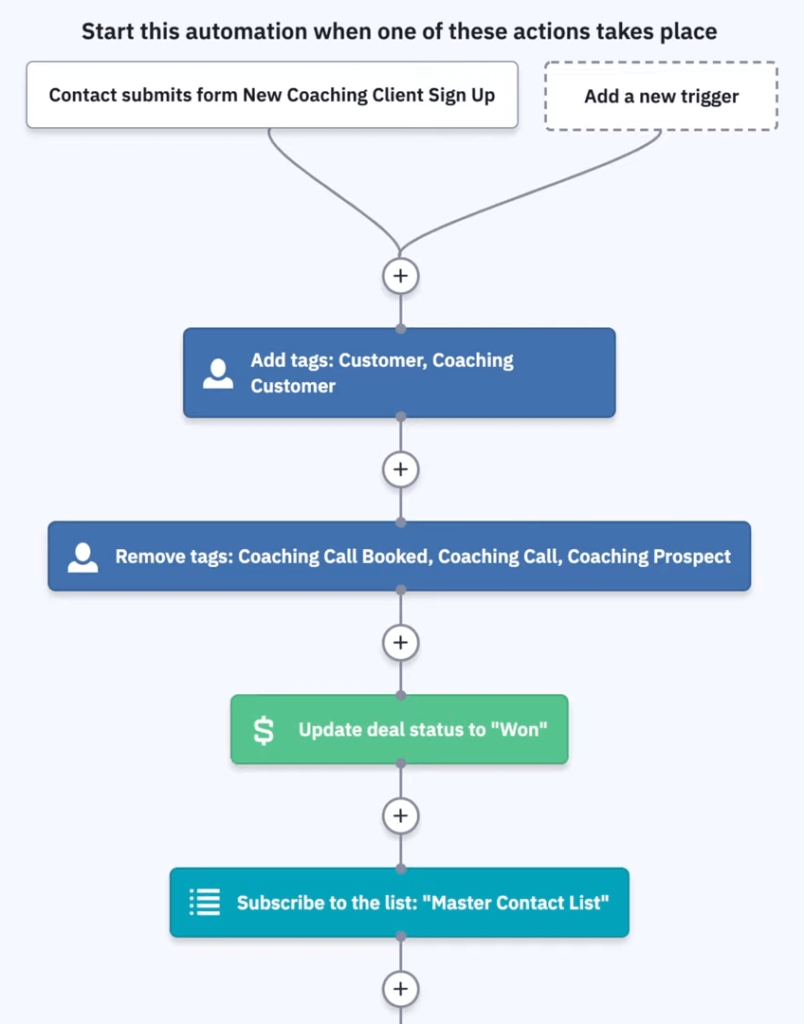 So when a customer asks where they sign up, I just simply send them a link to my onboarding form, which is just an ActiveCampaign form, and just ask for the basic info that I need to get started like:
Name
Email
Address
Billing information
And all of this information goes straight into ActiveCampaign, which I'll then use a few different ways.
But first, in the process, I add tags to that person marking them as both. And a coaching customer.
Then I remove the lead tags and also update the deal.
This then goes on to subscribing them to the "master contact list" and it also then subscribes them to a separate list called "coaching clients"
💡 Note
It's worth mentioning that with ActiveCampaign will tell you to stick with one master list and then use tags to segregate that if you do wait until the next section, you'll understand why I've had to do this and created a list specifically for these clients.
So next I send a notification email to a business that will then ask them to post out a welcome gift to my new client. It also then tags them with a tag that tells me they've received a welcome gift. Again, just in case I missed them out for whatever reason.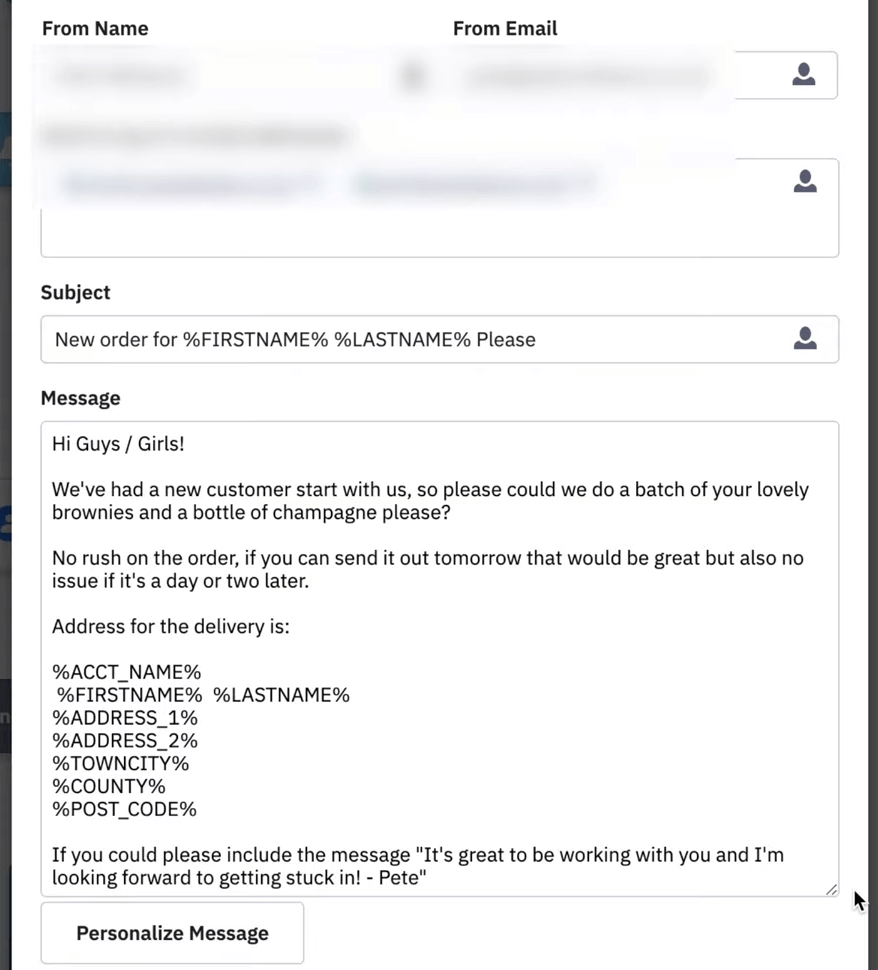 And let me remind you here that everything in ActiveCampaign CRM is 100% automated. I'm not having to lift a finger to send any of these emails, literally a customer signs up and a few days later, a welcome gift arrives on their doorstep.
In return., I get some lovely messages thanking me for the kind and thoughtful which is still a thoughtful gift, but this is completely automated.
Next, I go on to create the contacts in my Google contacts, and then I actually send that client my first email, which essentially links to a private Calendly booking where they can schedule their regular calls with me which are part of the service that I provide to my clients.
And then lastly, I tag them to remind me that direct debits need setting up for that client.
I then wait a maximum of 2 days and it's waiting for contact to be tagged that they had booked their coaching call. And if you remember that email I sent them was linking to the Calendly coaching call page then that's what triggers this thing.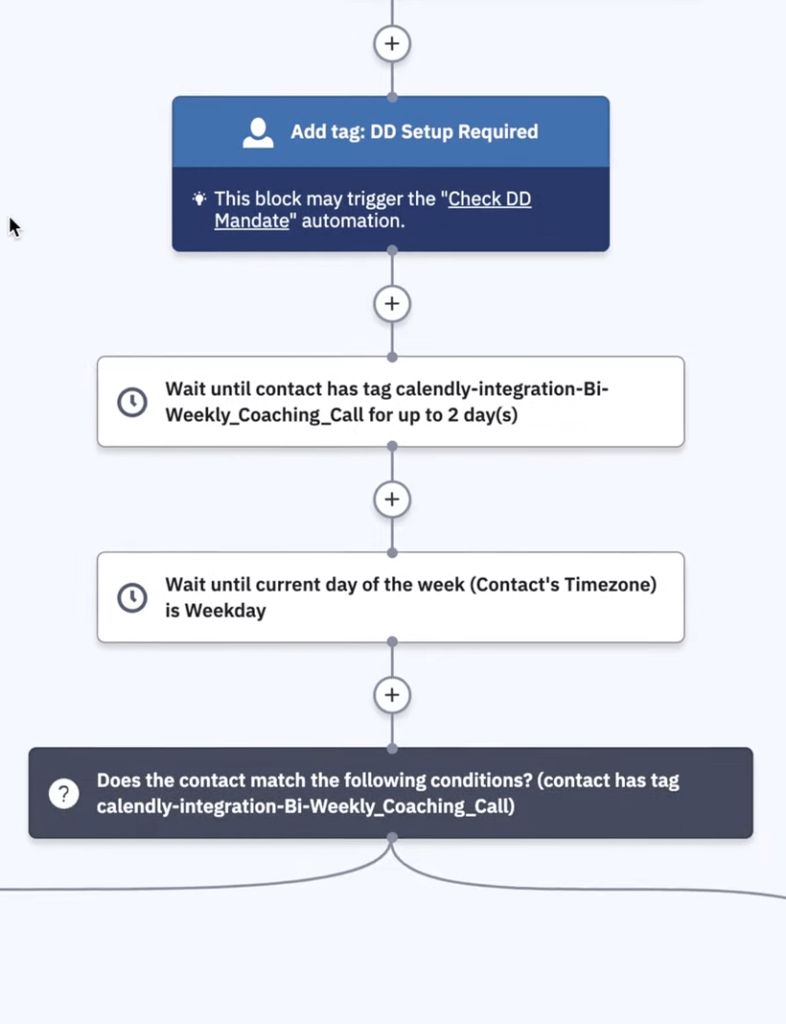 So if either the contact books are cool or it's two days later and they haven't booked, then it checks. Have you booked a call? Yes or no.
If yes, then remove all of the tags because I don't really care that they've booked a specific type of Calendly call because I've already tagged them as a coaching client and then end the automation.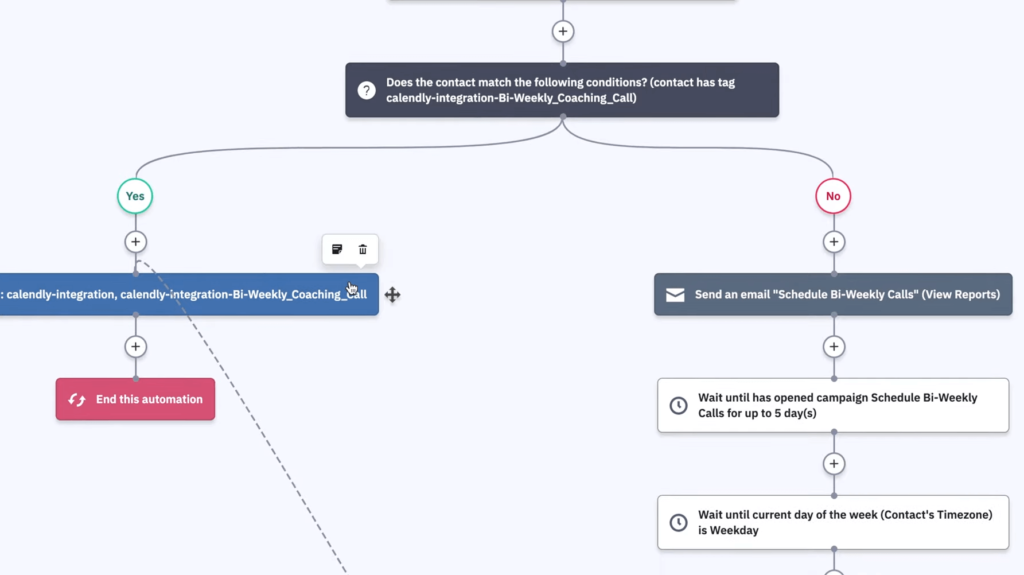 If not then it sends them a chaser email and waits up to a further 5 days and then checks again if this made them sign up for their calls, then it goes straight to the end of the automation again.
But finally, if they didn't book their call, I can send them a final reminder which then just ends the automation.
And thankfully I've never hit the end of this side of this automation. Otherwise, I might want to create some additional rules that for example, remove all the tags, or ask them for a refund.
ActiveCampaign CRM: Zapier & Xero Integration
The last step is that once a customer has signed up, I want them to add them to my accounting software and I want to automatically send them a direct debit mandate for them to collect their monthly payments using Xero.
Now, these steps I actually do within Zapier.
And for those who don't know what is Zapier, Zapier is basically a website where you can create rules similar to ActiveCampaign automations, and you can then set up things like if this happens, then do this.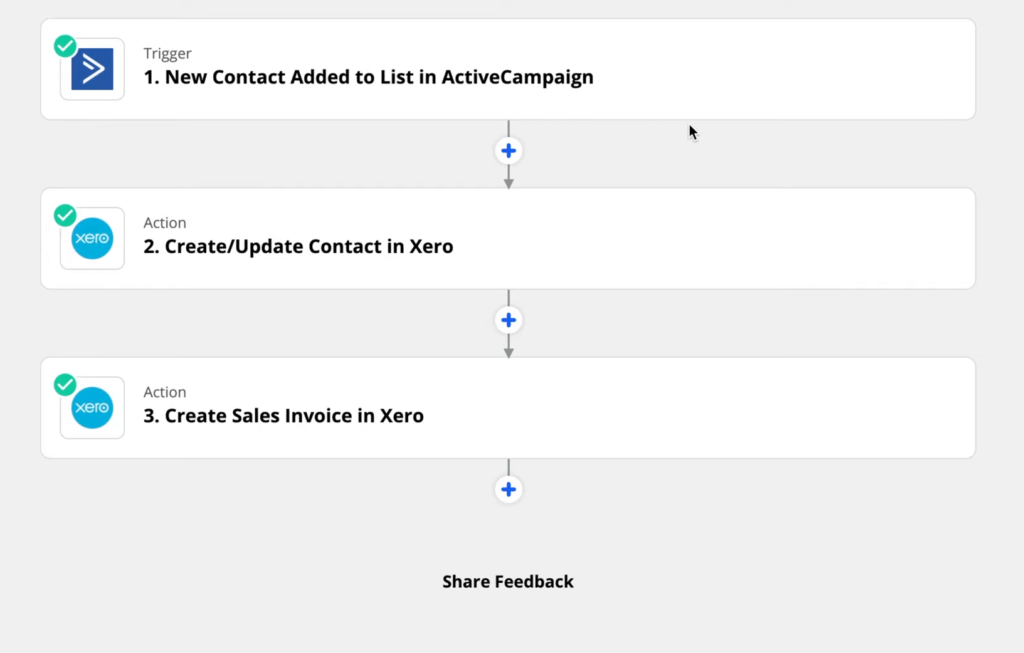 So over on my Zapier account, I have automation which is if a new contact is added to a specific list in ActiveCampaign CRM.
Do you remember from step 2 when did I mention that I had to create a separate list for my coaching clients?
Well, this is why, because I don't want all of my clients to automatically get signed up for this direct debit thing.
So when a new contact is added to a list in ActiveCampaign, I then create them in Xero using all of the same contact information from ActiveCampaign.
And then also in step 2, at the very beginning with that signup form, I asked them for the email address for invoices to go to – here is where I pulled that email address through and into my account system.
And then once I've created them in Xero, I also need to make sure that I generate a draft sales invoice which is kind of a bit of a hacky thing that means Xero and GoCardless, which is the direct debit system I'm using will ping over an email to my customer and ask them to sign up for the direct debit mandate.
Finally, back over to ActiveCampaign, I have this automation, which reminds me every couple of days to check if I have set up the direct debit.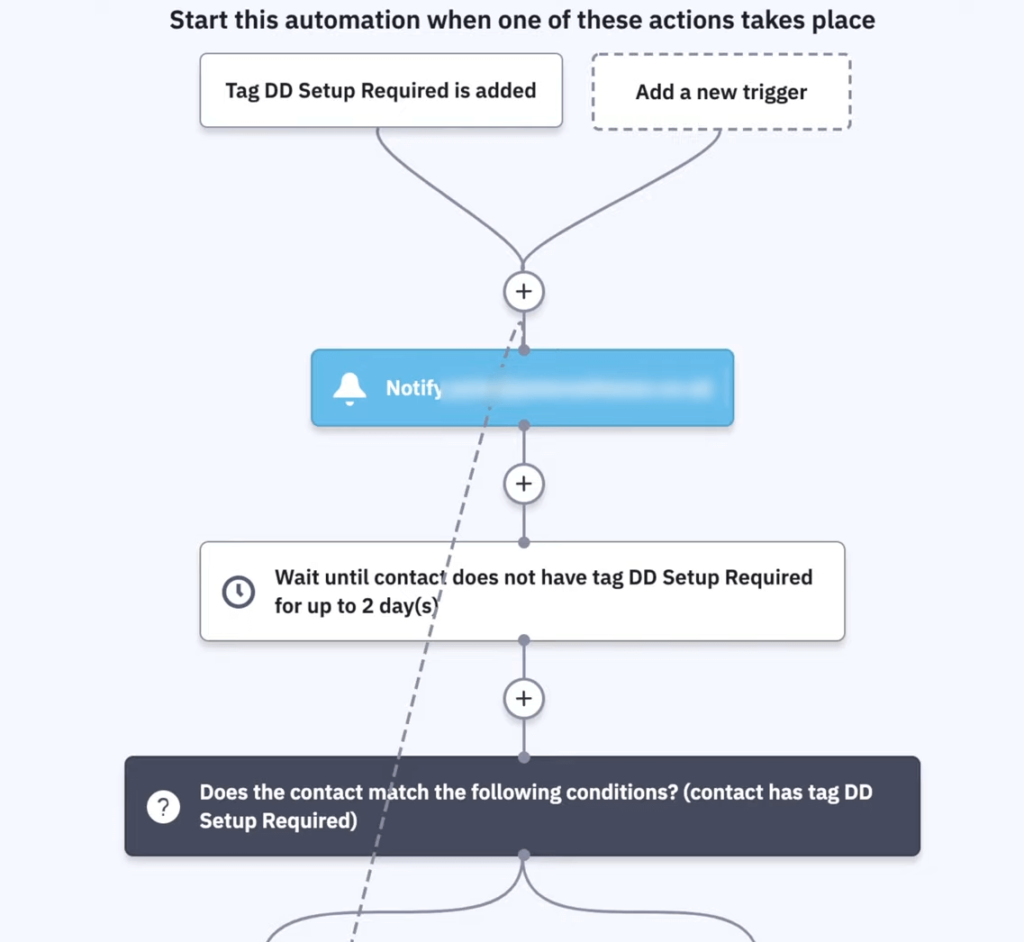 So if not, it reminds me every time if they have, then all I need to do is go into Xero and change that draft invoice into a proper invoice, then head over to ActiveCampaign and remove the DD setup required tag from their contacts.
ActiveCampaign Pricing
ActiveCampaign offers 4 pricing plans:
Lite – starting at $9/month
Plus – starting at $49/month
professional – starting at $149/month
Enterprise – starting at $259/month
The ActiveCampaign CRM is available in the Plus plan where you will get to all of the sales features like automation, lead scoring, mobile CRM app, task reporting, and more.
Keep in mind, that you can test the CRM on the ActiveCampaign 14-day free trial where you'll get a full demo and tutorial to get you started.
ActiveCampaign CRM Alternatives
Here are some of the ActiveCampaign alternatives in terms of CRM and marketing automation:
HubSpot
GoHighLevel
SugarCRM
Zoho
Close
Omnisend
If you run an enterprise company then the best ActiveCampaign alternative for you is OneHash which in addition to AI-powered CRM software provides an ERP system. I explain more in this OneHash review.
If you run a small business and you don't need advanced automation, then Streak CRM might be for you.
And if you want a complete all-in-one platform that includes even more features than ActiveCampaign like website and sales funnel builder, invoicing, reporting, white labeling, SMS marketing, phone calls, voicemail drops, and a very powerful CRM system, then GoHighLevel is for you.
ActiveCampaign CRM Review Wrapping Up
And that is how to use ActiveCampaign CRM to automate your business. Creating a customer signup journey that is magical for the customer because they get free gifts.
But also magical for your business who can pretty much completely automate the flow of new customers coming on board, meaning you have more time to spend delivering whatever product or service you have to those clients.
Once again, if you aren't already signed up for an ActiveCampaign account then sign up for your free ActiveCampaign where you can continue for as low as $9 per month.
But to get all of the ActiveCRM features which I've covered you'll need to subscribe to there plus here at $49 per month, which is still incredibly huge value for the amount of time you can save by using these automations.
I hope you enjoyed this ActiveCampaign CRM review and that it helps you create your own automation with this platform.