AdCreative AI is a simplistic AI advertising platform that will help you generate tons of ad creatives for your social media platforms or even pay-per-click campaigns based on your ad account data, and millions of data points from other advertisers.
And what makes this software really unique is they make use of machine learning so the more you use it, the better ad recommendations you're going to get.
Now I'm going to step by step how to use AdCreative to generate personalized ad creatives for you. And if you want to work along with me here you can get AdCreative 25% OFF any package for 12 months for this platform when you use FIRSTYEAR25 code in settings after signing up.
Let's get into it.
AdCreative Tutorial & How It Works
The first time you log into AdCreative.ai, you'll be prompted to enter your business name, logo, and pick your brand colors color palette.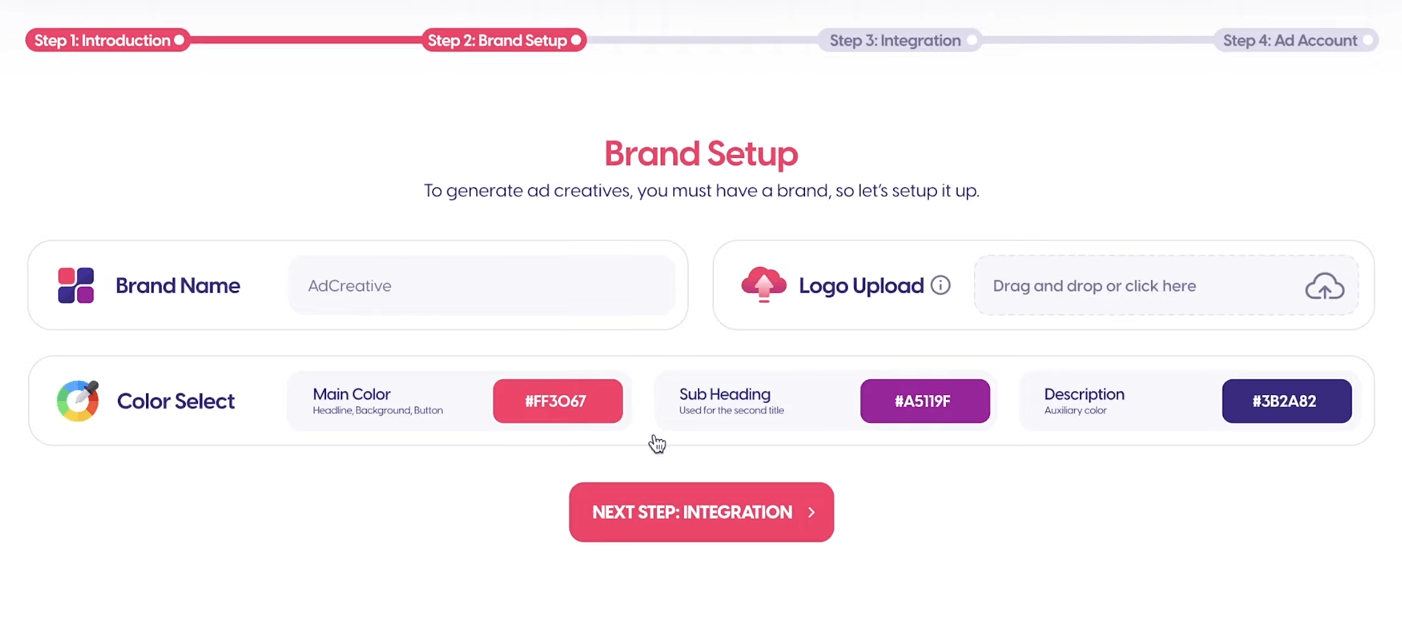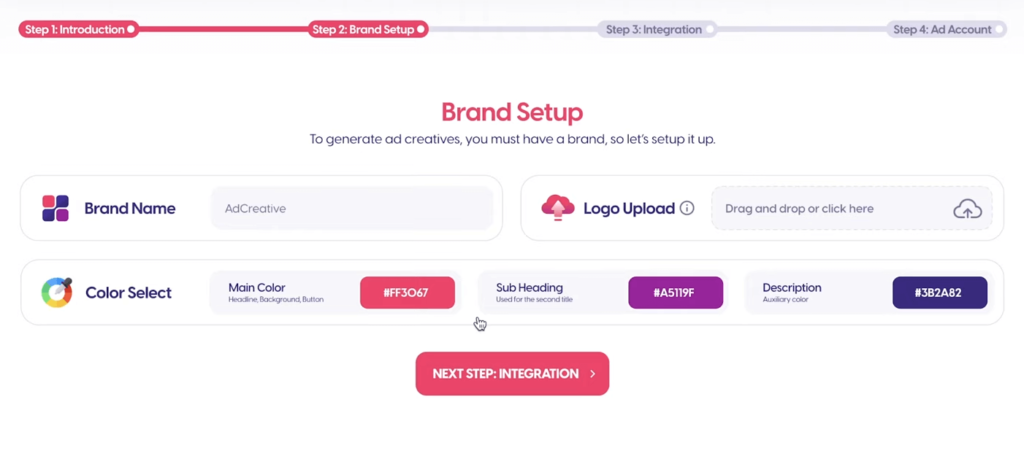 Once you do that, they pre-populate your fonts, and colors for you, which is a really nifty feature.
Then, you just have to connect your existing ad accounts.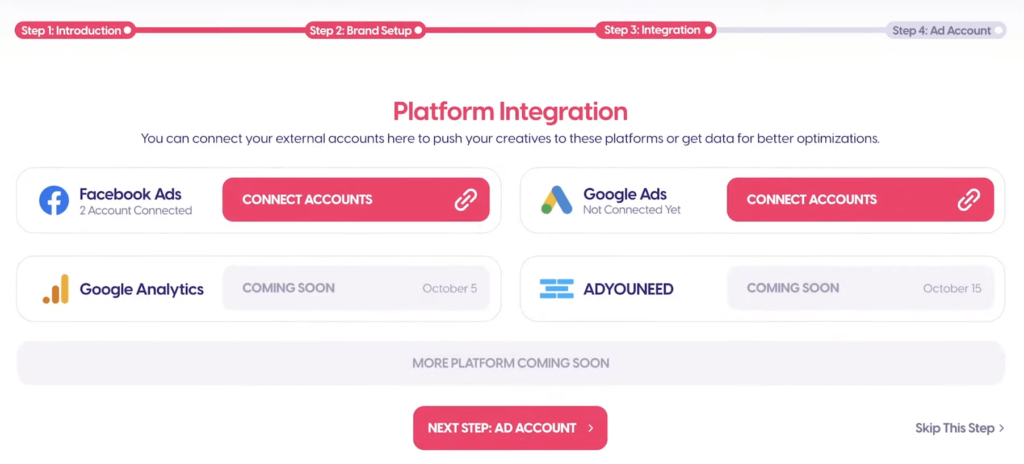 You can also connect your client accounts if you're a freelancer or digital marketing agency.
I personally combine AdCreative.ai with PromoNavi which is my favorite PPC automation software. You can read more about it in this Promo Navi review.
But if you're not ready to do it you can just click the "save brand" button and it will move on to the next step. 
In the Creative Format tab, you have a choice on the format size that you want to create your ad creative.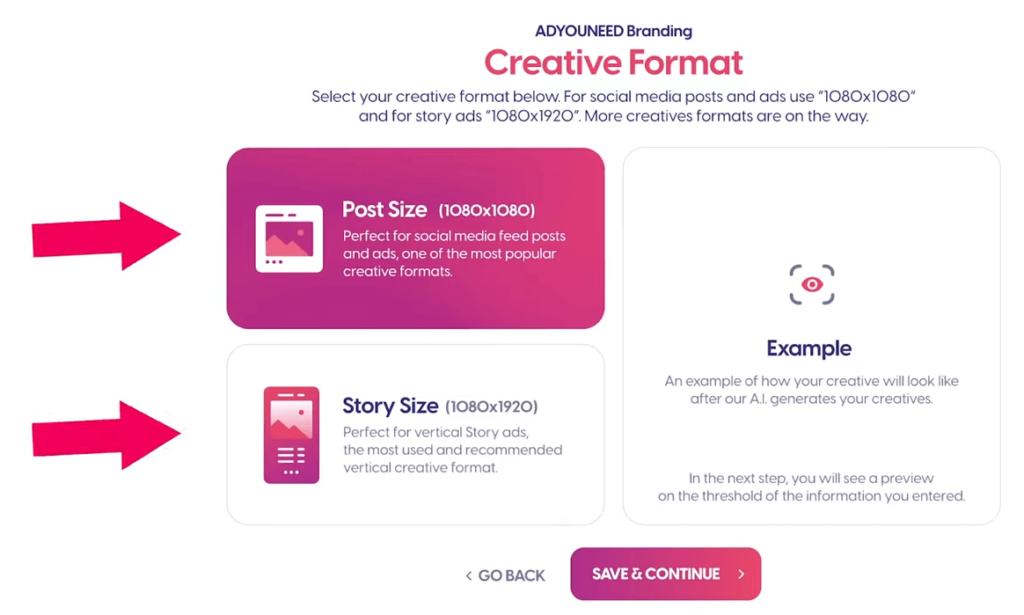 So you can do post size; 1080×1080 or story size; 1080×1920. I'll select post size and then save and continue.
Then we fill out what we want the ad to say including:
Main headline
Punchline
Description
Call to action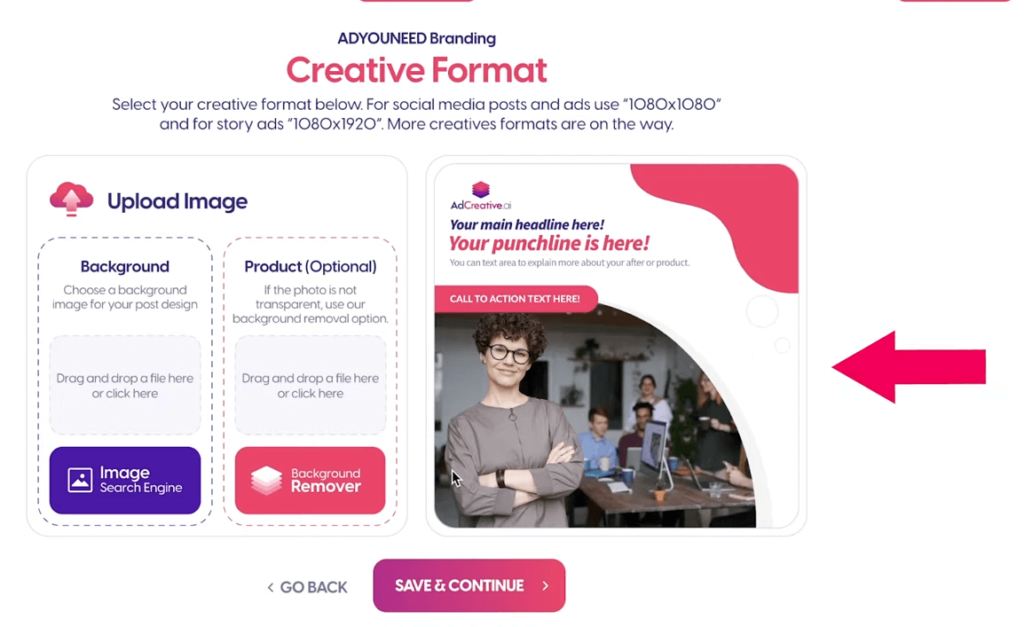 You can actually change the icon text to whatever you want and then you also can upload your own backgrounds or use a stock library to search for an image.
According to the founder and CEO, they have over 50 million images to choose from various sorts of platforms.
If you've got a product you can actually upload that product and if you've not yet removed the background you can click the "Background Remover" and it will do that for you.
Once you choose your image for your ad creative, you can click "Create a Post"
And here is what it generates for you.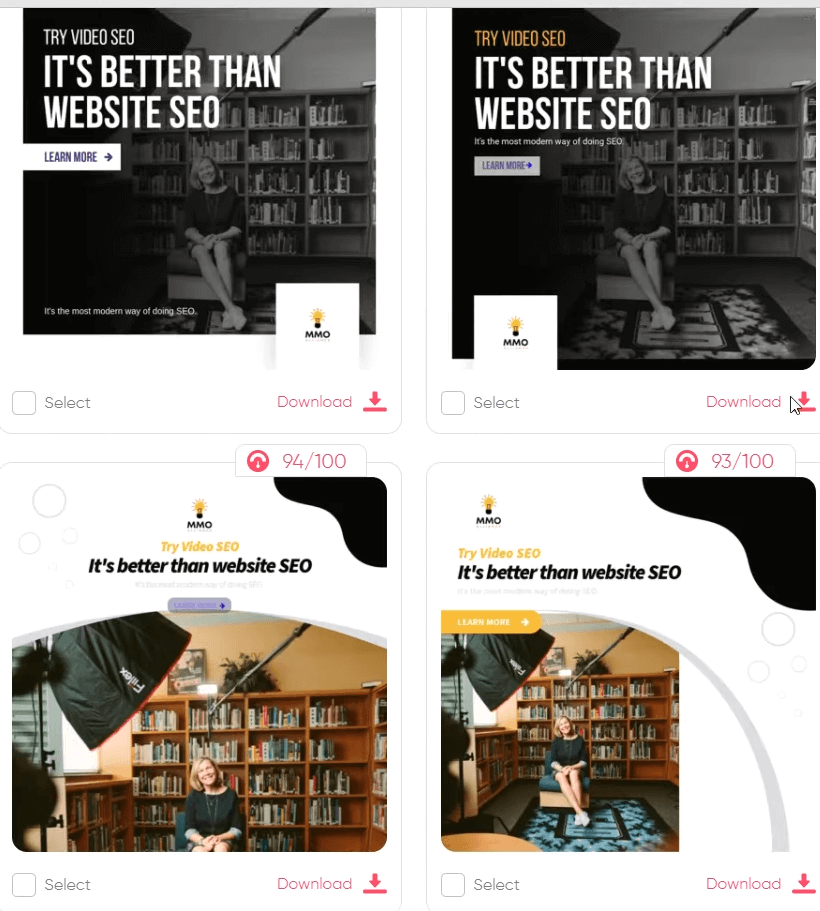 All of these really cool ads that we can download. And they're designed in all different ways, which is perfect for split testing.
So you can see a little score.
And if you click on that you can see that this is an AI recommendation and it will show you based on their raw data, which image will perform better than the other images based on the point system.
So it's using machine learning to analyze all of the images that it just created for you and then the more you use the software and actually data back to it on how your ad creatives performed, the software will start learning which ones actually are working well for you
And this is what makes AdCreative AI a very unique content creation tool.
Then, what you can do is you can change the font, you can render different sizes if you want to and you can bulk download them all.
Or you can push them to Facebook or Google so you can do it straight away.
When you click on post generation, this will take you straight to the generated creatives and that is basically what this software offers.
AdCreative AI Integrations
As of now, you can integrate AdCreative AI with only Facebook ads, and Google ads.
And soon they are going to be adding things like Zapier and once you connect to Zapier you can connect almost anything.
I would like to see the integration that's not just Google ads and Facebook ads, Microsoft Bing ads, Quora, Pinterest ads, Twitter ads, Linkedin ads, and other platforms.
So if they could integrate all those, that would be an all-in-one social media tool like in the case of Adzooma.
Hopefully, they have plans to do that in the future. It is in the early stages that's why you see the two main ones that everyone would expect to see as Google and Facebook.
AdCreative AI White Label
In the near future, AdCreative AI is going to be offering a white label area and this means that you can actually personalize the dashboard under your own brand.
AdCreative AI Pricing
AdCreative offers 4 pricing plans:
Starter – $29/month
Premium – $59/month
Ultimate – $149/month
Unlimited – $299/month
The starter plan gives you 100 credits and 1 credit equals 1 generated image.
AdCreative AI Review Final Words
So that's my AdCreative AI review. As you can see, it's just a really simple, easy tool to create ads.
And it does exactly what it says it's going to do. It uses artificial intelligence and machine learning to create some really awesome graphics for your branding for your business and do advertising. I would also consider using these as normal posts that you don't even have to use paid advertising
And as mentioned earlier, the more you use the software, the better ad recommendations you're going to get since they use machine learning.
The biggest reason for getting this is you have all your brand colors, you have your brand logo already so you don't have to add them manually.
What I'm looking forward to seeing is the Pinterest integration where you would be able to create your pins with completely different designs every time. So I can see where this software can go and how it's only going to get better and better.