Today, we will be doing a review of Adzooma which is an AI and machine learning based Google and Facebook ads platform that offers simple campaign management, optimization, and time-saving automation all in a single interface.
What is Adzooma?
Adzooma is designed to reduce daily PPC management and optimization tasks to just a few minutes in a day making it easy for all the marketers out there to manage multiple accounts.
With Adzooma, you can connect multiple accounts and optimize all campaigns from one platform.
With Adzooma you you can adjust the desktop, mobile, or tablet bits, increase or decrease the keyword bits, test new AdWords headlines, add a call extension, change the budget delivery method, and replay standard text ads.
So as you can see, it has some interesting features but is Adzooma any good? And how does it compare with other AI PPC management tools?
Well, this is exactly what we'll cover in this Adzooma review.
So that's a little bit about what I really like about this platform.
Now let's take a look at what is inside and how it works. If you want to work along with me, here you can start your Adzooma free plan.
Adzooma Dashboard & How To Get Started
Inside the Adzooma dashboard, you'll see your account performance including clicks. impressions, conversions. cost, and conversion value.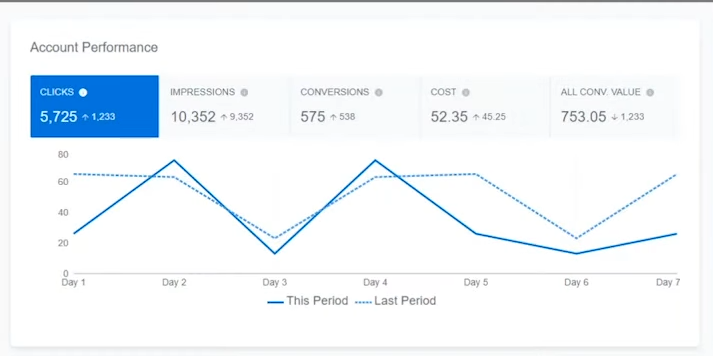 In the Adzooma dashboard, you can also see your top-performing campaigns so you have all of your data in one platform which makes your work so much easier.
Now let me show you how the platform works. I've linked already Adzooma to my Google AdWord account which you will be required to do so when you register an account with them.
Create Campaign
To create a campaign, first, you need to set up your daily budget, bit strategy and you can choose from options including:
Enhanced CPC
Manual CPC
Maximise clicks
Maximize conversions
Target CPA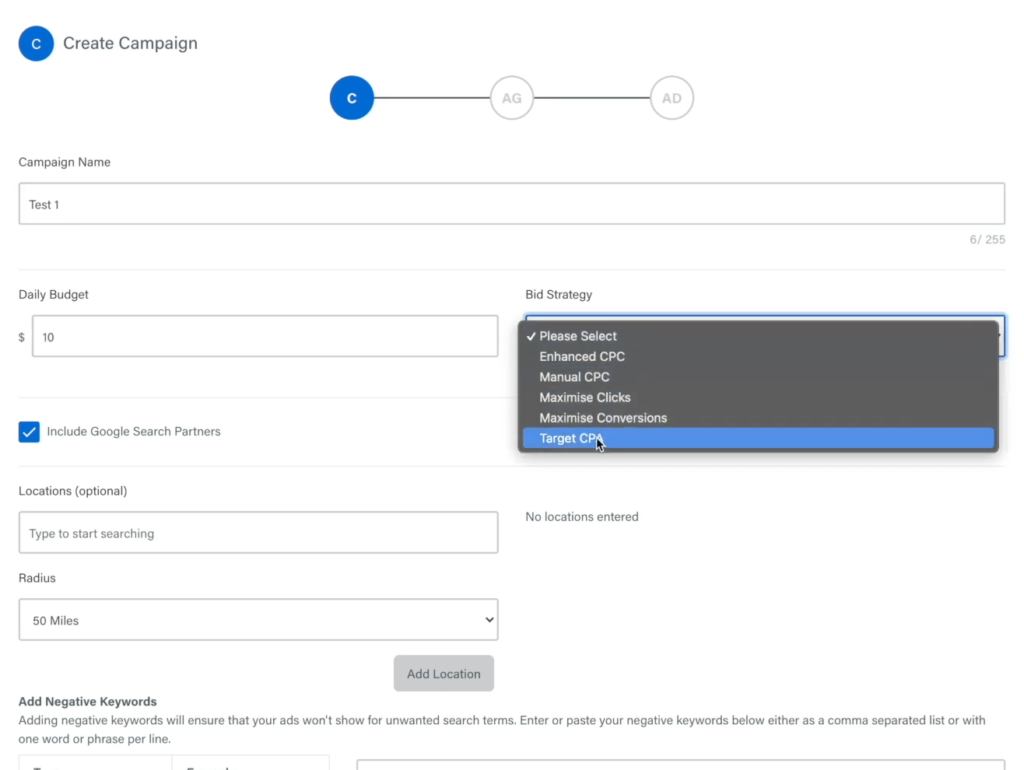 You can adjust budgets from single interface optimized performance across all campaigns and make changes in a few seconds while a simple one-page overview saves trawling through tons of data.
Next, you add your location, the radius, and also the negative keywords so there is a broad match, phrase match, exact match.
At the ad campaign level, you can add any keyword that you do not want to be targeted when the ad is running as well as negative keywords.
Create Ad Group
Then you can create 2 types of ad groups; either standard or match type.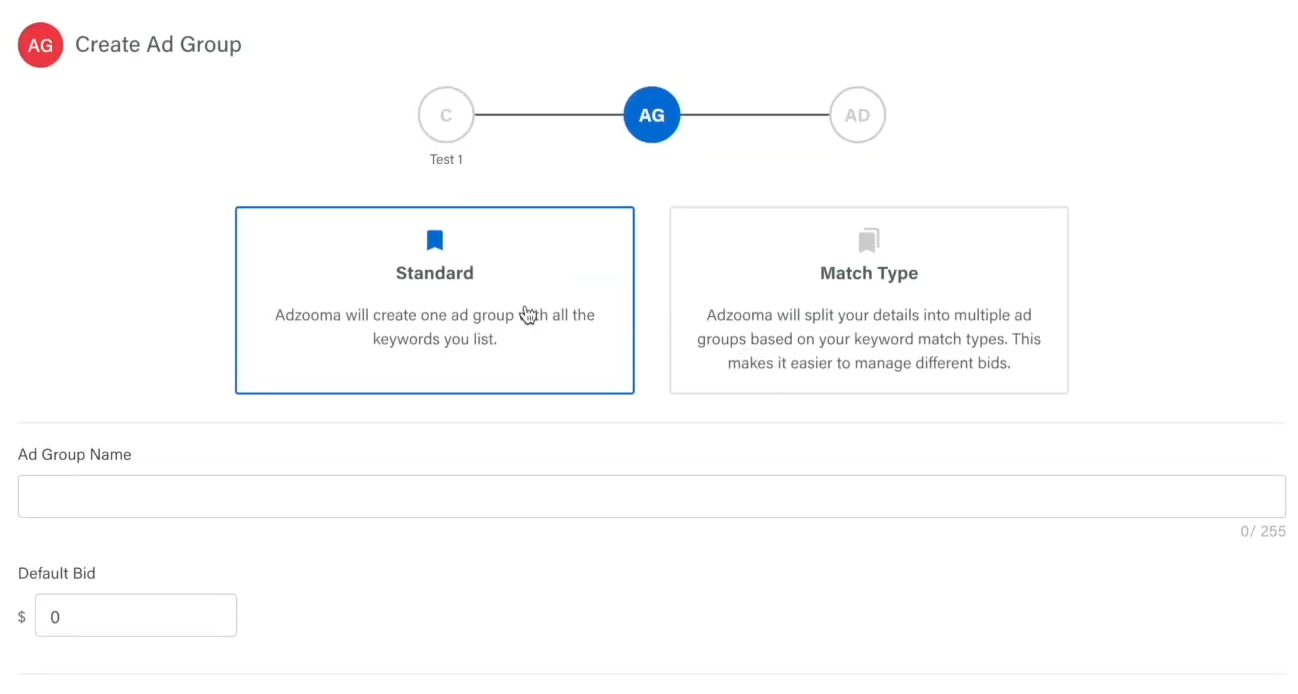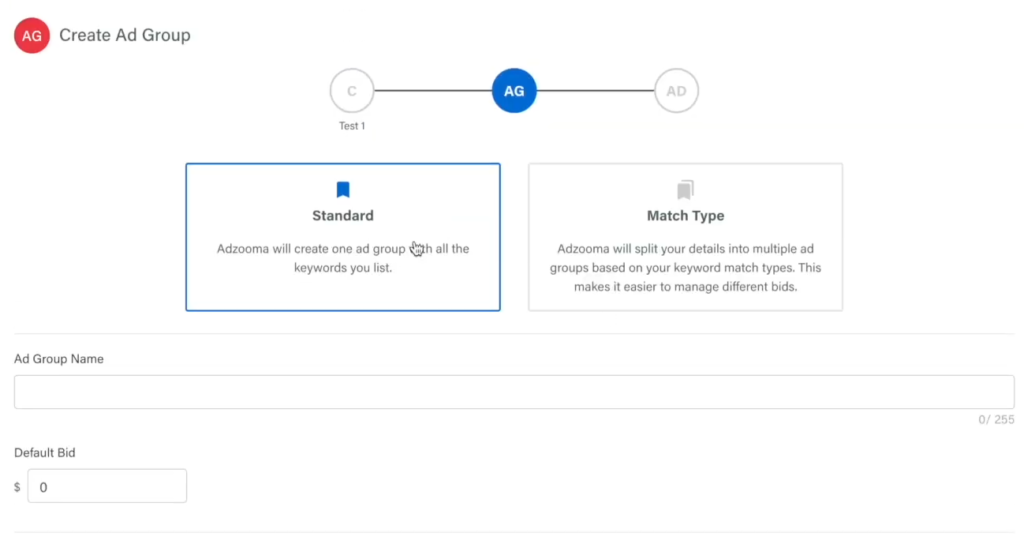 And again, at the ad group level, you can enter the keywords that you want to target for each ad and also enter the negative keywords so that it becomes more effective for your ad spending and you get a better return on investment.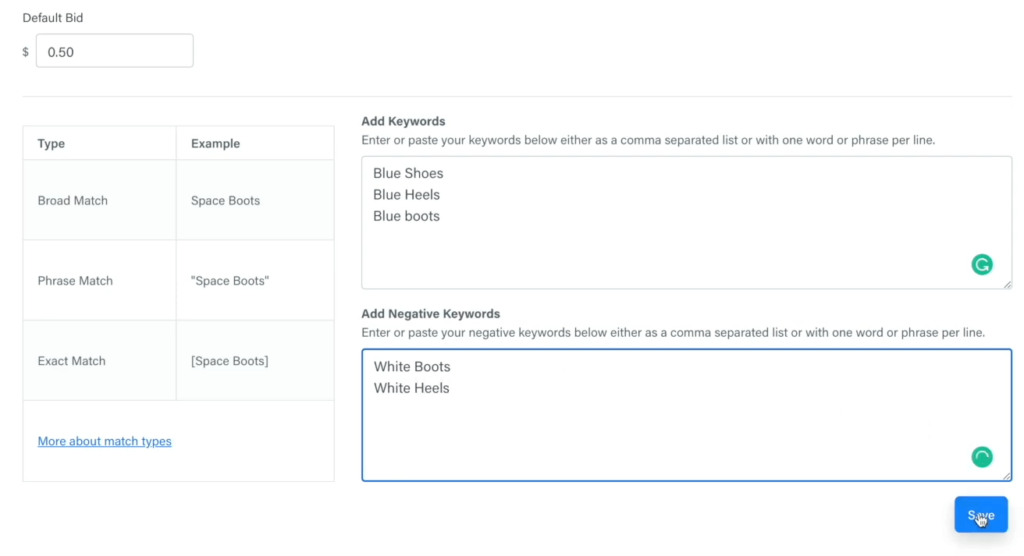 Create Adverts
So now we have the 2 types of advertising; we have expanded text ads or responsive search ads.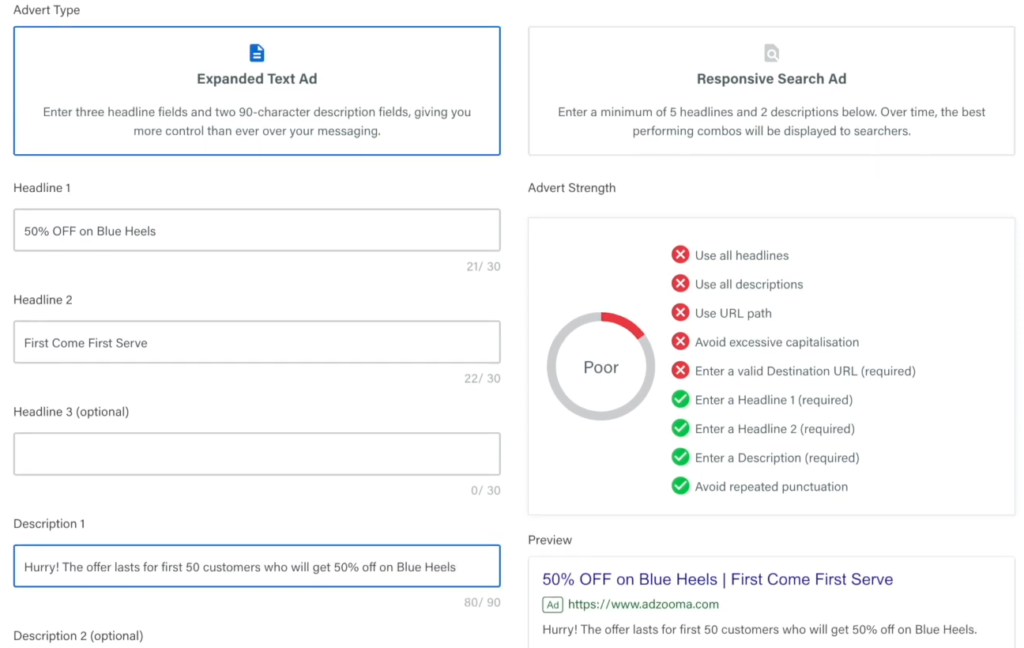 And on the right side you're going to see a preview so whatever you type, you can see what your ad will look like.
You can enter the second headline, description, and destination URL.
And we also have something called Adwords strength which is a really really cool feature that guides you about all the information that you should put normally in your ad to make it more effective.
It offers a much more efficient and faster way to identify and action opportunities for improvement. You can also quickly find proven optimizations for individual PPC campaigns, AdWords, and target settings.
So that's essentially a little example of me showing you how the Adzooma platform works.
The platform is quite easy to use however there are some missing important features like competitor analysis, keyword wrapper, and data segmentation that you can find in PromoNavi.
You can read more about this all-in-one advertising platform in this PromoNavi review.
Adzooma Reporting
Adzooma also has the option to access regular reports on what's working and what is not when it comes to online advertisement campaigns.
Normally reporting is one of the biggest time wasters for PPC managers and marketing managers and it's usually a long and complicated process that a lot of people don't like to do.
And that's why I really Adzooma's the custom reporting tool. You can select the data you want and how to present it in just a few minutes.
You get to choose from multiple pre-defined custom reports. You can add text, images, graphs, logos, and you can send your creation to a colleague or a client.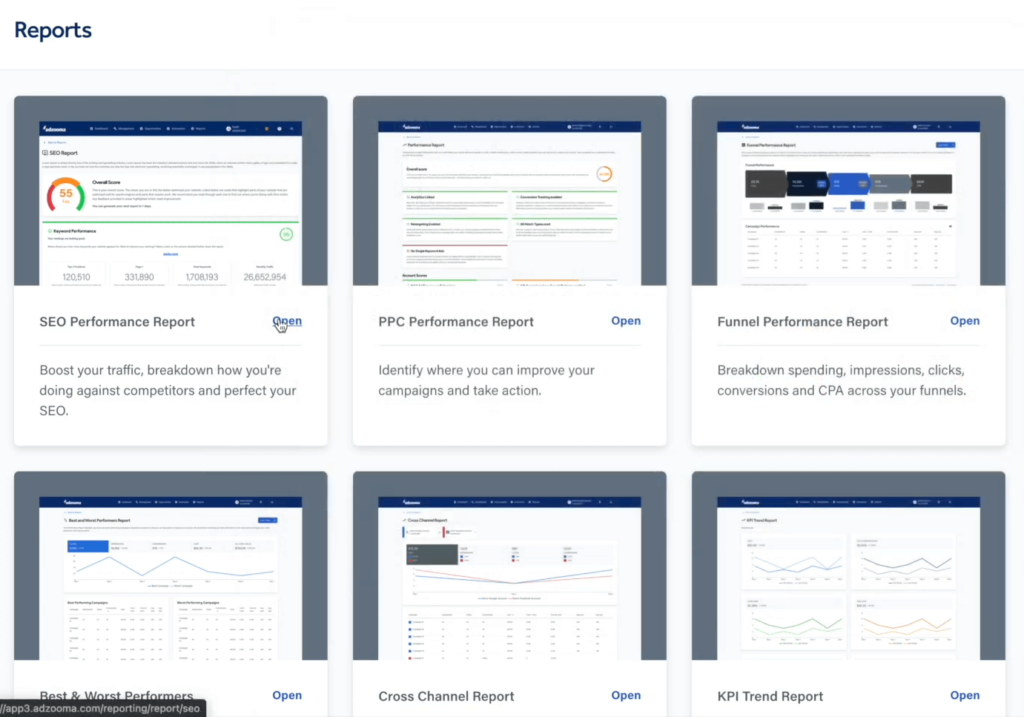 And you can run reports whenever you need them and they'll automatically update which is another great time-saving feature.
Adzooma Features
Automation Tools
Adzooma allows agencies to take on more clients by automating workflows and using AI-driven data to make quick decisions all while staying in form and in complete control of everything with instant notification.
Improvements Opportunities
The platform includes many features including scanning for 50+ improvement opportunities many of which can be actioned with a single click, tracking PPC performance, and also highlighting over and underspending to improve the user's quality score conversion and ROI.
Team Members
Adzooma also allows you to invite team members and assign their accounts to work on and use permissions to control what sees what is. Not very exciting if you work alone but the bigger your team the more useful would it be to use this platform.
Adzooma Pricing
Adzooma offers 2 pricing plans:
Essentials – $0/month
Plus – $69/month
The entire pricing is based on the combined monthly Google ads and Facebook ads spending.
There are no long-term contracts and also you could cancel any time you feel like this would not be something that would be perfect for your business.
And also one thing that I want to talk about is the reason why it's free because the company still needs to make money so you might be wondering why is this platform free then.
Well, there are no catches the platform is generally 100% free and there is nothing locked away behind a paywall and no hidden cost or contacts.
You get to add unlimited accounts, unlimited users and you can use all of the features to manage them for as long as you like.
It almost sounds too good to be true but the way they make money from the Adzooma marketplace which is a place where agencies and SaaS can list their product and services for a monthly fee.
Who is Adzooma For?
Adzooma is perfect for individuals, PPC managers, and agencies who want a simple and easy-to-use platform. To benefit from the PPC health check and the PPC optimization tool so far is integrated only with 3 major platforms so if you're using any other platform then this would not be the perfect match for you.
Adzooma Alternatives
Here are some of the Adzooma alternatives:
Adzooma Review Final Words
The good thing about Adzooma is the fact that it reduces the time that it takes to successfully manage multiple Google, Facebook, and Microsoft ad accounts. You can actually manage all of them in one platform, which makes your work so much easier.
The entire interface is kind of very seamless and very easy to understand. They do have a lot of tutorial videos, so if you're stuck at any point you can check out one of the videos and take a look at the platform and how it works.
Overall I would say that Adzooma is a great platform especially when you want to automate your ad management and make your process of managing your PPC in a much easier way and delegate tasks with your team members.
If you want to scale your agency, you need to hire more people which costs more time and money, and that's where Adzooma comes in and makes your life a lot easier.
If Adzooma replaces hiring a single person, then in my opinion, it's a fantastic value for money.
So that's my Adzooma review. I hope it will help you decide whether the platform is right for you or not.