Today, you'll learn everything you need to know about affiliate marketing for bloggers.
Affiliate marketing is one of the best ways to make money online because it doesn't require almost any financial investment to start.
So, are you dreaming to start working from home? Maybe you are a mom and you want to take care of your kids while having an online income stream, or maybe you're someone who just wants an extra hustle on a side?
If that's you, blogging affiliate marketing could be the best way to go as a beginner.
What is Affiliate Marketing?
Affiliate marketing is a process of earning an affiliate commission from marketing, another person's or another company's products. You are someone who introduces products and services to others using any online platforms that you have and when a sale is made, you will earn a commission.
It can be a great way to make online income even for beginners, because the entry requirements are very low. You don't have to think about creating your own product, you don't have to market it or hire customer support. All of this is done by the company that offers the affiliate program.
All you have to do is share the information about the products or services with your online audience.
Now you may ask, but how does it technically work?
How Affiliate Marketing Works?
You get a unique affiliate link from the company that sells the product. Whenever someone clicks on your affiliate link, a cookie will be dropped into their browser. If they decide to make the purchase, the company that you're affiliated with will know that the customer came from you and they will reward you for it.
How Much Affiliate Marketers Make?
Now how much money you can make as an affiliate marketer? According to PayScale, it's a website where you can find reliable salary market data; an average annual affiliate marketing income is about $51,700.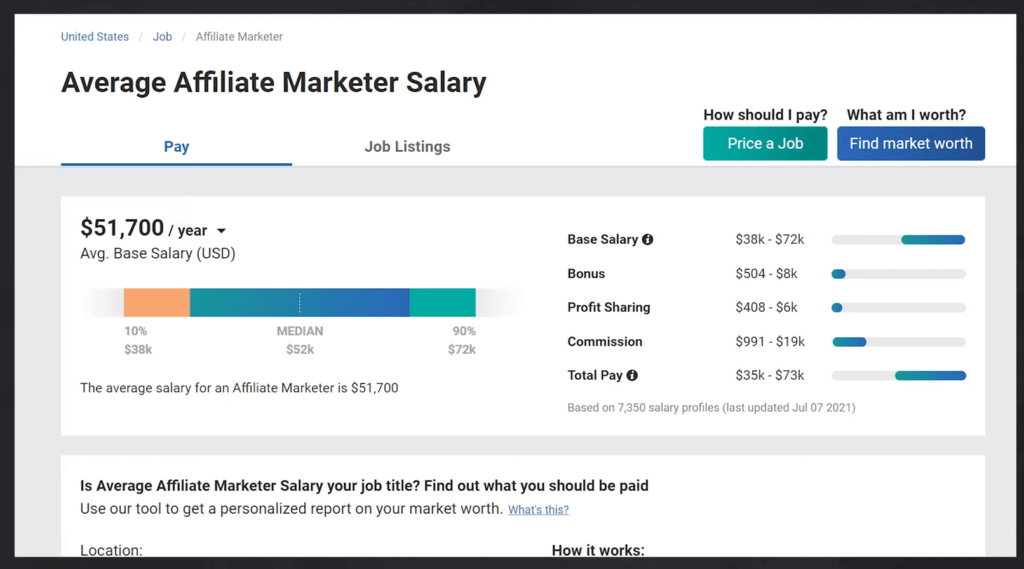 Those who are on the low-level affiliate markets, they can annually earn up to $37,000. But honestly, the sky is the limit when it comes to affiliate marketing.
For my blogging business, affiliate marketing is the first biggest income stream.
Affiliate Marketing Earnings
Usually, the biggest chunk of my affiliate income comes from the companies that offer products and services in the online marketing space.
This screenshot below is for Builderall; online business software that I promote on my blog where I make around $19,000 in recurring commissions.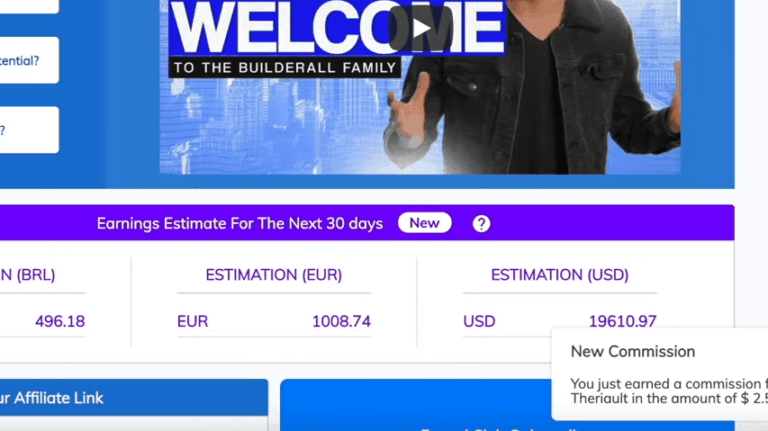 And remember that your income will highly depend on how much and how effectively you promote a product. The price of the product and the size of your commission also can affect your income.
When you work with online courses, the commissions usually are very high, anywhere around 30 or 40% commission. The products are usually priced at least in the hundreds of dollars, sometimes even a few thousand dollars per customer.
How Do Affiliate Marketers Get Paid?
Now an affiliate marketer can get paid in 2 ways.
Pay per Sale
This is the standard and the most common way of getting paid through affiliate marketing. You'll get paid a percentage of the sales price of the product that you're promoting. Expensive products or programs that have higher commission rate are more interesting in this model because you then can make more money.
Pay per Lead
Here, an affiliate marketer has to convince the customer to visit the company's or the merchant's website and complete some kind of action. It could be signing up for their free challenge, subscribing to their newsletter, filling out a form or anything like this.
Through this, companies will track every action done by the customer and you will get paid a fixed commission per lead. But I will be honest, in most of the affiliate programs, they typically will use pay per sale model. Pay per lead is less common, but I actually had an experience with one company that paid me for the same campaign, the both things.
They paid me per sale and also, they paid me a $2 commission for each lead. Meaning that I also got paid for anyone who just signed up for their email list and not necessarily even purchased the product that time around.
You might ask me, why would they want to pay me the $2 per lead if these users didn't purchase the product? Well, that's because those leads were people who showed some kind of interest in the product.
Something didn't work out. Maybe they didn't have the funds or the time to use the product when I made the promotion, but they will remain on their email list and so they can keep sending them emails later.
And definitely a certain percentage of those leads will eventually purchase the product. They can also work as affiliate marketers themselves, and they can send to those people, to those leads other offers at a later time.
You see, they paid me $2 per lead, and this is actually a pretty low-cost warm audience for them, because if they try to get the same people through Facebook ads for example, they would likely pay at least 7, 10, or sometimes even $30 per lead. Depends on the niche really.
Now, a few tips for you that will help you start making money with affiliate marketing.
1. Find Your Niche
First, find your niche. An affiliate marketer success highly depends on how convincing and persuasive they are in marketing a product. This means that before choosing a product or service to promote, you must have at least a bit of knowledge on what the product is and what category or niche it falls under.
Is it lifestyle, is it tech, travel, beauty?
And next, you should ask yourself, which of those niches you are interested in? You will not be able to successfully promote a beauty or let's say a skincare product if you do not know anything about the brand or you have no low-cost idea what the product is used for.
So, keep in mind that the product you will promote is something that you're genuinely interested in. Remember, you cannot fool everyone, especially people who already know something about the niche, about the topic, and they made some research before they found your information.
Read more: How to find a niche for affiliate marketing – 15 tips & ideas 
2. Find an Affiliate Product To Promote
Now, step number two is find great affiliate products to promote. Depending on your niche, you will promote different types of products.
Physical Products
If you are in home decor niche, you will likely create content that features multiple affiliate products per post and then you will give links to each product, let's say from Amazon associates or from reward style platform.
On Amazon, you would likely be looking at the products that have great reviews to make sure that people actually buy those products and don't just leave Amazon page immediately disappointed with your recommendation.
And when you search for products on reward style platform, for example, they have this high commission label on of the products, and they're usually from large and known stores like Walmart, Target, Home Depot and others.
So, this is the filter that you can use when you create content around the affiliate product.
But the issue with promoting physical products through Amazon, or maybe other networks, is that commissions are often very low; anywhere from just 1% commission, seriously, that applies to some products categories on Amazon and maybe about to 10% maximum.
So, it's really a huge commission, but because the products are in a lower price range, usually below $50 or below $100, it's relatively easy for consumers, just pick up their credit card and actually make the purchase right away, coming from your affiliate link.
Digital Products
When you promote digital products, for example, online courses, especially those courses that are in the higher price range, commissions are usually higher. I said already, anywhere between 30 and 40% commission, and plus the products usually cost at least several hundred dollars, sometimes thousands of dollars.
So, if you think it's easier to promote high ticket products or recurring affiliate programs, you might be quite wrong about it because it takes a lot more effort to promote them.
It's not enough to just drop a link from a blog post or two. You have to educate your audience for this product, build trust through your free content and do it consistently so that when you have something to share as an affiliate, they would know all about your values and they would see why you're recommending this product.
Read more: How To Find Affiliate Products in 2023: 13 Tips & Ideas
3. Sign Up for Affiliate Programs
Depending on your niche, you might need to work with some products directly. Like for example, in case of online courses or maybe big service companies, they will often have their own platforms for you to sign up.
Private Affiliate Programs
Private affiliate programs will handle the tracking, reporting and payments to the affiliates. The variety of private affiliate programs and brands that you can find on this affiliate networks could range from high end brands like Dior, Gucci or Indie brands and some individual e-commerce websites.
But in many other niches, looking for individual companies that offer affiliates partnerships can be very time consuming.
This is why affiliate networks exist.
Affiliate Networks
The main role of affiliate networks is to give you access from one place to different brands and companies that offer affiliate partnerships.
Some popular affiliate networks include:
AWIN
Amazon associates
CJ affiliates
Sharesale
ClickBank
Flexoffers
Rakuten
Digistore24
And there are many more, but I just mentioned the ones that I try to work with for different products.
And the possibilities and choices are endless when it comes to affiliate marketing.
Related articles:
4. Start an Affiliate Marketing Blog
Starting your own blog is probably one of the most effective ways to be successful in affiliate marketing.
First of all, it builds a bond and trust between you and your audience since you can share your opinions and reviews about the products that you're promoting.
Second, there is a chance that your blog or your blog post will rank organically in engines. And that means when people search about your product that you are promoting, there is a possibility that your blog post will appear high in search results.
And another benefit is that once your blog gets more successful, affiliate opportunities will eventually come to you. You do not have to search for them.
Companies always go to established online influencers to promote and review their products. What you just need to focus on is your writing skills and how persuasive you are when promoting this product.
When you are done writing the content, you just need to add your unique affiliate link to the content whenever you mention the product.
Sounds easier, right?
And if you are worried about starting a blog, then don't worry because it doesn't cost much at all. In fact, you can start an affiliate blog from just $3 month with Bluehost that also gives you a free domain.
Starting an affiliate blog is not difficult either. it comes down to a few simple steps.
Select a CMS
The first step is to select your CMS which stands for content management system. And you have a options like:
WordPress.org
WordPress.com
Joomla
Drupal
HubSpot CMS
There are many more options but for affiliate blogging business, the best option is WordPress.org which is free to use platform.
WordPress is the most popular content management system on the world that empowers 34% of all websites on the internet.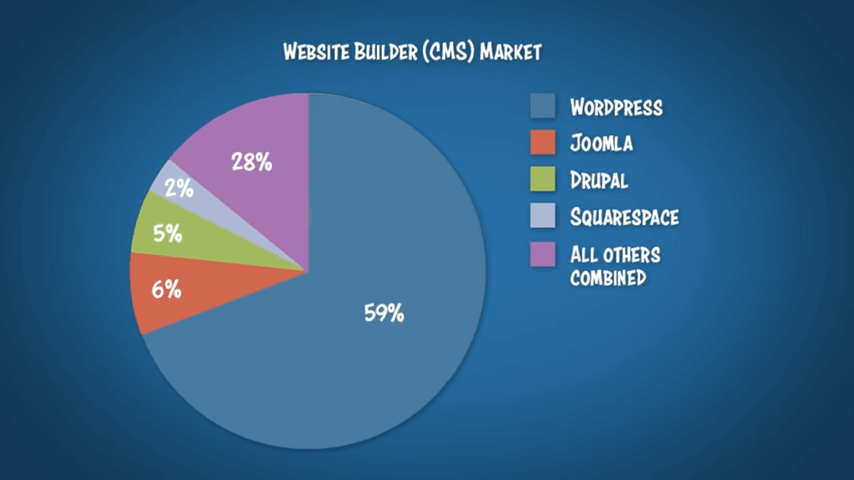 It's a platform that helps you build your website and manage it without needing to write code and do complicated tech things.
A user interface to help you customize functionality, configure your website, and manage content. The best news is that it's all free, works very well, and has an endless amount of plugins.
Basically, WordPress makes it possible for you to build an affiliate marketing blog without being a total computer geek.
Choose a Domain Name
There are a lot of things to consider when buying a domain. At this point, I don't want to overcomplicate it too much, the advanced course however will cover this in-depth.
But if you still want to ask yourself these questions, you can try to figure out:
Brand or keyword domain?
Local or global brand?
Which TLD? .com, .net, .org, .local or something else?
Buy an available domain or purchase premium?
There are no laws or rules on how to go about choosing a domain name. Again, something abstract where we need to do our own thinking.
I'll try to give you some general ideas though, so you'll understand what we're looking for in a nutshell.
What to avoid
Avoid confusing or complicated names.
Stay away from names that might sound clever to insiders, but no one really understands when they hear it the first time.
Aavoid long names: no more than 20 characters. The shorter the better.
Avoid "-" in your domain name.
What to strive for
Simple and familiar names that people can understand easily are often the most successful. Such as Amazon, as opposed to Thermo Fisher Scientific.
Make sure you can say the name out loud and it still feels good. For the sake of creating a brand (and people coming back to your site), it's a good idea to make it easily pronounceable.
A name that explains what the site is about is a good bonus. You're more likely to click "webhostingreviews.com" if you're indeed looking for web hosting reviews.
Names that trigger emotions are extra powerful. If you're Googling because your cat is sick, then you bump into the site "catrescue.com", would that feel relevant?
Read more: How To Choose a Domain name For Affiliate Marketing
Select a Host Provider
For blogging affiliate marketing I highly suggest Bluehost which recommended by WordPress itself.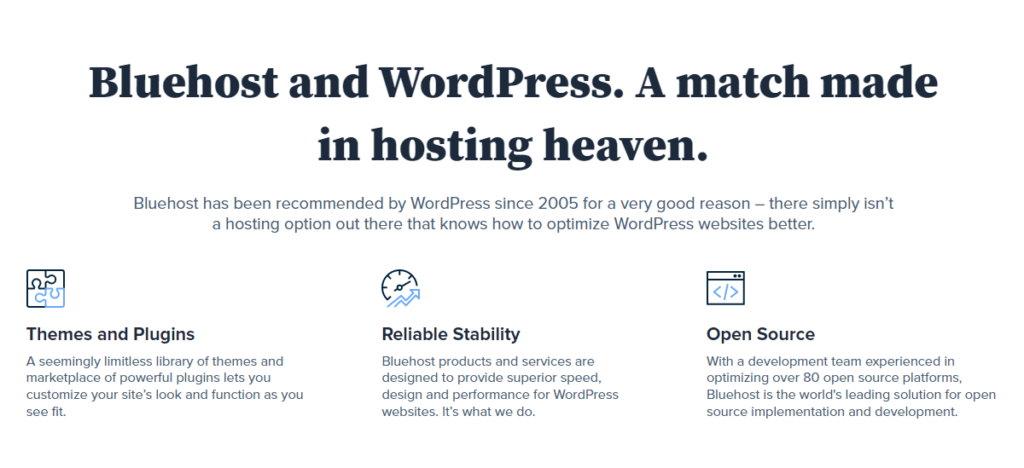 It's currently the lowest cost hosting option and very simple to get up and running with.
The Bacis package includes a free domain and SSL for less than $3 per month, so it's pretty good value for money.
Install WordPress Plugins
A plugin is an extension of functionality to your WordPress site. There are plugins for nearly everything, and usually, you will find the functionality you need without paying a dime for it.
What plugins you need is up to you, and depends on the functionality you need for your website.
Valuable plugins
Here are some recommended plugins that everyone should consider using:
How to install a plugin?
Go to Plugins on the left menu in WordPress admin, "Add new" and choose the plugin you want to install.
Click "Install Now", and then "Activate".
The plugin will now be enabled. You might have to change settings.
5. Write Affiliate Articles
It's fundamental to become a good writer since you're going to be reviewing and giving detailed information about the products and services you're promoting, as well as convincing your visitors to take action.
It's an essential skill to learn if you want to convert your readers into buyers.
Not to mention the importance of ranking well in search engines.
Providing your visitors with useful content is the easiest way to provide some type of value when you start out as an affiliate.
But remember: good content alone is not going to make you dominate your niche. Your goal with time should be to build complex functionality and in other ways create USP (unique selling proposition) for your visitors.
But this probably isn't something you can do just yet. Unless you're a programmer or have the money to hire one already.
Content writing will be the best way to you can provide value and rank highly in search engines at this stage, and an essential skill to have later on too.
Find Your Audience
Your audience is everything, so it would be silly to ignore what your audience is actually like. Too many copywriters, however, do this mistake and write content for themselves, not for their audience.
The best performing websites know who they are writing to.
No matter your niche, you always have to figure this out. If you know who your content is targeting, you'll have a much better understanding of how to write.
If you are writing for a younger audience, it makes sense to use more slang, memes or humour in your content.
It wouldn't make sense in a relationship advice blog (unless humorous advice is your particular approach to that niche).
The importance of knowing your audience can't be stressed enough.
Just sit down and think what your readers are like. What do they like to do in their spare time? What lifestyle do they have? You can research forums and social media to understand them better.
Structure Your Article
Next, outline all the points you want to cover in your article. You can write down a plain structure with placeholder subheadings that you can replace with better and snappier subheadings later.
By writing down the subheadings and structuring your content, you'll understand easily what you need to add or how the structure could make more sense.
After writing the subheadings, start filling in the "gaps" and write about the thoughts you had for those subheading.
When you build a nice structure first, you'll avoid the horrendous writer's block and you'll be sure you're covering all the points you had in mind.
This way you can also use all the related keywords in the right places instead of worrying if you actually used them or not.
When building the structure, keep in mind:
Use H2 header tags (1-10 per peice of content, depending on the length).
Divide the H2's with H3's. For example, if your H2 is "The features of a cordless drill", then the H3's can be particular features, like speed and power. Keep the structure logical.
If one section seems to get too long, try to divide it up further.
When filling the "gaps" with your paragraphs, don't write big blocks of text – keep your sentences concise and don't use more than 3-4 sentences per paragraph.
You can write your introduction last – introductions should captivate the reader and make them want to read the rest of the content. A good introduction sums up the main point of the content or asks a question that will be answered further in the content.
Read more: Affiliate Marketing Content Writing in 2022 [+Templates]
6. Optimize Your Affiliate Blog For SEO
If you're new to the whole internet marketing thing, you're probably one of the many people who hear about search engine optimization without having a clue what it is or how to go about it.
Search engine optimization, or SEO for short, is a marketing discipline that focuses on increasing the online visibility of a site or page in the organic search results.
This can include a combination of creative and technical elements with varying results, but all with the goal of improving the site's natural ranking on search engines.
Do​ ​you​ ​need​ ​SEO​ ​for​ ​your​ ​affiliate website?
One of the questions people ask about SEO is whether they need it for their website. Well, that depends.
Do you want a steady flow of organic traffic to your site?
By organic, we mean you aren't paying to have your website promoted on search engine results pages (SERPs).
Yes, you also have the option to use paid traffic to boost your search engine marketing through what's called PPC (Pay-Per-Click).
But for those with no budget to commit to paid ads, you'll need to stick with SEO. The great thing about SEO is that the traffic you build up is consistent and ideal for long-term goals. PPC is great for quick results, but the traffic won't be as valuable over time.
Now that you understand what SEO is and how it differs from paid traffic, it's time to learn some basic search engine optimization tricks for affiliate marketing.
Perfrom Keyword Research
Combining affiliate marketing with SEO relies heavily on finding products that have a great deal of search traffic. To find out what these products are, you'll need to do keyword research.
No matter if you are just starting your site or you are writing content for an established site: keyword research comes first.
If you don't have any topic ideas:
Take a look at your favorite websites and their content to find some inspiration for subjects.
Use content aggregators to find popular content that could inspire you.
If you have a specific niche/main topic in mind:
Open your keyword research tool of choice (it can be a free tool like Google Keyword Planner or something else).
Type in your main keyword that you want to use in your content.
Find related keywords and the exact keywords to use (which have the best keyword volume).
You can also use tools like AnswerThePublic.com to generate long tail keywords.
Pick the keyword you want to specifically target in your new piece of content – ideally, the keyword's search volume should be at least 100, since then you know it's a popular enough topic to generate some traffic for you (or hopefully some sales).
In general, before you open your website to start writing, you should plug your keyword to your preferred tool just so you can see what keywords are related to your topic or what keyword might be better to use.
Read more: Affiliate Marketing Keyword Research [5 Free Ways]
Understand The Search Intent
It's crucial you write for your particular audience based on what they're searching for
and what they want to know, learn, or discover. That's called search intent, and it's
another crucial element of excellent content. There are four different types of search
intent, including:
Navigational – when someone is searching for a specific page.
Informational – the need for a specific answer to a query.
Transactional – as when the user wants to complete an action like signing up for a newsletter.
Commercial – using a free offering of a product, service, or information to attract
potential customers
Build Links For Your Affiliate Blog
One of the most significant factors that must be considered when creating content is that backlinks are vitally important for good results. Indeed, most SEO experts put backlinks higher, importance-wise, than word count and keywords!
That's because backlinks are crucial for pulling in all-important organic traffic. Organic traffic refers to a visitor who arrives on your website or blog due to their search results on Google and the other search engines.
In other words, it's free traffic, which is the much more desirable opposite of paid traffic.
So organic traffic is what you want, and the way to get it is with backlinks. But, here's the thing; 91% of all web pages get almost zero organic traffic because they have few backlinks.
In fact, nearly 56% of web pages don't have a single backlink. That means there isn't a single referring domain that points to them from somewhere else on the web.
That's a huge problem, especially when you consider that the top results on Google's SERP (aka search engine results page) have almost 4x the number of backlinks as the results below them.
In short, setting up backlinks to authoritative sources is a must if you want your content to rank highly on Google. It also provides an opportunity for many SMEs in that, simply by adding plenty of backlinks, they can outrank their competitors easily.
Read more: Link Building For Affiliate Sites: 11 Best Ways in 2022 + Templates
7. Start a YouTube Channel
This step is optional but YouTube channel is a great addition to your affiliate marketing blog where you can promote products or services by recommending them in your videos.
But you have to understand that you cannot just drop an affiliate link inside the video, like you can do on a blog post. It's not as easy, but you can add your affiliate links in the description below the video.
And if you ask me, what do I think works better?
Is it a blog or a YouTube channel?
It's definitely easier to write texts and add your links in the text then to record videos, and on top of it, there's not a lot of space where you can put links from your videos.
But if you already have a blog and now you want to reach additional audience with your videos, then I have a great post for you that will help you start an affiliate YouTube channel from scratch and grow it to a thousand subscribers as fast as possible.
8. Create a Pinterest Account
Pinterest is one of the best traffic sources for affiliate marketing bloggers. This is another way that you can promote your affiliate links for free.
You need to know that Pinterest is not just a social media site, but it's actually a search engine with over 478 million active users.
It's almost like Google. A little bit smaller, and it's more visual search engine.
This means with the right keywords and SEO, when people search for the product that you're promoting on Pinterest, there is a high chance that your pin will be at the top of the search result.
So just to clarify, you can add direct affiliate links to your pins. It's allowed on Pinterest, and you have to make sure that your account doesn't become just a collection of affiliate links only, because that could be considered spamy.
And if you're just starting out, or maybe you already made an account on Pinterest, but you feel lost and you want to make money from this platform, then you can check out my Pinterest affiliate marketing guide.
9. Build an Email List
Another great strategy to build trust and communication between you and your audience is starting an email list.
Building an email list is one of the best ways to generate leads on your affiliate marketing blog.
You should treat your emails as mini blogs, I would say, because the approach will be almost the same as when you're writing a blog review. But for emails, you should make them shorter and more direct to the point.
You can send out emails weekly, or if you want a couple of times a week or even daily. This means that you will be able to introduce more products to your audience and more frequently. This also gives an opportunity for your audience to reply back to you and ask more questions about the product, which in turn increases the chances for a sale.
In addition to that, always keep in mind that your email list is something that you control while with social media profiles, like with Instagram, YouTube, or Pinterest account – you don't.
All of these platforms have algorithms in place and they decide which of your content should be shown to whom. And so not all of your followers will always see your posts with affiliate links.
On top of that, these platforms can literally take away from you all your work someday if they decide to change an algorithm or maybe to even ban your account. And with an email list, this doesn't happen because you have direct access to the inbox of each user who signed up for your list.
If you want to learn more make sure to check this step by step tutorial on email affiliate marketing where you'll learn how to build email list from scratch, write engaging emails, and more.
Affiliate Marketing For Bloggers Final Words
To wrap it up, everything under the moon is now accessible with just a few clicks through the internet. So it goes for products, jobs, and income.
And if you are someone who is searching for a side hustle that can provide extra income, then seriously consider affiliate marketing. In fact, once you become successful, you can easily make this your full-time job and your main income stream.