Once you've mastered the basics by knowing the product you promote, your audience, it is time to pull it all together in a cohesive affiliate marketing landing page.
Now you might be wondering, do I really need a landing page?
Can't I just send people straight to affiliate links and call it good? 
What is a landing page really going to do for me?
The answer, quite simply, is that an effective landing page is called that for a reason – it works.
I have found that the landing page converts at least 10x better than sending people straight to affiliate links.
A landing page is the first and one of the most important components of a successful affiliate marketing sales funnel.
And while the idea of creating an effective, high-converting landing page might sound scary and intimidating, it doesn't have to be.
Now I'm going to show you how to create a landing page for affiliate marketing in 6 simple steps.
Let's get started.
How To Create Affiliate Marketing Landing Page
Now I'll show you how to create an affiliate marketing landing page step by step, then you'll see some landing page examples I've been using in my business.
Let's get into it.
Step 1. Choose a Landing Page Builder
The first step is to choose a landing page builder. For this, you can use ClickFunnels, LeadPages, or ThriveLeads if you use WordPress.
I'm personally a big fan of the drag & drop landing page builder called Builderall which is one of the best affiliate funnel builders and a complete digital marketing platform with more than 40 digital marketing tools including an email autoresponder.
In addition, Builderall gives you over +400 done for your affiliate marketing landing pages that I'll show you in a moment.
This is a platform that I personally use in my affiliate business and I'll use it in this tutorial.
And if you want to get started, here you can start your Builderall 14-day free trial that is not available to the public.
Step 2. Create a New Page
Once you log in to your Builderall dashboard, you'll see over 40 digital marketing tools you can use for your affiliate business.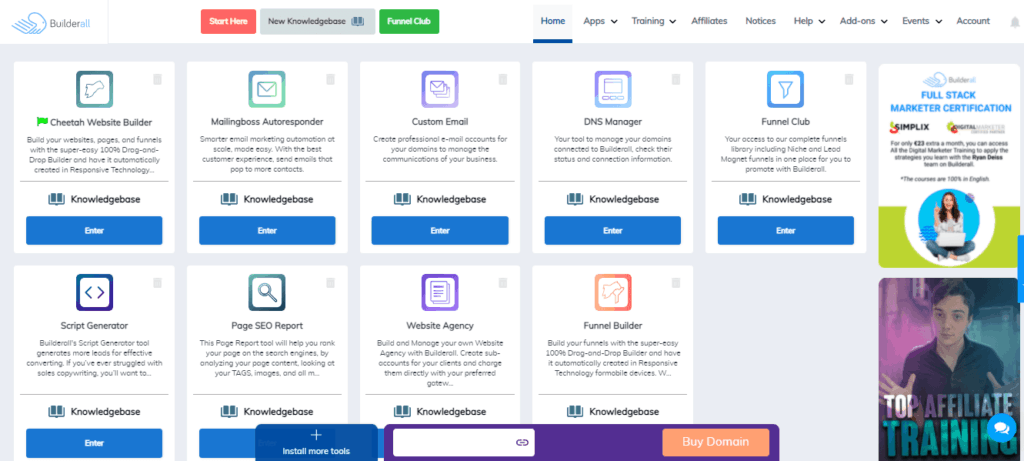 But don't get overwhelmed because for now, you'll only need a landing page builder that you can find under Apps, then click on "Cheetah Website Builder" then click on "Create New Site" and you'll see an option where you can select
Professional Templates, or Smart Templates.
And here you want to select the Professional Templates.
Then you can choose from hundreds of affiliate marketing templates pre-built for you in many different niches like:
Health & Fitnesss
Fashion & Beauty
Weight Loss

Food & Drink

Travel
Coaching
Crypto
You can also find templates for different industries like restaurants, home repairs, dentists, salons, mechanics and.
And this is great if you're promoting affiliate products in these types of niches.
Step 3. Customize Your Landing Page
Once you selected your template you can start customizing it to your likes. Here is the template I've chosen and as you can see the template is pre-design for you.
All you need to do is to upload your logo, change the text, colors and you're good to go.
With Builderall you don't have any coding knowledge or even design skills because everything is drag and drop.
Step.4 Add Email Opt-In Form
Now you need to add an opt-in form to collect leads and build your email list.
The email form you can find on the right-hand side in the "Panels" section.
You just need to click and drag it on your page.
Step 5. Connect an Email List
What's cool about Builderall is they actually have an email marketing tool inside their platform as well so everything integrates with each other.
So this is where you can actually select a list or create a new list.
Step 6. Add an Affiliate Link
And this is basically the whole entire affiliate landing page. All we would have to do from here is really just put in our affiliate links.
So we can press set link and basically what this is going to do is after people opt-in to this form they're going to go over straight to our affiliate link.
That's basically it guys. I mean we can work on the design a little bit but again I'm not a great designer by all means.
But this alone looks pretty decent and that'll start working for us.
If you're happy you can just go back and save and exit and the only other step from here is before you start running traffic is you set up your email follow-up.
In one of my recent articles, I made a whole post around email affiliate marketing and how to build an email list, and do your email follow-up so I'd recommend you guys check it out.
So this is how to create an affiliate landing page in just 6 simple steps using.
👉 Claim your Builderall 14 day free trial
Affiliate Landing Page Elements
Now let me show what every successful landing page should include.
You see more often than not, people overwhelm their visitors with too many options and too many choices and too many colours and too much stuff going on when the reality is you just want to keep it simple and keep it in alignment with where they came from and what they're expecting.
Strong Headline
Your headline should prequalify your prospect based on their felt need and desire for transformation, as well as promise an intriguing result if they stick around and read what comes next.
Here are a few headline examples to get you started:
• The Ultimate [niche of your product]
• Create/Get/Learn [desired result] in [timeframe]
• Discover the [felt need] you crave
• It's time to [transformation]
• Ready to [felt need]? Now's your chance!
• Stop the [struggle] in [timeframe]
• How to [desired result] in [timeframe] … or your money back.
• Are you tired of [struggle]? I can help.
Benefits
You'll need to provide details about an affiliate product you're promoting and what's included, but be very careful not to get so wrapped up in talking about the actual features of the product itself that the benefits of the product get lost. 
Remember, you are not selling a product, you are selling a transformation. Your potential customer cares much more about what they stand to gain from the product than they do about the actual attributes of the product itself.
Solid benefits serve a purpose on a high conversion landing page by setting up a promise and enticing the reader to opt-in and providing your prospect with more reasons to buy the product.
Driving more traffic, more clicks, and more people to your landing page doesn't mean a thing if all they do, once they get there is take a quick look around, come to the conclusion that what you have is not for them and then disappear, never to be seen again.
Call to Action
Remind your customer what benefits they'll get when they buy, and remind them of the pain and inconveniences that will go away when they've fully used your product or service.
Then you simply ask them explicitly to buy. Not doing so will cost you conversions, and it's an easy mistake to make because as new marketers we can be hesitant to ask for things.
Here are some of the call to action examples:
Free download
Reserve now
Sign up now
Join now
You can feel free to test that instead. But if you feel the need to complicate things just a little bit more, that's all right, too.
Affiliate Landing Page Examples
Now let me show you affiliate landing page examples that I use inside my business, as well as that I use with my clients and my students, and that convert at over 48.4%, which is over 3 times higher than the average.
But before we dive in, first, a real quick warning that these pages are going to look deceptively simple. And that's kind of the goal.
So, with that said, let me show you two different landing pages.
Example #1. Make Money Online Niche
Now, starting with the simple landing page for my free affiliate eBook.
All right, so what you're looking at here is the simple landing page. And like I promised you, it is simple, but that's also what makes it deadly effective.
So, at the top, you can see the lead magnet name.
All you need to do here is enter the title or the description or the name of whatever it is that you're giving away, which could be:
Video
Training
How to guide
Checklist
Cheat sheet
Or anything like that.
Then the line below, well, this should look pretty familiar, essentially what you'll find inside.
Just go back to that clear offer formula, plug that in there, and you're pretty much done.
Then you have the button where you can notice the CTA or call to action text is "Get Free Instant Access".
Now, after a decade of doing this, I still find consistently that this is the text that performs best.
Example #2. Weight Loss Niche
You can see that this affiliate landing page is going to follow a similar structure to the other one, with just a few more areas of opportunity for persuasion and motivation and a little bit more authority.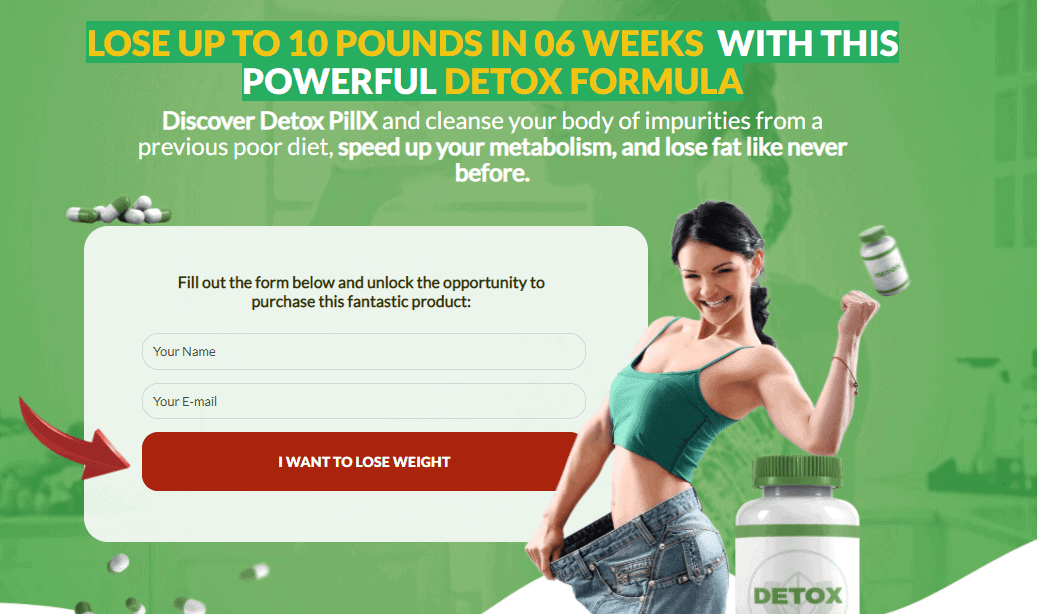 You see, it'll start at the top with that affiliate lead magnet title. You have an opportunity to put your logo here as well, which helps with some brand congruence and credibility.
You've got your tagline, which again, you can use the clear offer formula or simply follow the prompt there.
The call-to-action button text is "I want to lose weight". Seems to be one of the best performers for me personally.
But if you have one that you know works a little better, feel free to swap that out.
You also have an opportunity to show a picture of your affiliate product, as well as provide a few bullet points.
Some of the highlights, some of the features or the advantages or the benefits of what they're going to get when they download or purchase.
We'll cap that off with some of the mandatory links at the bottom, like a privacy policy or links to your page, maybe one more logo, and then you're pretty much done.
Affiliate Landing Page Tips To Increase Conversions
Yet sadly, this is exactly what most pages and affiliate sites do; scare people away, often forever. In fact, depending on what statistic you look at or what industry you're in, the average is that when someone visits your site for the first time, somewhere around 98% of them will leave and never come back.
In other words, for every 100 people that you get to your site or to your page, only a few of them are actually going to stick around and hear what you have to say. And that isn't good for affiliate marketing lead generation.
So now I'm going to show you exactly how to create a high converting landing page that not only looks good but also works good. And one that you can create in as little as a few minutes.
So, here's my promise to you. If you do exactly what I show you inside this guide, you will increase your conversion rate and get more leads and more sales without needing any additional traffic at all.
So let me show you how it's done.
Irresistable Offer
And it all starts with a single most important element of all, having an irresistible offer.
There's a rule in direct marketing called the 40-40-20 rule, which essentially just states that the success of your campaign comes down to 3 things in the following percentages.
40% of your success is the result of your offer.
40% is the result of your audience and your ability to find the right target market.
And just 20% is what we marketers call the copy, which are the words and the images that you use in order to describe your offer.
But here's the thing, people get this backward all the time. They spend the bulk of their time, money, and energy on making things look really nice or sound really good, and then completely ignore the audience that they're going after, or more importantly, the offer that they're actually making.
In other words, is what they're offering or what they're proposing to the market something that they actually want, or more importantly, something that they actually need?
Most often, the answer is no.
But it does explain why so many websites and landing pages often perform so poorly. I want better for you though, and that's why we've got to focus on making sure that you're promoting the most irresistible affiliate product possible.
Something that the people you're trying to attract would actually find relevant and useful and valuable. I know, sounds obvious, but common sense isn't always common practice.
Now, there are a lot of ways to craft a truly compelling and irresistible offer. But if you're just getting started, I'm going to suggest you go with something that I call the clear offer formula, and it looks like this.
"The product does X for Y so you can Z without W"
The X is what the product does. Literally, the product or the service that you promote as an affiliate and put in a way that your audience would actually understand.
There's no need to be clever or creative here. Just say what it does. The Y is your ideal customer avatar that perfect prospect.
Z is the benefit that they want, that end state, that outcome, that dream result, that you're hopefully able to provide for them.
And W is something that they don't want. This is typically something that's going to take all of their time or all of their energy or cause all kinds of pain or frustration, and hopefully, you could minimize or remove that completely for them.
This is a great place to start because the point is all of the best words and pretty pictures in the world are going to mean a thing if your visitor doesn't immediately understand what it is that you're selling and how, or why they should care and how it's going to benefit them.
And this is the perfect segue into the next point, which is all about content congruence.
Make Sure Your Landing Page is Congruent
Content congruence is really just understanding that where your traffic came from to your affiliate landing page is just as, if not more important than where they arrived. make sure your landing page is congruent.
And messing this up is one of the biggest reasons that most landing pages simply don't convert.
Maybe this sounds familiar. You're scrolling through the web, you're reading an article, you're watching a video, whatever it is, and then somebody says something that catches your attention and makes you want to click a link to learn a little bit more about whatever it is they're talking about.
So, you click, but where you end up is often strange and confusing and doesn't align at all with what you thought you were clicking on.
So naturally, you click the back button and you bounce. And this explains what happens for many affiliate marketers most of the time.
And the solution takes part in one of three different ways. The first one is media congruence.
Use The Right Media
There's an expression I know you've heard before, which is that a picture is worth a thousand words. And when it comes to affiliate landing pages, this is absolutely the case.
Your choice of images and more importantly, the images that they're going to convey to the visitor can often mean a double-digit increase in conversion rates.
The thing with images though, is that there really isn't a one size fits all formula where a single image is going to work equally well across all businesses and all markets and all industries.
That said, there is a kind of image, which is more of one size fits none. Basically, a kind of image that is so bad that it works nowhere ever. And that is the standard stock photo. You know what I'm talking about.
Those super fake photos of people in an office, shaking hands, smiling at the camera unnaturally or the worst culprit of all, the stock photo high five. So do your best to find an image that actually looks like the people that you're trying to serve, and one that conveys the right kind of attitude and emotion that you're hoping to deliver. And of course, don't be afraid to test different images.
Final Words
So now you know exactly how to create an affiliate marketing landing page. You also know how to optimize it to get a higher conversion rate as well as what to deliver your lead magnet.
Now it's time to run traffic and get some sales. If you're struggling at this point, make sure to check these in-depth guides and see: