So, what if you could see working ad campaigns that are out there that your competitors are doing in real-time, would that help you be a better marketer? Today we're going to dive into the best spy tools for affiliate marketing and how you can leverage them to find winning creatives for your own ads.
Spy tools are great if you want to get inspired by what other people are doing on the internet for their brands and their business.
Affiliates use it to see what other affiliates are using for their ad creatives to promote affiliate products and see what other competitors are doing.
In this guide, we're going to cover some of the common best affiliate marketing spy tools and some other things you can do to get your brain spinning on creative ideas for affiliate marketing paid traffic.
So, let's dive in.
BigSpy is one of the best spying tools for affiliate marketing. BigSpy can show you all kinds of insights about what your competitors are doing on their website, which products they're promoting, how many keywords they are ranking for, and more.
BigSpy also shows you top-performing ads by country and time of day the ad was shown to get the most clicks.
What BigSpy lets you do is filter down to which traffic source you want to use.
You can see what ads marketers are using across:
Facebook
Instagram
YouTube
Twitter
And all of these big traffic sources.
You can see how many engagements are they getting or how much scale is it having.
If you're looking for all-inclusive software that gives the most accurate data available about your competitor's ad campaigns then Big Spy will be helpful to have on your side.
BigSpy Pricing
And it's priced pretty competitively across the market. Big Spy offers 4 pricing plans:
Free – $0/month
Basic – $9/month
Pro – $99/month
VIP Enterprise – $199-499/month
It's great that there's a free option for this tool but it doesn't give you very many inquiries a day and it's limited to Facebook ads, which honestly that's where a lot of people want anyways.
With the basic plan, you get up to Facebook and Instagram, and then you can start a 3 day $1 trial for the Pro plan to get access to all the networks that they have access to.
SemRush is not just one of the best competitor analysis tools but an all-in-one SEO platform that is suited for solo entrepreneurs as well as big companies.
The Biggest benefit of SemRush is that it gives you information about your competitors' websites. It shows what keywords they are ranking for, how many backlinks they have to their site, and also analyzes paid traffic campaigns.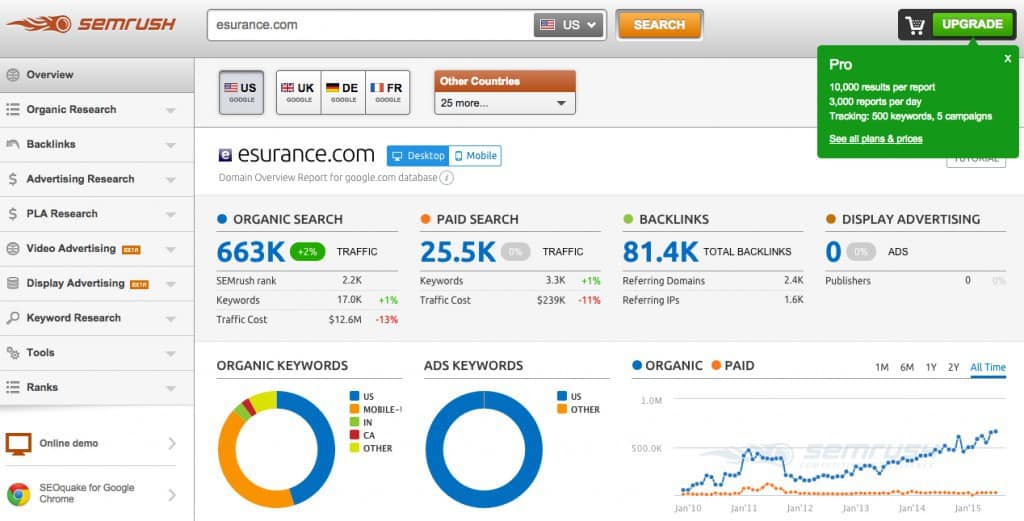 Using all these insights will help you make better decisions in affiliate marketing or any other online business that you may be involved in.
SemRush Pricing
Pro – $119.95/month
Guru – $229.95/month
Business – $449.95/month
SemRush is not the cheapest platform but they offer a lot SemRush free tools like Keyword Magic Tool, site audit, rank tracker, and more.
They also offer a free trial for our readers.
A really similar platform to SemRush is SimilarWeb. SimilarWeb is a free market research tool that is going to tell you based on a domain where that domain is getting traffic from.
So, if you want to look at a competitor, you can get an idea of what kind of search terms they're getting, what kind of ads they're running.
SimilarWeb is more designed for bigger brands that might be leveraging content marketing, looking to acquire organic search terms, and want to get an idea of what blog articles are out there ranking for a competitor.
They still do spy tools from an ad creative basis, but that's not their core functionality.
They go a bit broader than that. You get a bigger view into searching organic traffic and social media versus just ads, which kind of Big Spy and AdSpy were.
SimilarWeb Pricing
SimilarWeb plans cost between $199.00 and $799.00 per month but the free option is available.
PowerAdSpy is hands down one of the most advanced spying tools available in the market.
Inside the dashboard, you get options to research for your competitors on platforms like:
Facebook
Google YouTube
Instagram
Native ads
Quora
Reddit
And more.
You can also enter the name of any advertiser and PowerAd Spy brings out their advertiser profile as soon as you click on the search button.
Here is how the results look like a gold mine of data containing details regarding how they are running their campaigns
It will give you information about top-performing ad campaigns, which ads are getting the best ROI for your competitors, and what type of ad creatives they're using.
This will give you an idea about which ad copies to create in order to get better results on affiliate marketing or any other online business that you may be involved with.
But what makes PowerAdSpy stands out among other spying tools are very unique features like:
Native ads spy tools
YouTube ads spy tool
Dispplay ads spy tool
Google PPC spy tool
And even Reddit and Quora spy tools.
Big brands use PowerAdSpy to spy on their competitors but it is affordable enough that smaller affiliates can also take advantage of this tool to get better results for their affiliate marketing campaigns.
PowerAdSpy also has a Chrome extension that allows you to test out ad creatives in real-time.
PowerAdSpy Pricing
Free – $0/month
Basic – $49/month
Standard – $99/month
Premium – $149/month
Platinum – $249/month
Titanum – $299/month
Palladium – $349/month
What's great even with the PowerAdSpy free plan you can spy on up to 8 different social media platforms.
Best Affiliate Spy Tools Final Words
So here are the best affiliate marketing spy tools. As of now, the best ones are BigSpy and PowerAdSpy.
My intent is not to like just push you into these tools, these are just examples of good true spy tools. There are many free tools for affiliates that you can use in your business.
They can be a very good way for a marketing team or just for your own self to get going and kind of get inspired by, and get ideas from. The bad way to use this in my opinion is to just go, rip off other people's marketing ideas and not change anything which you'll see some people do, which I wish people would stop doing. So, use these as you will.
So do some research, figure out one that fits best for you, which one has the best-paid version, and see what works best before you buy.
And I'd love to know what you're using for a spy tool or what you like about the ones that I've featured that maybe you've tried out.