In recent years, the expansion of AI marketing tools has revolutionized the way businesses and marketers promote their products.
The potential for automation and intelligent targeting has enabled marketers to reach customers more effectively than ever before.
In this article, we researched and compiled the best AI advertising tools designed to help you easily access valuable customer data, more accurately understand your target audiences, and deliver relevant messages at scale.
So, let's get started.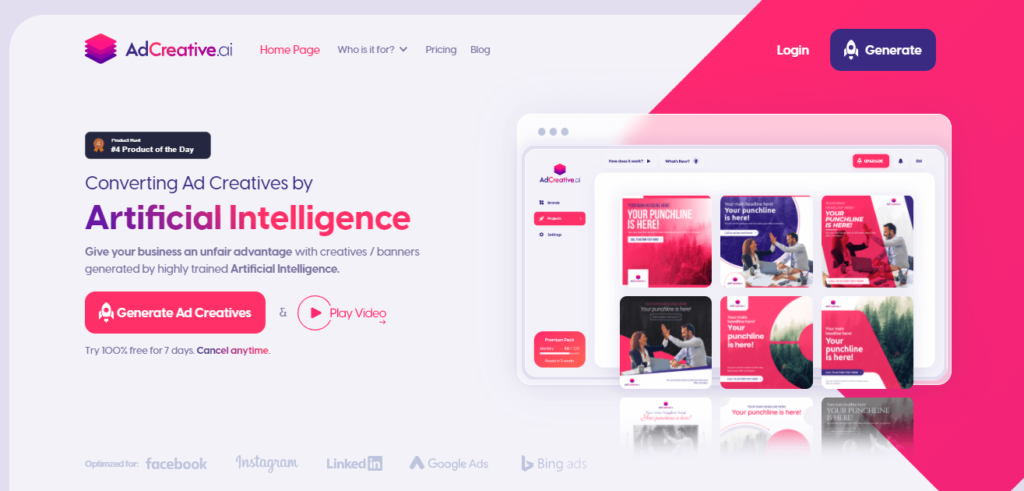 AdCreative.ai is an AI content creation platform for creating visually attractive ad campaigns. It is software for publishers and marketers that uses artificial intelligence to create data-driven, high-converting advertising.
Using machine learning algorithms, this tool analyzes the effectiveness of thousands of ads and develops a few new ones depending on what works best.
AdCreative can recognize your fonts and brand colors to produce a variety of seamless ad creatives that perfectly match your branding.
You can easily connect it to a variety of platforms, including Facebook, Google, Zapier, and ADYOUNEED, to help you get the most out of this product.
And AdCreative.ai's integration with Google Analytics makes it easy to gain data-driven insights about the sorts of creatives that perform well for your campaigns.
It is quite simple to use AdCreative.ai. All you have to do is link your advertising accounts, add your logo, and choose a color scheme.
After that, you just select the creative size, add some text, and the AI will generate conversion-focused ad creatives for you.
Once it's done, you can then download or upload the creatives directly to your Facebook or Google ad account.
Besides an AI ad generator, AdCreative also offers an AI social media marketing tool that lets you generate engagement-focused social media posts perfectly sized for Facebook, Instagram, LinkedIn, Pinterest, and Twitter.
AdCreative.ai Pricing
Starter – $29/month
Premium – $59/month
Ultimate – $149/month
Unlimited – $299/month
▶ Try AdCreative.ai For Free (+ Get 25% OFF)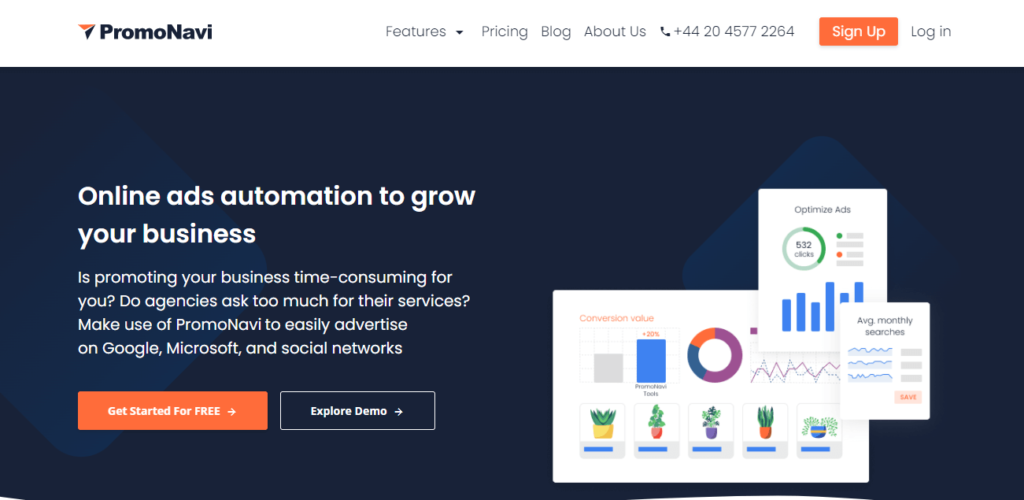 PromoNavi helps assist marketers, agencies, and PPC specialists in automating their daily chores, reducing wasted ad spend, and gaining insight into their PPC campaigns. PromoNavi offers a variety of automation options to its consumers.
Its keyword planner allows users to add phrase-match, related keywords, and suggestions to their keyword list. PromoNavi allows users to create a campaign and send it directly to their Google Ads account. It generates a PPC report for Data Studio and publishes white-labeled PDF reports on a regular basis.
Users can use keyword wrappers to wrap their keywords in various match types and clean up their keyword list of duplication and special symbols. The dashboard allows users to assess overall ad performance and spot unusual trends in accounts and campaigns.
PromoNavi makes suggestions for enhancements to the associated PPC accounts, such as recommending high-performing keywords, identifying unproductive keywords and contradicting negative keywords, and detecting broken links.
It allows you to make modifications to connected accounts in bulk. Users can use the competition analysis tool to locate competitors and follow their PPC campaigns.
Clearly, with PromoNavi you can design more effective advertising campaigns, save time, cut campaign costs, and boost overall ROI.
PPC experts can use PromoNavi to assess how effective their campaigns are and what actions they need to take to improve their market performance. Businesses can also automate repetitive activities, lower traffic expenses, and improve conversion value.
Obviously, it can assist agencies in reducing ad expenditure that is wasted and increasing their online advertising efficiency. It also gives them a centralized multichannel picture of all of their clients.
Marketers can use PromoNavi to run and manage their Google and Facebook ads from a single platform and gain an advantage in this competitive space.
PromoNavi Pricing
Business plan – $49/month
Agency plan – $79/month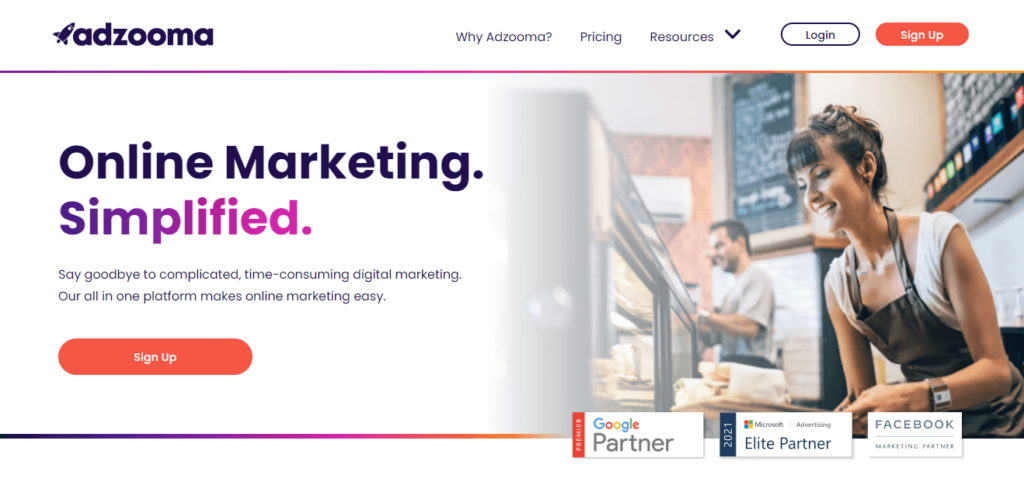 Another AI advertising tool that I can recommend to you is Adzooma. This is an award-winning platform. And it makes online marketing simple for businesses of all sizes.
This all-in-one platform streamlines the setup, management, and optimization of your Google, Facebook, and Microsoft advertising campaigns.
Their technology pinpoints what drives online company success using cutting-edge machine learning and data science to ensure you get the most out of your advertising efforts.
And it automates the majority of your tasks so you can focus on operating your company and its core activities.
Adzooma offers you a crystal clear perspective of where your internet marketing is right now, then delivers specific checklists to help you drive company growth. And it is packed with all the tools you need to expand your brand.
Everyone can now use the Adzooma platform for free. No credit card information is required. Every week, you can save hours of analytical time and keep informed with real-time notifications.
You can utilize real-time data to make lightning-fast judgments while being in total control of the situation, with Adzooma.
Many capabilities are included in the platform. One is scanning for 50 plus improvement possibilities, many of which can be implemented with a single click. And tracking PPC performance and highlighting over/under expenditure to enhance the user's quality score, conversions, and ROI is also possible.
You can connect numerous accounts and manage all of your campaigns from a single location. This helps firms to take on more customers by automating procedures and making lightning-fast judgments based on AI-driven data. With fast notifications, you can be informed and in total control of everything.
Adzooma Pricing
Essentials – $0/month
Plus – $69/month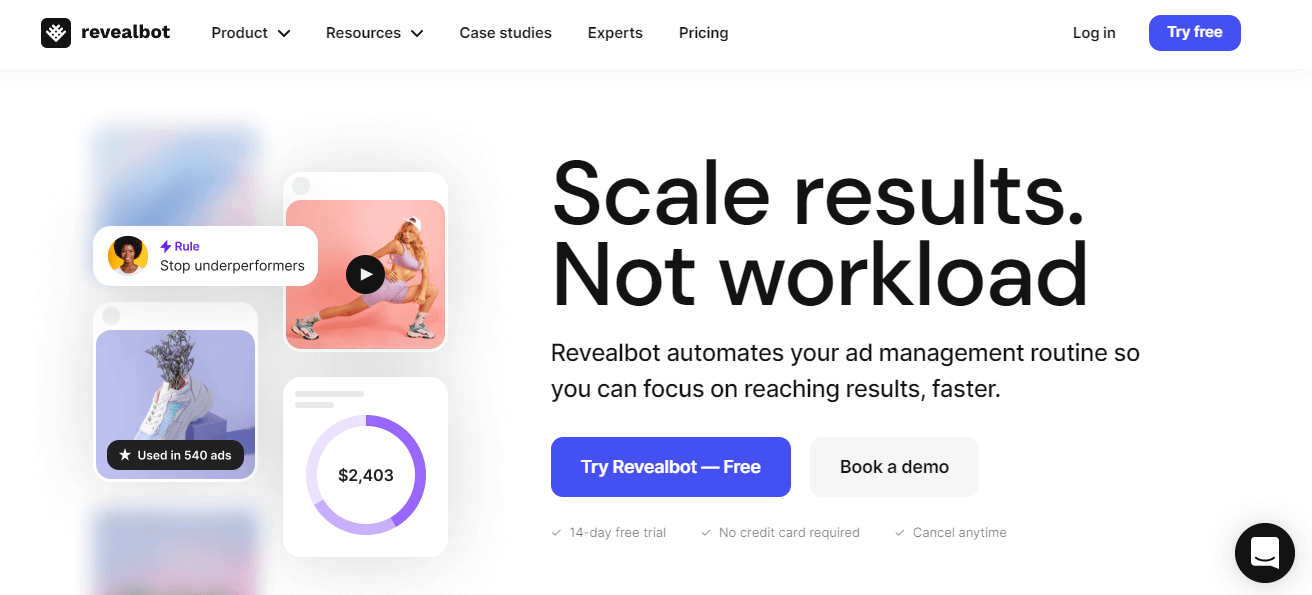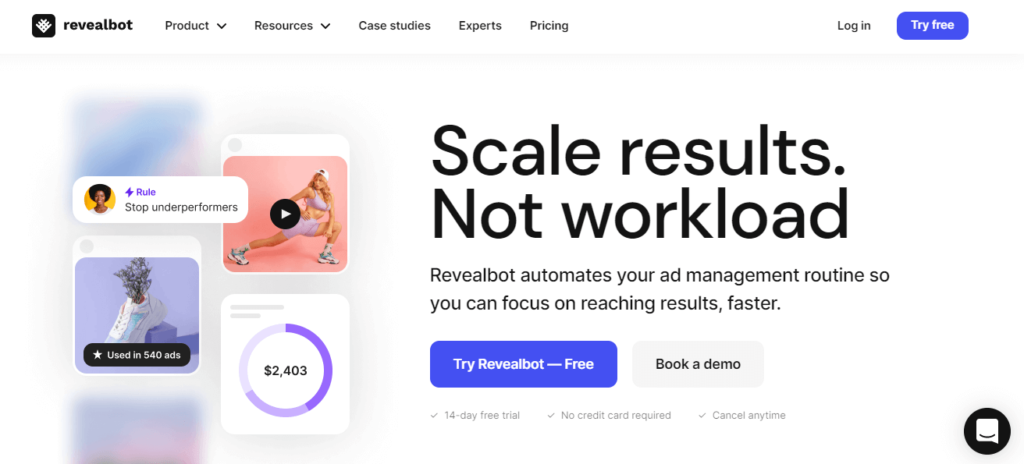 Revealbot is an AI-powered marketing software that automates your advertising campaigns. It checks ROAS, CPA, and other Facebook Pixel data automatically and optimizes your running advertisements based on the specific criteria you specify.
Ads can be paused or boosted at any time, and budgets and bids can be adjusted as frequently as every 15 minutes. When a rule is activated or a certain benchmark is met, you receive notifications. So, brands and agencies who want to advertise on Facebook or Instagram can make use of this AI advertising tool.
Automation, auto-boosting, and bulk generation are among the three basic modules included in Revealbot. Marketers can use the automation module to set custom rules for ad automation and alerts.
In the meanwhile, the auto-boosting module allows marketers to promote content while maintaining control over their consumers and goals. Finally, the bulk creation module is intended to make the process of creating bulk Facebook ads as simple as possible.
Revealbot also keeps your marketing staff up to date on how things are going. It sends a full analytical overview from Twitter, Facebook, Google Ads, Google Analytics, YouTube, and MailChimp to your Slack team or mailbox.
Google Analytics and Facebook reports can be tailored to highlight the most critical metrics. The ability to define automatic rules across different platforms and have a 360-degree picture of real-time budget spending is a cool feature.
It does not matter if your business is large-scale, medium-scale, or small-scale. Revealbot is ideal for any of that. From its users, it has received plenty of positive reviews.
Revealbot Pricing
The pricing for their services is flexible. You can choose to pay $99/month, $2999/month, or get 2 months free by paying yearly.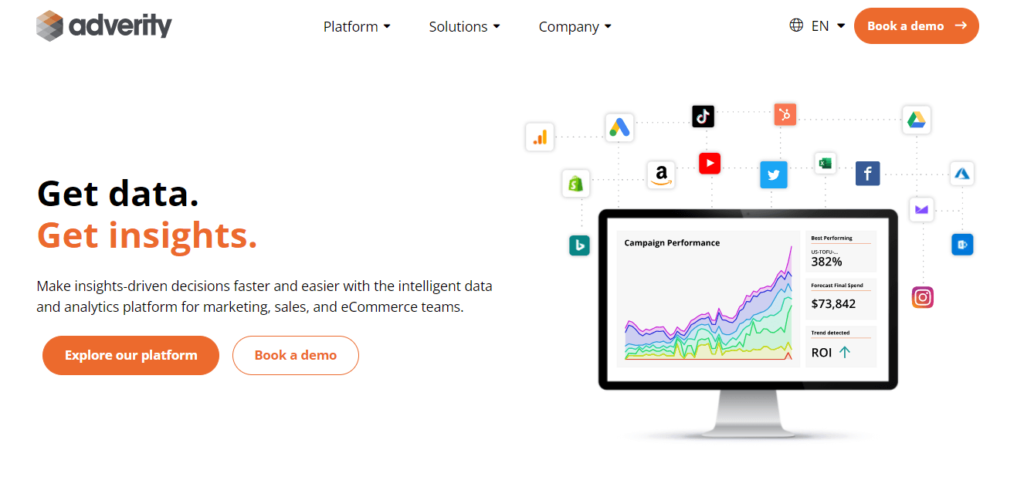 Among the best AI advertising tools, here is another great one. Adverity is a configurable end-to-end Marketing Analytics platform that helps data-driven marketers make smarter decisions and increase campaign and channel success. Adverity makes it simple to spot revenue-generating possibilities and demonstrate marketing ROI.
Adverity enables marketers to track performance in a single view and find new insights in real-time thanks to sophisticated automatic data integrations, data visualizations, and AI-powered predictive analytics.
Adverity allows companies and agencies to integrate and manage their data sources from a single platform. Adverity Datatap, Adverity Insights, and Adverity PreSense are the 3 components that make up Adverity.
Standardized database and spreadsheet integration, a data quality monitoring system, and a transformation and computation engine are all its key elements. It can be hosted in the cloud or installed locally.
Adverity enables marketers to track marketing success in a single perspective and effortlessly find new insights in real-time thanks to automatic data integration from over 600 sources, rich data visualizations, and AI-powered predictive analytics. This leads to data-driven business choices, increased growth, and a verifiable return on investment.
Adverity has been powering the marketing intelligence of some of the world's most well-known companies and agencies since 2015. And the reviews it has received are also pretty positive.
Adverity Pricing
Adverity pricing is based on individual business needs. Please contact the sales team for the personalized offering.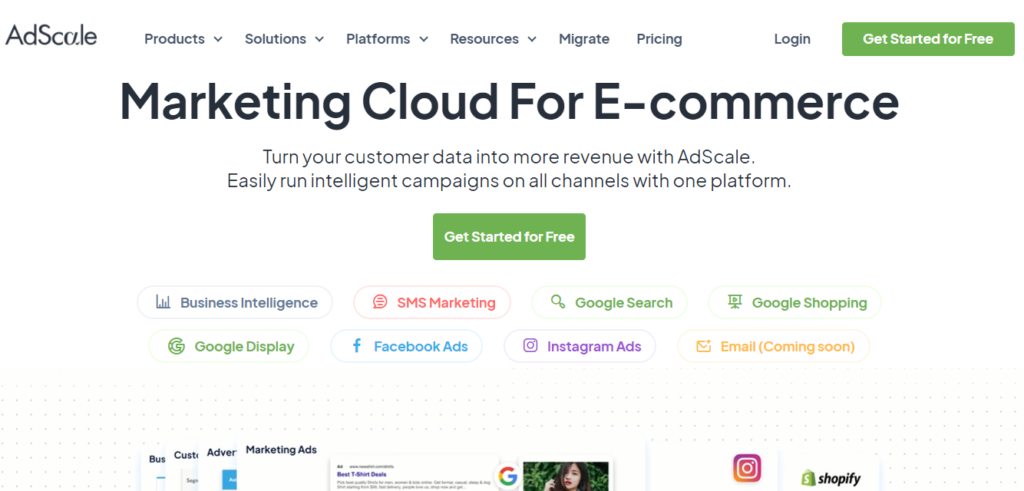 AdScale is an AI advertising software for eCommerce. It uses machine learning algorithms based on artificial intelligence to automate and optimize PPC ads across Google Search, Google Shopping, Google Display, Facebook, Instagram, and YouTube.
It helps advertising agencies, private advertisers, and in-house marketing teams improve their advertising effectiveness by minimizing time-consuming and repetitive activities by combining established mathematical and statistical models with an easy user interface. Store owners that want to promote on various e-commerce platforms may also utilize AdScale.
This is a thorough activity dashboard that visualizes key performance indicators (KPIs) and analyzes individual accounts to offer insight into ad performance. It allows customers to automate budget management and allocation across campaigns, as well as offer informative suggestions on topics such as landing page performance, ad optimization, and keyword optimization.
Click-fraud prevention, configurable reporting, and ongoing account structure optimization are among the other features.
This is most useful for advertising agencies and in-house digital marketing teams. Private advertisers and PPC managers can also make use of it.
AdScale Pricing
The AdScale pricing plans range from $149 up to $2,499 a month.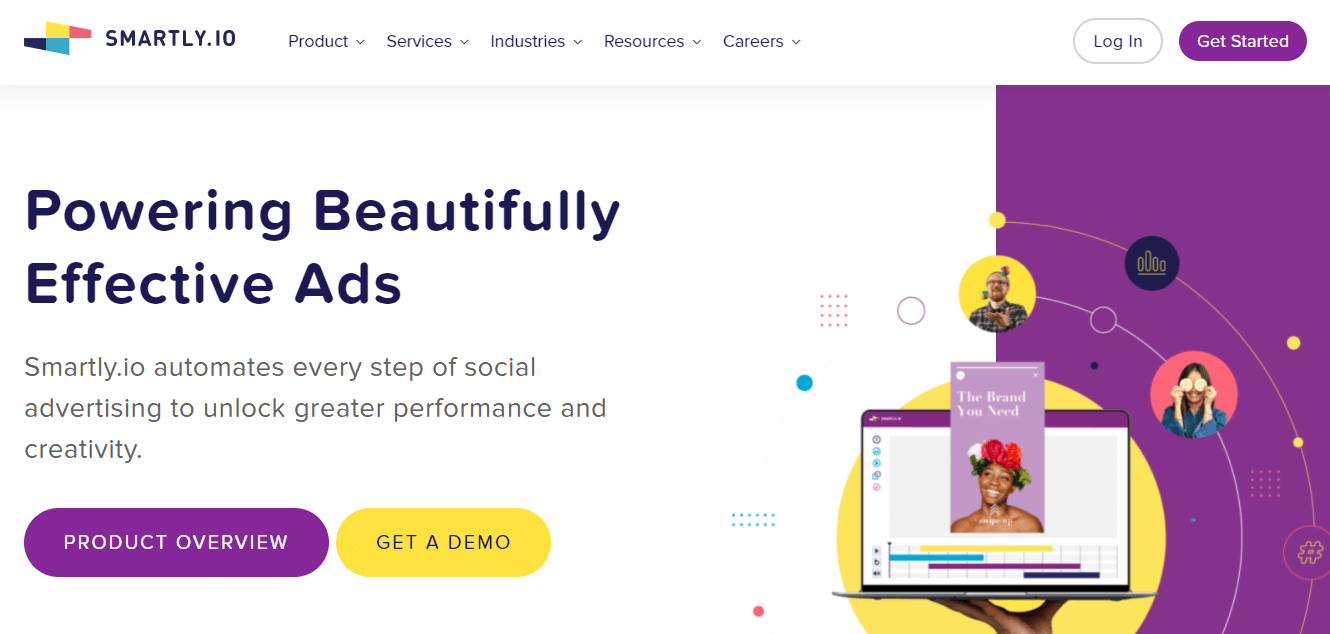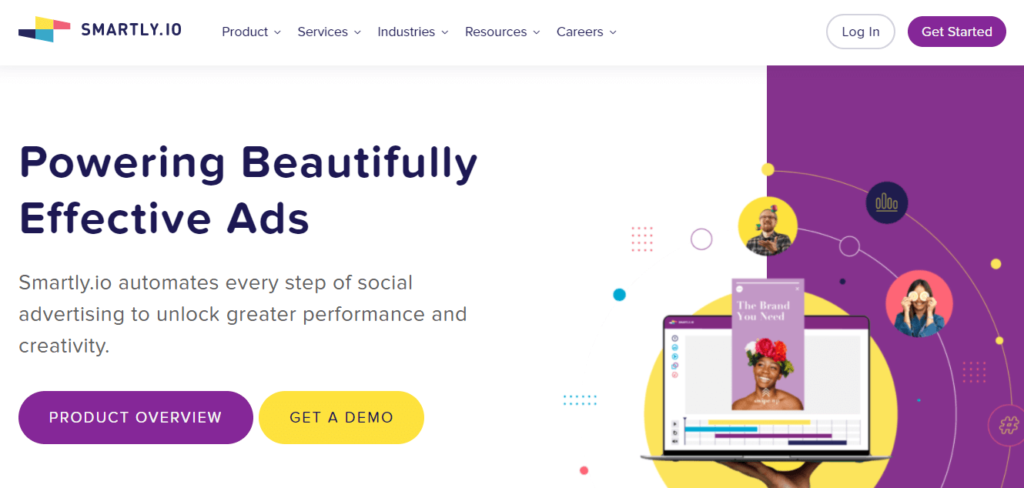 Smartly.io automates every stage of social advertising, allowing you to achieve higher levels of efficiency and creativity. This collaboration with the world's best companies generates improved performance with over $2 billion in yearly ad expenditure.
And it allows creative and performance teams to collaborate, create, test, and launch the most effective advertising. You can close the loop between planning, developing, launching, and learning using Smartly.io.
You can quickly expand creative testing and operate your entire advertising campaign in an iterative fashion.
Clearly, this simplifies campaign administration and testing. Particularly for DPA campaigns, the creative optimization options are amazing. And their live chat assistance is simply outstanding.
Of course, Smartly.io offers campaign optimization, multi-product advertisements, automated budget allocation and optimization, and bespoke analytics for Facebook and Instagram advertising campaigns.
Smartly.io Pricing
The fee percentage calculation is based on the customer's advertising spend in the customer's ad accounts.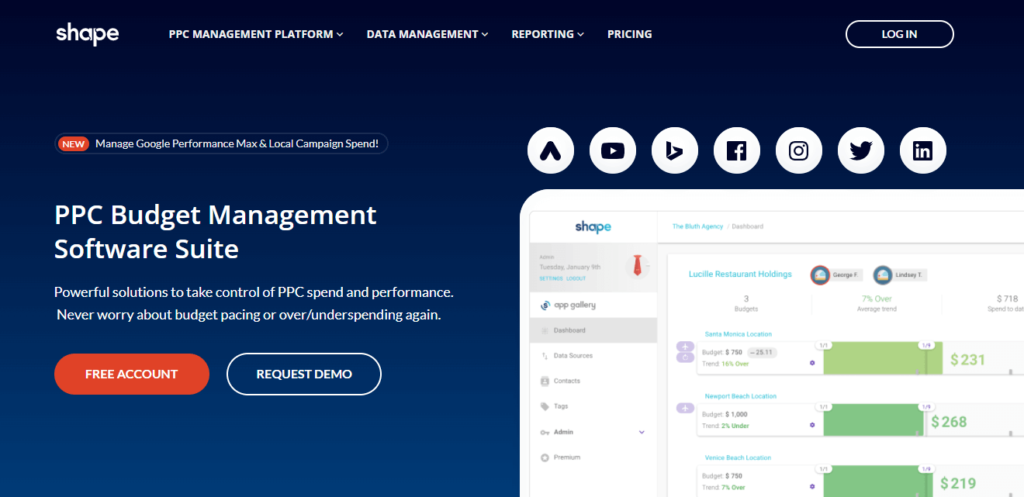 Shape is a PPC (pay per click) budget management software. Here, customers can organize, control, and collaborate on ad expenditure at scale.
They can manage campaign costs across channels into bespoke budgets, as well as construct a team repository with specific budget replies. Campaigns with regular monthly expenditure objectives, as well as those with limited-time incentives, can be managed too.
There are flexible expenditure alerts and notifications, as well as an AutoPilot mode that automatically adjusts users' campaigns and prevents overspending and over-pacing.
Moving over/underspend from one cycle to the next can be used to change budget objectives, and rolling spending can be tracked. The campaigns can also be imported automatically. Users can manage tags, data sources, and contacts using the dashboard, which is simple yet informative.
Shape Pricing
One client free plan
Pro – $269 per month to $899 per month
Enterprise – price on demand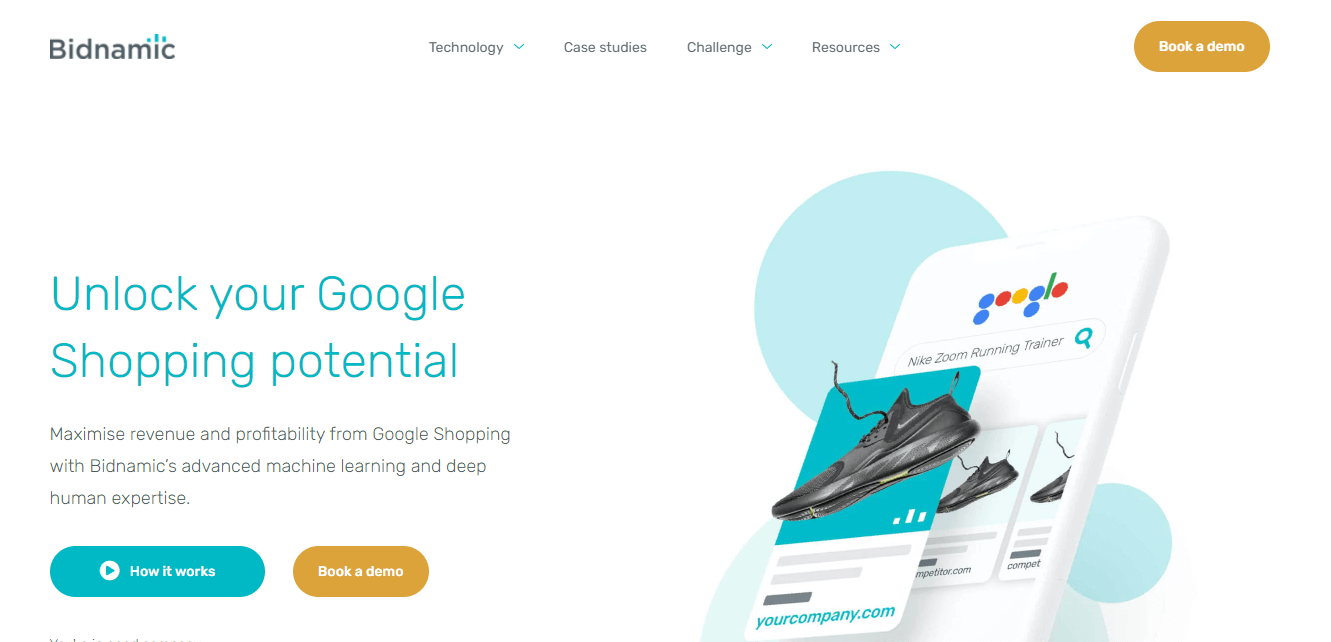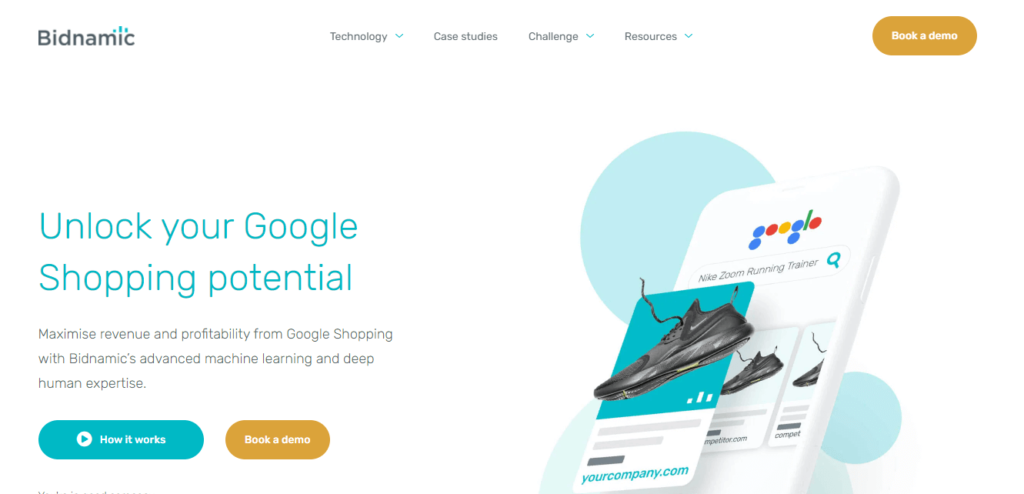 This AI advertising tool is a great one that you can use. This makes it easier and more efficient to list your items on Google Shopping. It uses machine learning to tailor keyword bids so that you may get clicks from searches with high intent.
Because of the increased competition on Google Shopping, it is getting more difficult to stand out among competitors. And as optimizing campaigns takes a lot of effort, it is best for e-commerce businesses with a lot of items but a small internal team.
And of course, Bidnamic forces your ad budget to work harder for each SKU product, allowing you to beat the competition and increase profits.
Bidnamic Pricing
Pricing is disclosed after a personalized demonstration from the Bidnamic sales team.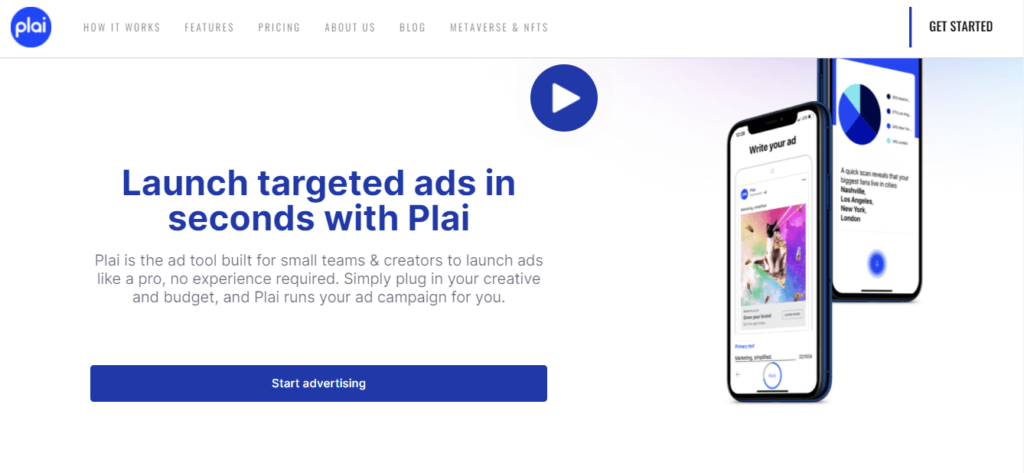 Plai is the world's first free digital marketing app for iOS and Android. For a small business, it is like having your own digital marketing team. So, you can use this app to make Google Ads, Google Analytics, and other Google services easier to use whenever and wherever you are. Many users of Plai say that it is pretty effective and so easy to use.
Plai Pricing
Individuals – $14.99
Small Team – $49.99
Growing Team – $99.99
▶ Try Plai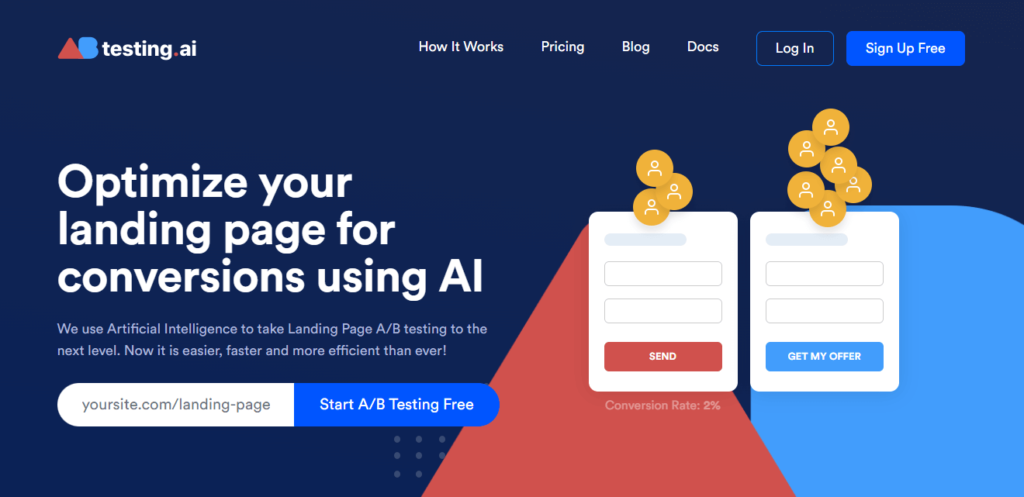 ABtesting.ai helps you develop, mix, and test numerous variations of your landing page to identify the greatest match for your audience, increase conversions, and lower expenses. The setup time is about 10 minutes. So, it would not take long. There is no requirement for programming or design.
And there are plenty of mainstream companies in the world that use this service, So, this is an advertising tool that we can surely recommend to you. It can obviously save a lot of time and money for you.
ABtesing.ai Pricing
Free – $0/month
Starter – $19/month
Professional – $79/month
Business – $139/month
AI Advertising Tools Final Words
With the use of Artificial Intelligence, you can bring your advertising campaigns to the next level. It does not matter whether you are a business or a marketing agency.
With superb precision and efficiency, you can carry on your advertising campaigns.
One platform may not suit everyone. As a digital marketing expert using AI advertising tools myself, I have understood that there is no one size fits all.
From my experience, I know how powerful they are. And surely, now you also have understood how effective they can be for businesses.