AI is transforming customer relationship management as we know it. Businesses using AI for sales were able to improve their lead generation by more than 50% and reduce costs by 40–60%.
Capable of transforming virtually every aspect of a business, from sales to marketing, logistics, and customer service, AI CRM software allows businesses to better connect with their customers and prospects, allowing them to achieve their marketing and sales goals with greater ease and efficiency.
But with so many customer relationship management systems to choose from, it can be difficult to know which one is right for your business. To help you make a decision, we've created a list of the best customer relationship management software powered by AI technology.
Whether you're a small business or a large corporation, these systems is sure to help you improve your business processes and achieve your marketing and sales goals.
Recommended Reading: Best AI Business Tools in 2023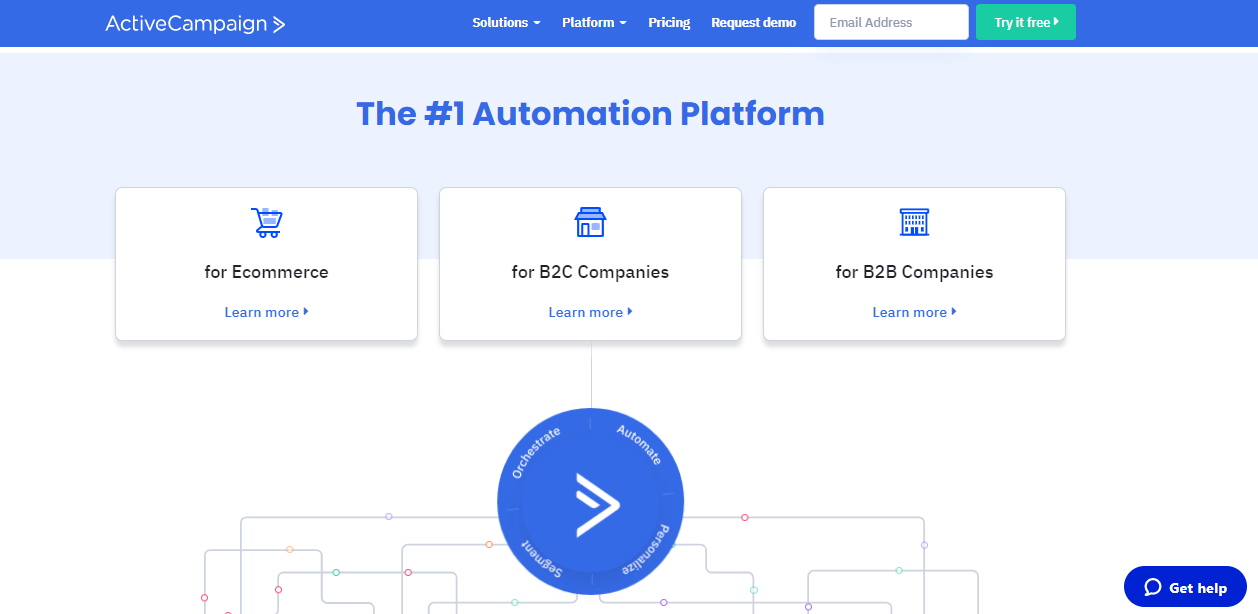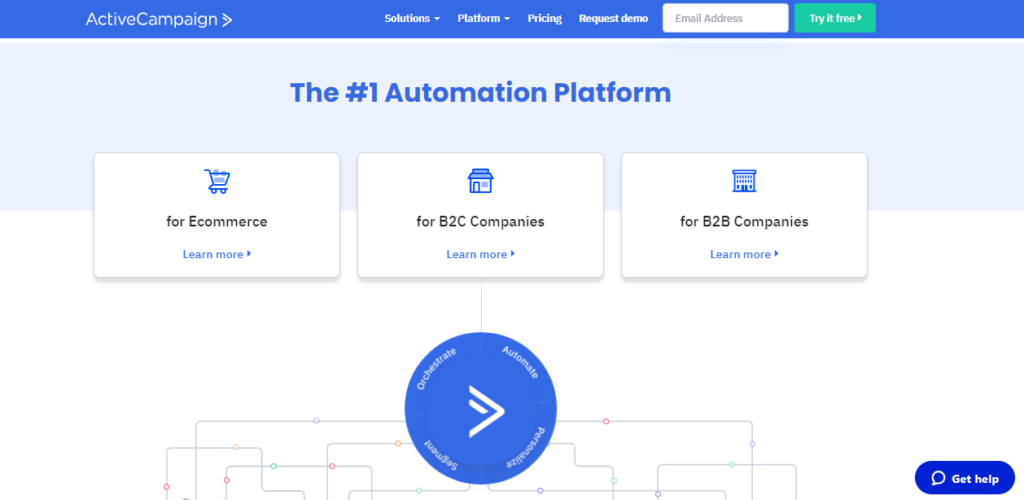 If you want to streamline your processes, increase efficiency, and ultimately create a better experience for your customers, ActiveCampaign CRM can help.
ActiveCampaign is a sales and marketing automation tool whose main goal is to help businesses provide their customers with the best possible experience at every touchpoint on the customer value journey.
This can be achieved by collecting data about customers' online behavior and creating personalized messages for each customer based on their unique interests, preferences, and buying habits.
ActiveCampaign lead scoring uses machine learning algorithms to analyze a lead's behavior and engagement with a business and assigns a score that predicts the likelihood of the lead becoming a customer.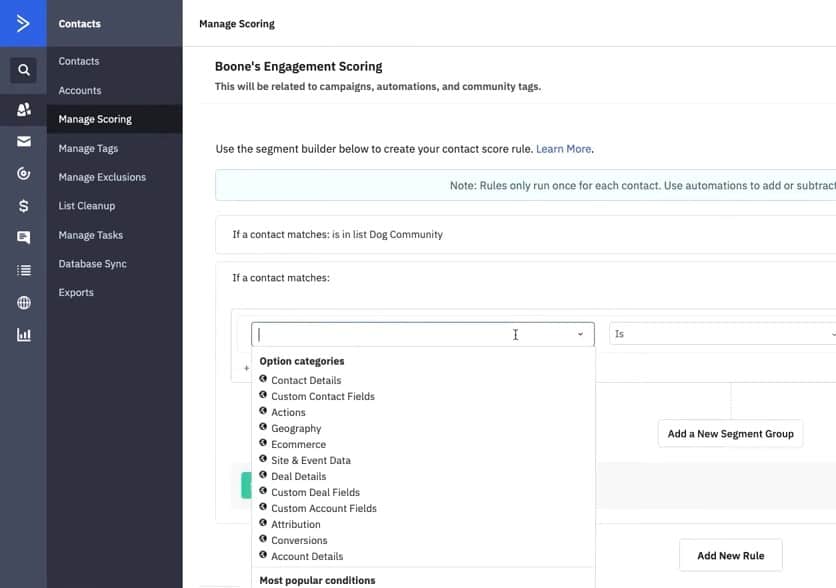 The ActiveCamapign AI algorithm also analyzes a customer's behavior and predicts the best time to send an email or message for maximum engagement.
Then with ActiveCampaign's AI email marketing software, you can automatically send personalized messages to customers based on their behavior and engagement with the business.
ActiveCampaign CRM is also highly customizable, so you can tailor it to your business's needs. You need all the help you can get to be able to understand your customers on an individual level—and ActiveCampaign CRM gives you just that.
And if you think you don't have enough time or resources to dedicate to customer relationship management software, think again.
With high-level support and onboarding for new customers, ActiveCampaign CRM is designed to scale up along with your company.
From automated email follow-ups to one-click segmentation to visual automation builder and world-class CRM capabilities, with ActiveCampaign CRM you have everything you need to track and manage your leads and clients.
ActiveCampaign CRM Pricing
Lite – starting at $9 /month
Plus – starting at $49 /month
Professional – starting at $149/month
Enterprise – starting at $259/month
▶ Start ActiveCampaign 14 Day Free Trial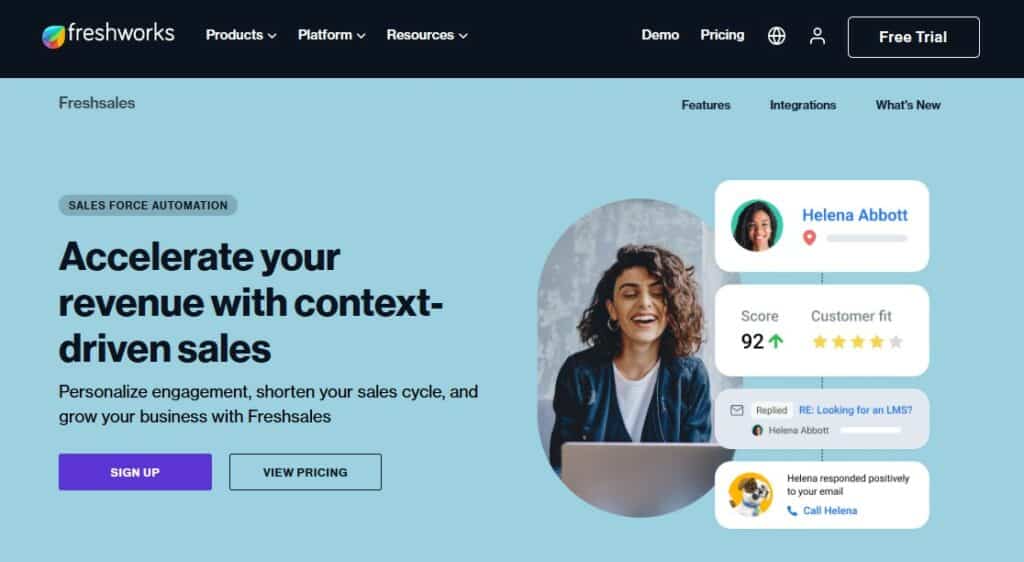 Freshsales is the unified CRM software that brings all your customer data together in one powerful platform.
So your sales teams can deliver personalized customer experiences every step of the way. And here's how.
The customer profile gives your teams all the contacts they need, like their personal details, deals and accounts, conversations, tasks, meetings, and other activities in a timeline view.
You can quickly identify your high-intent leads with AI-powered contact scoring, which you can customize using scoring factors for your business based on your ideal customer profile.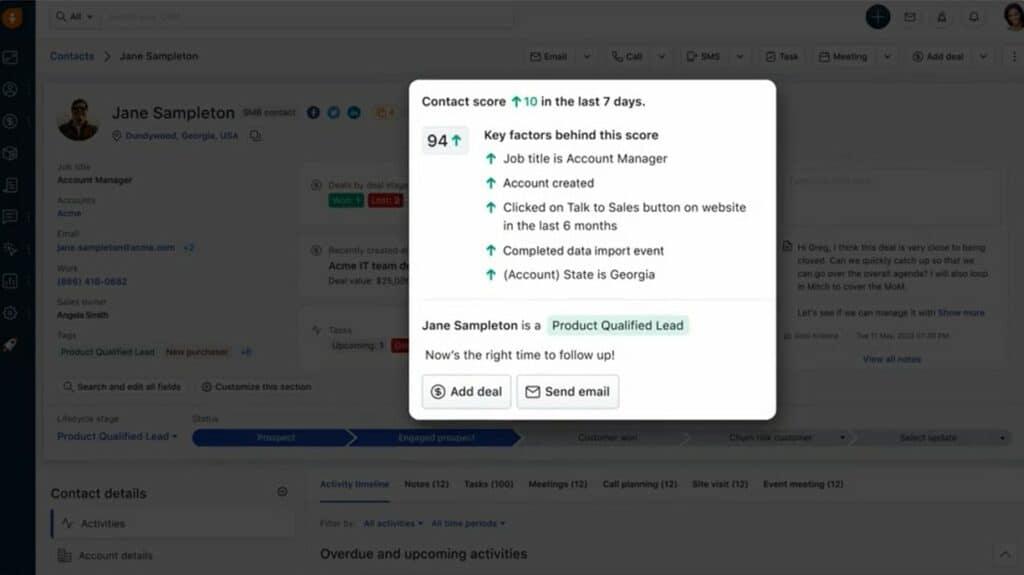 Then you can get further insights to start engaging with your customers – with email, phone, and SMS, you can engage with them right from Freshsales.
You can connect your email to sync your customer conversations so you can send and receive emails in the CRM.
You can also chat with your customers on your website, WhatsApp, and social channels – this ability for your sales team to engage with customers across channels means better customer experiences wherever they are.
And with sales sequences, you can nurture your contacts over a series of different touchpoints based on how they've engaged with your campaigns.
Freshsales lets you also engage your customers across their life cycle stages with table and Kanban views. Choose from different contact views to perform bulk actions like adding them to a sequence, creating tags, sending emails, or updating fields to save time and clicks.
Choose from a wide variety of templates as they are, or customize them for your specific workflows to automate repetitive tasks effortlessly and focus on closing your deals.
The Visual Sales Pipeline offers different views of how your deals are converting into revenue. Your sales teams can quickly identify bottlenecks and optimize interactions to close more deals in less time.
You can customize your pipeline to match your sales process, and as your sales teams get closer to closing a deal, create and send documents like quotes and proposals with custom fields and products.
Freshworks also offers an Ecommerce CRM – Freshmarketer, a Marketing CRM that is tailored for your Ecommerce needs. It also has a Native integration with Shopify and Woocommerce, which makes it very easy to onboard and get started.
Finally, reports and dashboards help measure your sales and team performance. Track your pipeline by the owner, see deals created and closed over time, and identify lost reasons.
And if you're on the go, the Freshsales mobile app for iOS and Android fits all your customer data in the palm of your hand.
In addition, Freshsales is now free for 3 users.
Freshsales Pricing
Growth – free for up to 3 users
Pro – $47/user/month
Enterprise – $69/user/month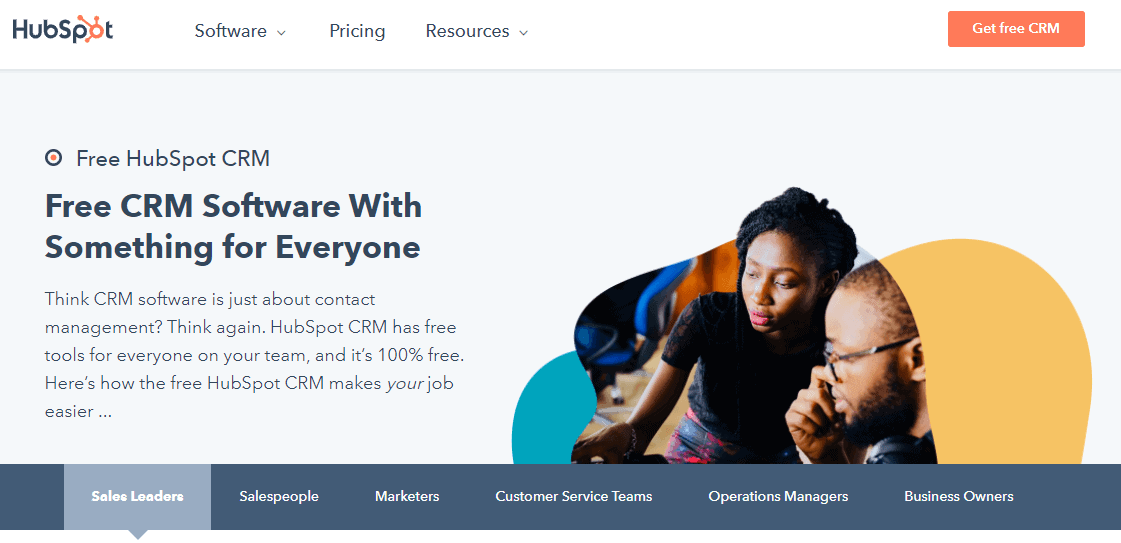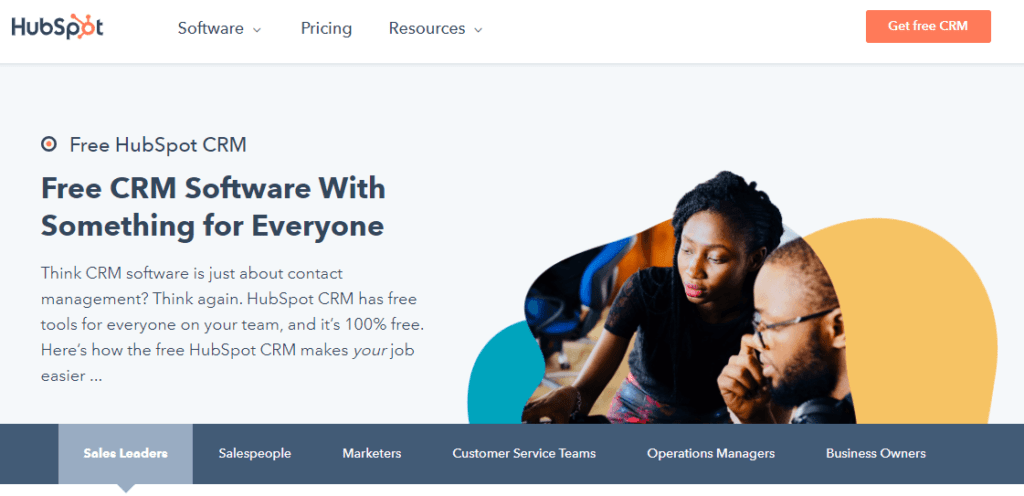 HubSpot is an inbound marketing, sales, and service software company that employs AI in several ways in its software to help businesses improve their marketing, sales, and customer service efforts.
HubSpot's AI algorithms analyze a website or a landing page visitor's behavior and predict which pieces of content they are most likely to engage with.
And when you add new contacts to your HubSpot CRM system or an existing contact subscribes to your email newsletter, the HubSpot Deduplication feature will look for matches in the CRM to eliminate duplicates.
Similarly to ActiveCampaign, HubSpot uses AI to analyze a customer's behavior and preferences and uses that information to personalize emails that are sent to the customer.
HubSpot lets also you automatically gather contact information from your live chat messages. And the great thing is that there is no need to integrate anything with third-party tools because everything is updated directly in the HubSpot CRM system, so your marketing, sales, and service teams are always in sync.
And with HubSpot Insights, you can identify key companies with industry, location, size, revenue, and other key data points, automatically added to your CRM.
The software lets you add deals, assign tasks, and monitor progress in your dashboards making it easier to track sales pipelines.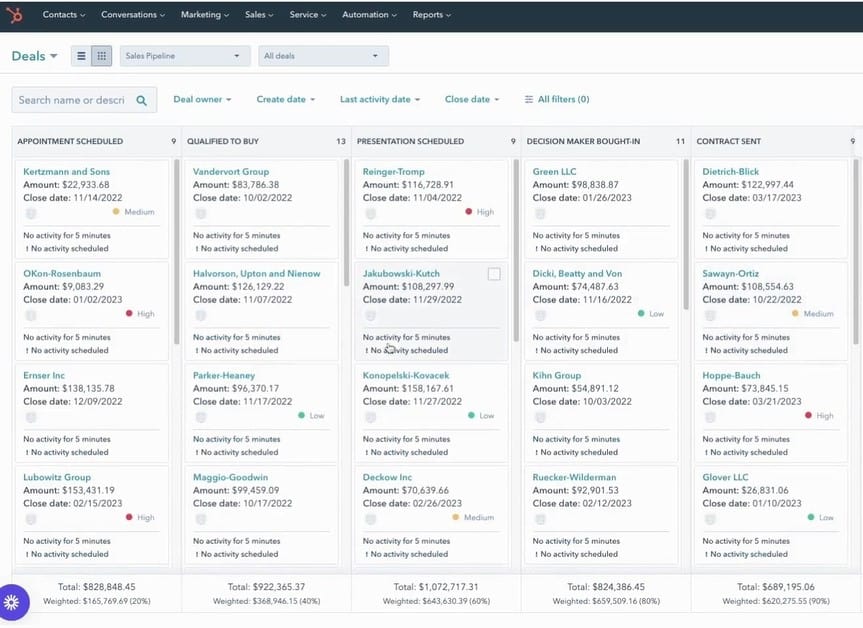 Besides its CRM system, HubSpot also employs artificial intelligence in its mobile app to pick out contact information like first name, last name, and email address, and then map them to your HubSpot properties.
Further combining these features, HubSpot provides an additional AI-powered tool called "Adaptive Testing" that helps in improving your website's conversion rate by providing you with a set of data-oriented, AI-powered, automatically generated web pages.
In addition, HubSpot offers a conversational AI-powered chatbot that can answer customer questions, provide support, and even schedule meetings for sales reps. By using natural language processing (NLP), the chatbot can understand customer questions and answer them in a way that seems human.
As you can see, HubSpot AI CRM software combines a wide range of features to help businesses capture, organize, and act on customer data.
With all these features available at a reasonable price, it is clear why HubSpot has been referred to as one of the world's most powerful CRM systems.
Hubspot CRM Pricing
HubSpot CRM pricing plans range from $45 to $3,200.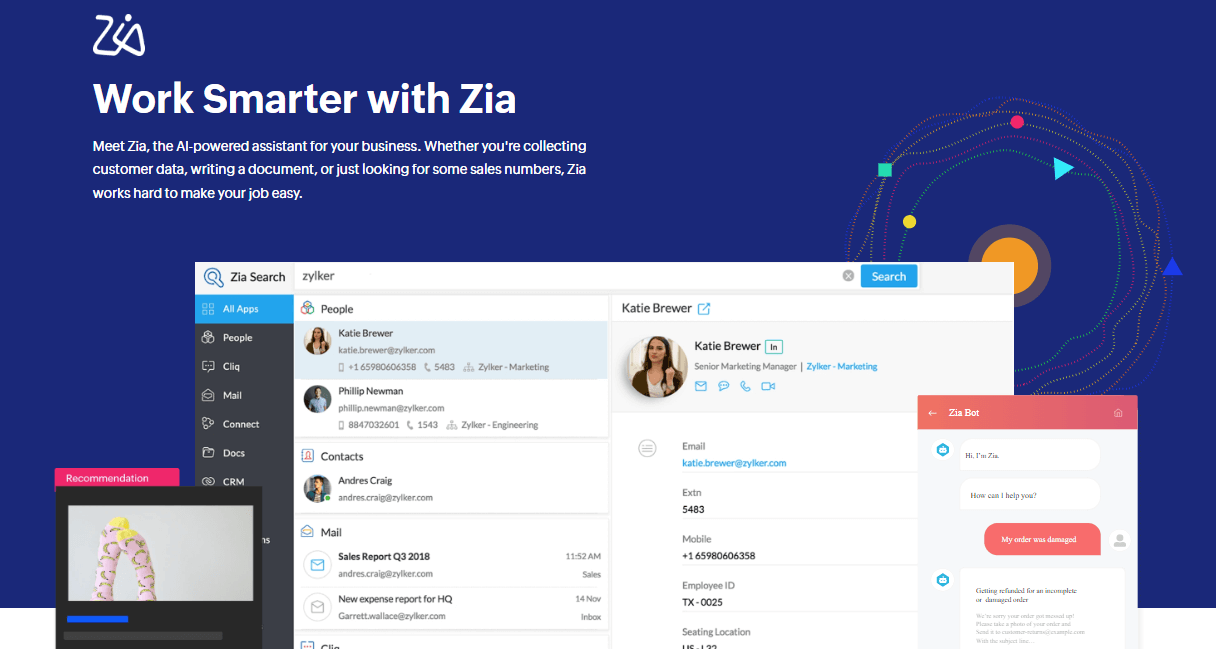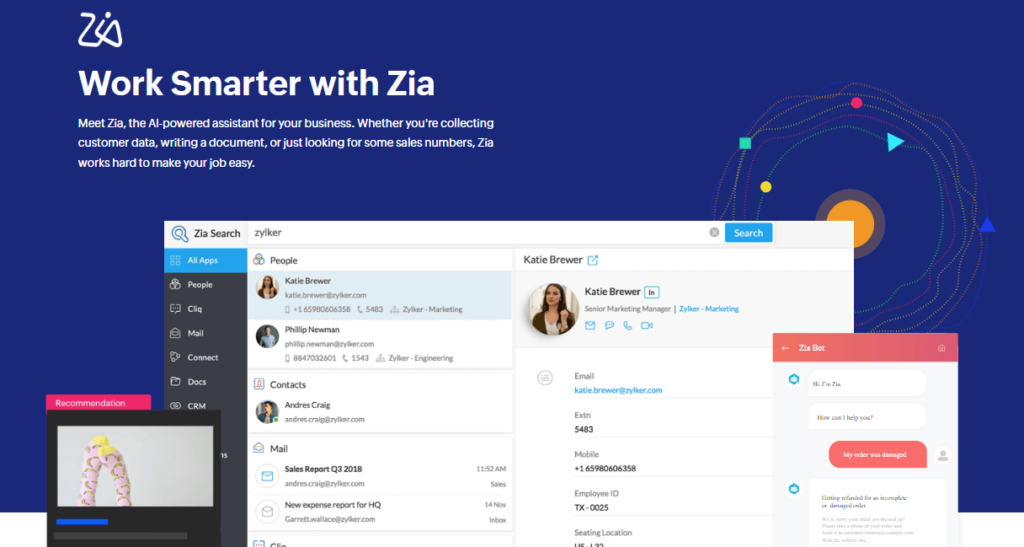 Your growing business demands much more from your CRM. From predicting future sales to closing deals faster, you have a lot on your plate. But it's not your job alone; it's everyone in the team who works together to steer the business toward success.
Zoho Zia's Smart Sales Assistant within Zoho CRM that offers advanced features like account planning, guided selling, and prioritization to help you make the most of your CRM.
Zia is a smart sales assistant that learns your business process and ensures every opportunity is treated equally. It analyses all your data with built-in machine learning algorithms and offers actionable insights to help you make better decisions. With features like lead prioritization, guided selling, and data enrichment, Zia helps you close deals much faster.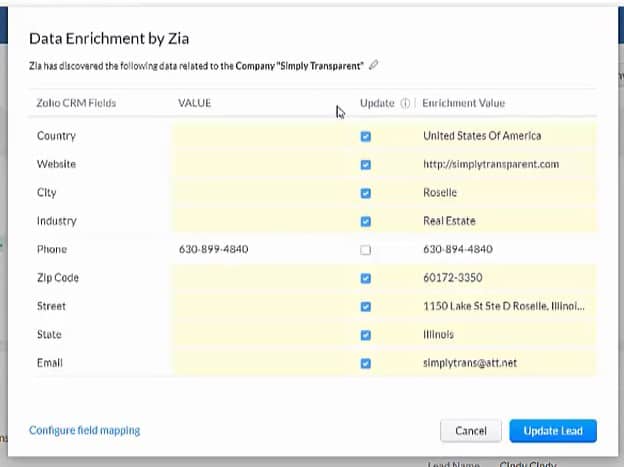 Zoho AI CRM platform provides capabilities to give customers a consistent experience across channels such as voice, web chat, or social media platforms by combining different communication modes into one seamless conversation.
Zia's unique capabilities include:
● Account Planning: Gain a clear view of your account activities, including tasks that need attention and all internal discussions related to an account.
● Lead Prioritization: Prioritize leads based on their likelihood to close using predictive scoring algorithms that consider a buyer's website activity, engagement levels, and historic lead data.
● Guided Selling: Get personalized selling recommendations at each stage of the sales process backed by data science.
● Predictive Forecasting: Use historical data in the system together with machine learning algorithms to forecast sales accurately.
Modeled after real-life sales assistants, Zia is here to help you and your team become more efficient.
Zoho Zia Pricing
Pricing is based on individual business needs. Please contact the sales team for the personalized offering.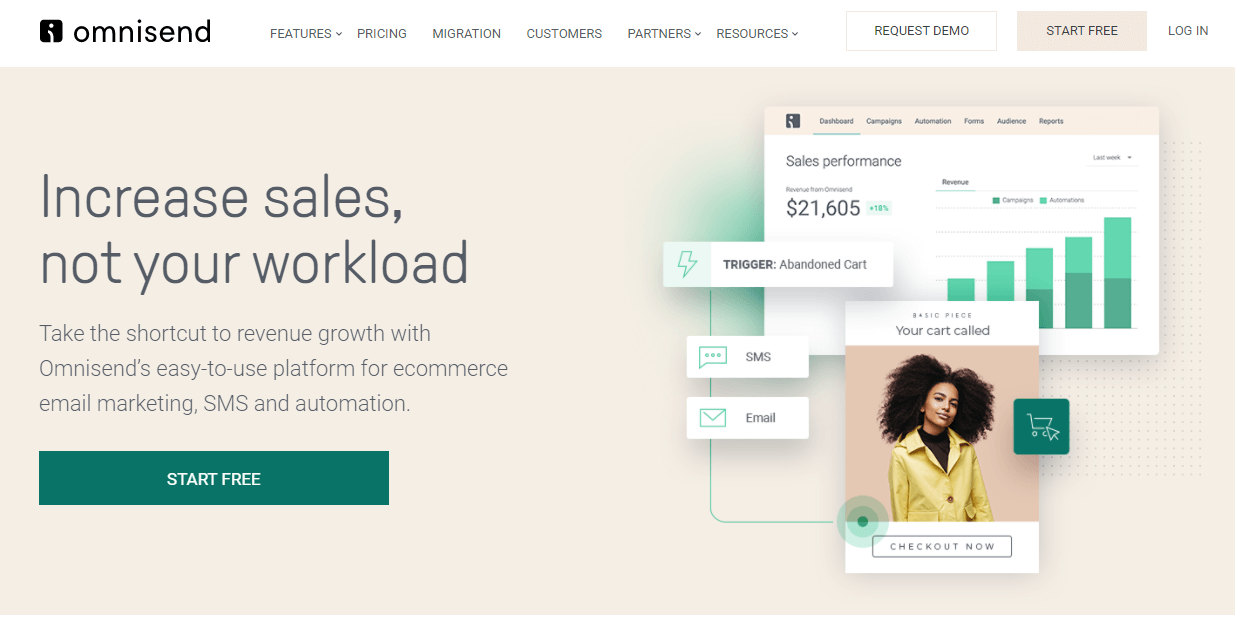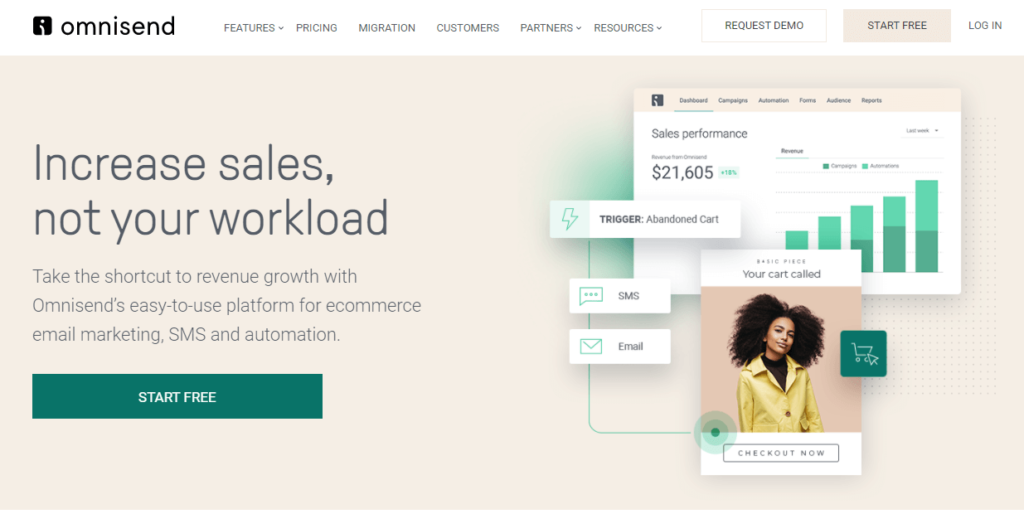 At the heart of any successful eCommerce business is a solid customer relationship management system that allows you to monitor your customers, track their behaviors and purchase patterns, automate sales and marketing workflows, and keep all your contacts in one place.
Unfortunately, most CRMs meant for eCommerce businesses are either too expensive or too complicated. That was until Omnisend came along.
Omnisend has been designed specifically with eCommerce businesses in mind so that they can track every aspect of their online customer relationships from one dashboard with ease and precision.
With an easy-to-use interface, support for multi-currency transaction systems, and integrations with nearly every major eCommerce platform on offer, including Shopify, Woo Commerce, Magento, etc. Omnisend has made it possible for anyone running an online store to easily manage their entire workflow with ease without breaking the bank.
Further boasting AI-powered segmentation capabilities, Omnisend gives eCommerce entrepreneurs the power to segment their audience based on their behavior and send them targeted promotions based on their interests.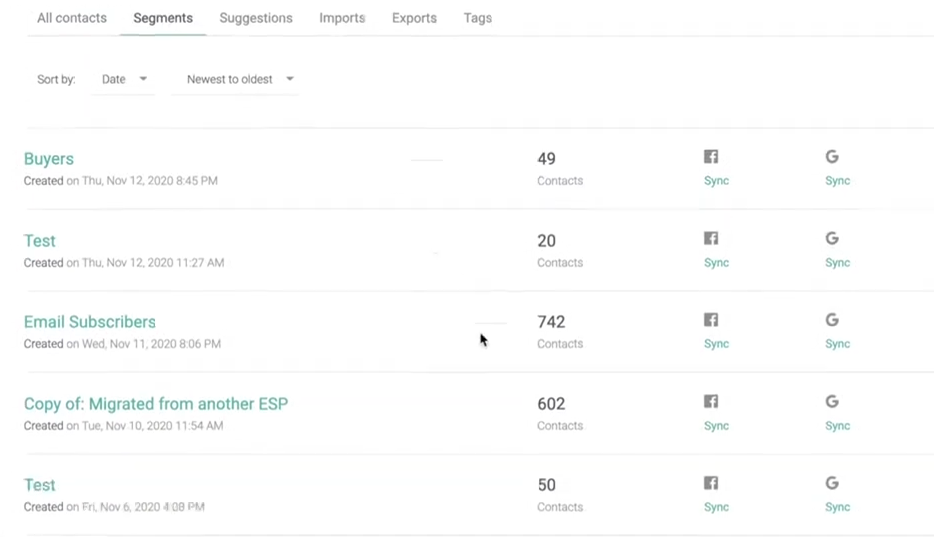 In addition to this, the Omnisend eCommerce CRM also features a powerful email automation engine that allows you to send out highly personalized emails to your subscribers based on their behavior, likes, and preferences.
All this right out of the box without having to spend hours writing code or configuring complex marketing automation workflows.
Omnisend Pricing
Free – $0/month
Standard – $16/month
Pro – $59/month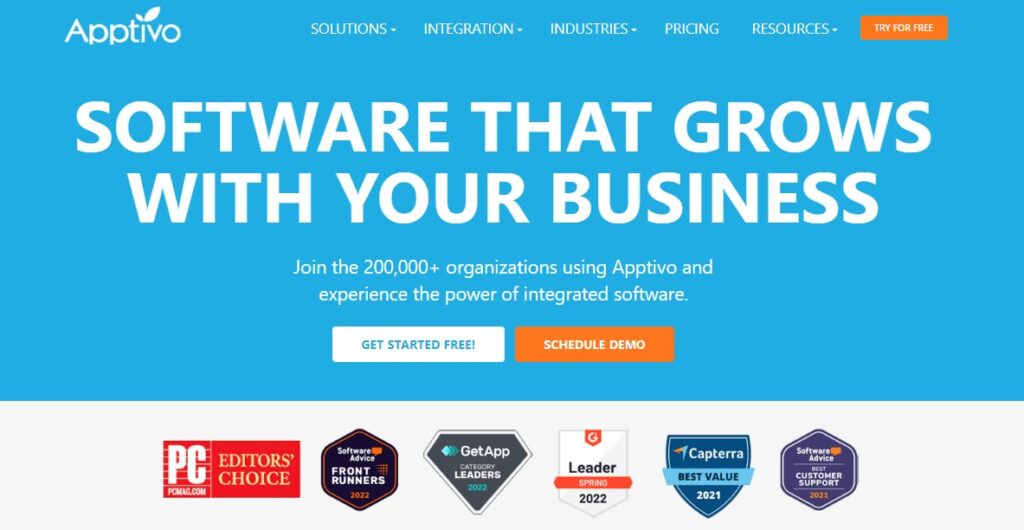 Apptivo CRM is a complete cloud solution for businesses of all sizes. From managing customer relationships to project management and invoicing, Apptivo CRM has everything you need in one easy-to-use package.
Apptivo CRM consists of a set of tools that can help you manage your customer relationships and sales pipeline. Tools included in the CRM platform include customers, contacts, leads, opportunities, and cases. The system also comes with multiple other applications for collaboration. Apptivo makes several other software systems in addition to its CRM and you can use the collaboration applications in all of them.
Apptivo lets you create multiple sales pipelines and you can view pipeline reports and sales forecasts to see historical future revenue potential.
Apptivo's CRM enables you to change the system's navigation layout to suit your working style as well as add a number of custom fields to record cards. The system also helps streamline lead management with embeddable lead forms for your website and it supports integrations for a variety of third-party software systems.
Apptivo Pricing
Lite – $10/user/month
Premium – $15/user/month
Ultimate – $25/user/month
Enterprise – customer pricing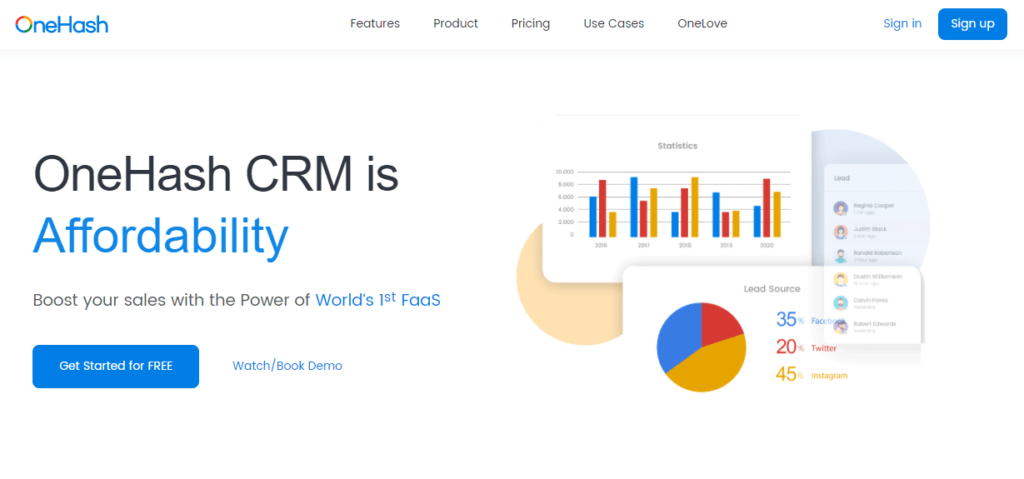 OneHash is a smart CRM and AI ERP software and a high-tech solution that enables users to manage their businesses fast and effectively. OneHash AI-powered CRM uses advanced machine learning algorithms to predict future outcomes and come up with insightful recommendations.
OneHash CRM doesn't just focus on sales but this platform also enables you to track your production process using smart enterprise resource planning (ERP) software, manage finances with its accounting software, efficiently communicate with your employees and customers, and build a professional website in minutes using an intuitive drag and drop builder.
It offers a financial management solution powered by AI that enables you to manage and keep track of all your expenses along with your income and analyze them to provide you insights into where you spend money and in what areas you need to spend more or less in your company.
You can also track your cash flow, along with forecasting how much more money you will need to earn in order to get a specific financial goal achieved.
Another unique OneHash CRM feature is that it also lets you track your business assets and liabilities alongside your income and expenses for better financial planning.
OneHash CRM can automatically integrate with your website and many other third-party platforms to automatically gather information vital to your business in real-time.
In short, OneHash is a perfect cloud-based CRM and manufacturing ERP software that enables businesses and their employees to work collaboratively on company projects, manage sales activities, keep track of their finances, improve marketing efforts, and so much more for a very affordable price.
Read more: OneHash review.
OneHash CRM Pricing
Monthly – $99/month
Lifetime – $397/lifetime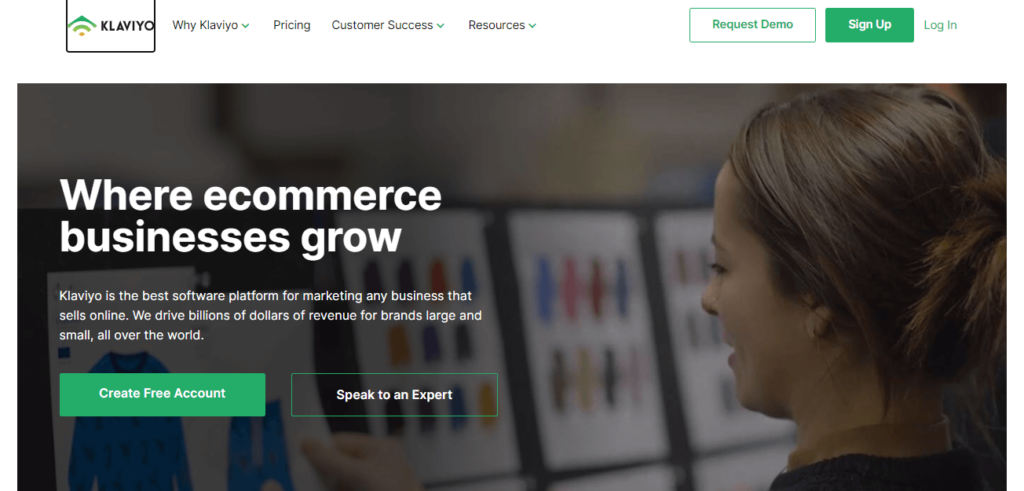 Marketers are unable to build effective customer communications due to fragmented point solutions. Klaviyo One addresses this by centralizing all of your customers' data on a single customer data platform, from which you can fuel highly personalized messages at scale.
Klaviyo is an AI-powered omnichannel marketing automation platform and CRM system that uses machine learning to discover emerging customer patterns, target the right people with the right message at the right time, and grow your business faster.
Klaviyo can help you take your marketing to the next level by helping you develop customer insights, target the right people with the right message at the right time and personalize automated emails.
Klaviyo's AI-powered Smart CRM uses machine learning to offer predictive analytics and grow your business faster with A/B testing, customer lifetime value calculations, segmentation, and more. It will take some of your workloads off, allowing you to focus on growing your revenue.
Further, it can help you grow your revenue by automating communications with your customers, from lead nurturing and sales follow-up to post-purchase follow-up.
You'll be able to reach out to customers at just about any point in their lifecycle using automated email programs, based on what they do on your site and whether or not they've opted in.
This will help you build relationships, increase customer lifetime value and make sure that everyone has a positive experience when they interact with your brand.
Klaviyo Pricing
Free – starting at $0
Email – starting at $45/month
Email and SMS – starting at $60/month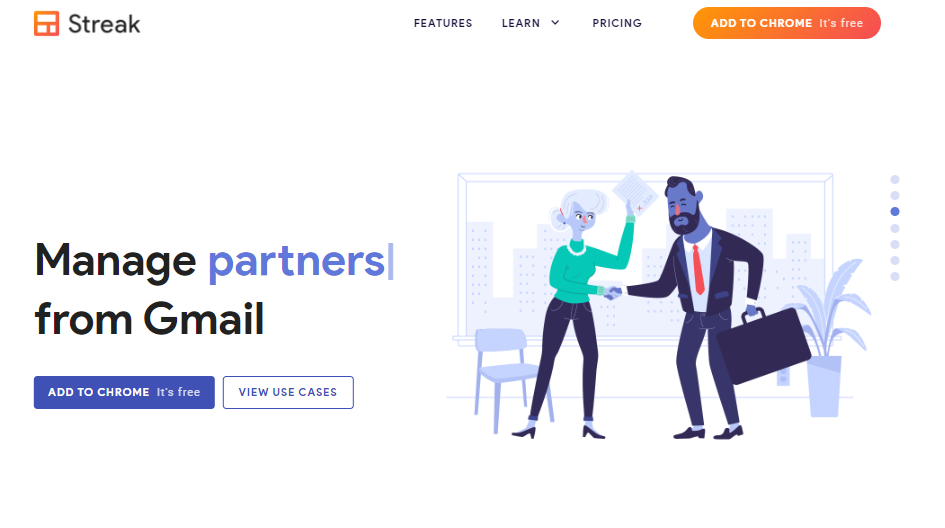 Streak is a free CRM tool that helps businesses keep track of their customer interactions and sales processes. It offers a variety of features, including email tracking, task management, and contact management.
Streak empowers you to keep your business pipeline smooth and functioning by automating many of your communication-related processes within Gmail so you can reduce distractions and get more done without having to deal with the time-consuming admin that comes with being an entrepreneur.
For example, if a deal hits its due date or falls behind schedule, users can send automated notifications from Streak via email, automatically notifying contacts who are involved, including stakeholders inside client organizations. It's like a full-fledged CRM built well within your Gmail account.
In essence, it's designed for companies whose teams use Gmail as their primary means of collaboration—and there's really no reason why they shouldn't give Google's great security record, intuitive interface, and high levels of integration with third-party apps.
Read more in this Streak review.
Streak Pricing
Free: 0$ per user per month
Solo: 15$ per user per month
Pro: 49$ per user per month
Enterprise: 129$ per user per month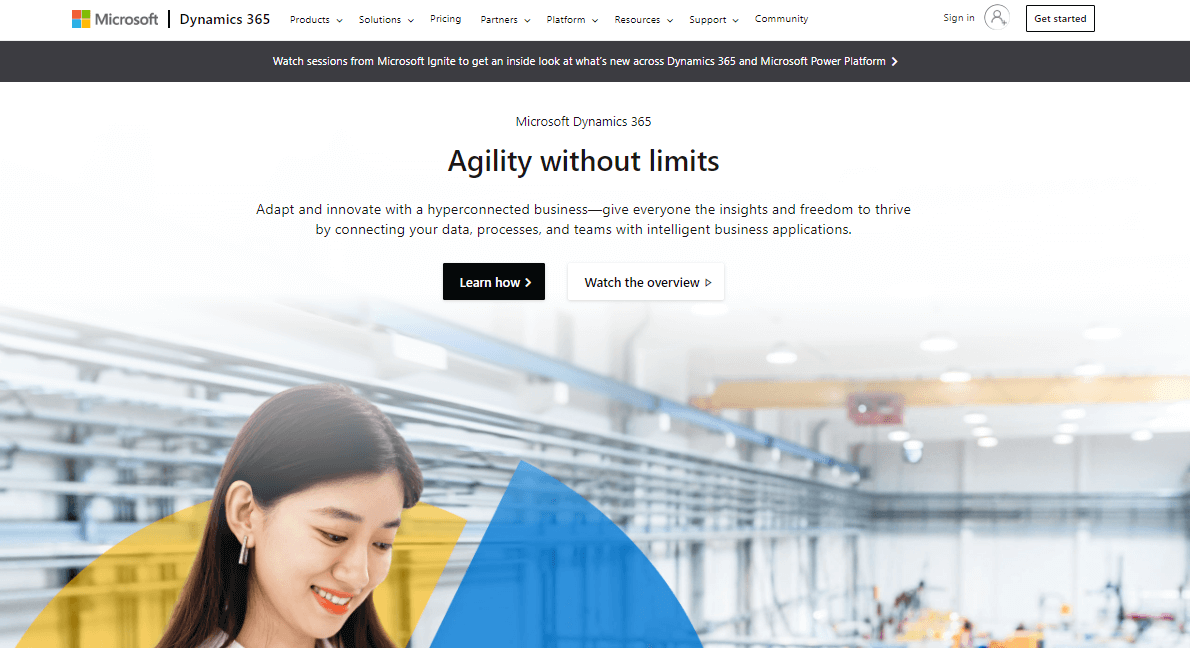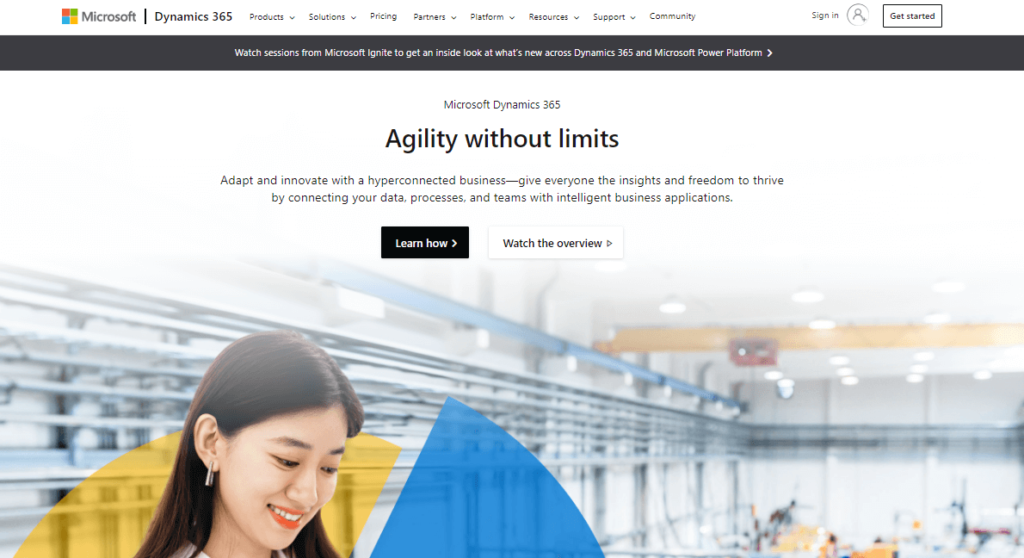 Microsoft Dynamics 365 is an AI-powered intelligent cloud business solution for enterprise-level companies.
With Dynamics 365, you get unique capabilities for every role and industry, including sales, marketing, customer service, field service, operations, financials, retailers, and talent.
Microsoft Dynamics 365 offers cloud-based services along with a set of data-driven applications that can be used to transform your business operations.
To put it simply, Microsoft Dynamics 365 is a smart CRM system that uses machine learning to offer predictive analytics and grow your business faster with A/B testing, customer lifetime value calculations, segmentation, and more.
Dynamically CRM is a digital transformation tool that can help you streamline your business operations and enhance the productivity of your employees by automating certain processes so that they can focus more on improving the customer experience.
With its robust set of integrated online services and applications for eCommerce, marketing automation, and supply chain, Dynamics 365 lets you gain actionable insights from data in real-time so that you can make informed business decisions.
The new Microsoft Dynamics 365 platform is built on a common data model which allows you to easily integrate your existing applications with this intelligent cloud system. This includes online stores, point of sale systems, or mobile apps that may already be in use by your organization.
Dynamics 365 offers built-in collaboration tools such as shared inboxes, Skype for Business, and Yammer. This means that team members can communicate easily without having to worry about any barriers such as email addresses or servers. It makes data available to all employees so that they can analyze customer patterns and performance in real-time.
It's not the most intuitive CRM system but it lets you manage your business faster and more efficiently while providing you with valuable information that helps to improve decision-making.
Microsoft Dynamics 365 Pricing
Free – NA
Sales Professional – $65 /month
Sales Premium – $59/month
Microsoft Relationship Sales– $162/month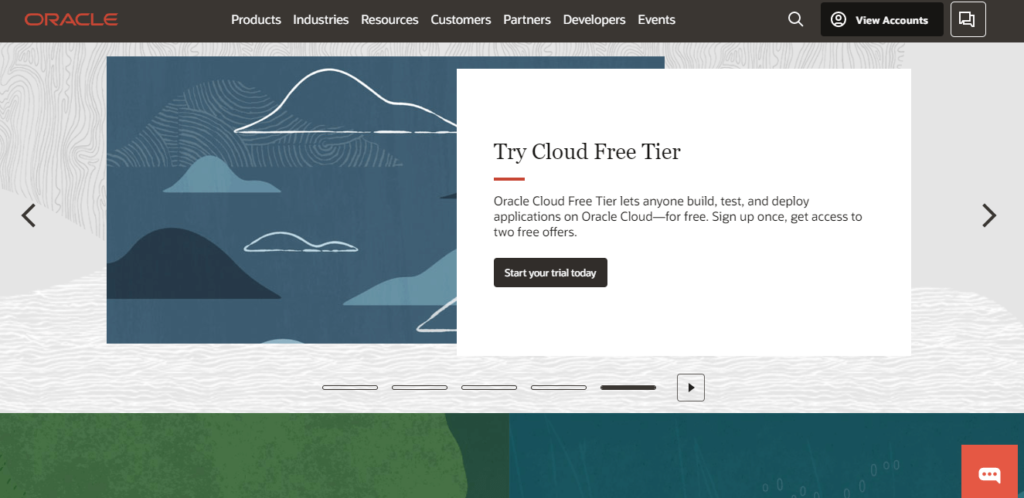 Oracle provides a comprehensive, AI-powered customer experience system of action that empowers the omnichannel enterprise with tools to sell, service, market, analyze, innovate, and disrupt.
Oracle's AI-driven smart sales cloud and artificial intelligence platform can help you personalize account planning, prioritize leads, offer guided selling, and much more.
Oracle CRM is the world's leading customer experience management solution for sales, service, marketing, and events. Oracle CX Cloud helps increase sales productivity with personalized guidance and offers actionable insight by leveraging data connections across CRM and ERP.
Oracle also helps in accelerating innovation with AI-driven predictions and recommendations. A single view of customers is provided by consolidating data from any source and using it to automate business processes across all channels.
Further incorporating machine learning to offer insightful recommendations to sales reps on how they can improve their selling efforts and provide the best customer experience, Oracle CRM is a comprehensive solution that offers real-time insight into account performance so that you can generate higher revenue and build stronger relationships with your customers.
One of its key features is Campaign Management which lets you automate personalized marketing campaigns based on insights derived from your data. The tool uses a combination of predictive analytics along with traditional lead scoring to prioritize leads based on potential.
This enables sales reps to spend their time selling instead of prospecting and allows them to accelerate revenue growth while improving customer loyalty and satisfaction.
Finally, Oracle CRM lets you use all available data within the organization so that everyone in your team can have a single view of each customer and focus on what matters most: building stronger relationships with prospects and customers.
Oracle Pricing
Pricing is disclosed after a personalized demonstration from Oracle's sales team.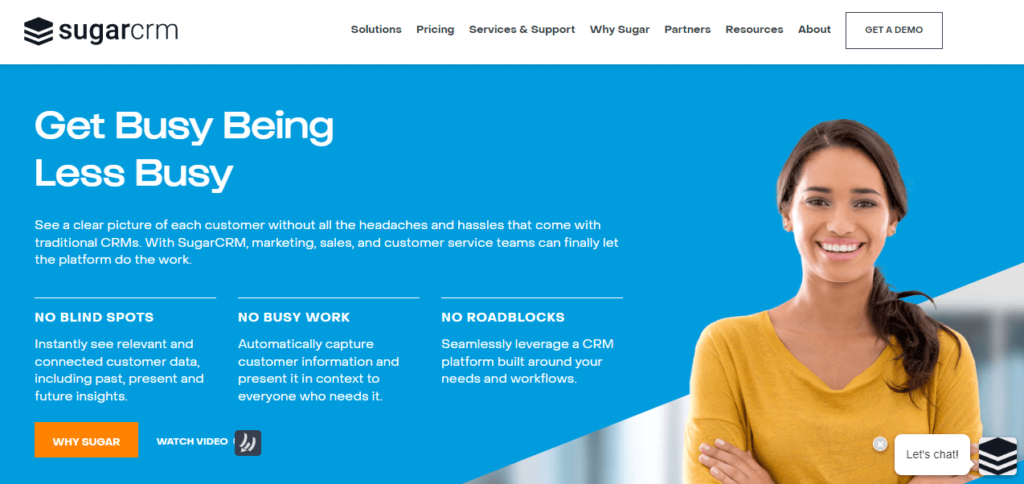 Sugar is an AI-powered smart sales cloud that helps you zero in on the right prospects at the right time. Using this artificial intelligence platform, accounts are prioritized by their potential value and forecasted likelihood of closing so your team can focus their efforts on those opportunities most likely to result in success.
Not only that—you'll have a complete view of your pipeline with visibility into the lead stage, revenue opportunity, and close dates.
Thanks to Sugar's predictive analytics, you'll know what calls to make (and which ones not to), which meetings to reschedule and how best to spend your valuable time outside of client meetings.
With more control over which leads go where you can cut down on unnecessary follow-up work and ensure everyone remains laser-focused on top opportunities.
SugarCRM Pricing
Sugar Market — $1,000 /month
Sugar Sell — $80 /month
Sugar Serve — $80 /month
Sugar Enterprise — $85 / month
Sugar Professional — $52 /month
AI CRM Software Final Words
So these are the best AI CRM software systems that are revolutionizing the customer service industry. They are making it easier for companies to keep track of customer interactions, manage sales and marketing campaigns, and improve customer service.
If you are looking for a way to improve your customer service, then you should consider using AI based CRM software.