The emergence of AI ecommerce software has made it possible for businesses to provide their customers with a greater level of support.
AI helpdesk software is a customer service technology that uses natural language processing and machine learning to automate customer service functions.
This technology is designed to improve the customer experience by providing faster response times and more accurate solutions than traditional customer service models.
In this article we researched best AI helpdesk software and ticketing systems that will help you provide an efficient, cost-effective solution to managing customer inquiries and support requests.
Zoho Desk is a customer service platform that consolidates all of your customer interactions from various channels including phone, email, live chat, SMS text, and social media into one single interface.
Zoho Desk caters to businesses of all sizes and provides agents with powerful tools including:
Ticket management
Self-service
Work modes
And artificial intelligence
Zoho Desk leverages AI technology in its help desk system by offering an AI assistant named Zia. Zia is like your own personal customer service guru. You can chat with her on your mobile app or website, and she'll help you out with any questions you have by suggesting the appropriate solution from the Knowledge Base. And if the solution doesn't work, Zia will notify the managers to make sure everything gets resolved.
Zia AI-powered assistant learns from data to give suggestions and alerts to support agents. She can even predict anomalies or unusual events that could affect customer service. Zia does this by analyzing patterns in help desk traffic over time and then notifying you of any changes in the pattern. She's like a little detective that spots things before they become a big problem.
Zia also helps with sentiment analysis, which means she can figure out the mood of the customer and tell you if they're happy, unhappy, or neutral. This helps support agents understand customers better and respond to them in a more personalized way.
One of the coolest things about Zoho Desk is that it can automatically add tags to incoming customer tickets. Zia scans the content of the response and identifies key phrases, which then get added as tags to the ticket thread. This makes it easier to organize and categorize tickets without having to do it manually.
Zoho Desk has recently introduced some pretty cool new features that will make your customer support experience even better.
First up is instant messaging – it's just like texting your friend. You can provide support to your customers from a single platform across all the most popular messaging channels. It's easy to use and you can help your customers no matter how they reach out to you.
Guided Conversations is another awesome feature that helps your customers find the answers they need quickly and easily.
And if you have no experience writing codes, Zoho Desk GUI builder and its library of pre-defined templates make it easy to get started.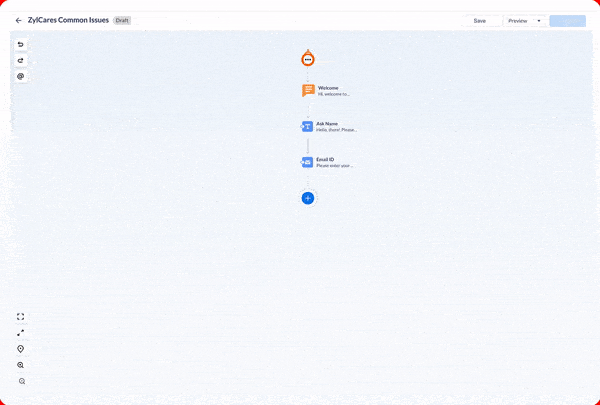 You can create predefined chats that systematically lead your customers to the best solution, and even personalize the chat to suit your customers' preferences.
Lastly, Zoho Desk has introduced user personalization features so you can make your help desk truly your own. The interface is already user-friendly, but now you can personalize it even more with new customization options.
Overall, Zoho Desk and Zia are pretty nifty tools for customer support teams. Zia's constantly learning and getting smarter, so the more data she has, the better she gets at helping you out.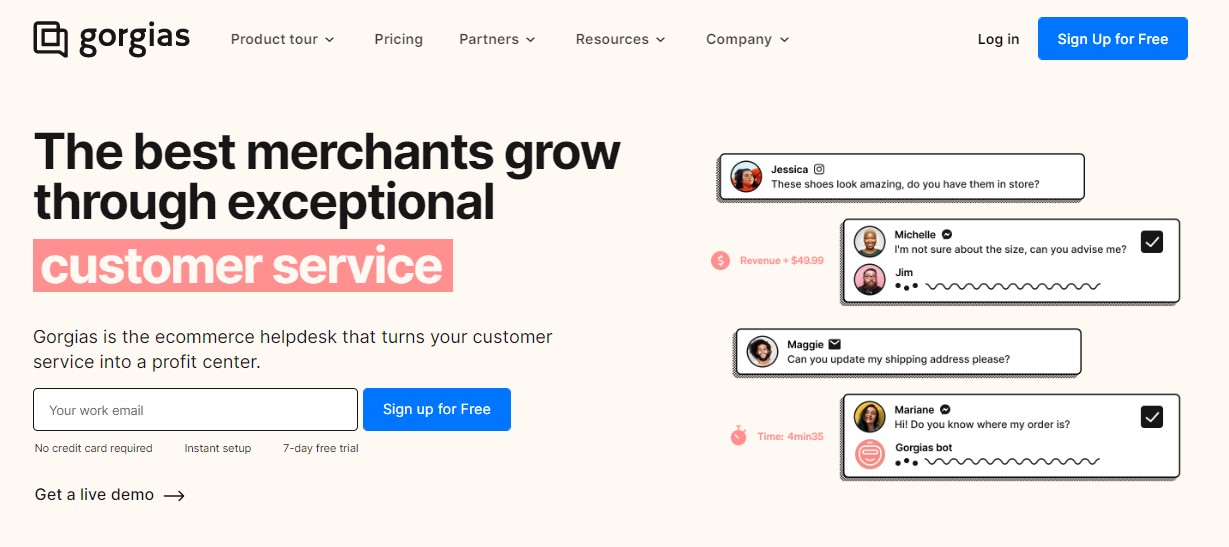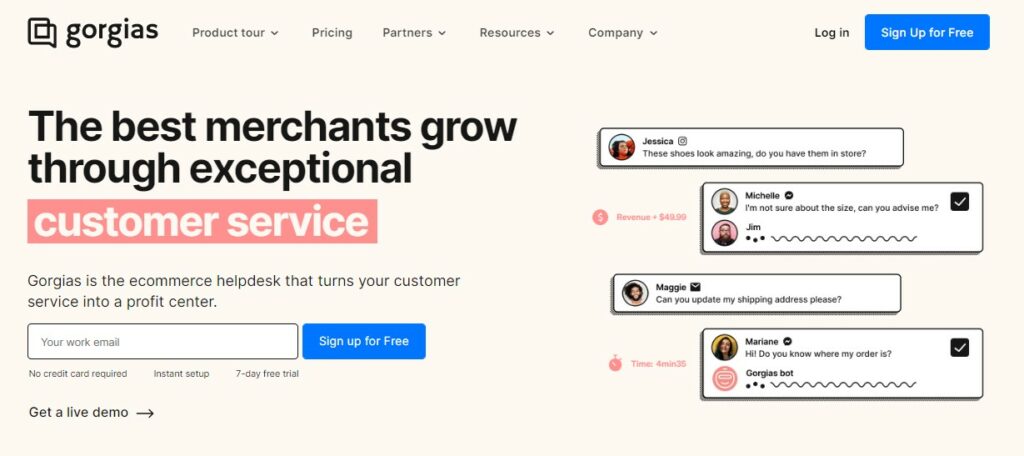 Gorgias is an all in one customer support software that lets for e-commerce stores owners provide multichannel customer service from a single dashboard.
One of the things that make Gorgias stand out is its all-in-one help desk experience. You can manage customer inquiries from email, live chat, phone, Facebook, Instagram, and even the contact us page all in one place.
And if you're using Shopify, Magento or BigCommerce, Gorgias has this super cool one-click integration that lets you see order details and do things like refund, cancel, and duplicate orders without ever leaving the app.
The best part? All customer support tickets are managed in the same system, regardless of the channel they came from. That means you don't have to switch between different platforms and dealing with different rules, tags, and things like that.
What's more, Gorgias AI helpdesk uses machine learning to study your past customer support tickets and learn your brand's voice. Then, using GPT-3 technology, it suggests brand-friendly responses for each ticket so your agents don't have to start from scratch every time a customer reaches out.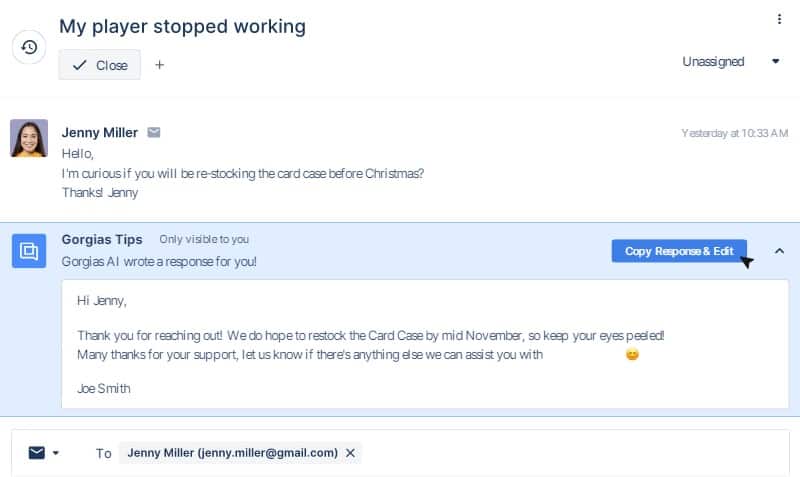 But what sets Gorgias apart from other basic text recommendation systems is that it actually emulates your team's style. That way, the answers it suggests are aligned with your brand.
The vendor also ensures that the AI won't send any messages directly to your customers. It only drafts an answer proposal that your agents can edit before sending. That way, you keep full control of what you send to shoppers.
In short, Gorgias AI is a game-changer for customer service. It helps your agents save time and provide personalized, brand-friendly responses that keep your customers happy.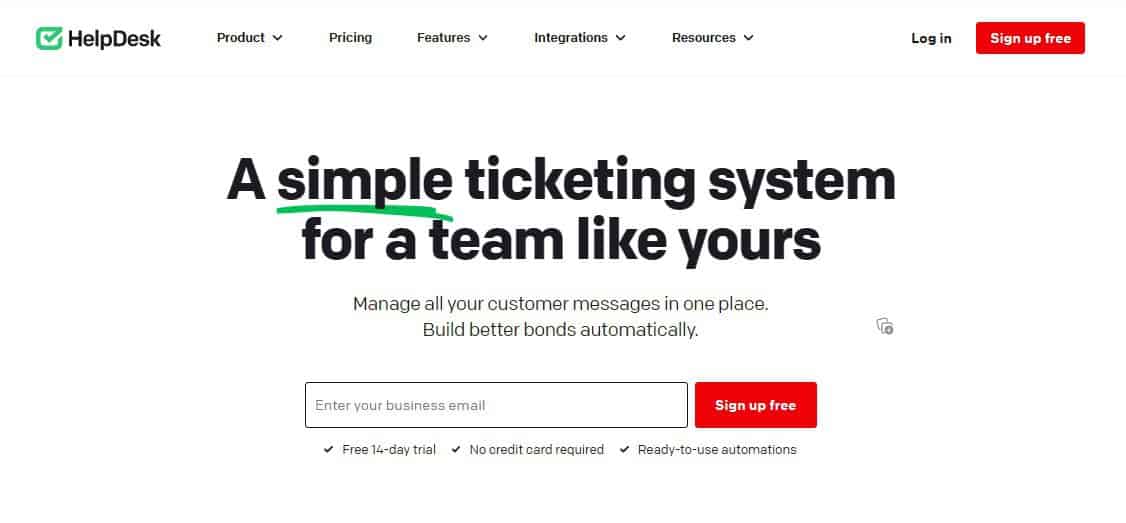 HelpDesk is an online tool that helps businesses of all sizes give top-notch customer support. It's like a digital hub where you can manage all your client conversations, questions, and feedback.
There are loads of features in HelpDesk that make it super handy. You can add tags to tickets, write private notes, assign tickets to specific people, and share info with others in your team. Plus, you can even add a chat widget to your website so customers can easily reach out to you.
HelpDesk leverages AI technology by offering users its new AI text enhancement feature. Simply put, this tool lets you write your replies quicker and with better grammar. You can even change the tone of your messages depending on who you're talking to and what the situation is.
In short, HelpDesk makes it easy to keep track of all your customer support stuff in one place. And with AI text enhancements, you can communicate with customers even more efficiently.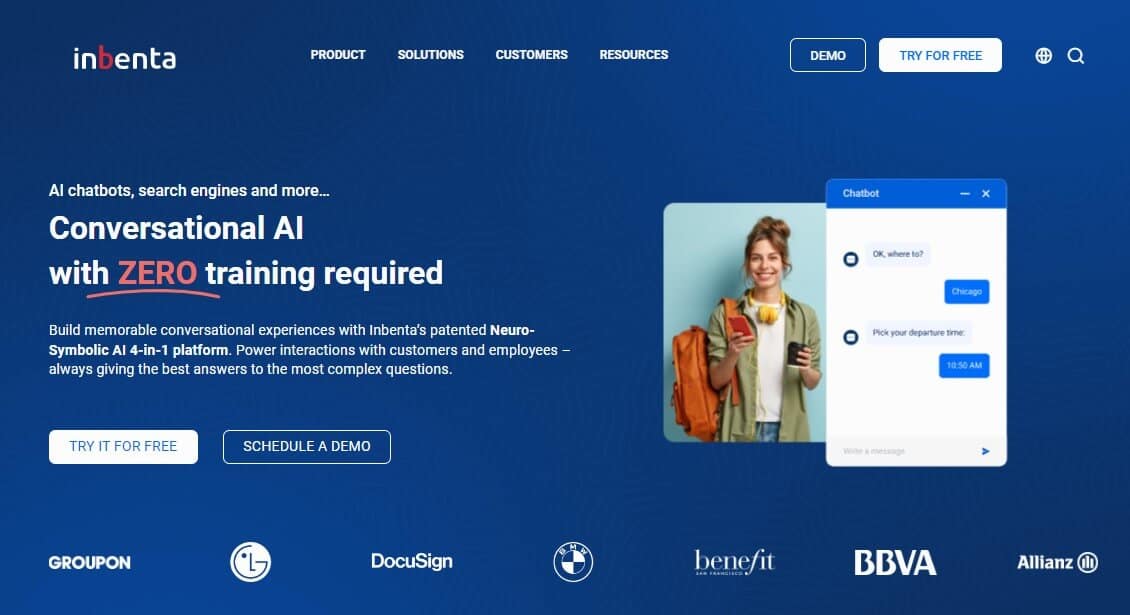 If you have ever been frustrated trying to get IT support for your company's technology issues, there's a new solution using AI called Inbenta that can help.
Basically, Inbenta is a 4-module conversational AI platform that can automate a lot of the repetitive and low-value IT requests that your company's IT team deals with.
These modules include:
Transactional AI chatbot
Knowledge center to help users easily find answers
Semantic search engine to make search easy
Ticketing system to increase agents' performance
Inbenta also provides real-time service information to all employees and can guide them through troubleshooting common IT issues on their own without needing help from IT agents. It's like having an IT virtual assistant available 24/7.
What's really cool is that you can build your own AI chatbot with Inbenta to serve your specific needs. You can embed it in your website or connect it to communication channels like WhatsApp or Slack.
Inbenta chatbot can understand what people are asking for in more than 35 different languages. How does it do that, you ask? Well, it has some fancy technology under the hood. They use something called Symbolic AI, which is a fancy way of saying they have a really smart algorithm that can understand the meaning of words and how they relate to each other.
They also have their own special database called the Inbenta Lexicon which has a bunch of different words and how they're used in different contexts. All of this helps the chatbot understand what people are asking for and give them the right answers.
Inbenta's chatbots are easy to build according to our research and can provide engaging automated experiences that are truly conversational and seamlessly integrated across channels.
Additionally, Inbenta has a knowledge software feature that can centralize all of your company's information in one place. It can push relevant content, identify frequently asked questions, and suggest popular topics to customers and employees.
Overall, Inbenta is a pretty neat AI solution for IT support automation that can save your company time and improve IT service desks.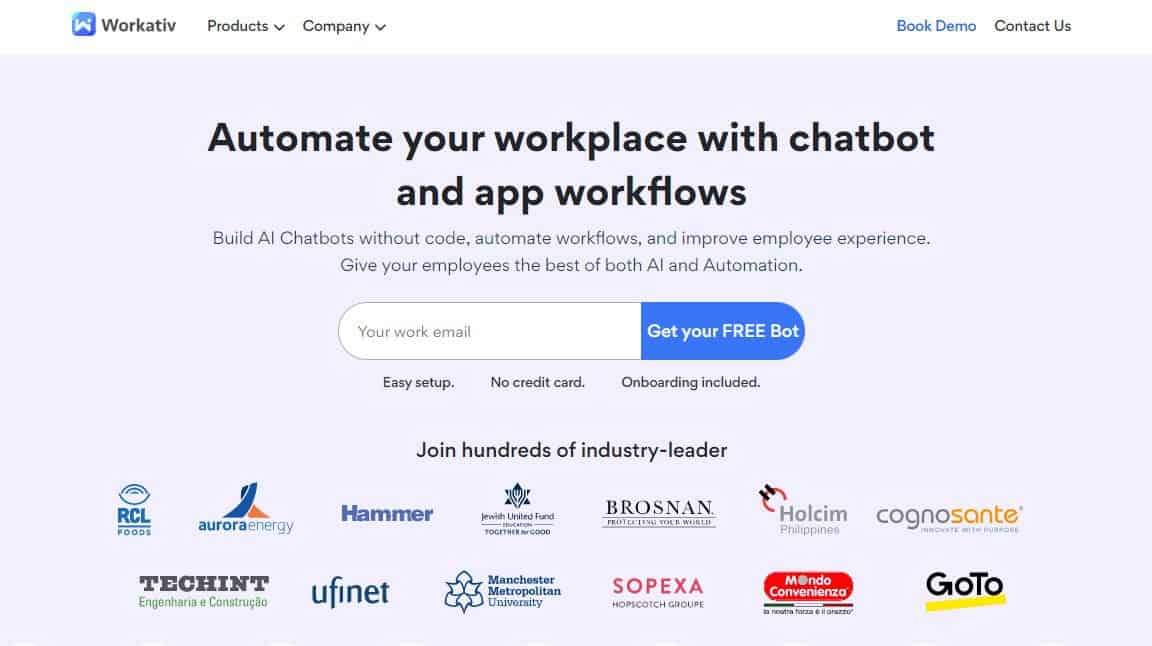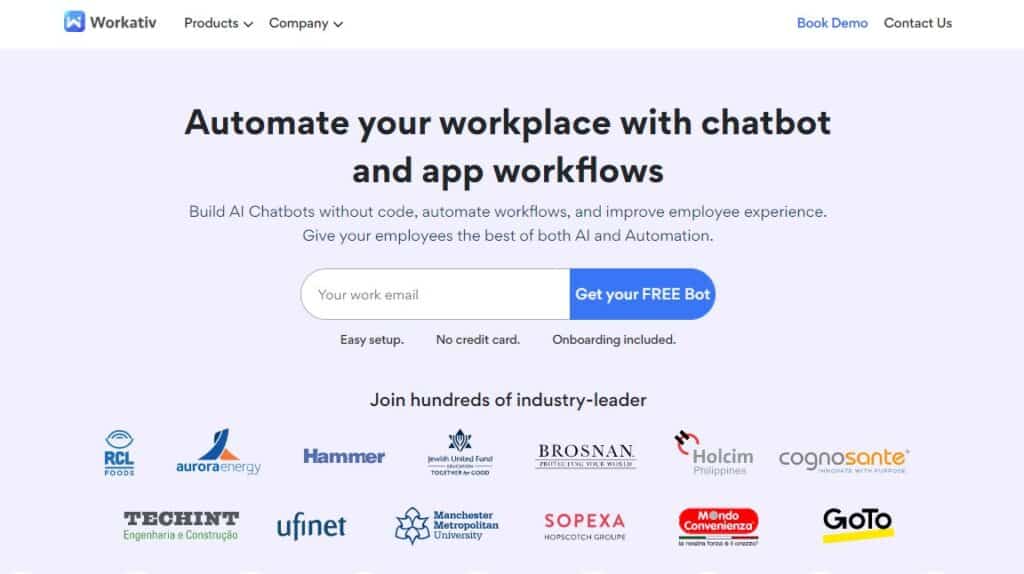 Workativ is an AI ticketing system that helps companies give IT support to their employees in a new way. Instead of always having to ask the helpdesk for help, employees can use the computer thing to solve their own problems.
One of the ways it does this is through something called "AI Ticketing." This means that the computer thing can figure out what the employee needs help with and try to fix it on its own. This saves time for the IT support people, so they can focus on bigger problems instead of tiny ones.
Another cool thing is that the computer thing can work with popular helpdesk and ticketing tools, so it's really easy to set up. Plus, you can make custom workflows for different situations, so employees can quickly create, update, and find their tickets.
Plus, there's also an AI chatbot that can help with ticketing in Microsoft Teams and Slack. So if you're chatting with your coworkers and need help with something, you can just ask the chatbot and it'll help you out. It's available all day and night, so you can get help whenever you need it.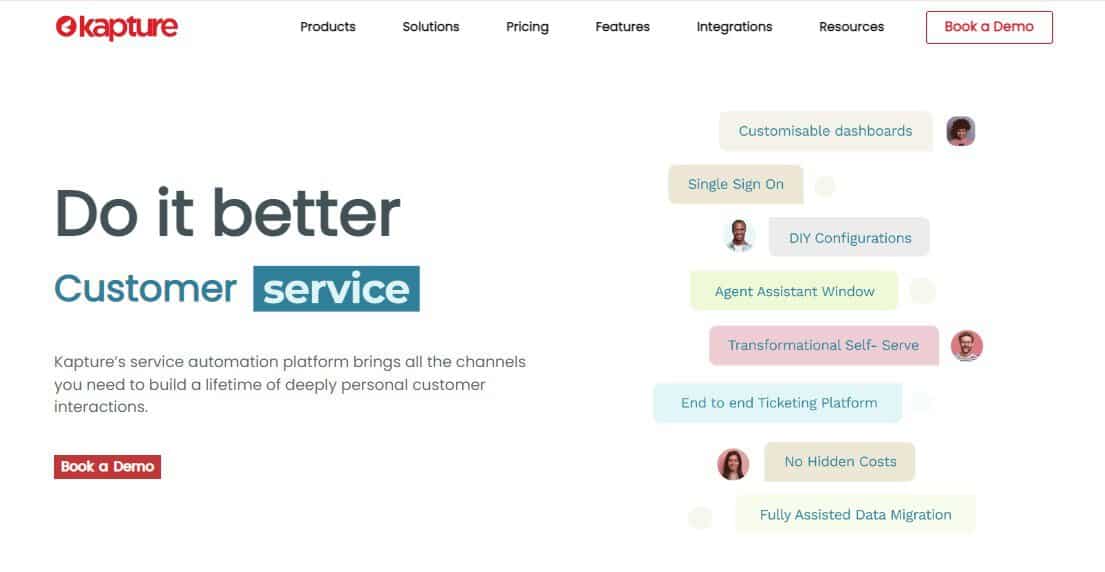 Kapture CRM lets you automate the process of handling customer service requests with features like AI-powered live chat, a knowledge base system, and other tools, your customers can get their problems solved more quickly, which makes them happier and more loyal to your business.
The live chat function can use natural language processing to find solutions for customers without even needing an agent to get involved. Plus, there's a knowledge base system that customers can use to get even more information and help.
It's got this cool AI-powered assistant that can help out your customer service team by handling some of the more repetitive tasks, and it's really scalable, too.
Kapture CRM is an easy-to-use help desk software that's great for businesses in a bunch of different industries including healthcare, technology companies, education, and real estate, among others.
Overall, Kapture CRM is a great choice if you're looking to improve your customer service experience and streamline your team's workload. By using AI and automation, you can reduce response times and improve efficiency, all while giving your customers the help they need.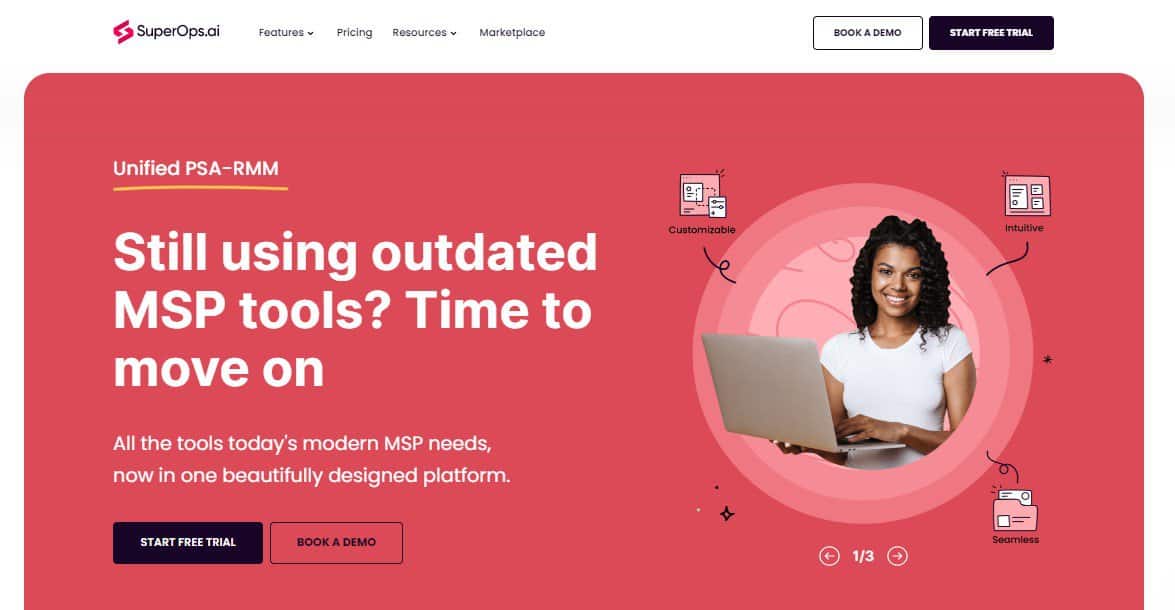 SuperOps.ai is a platform that strives to revolutionize MSPs with its PSA-RMM technology. Their innovative approach to customer service starts with a modern UI that prioritizes small details to create a refined experience. They have designed their IT ticketing system to be conversational in nature to clients' problems.
SuperOps.ai has also automated the IT ticketing process with runbooks that let technicians know exactly what needs to be done, where to seek approval, and how to respond to clients. They also offer custom rule-based workflows that accelerate processes and automate repetitive tasks, making it easy for your team to visualize all their work across various tickets, clients, and projects with their Kanban view.
Their runbooks also serve as a way to onboard new technicians and guide them on what to do, how to seek approvals, and how to approach client responses. SuperOps.ai is on a mission to build the next-gen MSP platform with features like asset, policy, patch, and client management.
AI Helpdesk Software Final Words
In conclusion,AI helpdesk software is a powerful tool that can streamline customer service operations, reduce costs and improve overall customer satisfaction.
By making support more accessible, reducing response times, and enabling companies to offer personalized services tailored to individual customers' needs, AI helpdesk solutions can help your business create an enhanced customer experience.
Additionally, the use of AI allows companies to increase efficiency with less manual labor and make better decisions faster than ever before.