After in-depth research, I've chosen this list of the best AI helpdesk software based on features, reviews, and company reputation. Whether you need ticketing management, self-service options, or advanced AI capabilities, there are great options for every budget and use case.
Best AI Helpdesk Software Tools
1. Freshdesk – Best AI helpdesk software overall
2. Atera – Best AI service desk software for IT departments
3. Gorgias – Best for e-commerce
4. Zoho Desk – Best for multichannel support
5. Helpdesk – Best for simplified customer support
The emergence of AI customer support software has made it possible for businesses to provide their customers with a much greater level of support.
AI helpdesk software is changing the customer service game. These tools use AI like natural language processing to automate and improve support experiences.
The goal of AI helpdesk platforms is to provide fast, accurate solutions to customers. By using AI, companies can respond quicker and more efficiently at scale versus relying solely on human agents.
The technology aims to improve customer satisfaction by making support more accessible. AI chatbots and virtual agents offer 24/7 instant assistance on common inquiries. This frees up human agents for complex issues.
AI helpdesk software also enables hyper-personalized service by understanding each customer's needs. And features like process automation and analytics boost team productivity behind the scenes.
Here's a brief description of each of the AI helpdesk tools on my list, showing what it does best, plus some of the key features.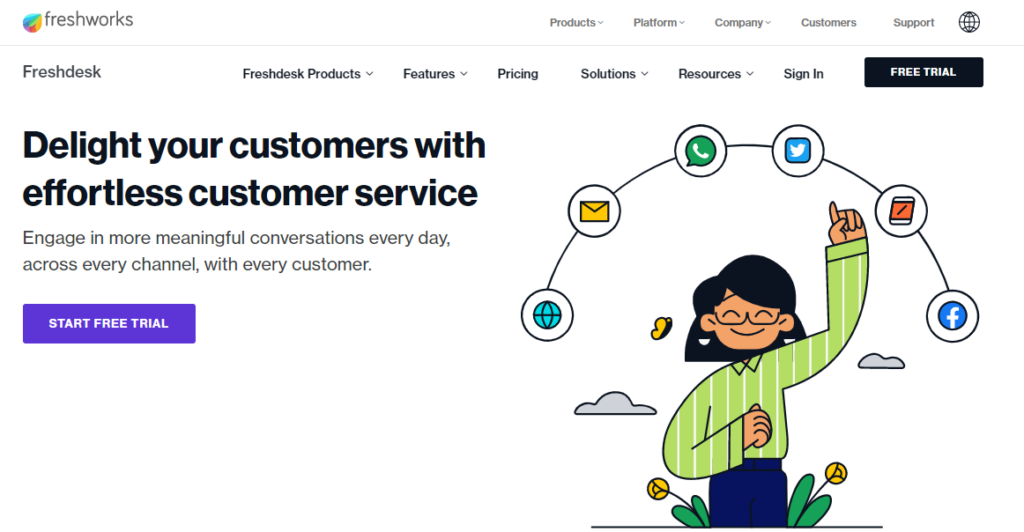 Freshdesk is a customer engagement platform that centralizes, manages, and tracks customer conversations across multiple channels in a single, unified platform.
It helps businesses to streamline customer conversations regardless of whether they're happening over email, phone, or other channels.
The platform recently launched some of the really interesting intelligent automations, capable of streamlining agent workflows and resolving routine queries with bots and AI. Its AI software, called Freddy, learns from past tickets and proactively suggests new resolutions.
It not only provides instant and accurate suggestions to your customers but also frees up your support agents' time for more strategic tasks.
What it does is basically Freddy's machine learning-based predictions analyze past interactions to select the best response for instant resolution or to direct the conversation to a human agent when necessary.
Freddy AI also enhances performance across teams. For customer experience, it automates resolutions with intelligent chatbots, saving time for both customers and agents.
For CRM, it empowers sales reps with AI-powered actionable insights, enabling them to deliver highly personalized customer engagement. And for IT, it offers smart AI recommendations to ITOps and service desk agents, significantly improving their productivity.
And if you're interested in taking Freshdesk for a spin, they offer a 21-day free trial with no credit card required, allowing you to experience firsthand how this platform can revolutionize your customer service and sales operations.
Freshdesk Key Features
Centralizes, manages, and tracks customer conversations across multiple channels.
Intelligent automations for streamlining agent workflows.
Freddy AI learns from past tickets and suggests resolutions.
Automates resolutions with intelligent chatbots.
AI-powered actionable insights for sales reps.
Smart AI recommendations for ITOps and service desk agents.
Freshdesk Pricing
Free: $0/mo
Growth: $15/agent/mo (billed annually)
Pro: $49/agent/mo (billed annually)
Enterprise: $99/agent/mo (billed annually)
 Visit Freshdesk
Atera offers a super user-friendly helpdesk and ticketing platform designed for IT teams. It allows seamless communication with end users through live chat support built right into their system.
Ticket management is much simplified with features like automated alerts for new submissions and closures. No need to manually email updates. 
Atera also makes scheduling technicians and opening tickets from emails or chats super simple.
One of my favorite parts is their AI ticket tagging. It automatically categorizes tickets based on keywords so that each request gets routed to the right technician. This really streamlines dispatching and workflows.
For insights, Atera has fantastic reporting on metrics like user satisfaction, average resolution time, open tickets and more. Helps optimize operations!
The knowledge base is clutch too. Creating tutorials and documentation for self-service cuts down on repeat questions so technicians can focus.
Atera also offers remote monitoring and management capabilities for your IT assets and infrastructure. And their PSA features simplify billing, invoicing and other admin work.
To wrap it up, Atera provides a robust, AI-powered helpdesk solution to modernize IT support. Between automation, insights and self-service, it aims to maximize satisfaction and efficiency.
Atera offers a 30-day free trial where no credit card is required.
Atera Key Features
Comprehensive helpdesk solution and ticketing system.
Live chat communication with end-users.
Intelligent ticketing system that streamlines and automates processes.
AI ticket tagging for automatic categorization of incoming tickets.
In-depth automated reports and analytics.
Knowledge base feature for self-service experience.
Remote monitoring and management (RMM).
Professional services automation.
Patch management for various software and operating systems.
Atera Pricing
Professional: $139/mo
Expert: $159/mo
Master: $179/mo
 Visit Atera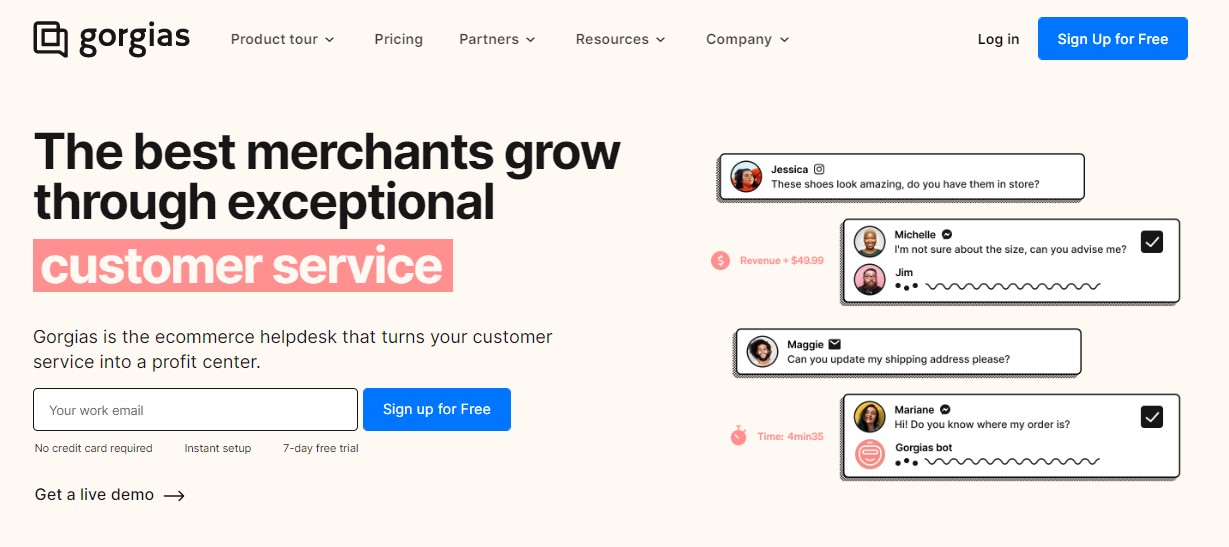 Gorgias is an all-in-one customer support software that lets e-commerce store owners provide multichannel customer service from a single dashboard.
One of the things that make Gorgias stand out is its all-in-one help desk experience. You can manage customer inquiries via email, live chat, phone, Facebook, Instagram, and even the contact us page all in one place.
And if you're using Shopify, Magento or BigCommerce, Gorgias has this super cool one-click integration that lets you see order details and do things like refund, cancel, and duplicate orders without ever leaving the app.
The best part? All customer support tickets are managed in the same system, regardless of the channel they came from. That basically means you don't have to switch between different platforms and dealing with different rules, tags, and things like that.
What's more, Gorgias AI helpdesk uses machine learning to study your past customer support tickets and learn your brand's voice. Then, using GPT-3 technology, it suggests brand-friendly responses for each ticket so your agents don't have to start from scratch every time a customer reaches out.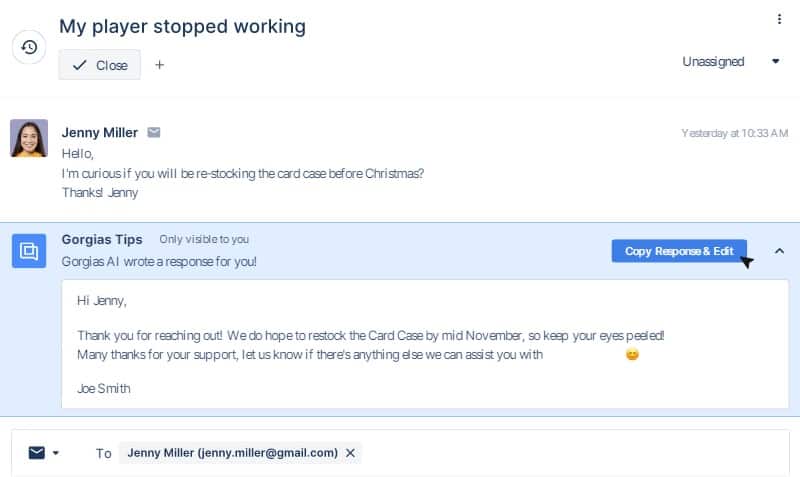 But what sets Gorgias apart from other basic text recommendation systems is that it actually emulates your team's style. That way, the answers it suggests are aligned with your brand.
The vendor also ensures that the AI won't send any messages directly to your customers. It only drafts an answer proposal that your agents can edit before sending. That way, you keep full control of what you send to shoppers.
In short, Gorgias AI is a game-changer for customer service. It helps your agents save time and provide personalized, brand-friendly responses that keep your customers happy.
Gorgias Key Features
Multichannel customer service from a single dashboard.
Integration with Shopify, Magento, and BigCommerce.
Uses machine learning to study past customer support tickets.
Suggests brand-friendly responses using GPT-3 technology.
Gorgias Pricing
Basic: $60/mo (250 tickets)
Pro: $300/mo (2000 tickets)
Advanced: Custom pricing
 Visit Gorgias
Zoho Desk brings all your customer interactions into one place for streamlined service – phone, email, chat, social media, you name it. 
Their tools help teams of any size deliver top-notch support.
You get everything you need – robust ticket management, knowledge base to reduce repeats, work modes to segment tasks, and an AI assistant called Zia.
Zia is like having your own customer service assistant. She chats with visitors to recommend solutions, escalates tricky issues, and even analyzes patterns in your data to spot potential problems.
Her sentiment analysis can tell if customers are happy, upset or neutral too. Super helpful for agents providing personalized service.
Zoho also automatically tags incoming tickets to simplify organization. Zia scans the content and adds relevant tags – no manual work required.
Some cool new additions are text-like messaging for instant support and guided chat flows to quickly direct customers.
For DIY folks, the GUI builder and templates make it easy to customize without coding skills.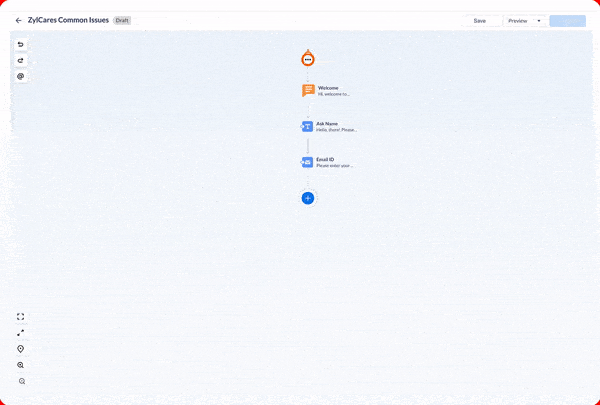 You can create predefined chats that systematically lead your customers to the best solution, and even personalize the chat to suit your customers' preferences.
Lastly, Zoho Desk has introduced user personalization features so you can make your help desk truly your own. We found the interface is already user-friendly, but now you can personalize it even more with new customization options.
Really, Zoho Desk combines all the essential helpdesk features with next-level AI through Zia. As she gets smarter over time, your team gains a trusty advisor. For AI-powered customer service, Zoho Desk is a top choice.
Zoho Desk Key Features
Consolidates customer interactions from various channels.
Features include ticket management, self-service, work modes, and AI.
AI assistant named Zia for customer service.
Zia provides suggestions, alerts, and sentiment analysis.
Automatic tagging of incoming customer tickets.
Instant messaging and guided conversations for customer support.
User personalization features.
Zoho Desk Pricing
Free: $0/agent/mo
Standard: $12/agent/mo (billed annually)
Professional: $20/agent/mo (billed annually)
Enterprise: $35/agent/mo (billed annually)
 Visit Zoho Desk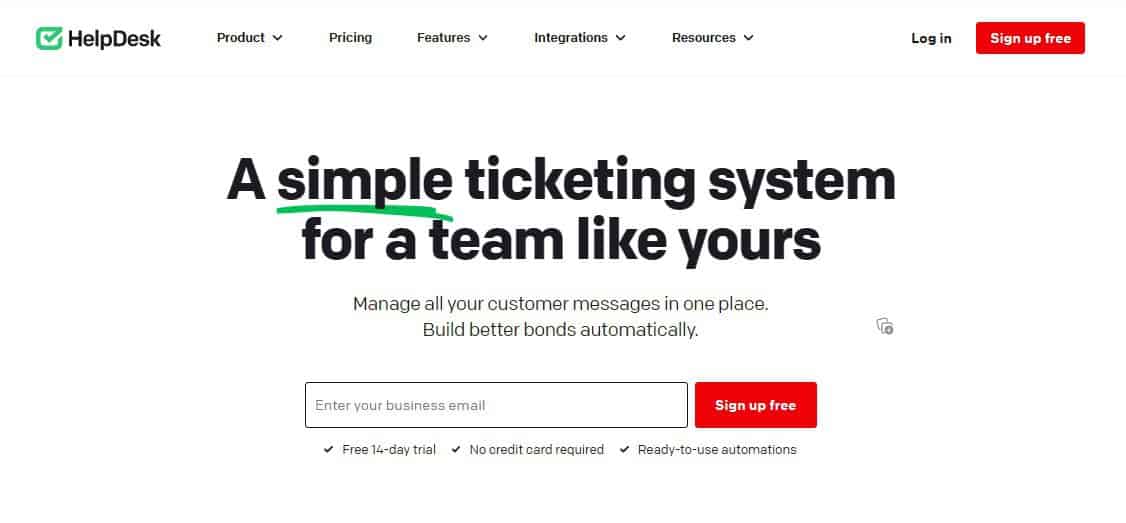 HelpDesk is an online tool that helps businesses of all sizes give top-notch customer support. It's like a digital hub where you can manage all your client conversations, questions, and feedback.
There are loads of features in HelpDesk that make it super handy. You can add tags to tickets, write private notes, assign tickets to specific people, and share info with others in your team. Plus, you can even add a chat widget to your website so customers can easily reach out to you.
HelpDesk leverages AI technology by offering users its new AI text enhancement feature. Simply put, this tool lets you write your replies quicker and with better grammar. You can even change the tone of your messages depending on who you're talking to and what the situation is.
In short, HelpDesk makes it easy to keep track of all your customer support stuff in one place. And with AI text enhancements, you can communicate with customers even more efficiently.
HelpDesk Key Features
Digital hub for managing client conversations, questions, and feedback.
Features include ticket tagging, private notes, and chat widget.
AI text enhancement feature for quicker and better grammar in replies.
HelpDesk Pricing
Team:

$29/agent/mo (billed annually)
$34/agent/mo (billed month-to-month)

Enterprise: Custom pricing
 Visit HelpDesk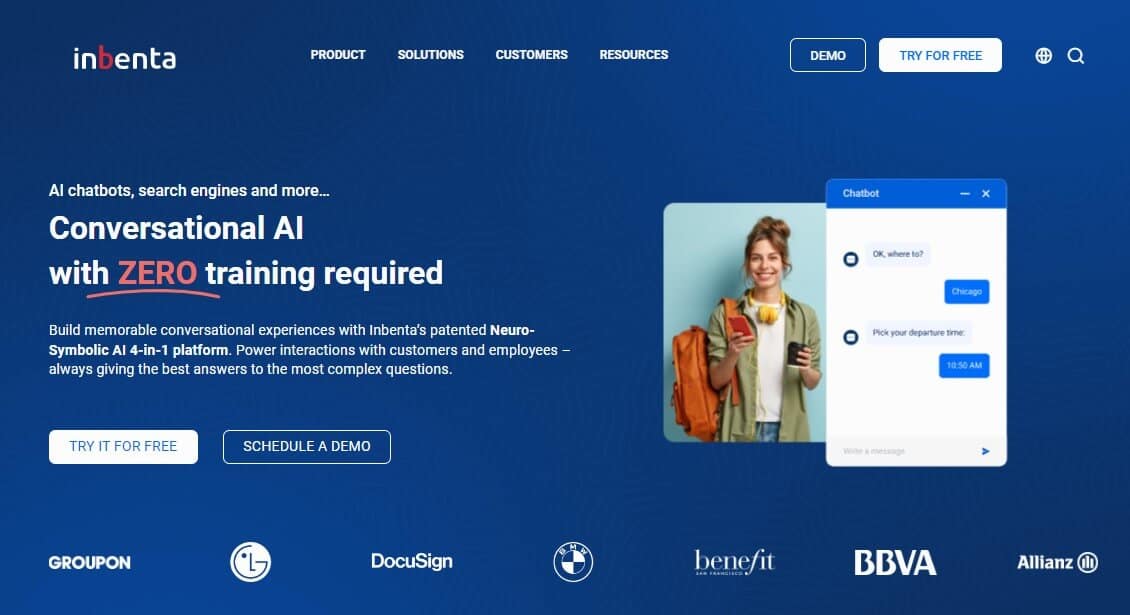 Inbenta offers an AI-powered solution to help improve and automate IT support. Their platform aims to handle the repetitive IT requests that drag down teams. 
It has four main modules – a transactional chatbot, knowledge base, semantic search, and ticketing system. Together these streamline processes and boost agent productivity.
A key feature is the 24/7 virtual assistant that provides real-time help with common IT issues. This allows employees to self-serve instead of opening simple tickets.
Inbenta makes it easy to build your own customized chatbot that understands natural language. It can be embedded anywhere and connect to channels like WhatsApp.
The bot leverages symbolic AI to analyze meaning and relationships between words, even across 35+ languages. Their lexicon database also helps drive contextual understanding.
From our research, Inbenta bots provide human-like conversations and seamless integration everywhere. This delivers engaging experiences for users.
Additionally, Inbenta offers knowledge management to centralize company information in one searchable place. This surfaces relevant content and FAQs for employees and customers. 
Overall, Inbenta brings together automation, self-service, and streamlined workflows to modernize IT support. For teams looking to upgrade with AI, it's an option worth exploring. The platform aims to save time while improving satisfaction.
Inbenta Key Features
4-module conversational AI platform.
Modules include transactional AI chatbot, knowledge center, semantic search engine, and ticketing system.
Real-time service information and troubleshooting.
Chatbot understands over 35 languages using Symbolic AI.
Centralized knowledge software feature.
Inbenta Pricing
Pricing is disclosed after a personalized demonstration from Inbenta's sales team.
 Visit Inbenta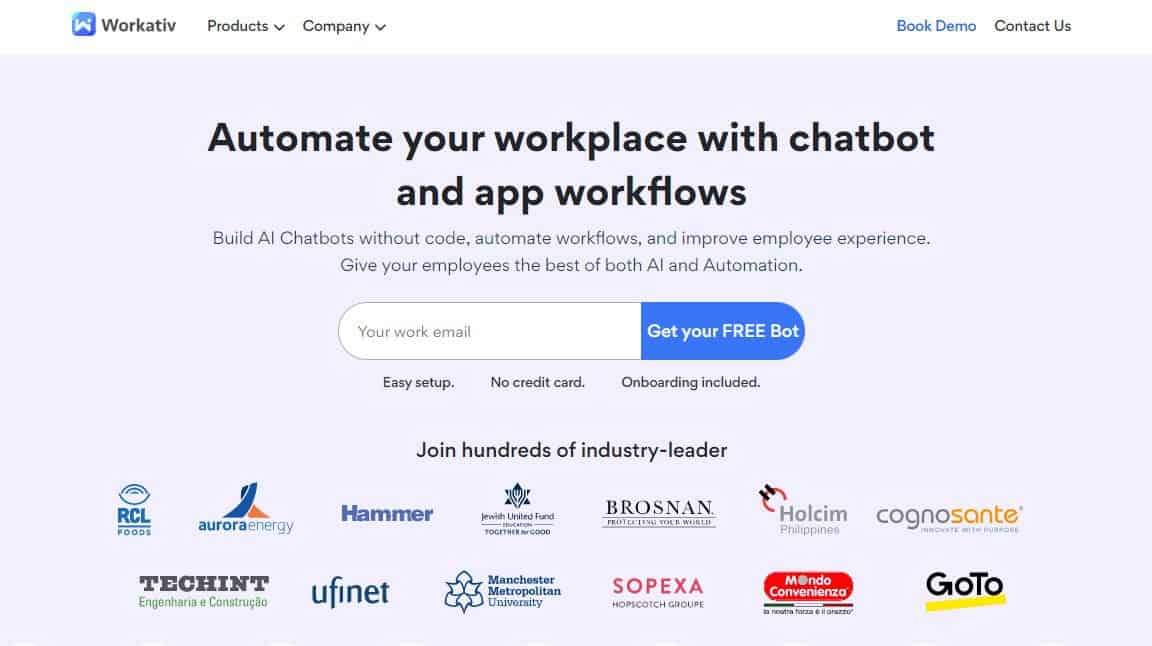 Workativ is using AI to shake up the IT support game. Their ticketing system aims to make life easier for both employees and helpdesk teams.
It starts with AI ticketing system which handles common IT issues automatically. This way agents aren't bogged down with every little question and can focus on the complex stuff.
Setting it up is a breeze too since it works with all the popular helpdesk tools. And you can customize workflows for different needs, so tickets get routed just right.
My favorite part is the AI chatbot for Teams and Slack. If I need quick help with something, I can just ask the bot right in chat and don't have to open a ticket. Super convenient.
The goal is to maximize productivity on both sides. Employees get faster help through self-service options. And agents can provide top-notch support by letting AI handle the small stuff.
Really smart approach in my opinion. As an end user, I love having an AI assistant built right into my work apps. And I'm sure agents appreciate focusing on meaningful work, not repetitive tickets.
Definitely seems like Workativ is onto something with their AI ticketing system. I'd be down to give it a whirl at my company.
Workativ Key Features
AI ticketing system for IT support.
Automates repetitive and low-value IT requests.
Integration with popular helpdesk and ticketing tools.
AI chatbot for ticketing in Microsoft Teams and Slack.
Workativ Pricing
Pricing is disclosed after a personalized demonstration from Workativ's sales team.
 Visit Workativ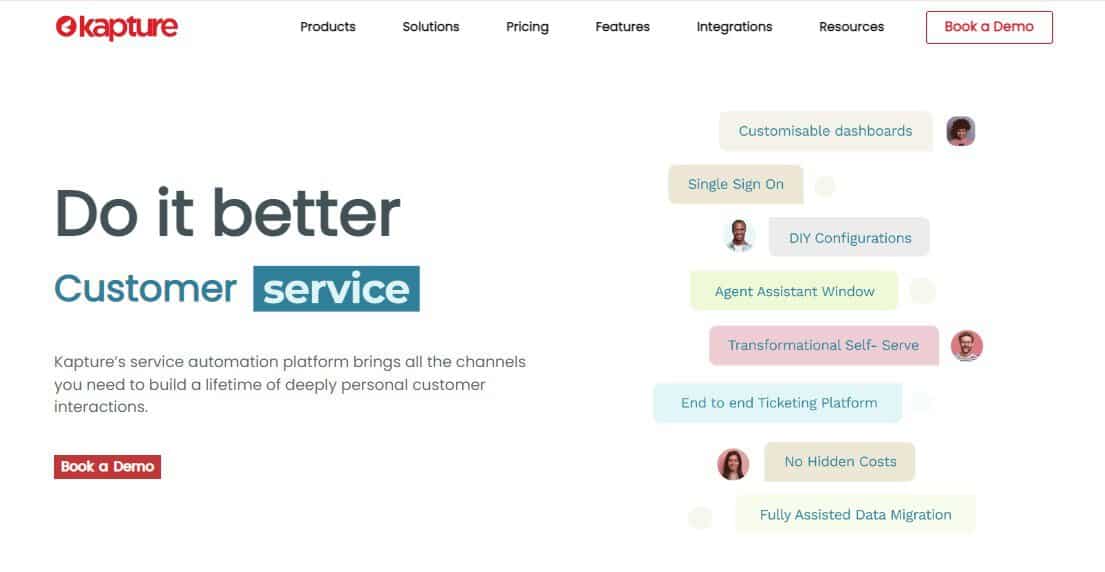 Kapture CRM uses AI to automate and improve customer service requests. Features like their live chat bot and knowledge base help solve customer issues faster, boosting satisfaction.
The chatbot leverages natural language processing to understand requests and provide solutions without an agent. And the searchable knowledge base gives customers more self-service access to info.
There's also an AI assistant that handles repetitive service tasks, freeing up the team for more complex issues. It's super scalable as requests grow too.
Kapture CRM seems great for many industries – healthcare, tech, education, real estate, etc. The easy-to-use platform aims to streamline workflows.
By utilizing AI and automation, response times can decrease and efficiency can improve. Customers get their needs addressed promptly by self-service or AI agents.
Overall, Kapture CRM is worth considering for teams wanting to modernize customer service with AI. Combined with the knowledge base, it provides an automated yet human-like experience.
Kapture CX Key Features
AI-powered live chat and knowledge base system.
Natural language processing for customer service.
Scalable AI-powered assistant for customer service teams.
Kapture CX Pricing
Essential: $30/user/mo
Professional: $50/user/mo
Enterprise: $90/user/mo
 Visit Kapture CX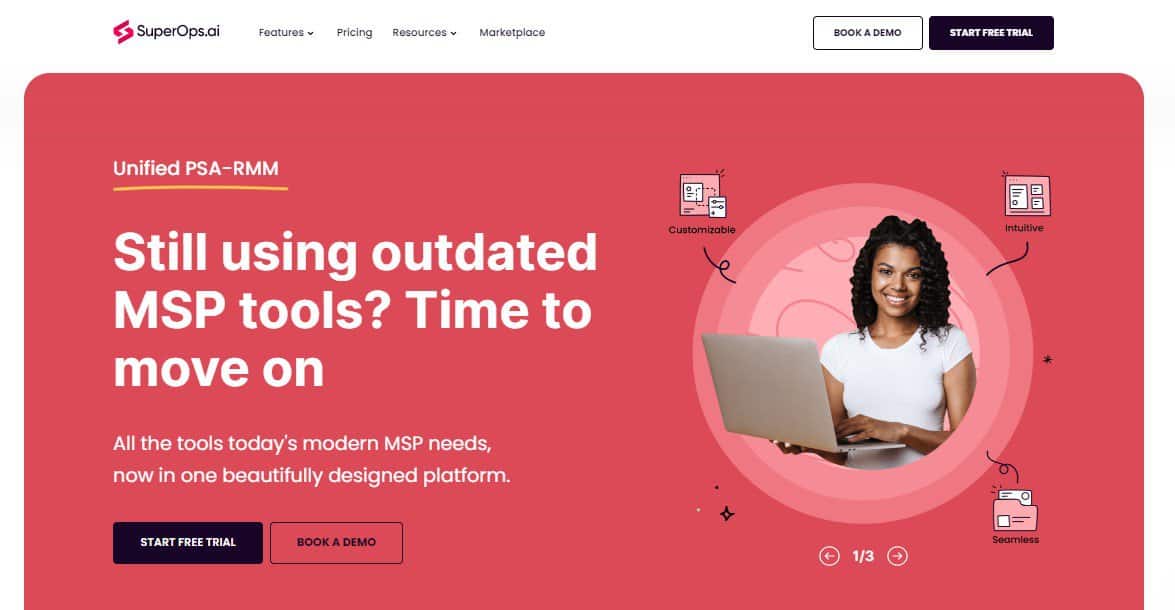 SuperOps aims to empower managed service providers with their modern take on PSA and RMM. Their platform focuses on refining IT support experiences.
It starts with a clean, intuitive interface that prioritizes usability. Tickets are conversational too – more like chatting with clients than filling out forms.
Workflows get automated with runbooks that guide technicians on handling tickets from start to finish. This accelerates resolution while ensuring consistency.
Custom rules streamline repetitive tasks as well. I like their Kanban view for visualizing work across clients and projects.
Runbooks also help onboard new techs by showing them how to seek approvals, communicate, and progress tickets.
SuperOps.ai wants to build the next-gen MSP platform, with robust functionality for assets, policies, patching, and more.
Overall, they aim to blend automation, usability, and a conversational approach to modernize IT support. For MSPs seeking an overhaul, SuperOps is one to evaluate.
SuperOps.ai Key Features
PSA-RMM technology for MSPs.
Modern UI and conversational IT ticketing system.
Custom rule-based workflows and Kanban view.
Runbooks for onboarding new technicians.
Features include asset, policy, patch, and client management.
SuperOps.ai Pricing
Standard (PSA ONLY): $59/tech/mo (billed annually)
Standard (RMM ONLY): $79/tech/mo (billed annually, 150 endpoints/tech)
Pro (UNIFIED BASIC): $99/tech/mo (billed annually, 150 endpoints/tech)
Super (UNIFIED ADVANCED): $129/tech/mo (billed annually, 150 endpoints/tech)
 Visit SuperOps.ai
AI Helpdesk Software Final Words
There's no doubt AI helpdesk software can be a total game-changer for customer service teams. The right platform offers a combo of automation and personalization that keeps customers happy.
Making support accessible 24/7 through AI agents and self-service options is huge. Customers can get assistance on demand instead of waiting for a response.
AI-powered features also enable more tailored, human-like interactions. So rather than one-size-fits-all support, it's customized to each client's needs.
On the operations side, AI helpdesk tools increase efficiency and allow faster decision making. Less repetitive manual work means teams can focus on high-value tasks.
We suggest considering capabilities like conversation AI, process automation, knowledge management, and analytics. Choose a platform aligned to your team's needs and goals.
Bottom line -AI tools for helpdesk are the future for any team serious about delighting customers while working smarter. The technology has come so far in providing personalized, instant and predictive support. It's definitely worth exploring to stay competitive today!