After in-depth research, I've chosen this list of the best AI lead generation tools. Use these tools to streamline your sales funnel and attract qualified leads.
Best AI Lead Generation Tools in 2023
Here is our ranking for the top 10 AI lead gen tools by different categories:
Lead generation – the process of attracting and converting prospect leads into buyers is the lifeblood of every business. And though the ideal lead generation process is different for every company, there's one thing every business in every industry can benefit from – artificial intelligence.
Capable of analyzing every generated data point about each prospect, AI marketing tools can now optimize countless elements of your lead generation processes to deliver far greater results than traditional methods alone.
From automating the decision-making process to optimizing the leads and even training the systems to improve results over time, AI lead generation tools can help you take every missed opportunity and turn it into a sales lead.
In addition to this article, we have also created a YouTube video explaining some of these solutions in greater depth.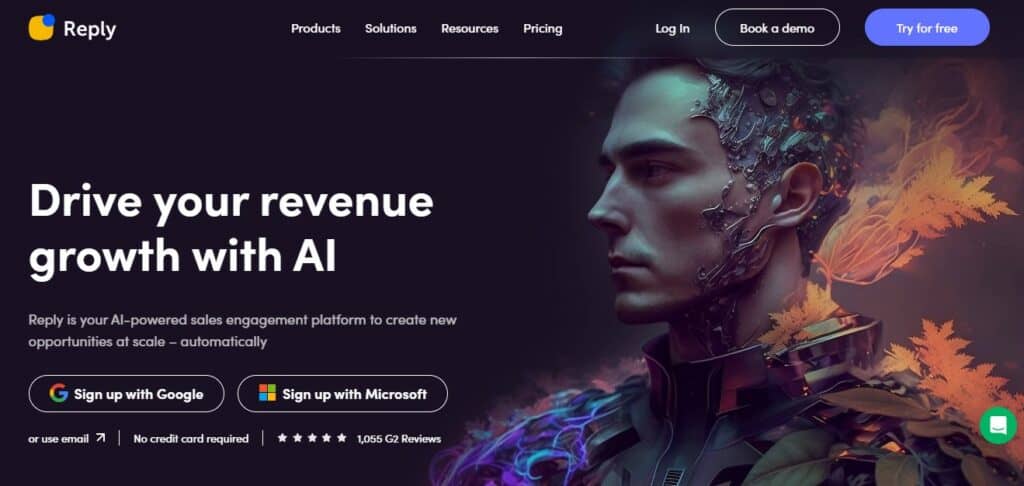 Reply.io is your one-stop shop for sales engagement that aims to simplify all of your lead generation tasks into 4 core modules – discover, engage, execute, and improve.
This AI-powered platform lets you find potential customers by using Reply Data – a B2B database with over 140 million contacts to build laser-focused lists.
You can then verify these contact emails for deliverability, bounce rate, and other metrics to increase sequence performance and reduce the chance of the likelihood of being flagged as spam.
Reply's Jason AI is a conversational AI sales assistant powered by Chat GPT technology that generates unique emails and tailored outreach sequences from scratch. The solution then responds to prospects' emails by answering questions and booking meetings on your behalf.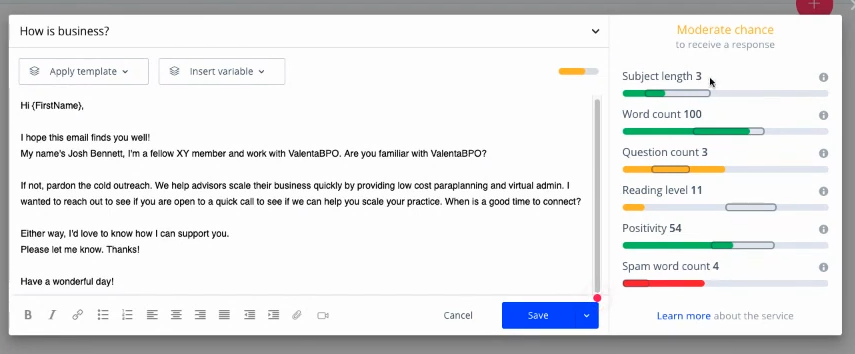 The AI-powered tool also provides suggestions for messaging and content to help sales reps get the most out of their email campaigns.
Emails not cutting it? No worries, Reply's got a bunch of other ways to communicate with leads – LinkedIn, WhatsApp, SMS, you name it. Its Multichannel Sequences feature lets you automate communication with their prospects in the way that's most convenient for them across all these channels.
With its appointment booking & calendar feature, sales reps can schedule meetings with prospects in just a few clicks, directly from their email or the Reply platform.
It also has a robust reporting system that tracks all team member activities and logs them to your CRM through native integrations, a rich API with 40+ methods, or Zapier. You can even keep an eye on your team's performance with the in-depth analytics dashboards.
Starter Plan – $60 month/user
Business Plan – $90 month/user 
Custom Plan – Talk to Sales 
Agency Starter – for small agencies, $60 email account/month (Billed Quarterly)
Agency Professional – for big agencies, $60 email account/month (Billed Annually)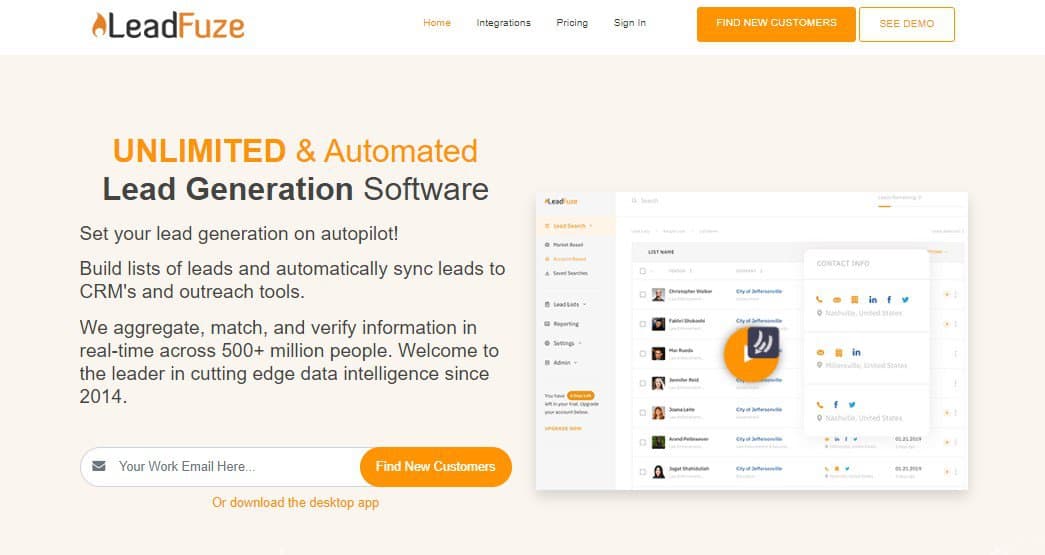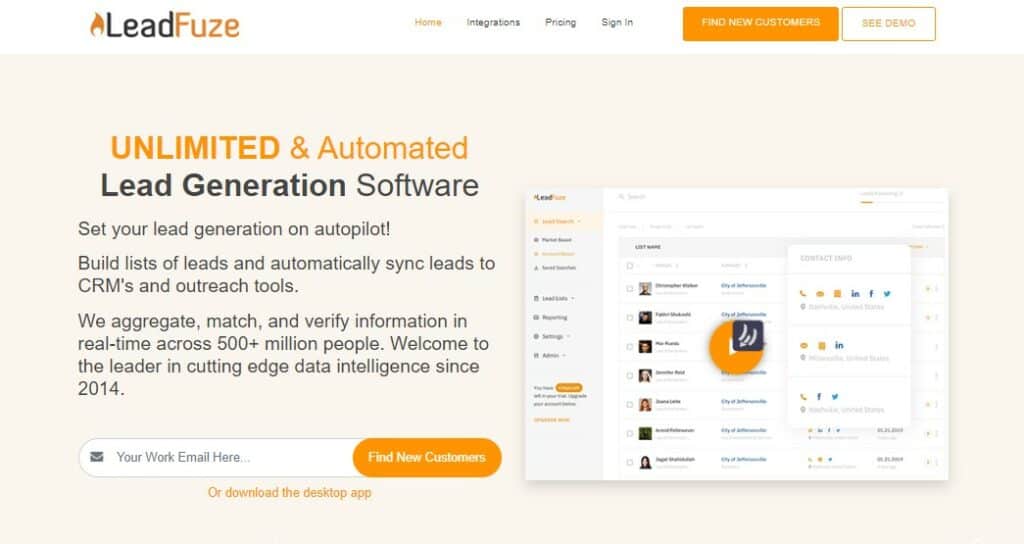 LeadFuze is a cutting-edge, cloud-based lead management solution that harnesses the power of artificial intelligence (AI) technology to streamline marketing operations and generate high-quality leads.
With access to over 500 million people and 10 million companies globally, LeadFuze simplifies the lead generation process by aggregating, matching, and verifying information in real time.
LeadFuze offers best-in-class contact data for a wide range of purposes, including targeting leads within specific markets, passive recruiting for job candidates, and building custom audiences for ad targeting.
There are two ways to find leads in LeadFuze. The first of which is an account-based search. You would use account-based when you know the individual that you're after or the specific companies that you're after.
So if you want to find everyone in marketing at companies like HubSpot or Tesla or IBM, you can just input the company names or domains.
The second way to find leads is using market-based search.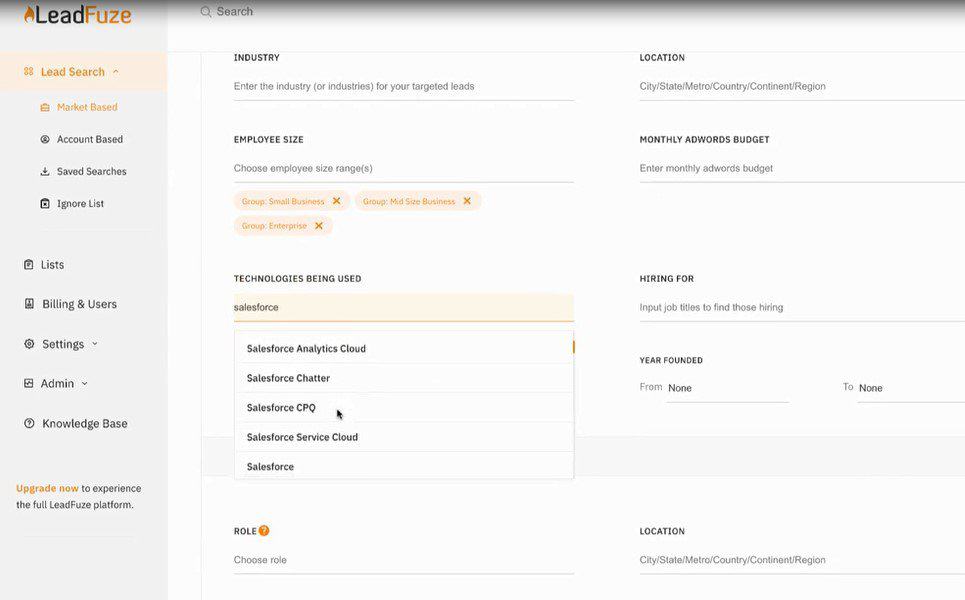 Market-based search allows you to find your total addressable market. You can start by inputting company criteria, and then you can expand to input people criteria at those particular companies.
LeadFuze's proprietary system, Fuzebot, is an AI assistant that automates the mundane aspects of list building. This nifty AI tool ensures that your lists are de-duplicated, verified, and free from existing customers or competitors, all while automatically building new lists that match your criteria.
Fuzebot also integrates with popular CRM and ATS platforms, as well as outreach tools and social automation systems, to automatically trigger outreach campaigns.
With a host of lead generation features designed to save you time and effort, LeadFuze offers:
Double-verified emails for 0% bounce rates
Automatic list building with Fuzebot
Real-time lead cleaning and verification
Integration with CRM, ATS, and 1,000+ tools through Zapier
Exportable lead data to CSV or Google Sheets
Whether you're in sales, marketing, or recruiting, LeadFuze is built to cater to your specific use case, making it an essential tool for any organization looking to optimize lead generation process.
By leveraging AI and automation, LeadFuze eliminates the need for manual list building and data entry, allowing you to focus on what matters most: growing your business.
LeadFuze Pricing
Scaling – starting at $147/month
Unlimited – starting at $397/month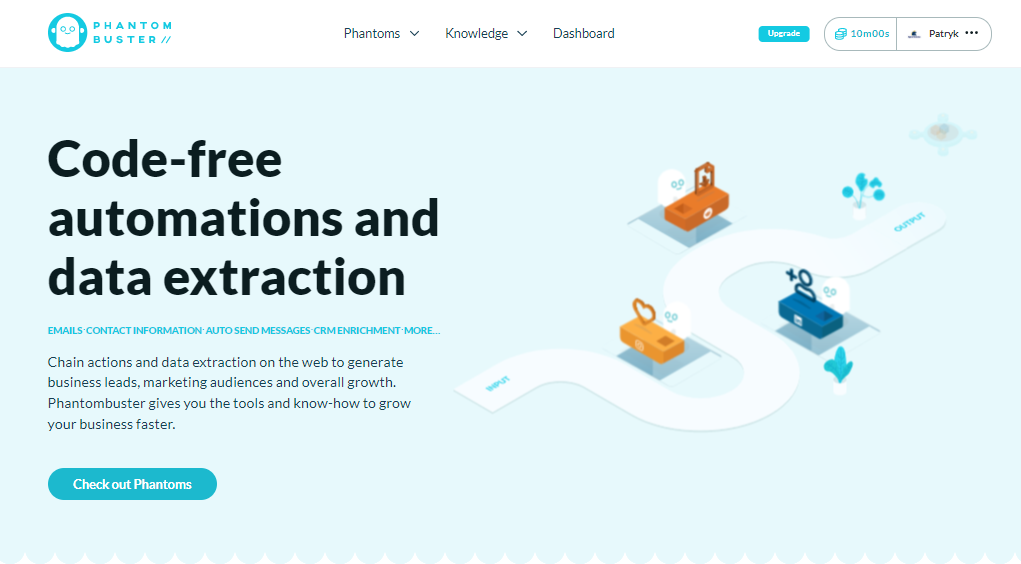 Phantom Buster is one of the leading tools in lead generation today.
It allows you to not only scrape data from multiple sources like LinkedIn Sales Navigator or even Google Maps, but it also allows you to craft messaging and send emails and have the outreach campaign inside of the software, which means that you're able to do
literally, end-to-end everything you need to do for lead generation software.
PhantomBuster lets you automate things like:
Sending LinkedIn connection requests
Getting contact data from Google Maps
Sending outreach campaigns
Sharing DMs on Sales Navigator
And more

Recently they launched 2 new AI features: the AI LinkedIn Profile Enricher and the AI LinkedIn Message Writer.
So let's break them down one by one.
The AI LinkedIn Profile Enricher is designed to analyze and enrich your lead generation data, providing you with deeper insights about your leads. It uses OpenAI's Chat GPT to process your LinkedIn lead data and enrich it with additional insights.
For instance, it can help clarify whether a person works remotely or in an office, identify decision-makers in companies, or standardize location data.
What we like about it is the tool is highly customizable, meaning you can instruct the AI on what type of analysis or data enrichment you want it to perform. But keep in mind that the AI can only work with the data points you provide and doesn't have live access to the internet to gather additional data.
Here is the Linkedin Profile Enricher in action:
AI LinkedIn Message Writer, on the other hand, lets you craft personalized and creative messages for your LinkedIn connections.
Now, whether you're reaching out to potential clients, recruiting talent, or expanding your professional network, this tool can help you write unique messages for each connection request.
It uses the same OpenAI technology to basically generate these messages based on the data you've gathered from your LinkedIn leads. You can even instruct the AI on the tone, style, and content of the messages you want it to write.
Both tools use AI credits, which are included in your PhantomBuster account. The number of credits used depends on factors like the length of your prompts and responses, the amount of data processed, and the AI model used (GPT 3.5 or GPT 4). GPT 4 is a newer and more powerful model, but it uses more credits.
PhantomBuster Pricing
Starter – $69/month
Pro – 159/month
Team – $439/month


▶ Start PhantomBuster free trial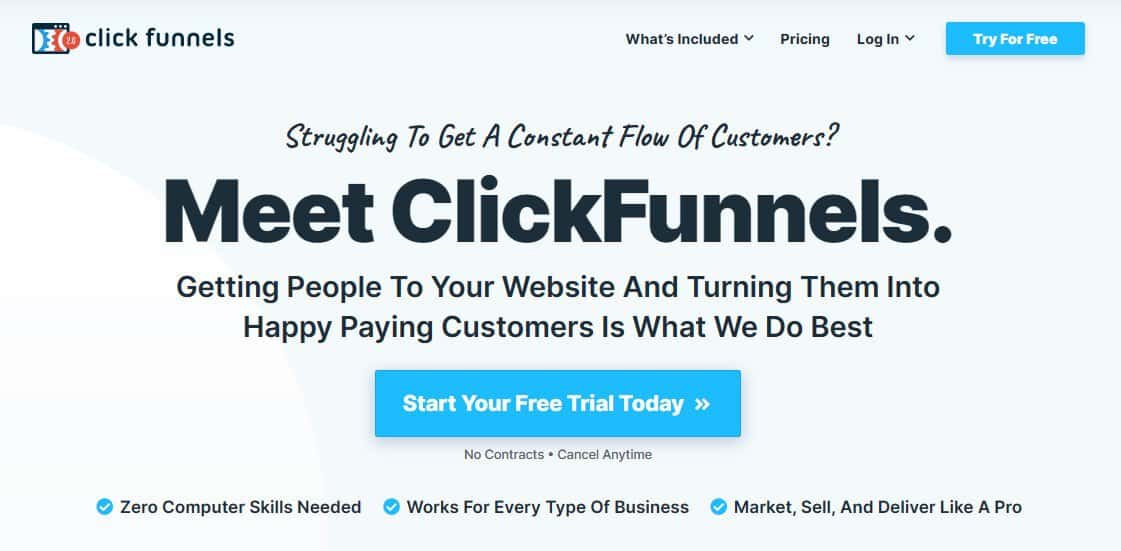 ClickFunnels 2.0 is the upgraded version of the well-known platform, ClickFunnels, which is widely used for building sales funnels. This new version is packed with features that make it a great option for businesses collecting leads online.
Now, ClickFunnels 2.0 is not just a sales funnel builder, it's a complete sales automation platform. It includes features such as funnel hubs, blog builders, visual automation builders, team collaboration tools, CRM, real-time analytics, and AI automation.
ClickFunnels 2.0 lets you create dedicated lead generation funnels that are designed to attract and convert potential customers. These funnels typically include lead capture forms and follow-up sequences to nurture leads.
Now what makes better than the rest of the landing page builders is the software offers a variety of form types like embed, pop, slide, or peek, and even in-video call-to-action forms so they appear at the exact moment it's relevant to your viewer, increasing the likelihood that they'll opt-in.
Once leads are captured, you can use ClickFunnels' visual automation builder to nurture and engage with them. Set up automated email sequences to deliver valuable content, follow-ups, and offers to your leads.
ClickFunnels 2.0 CRM funnels let you manage your sales pipeline. You can track the progress of leads through different stages of the sales process, from initial contact to conversion.
You can also assign values to deals, track their status, and monitor the overall performance of your sales efforts. This essentially helps you prioritize and focus on leads that are most likely to convert into customers.
And now, the new funnel builder is also powered by an AI Assistant called Napoleon that provides suggestions for templates, headlines, images, text, etc.
ClickFunnels 2.0 Pricing
Basic – $147/month
Pro – 197/month
Funnel Hacker – $297/month


▶ Start ClickFunnels 2.0 free trial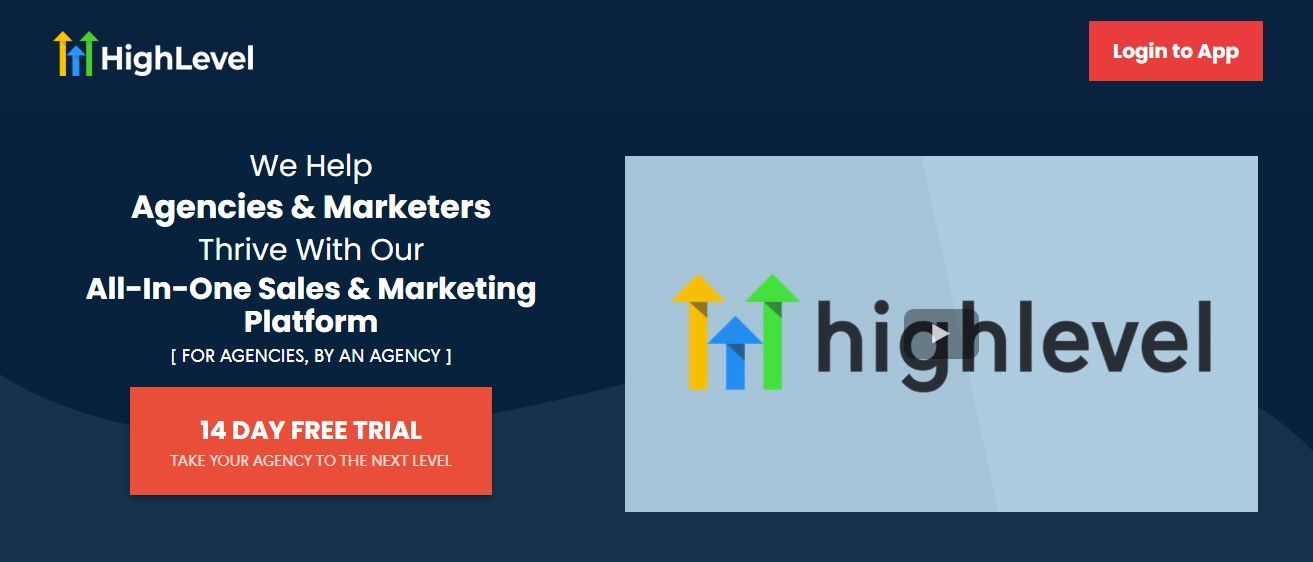 GoHighLevel is a rapidly expanding white-label marketing platform that's a perfect fit for digital marketing agencies and consultants. It's an all-in-one tool that combines a CRM system, a booking app, as well as marketing and sales automation.
What makes GoHighLevel really stand out is how it uses AI and machine learning to nurture leads and engage customers automatically. Supercharges your efforts.
One of my favorite features is their new Prospecting Tool. It identifies potential customers based on location, keywords, etc and creates customized audit reports on their online presence and gaps.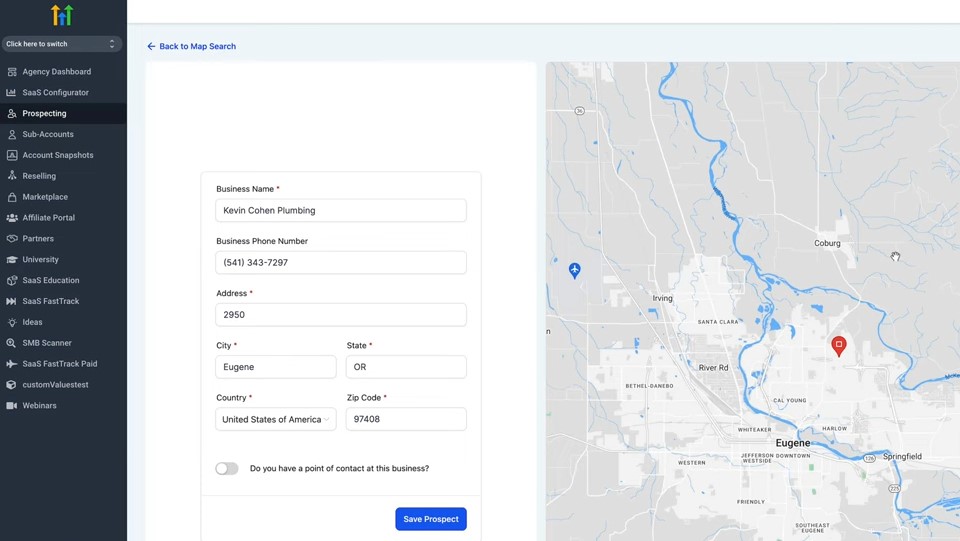 The tool provides recommendations to improve their strategy and essentially hands you qualified, sales-ready leads. Huge for agencies and digital marketers looking to expand their reach efficiently.
And with tools for CRM, communication, sales funnels, reputation management, and beyond, GoHighLevel has everything you need in one place.
Even better, you can whitelabel it and resell as your own customized platform—solid additional revenue stream.
For end-to-end sales and marketing automation powered by cutting-edge AI, GoHighLevel is a game changer. 
Plus, GoHighLevel offers our readers an extended trial, allowing you to try out all their features risk-free.
GoHighLevel Pricing
Starter plan- $97 per month
Unlimited plan- $297 per month
White Label – $497 per mont


▶ Start GoHighlevel free trial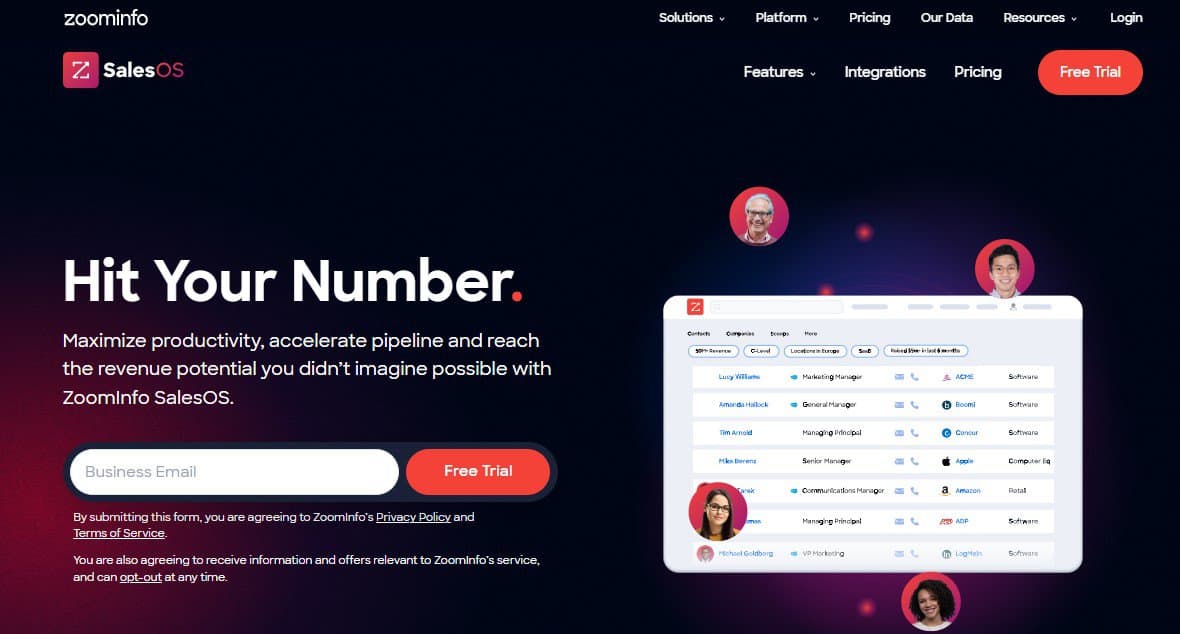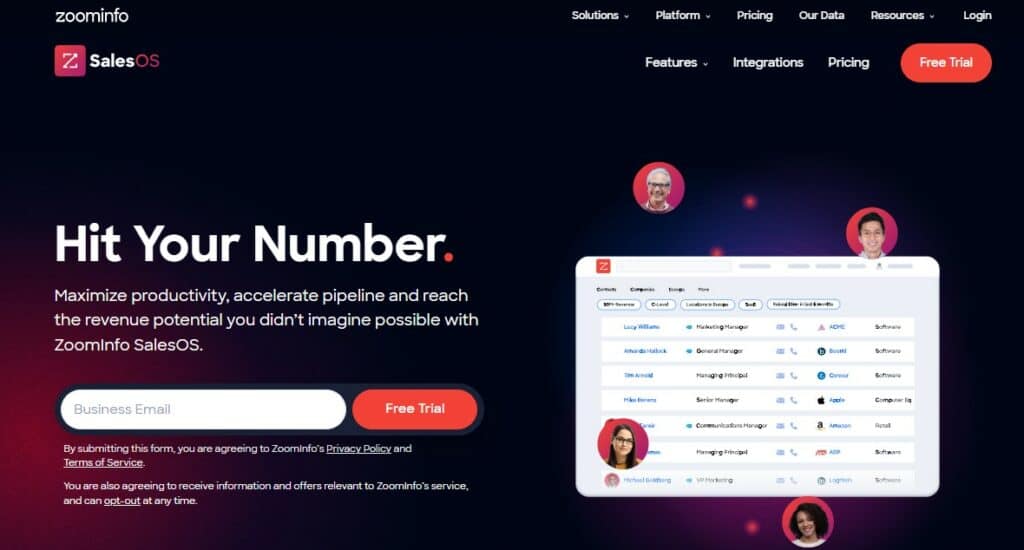 ZoomInfo is a game-changer for data-driven B2B lead generation and sales thanks to its vast company database and AI-powered insights.
The amount of up-to-date info it provides on target companies and decision makers is unmatched – profiles, contacts, buying behaviors, and more. 
ZoomInfo uses AI to uncover trends, patterns, and connections in all that data that humans would never spot. This allows for incredibly accurate lead targeting.
You can drill down into very specific audiences based on any criteria, then build campaigns tailored exactly to them. Way better than general outreach.
This level of personalized, data-driven targeting is a total game changer for successful lead gen and sales enablement.
Also, ZoomInfo SalesOS utilizes machine learning by uploading a file of Wins and Losses to create an Ideal Customer Profile (ICP).
The algorithm uses this data to determine the most important among 50,000+ possible company attributes that indicate a good fit for your business based on past deals. This way, the platform can provide accurate and informed insights for successful lead generation.
ZoomInfo SalesOS Pricing
Pricing is disclosed after a personalized demonstration from ZoomInfo's sales team.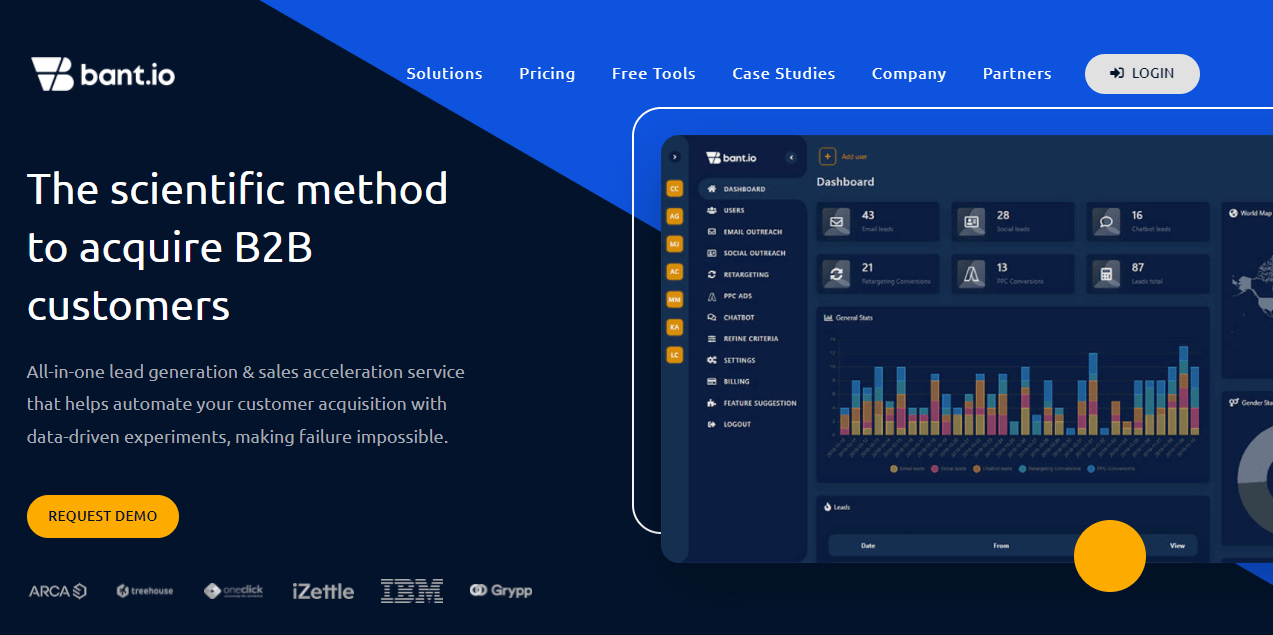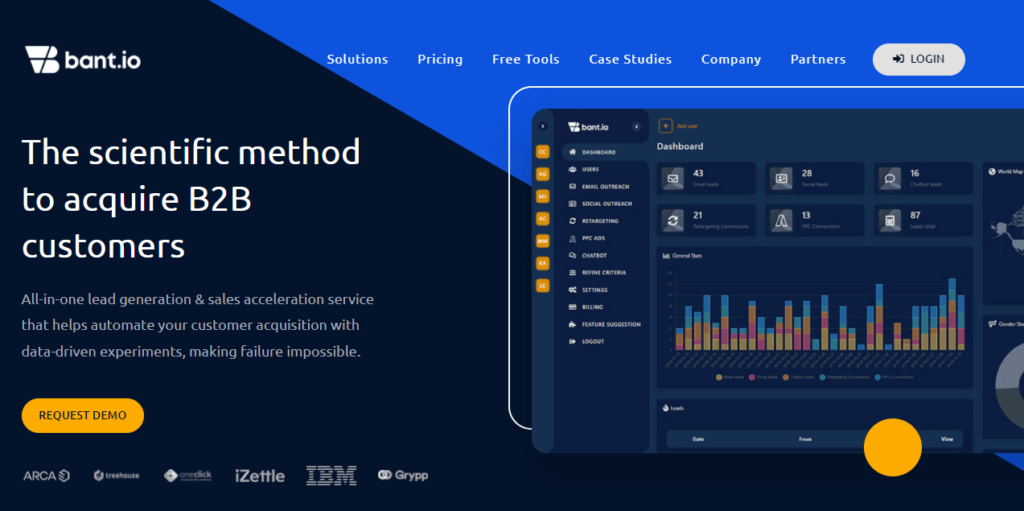 When it comes to lead gen, Bant.io is bringing some serious innovation to the table. They offer a suite of omnichannel solutions tailored to each business – and make them all work together seamlessly. 
One thing they excel at is precision email outreach. Their platform identifies the right potential B2B customers and crafts targeted messages that spark meaningful engagement. 
Recognizing LinkedIn's influence, they also provide specialized prospecting and outreach there. This gets you directly in front of key decision-makers and influencers to build connections.
To keep leads warm, Bant.io uses retargeting ads. So if someone interacts initially, they'll see your brand again to stay top of mind. Smart nurturing.
And they make booking sales calls easy with their appointment setting feature so you can keep that momentum going.
But the real game changer is their Done-For-You service. Bant.io's experts handle your entire lead gen strategy from start to finish – campaigns, execution, optimization, everything. Total relief.
For end-to-end B2B lead gen powered by multi-channel expertise and data-driven optimization, Bant.io is a cut above the rest. Let them take the wheel so you can focus on your biz.
Bant.io Pricing
$795/month
$1,908/quarter


Browse.ai is a web scraping tool that offers lead generation capabilities as one of its use cases. Browse.ai can scrape business directories and extract relevant contact information such as names, email addresses, phone numbers, and company details.
Additionally, Browse AI is designed to adapt to website changes, which implies that it can adjust its extraction methods to maintain accuracy even when websites undergo updates
Based on our research, the accuracy of the contact information extracted by Browse.ai is not explicitly mentioned.
Additionally, Browse.ai can integrate with LeadGen App, allowing you to easily create LeadGen forms and connect your leads with Browse.ai.
This integration enables you to capture lead information through LeadGen forms and automatically pass the leads to Browse AI for further processing.
Browse.ai Pricing
Starter – $19/month
Professional – $99/month
Team – $249/month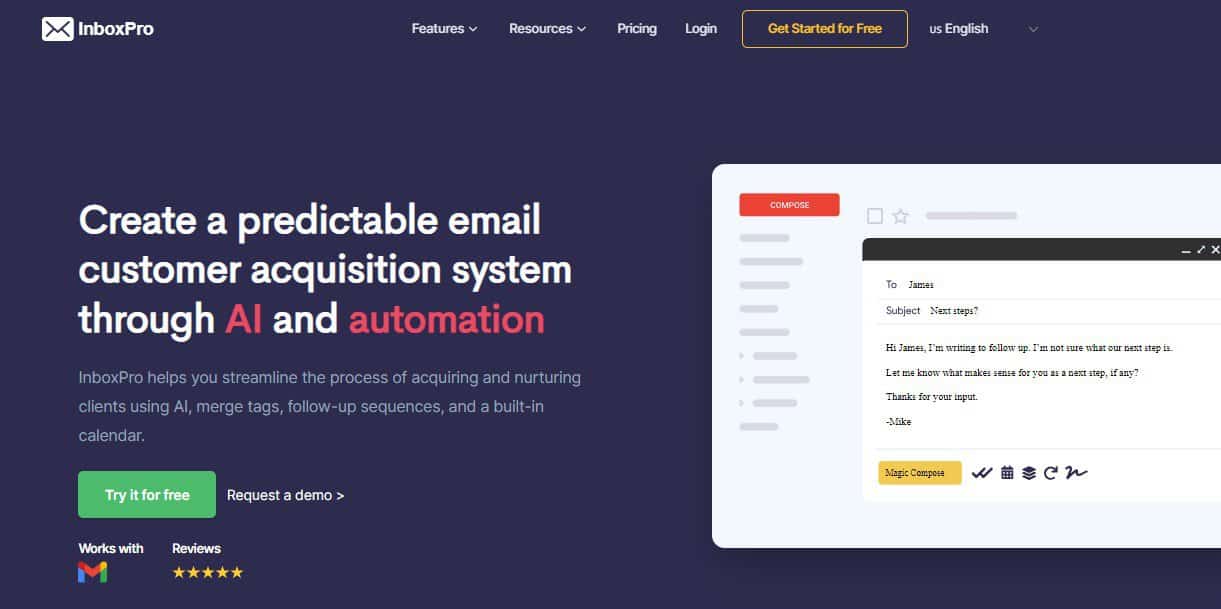 InboxPro is a suite of tools designed to enhance productivity in Gmail. It offers a bunch of email lead-generation tools.
So first off, InboxPro uses GPT-3 to assist in composing emails. You just type in what are the main points you want to cover, the tone, and the keywords you'd like to include.
There is also an option to create and save email templates.
InboxPro allows you to track who's opening your emails and clicking your links. It even sends reminders when leads are opening your emails, whether it's their first time or they're revisiting your message.
And if your emails are not getting responses, InboxPro can send automated follow-up emails to keep the conversation going so that you maintain engagement with your leads.
They also have calendar scheduling which lets you share booking links with prospects, enabling them to set up virtual and in-person meetings based on your availability. This basically simplifies the process of setting up appointments and eliminates the need for back-and-forth communication.
Finally, they also have robust email analytics that gives you visualizations and reports on your email activity statistics so you can improve your email usage based on data-driven insights.
InboxPro Pricing
Pro – $20/month
Advanced – $41/month
Growth – $83/month
Custom pricing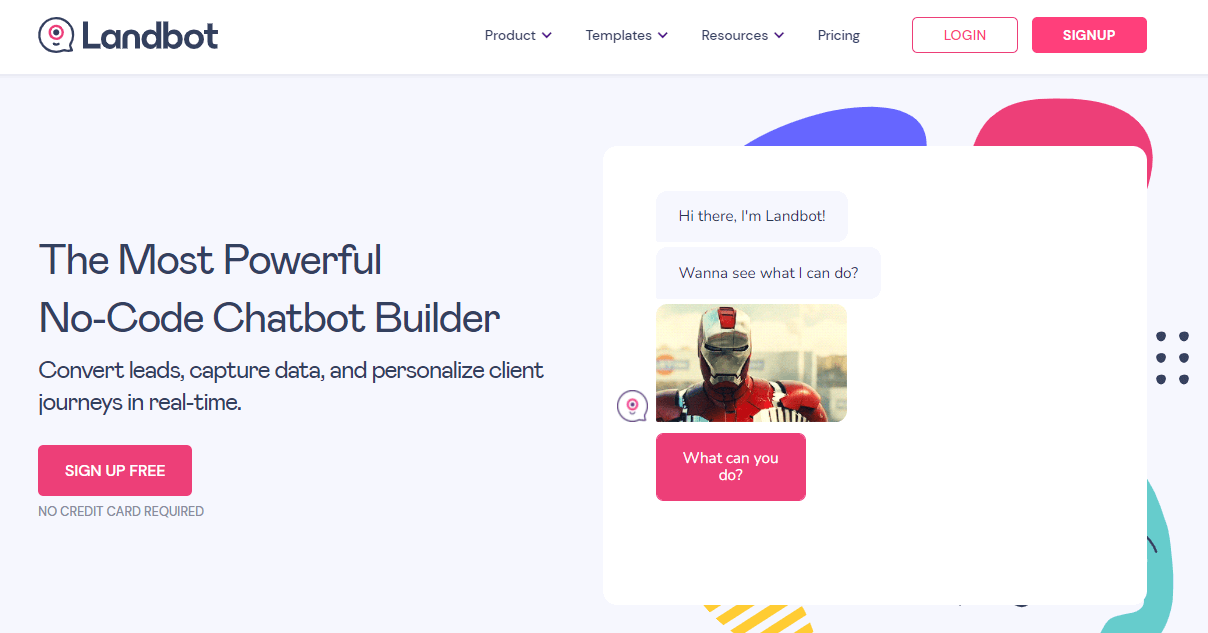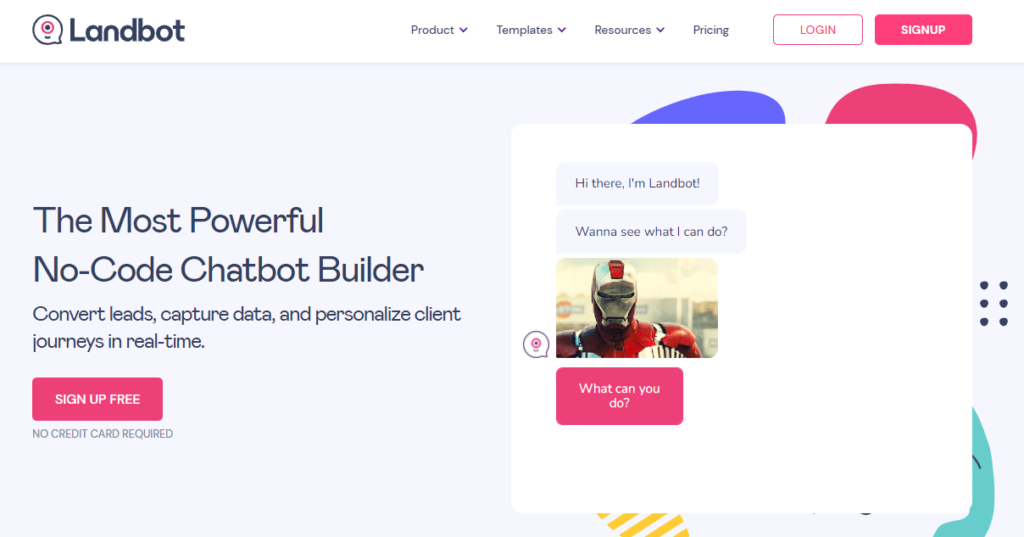 Landbot is an AI chatbot builder that combines artificial intelligence technology with high-touch personalized solutions to deliver exceptional results. With Landbot, you can create chatbots that can be embedded across various channels such as social media, emails, or web pages.
These chatbots engage with visitors and capture their contact information, turning them into potential leads. Landbot provides pre-designed chatbot templates specifically for lead generation purposes.
These templates offer conversational flows that aim to capture consumer data through automated exchanges, making it easier to deploy lead gen chatbots.
As if that wasn't enough, Landbot also offers customizable survey & questionnaire templates along with WhatsApp automation.
Landbot Pricing
Sandbox Plan – Free
Starter Plan – €30/month
Professional Plan – €80/month
Business Plan – €300/month
SurveySparrow is a game-changer for generating leads thanks to its AI-powered survey builder. It lets you easily create captivating surveys that get way higher response rates and unbiased data.
For lead gen, their pre-made template is clutch – embeds right on your site so you never miss an opportunity. And you can make it super engaging with videos, GIFs, and emojis.
Integrations with tools like HubSpot also simplify capturing and managing leads online. The conversational interface keeps people's attention too.
I love how mobile-friendly SurveySparrow is – surveys look amazing on any device. And supporting 50+ languages removes participation barriers for global audiences.
Sharing and collecting responses is a breeze as well with options like SMS, links, social sharing and QR codes.
Really, SurveySparrow optimizes the whole lead gen process – from personalized, interactive survey creation to easy sharing and seamless data collection.
SurveySparrow Pricing
Basic (Personal) – $19/month
Premium (Personal) – $29/month
360 Assessments – $79/month
Business – $99/month
CX Basic – $99/month
CX Premium – $299/month
Enterprise – $499/month
▶ Start SurveySparrow free trial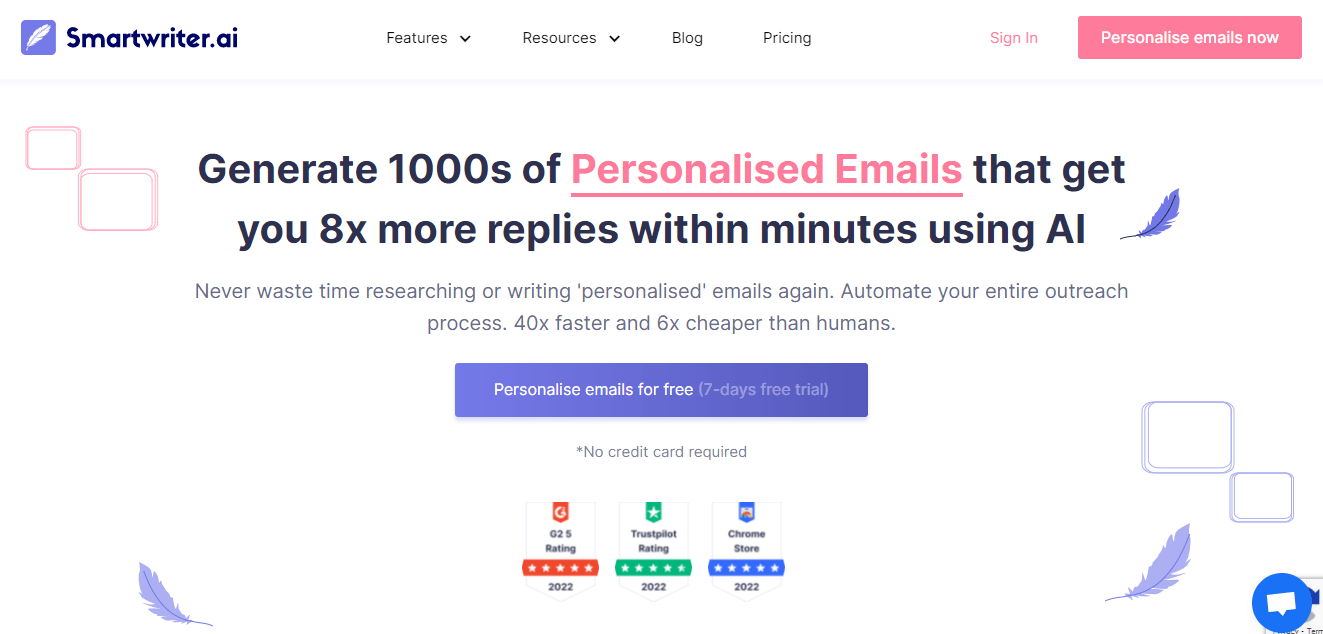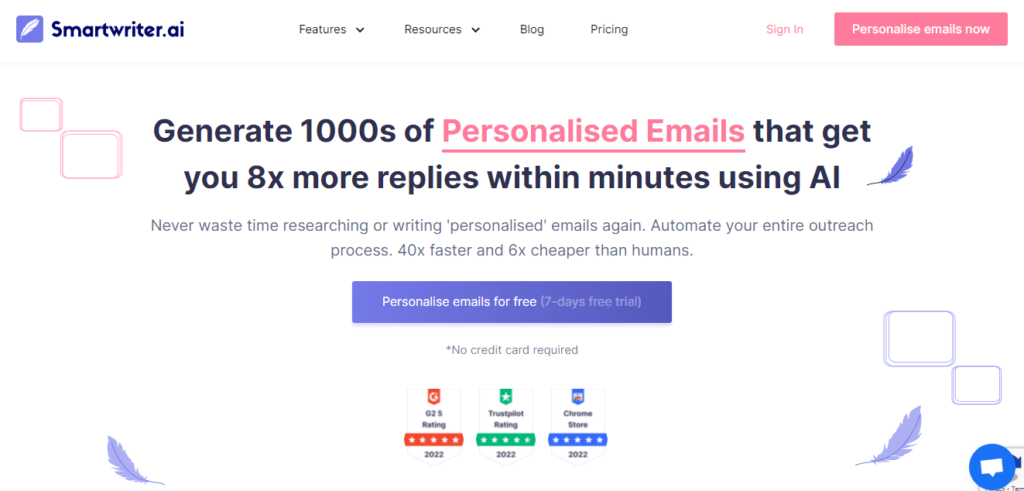 SmartWriter is an AI cold outreach software that enables you to write and send out automated cold emails without having to waste time thinking about what content or subject lines work best, which in turn will allow businesses to scale up much quicker than ever before.
By using state-of-the-art NLP technology integrated into an easy-to-use drag and drop interface, you get intelligent automation on a whole other level.
Basically, all you have to do is click on the type of email they want to generate – value proposition, product pitch, LinkedIn lead generation, backlink outreach, etc. – and based on 1000's data points derived from in-action emails sent previously by different companies; a well-thought-out message will appear automatically ready to be sent with just a single click.
And since no two companies are alike, there's nothing more valuable than customizability when generating leads, so a SmartWriter allows each user to create thousands of unique messages. In fact, every single message – from subject line to email body – is personalized to your unique business needs and customer's expectations making it perfect for B2B/SaaS lead generation campaigns where getting attention is always key to success.
And once you have captured the attention, you can use AI-powered, automated email sequencing to enrich your relationship with those who opted into receiving your communications – personalizing them along with marketing campaigns across different channels.
All things considered, SmartWriter is sure to become a powerful tool in any marketer's arsenal.
You can find out more about this tool in this SmartWriter review.
SmartWriter Pricing
Basic – $49/month
Popular – $124/month
Pro – $299/month


▶ Start SmartWriter free trial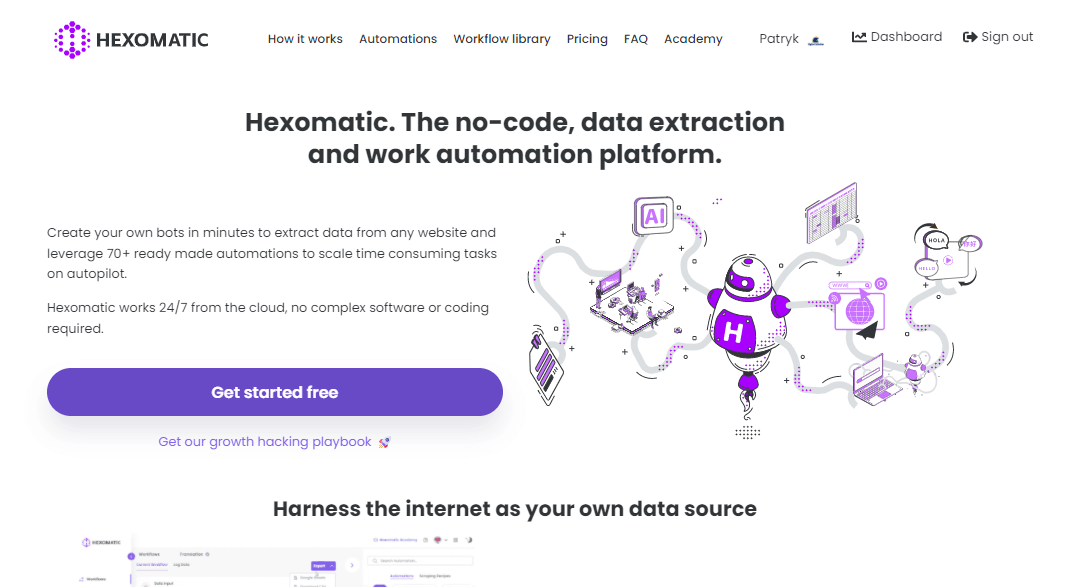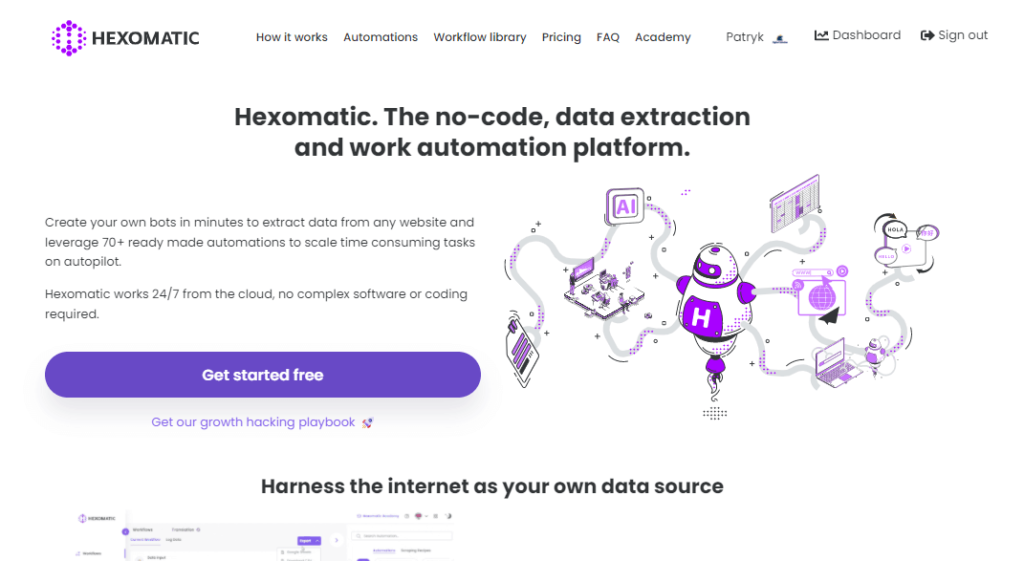 If you struggling to find enough qualified sales leads for your business and would you like to spend less time prospecting and more time closing deals, then you should consider Hexomatic.
It's a powerful data extraction and AI marketing automation software that drives new business opportunities through actionable insights that were previously invisible.
Using advanced NLP technology, it can perform unlimited tasks on virtually any data in seconds.
From extracting essential information from bulk emails or web pages, scheduling reminders based on keywords or conditions, creating dynamic email templates for personalized follow-ups – there's just no limit to what it can do.
And unlike many other similar platforms in its category, which are complicated and expensive to use; Hexomatic is quite easy to use with a multitude of automation templates – including but not limited to – transcription, image labeling, article curator, email address validator, grammar & spelling audit and so much more.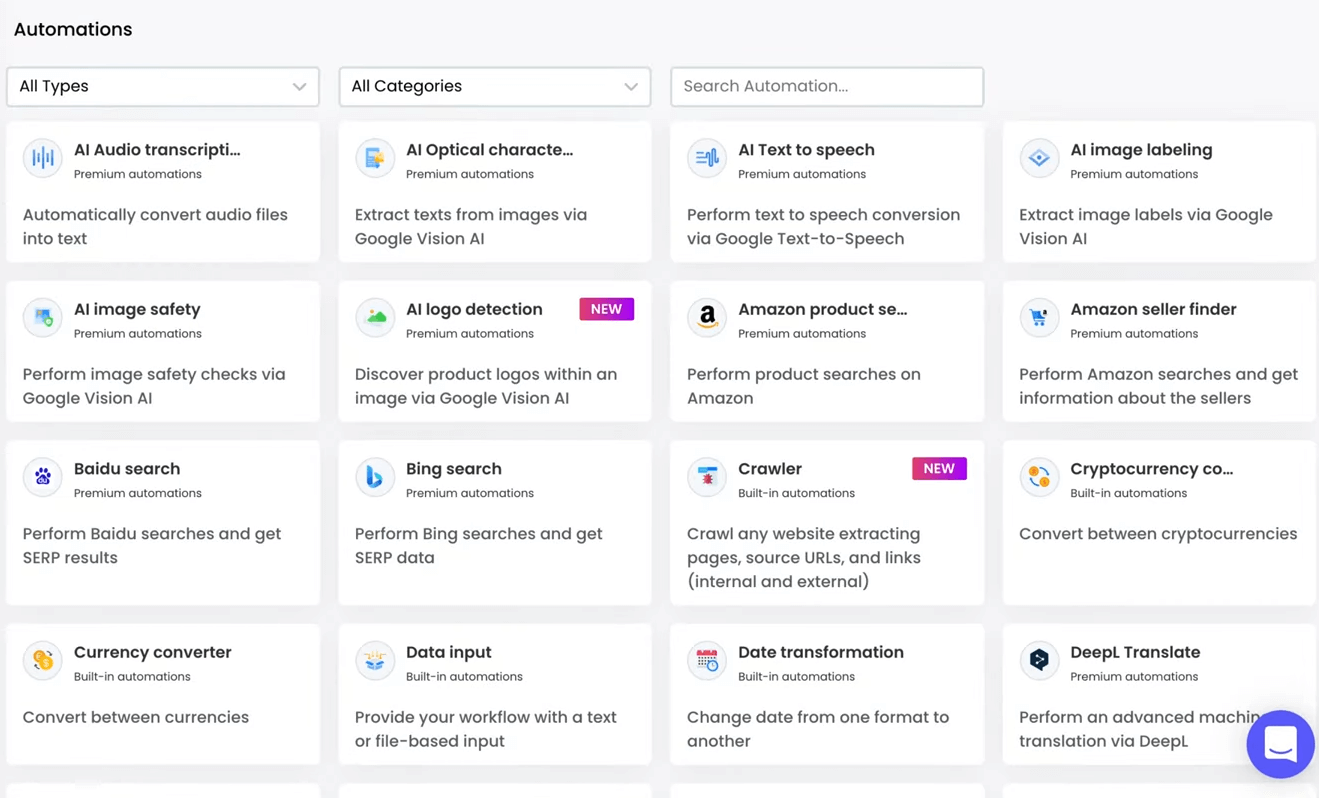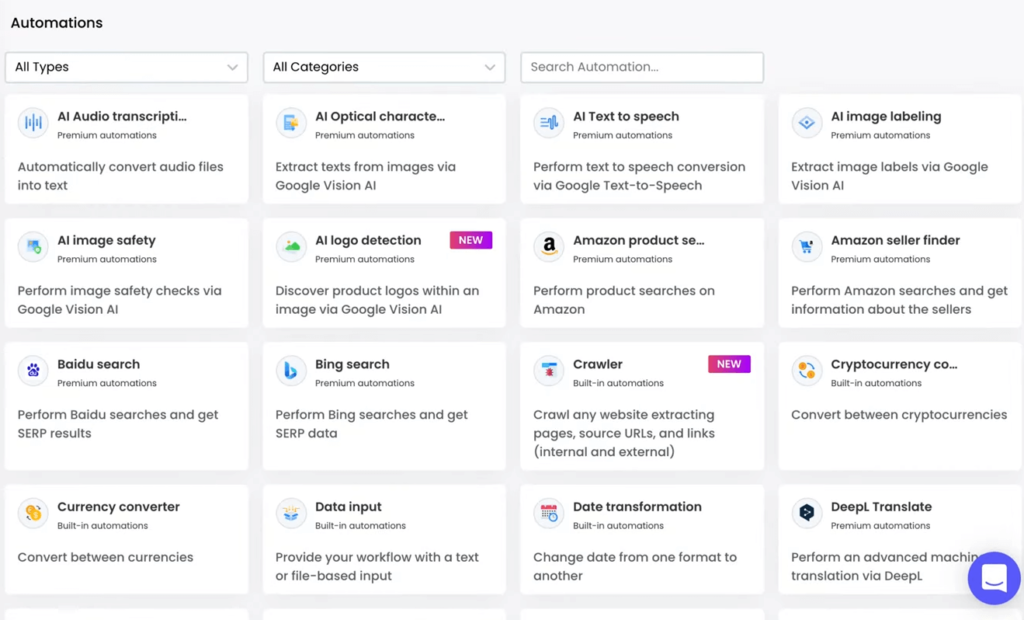 These templates can be mixed, matched, and customized to suit your business needs perfectly while saving you thousands of dollars every year on valuable human resources.
Moreover, using these templates, you can gather much-needed data to pinpoint target markets, improve customer experience and boost your SEO rankings.
Hexomatic Pricing
Free Forever
$20/month – Bronze
$40.83/month – Silver
$82.5/month – Gold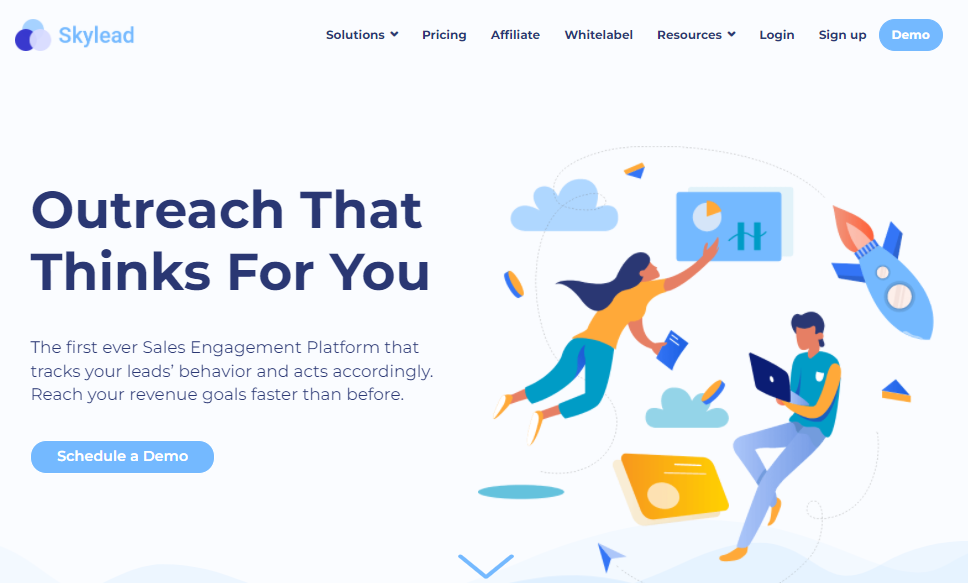 Skylead is an all-in-one AI sales engagement platform that focuses on helping sales professionals of all caliber streamline and improve the most time-consuming parts of the sales process. The goal of this platform is to make its users focus on building relationships and closing deals while their sequences think for them.
Skylead combines LinkedIn outreach, email outreach, email discovery & verification, and Image & GIF hyper-personalization feature into smart sequences, and AI algorithms that track lead's behavior and act consequently.
Namely, thanks to their "if/else conditions", users can set up in advance several possible paths to their leads and let the algorithm decide which one is the fastest and the most secure one.
This aspect alone gives users unparalleled levels of customization when sending emails because literally anything you want to include in communication can now become possible thanks to Skylead AI capabilities.
Furthermore, Skylead unites all communication channels in Smart Inbox, integrates with other tools through Zapier, offers detailed insights and statistics, and allows laser targeting as the crucial part of top-notch personalized outreach.
Skylead Pricing
$100 per account/monthly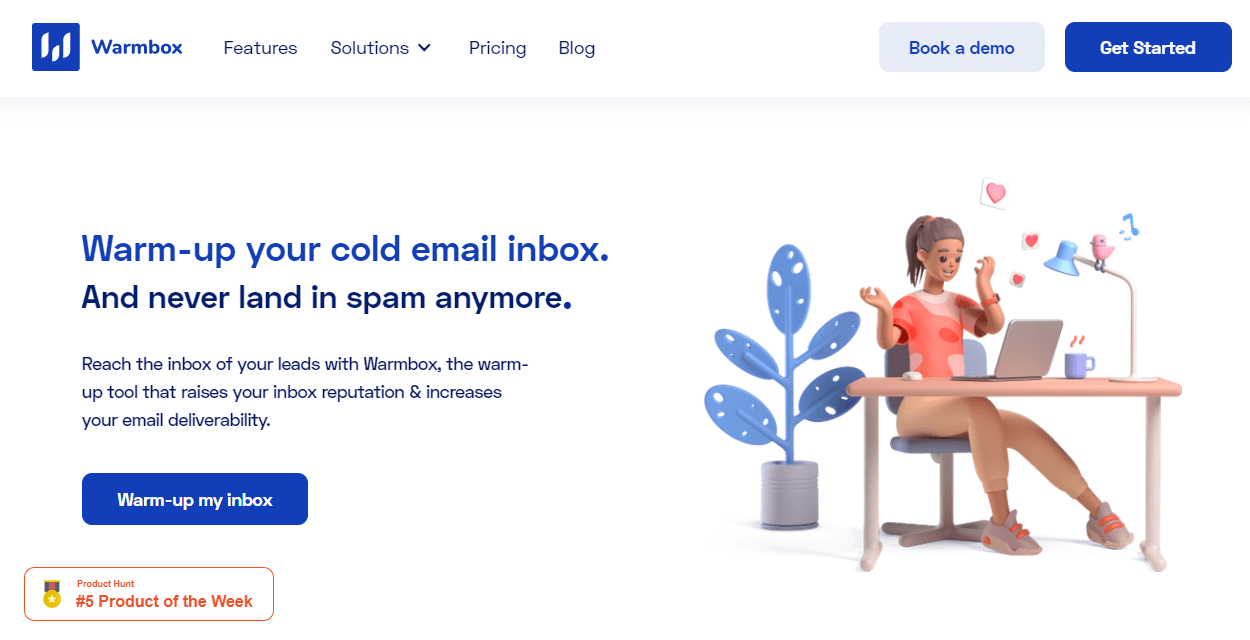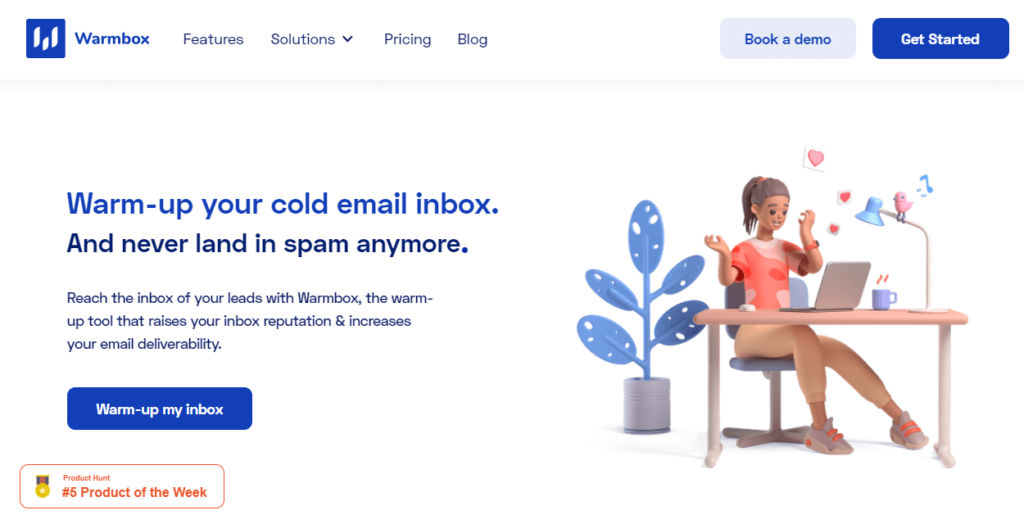 Email deliverability is one of the most important aspects of email marketing, but it's also one of the most difficult to control. Warmbox is a tool that helps you improve your deliverability by warming up your IP address and increasing your email sender reputation.
It does this by warming up your email list with a series of automated emails that are sent to your subscribers.
The platform also offers a number of other features, such as the ability to auto-reply to emails, mark certain emails as favorites, and monitor spam scores. In addition, you can create fully custom warm-up schedules for your email list. 
Warmbox.ai also offers a live email checker, which can help you to ensure that your emails are not blacklisted. Finally, the platform provides access to a private inboxes network. This can be helpful for troubleshooting purposes.
Overall, WarmBox.ai is a great AI lead generation software for warming up email and should definitely be considered when cold outreach is a major part of your business.
Read more about this email warm-up tool in this WarmBox review.
WarmBox.ai Pricing
Solo Plan – $15/month
Start-Up Plan – $69/month
Growth Plan – $139/month
Team Plan – Contact For More Details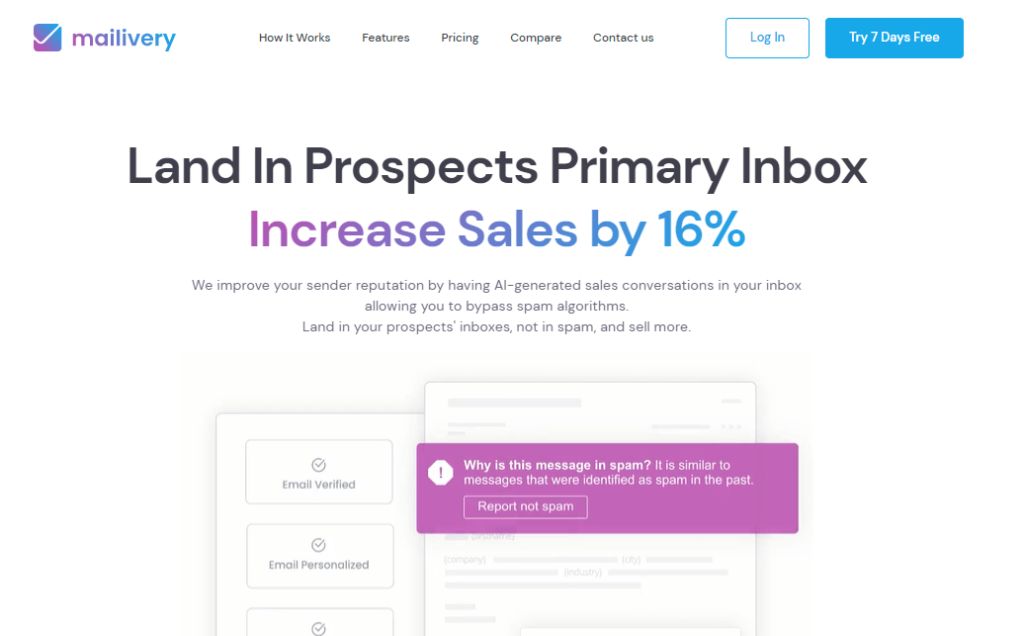 As a lead generation expert, it is important to ensure that your message is being seen by your prospects.
One way to do this is by using Mailivery, a tool that allows you to bypass spam algorithms and have your message appear in your prospect's inbox instead.
Mailivery does this by having AI-generated sales conversations in your inbox, which helps improve your sender reputation.
It offers a spam rate and email health analytics dashboard, as well as real email text and AI-generated content options. 
You can also manage your team and users through Mailivery, giving all employees access to their own dashboard.
Read more in this Mailivery review.
Mailivery Pricing
Outreach Starters – $55/month
Outreach Pros – $80/month
Outreach Gurus – $140/month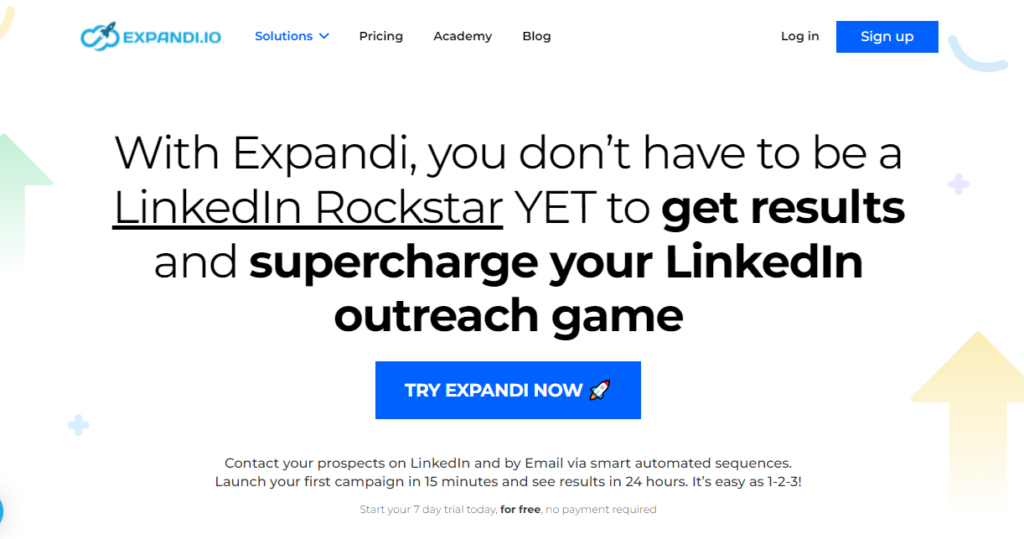 If you're not engaging with your prospects in a way that feels natural yet is still highly effective, then it might be worth exploring Expandi.
Because at Expandi, marketing experts and data scientists have designed an A.I. system that empowers marketers and businesses to engage with their prospects in a more personal way, thus giving them a huge competitive advantage over everyone else who simply relies upon outdated marketing tactics.
By using Expandi – its AI-powered automation tool instead of falling back on old-fashioned methods like emailing, SMS, or outbound cold calling; every single step of outreach will be made more efficient, faster, and targeted with laser accuracy.
This is why so many businesses choose the Expandi A.I.-powered solutions for their sales team.
And the true beauty of Expandi comes from how amazingly simple it is to set up automated communications for any business looking to grow quickly through automation.
All you need to do is select one of their prebuilt scenarios (or build one from scratch if necessary), add it as action inside any of your campaigns, connect your Gmail account and let Expandi handle almost everything automatically from thereon in including following up with leads based upon matching keywords extracted from information already available about customers such as job title and seniority within the company.
You can even apply segmentation rules to get started quickly, so your target audience knows immediately they've been chosen.
As soon as that process begins, hundreds of advanced algorithms work together behind the scenes to organize contact lists in order of priority, so you never waste valuable time chasing unqualified people ever again.
And once those tasks are complete, Expandi eliminates mundane tasks like composing messages for you by utilizing their sophisticated NLP technology and allows users to craft entirely new types of messages with much-needed creativity (images, GIFs, etc.) to really stand out amongst a sea of boring emails.
Expandi Pricing
$99/month for every seat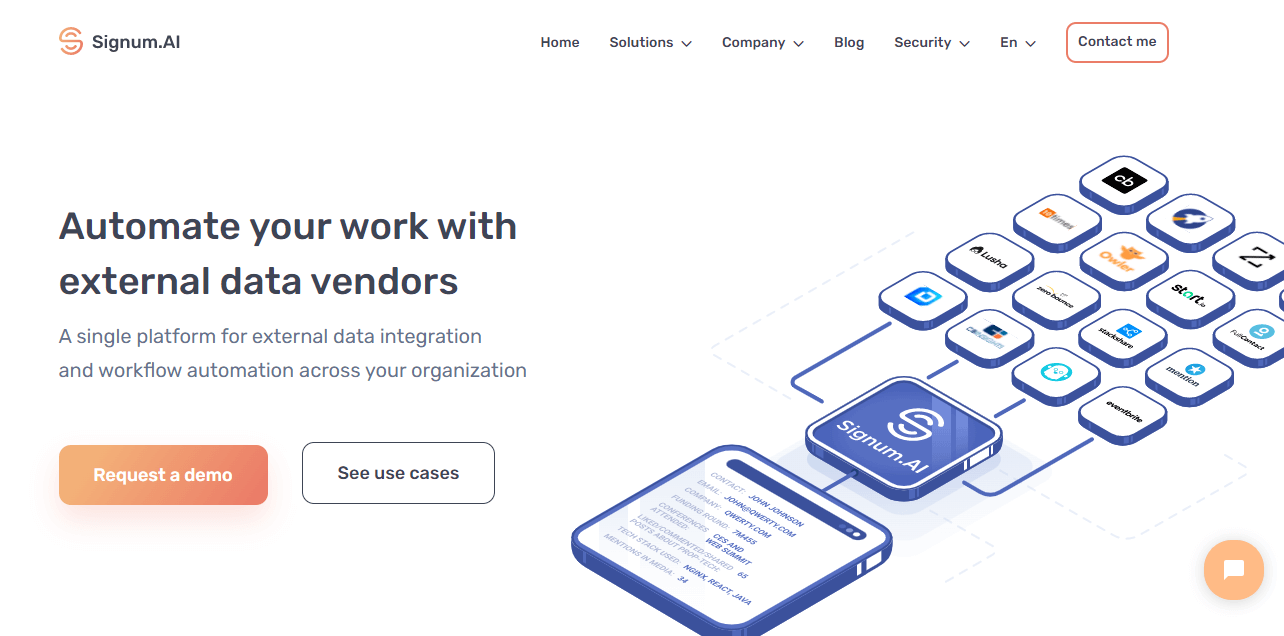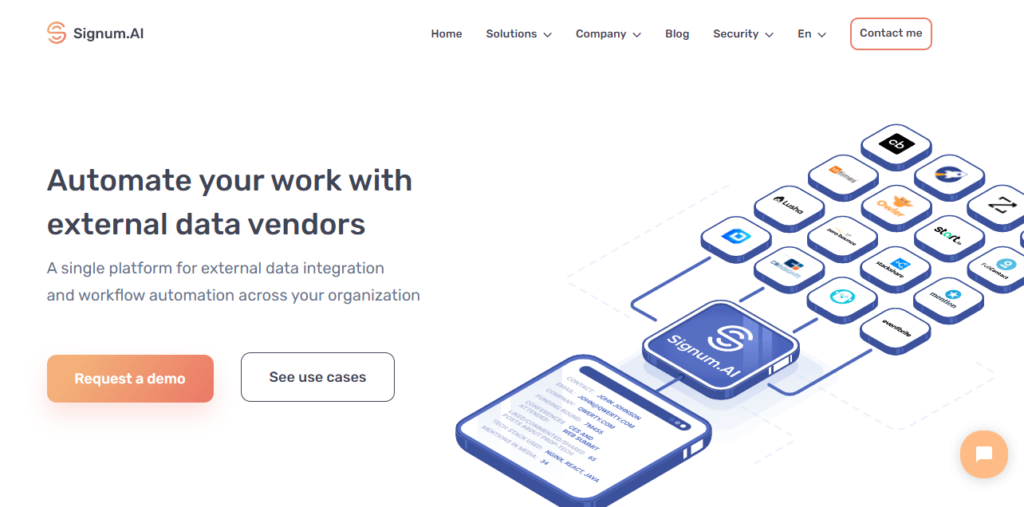 Having a wealth of high-quality data on your prospects and customers at your fingertips can prove invaluable for any business owner or sales team.
But that kind of data is often scattered across numerous databases, marketing platforms, and CRMs, making it an arduous task to compile the information into one centralized database where everyone involved in sales, marketing, and growth efforts can have access to all of their company's up-to-date intel with just a few clicks.
With the Signum.ai platform, you could use to access all of that data, whether it be from Google AdWords or Marketo, Facebook or HubSpot, Salesforce, Infusionsoft, Marketview, and many more.
You just define your industry-specific search criteria, choose your preferred sources and watch as Signum A.I. creates highly relevant contact lists based on user-defined parameters like job title, seniority within the company, the volume of social media followers (on LinkedIn), online presence via content published online, etc. The possibilities are endless when leveraging Signum A.I.'s suite of solutions to acquire lead generation data.
All in real-time, too, so marketers and sales teams always have fresh contacts at their disposal anytime, they need them. Of course, you'll want to ensure its accuracy prior to running campaigns, but having readymade lists available on-demand without spending hours sifting through websites or having to build them manually is well worth it, considering how much time that frees up for everything else inside your pipeline.
Signum.ai Pricing
Pricing is based on business needs
19. Growbots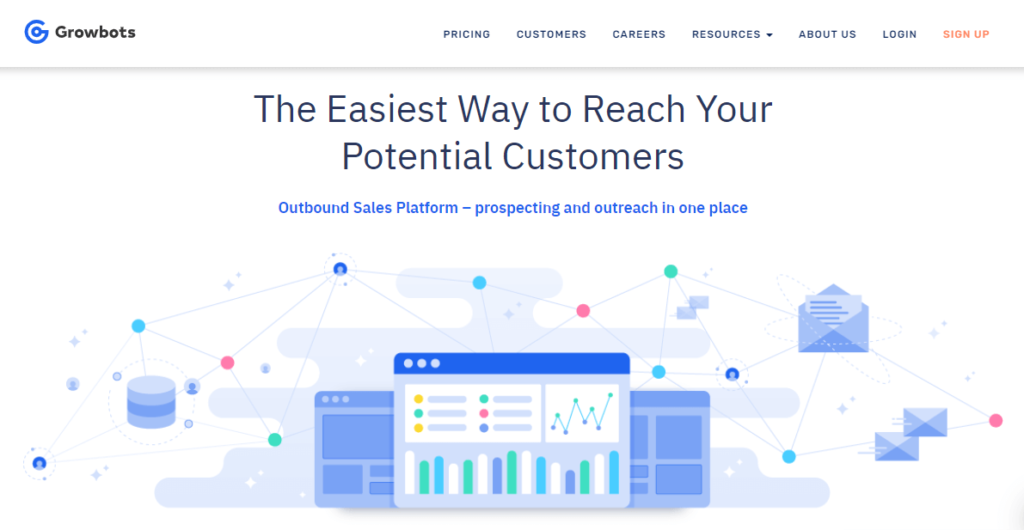 Growtbots enables you to transform your outbound sales process by employing AI and GPT-3 to automatically find and qualify leads via cold email. With Growbots' prospecting tool, you can run a highly targeted outbound sales campaign that's personally tailored to each individual. That means no more wasting time finding new customers one at a time.
Using artificial intelligence, automated workflows, and business rules built with NLP, Growbots use big data to deliver pinpointed outreach campaigns for outbound sales teams targeting any industry and role in any vertical market.
The whole process begins with prospecting, for which Growbots gives you access to well over 200 million contacts in literally every niche from software development to real estate. Just use their filters to find exactly what you're looking for (location, company size, etc.), then step into 2nd gear by setting up your campaign.
Within your campaign, you can harness the true power of NLP to draft personalized messages, create multichannel sequences, and above all, utilize warm response detection to take your lead generation efforts to another level entirely! From there, it doesn't matter how much or little experience you have doing outbound sales because now you're finally able to leverage A.I., so getting qualified inbound leads is just as simple as clicking run my sequence.
This entire process can be done with just a few clicks because, as I mentioned before, everything has been designed around user-friendliness from top to bottom.
Growbots Pricing
outreach – $49/month
All-In-One – $199/month
Pro – custom pricing
20. xIQ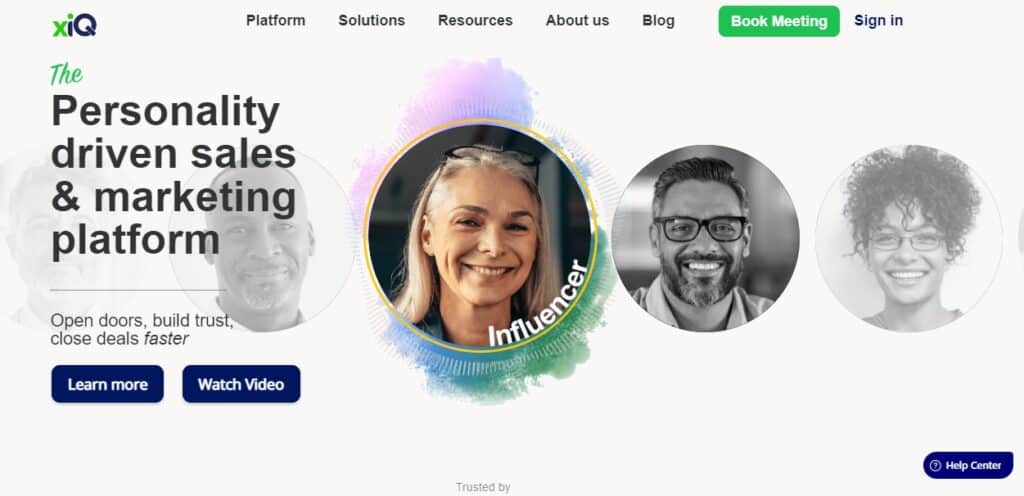 xiQ is an AI-powered sales and marketing tool to plan, execute, and measure marketing campaigns. It allows you to set goals, define target audiences, and choose the right channels and tactics to reach your objectives.
With intent signals that indicate the prospect's readiness at various stages of the sales funnel, you can track the buyer's journey.
xiQ gathers prospect intent in real-time by analysing content, key topics, concepts, and entities of interest to the prospect.
xiQ combines B2B sales and marketing to improve qualified lead scoring, personalize cadence, and deliver the highest ROI of any marketing tactic.
The software comes with robust analytics and reporting tools that provide real-time insights into your marketing performance. You can track metrics such as engagement, conversions, and ROI, and use this information to make data-driven decisions.
xIQ Pricing
Personalized pricing based on individual needs
21. Lemlist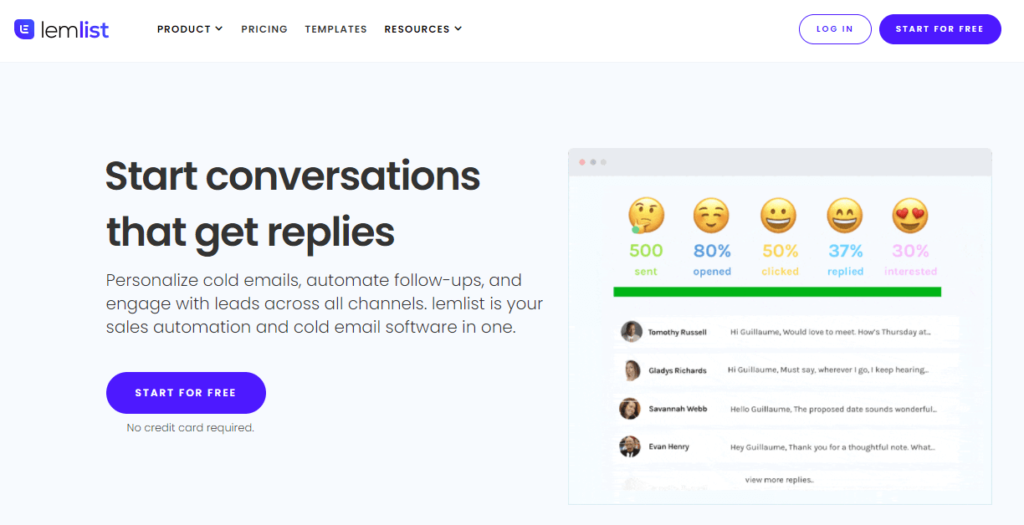 Lemlist was created to provide businesses with an easy, affordable solution to time-consuming, monotonous tasks that eat up precious time and resources. And when it comes to cold emailing, it literally has everything else beat in terms of speed, convenience, and usefulness. That's because Lemlist makes it possible to send custom-tailored messages that are automatically personalized to each and every recipient with a few simple clicks.
Plus, unlike many other solutions on the market that force you to choose between sending bulk emails and sending customized emails, Lemlist makes it possible to send both at the same time while automating the follow-up process as well. Further, every call to action is automatically tracked, analyzed, and linked to user activity so you can easily identify which approaches work best.
Lemlist will even let you connect with thousands of available apps via Zapier, so whatever your business needs, it can probably find a way to make it work.
Lemlist Pricing
Email Warm Up – $29/month
Email Outreach – $59/month
Sales Engagement – $99/month
22. Saleswhale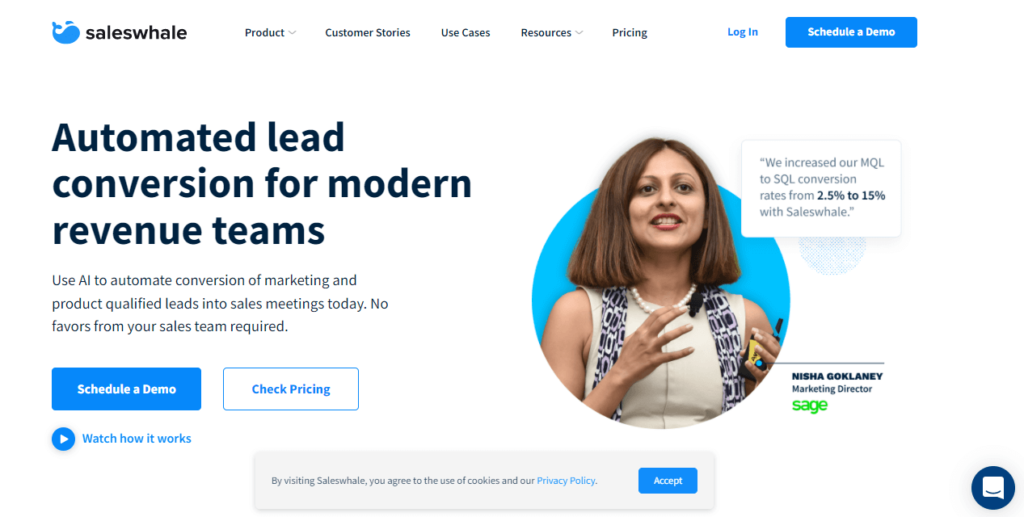 For businesses seeking an alternative to their current sales productivity solution, SalesWhale might be just what you're looking for. This all-in-one marketing platform combines automation with artificial intelligence (A.I.) and helps companies improve lead qualification to ultimately close more deals at a faster rate.
On top of that, it also provides insights into upsell strategies as well as personalized recommendations based on data from your pipeline in real-time to increase customer lifetime value by targeting interested customers before they are aware of your company's product or service offering. In other words? It helps sales teams convert leads more efficiently via email, seamlessly keeping potential clients interested until they are ready to schedule a call or demo that results in a sale!
Further boasting visual conversation builder that empowers you and your sales team to convert even the most complex deal objections into customized responses that can then be automatically sent over to prospective buyers within seconds is just one reason why SalesWhale is quickly becoming one of today's fastest-growing AI-powered conversation platform.
Its powerful A.I. technology allows you to have confidence knowing prospects will see precisely what YOU want them to see, which makes its ROI nearly impossible to ignore considering how easily qualified leads are turned into revenue-producing customers.
From automated follow-ups to interest qualifications and data collection, not to mention its ability to simplify prospecting efforts across all departments within your organization, SalesWhale has proven extremely effective at dramatically improving performance and efficiency across organizations in every industry sector worldwide. All without any additional effort required on behalf of those handling sales outreach.
SalesWhale Pricing
Starter – $495/month
Plus -$1,495/month
Professional – $2,495/month
23. Swordfish.ai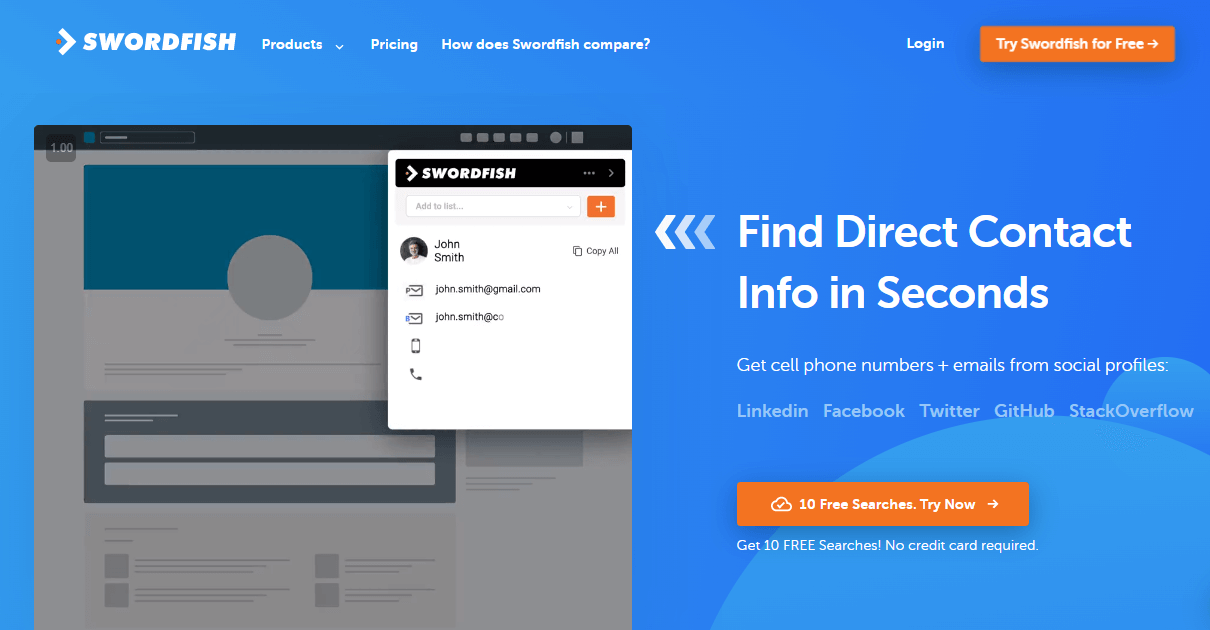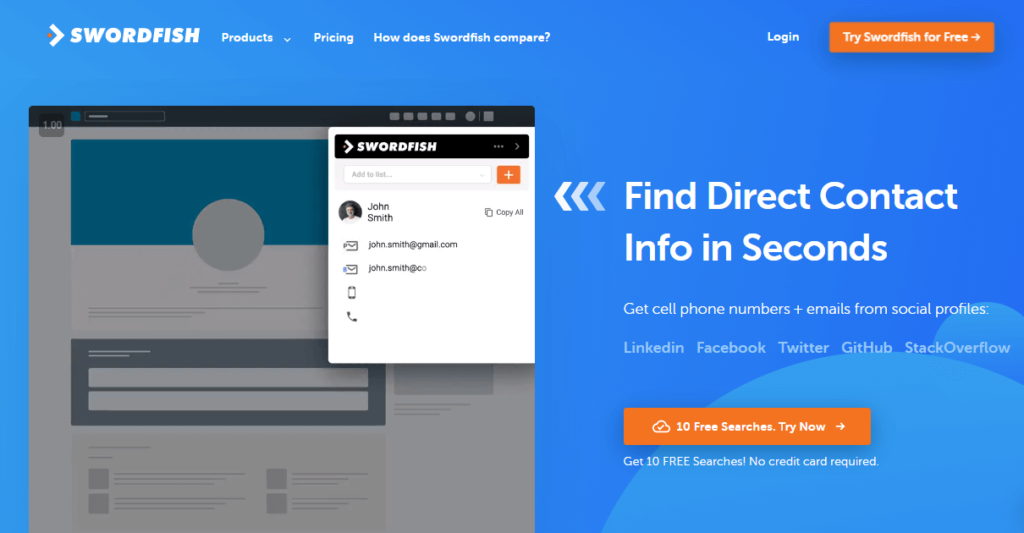 Swordfish.ai is a sales intelligence tool that helps users find their prospects' phone numbers and email addresses. It essentially aggregates data from top people identity verification providers and connects to over 200 network partners to bring accurate contact information in real time.
Further, bringing you access to 100M business profiles with accurate contact information is just one of several reasons why more businesses than ever before are discovering Swordfish's capabilities. Swordfish also offers an extensive CRM integration module making its results easily accessible across departments within your organization.
Additionally, it offers industry-leading API solutions, helping streamline how all relevant data is passed back and forth between different platforms to ensure everything remains consistent regardless of what technology you use or other integrations you may be using at any given time.
Swordfish.ai Pricing
150 Credits – $3.19 /day billed monthly
400 Credits – $8.03 /day billed monthly
Custom – custom pricing
24. Seamless.ai
Seamless.ai is an AI lead generation software for both B2C and B2B that lets you find decision-makers within minutes without having to worry about spam filters or call times.
By analyzing data on every person whose contact information is available online, it gives instant access to decision-makers based on location and/or company size.
With real-time data on more than a million companies across almost 70+ countries, automated lead generation becomes easier than ever thanks to its 100% automation feature, which also allows businesses to reduce cost per lead significantly.
Another awesome feature worth mentioning here is personalization which helps marketers create personalized content regardless of language.
In short, Seamless AI removes all roadblocks associated with finding highly valuable contacts via emails while saving time and effort in finding warm prospects that are ready to engage with you right away. The only thing left for your business to do here is moving forward and focusing on building relationships between key stakeholders at all levels by developing a relationship strategy that speaks directly to each prospect's needs and wants.
Seamless.ai Pricing
Basic plan starts at $65 PM
Pro starts at $147 PM
Enterprise plans will have custom pricing based on personalized needs
Best AI Lead Generation Software Tools Final Words
If you can generate more leads, you can increase your revenue. If you can't generate enough leads, you're stuck with the same old problems: low sales, high turnover, and lots of wasted time and money.
Then pick whichever one suits your needs and never miss another chance to land a sale again ever.