As Artificial Intelligence continues to transform the way we work, organizations are searching for the best AI-powered project management tools to stay ahead of the curve.
AI tools for businesses are designed to streamline project management and improve decision-making, making them essential for organizations looking to maximize their productivity.
In this article, we will be discussing some of the top AI project management tools available in the market and how they can help businesses manage their projects more efficiently.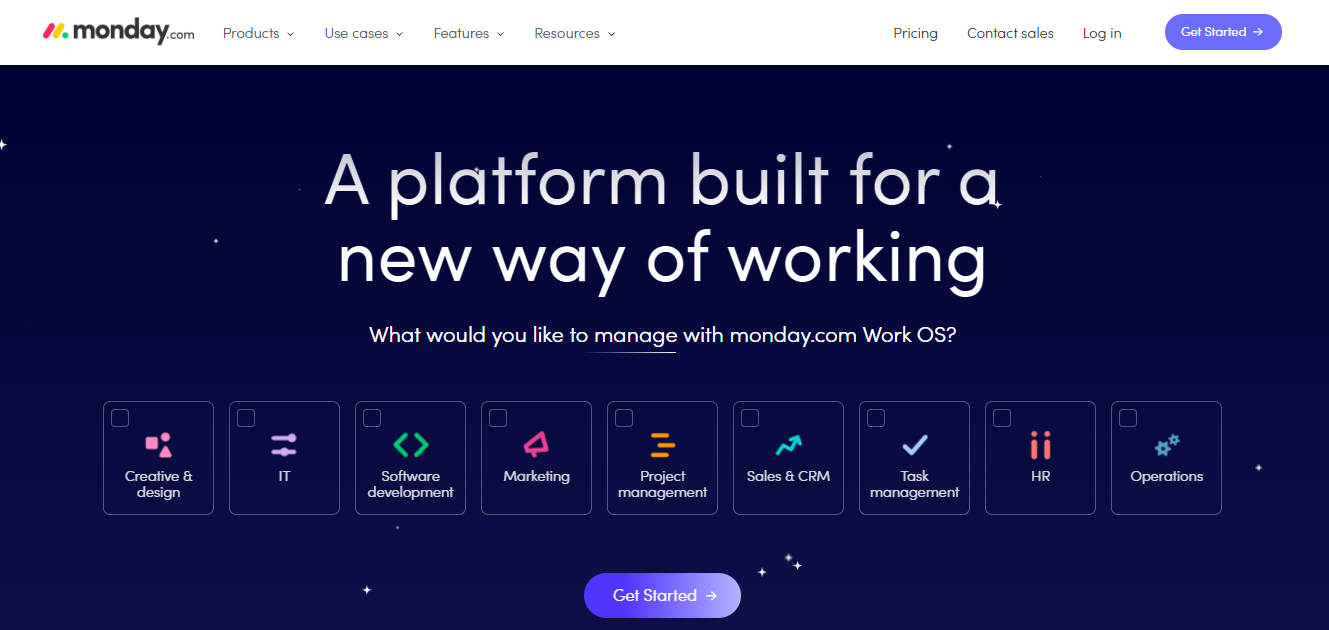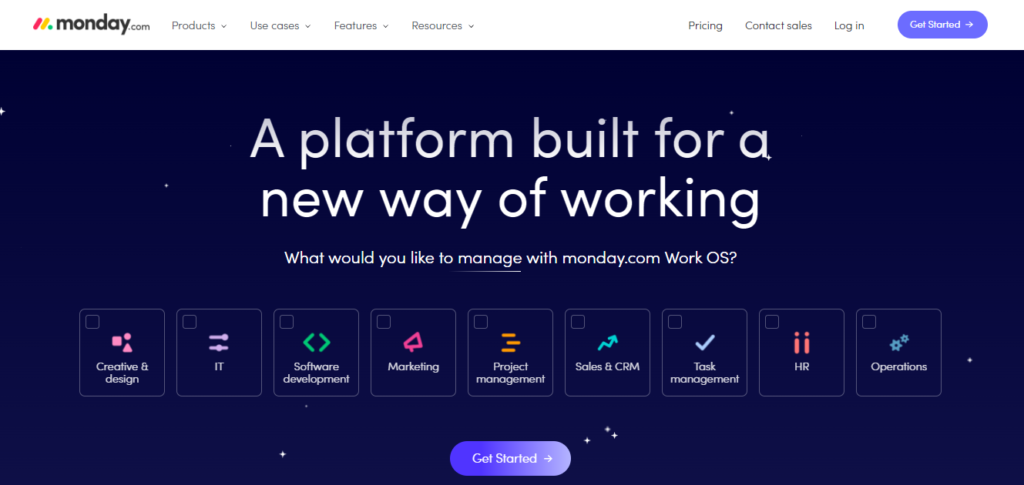 Monday.com is an all-in-one work operating system that offers various AI-powered functionalities focused on task, process, and even time management.  
The platform offers a more simplified way for you and your co-workers to manage tasks for any sort of project while creating a more transparent work culture.
It is totally customizable in order to fit you and your team's needs, meaning that you can customize it in a way that would match the workflow system that works best for you and your team.
Monday has features such as boards, groups, columns, and items that can be used to navigate tasks better and efficiently.
Monday is also really easy to use due to its drag-and-drop functionality feature and color-coded labels, these features can help you transfer everything more conveniently and would make everything appear visually organized to make it all easier to digest and understand.
Monday.com will surely make you say goodbye to daily sync meetings and endless email threads, it will also save you the frustration of never knowing where the right files and assets are, and asking someone countless times what the status is.
You can have your own board where you can add your other team members and work together in one organized place. You can delegate the work that you need to get done by assigning one or more team members to each item you have.
This centralized way will make it easier for you to keep track of what is going on at the moment and the individual tasks you need to work on.
With Monday, you will have full visibility into who's working on what and what is already done, currently in progress, or what is stuck waiting for your approval. Your team members will also have full visibility into the high-level milestones, timelines, and updates, so, everyone is updated and is in the loop.
Furthermore, each item has a dedicated space for communication in the context of that specific item. This is where you can give approvals, provide feedback, mention relevant team members, share files, and briefs, and give updates.
Another bonus on this platform is the work allocation feature. It can be quite hard to balance the team's workload without complete visibility into their capacity. So, this allows you to see team members who are available and who are not which will allow you to reallocate or reschedule to ensure everyone meets the project deadlines.
In addition to that, Monday.com is also useful software for sales pipelines, marketing campaigns, recruitment progress, video production planning, progress tracking, product roadmap, business processes, design planning, bug tracking, event management, construction planning, and a lot, lot more!.
Monday.com Pricing
Individual – $0/month
Basic – $8/month
Standard – $10/month
Pro – $16/month
Enterprise – custom pricing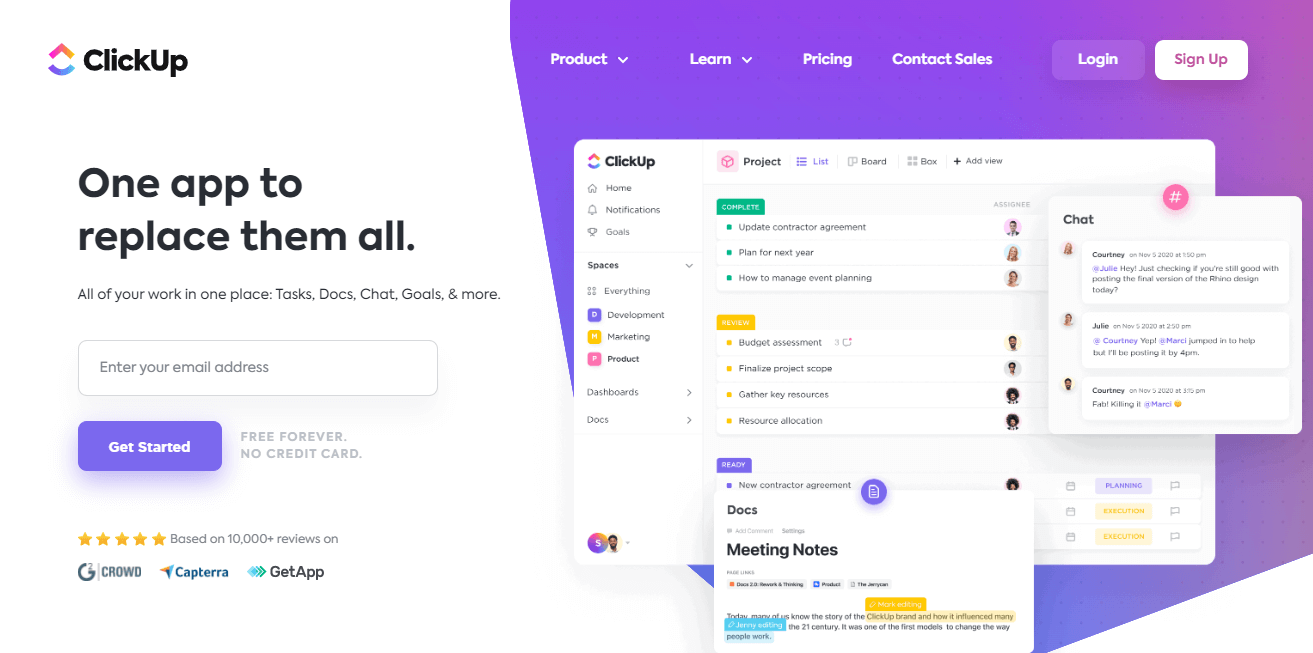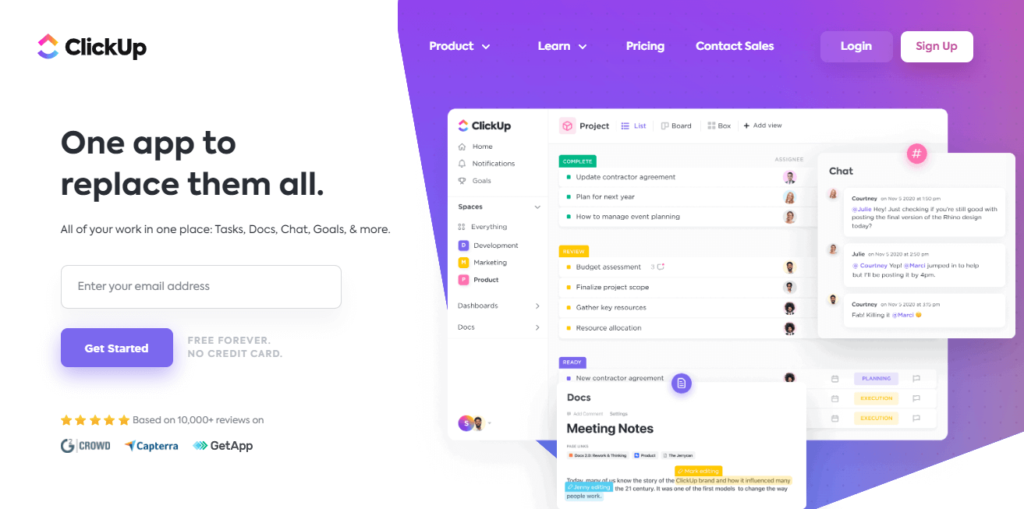 ClickUp is an AI project managing and productivity platform. It is available as a cloud-based app, a desktop app, and a smartphone app, and is even a Chrome extension.
The core functionalities of ClickUp are process management, task management, time management, third-party app integrations, complete customization of workspace, team collaborations and reporting, and ClickUp proprietary actions.
It also has features that include communication and collaboration tools, task assignments and statuses, alerts, and a task toolbar—all made to make every single detail easier to manage.
Users can even assign tasks to specific team members or a group of team members through the comments. Comments can also be marked as resolved or in progress through the statuses.
In addition to that, users can configure notifications on specific items to lessen the possibility of the feeling of getting overwhelmed.
Projects are viewed from an agile dashboard or organized by an assignee. This makes it a lot easier to manage projects, check-in, and oversee how the progress is going.
ClickUp Pricing
Free – $0/month
Unlimited – $5/month
Business – $12/month
Business Plus – $19/month
Enterprise – custom pricing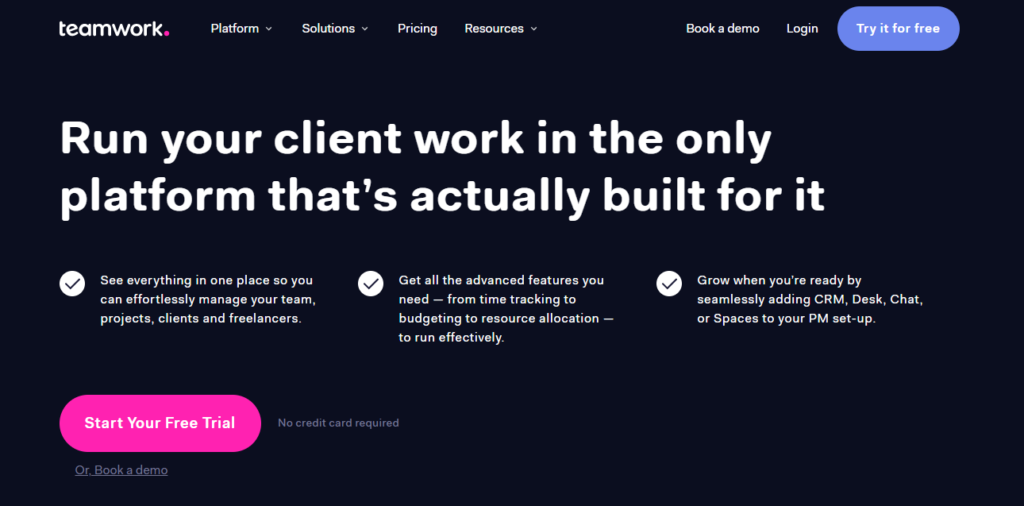 Teamwork is another cloud-based project management tool, it provides different business functionalities to manage various aspects of a project.
It has features such as task lists, time tracking, file uploads, and messages that include a document feature so you and your teammates can share documents on the platform itself.
It even allows you to do project scheduling that will allow project managers to define project tasks, assign them to people, and track the progress of each task.
Teamwork also has a client billing feature that allows you to generate invoices based on hours worked and expenses incurred.
In addition to that, it also has a feature that includes project collaboration that will enable communication through mobile devices so team members and project managers can oversee the process of projects wherever and whenever.
Teamwork Pricing
Free Forever: $0/month
Deliver: $10/month
Grow: $18/month
Scale: A custom quote is provided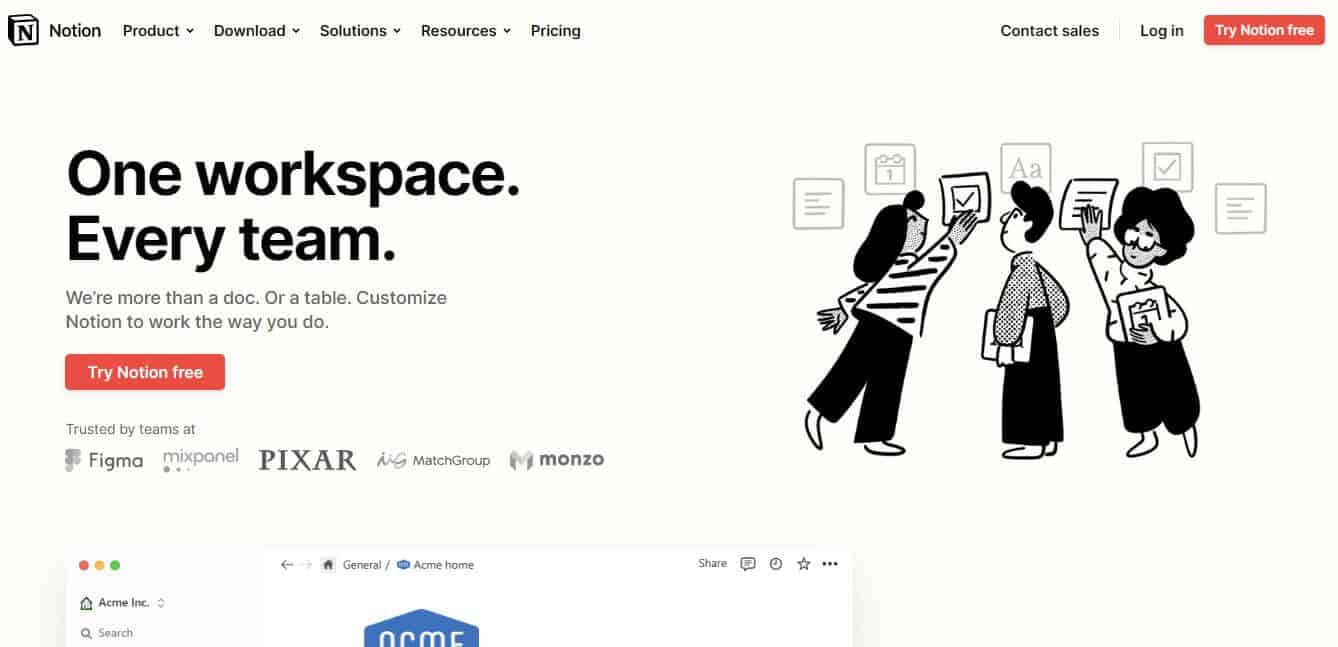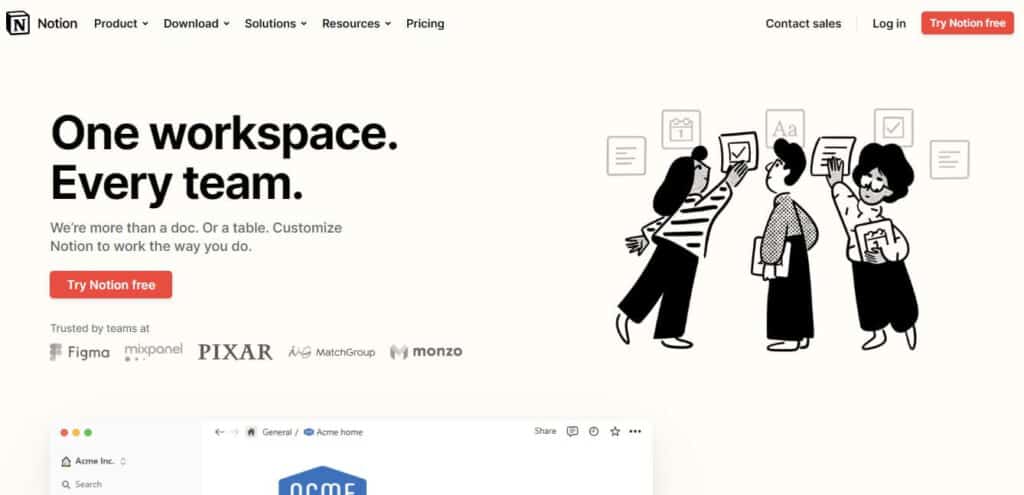 Notion is a popular free project and workflow management software that has taken the world by storm due to its customization capabilities.
The founders of Notion recently implemented AI into the platform.
You may already be familiar with ChatGPT. Both Notion AI and ChatGPT use GPT-3, an open-source AI technology.
Now Notion is like a personalized assistant where you can ask a question and receive exactly the results you're looking for.
Here are some of the functionalities of the new Notion AI features:
Summarizing content – after you've written something, Notion AI will give you the highlights so you can get a quick recap of your research proposals, meeting notes, or product specs.
Brainstorming ideas – when inspiration strikes, go for it! But when you're facing writer's block, Notion AI can help generate ideas for your article or new startup.
Draft maker – whether you're writing a blog post, Instagram caption, email, or poem, Notion AI has got you covered. It can pull from millions of examples to help you get started and craft a rough draft. The fun part? You get to make it uniquely yours by editing and refining it.
Grammar and spelling checking – Notion AI has a built-in spell check and grammar correction feature that works similarly to Grammarly.
Language translation – easily convert your written content into another language with Notion AI.
Notion is currently in Alpha AI but when it officially launches, it will be included in one of the paid Notion plans, but for now, it's completely free.
Notion Pricing
Free: $0/month
Plus: $8/month
Business: $15/month
Enterprise: custom pricing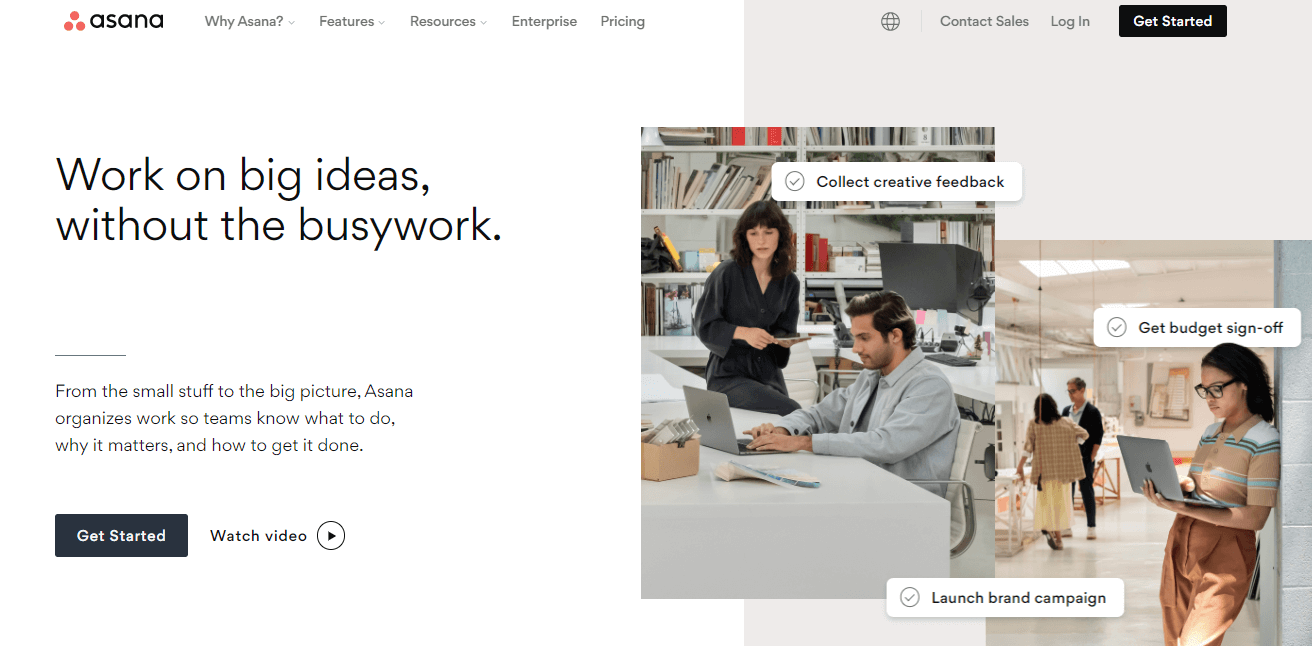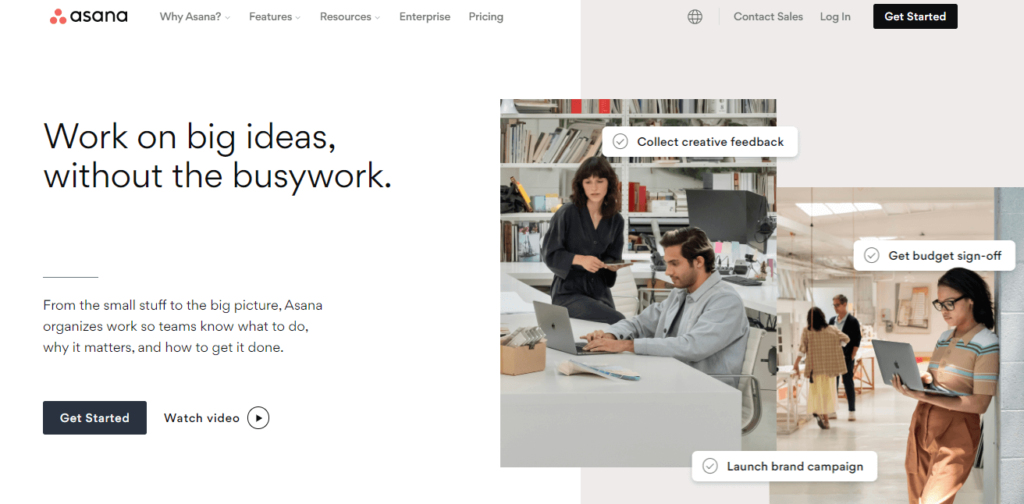 Asana is an advanced customizable workplace content management system that is designed to help a wide range of various companies accomplish the different organizational tasks they need to keep their workflow going and to help streamline projects.
It can also accommodate workplaces of any size and can analyze their progress and address issues, tasks, etc. all in one place in order to avoid the need to do constant meetings, email updates, and memos.
It has a wide range of features available that could help the teams find what system works best so that they can get things done as efficiently as possible.
One of its main features is its AI task management tools where you can make and customize lists, boards, and even host certain projects as a whole where you can break the projects into tasks and subtasks and make everything more manageable and easier to navigate.
It is like hitting two birds with multiple stones if you get what I mean. The icing on top of this cool cake is that it is available in pre-set tiered affordable plans.
Asana Pricing
Basic- $0/month
Premium – $10.99 per user per month (when billed annually)
Business – $24.99 per user per month (when billed annually)
Enterprise – quote-based plan, where you can customize it as per your preference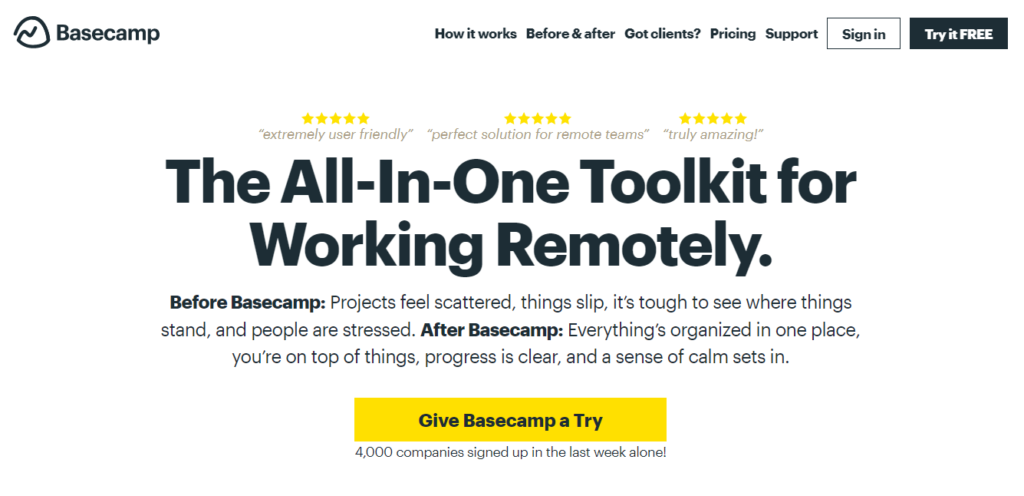 Basecamp is a real-time collaboration tool that will help teams to stay in touch with each other.
It has features that will allow you to jump to teams and projects by using its search bar, you can start private chats when it is necessary, and create a schedule to manage your projects along with viewing tasks that are already overdue, and even has automatic check-ins.
This software offers a complete overview of the business's ongoing projects or operations and makes it simple for each team and member to manage their own projects or task with a unified interface, it ensures that every single member stays in the loop of what is going on.
It includes a notification feature when someone comments on your task by default. This software has also made app integration a lot easier by allowing different popular apps to be integrated into your workspaces such as Slack, Mailchimp, Salesforce, Google Workspace, HubSpot, and Microsoft Outlook.
Basecamp offers a subscription-based service with transparent pricing. You can pay a flat fee of $99 per month for the business plan and can even get a slight discount if you pay annually at $999 per year.
However, if you do not want to use the premium version, you can also get it for free!
Basecamp Pricing
Basecamp Business: $99/month flat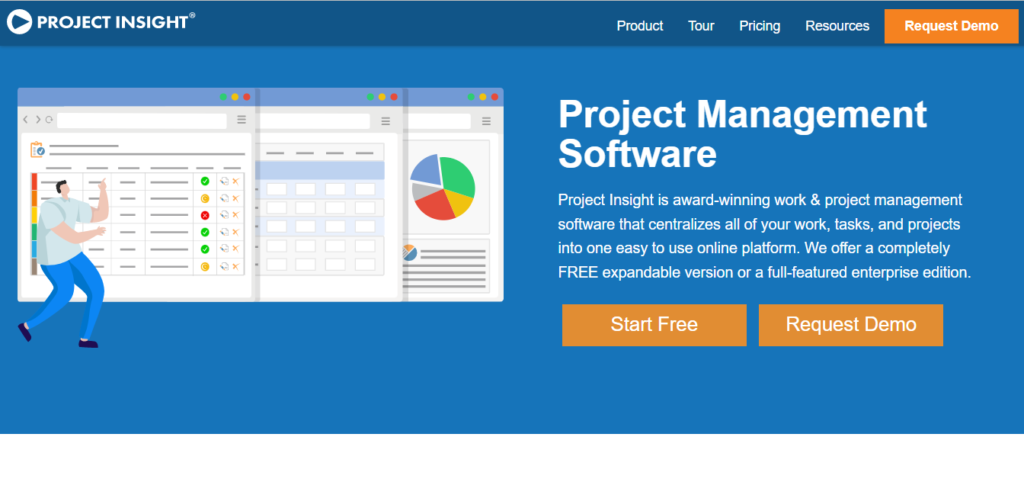 Project Insight is an award-winning AI project management software that helps companies and their teams manage and visualize different projects, allocate personnel, streamline accounting, and track the progress of tasks throughout every project.
This offers a completely free expandable version and a full-featured enterprise edition to meet the needs of small, medium, and large businesses.
This intuitive software aggregates data from the current productivity apps you already use such as Zendesk Sell, NetSuite, Jira, Azure DevOps, and QuickBooks in order for different departments to work on their platforms to provide key stakeholders with real-time updates and reports in order to ensure the boost of productivity.
Project Insight's REST API and extensive automation capabilities will also keep the team working together efficiently and effectively with its great features such as intelligent scheduling, project budgeting, time and expense tracking, capacity planning, client rate management, project billing, and more.
It also even provides a strong mobile app with the same amazing features as the PI desktop so your team can work, keep track, and give updates anytime and anywhere.
This software indeed brings together work and collaboration in one centralized platform to really streamline capacity and maximize success on projects.
Project Insight Pricing
Project Insight starting from $9.00/month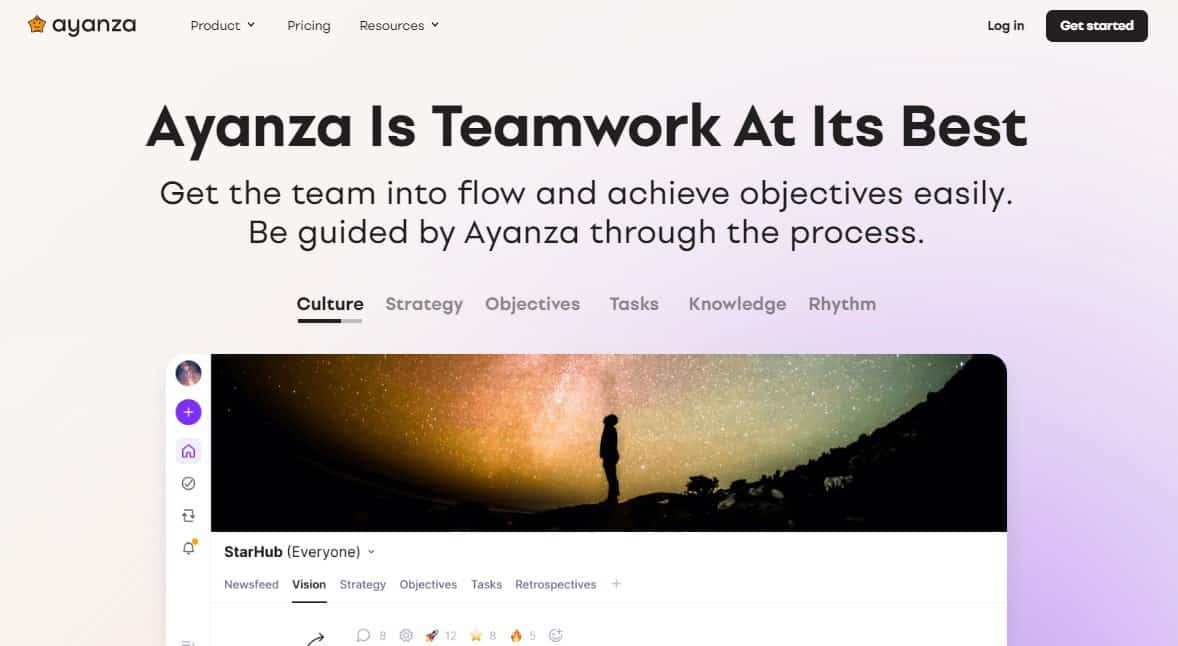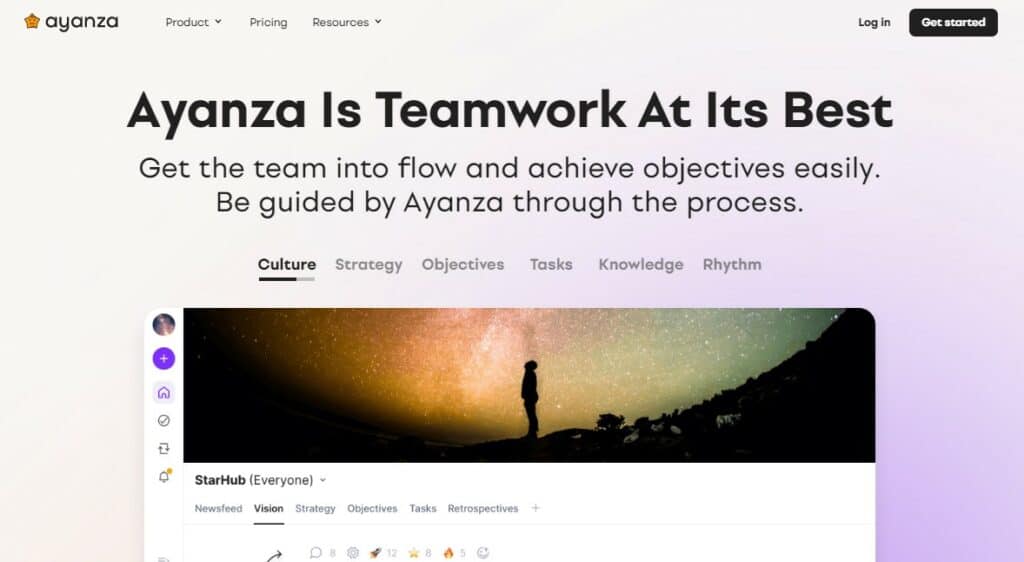 Ayanza is a new project management system that is all about making your life easier with its straightforward user interface and tons of templates for your project management needs.
And the best part? Ayanza has an AI technology that's always on, ready to give you a hand with suggestions and insights.
Similarly to Notion, Ayanza works as your personal AI assistant, always on standby to help you brainstorm ideas, answer questions, write reports for you, and all that good stuff.
With Ayanza's AI writer, you can save energy and time by letting the AI do the thinking for you. No more repetitive, mundane tasks – Ayanza's got your back.
Ayanza Pricing
Free up to 25 members
25 people and more: $6 per member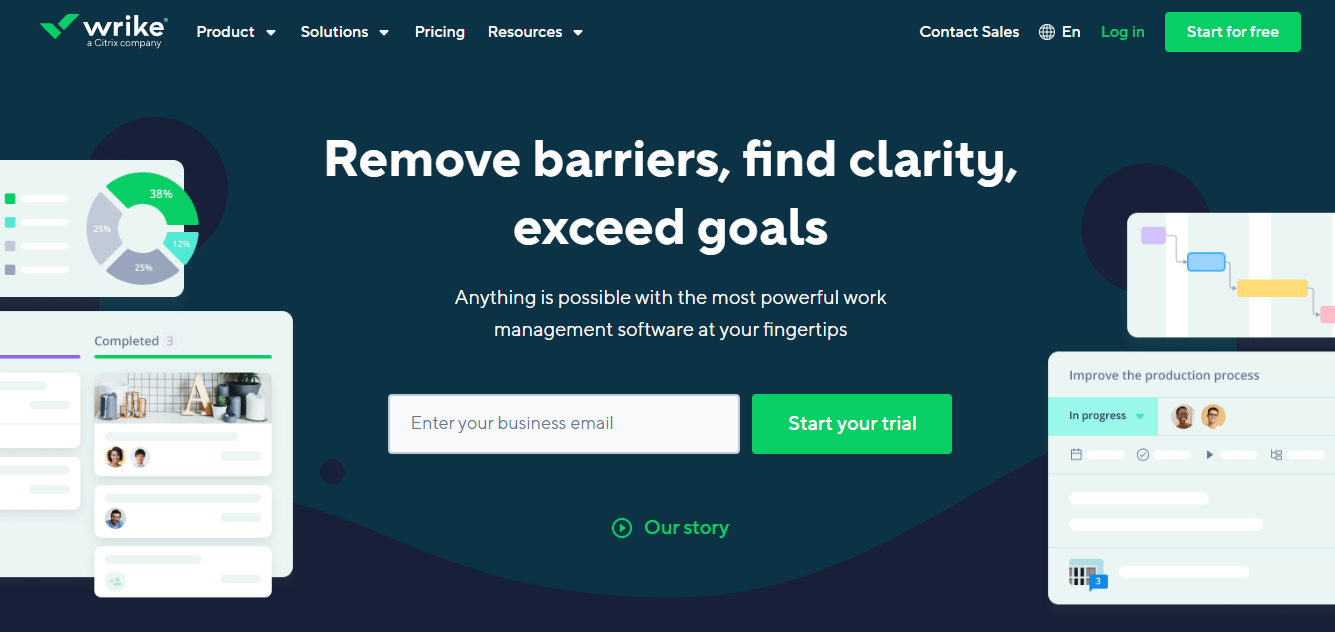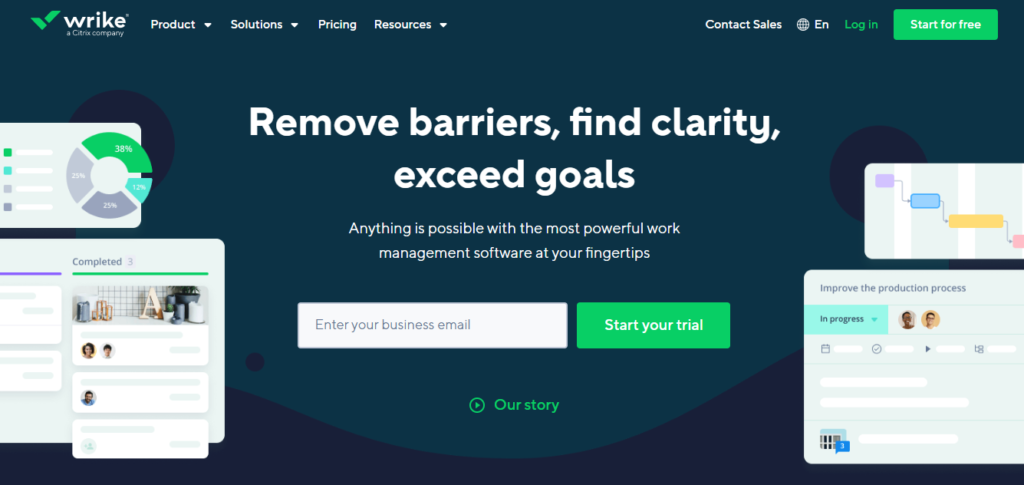 And last but certainly not least, we have, Wrike. This is a digital work management tool that allows you to track and coordinate projects by combining a simple user experience and interface with enough depth for power users.
Wrike focuses on three main functions: folders, projects, and tasks.
Folders are the overarching structure for organizing projects that is useful when starting different types of projects, it can also be divided into sub-folders that you may need for whatever project you are going to be working on.
Projects that are in need of more detailed information such as a start and finish date or project status can be put under the control of a single "owner." A project owner can assign tasks to different individuals or multiple team members, can set due dates, add file attachments, and can provide a more detailed description of the work that needs to be carried out.
Team members are also allowed to leave comments on folders, projects, and tasks and use an "@mention".
Each user has their own inbox for notifications and real-time communications, a personal MyWork view that highlights assigned tasks, a dashboard used to filter tasks lists, a calendar, and analytics.
Wrike also provides a range of visual methods for tracking the progress of work while it is ongoing. This includes Kanban-style boards, a list view, a spreadsheet table, and Gantt charts.
Wrike has even been allowed to integrate a wide range of different third-party applications such as Slack, Microsoft Teams, Box, OneDrive, and Salesforce, it also offers an API in order to connect the app with existing workflows and software customers might be using.
There are also connectors available for business intelligence tools such as Tableau for a large business to integrate different sources of corporate data. Wrike is available on mobile devices both Android and iOS, it's also available as a desktop app, of course, for both Windows and macOS.
That is surely a lot but what else can we expect from a high-functioning AI project management software, right?
Wrike Pricing
Professional $9.80 per user per month
Business – $24.80 per user per month
Marketers, Professional Services, and the Enterprise plans offer access to unlimited users and can be customized according to your requirements
AI in Project Management
The use of AI in project management is still in its early stages, but it has been rapidly moving towards an important role. Let's take a look at some of the use cases of AI in project management and see how AI can help with your tasks.
Task Automation
Task automation is the process of automating a task or series of tasks within a project. By automating these tasks, you can save yourself time and effort. In many cases, task automation can be performed using artificial intelligence (AI). AI has the ability to automate tasks that are repetitive and time-consuming. For example, it can automatically fill in form fields, track data changes, or compile reports. AI may also be able to automate the creation of a new project plan based on existing project plans that have been created in your organization.
Project Goals Insights
AI can provide insights about project goals and objectives that can be useful in making decisions and taking action. AI can learn from existing project plans and identify what is needed to achieve the goals of a project. For example, AI may be able to provide insights about access levels that are needed to make plans and what types of documents will be needed for the plan to be effective.
Identifying Potential Risks and Issues
Artificial intelligence has the potential to help businesses identify risks and issues early on in the product development process. By analyzing data and predicting outcomes, AI can help companies avoid or mitigate potential problems. In addition, AI can also be used to create simulations of potential scenarios, which can help businesses make better decisions about product development and marketing.
Providing Recommendations
AI can support decision-making by providing recommendations on how best to proceed with a task or operation. This may include suggested courses of action, timelines, and estimated costs. In some cases, AI can even automate portions of the decision-making process. By incorporating these recommendations into business processes, organizations can improve efficiency and optimize outcomes.
What's Your Favorite AI Project Management Software?
We hope this list of the best AI project management tools will help you choose the right software for your business.
Project management is a complex and challenging task. The use of artificial intelligence (AI) could make the process more efficient and improve communication between project team members.
AI has the ability to analyze large amounts of data, identify patterns, and make decisions on its own. This could help to reduce the time needed to complete a project and improve overall communication.