In this article, we researched and reviewed the best AI social media marketing tools for content creation, automation, scheduling, reporting, content curation, and more.
Best AI Social Media Marketing Tools in 2023
1. Ocoya – Best AI-powered social media marketing suite
2. Predis.ai – Best AI social media post generator
3. Missinglettr – Best AI-powered content curation tool
4. HubSpot – Best enterprise social media management platform
5. AdCreative.ai – Best AI ad creator
6. Phantombuster – Best AI social media bot
7. Analisa – Best Instagram analytics tool
Social media has become a primary means of customer engagement for businesses. It's where consumers go to hear about the latest sales, promotions, and product recalls. It's also where they share their thoughts on a brand, its products, and the industry as a whole.
And, with an average of 145 minutes per day time spent on social media, brands have an incredibly valuable opportunity to influence and engage with their audience.
But with so many social media platforms to manage, monitor, and post on, it can be difficult for brands to keep up with the pace of change.
That's why it's more important than ever for brands to harness the power of AI marketing tools to automate social media marketing and optimization.
AI Social media tools can create custom-tailored posts, boosting engagement and transforming murky water into liquidity that can be measured and controlled.
Brands can also schedule posts, analyze results, and get detailed reports on their performance.
So, read on as we discuss the best AI social media marketing tools that can help you automate your marketing efforts and achieve your goals.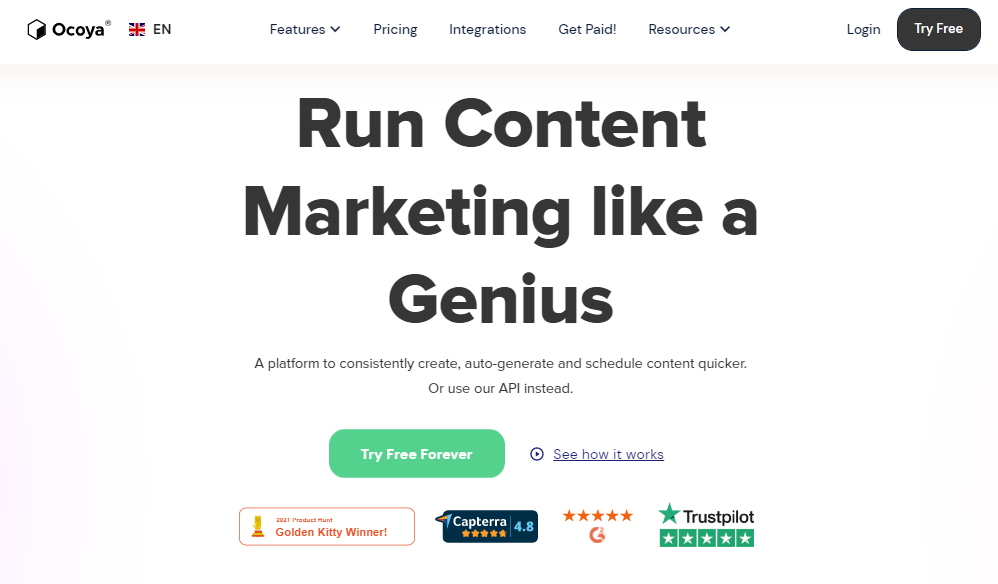 Ocoya is an all-in-one AI social media platform that enables you to create, schedule, and analyze your content under one dashboard.
This powerful tool is designed specifically for marketers and individuals who want one platform for executing their marketing campaigns on multiple platforms simultaneously.
Whether you're looking to schedule posts across Facebook, Twitter, LinkedIn, or Instagram or improve ROI through better targeting, more precise ad placement, and insightful performance reports; Ocoya has got you covered.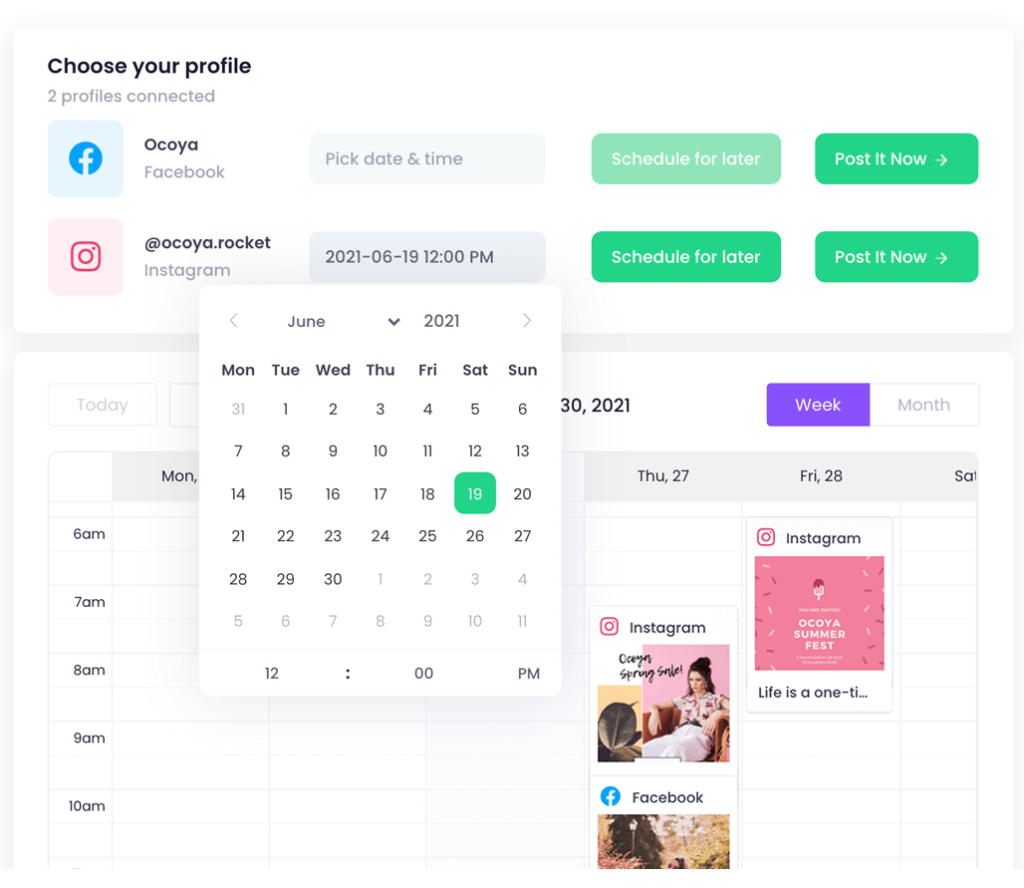 Ocoya empowers you with over 10,000 professional social media templates, graphics, and music all tailored to various niches making it easy to create visually appealing content without having to come up with each idea from scratch.
The Ocoya analytics feature works by consolidating all relevant information from its supported platforms into a single dashboard so that you can track all of your efforts from one place and make important decisions based on reliable data – instead of just relying on guesswork or instinct.
Plus, they have an AI copywriting software that will help generate engaging social media post descriptions with just a few clicks.
Overall, if you are looking for a way to effectively manage and distribute content on multiple social networks or boost your business's online presence, then look no further than Ocoya; rest assured you'll get amazing results in both quality and quantity when using their services.
Ocoya Pricing
Silver: €39/mo
Gold: €99/mo
Diamond: €449/mo
Platinum: €999/mo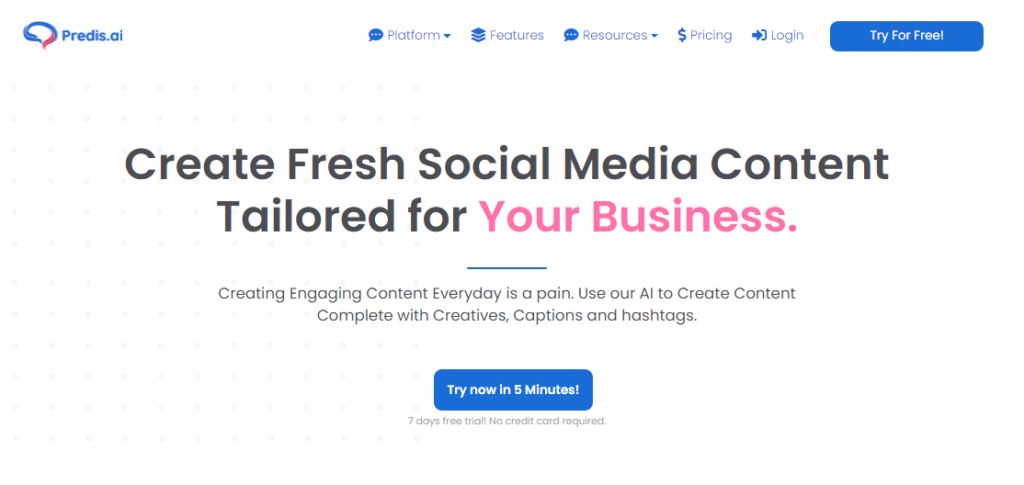 Predis AI is an AI social media post generator that can create high-quality, creative content tailored to what your audience wants with just one-liner instructions.
How does it do all of this? That's where their state-of-the-art neural network comes into play: it gathers information from all of your previous posts, comments, and interactions on social media networks so that its recommendations are based on actual data rather than hunches or guesses!
Another key feature of Predis is its ability to optimize every single post for maximum performance, meaning that each and every post you publish has a higher chance of being seen and read by more people, helping your business gain more visibility overall.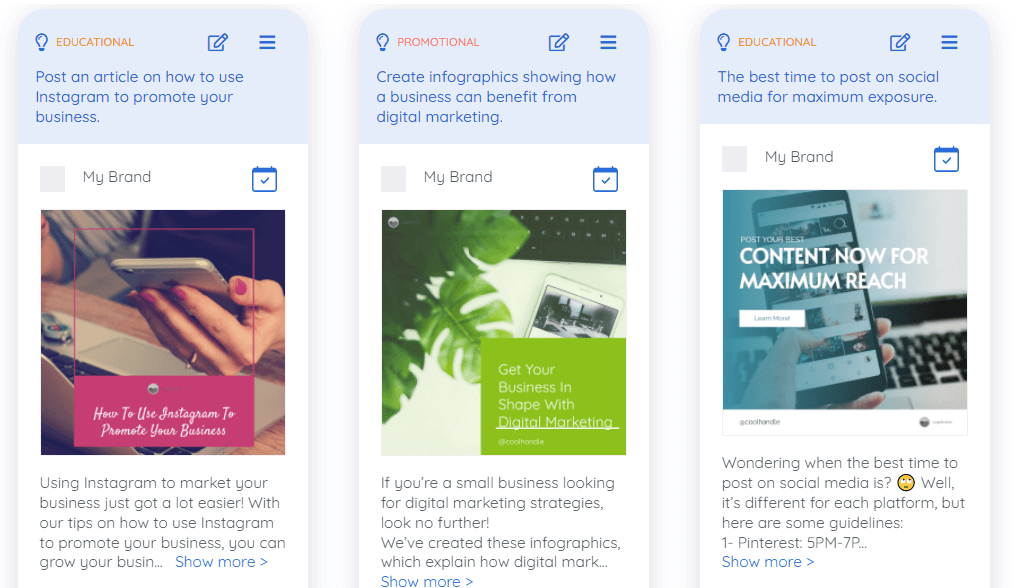 And even better? Their dashboard makes it easy to track all of these changes over time so that you can easily measure which strategy works best.
Finally, let's talk about ROI. For example, using Predis' automated hashtag suggestions can increase clickthrough rates (CTRs) by up to 50%, meaning increased visits to your website .just because you included some relevant hashtags in a few of your social media posts.
But that's not the end of it. Predis.AI also pulls data from various competitors' accounts, allowing you to see what other companies are doing right and wrong—so that you don't make those same mistakes yourself.
The bottom line: Even though Predis might sound complex, it isn't; in fact, setting up a free account only takes 5 minutes or less. And once you are in, you'll be all set to create highly targeted, conversion-focused content in no time.
Predis AI Pricing
Starter: $24 PM
Growth: $33 PM
Agency: $57 PM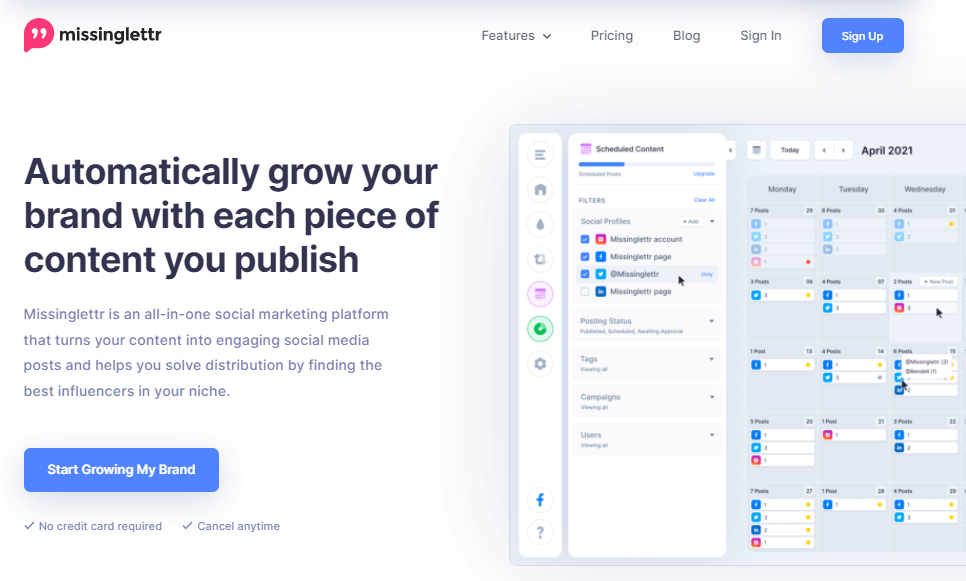 Missinglettr is an AI content curation social media marketing solution that makes it easy to turn your blog posts, videos, landing pages, videos, affiliate pages into high-quality social media content as well as find the best influencers in your niche. 
With Missinglettr drip campaigns, you can promote massive amounts of content at scale all fully automated. It can easily detect any format of your social content automatically and add it to your library to be dripped out over time.
Furthermore, with the help of a done-for-you content curation tool, you can automatically discover the most popular content on social media and share it seamlessly across all your favorite social media platforms.
Missinglettr Pricing
Free – $0/month
Solo – $9.50/month
Pro – $29.50/month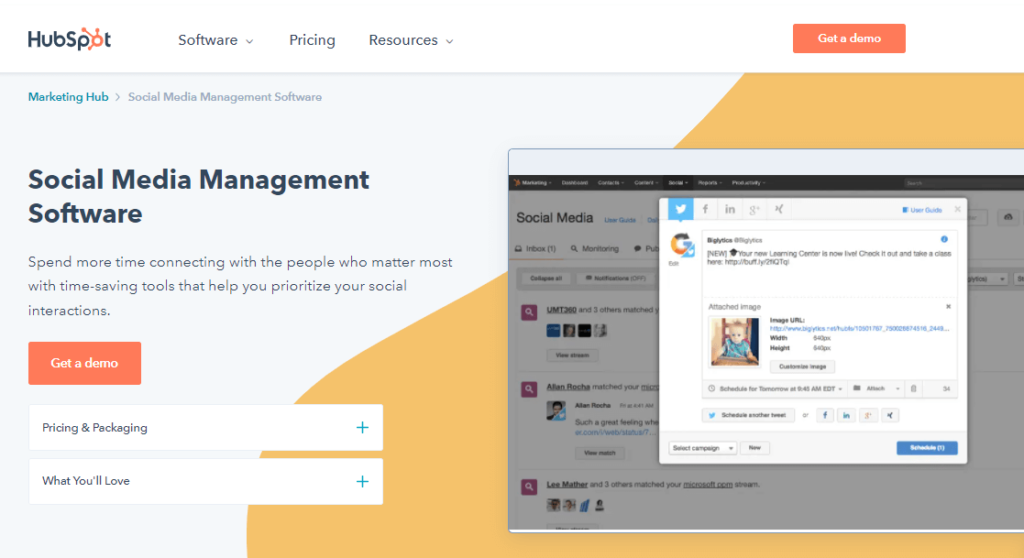 Renowned as one of the world's top CRM software, HubSpot is a marketing automation platform that helps businesses to connect and engage with prospects more effectively.
Aside from that, it also offers an AI-powered social media marketing suite so that you can track your company's performance, manage your content more efficiently and understand which kinds of posts work best on each social network! And speaking of social networks, let's talk about their most popular feature for a minute—their social media management tool.
Why? Because it allows small business owners to dedicate all of their time to doing what they do best (i.e., connecting with people online and building relationships!) rather than being forced to waste time trying to figure out how to create an effective post! In other words, if there's ever been a silver bullet when it comes to generating leads via Facebook or Twitter.
By allowing you to schedule posts in advance and even suggest relevant hashtags automatically based on trending topics, community management isn't just good enough anymore; in fact, some say that they see an immediate improvement in conversions when they implement these features.
Overall, HubSpot is truly one of those companies that are simply driving innovation across every industry they touch. If you're looking for a way to streamline your social media efforts without sacrificing quality or creativity, then HubSpot might be just what you need.
HubSpot Social Media Management Software Pricing
Only subscribers of "Marketing Hub" can have access to HubSpot Social Media Management Software.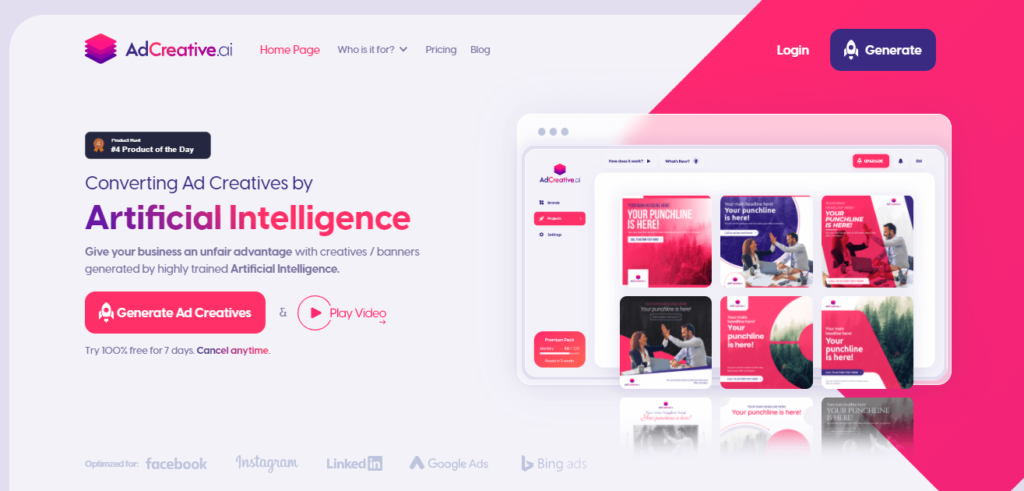 AdCreative AI is one of the best AI advertising tools for social media that will design, optimize and manage all of your ad creatives in one place.
With their AI-powered ad creative software, they'll actually design new ones for you based on your goals. Just enter some basic information about your business and target market and let them do their magic.
The longer they work with you, the better results you'll see. After just a few days or weeks of being together with them (depending on how much content you already have), there won't be any limits to what AdCreative AI can create for you because all improvements made to their neural network take into account active user's businesses' needs all while continuously improving every day.
Overall, with AdCreative, your social media marketing campaigns are enriched with advanced tools and automation technology, making your marketing endeavors quick, easy, scalable, and effective.
All managed by one integrated platform means more time spent doing what matters – running your business. Additionally, since they're completely customizable via their super intuitive interface, you can add as many tasks & steps as needed to perfectly fit within your current processes.
AdCreative AI Pricing
Starter: $14 PM
Premium: $89 PM
Pro: $349 PM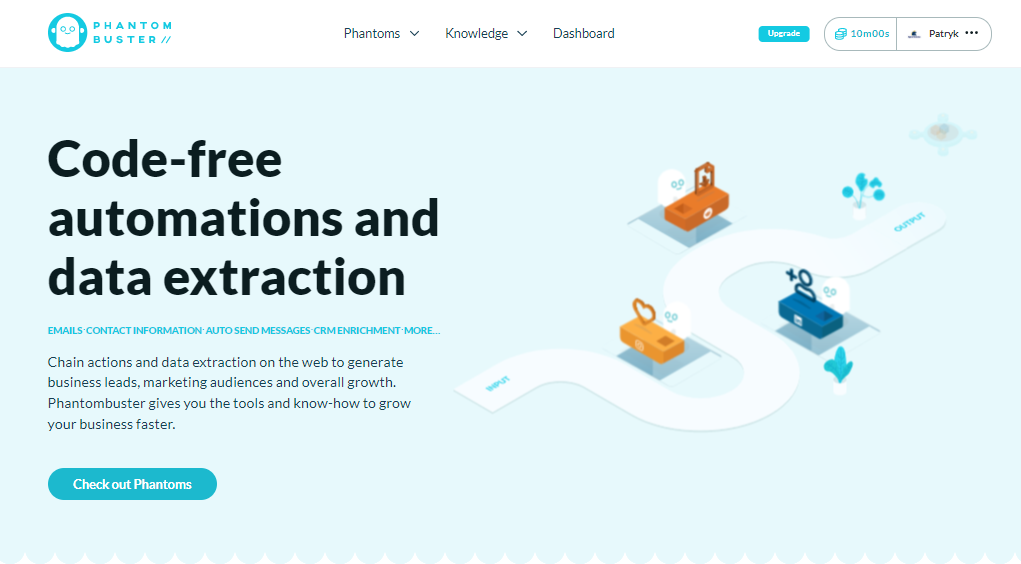 By giving your boring tasks over to artificial intelligence (AI), you'll get more done in less time than ever before—all without compromising quality or effort. It works by feeding your social media accounts information extracted from any web property, making them work harder for you so that you can focus on other important tasks.
And because everything about this service is customizable, you only pay for what you actually use, helping companies save money without sacrificing product quality or support.
From auto-scheduling posts to finding influencers, followers, competitors, and other data points, from creating link prospects to managing projects, automating customer communication, and more, if there is something businesses do on social media every day of their lives.
Further backed with chain automation that really redefines how automation is supposed to work and timed notifications, customer conversations are managed automatically, too.
So why try anything else? Do yourself a favor today and start with Phantombuster's "Free Forever" plan and indulge in inefficiency at its finest.
Phantombuster Pricing
Free: $0 PM
Growth Hacker: $30 PM
Business: $70 PM
Enterprise: $200 PM
Premium: $900 PM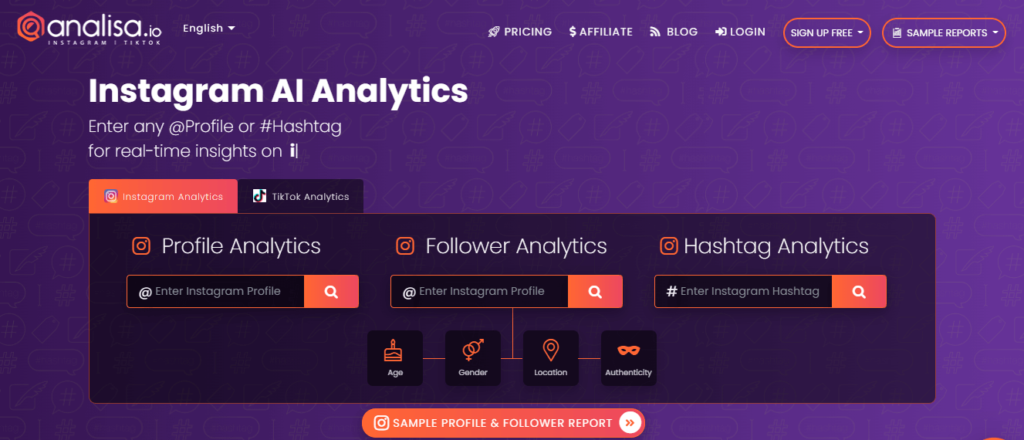 Analisa gives you access to raw analytics data as well as tips and tricks from top-performing influencers within your niche. What sets Analisa apart from similar bots is that it doesn't just provide insights around likes, comments, and impressions; instead, it shows exactly where people are engaging with your content so that you can capitalize on opportunities based on those insights instead of having to guess what will work best.
As an added bonus, there are also multiple filters that allow you to monitor and compare each platform separately or at the same time so that you can see which one is delivering better results for your campaign. In short, Analisa combines all of the most relevant social media marketing data into one single dashboard in order to give you unprecedented visibility over any marketing campaign.
Not only does it consolidate key metrics like post views, engagement rates, follower count growth, etc., but it gives insight about individual posts, too, so that you always have actionable information at your fingertips.
Overall, if growing your audience or increasing engagement through social media seems daunting, then let Analisa take care of everything while saving hours of your workload along with giving instant feedback about what's working and what isn't – without sacrificing quality too.
Analisa Pricing
Free – $0 PM
Premium – $59.35 PM
Plus: – $109.55 PM
Pro – $199.35 PM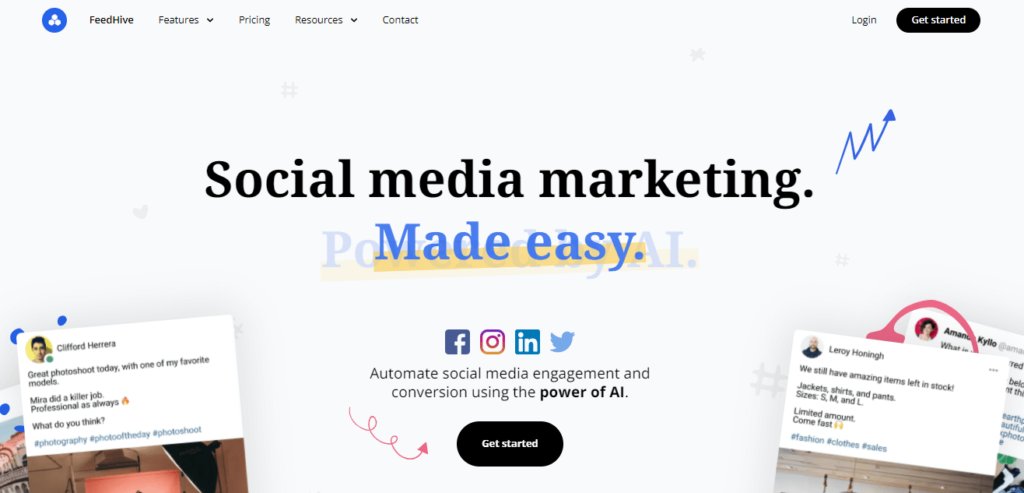 Feedhive allows you to target your audience with amazing precision. It's a social media engagement tool that leverages artificial intelligence so that you can save hours of your workload every week by automating some or all of your content marketing efforts.
Rather than spending endless hours creating new content (on top of monitoring everything else) than having it posted at just the right time in order to capture attention, FeedHive lets you direct its vast network of influencers to do all of that work for you while still providing real human engagement using a mix of automation and social proof.
The bot is powered by a highly sophisticated algorithm that continuously learns as it goes along so that it always delivers high-quality interactions, which drives traffic back to your site at lightning-fast speeds.
As if that wasn't enough, there are also AI components on both sides – an expert system to help your content perform better and improve with every campaign, as well as an intelligent chat interface where users are able to get instant feedback from their followers through simple questions.
FeedHive Pricing
Free: $0 PM
Creator: $19 PM
Brand: $29 PM
Business: $99 PM
Many marketers can only create a handful of ads per month (if that), a machine-learning platform like Smartly will be able to easily produce over 100+ high-quality ads for you in just a matter of minutes.
Each and everyone will prove extremely effective without requiring much tweaking from your end at all. Plus, because these platforms utilize AI, they're also continually learning from their experience as they grow—so even more high-quality ads will come your way as they continue to learn more about what gets clicks on your various social media channels.
And as every ad created is uniquely tailored to fit your brand image and most effectively generate results, there's really no question that using a tool like Smartly saves you both time and money compared to doing things manually.
Smartly.io Pricing
Pricing is based on your unique marketing or business needs.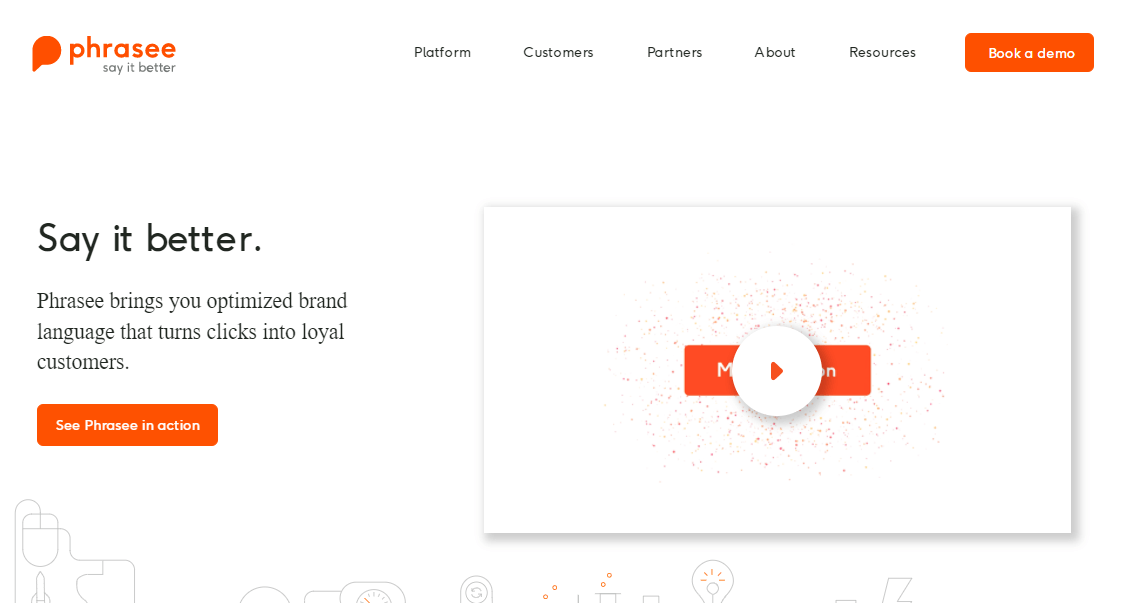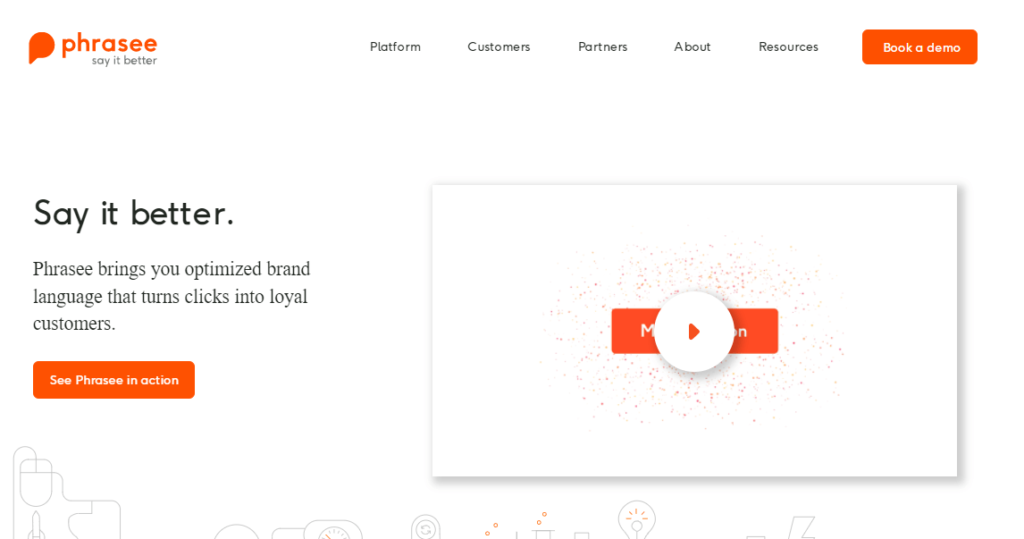 Phrasee automatically optimizes and customizes your message according to how audiences respond on social media.
Its solution will look natural, so it won't even look like you're not talking with your audience. From initial contact to conversion, Phrasee is there for every step of your customer journey – which means higher conversions along with positive brand sentiment indicators.
Of course, there are other benefits, too – including saving time and costs by not needing a full-time copywriter and building content at scale based on your goals.
Further featuring real-time optimizations that maximize engagement rates, measurement insights, automated publishing capability, and intelligent public data matching capabilities to offer superior coverage across multiple channels, Phrasee has quickly become one of the top recommendations for companies looking to stay ahead of their competition when it comes to social media.
Phrasee Pricing
Pricing is disclosed after consultation.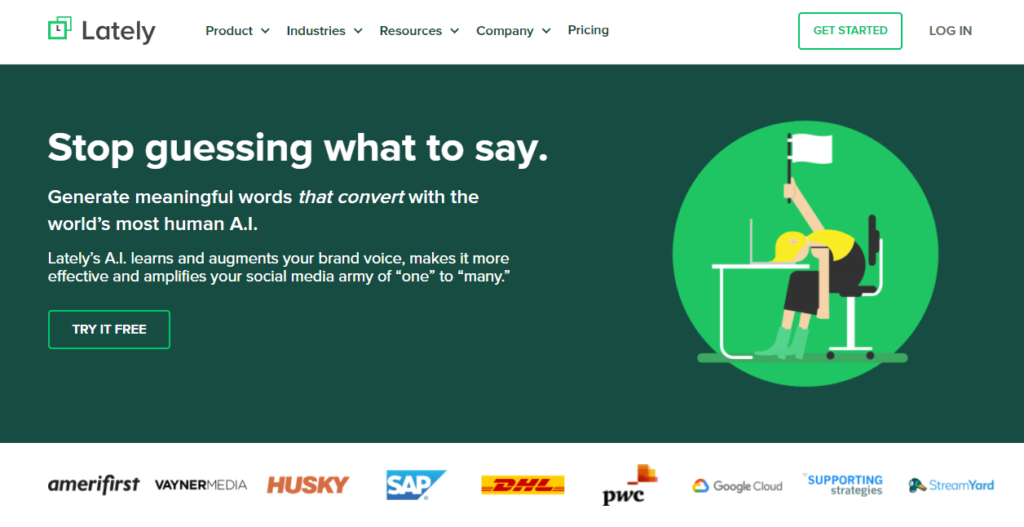 Lately is an AI-powered social media marketing suite that works as a sort of calendar manager for everything your team is doing. Whether you're an agency or a solo entrepreneur, everyone needs an effective way to manage their workflow without forgetting any important deadlines or events along the way.
With that in mind, Lately allows users to do just that! First off, it uses AI to automatically transform your rusting blog posts into engaging videos, personalized podcasts, and even social media posts, meaning that there's no longer a need to go through all of those old content archives trying to find some gold (or make new content from scratch).
And in addition to increased visibility online, all of these pieces are automatically added to your content calendar, so you never miss anything again. Their tool also keeps track of every single thing that's going on so that nothing slips through the cracks ever again.
And then there is Lately's AI content writer that uses AI models to first understand your business tone, style, and unique voice before writing fresh copy for each and every piece of content—from blogs to email blasts, press releases, to even your website copy.
Finally, it's clear why Lately has become one of today's top choices among small and medium-sized companies who want to step up their game by automating processes related to social media marketing.
Lately AI Pricing
Social Animal Edition: $350 PM
Social Teams Edition: $450 PM for every user
Social Enterprise Edition: $500 PM for every power user
Social Agency Edition: $400 PM for every agency user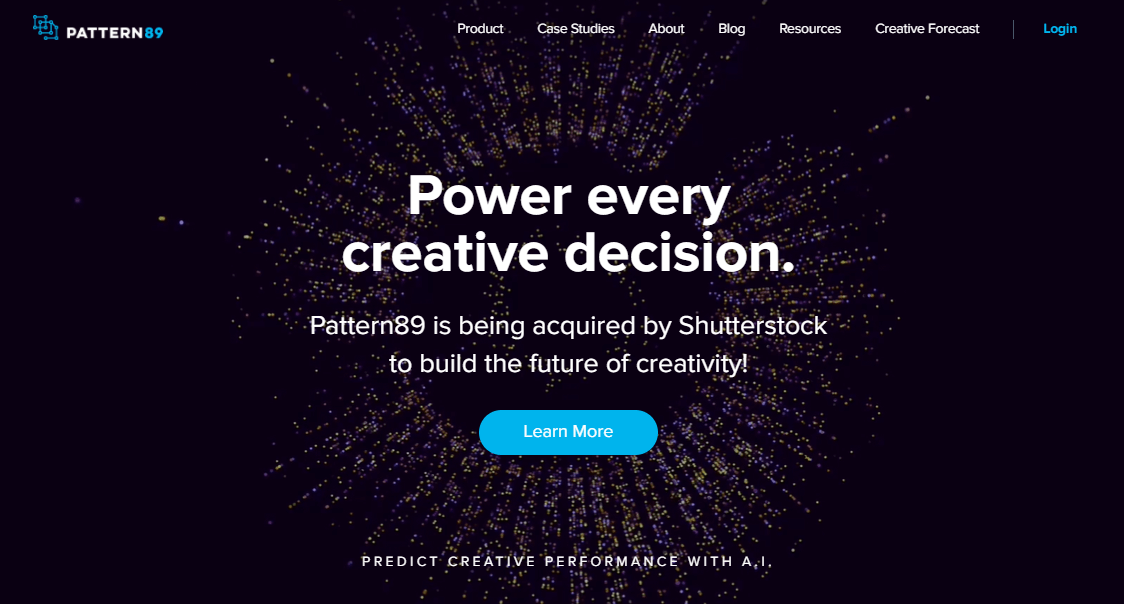 Pattern89 is a creative intelligence platform that tracks relevant keywords from numerous social channels in real time. With its help you'll be able to pinpoint exactly what content works best for your brand and which ones don't—all within seconds.
No more wasting valuable resources producing unnecessary content; instead, let Pattern89 do all of the heavy lifting for you by providing immediate feedback from actual human beings instead of machines that can never truly empathize with humans.
Once you start taking advantage of their free tools – like monitoring up to 5 different keywords per channel – then you'll quickly see why brands like AMD, eBay, Paypal, and Verizon choose them over their competition every single day; rest assured if they're happy, then so will you.
Pattern89 Pricing
Pattern89 has been acquired by Shutterstock and now offers a personalized pricing plan.
Linkfluence is a social media listening and AI market research tool that combines state-of-the-art technology with expert market research skills so that businesses can gather comprehensive consumer profiles and create targeted campaigns.
It also means you'll learn a lot more about your customers over time as new information is continuously collected and incorporated into ongoing efforts.
There are numerous ways to turn all of these findings into actionable insights, meaning real results will be generated much faster.
At its core, Linkfluence helps marketers figure out who they should be targeting next—and then how best to go about doing so (both in-person and online).
Think of it like having a consultative sales partner who knows just where your ideal customer hangs out online and provides automated recommendations for outreach from there. To put it another way: All you have to do is let them know who you want to reach.
From influencer discovery to campaign performance measurement and content ideation to trends forecasting, Linkfluence puts everything you need within easy reach, making it one of our favorite platforms for social marketing automation.
You don't even have to pay for it if you don't want to; signing up gives you free access to basic features for 14 days before kicking into a paid pricing tier.
Linkfluence Pricing
Pricing is based on your unique needs. Contact support or signup for a free demo consultation for more information.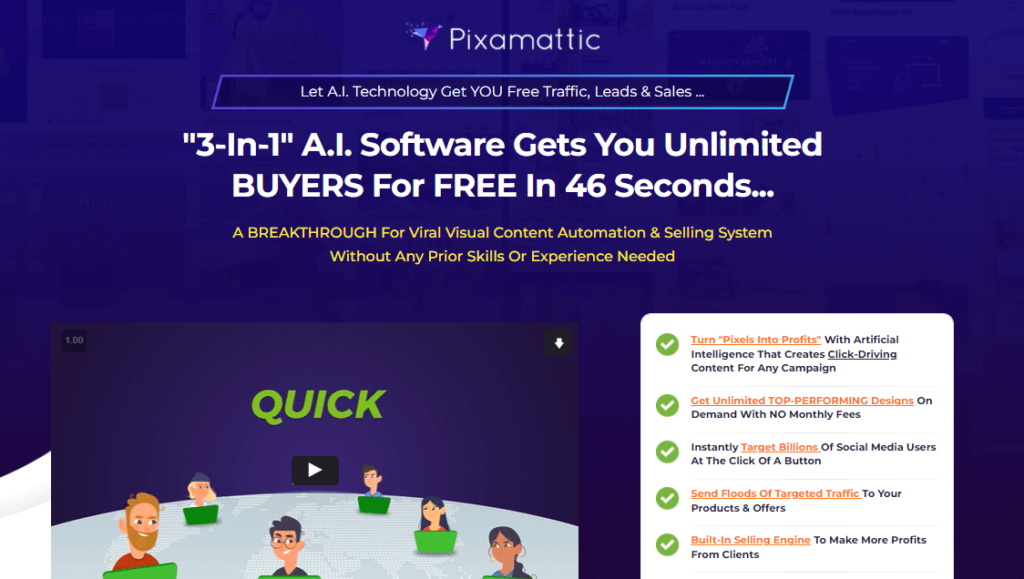 Pixamattic is nifty software platform uses artificial intelligence (AI) to create compelling content for you based on your specific goals and interests.
Whether you want to attract new leads, build your email list or sell more products and services in general—this tool can help you accomplish those objectives quickly and efficiently through a wide range of tried-and-true promotional methods.
The best part about using Pixamattic is that it does all of the heavy lifting for you; it digitizes your ideas and converts them into engaging images and text-based posts, which means you never have to worry about losing inspiration running your business. Plus, it also optimizes all of your activities so that they are more likely to go viral online—which means they'll reach even more people than if they were posted by you directly.
Pixamattic Pricing
Pro: $27.95 without bonus content
Pro Commercial: $29.95 with all bonus content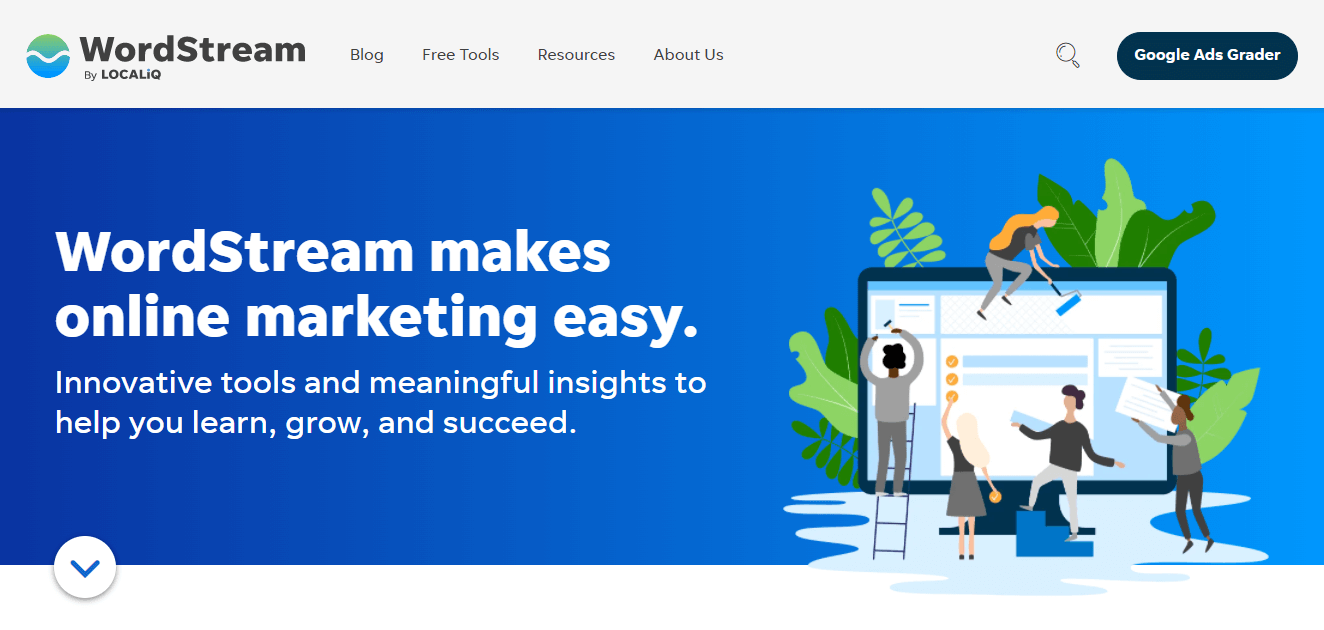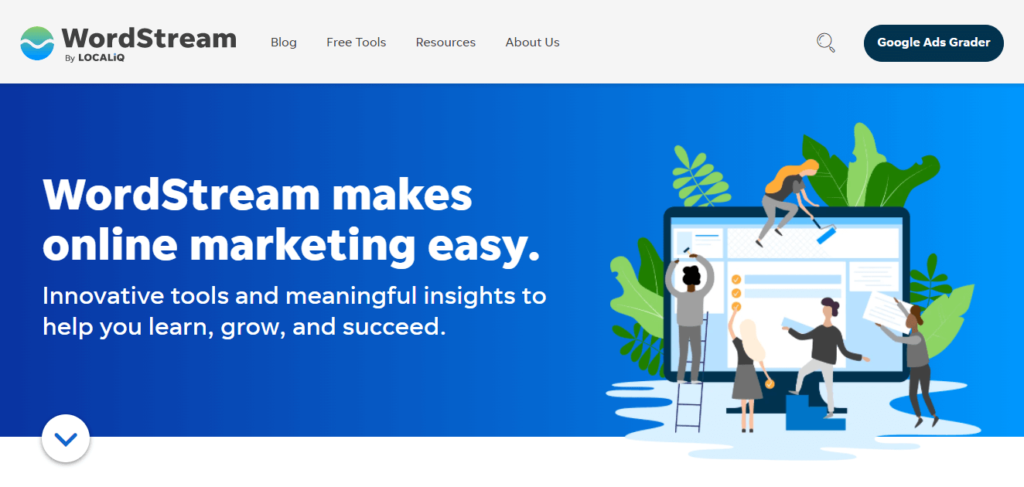 There's a lot of online marketing tools on offer these days, but when it comes to keeping up with Google's ever-changing algorithms, you need some serious firepower. Luckily there's a tool called WordStream that's designed specifically for paid advertising marketers; even better, it has an array of features packed into one easy-to-use package – making it the perfect choice for most small businesses who want to tackle digital advertising on their own.
But paid ads isn't the only thing they're good at; WordStream also offers a bunch of other useful features, including smart ads creator, Facebook ads grader, landing page builder, and domain research, and they do all of it under one roof.
Even better, if you are new to social media, then WordStream can be your introduction because it takes all aspects of marketing into account. For example, their platform includes paid search advertising options which are not something that any other platform provides in such a complete manner.
Wordstream Pricing
Pricings are based on your ads budget, business requirements, and objectives.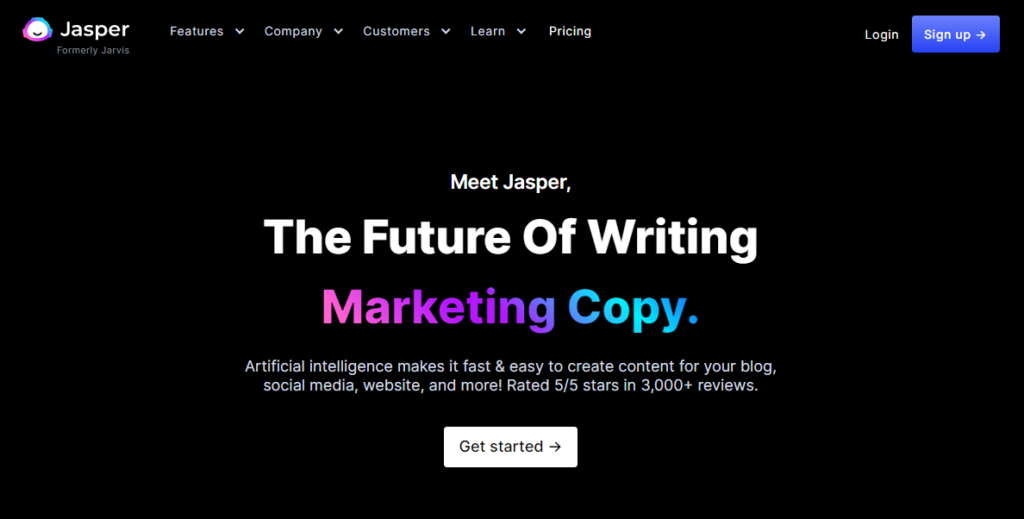 if you're struggling with wiring engaging descriptions for you your social media posts, or would you like to increase your content output without spending more time on writing or hiring expensive copywriters, then you should consider checking out Jasper AI.
Jasper is one of the best AI writers that uses GPT-3 to generate engaging content for your blog posts, advertising and social media giving your access to dozens of social media templates including:
Facebook Ad copy
Google Ads copy
Short Social Posts
Photo Post Captions
Persuasive Bullet Points
Engaging Questions
Marketing Angles
And more
As well as many other copywriting frameworks like AIDA and PAS that can help you save time and make more money by writing more blog posts, social media posts, and ads in less time.
Best AI Social Media Marketing Tool?s
So these are the best AI social media marketing tools in 2023.
Which tool from today's guide do you want to try first? Let me know in the comments below.
You can also check other AI digital marketing tools available on our website that will give you an unfair advantage!