Looking for an AI text generator software that can churn out interesting and engaging text content? These tools are capable of creating content in a matter of seconds that is grammatically correct, unique, and interesting to read.
They are often used to generate user manuals, scripts, website content, or anything else that requires text input.
Additionally, these tools help to make writing more efficient by automating some of the tasks that are typically associated with writing.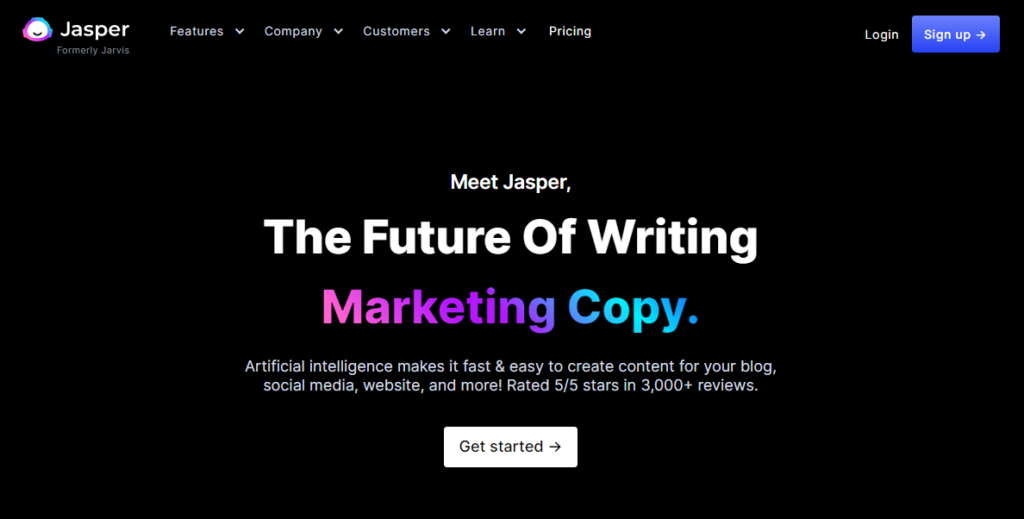 Jasper AI is an AI-powered copywriting software that helps you write web copy and other marketing materials in minutes instead of hours. All you have to do is input a few sentences about what you want to say, and Jasper AI will generate a fully-written piece of content for you in under 60 seconds.
The tool was developed by an experienced team of writers, project managers, developers, and designers who know how difficult it can be to write effective marketing materials while juggling multiple projects at once.
And what makes Jasper AI the best AI text generator is the collection of over 50 templates to choose from including:
Problem-Agitate-Solution (PAS) Framework
AIDA framework
Blog Post Intro Paragraph
Sentence Expander
Feature to Benefit
Product description
Engaging Questions
Persuasive Bullet Points
Creative Story
And more
Jasper AI is a great investment for those who want to save time and money by outsourcing their content. This service will help you generate high-quality text all while reducing your risk of making errors when writing.
In addition, Jasper.ai offers a 5 day free trial for our readers where you'll get 10,000 words.
Jasper AI Pricing
Jasper AI pricing plans range from $29 – $3,600 a month.
▶ Start Jasper.ai 5 Day Free Trial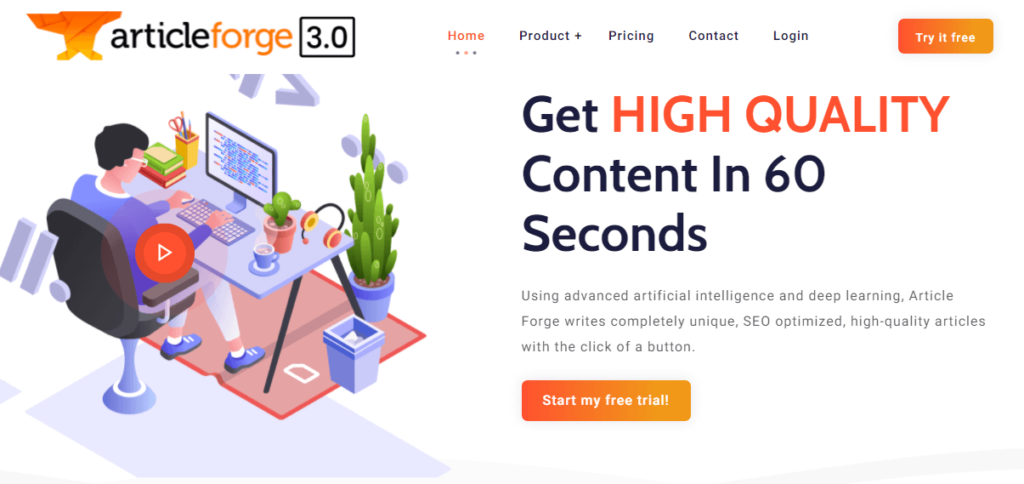 Article Forge 4.0 is the latest addition in content creation technology that has empowered hundreds of businesses to reach new heights in efficiency and advertising.
Article Forge is the world's first web page-based AI article generator software that is able to generate entire articles by simply providing a few keywords.
Using advanced deep learning neural networks, it is capable of literally creating brand new articles on any topic in seconds by combining the power of a massive database of over a million words and phrases with built-in artificial intelligence that identifies patterns in your input and simulates human writing.
The first version of Article Forge used an open-source Markov chain generator, but now it uses deep learning natural language processing for better results. This revolutionary technology allows you to write an article on virtually any subject ever invented.
Article Forge can create endless amounts of unique, high-quality content for you to use however you'd like.
Article Forge 3.0 Pricing
Article Forge offers a 5-day free trial for all the plans and after the trial, they have 2 pricing plans:
Standard – $57/month
Unlimited – $177/month
▶ Start Article Forge 3.0 Free Trial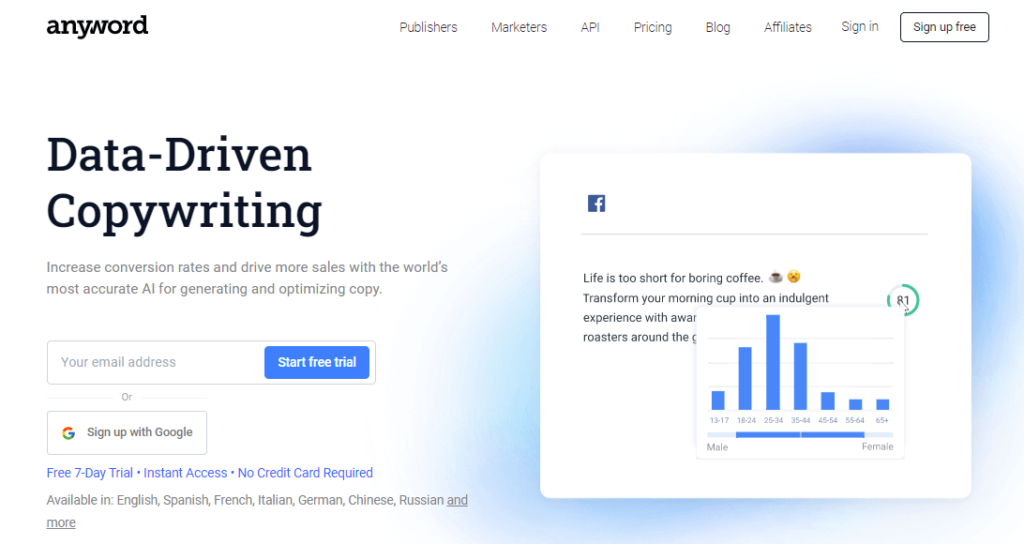 Anyword is an AI copywriting tool that helps marketers, platforms, publications, and businesses enhance conversion rates and grow their audiences.
With this text generator, you can gain a distinct advantage over your competitors due to its advanced predictive performance score that will help create highly targeted copy for your audience.
Anyword helps marketers or those in charge of content creation find a unique voice for their message.
Improving conversion rates and growing audiences is an ongoing challenge for everyone. This AI software saves you from the hectic routine of producing content with just a single click.
Anyword can also help you come up with headlines and ad copy that capture your reader's attention instantly. It does so by generating multiple variations to help you find the perfect words to use.
Simply enter a key phrase, and the AI copywriting tool will help you come up with compelling variations of it to be used by top publishers and content writers around the world.
If you want to try this powerful AI writer, Anyword offers a 7-day free trial for our readers.
Anyword Pricing
Free – $0/month
Data-driven basic -$79/month
Data-driven unlimited – $239/month
Enterprise – $999/month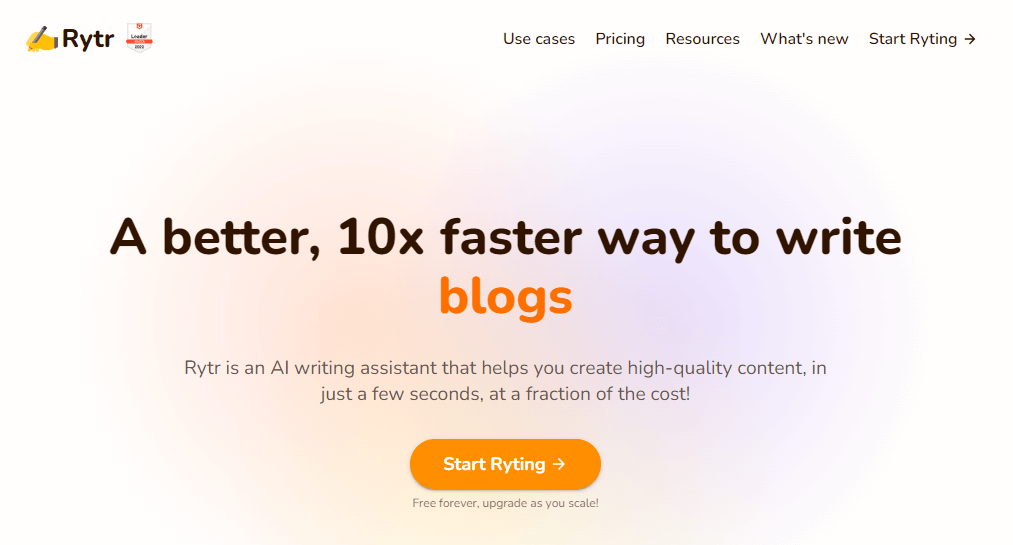 Rytr is a free AI writer that specializes in helping you get quality content, at scale.
Rytr's powerful artificial intelligence has helped thousands of businesses make their writing more consistent and effective. The software analyzes millions of words of data to identify trends in successful writing and then uses that information to provide customizable suggestions that help you write copy that gets results.
And if you're not sure where to start, Rytr has got you covered there too. Just enter what you're writing about and pick from one of many templates and let Rytr do its magic for you!
Is your business looking for a new way to develop your product descriptions? Do you want to use case studies to highlight your successes and illustrate the value of your product? Are you ready to be able to create high-quality social media posts in no time flat?
With Rytr 30+ copywriting templates you can generate text for all of that. Rytr also empowers you with an AI story generator that is capable of creating creative text.
Rytr Pricing
When it comes to payment, here is the pricing plan for Rytr;
Free plan – $0/month
Unlimited plan – $19/month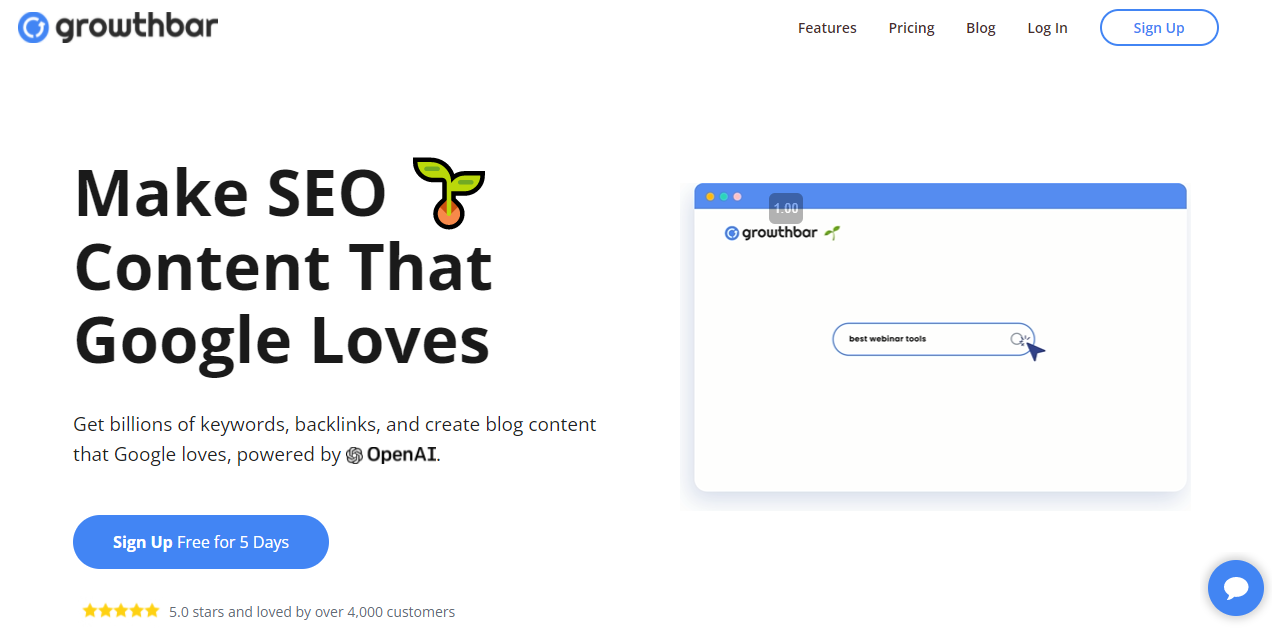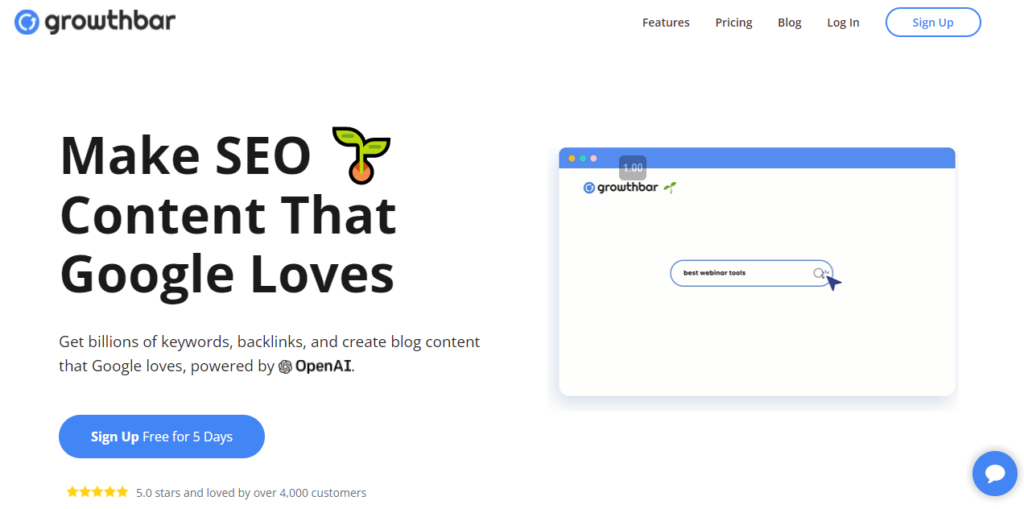 Google and other search engines penalize duplicate content these days. In fact, they can even take down your website if there are too many similarities between your content and someone else's.
Luckily, Growthbar can help you make sure that every single piece of content on your site is original.
GrowthBar AI text generator is a comprehensive software that helps you write SEO-optimized content.
It uses machine learning algorithms to select highly-relevant outlines for SEO optimizations and then allows you to use those suggestions to generate original content in seconds.
And if you find similarities, don't worry. There will be reports with highlighted sections showing where changes need to be made and suggestions for suitable words to use.
In addition, GrowthBar includes 5 unique features:
Auto-Complete
Auto-Correct
Auto-Plagiarism Detection
Auto-Formatting, and
Auto-Organization
GrowthBar's AI text generator can be used for a variety of purposes besides generating text including, keyword research and link building.
This software can be used to create everything from product descriptions and advertising copy to FAQs and social media posts. It's like having a marketing expert writer by your side at all times, just hundreds of dollars cheaper.
GrowthBar Pricing
Standard -$ 29/month *$48/month when paid monthly
Pro – $79/month *$99/month when paid monthly
Agency – $129/month *$199/month when paid monthly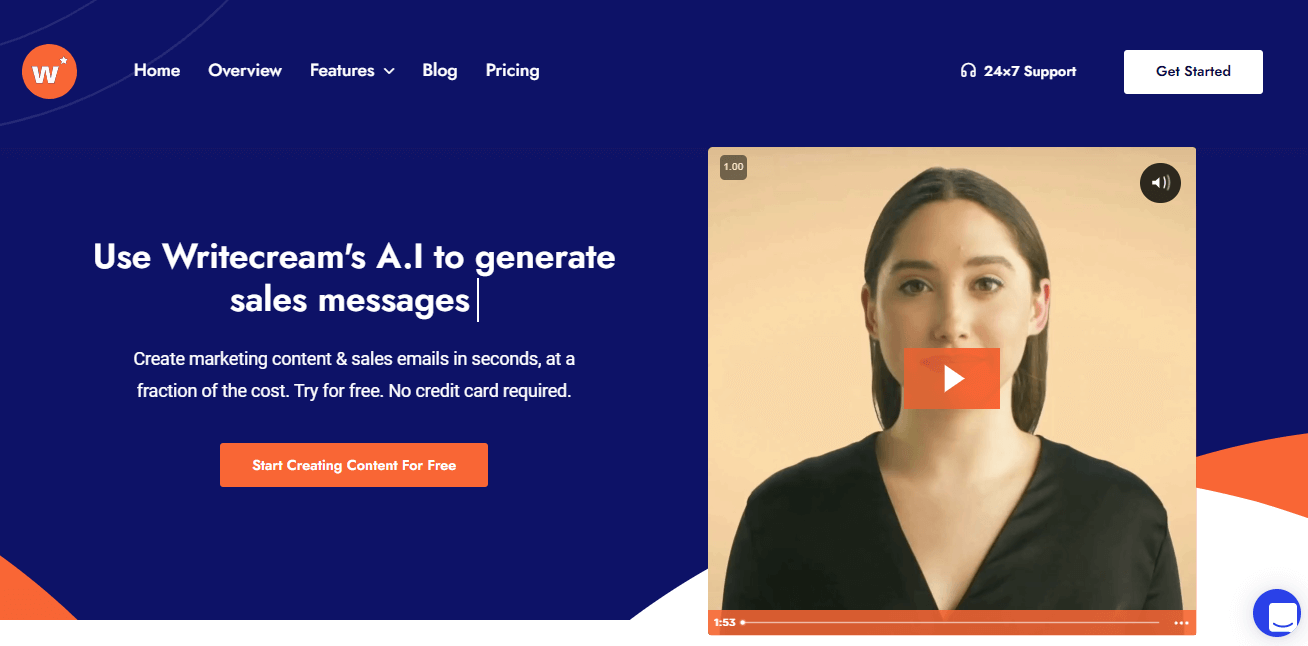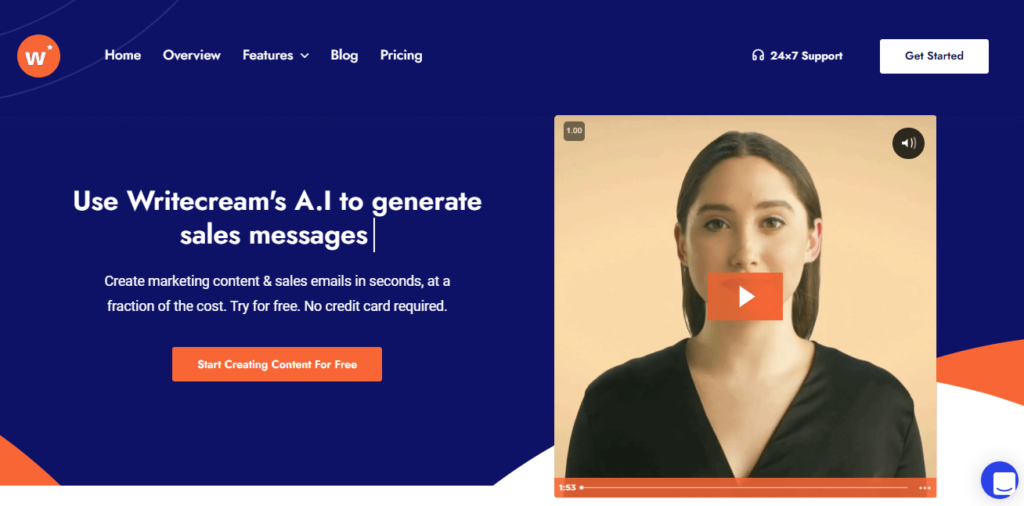 Are you sick of not knowing what to write about? Are you tired of staring at a blank page and feeling like a genius trapped in an empty shell? Take it from someone who does this for a living, it's not easy to do your best writing. It can take hours of research, revision, and rewriting just to get a draft that you're happy with.
I know how you feel. That's why I have a solution for you. Writecream AI is a writing assistant that's connected to the web, so it can help you find relevant information, track your progress, and provide you with feedback from professional writers.
So no more writer's block, no more stale articles. With Writecream AI, you will be able to pump out content that connects with your audience on an emotional level, all while maintaining a strong factual basis for your work. You'll be able to produce persuasive copy that compels your readers to take action, or informative articles that keep them coming back for more, or fun blog posts that build lasting bonds with your readers.
Writecream Pricing
Free- $0/month
Premium – $49/month
Professional – $69/month
Ultra – $99/month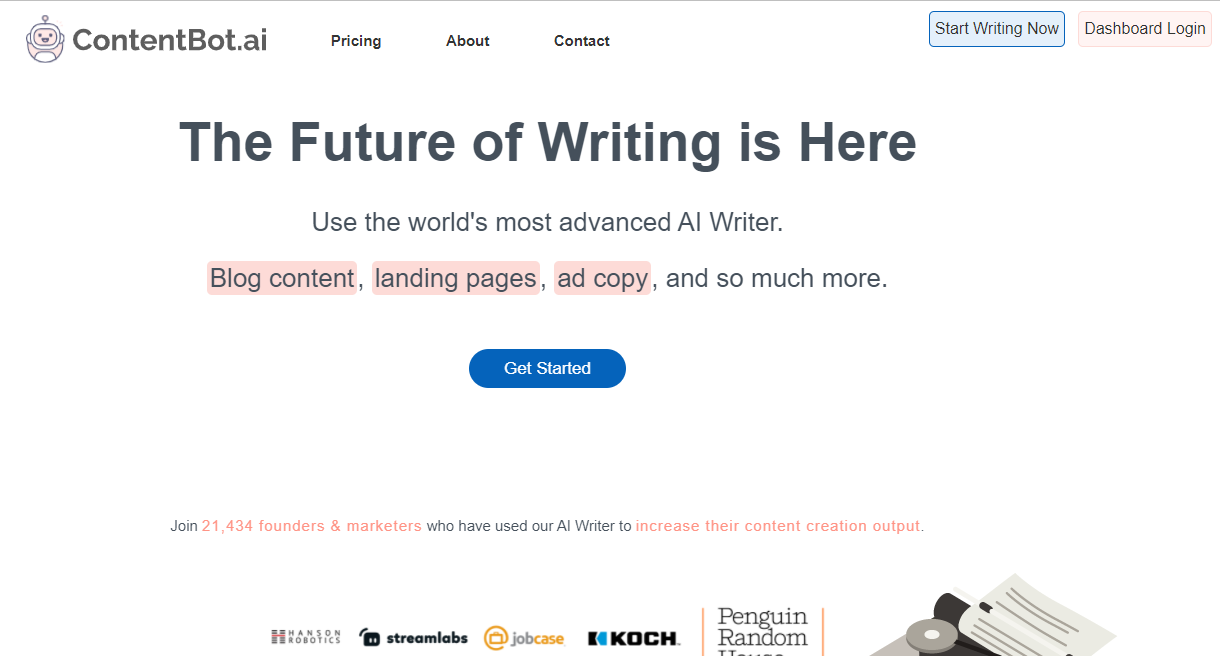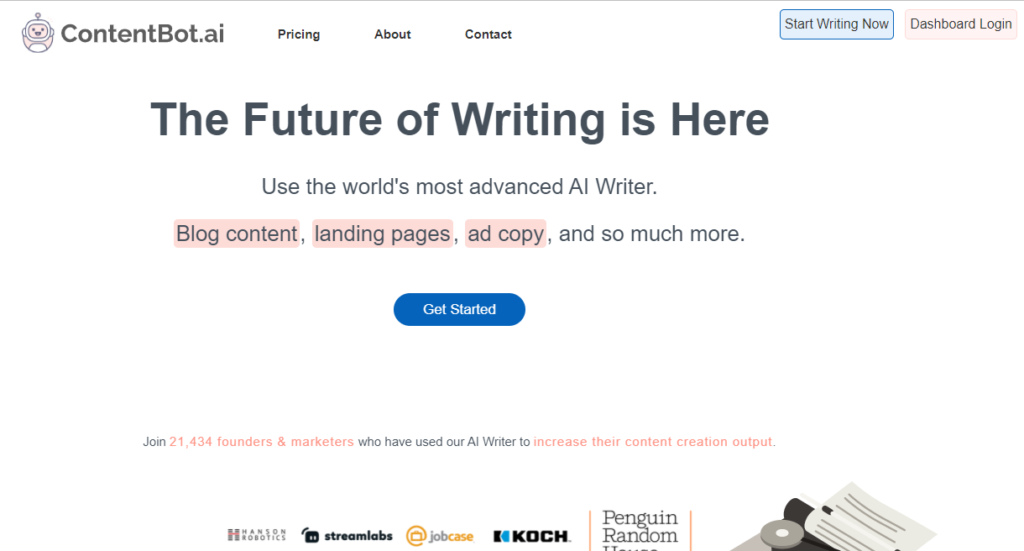 Contentbot can quickly and easily create high-quality content for blogs, websites, social media posts, newsletters, and more, all with no writing experience necessary.
Just give Contentbot a brief and let it do your writing for you. You don't have to worry about whether or not your content will be engaging and persuasive, Contentbot is specifically trained to write in a way that's persuasive and engaging.
So what can Contentbot do? It can generate a long-form type of content like articles, as well as product descriptions, case studies, Facebook posts, emails, and press releases.
The software uses machine learning algorithms to produce high-quality content based on your inputs and specifications.
The software can also provide suggestions for relevant keywords based on your inputs. You can input the data you need to generate text, including the type of content, tone, length of content, and topic.
Contentbot Pricing
Free – $0/month
Premium – $29/month
Premium – $79/month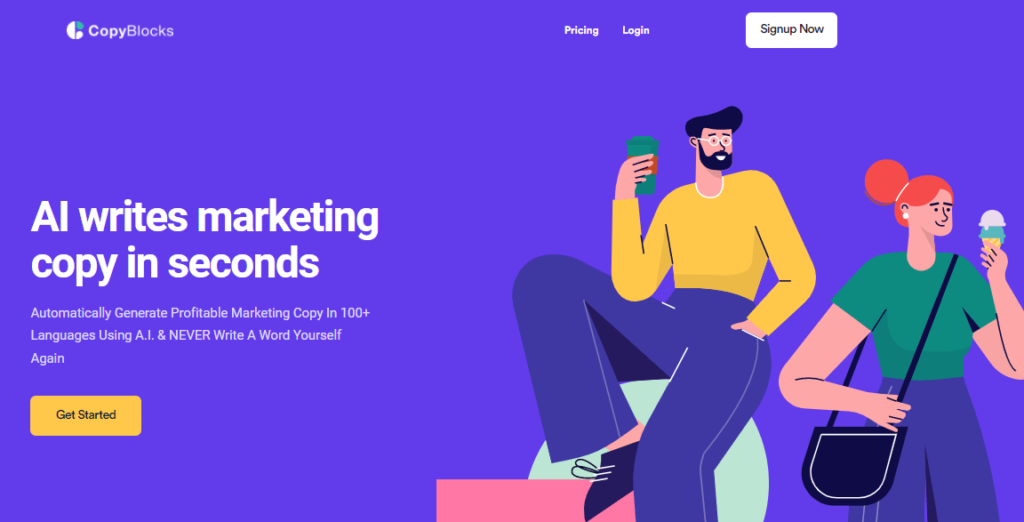 Do you find hiring a copywriter for your project hectic and expensive? If your answer is yes, Apply the power of Artificial Intelligence to write marketing copies for you with CopyBlocks.
This AI writer works as a professional copywriter for you and your clients.
Without writing a single word yourself, you can monetize popular business topics using CopyBlocks, revolutionary AI-powered copy software. CopyBlocks AI is being used by 1000s of businesses to create high-quality content for their business and it can work for your business too!
CopyBlocks can create high converting copy in minutes for your sales pages, email, Facebook ads, or for any business or marketing purposes. Copyblocks is the only platform that lets you build a library of copies by writing in blocks. So you can use the keyword or phrase over and over again without having to type it out each time.
It offers you a wide variety of customizable templates to choose from, so you can make content that looks like it was written by a pro. It's inexpensive, simple, and completely hassle-free.
Copyblocks Pricing
Commercial – $67
Bundle Offer – $247
▶ Get CopyBlocks For a One Time Payment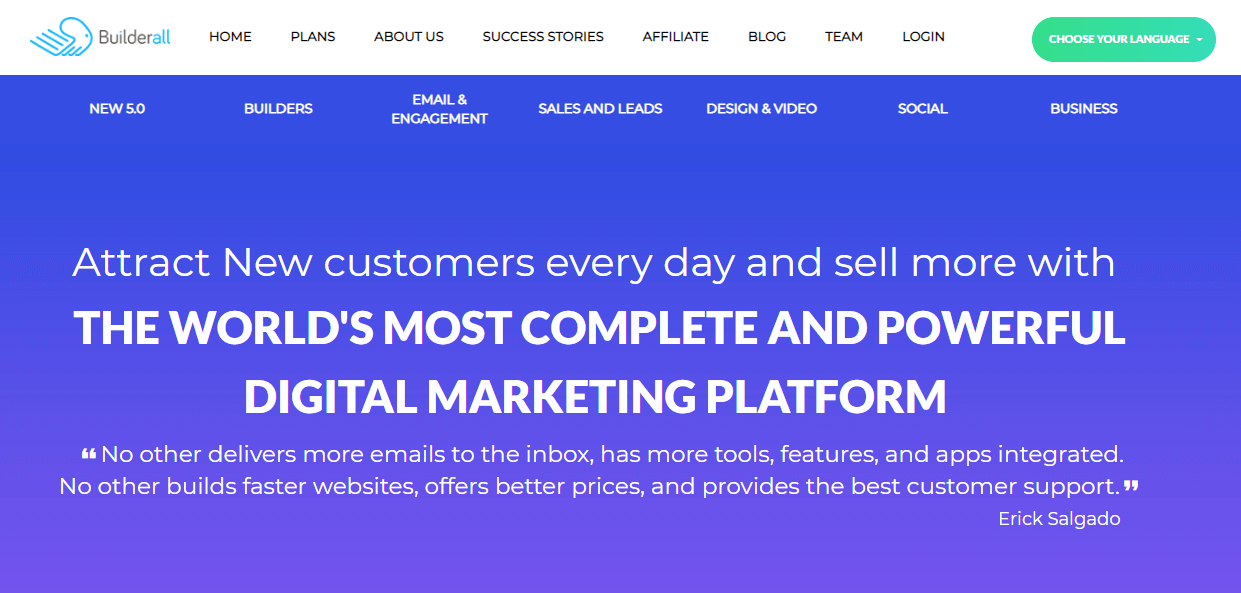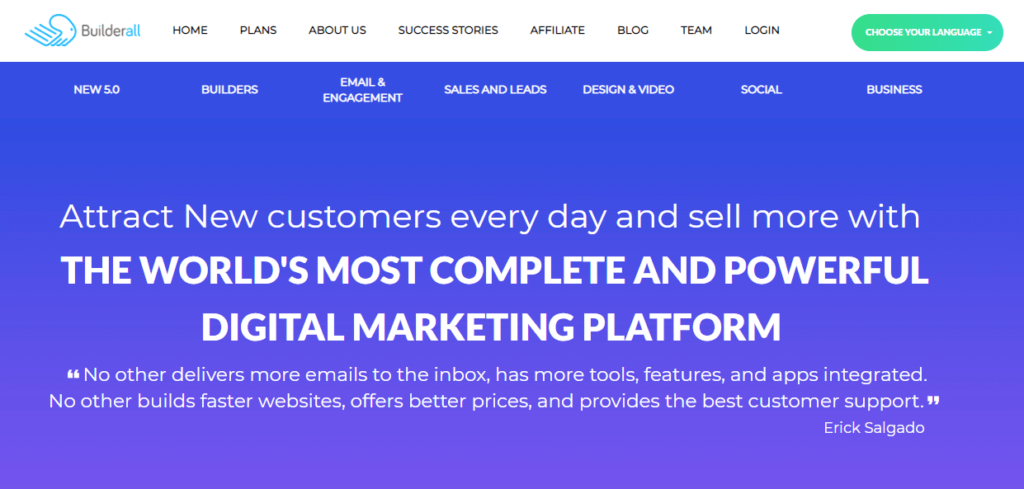 If you're tired of switching between many digital marketing tools in your online business, then you should consider Builderall.
Builderall Script Generator is a brand-new feature unique to Builderall – one of the most complete digital marketing platforms with over 45 digital marketing apps like sales funnel builder, website builder, email autoresponder, CRM, and more.
For example, you can generate emails for your email marketing campaigns and use them directly in the Builderall email marketing platform, all inside the same platform.
All you do is input a few words and out pops a perfect description with no copywriting knowledge needed.
Other marketing copies that the Builderall script generator enables you to create are scripts for ads, sales letters, VSLs, webinars, and more.
Builderall Script Generator Pricing
Cheetah -$14.90/month
Marketer – $69/90/month
Premium – $79.90/month
Funnel Club – $79.90/month + $199 one time payment
▶ Start Builderall 14 Day Free Trial (No Credit Card Required)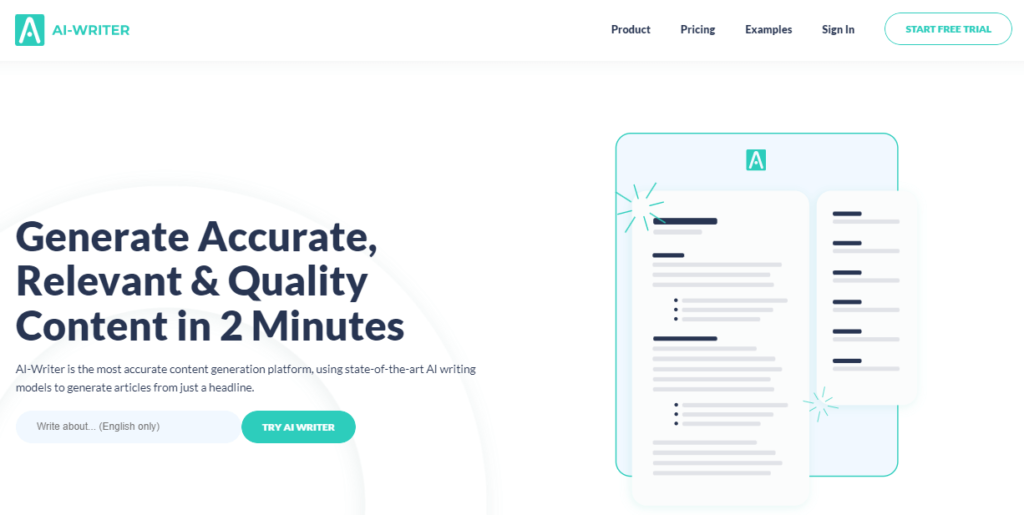 A simple, advanced text generator software powered that uses GPT-3 technology to produce high-quality content in multiple languages.
It can generate product descriptions and other types of content based on your input. It's been developed by a team of AI experts who are passionate about making computers more intelligent and more human-like in their thinking.
Since this software is capable of generating content based on your input, you can use it to write the perfect text for your needs.
It also comes with a variety of different templates that allow users to customize their writing style, which means it can be used by anyone from beginners up to professionals with years of experience. It combines the power of artificial intelligence with a simple, user-friendly interface that helps you write content faster than ever before.
You can use this tool when writing blog posts, newsletters, or any other type of copy that needs to be done without any hassle.
AI Writer Pricing
Basic – $29/month
Standard – $59/month
Power – $375/month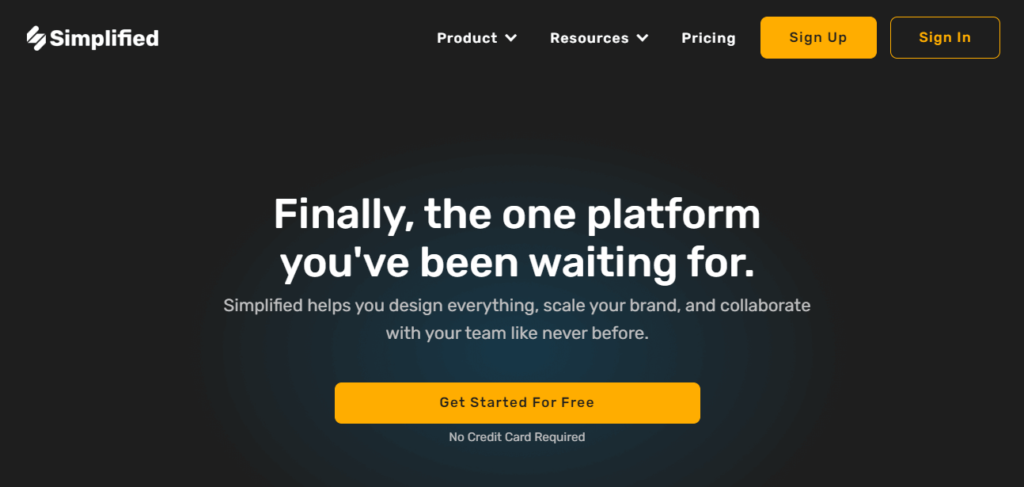 When you need to write a lot of content fast, and you're not sure where to start, Simplified AI is your best bet.
The software lets you enter a brief that includes the tone, target audience, and information you want the article to include. Then it uses a state-of-the-art algorithm to generate an entire article in seconds, complete with recommended edits.
Have fun facts about your company or product? Set them up as a bullet list in advance.
Need to make sure readers know what your product looks like? Upload pictures and the software will include them in the article.
You can also easily set up standard sections so that all of your articles start out with an introduction or end with a call to action.
The best part about this tool is that it isn't only capable of text generation. It also provides you with access to other AI tools such as:
Video editor
Content calendar
Animation maker
Design tool
Besides that, Simplified also enables you to organize your team or clients by tagging, commenting, and collaborating in real-time.
Simplified Pricing
Free – $0/month
Small Team – $10/month
Businesses – $30/month
Enterprise – custom pricing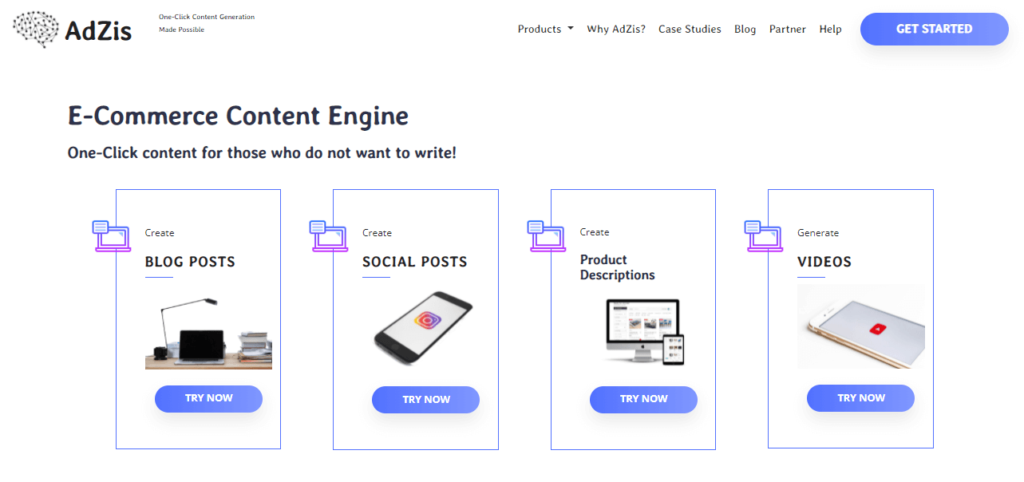 AdZis AI text generator software automatically creates custom, high-quality content for your e-commerce business. This program uses cutting-edge artificial intelligence technology to generate content based on the user's specifications, including tone and subject matter.
AdZis is easy to navigate thanks to its simplistic interface. Simply open the program, enter your specifications into the text boxes, and click "generate." Generated content can be saved for future use and/or exported for use on websites or any other project.
This tool can generate text just as well as any human writer. It's a perfect solution for your brand's content generation needs! It uses the latest deep learning algorithms to produce original and quality content on virtually any topic.
AdZis can also learn about your company and industry and create personalized content based on what it learns from previous work orders or even just by reading past work orders.
However, if you want to create articles and other such website copy, AdZis isn't the best option out there. It is more tailored for ads and eCommerce stores.
AdZis Pricing
Starters – $9/month
Intermediate – $49/month
Professional – $99/month
What is Your Favorite AI Text Generator?
In conclusion, the AI text generator are powerful tools that can help you write better content. It is easy to use and can help you create content that is both informative and engaging.
So, if you are looking for a way to improve your writing skills, the AI text generator software is definitely worth checking out.