AISEO is a new writing assistant to help create and optimize your content posts for you, resulting in 10x more efficiency according to the founders of this software.
It also improves the readability of your blog according to Hemingway style, as well as lets you improve, rewrite, and summarize your blog posts.
But how actually good is AISEO and how does it compare with some of the other AI SEO tools when it comes to content creation?
Let's go ahead and find out!
💡 Note
In this AISEO review, I'm going to show you how to use this tool step by step, and at the end of this tutorial, you'll know exactly how to create SEO optimized blog using this tool. And if you want to work along with me, you can start your AISEO completely free plan, or get the AISEO lifetime deal on AppSumo for a limited time.
AISEO Tools & Features
So first of all, on the top of your dashboard, it will tell you how many credits you have depending on the plan that you've taken out.
And right in front of you, you have your main tools including:
Long form assistant
Copywriting templates
Readibility improver
Blog post
Content paraphraser
The tool that I'm going to show you in this review is the long form assistant because it actually covers all of these templates as well.
So, before we jump into long form assistant, let's quickly cover all of these other tools as well.
Copywriting Templates
Copywriting Templates will display the whole list of templates that you can start using.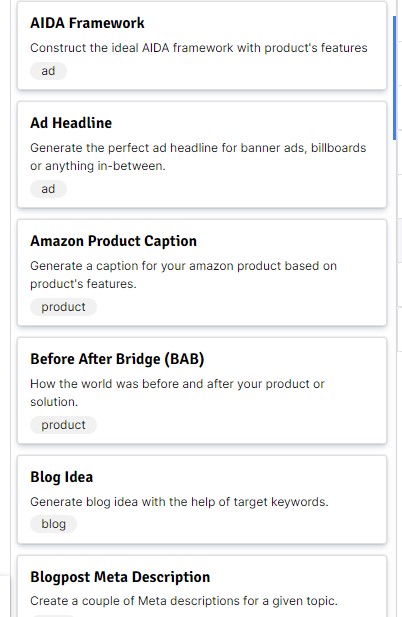 And these templates are basically frameworks for each of these styles.
Readability Improver
Next, you've got the Readability improver.
This is where you would paste in text and it will tell you how hard or easy the text is to understand.
Content Paraphraser
And then you've got the Content paraphraser which you can paste in any sort of text in this box and it will translate it for you.
And finally, let's jump into long-form assistant, and here, similar to Inkforall, another AI SEO writer tool you're going to have two options:
Start from scratch
Blog post workflow.
I'm going to go ahead and do Start from scratch.
And because AISEO focuses on SEO as well as content writing, it's going to ask you a few questions about what your blog post is going to be about.
And first, you can see it's going to tell you how many headings you have, the word count and suggested word counts as we go on.
Next, we have the readability grade and this is going to tell you old, or what year in school your text is reading us.
And then right next to it, you also have the "Write with AI" button, which uses the AI feature to actually write the text for you.
On the right, you can generate outlines, SERP options, questions, bullets to paragraphs, and different copywriting templates.
And what's cool is they've also got a cool "Add Custom Template" field so if you are constantly writing in a specific format, you can actually put in all of the information that you would usually use over and over, and it will start generating according to that.
You've also got a tutorial that connects you to YouTube, and, will give you a 5 minutes video of going through that.
Your main editor area is kind of like the word document. And if you double-click over the text, it will show all of these options where you can convert it into bullet points, add links, add markers, et cetera.
You can also add sections as well, by just hovering over somewhere on the page, and that will just give you all layout options like tables, et cetera.
How To Write an Article with AISEO
Now I'm going to show you how to write an article with AISEO.
So, in the title, I'm going to go ahead and just type in "AI in digital marketing," and then I'm going to do save, though it updates the document and I'm going to click generate info.
And there you have it.
For me, the content is really great.
Of course, you got to apply the 80/20 rule, which is 80% of the work is done by the software, and then 20% is you tweaking it.
That's actually a fantastic start.
So, what I'm going to do is I'm going to click the "Write with AI" button and see what it continues with from this part.
I'm really happy with the way this is going. I can easily fill out this blog post because the copy is on point.
And if you notice, at the bottom, it's now saying that we've done 305 words and it's being written in 9th-grade at the moment.
So, let's create an outline for our blog post.
So I'm going to do outlines and click "generate outline."
It's come out with all of these outlines that now; I'm actually going to put in because the majority of them are all worth it.
So, I can add it to the document. And you can do this in two ways: you can click the add button or you can click the copy button.
We've now added the titles and they fit in really nicely. So, the titles are:
"What is Artificial Intelligence"
"The current AI trends"
"How AI helps marketers"
"The future of AI in marketing"
"Building AI-powered digital marketing campaign"
Now, the reason we add in these titles now is that we're going to start filling in and talking about these titles, but really, we're going to want the software to do that for us.
Under each one of these subheadings, I'm going to go into the template section and where it says "paragraph long answer,"
I can copy one of these subheadings, paste it in and put a question there, and then click generate.
And here are the filled-out subheadings with relevant copies.
So that's actually created a really nice few paragraphs there; going to direct it by just putting a sentence in so it can finish it off and get more onto the hardcore answering.
Because while it's created that, it's created something really engaging, something that's going to hook the reader, but it's not finished the offering.
Perhaps it just needs a bit of direction from me.
And I really like the fact that it puts it in a listicle format.
FAQ Template
But one of the last things I want to do is actually add an FAQ area.
So now I'm going to click on the FAQ ideas. And this is normally for businesses, but I'm going to try and see if it will create a list of questions people might ask.
So, actually, this is really good.
Featured Snippet
For each of these questions, I can paste it into the featured snippet list.
And for those of you who don't know what the featured snippet list is, these are the short answer that Google is showing on the SERP results.
So, if you get into these sections, you can begin to get a ton of traffic to your site.
It's really good that they incorporate that.
Article Summary
And finally, we want to summarize it, and we're going to do that in a summary area, so I can just see if the AI will finish the sentence off for me.
So that's actually not bad at all.
We've got 8 headings, it suggesting 7-9. Our word count is 800-1000. We've got 1,062, and the reading grade is a 7th grader, and we've used roundabout 30 credits.
Basically, finished this blog post but I want to show you one of the best AISEO features which is the SERP sections.
SERP Section
And what you can see here is it's taken all the blog posts that are actually on the SERP results.
It can give you inspiration for what you want to include in your article. but also, let's just say we wanted to add another section, what you can do is click on:
Write for me
Paraphrase, or
Summarize
And the AI will generate the entire section for you.
So now, you can actually build out your entire blog, not even by writing, but just by using this feature and copying it in
There are currently two places you can purchase AISEO: the first place is AppSumo, which will give you the lifetime deal, and the second place is on AISEO's website.
However, I would recommend actually purchasing it directly from AISEO's website, because then you're not cut with credit. But let's quickly jump over to both of these pages and I'll show you what I'm talking about.
AISEO AppSumo Lifetime Deal
AISEO runs a lifetime deal on AppSumo and you can get this for $39, and here's the list of all the features that you'll get.
However, one purchase of $39 will give you 250 credits per month. And if you purchase an additional code, it will give you 500 credits per month.
Although that's actually not too shabby, you will very quickly burn through these credits.
Now, let's jump over to AISEO's pricing page and just have a look at what they offer.
AISEO Pricing
AISEO offers 3 pricing plans:
Starter – $0/month
Growth – $19/month
Scale – $49/month
Aiseo.ai has a generous 3 day free trial with unlimited generations.
Ultimately, the best plan you can actually have, is the scale plan, because that gives you unlimited credits and that's $49 a month.
Now you may be thinking, well, the lifetime offer is $39, but the reality of it is that if you burn through those credits within the first month, then you're going to have to wait until the second month so even if you want to go for the $39 a month plan, the $19 a month which will give you 400 credits is still a much better deal than the lifetime offer.
Now, I'm not saying AppSummo's pricing is bad, I'm just saying that if you're a serious content creator, you're going to burn through those credits so taking up the scale plan on the actual AISEO pricing page is going to give you much more value for your money.
AISEO Alternatives
Here are some of the AISEO alternatives:
There are many more AI copywriting tools available in the market but here are I only included the tools with SEO optimization features. You can also consider Postaga which is an all-in-one AI SEO tool for link building.
AISEO Review Final Words
So, what are my thoughts of AISEO, especially using it for the first time and going through it as a pretty new user?
Truthfully, and I'm so happy I can say this, I actually thought the quality of the outputs was actually really very good.
Back to what I said at the beginning of this AISEO review, when it came to the credits, as you saw, I actually went through roundabout 20 to 30 credits doing that one blog.
So, depending on the length of your blog post, you're going to be able to get maybe 5 or 6, pushing it at tops and month using the software.
But if you go with the actual pricing point from the website, well, you're going to be able to write unlimited amounts, so really value for money.
Usually, these AppSumo lifetime deals are really good but not this time. For this particular AI copywriting software, it's much better to get it directly from the official website.
And again, I've left my links below for you if you've enjoyed this review and you want to share your appreciation.
Thank you so much for reading.