Email design is hard. If you're not a designer, it can be tough to create an email that looks good on all devices. That's where Beefree comes in. BEE is a drag & drop editor that makes designing mobile responsive emails and landing pages easy.
In this BeeFree review, I'll show you where BEE shines among other AI email marketing tools and how you can create beautiful emails.
At the end of this tutorial, you'll know exactly how to design beautiful email templates or landing pages even if you have no design experience.
And if you want to work along with me, you can start your Beefree complete free plan where no credit card is required.
What is Beefree.io?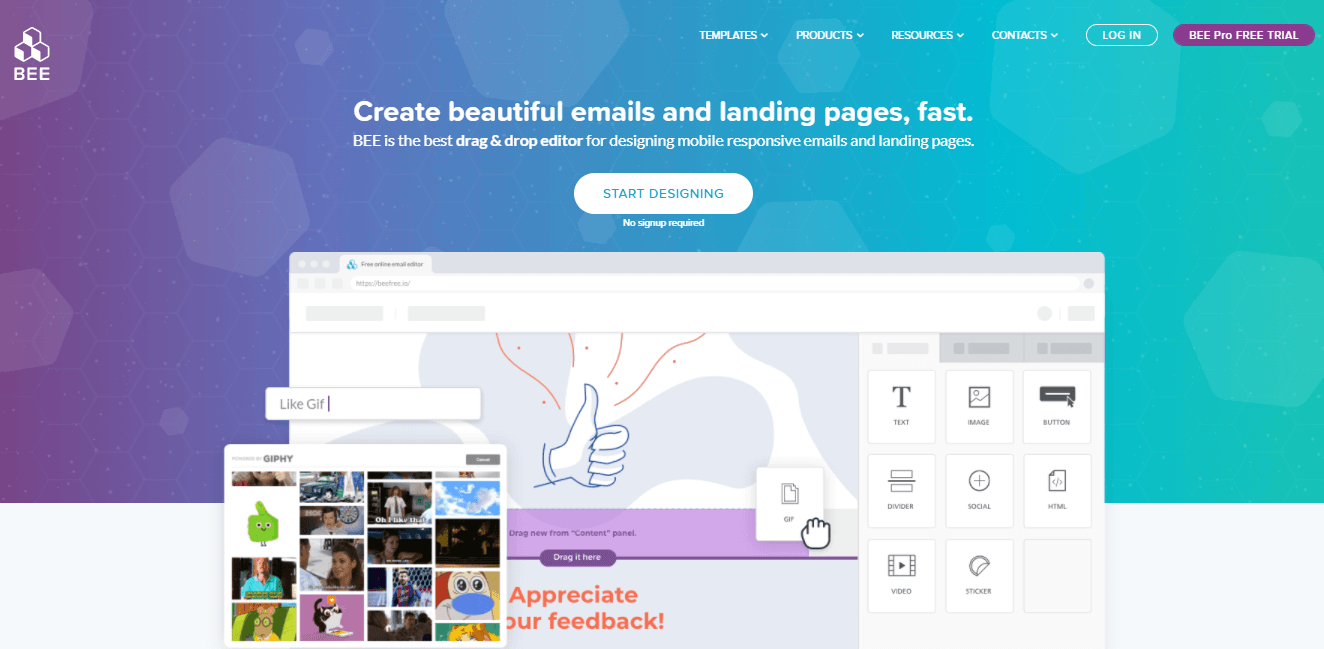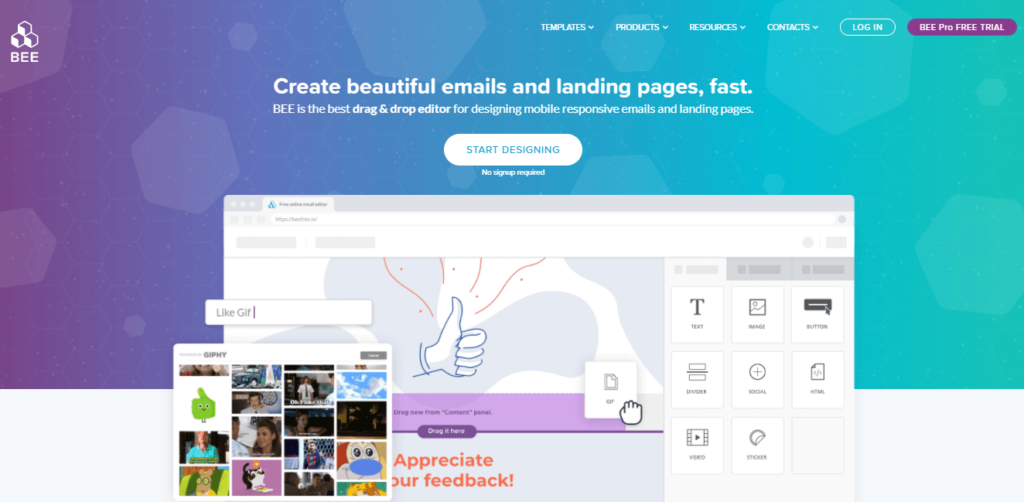 Beefree.io is an email builder that can help you design responsive emails with its drag and drop editor. With Beefree.io you can design your email with no technical skills.
In addition to helping me, Beefree has worked with hundreds of brands, which is what first encouraged me to test it out. They have collaborated with companies such as Disney, Netflix, and Volvo.
It's also worth mentioning that Beefree has been rewarded by g2.com and Capterra.com – huge software companies.
Beefree Templates, Tools & Features
Now let's take a look at some of the unique Beefree features.
Beefree Email Templates
Beefree also allows you or your staff to exhibit their creativity and come up with fresh ideas for future email marketing campaigns because of the huge selection of templates available.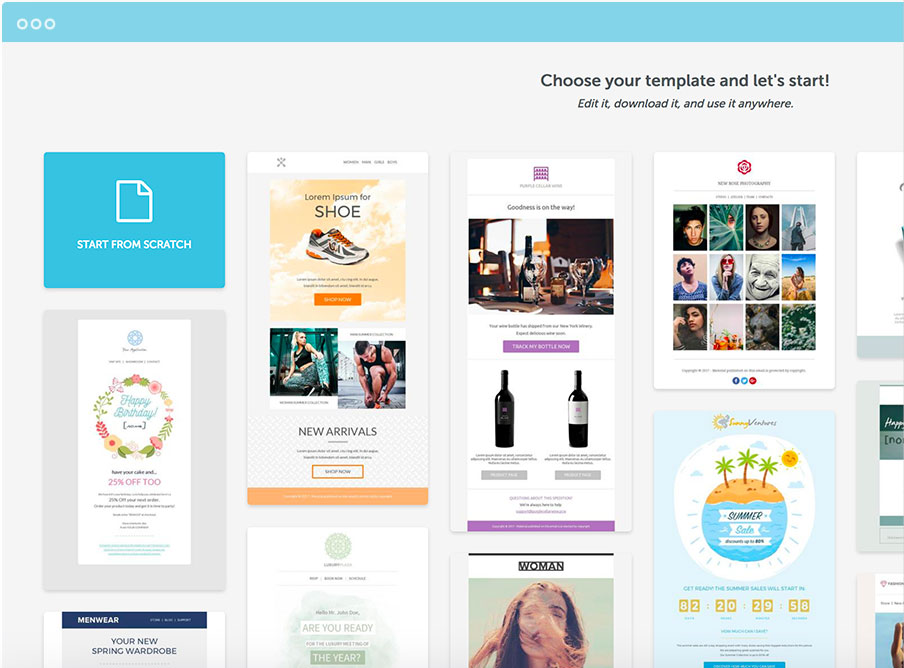 The ability to be creative, I believe, is the reason why so many successful freelancers, project managers, and entrepreneurs have been able to be so successful in the first place.
Beefree is Powered by AI Technology
One interesting piece of information is that Beefree makes use of artificial intelligence in order to assist you in creating emails swiftly and simply. And if there's one thing I do know about artificial intelligence is that it is the future, and a feature like that will not be phased out soon.
Beefree Integrations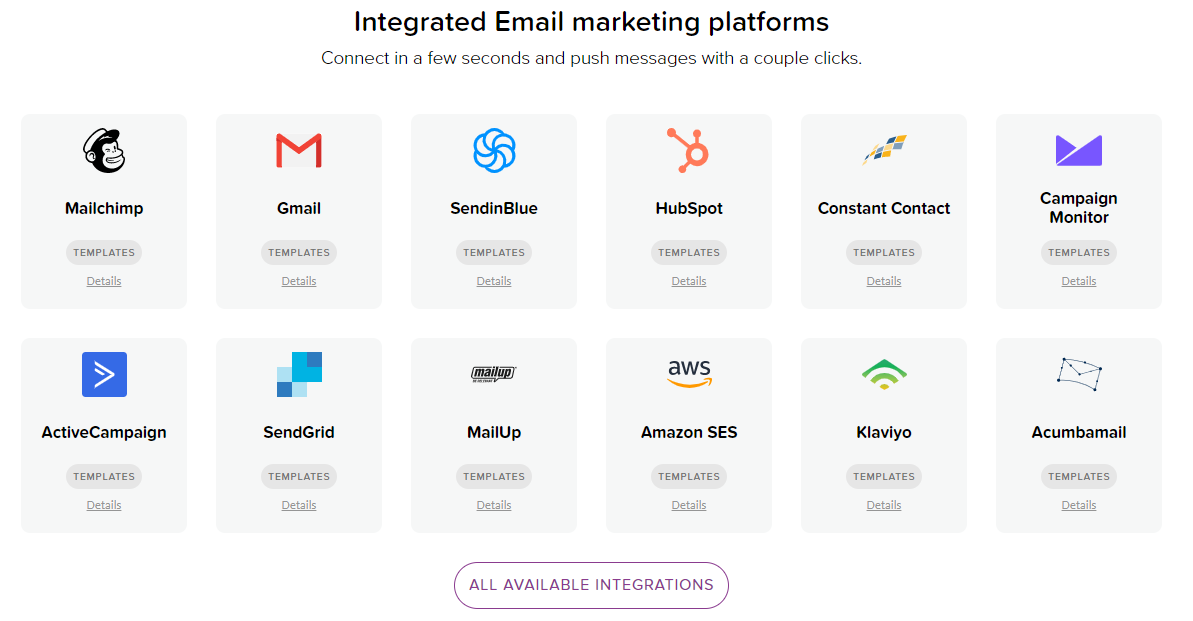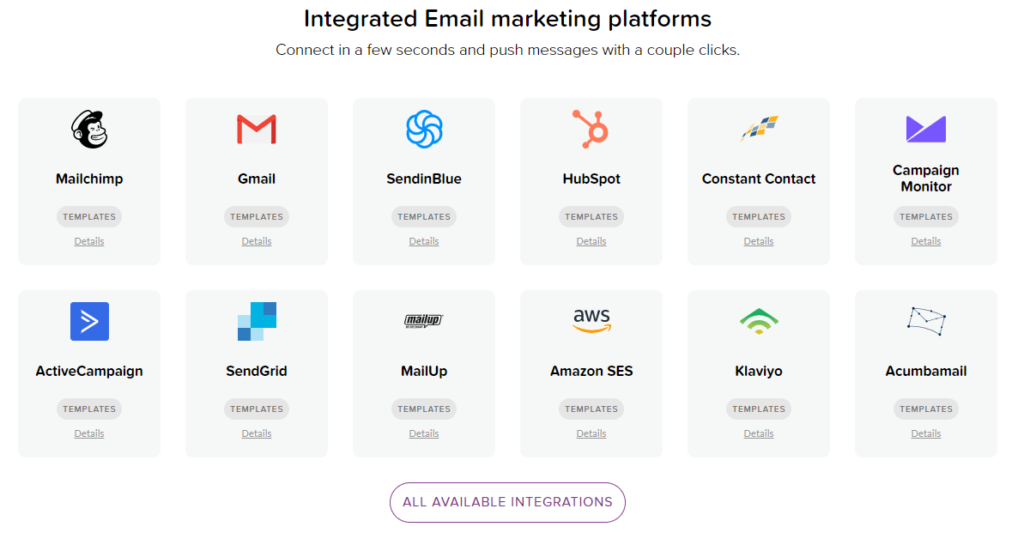 Not only do they provide you with various email designs to use, but Beefree can also interface with platforms such as:
Gmail
Mailchimp
Klaviyo
Hubspot
Amazon SES
With all of these integrations, I felt like it was a no-brainer to start right away.
The only integration that is missing though is with Omnisend. To integrate these email tools together I needed to use Zapier.
After getting Beefree it was time to put it to the test and see where all these provided designs would get me.
So now you know what is Beefree.io and what is used for, now we are going to see how to customize ready-to-use templates and design beautiful offer emails.
How To Use Beefree.io: Step By Step Tutorial
To get started, sign up to the Beefree.io free account and once you log in, the first thing you'll see is a step-by-step tutorial on how to get started.
Whenever you access BEE Pro, you will always land on the "Projects" page. Projects are folders that contain your messages and help you keep everything organized.
On the main dashboard, you'll see the projects you've been working on as well as templates.
1. Open your first project
And to create a new template, simply click on "New Project" and you'll be asked about whether you want to create a new email or a new landing page.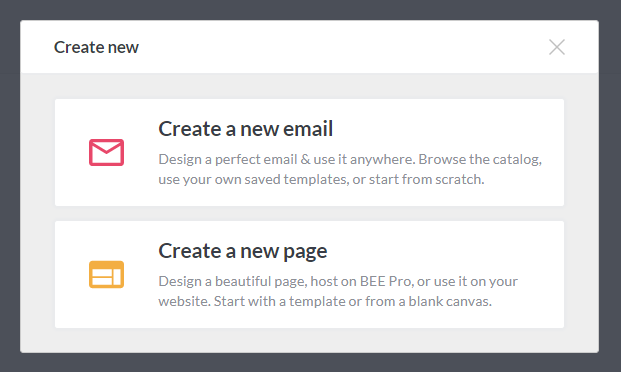 For the purpose of this Beefree.io review, I'll show you how to create an email template.
So simply create a new project, name it, pick a color for it, and then move to the second step.
2. Pick an email template
Inside a Project, you will find the emails that were saved there, including the one that you might have started with the free tool on beefree.io when you signed up for Beefree.
Once you choose what you want to create, you can start designing your email from scratch or use some of the ready-made email templates.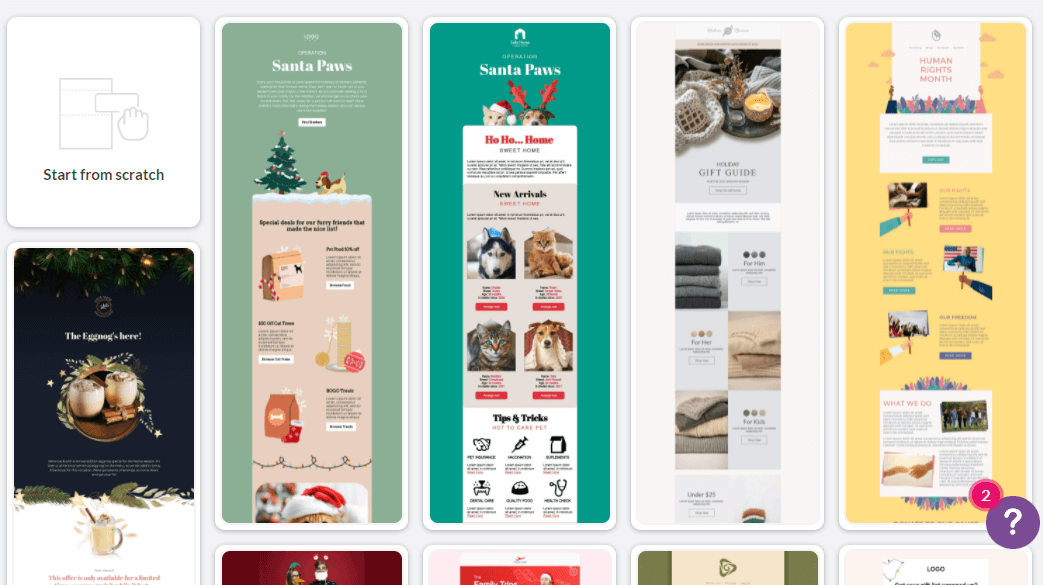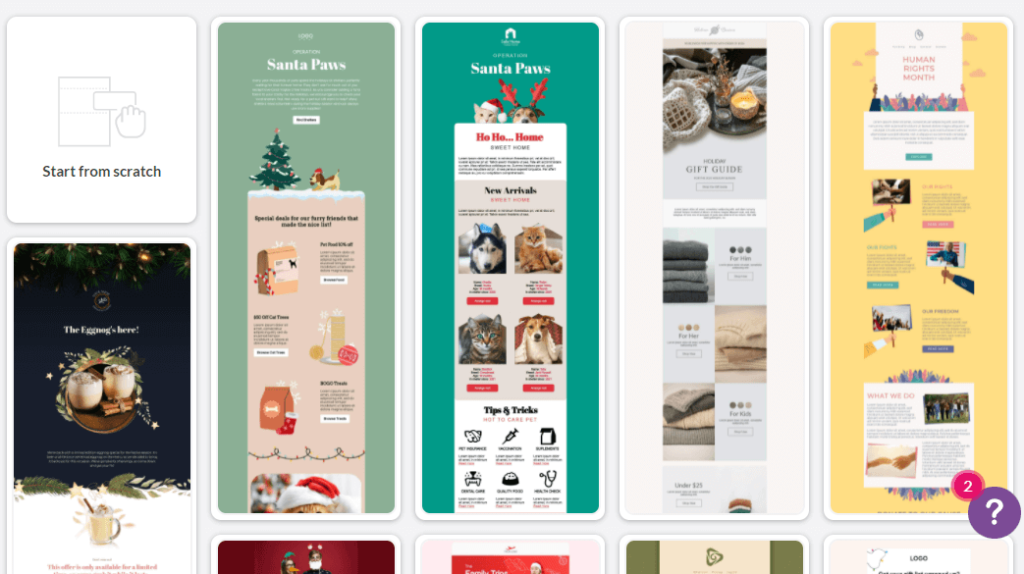 The BEE Pro catalog offers a wide collection of professionally designed email templates optimized for different purposes, events, and industries.
Picking one of them might help you speed up your work or just get inspired. Otherwise, start from scratch with a blank template.
3. Edit your email with drag and drop builder
Once in the editor, use the sidebar to find all the tools you need.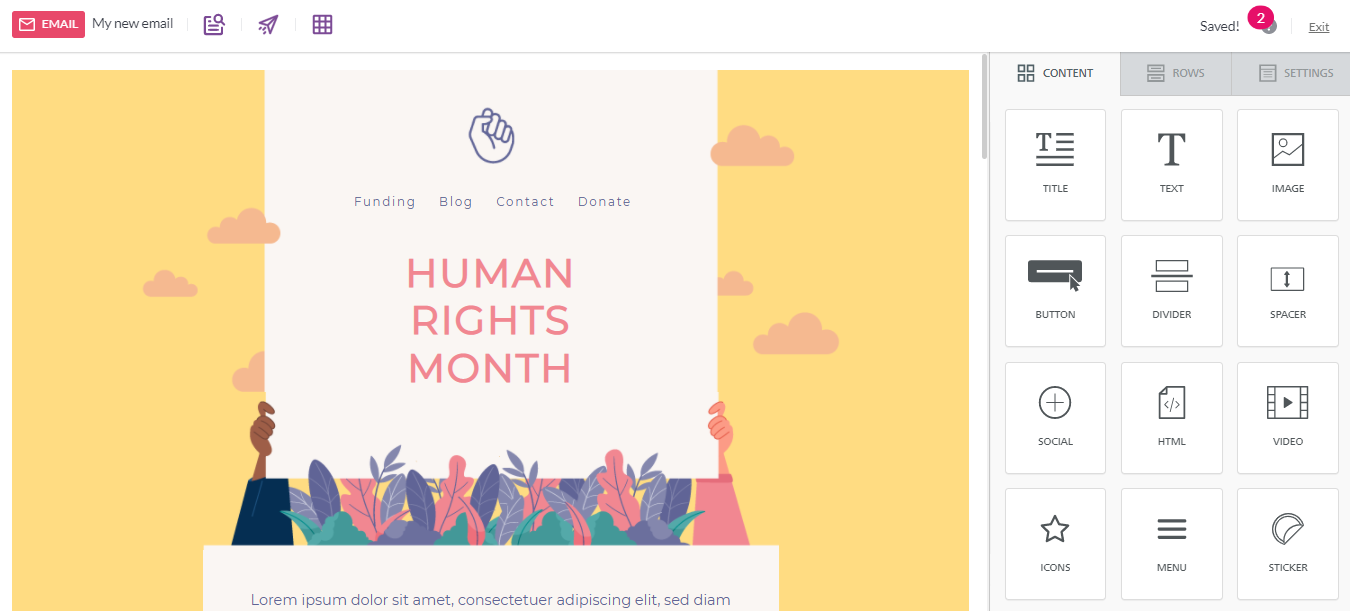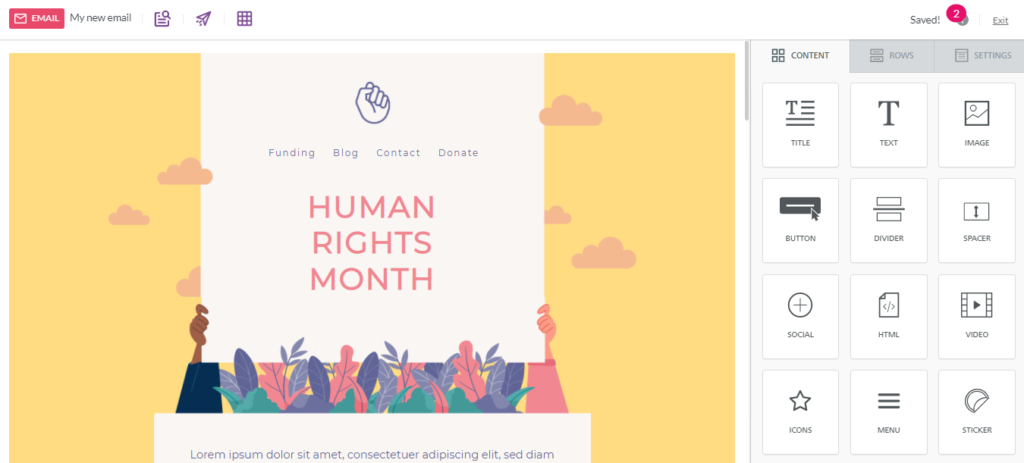 The Content tab lets you drag-n-drop images, text, buttons, etc. The Rows tab includes many structures you can stack to build your layout.
The Settings tab provides general settings that apply to the entire email.
4. Export your message
After finishing up your emails and/or landing pages using Beefree, all you have to do is export the design you have developed and import it into the platform you use for your email marketing and website product pages.
💡 Pro Tip
I personally use and highly recommend GetResponse which in addition to being one of the most advanced email marketing automation platforms, also offers a great AI website builder.
And that's it, your email template is ready to use.
Following that, it was as if I were witnessing a divine increase in sales as a result of the new aesthetically appealing emails and product pages I had designed.
The process of creating an email design took less than 5 minutes for me, and one of my favorite things about Beefree is that even when you get the free version, you receive access to a selection of templates from which to pick.
This enabled me to select the design that best met my requirements, particularly during the Christmas season, and it also allowed me to make any necessary alterations quickly and simply.
And if you struggling to write your email you can use tools like EmailWritr which is an AI email writer that can generate single emails as well as entire email campaigns for any industry.
You can read more about this tool in this EmailWritr review.
Beefree Pricing
Beefree offers 4 pricing plans:
Free – $0/month
Freelancer – $15/month
Team – $30/month
Agency – $120/month
After trying out Beefree, I decided to give BeePro a shot because it was only $15/month and offered even more editing ability for emails and landing sites than Beefree.
When I was doing my year-end specials, this came in rather helpful, and at fifteen dollars a month, it was well worth the time and increase in sales it provided.
After a brief period of time, I recently expanded my team, necessitating the purchase of the BeePro Team package. It added an additional fifteen dollars to the monthly subscription, but the team collaboration and access function made it well worth the cost as well.
I may not be at the agency level yet but I can imagine the amount of production and time that will come along with it with the help of BeePro Agency.
It most likely would have taken me personally longer to try the BeePro Freelancer and BeePro Team if it weren't for the Free 15 Day Trial they provided.
Is Beefree Worth It?
Beefree email made it quicker and easier for me to produce attractive emails and landing pages for my email campaigns, regardless of the device I was using.
To save time, energy, and money, I highly recommended to my colleagues to use Beefree to create some stunning emails and landing pages for their businesses.
It has assisted me in finding a balance between technology and design, which is one of the reasons why my email team is now a lot more creative.
Beefree has collaborated with a slew of well-known companies, and believe me when I say that is not hard to believe considering their collection of designs that do not disappoint.
Beefree Review Wrapping Up
So that's my Beefree.io review. As you can see, a platform such as Beefree not only saves you time and effort, but it also makes email marketing a whole lot more pleasurable and productive.
I've been using this service for quite some time now, and it has significantly improved the effectiveness of my email marketing efforts.
Because of their large selection of templates, they can support a wide variety of design styles and themes, which is highly beneficial when searching to find a template that would work for your campaign.
Even though it may take you a few minutes at first to get acclimated to its capabilities, I'm confident that, like me, you'll find it to be an invaluable tool for your email marketing campaigns and landing page designs.
Aside from its outstanding artificial intelligence function, Beefree allowed me to produce a certain variety of emails every month, which is ideal whether you're extremely light on your email marketing campaigns or very heavy on them like I was.
Getting creative and designing email campaigns is now even simpler with Beefree; all it involves is some dragging and dropping followed by exporting and boom, anyone can do it, even if they are not a trained professional coder.
And as I mentioned, you can have a free account where they have lots of free templates that you can use. for your email marketing campaigns.