With so many tools available to create videos, it can be hard to decide which one is the best for you. If you are looking for resources on AI video generators, then you're in the right place.
AI content creation tools have revolutionized the way we create, manage, and optimize our content, including creating and editing videos.
In this article, we'll help you choose the best AI video generator for you that will take your video production to the next level.
Best AI Video Generators in 2023
Here are our top choices for the best AI video generators:
1. Pictory AI – Best AI video generator overall
2. DeepBrain – Best AI avatar video generator
3. InVideo – Best free AI video generator
4. Wave.Video – Best AI video creator with video hosting & landing pages
5. Wisecut – Best AI video editing software
6. Predis.ai – Best solution for ecommerce 
7. Designs.ai – Best all-in-one AI-powered content creation platform
Alongside this article, we have also published a YouTube video that goes into further depth regarding a selection of these tools for readers who would rather get their information in a more visual format.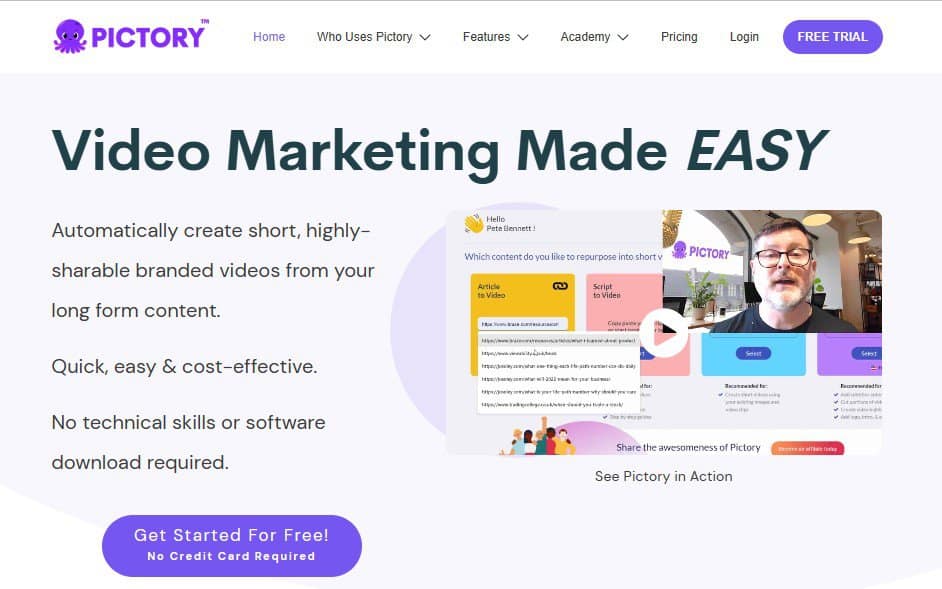 Creating videos can be a major pain, but Pictory makes it crazy fast and easy with AI magic. In just minutes, you can turn text scripts, long webinars, articles – you name it – into polished videos ready to captivate audiences.
One of Pictory's coolest features is transforming text into video. Just upload your script, and the AI goes to work selecting visuals, adding voiceovers, and outputting an engaging video. You can even edit the AI-generated voiceover transcript if you want.
Pictory also lets you easily extract highlights from lengthy webinar footage. The AI identifies the key moments and creates a short shareable clip summarizing the content. And you can customize videos with logos, colors, fonts to match your brand. 
Subtitles and captions are automated too, making videos more accessible while boosting SEO. Support for 20+ languages allows you to connect with global viewers.
On top of that, Pictory provides a huge stock media library, or you can use your own visuals. Really, this AI is like having your own video production team, minus the costs and hassle. 
They have a nice branding feature, so you can include a logo or overlay on your video. Pictory also has social media integration, so you can automatically upload your video to YouTube, Twitter, and Facebook.
You can use Pictory to create videos for any purpose – training, education, marketing, branding, sales enablement, customer success stories, SaaS, or e-learning.
Pictory is the best AI video generator for people who want to start a faceless YouTube channel.
If you're on the fence, Pictory offers a free plan to test drive creating 3 videos. You can also read more in this in-depth Pictory review.
Pictory AI Pricing
Free Trial – Up to 3 free videos
Standard – $19/month
Premium – $39/month
Teams – $99/month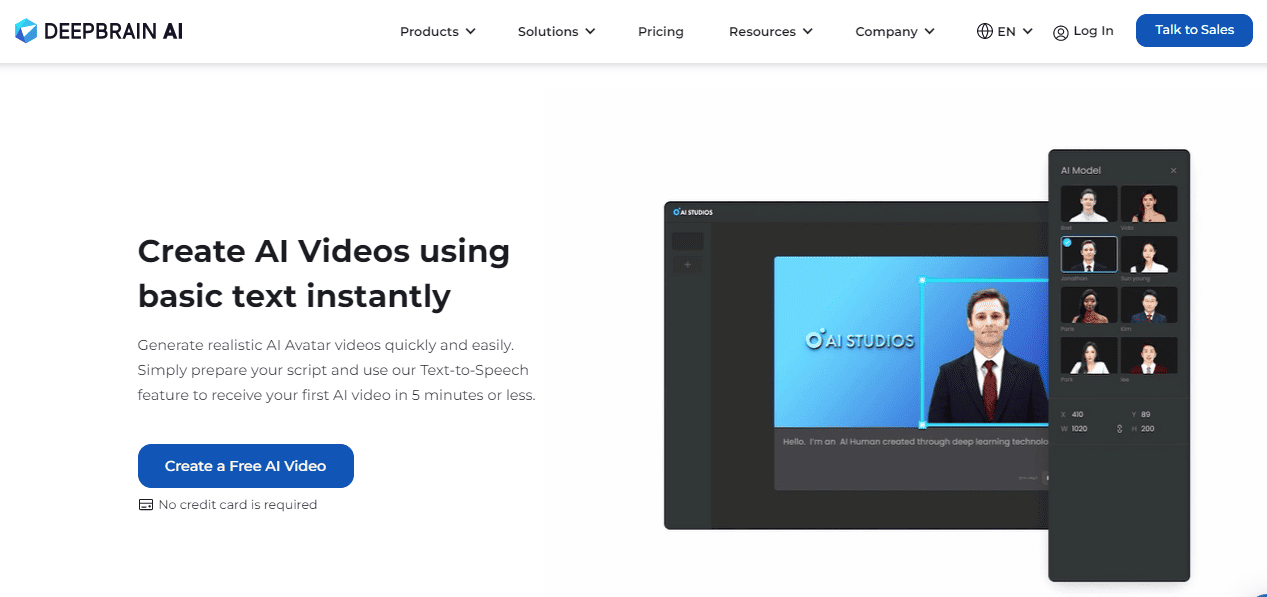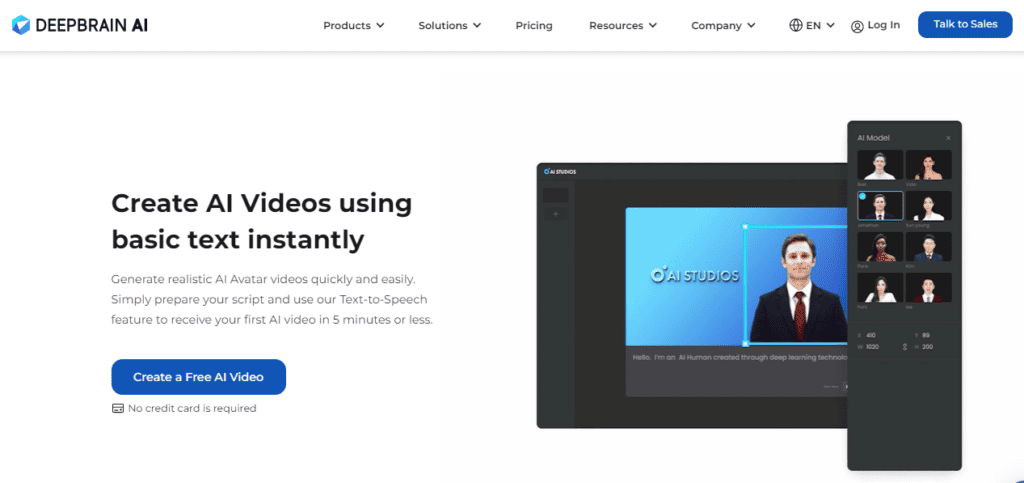 DeepBrain is an innovative video generator that uses human-focused AI technology to generate video content featuring with 100 customizable avatars covering multiple ethnicities and professions.
What sets DeepBrain apart is how the AI avatars mimic natural human speech, expressions, and gestures. It's really cool actually – if you didn't know better, you'd think these virtual presenters were flesh and blood.
DeepBrain records and analyzes voice, facial movements, body language, and more. Then deep learning technology processes all that human data into AI video content that blows other platforms out of the water.
You get tons of customization too – pick an avatar from 100+ options, then tailor their appearance, voice, and personality to suit your needs. The lip sync is spot on as well, taking realism to the next level.
DeepBrain can generate videos in any language, so you can target global audiences more easily. And with a huge range of templates, making training videos, explainer content, social posts and more is a breeze.
Really, if you want next-gen videos that captivate and convert viewers, DeepBrain's hyper-realistic AI avatars are a must. Pricing starts at just $30/month too, so highly effective video content is more accessible than ever.
DeepBrain AI Pricing
Strater – $29/month
Enterprise – custom pricing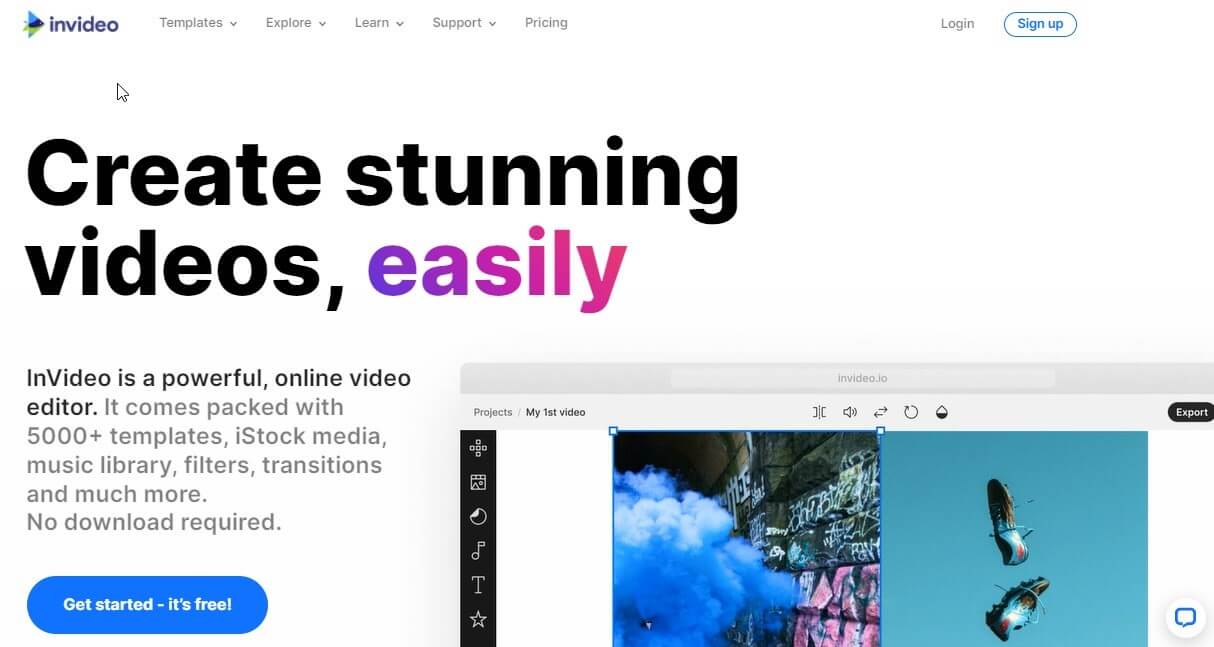 InVideo boosts your content game with easy AI-powered video creation.
Whether you need promos, tutorials, social media posts, or more, InVideo has your back. Choose from 5000+ templates tailored to any niche and customize with your own text, visuals, logos – you name it.
InVideo's huge stock library, including Storyblocks and Shutterstock content, makes it super simple to grab eye-catching images, video clips, and more to tell your story. And the text-to-speech tool instantly turns text into voiceovers in different languages and styles.
Plus, you get seriously powerful editing options to cut, arrange, transition, and enhance your footage. Preview in real-time and export when you're happy. The mobile app makes video creation on the go effortless too.
And we can't forget the handy analytics providing insights into how your videos perform on social and beyond.
There is an abundance of features available inside of the platform that's always been updated regularly.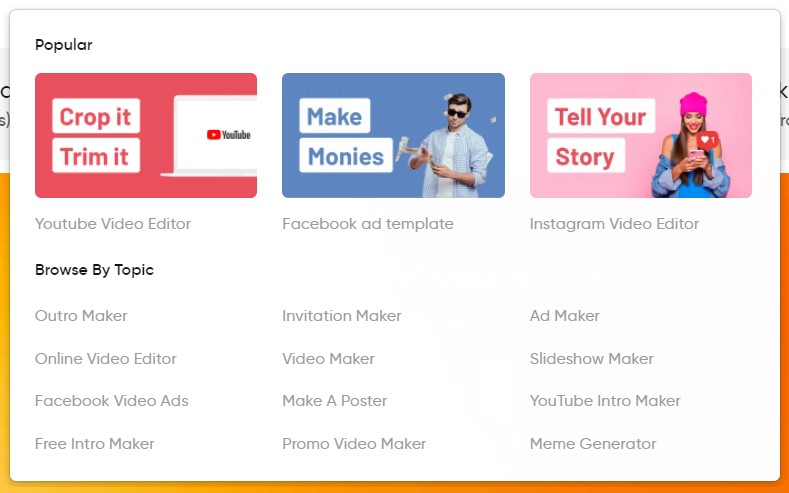 This AI video maker lets you create:
Promo videos
Video ads
Video presentations
Branding templates
Slideshows
Memes
YouTube intros & outros
Video testimonials
And so much more.
On top of that, you can take advantage of its huge library of tutorials and guides that teach you how to use the platform for the full effect. You can also read how to use it in this InVideo Review.
InVideo Pricing
Free – $0/month
Business – $30/month
Unlimited – $60/month
💡 Note
In addition, InVideo offers a 25% off discount to our readers for all of the InVideo pricing plans if you use the link below.
▶ Start InVideo Free Trial (+ 25% OFF Discount)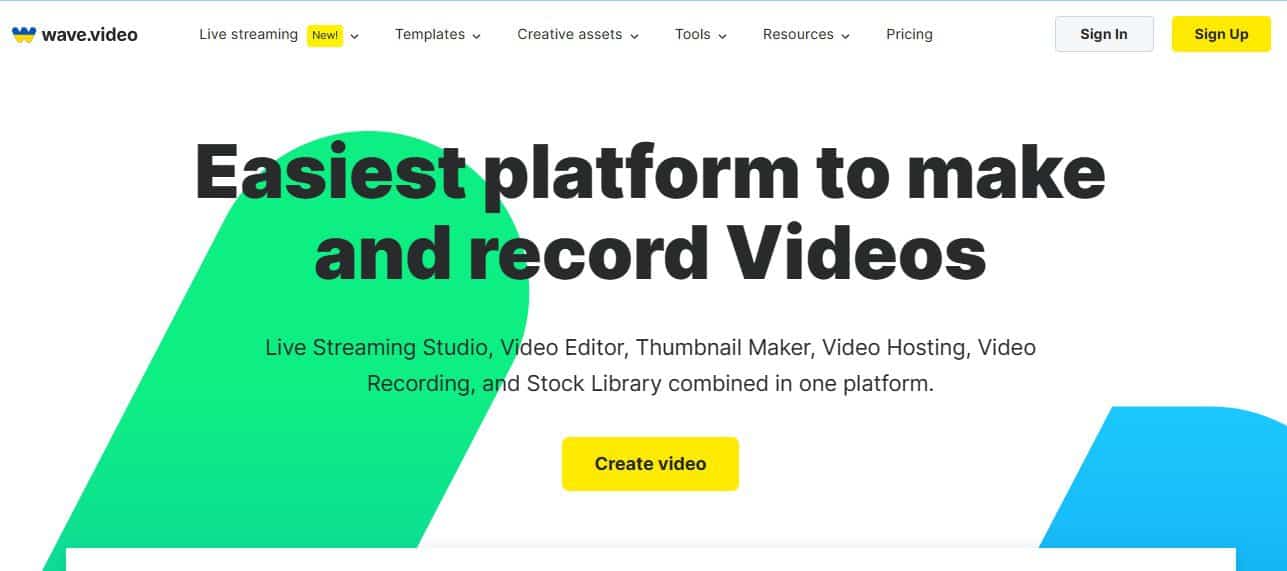 Wave Video is one of the most complete AI video generators on this list that lets you streamline how you create, edit, stream, and host your video content – all in one platform.
They have one of the greatest amounts of different tools and features. We're talking about:
Live streaming studio

Video editor

Thumbnail maker

Video recording

Hosting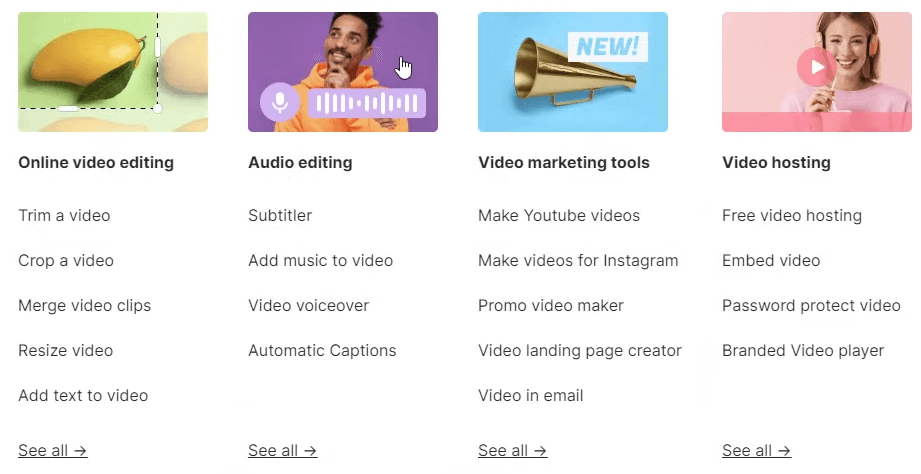 With Wave Video you can create videos with AI and edit them for your social media platforms, emails, website, and blog.
All you have to do is take a piece of text, upload it, and the AI finds the images or the clips.
You can very quickly change the text and modify it. You also can upload audio or use their auto voices.
They have an in-house recording option; you can sync everything and export it in HD.
Plus, they've got a lot more templates to choose from. Templates are pre-made slides with motion graphics that are easy to edit. You can change text, images, colors and effects without editing software.
It is perfect for social media platforms such as Facebook and Instagram because it allows you to upload directly from the app.
The support is great and it's got a lot of resources so it's fast and it's quick so it ticked all the boxes for a Vidnami alternative.
But not only that, but Wave Video also allows you to host your videos inside the platform.
I've also got an in-depth Wave Video review so you can check this out if you want to learn more about this tool.
Wave Video Pricing
Free – $0/month
Creator – $24/month
Business – $48/month
💡 Note
Wave video offers our readers a free plan + a 40% discount for all of the Wave Video plans if you decide to upgrade to any of the paid plans.
▶ Start Wave.Video free plan (+40% OFF Discount)
Wisecut is AI video editing software that uses advanced voice recognition to edit videos. It can automatically create jump cuts, subtitles, background music, and many more.
The main Wisecut features include:
Smart Background Music
Jump Cuts
Auto Caps
Subtitles Auto Translation
Automatic Audio Ducking
And more.
It's great for both short and long clips of footage that need some special touch.
You can choose from a large collection of high-quality soundtracks from their royalty-free music library to match your video, and the length of the video, and even let Wisecut pick it for you.
You can select the length of time to keep the video onscreen before it disappears. You can also choose whether or not you want subsequent videos to overlap each other or fade into each other.
You can find out more about this tool in my Wisecut review.
Wisecut Pricing
Free – $0/month
Starter – $15/month
Professional – $57/month
Enterprise – Custom pricing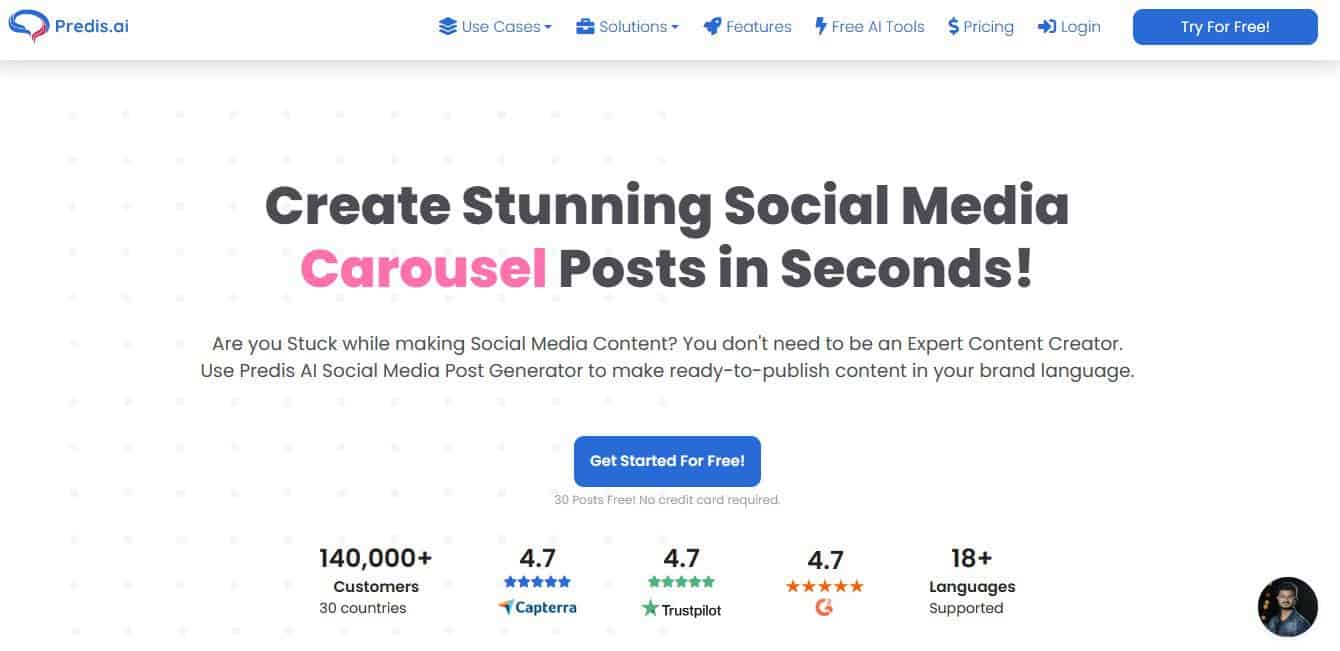 Predi.ai is a rising tech company that wants to bring video marketing into the future by revolutionizing AI video ad creation for e-commerce businesses.
Predis takes the work off your plate with its crazy smart AI.
All you have to do is give a quick one-line overview of your biz. Predis will instantly select amazing templates, fill in text and images, and apply your brand style.
In seconds, you've got professional quality videos – everything you need to engage your audience. You can build up a content calendar super easily.
Connecting your Shopify or WooCommerce store is a game-changer too. Predis will scan your catalog and generate eye-catching product videos to promote your shop.
The creative editor makes customizing a breeze. Swap in different multimedia from 5000+ options if you want. Upload your own content to make videos even more powerful.
Once your videos are polished, schedule and publish them directly through Predis' scheduler. 
Predis Pricing
Starter: $24/month
Growth: $33/month
Agency: $57/month
Designs.ai is an all-in-one content creation platform that combines a logo maker, video creator, AI design tool, speech creator, and mock-up maker.
The tools are integrated into one app, so users do not need to switch back and forth between other software.
With Designs AI video maker users can easily make high-quality videos with their huge library of +10 million video clips, millions of images, and over 500,000 different audio files.
Besides video maker, Designs has other cool tools including:
Logo maker
Speech maker
Design maker
Mockup maker
And also a graphic maker, color matcher, calendar option, and more.
The tools are user-friendly and easy to understand after watching some tutorials.
For users that are not too familiar with video-making tools but would still like to create professional videos easily can use the intuitive templates.
Designs.ai Pricing
Basic plan – $29/month
Pro plan – $69/month
Enterprise plan – customized
In addition, with all plans, you get access to unlimited projects and unlimited usage of images and video clips.
Synthesys is an AI avatar video generator that helps you create engaging, high-quality videos from text by using its lifelike AI avatars.
You can use Synthesys video to create ultra-realistic voiceovers and talking head videos in more than 140 languages for any use case, from training videos to online courses and sales videos.
It has a very easy and user-friendly interface, where you can create your video in a few clicks. All you have to do is:
Log in to your account, and choose the ideal avatar that will represent your brand (you can choose between 70 different AI avatars that were created by professional actors).
Add your script, titles, and images, or choose between 50 professionally designed templates with stunning visual effects.
Add background music to create a mood that fits your video perfectly.
And this is it. Traditional video production is a lengthy and expensive process that requires specialized skills and equipment. With Syntheys, you can bypass these hurdles and create high-quality videos quickly and affordably.
Synthesys Pricing
Audio Synthesys – $27/month
Human Studio Synthesys – $37/month
Audio and Human Studio Synthesys – $52/month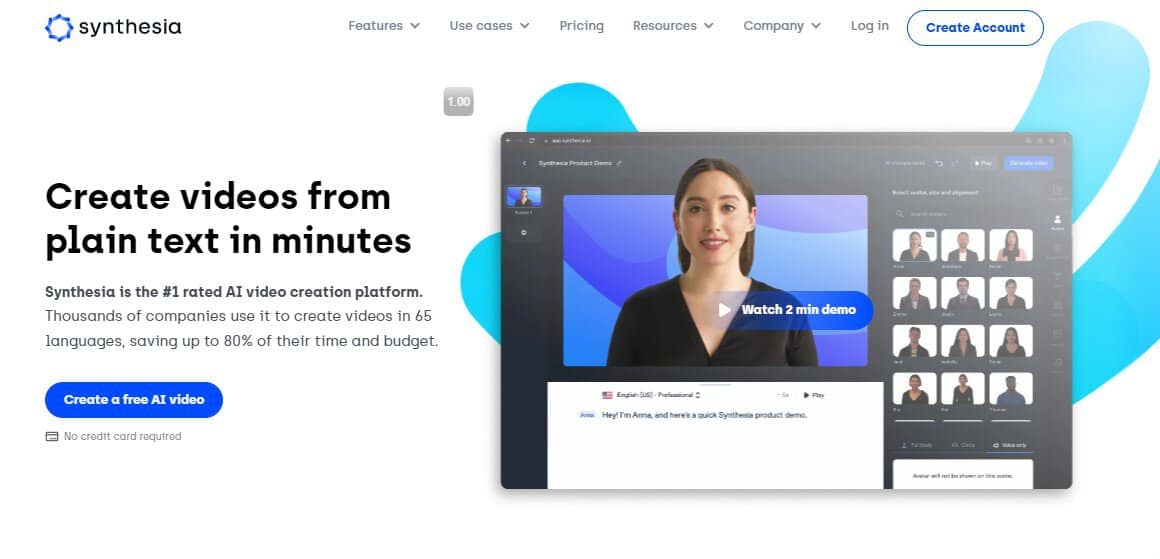 Synthesia.io is a very unique video creation tool that allows you to create videos with AI from text in over 50 languages.
They have computer-generated avatars that you can use on your explainer video sales speeches instead of going and recording a person talking on-screen.
You can choose from over 40 avatars but you can also create your own.
After selecting your avatar, you can simply just type in your text and the AI will generate a video for you.
And not only that, but with Synthesia you can also personalize that video so you can have that AI person saying the name of your client, saying the name of the business you're selling to, and so forth.
The software can generate a realistic-looking avatar that looks like it's talking to viewers. If your video is a sales pitch for a product, Synthesia would be able to construct an engaging character who gives off the appearance of being friendly and helpful.
Even the facial expressions and gestures are generated by Synthesia AI, based on your text.
Synthesia Pricing
Personal – $30/month
Corporate – custom pricing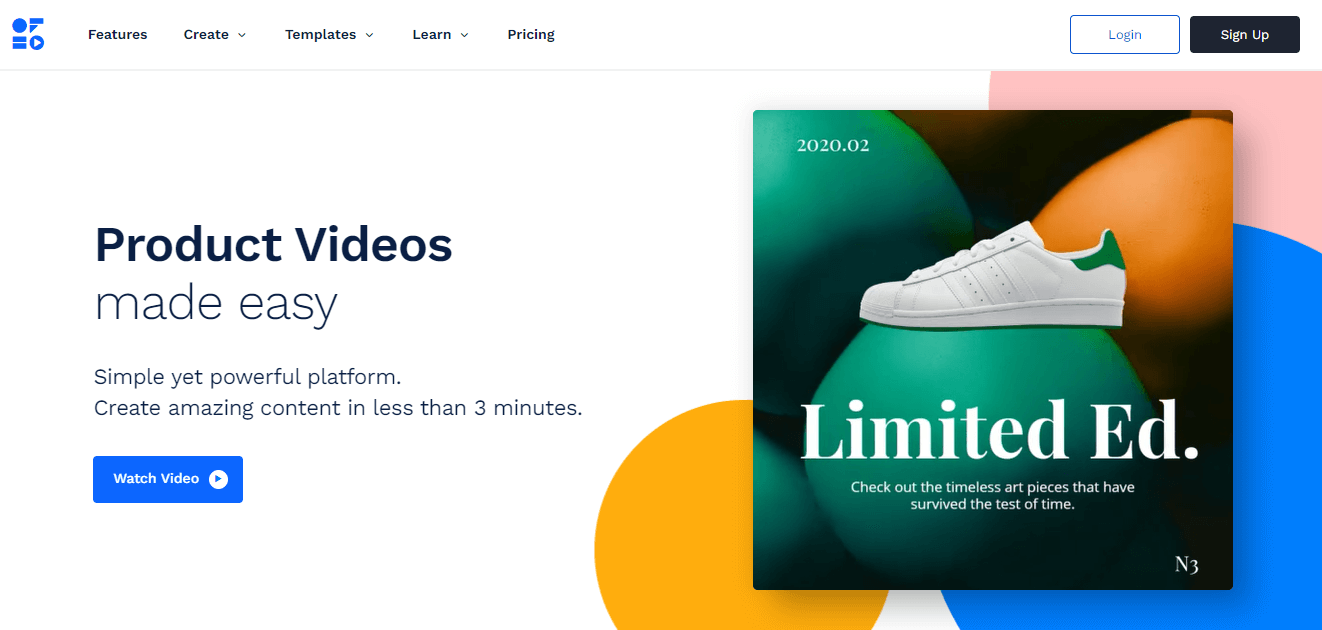 OFFEO is an all-in-one AI-powered content creation platform and what makes OFFEO stands out among other video makers is that you can create videos based on your branding.
With OFFEO, you can create videos by uploading your logo, tagline, and business information.
You're then able to choose from video templates, animations, and other creative assets to create the perfect video for you.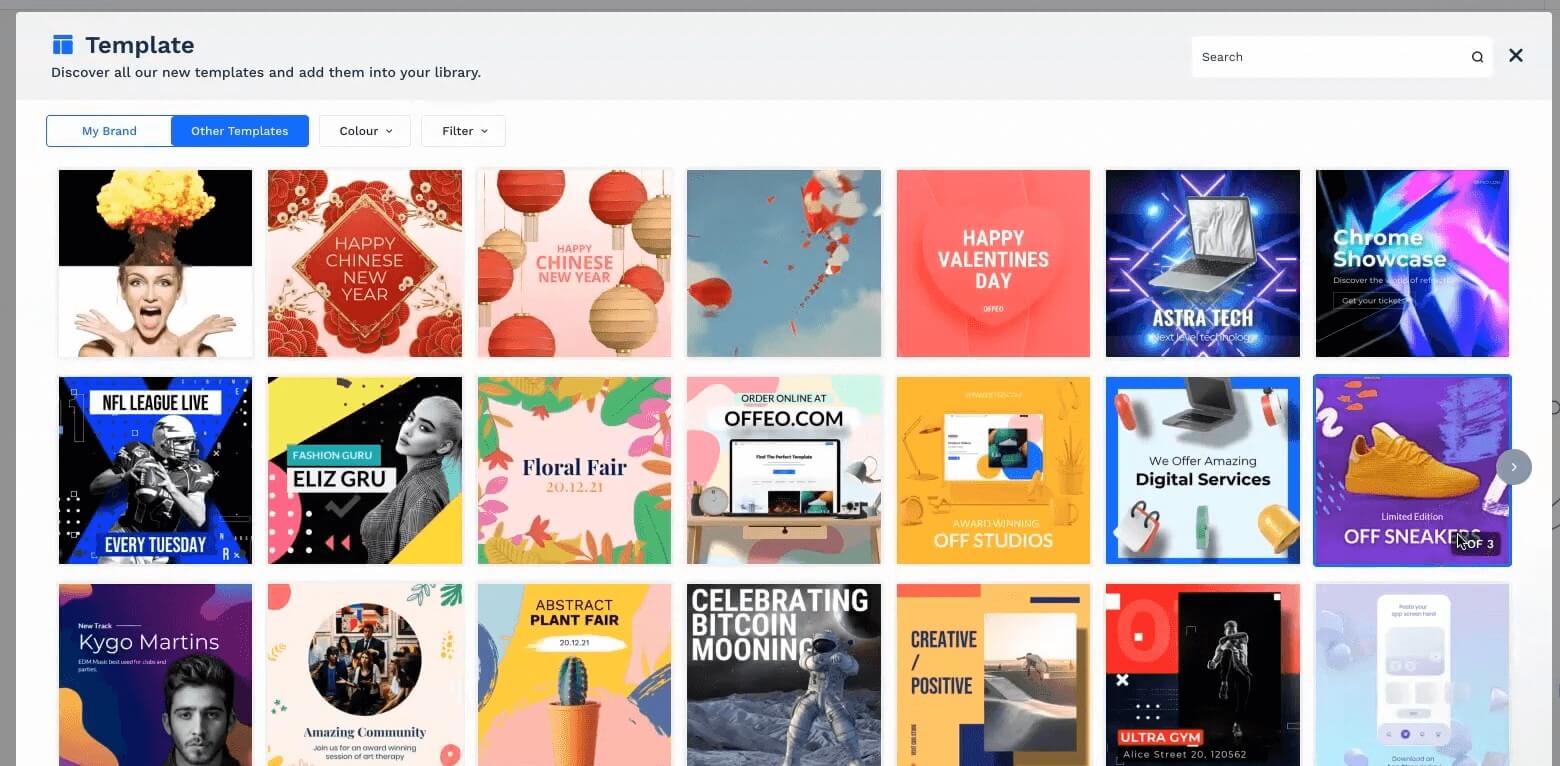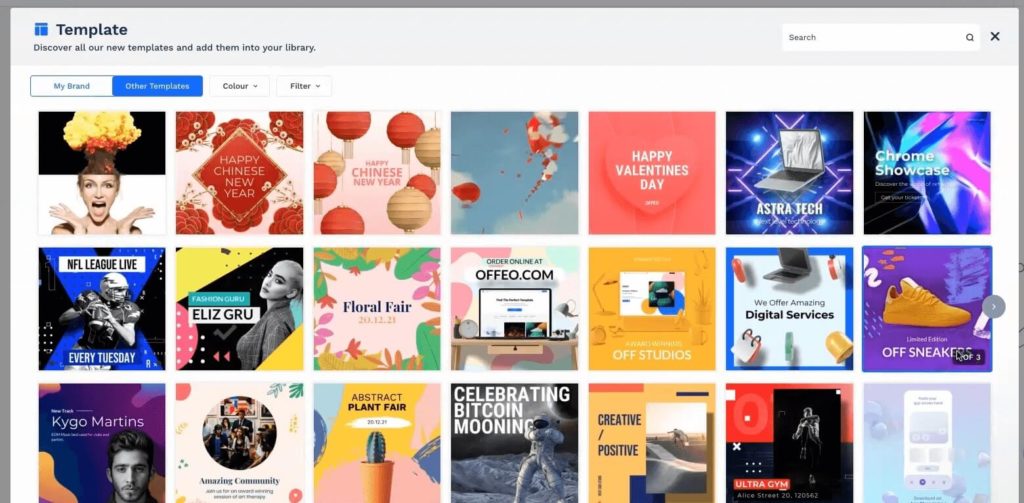 You can make use of creative features like 3D text animation or stylistically change colors, fonts, and more through your videos.
It supports multiple languages including English, French, German, Japanese, Chinese, and more.
You can also choose to add a voice-over in the language of your choice.
Although when it comes to stock photos and videos, there are more images than stock videos so if you're looking for a library of unlimited stock videos I would suggest InVideo instead.
However, if you want a professional video maker with lots of varieties and effects that you can actually use for your social media ads OFFEO is definitely a good choice.
You can find out more information about this AI-based content creation software in my OFFEO review.
OFFEO Pricing
Premium plan – $19/month paid monthly
Premium – $12.42/month paid yearly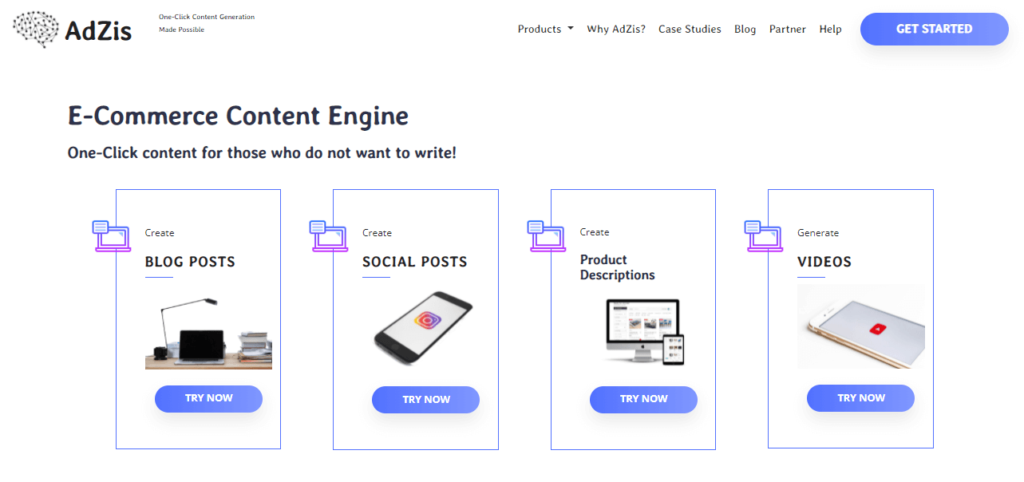 AdZis is a one-stop shop content creation platform that uses artificial intelligence to generate high-quality, unique, and engaging marketing content for eCommerce.
Besides video generation, AdZis allows users to create blog posts, social media posts, articles, product descriptions, and other types of content with its AI copywriting tools.
So if you run an eCommerce business and want to in seconds generate videos, social media posts, product descriptions, blog articles, meta tags for your online store – all under one platform, give AdZis a try.
AdZis Pricing
Starters – $9/month
Intermediate – $49/month
Professional – $99/month


Next up, we have a platform by the name of FlexClip. And FlexClip is very similar to other content creators as it uses very similar text-to-video features where you can create different types of:
Business promos
News videos
Corporate style videos
Trailer videos
Tutorials
And even videos for social media.
They do have access to a load of really good-looking templates.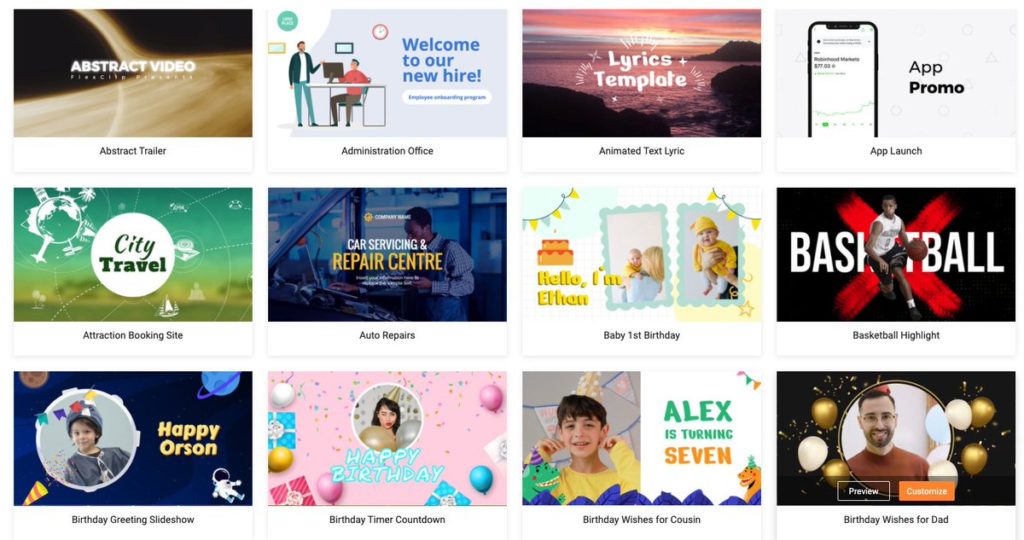 I actually have done a FlexClip review where I do provide an overview of the features and give quick demos of how to use the tool and so forth, where I show you how to create a simple video very quickly.
FlexClip Pricing
Free plan – $0/month
Basic plan – $9.99/month
Plus plan – $19.99/month
Business plan – $29/month
Lumen5 is a very popular platform for content creators that offers lots of different features and hundreds of beautiful templates.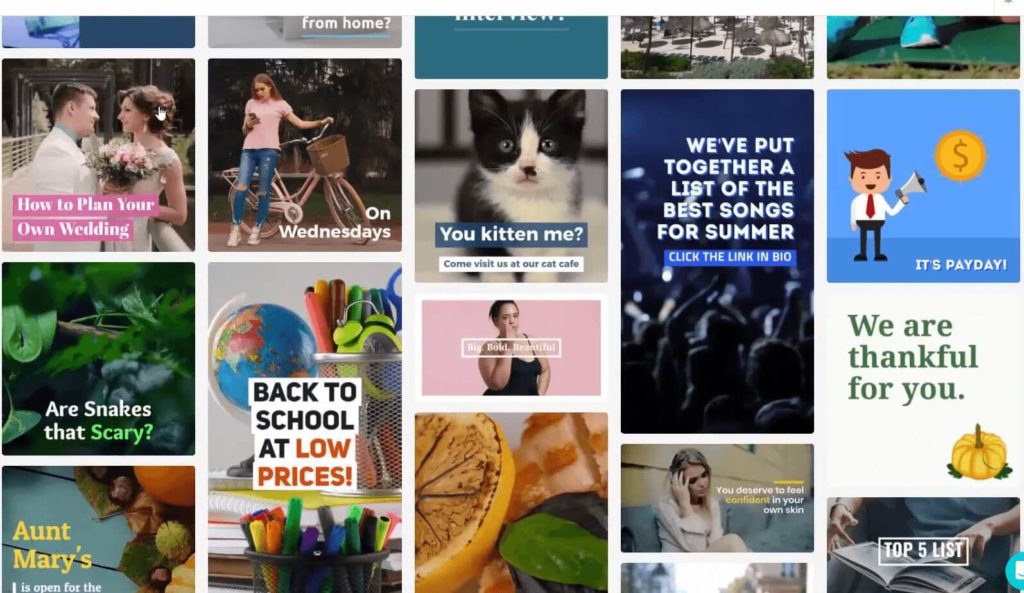 You can import your own scripts and can even import texts from blog posts, where you can type in the URL address of a blog post that you may have, and it will convert that text so that you can put it into a video.
And it does it very easily with only a few clicks.
Also, I have done a Lumen5 review as well where I do provide a detailed insight into the platform and an overview of a lot of the tools so that you can get a better idea of how the platform can be used.
Lumen5 Pricing
Community – $0/month
Creator – $15/month
Premium – $79/month
Business – $199/month
Enterprise – custom pricing
Kapwing is also another very popular, free-to-use platform. And even though it's free to use, it does have updated paid-tier plans that unlock different types of features.
But there is Kapwing a platter of different tools and each individual tool is broken down into its own category.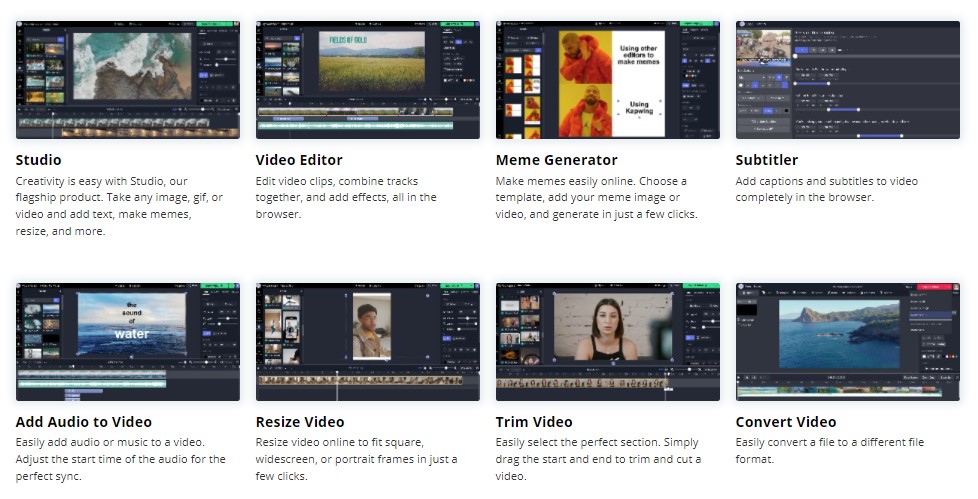 And the best thing about it is with all these tools are cloud-based, meaning they're online, so you can edit it from your browser without you having to really download and install any software to your computer.
You can get away with creating a lot of really cool features on the free version of Kapwing.
A lot of people do use it, even though it can be a bit overwhelming to an absolute beginner coming into the platform because there are so many tools available.
Some of them include:
Smart cut
Remove background
Text to speech
And more.
But you can just pick what you need and just learn the features where you can actually create really good videos using the platform, again, if you're on a budget.
Read more about Kapwing in this Kapwing review and step-by-step tutorial.
Kapwing Pricing
Free – $0/month
Pro – $17/month paid annually
For Teams – $17/month per user paid annually
BigVU is quite a unique type of platform because it allows you to create vlogs, infographic-style videos, information-style videos, and even edit images all on your mobile phone so that you actually don't have the need to have a desktop computer.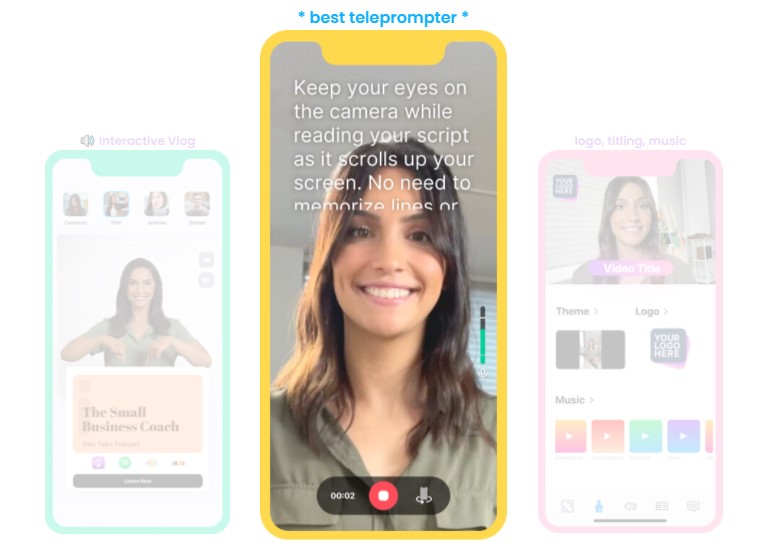 An interesting thing about it as well is that have a teleprompter feature.
So, especially if you struggle with trying to figure out how to structure a video, which you like to be able to have like a script, you can naturally put the script into the teleprompter that's built into the app.
But the main advantage of BigVu is that you can do everything through your mobile device.
You can do the work on a desktop computer if you want, but if you're away from your computer and you need to get a video done and get it uploaded onto whatever media format that you're looking to use, you can actually just create something on the fly.
They do actually have access to a free plan that you can use to get started with to literally just get familiar with the platform. So, you can sign up for a free account. You have access to these features: you have a video recorder; you have access to a load of different elements.
BigVU Pricing
Starter – $14.99/month
Plus – $39/month
Workgroup – $149/month
The next all-in-one AI content creation platform is PicsArt. PicsArt is super popular with people who love taking pictures and sharing them on social media.
The app even has an AI video editing software feature that allows you to create videos with your photos. You can also create digital drawings, cartoons, and emojis with PicsArt to use for your social media posts.
They have an impressive range of different video tools.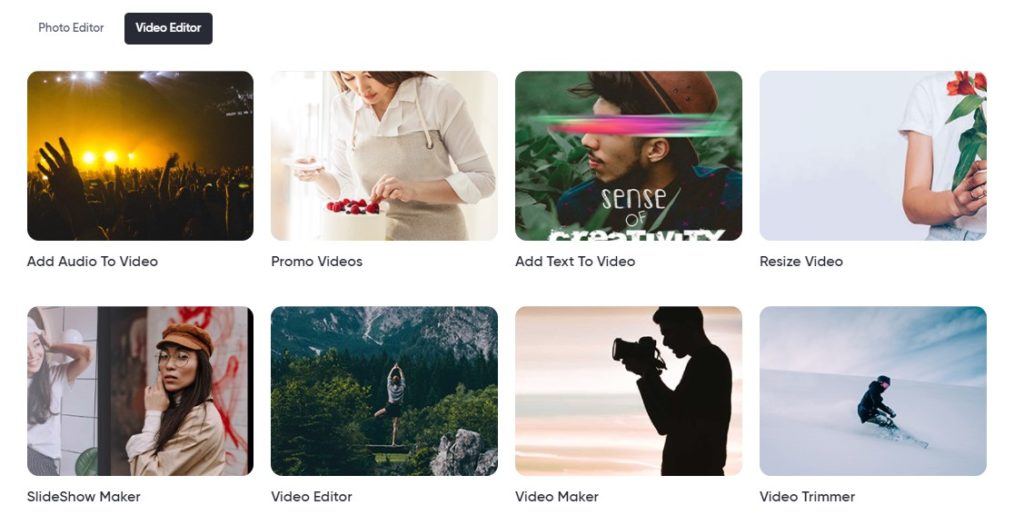 You can download the PicsArt app on the Google Play store as well as the Apple store for free but with some limitations.
Photo and video editing and sharing with this app are really easy and fun.
There are hundreds of filters, frames, stickers, fonts, touch-up tools, light leaks, backgrounds, patterns, textures, and more to use in your content.
Each of these tools can be customized to create a unique look. You can also add text, stickers, special effects, and clip art directly into your image.
PicsArt Pricing
Free – $0/month
Gold – $13.58/month
Team – $16.3/month
Vedia is a video creation platform that helps businesses develop data-driven videos to improve brand awareness, educate buyers, nurture leads, and improve customer service.
The software offers businesses an automated platform that enables them to scale video creation with a data-to-video workflow.
Vedia's platform enables business users to upload data sets (e.g., product catalog or industry stats), and then the software uses that data set to create engaging videos.
With Vedia, you can automatically create and publish videos on social media for content marketing, promotional ad campaigns, sales outreach, and much more.
Vedia AI Pricing
The pricing plans are not displayed on the official website.
Raw Shorts is an AI explainer video creator that allows you to create animated videos from text.
With this tool, you can make simple explainer videos, animations, and promo videos for social media and your business.
All you have to do is give it some raw text and the AI goes to find media assets that match your script, and places them on the timeline.
Raw Shorts works by extracting the most meaningful sentences from your text and arranging them in a smart video format, using animated graphics and voice narration.
Raw Shorts Pricing
Starter – Free Trial
Essential – $49/month
Business – $89/month
Gliacloud is an AI video creator that allows users to generate video content from social media, RSS feeds, news sources, and sports events by customizing text-to-speech videos on the fly.
That makes it a great option for businesses and enterprises that want to engage with their audiences with video marketing.
They have some really great tools like:
Transition effects
Voice overs
Article to video
Video music
Video layouts
Zoom frame
Montage maker
And more.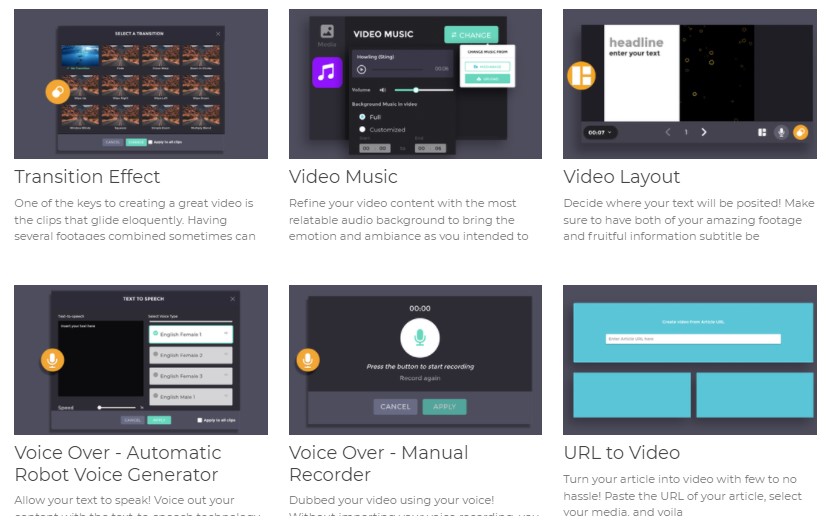 Gliaclouds is geared towards businesses and large enterprise companies.
Gliacloud Pricing
Pro – $300/month
Business – $550/month
Enterprise – Custom Pricing
Best AI Video Generator Final Words
So these are the best AI video generators that you can find online.
These tools will help you make YouTube videos without showing your face and take your video marketing to the next level.
I hope you found the right tool for you.