In today's guide, I want to share with you the best Clickbank products that are working right now and that are making people the most money. And I also want to break down the best ways to actually promote these products as well.
As some of these products payout pretty good money; one of them even pays out over $800 per signup on average.
I've been making money with affiliate marketing full-time for a very long time now and I know what works and what's not working at the current time.
Now for every one of these products, I only selected products that were above a certain gravity.
Meaning that these offers pay out a lot of money and there are many affiliates that are earning commissions every single day, promoting these products so you can rest assured that these products have a high conversion rate.
You'll also learn how to promote Clickbank products with the right strategies depending on the product niche and targeted audience.
So, if you want to make money on ClickBank, you're wanting to know what the best products are currently at this point in time, then make sure to read this article all the way to the end.
So, let's jump into this article and I will show you the top selling ClickBank products in 2022.
1. John Thornhills Ambassador Program
Ambassador program is a webinar offer in the make money online niche and it has just been doing very well.
This product is created by John Thornhill, one of the top Clickbank affiliates.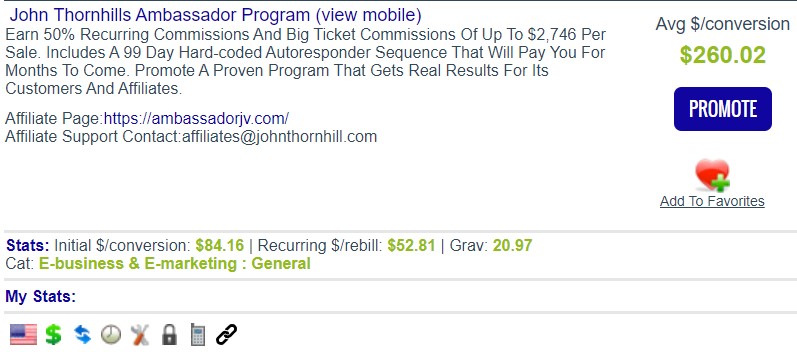 If you're looking at the sales page, you'll see John Thornhill as your host and he's going to show you what you need to do, how to make money online, and he's going to reveal how he made over a million dollars on ClickBank.
His affiliate page is going to give you what you need to do to be able to get in on the next webinar that he is going to be hosting.
He has the nice beautiful platinum plaque that he's even featuring here with ClickBank.
And with this product you can make $260 per sale on average, plus around $52 recurring commission.
It's converting at about 5%, and that's not bad.
How To Promote?
A great way to promote this type of offer is by blogging and SEO because is much easier to convince someone to buy this type of product who is already searching for this on Google.
And if would you like to know more about this great free passive traffic source, check out this in-depth guide on how to start affiliate marketing website where I'll walk you through step by step to build your authority site that will bring you passive traffic each month.
Affiliate Page: https://ambassadorjv.com/
2. Sqribble
Sqribble is software that helps people create eBooks. And software products are among the best affiliate products to promote in 2022.
And this product doesn't make as much money.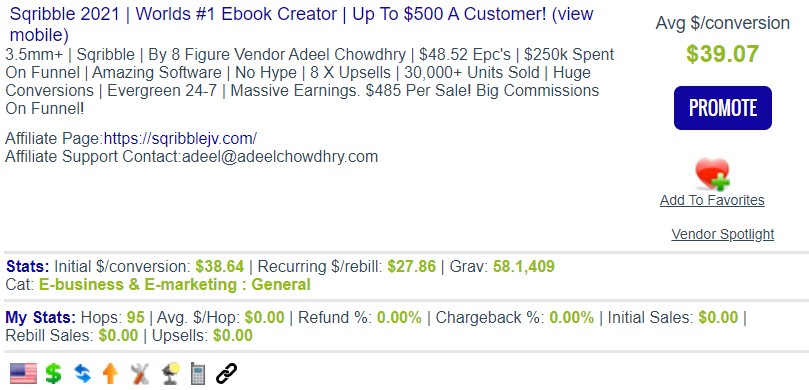 But this product works very well and a lot of people are making good money promoting this product.
So, it's not in the make money online space, it's not in the health space, it's a little bit different from what we usually talk about.
So, this product makes around $39 per sale.
Now the best part about this product is once again, it has its own affiliate page where you can find all the information that you need. It's optimized and people have made really good money with this product, including myself.
The average order value, so the AOV is at $51, the average payout value (APV) is $32. It is doing amazing and its refund rate is right where you'd want it to be, in about that 5% range.
I actually use this product myself to design some of my ebooks.
💡 Pro Tip
You can see the eBook that I actually created using Sqribble in the link below.
How to Promote?
One of the best ways to promote this product is via blogs, YouTube, and free traffic.
Just any free affiliate traffic source that you are currently using, you can implement this.
And what you should be doing is creating content about how to create eBook covers and eBooks in general.
And then promoting these particular products, you're going to have to line it up, the product with the audience.
But this is what this product is the best for, is for showing people how to create eBooks and then promoting this particular product.
So, if you do affiliate marketing on YouTube, this is a very good product to promote.
Also, If you're creating eBooks for your affiliate marketing business I highly recommend going check it out and see if it could be a good product for you to use, not just promote.
Affiliate Page: https://sqribblejv.com/
3. Perpetual Income
All right guys, so the next product we're going to be talking about in this guide is a product called Perpetual Income. Now, this product pays out a massive $336 on average.
And this is in the make money online niche and this is one of the top products right now that's converting very well.
The reason I like this product is that it's kind of new to the marketplace but more importantly, it's been optimized.
So, the creator of this product knows what works. They've optimized it to get you the maximum income per click and you can also make up to $500 per sale because they have a lot of upsells but the average is around about $316.

This is a very popular product right now because they're constantly updating it, constantly adding more stuff, and constantly optimizing it and a lot of people are making money from this.
And it also has an affiliate page where you can find all of the information that you need, like banners, emails, and everything you need, ready to go, so you can start promoting this product and building your affiliate email list in this niche.
How To Promote?
A great way to promote this product that we've found is by doing solo ads and then drive traffic for your affiliate landing page.
A lot of people that have YouTube channels in the make money online niche are promoting this particular product because it works very well with YouTube traffic.
Affiliate Page: https://www.perpetualincome365.online/jv/
Get Access To +400 DFY Affiliate Sales Funnels For Every Niche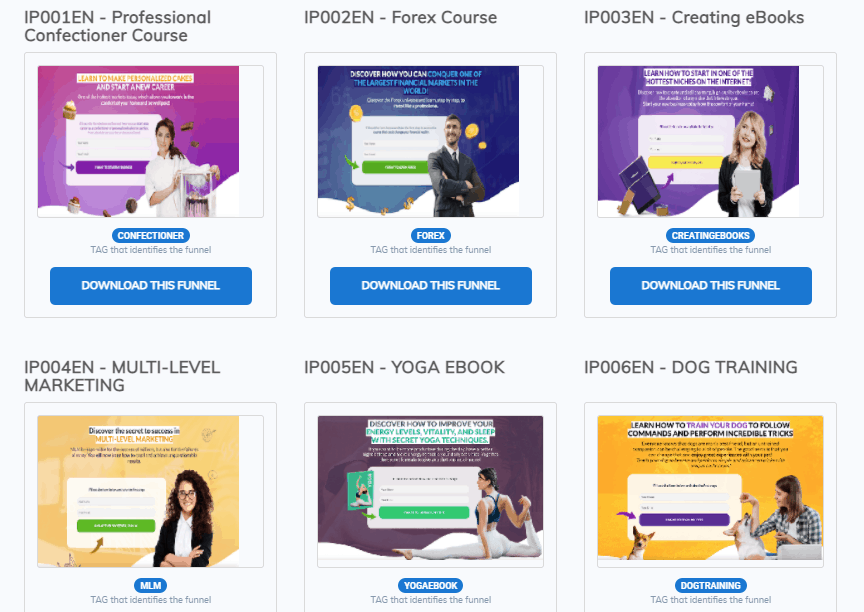 4. The 12 Minute Affiliate System
The 12 Minute Affiliate System is one of the most popular products on Clickbank recently.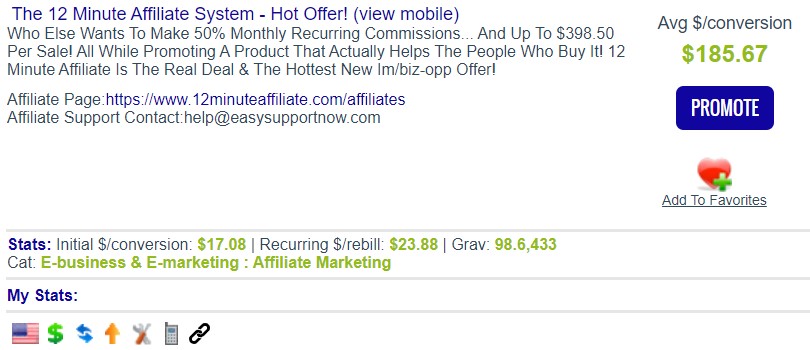 And they pay out a pretty good income about $185 per commission on average.
How to Promote?
The best part about this product is they have an affiliate page, but more importantly, they actually have a webinar that you can promote.
So, you can promote this webinar, and it's kind of like your bait.
You can say, hey, come and check out this free training on how to start an affiliate marketing business.
And this is really good for solo ads, Facebook ads, Google and YouTube channels in the make money, and affiliate marketing space.
But more importantly, it works best for affiliate paid traffic. And the reason is, is because they give you all the ad copy you need, they give you all the emails that you need, they give you the webinar that you can send traffic to.
Literally, everything is there that you can use to make money with this specific ClickBank product.
This is one of the best ClickBank products online right now that people are promoting and it's optimized as well, just like some of the other products that I've shown you.
But the best thing I like about this product is one of the only products on ClickBank where you get everything that you actually need.
A lot of products will give you some stuff but this guy gives you everything.
So you don't need to do anything yourself. And like I mentioned, it's a webinar structure. So, you're sending someone to free training. It's a lot easier to promote a product when it's something for free that you can send people to.
Affiliate Page: https://www.12minuteaffiliate.com/affiliates
5. Okinawa Flat Belly Tonic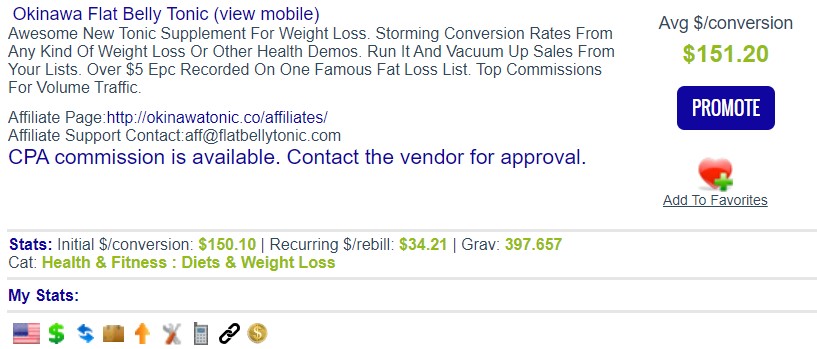 the next one is in the health space and this is one of the biggest health products right now, in fact, it's the top health product, it's called the Okinawa Flat Belly Tonic.
And this pays out an average of $151 per conversion.
Heaps of people promoting this right now because it is the top health product.
They also have an affiliate page with everything that you actually need to do this.
They're willing to work with all types of traffic, all types of affiliates, really good work being done thereby their affiliate manager.
How to Promote?
Now there's really only one way to make money fast with this particular product and that is Facebook ads and building a quiz funnel that I explain more in my guide on how to promote Clickbank products.
Health products are the best for Facebook ads and next sending people to a quiz page then to the product.
This is a very good way and one of the top ways to make money online with ClickBank, and this is one of the best products to do.
Many affiliates do make very good money with these health products but you need to know how to do it properly.
Affiliate Page: http://flatbellytonic.com/affiliates/
6. Vertical Jump Training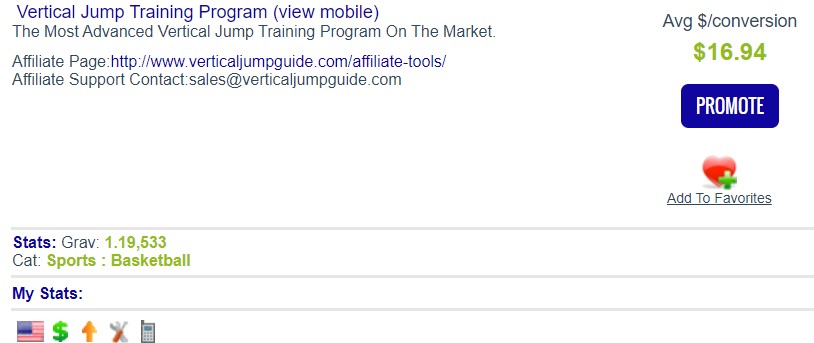 This product here is one of my favorites for many years now, and this is called Vert Shock in the sports niche and it's a basketball training course.
And with this product, you can get around $17 at the lowest average per commission and the gravity is pretty high; 22.42.
Now the best part about this product, the reason why it's a great product to promote is that it's been around for 5 years, so it's not any scam.
It's optimized, it's a high converting product and it works, and once again, they've got all the affiliate stuff.
How to Promote?
It works the best for affiliate marketing blogging.
But what do I mean by that?
Essentially, if you can do blogs and content based on:
"Best vertical jump training program"
And all of these people have done YouTube videos so YouTube videos as well work really great.
You can also see how to do affiliate marketing on Medium and leverage this platform if you don't want to create your own website.
Here is a great example of Vert Shock review.
You can see that this is a very detailed blog
And this is an affiliate marketing blog promoting this specific product.
So, you get the idea of how this can work and there are lots of different keywords that you can actually go after promoting this product.
You can use some free affiliate marketing tools and research how to promote this product with SEO because it is a very good program to promote, especially if you want to make commissions passively from Google traffic.
You can find it in the sports category on ClickBank and it's one of the top ClickBank products in the sports niche.
Affiliate Page: http://vertshock.com/blog/affiliates/
7. Hyperbolic Stretching
A friend of mine is promoting this and making very good money with this, and this is called the Home Stretching Challenge.
Now, this only pays out around about $17 per conversion, which is very low compared to other products on this list
But the reason why I chose this product is that there's low competition.
How to Promote?
So, you can go and do organic Google traffic blogs, or YouTube videos on:
"The best way to stretch"
"How to stretch for beginners"
And all that sort of stuff.
And I'm not saying it's going to be low competition forever, but because it's low competition right now, it's actually quite easy to get traffic to this product.
This is a very good product to promote.
And you can find this product in the fitness niche on Clickbank.
8. Numerologist
Numerologist.com is one of the best products in the spirituality niche.
Now the best thing about this, it does pay out a low conversion but it has an affiliate page that it's been optimized over the years.
How to Promote?
And the best way to promote this product is via blogs and YouTube videos.
There are tons of videos on YouTube on how to actually promote this product
You can kind of actually go to the affiliate page of this product and they give you some tips and tricks on how to promote this.
You can also do this with advertising, for example with Facebook and Google advertising.
But if you are a beginner, I would recommend blogs and YouTube videos and if you've got a bit more money to put into it, or you're a bit more advanced, then definitely check out Facebook ads and Google ads to promote this particular product.
Affiliate Page: https://numerologist.com/affiliates
9. Salehoo Wholesale & Dropshipping Directory
The next best Clickbank product is called Salehoo Wholesale & Dropshipping Directory.
I have made money from this; it's optimized that got an affiliate page and they pay out good money, $97 per sale on average.
How to Promote?
If you know people who want to start an Amazon FBA business or teach people how to do e-commerce, this is a very good product that you can actually go and promote to make money in the e-commerce space.
Affiliate Page: https://www.salehoo.com/affiliates
10. The Smoothie Diet: 21 Day Rapid Weight Loss Program
So The Smoothie Diet is a diet offer, as you may have already got from that. It is a list of recipes and detox, and it also has a great VSL and copy.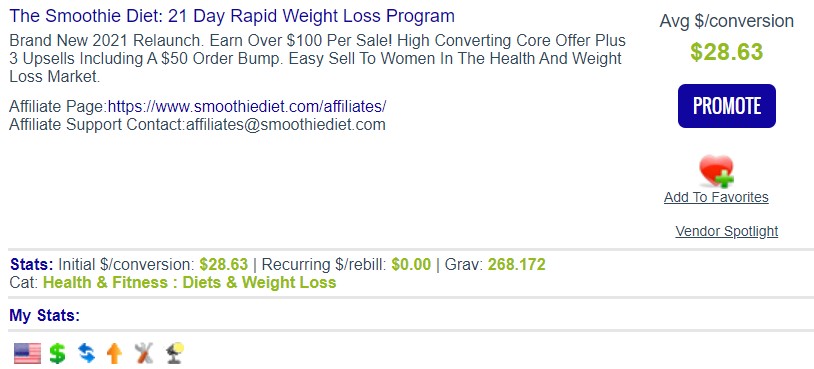 The average commission you're getting per sale is $28.
An AOV of about $36, but even more importantly, that $36 is coming with a conversion rate of nearly 3%, so lower initial price point, meaning is converting a lot higher.
And the EPC is at about 80 cents, but as I said, the conversion rate's a lot higher. So you're getting a lot more through the funnel on that.
How to Promote?
Blogging and solo ads seem to work really well for this product.
If you want to boost those smoothies, how about you pickup some Organifi?
Affiliate Page: https://www.smoothiediet.com/affiliates/
11. Organifi
If you haven't heard of Organify, you obviously haven't been around ClickBank too long.
They have been one of the longest-running supplements on ClickBank, a great product to feature, their landers look refreshed from last time.
And the affiliate resources page, well, they take care of their affiliates.
They're one of the best in the biz at it in my opinion.
A number of offers to promote from their green juice red juice, gold, protein, all kinds of great stuff there.

The account overall is backing out some healthy metrics, like I'd assume $127 AOV.
You're getting a 50% commission rate on that. But what you'll find is that they do some pretty unique things with their affiliate commission structures. They give you options.
Do you want more money up front?
Do you want recurring money on rebills?
Do you want a lifetime commission?
They kind of leave it up to you.
So from an affiliate perspective, they know how to take care of you.
Refund rates are super low. Average payout value. is about the $70 range, which is where things need to be, even with 50% which is on the lower side for some supplements, but their AOV can kind of boost it up there.
How to Promote?
If I would promote this product I would definitely stick with blogging because there is a huge search volume for this particular product.
Affiliate Page: https://www.organifi.com/affiliate-resources/
12. Bioptimizers
Bioptimizers is a digestive support supplement. It has been around for a while.
So if we take a look at the affiliate tools page we got really great stuff of what they provide you, how to get whitelisted by them, what you need to have, what you need to do, and they're just really great to work with.
So this is an offer that definitely you want to put back in your repertoire if you're in the health & fitness niche.
And the reason for that is we got an AOV of $91 combined with the conversion rate of 3.77%, which is just great.
You also have an average payout value of about $26.
So that tells you, there is definitely a breadth of different payout options for you there.
How to Promote?
Well, if you've got any kind of health & fitness traffic, they've got an offer for you.
And again for these types of products, Facebook ads work really well.
I've also seen people doing affiliate marketing on TikTok and driving traffic this way.
Whether you're more fitness, male or female, or at gut health, whatever it might be, it's worth looking at their page and seeing what they've got going.
Affiliate Page: https://bioptimizers.com/affiliate-center/affiliate-
The next best Clickbank products are all in the spirituality niche. And they all help folks that are looking to manifest direction in life, wealth in life, happiness in life, a relationship in their life, all sorts of pains that people have, and mental anguish.
13. Biofit
Biofit is a weight loss offer that you can sell and earn over $180 from a single commission with.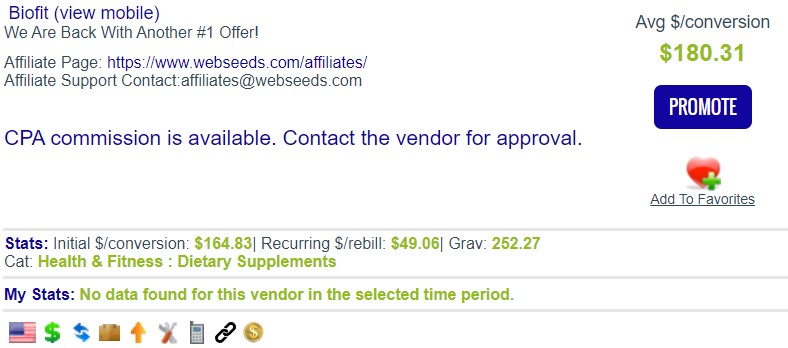 A fantastic offer to promote weight loss is something that has been selling for thousands of years and will continue to sell for thousands of years in the future.
How To Promote?
This product uses a VSL, which means a video sales letter in marketing speaks. And a great way to promote this would actually be through YouTube advertising or Facebook video advertising because it is a video-based funnel.
The easiest way to promote this, if you are a beginning affiliate marketer that doesn't know how to create a webpage or a landing page and doesn't want to buy a domain or any of that stuff would be through YouTube where you can post your ClickBank affiliate links and get away with it.
Now, we're coming up with the top three highest-paying products on Clickbank.
Affiliate Page: https://www.webseeds.com/affiliates/
14. Bioryhthm
Biorhythm is another spirituality offer that pays out $298 of commission. Imagine just getting one sale a day with this product, helping one person find love a day, and you will be able to earn $298 or $9,000 per month.
Certainly, there are a lot of folks out there that are looking for love and you who can help them out with this program.
How To Promote?
It has a great sales page, and you can test all these products against each other when you are advertising online, or when you are posting these links on your Instagram account, your Facebook account, your LinkedIn account, or group, other people's Facebook groups, however, you choose to promote.
Affiliate Page: https://thebiorhythm.com/jv
15. Mayan Code System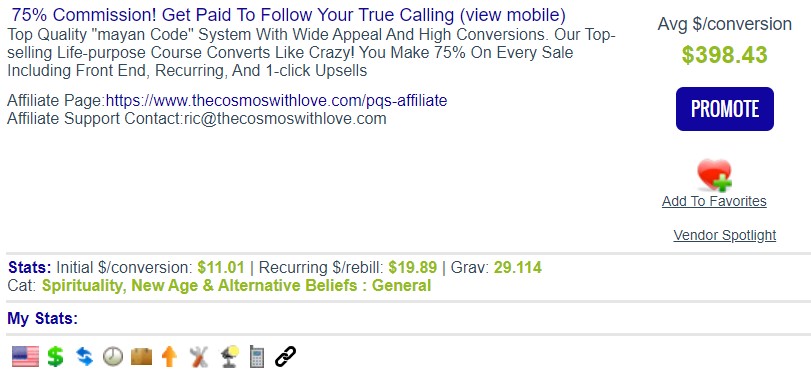 Mayan Code System will pay you $377 every time you get a sale of this spirituality or life purpose course.
Again, there's a lot of folks that are unsure of things, that are anxious about life or anxious about meeting people, or everything that's going on in the news right now.
And these courses help keep people on track and help give them purpose.
How To Promote?
You can try to promote this product on some of the spirituality Facebook groups or create an Instagram account in that niche.
Affiliate Page: https://www.thecosmoswithlove.com/pqs-affiliate
16. Super Affiliate System
But let's round up to the second top payout program, which takes a huge leap and will pay you $689 every time you get a new customer. And that is the training course called Super Affiliate System by John Crestani.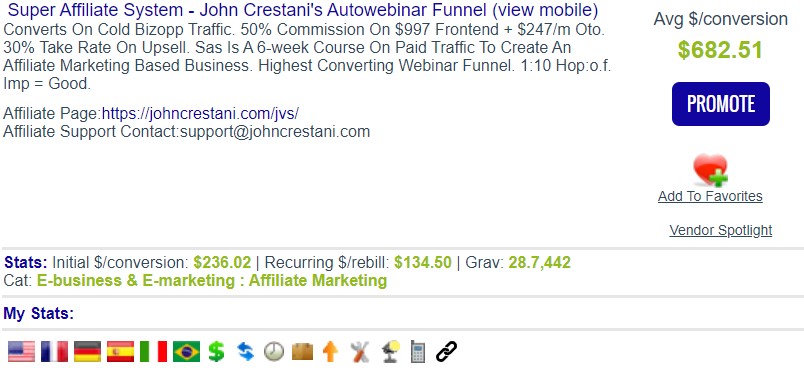 This product train person how to make money online through affiliate marketing by a very well know super affiliate.
They've paid out over $4.5 Million over the last few years to affiliates who have been recommending this training course to others.
And some affiliates have earned great sums of money doing so. They have a ton of videos that show you step by step by step, how to get your link for Super Affiliate System on Clickbank and how to promote your link using free and paid traffic methods.
How To Promote?
The major methods for the promotion of the Super Affiliate System are listed on the JV page as well. It's Johncrestani.com/jvs. And you can watch the video there and see all of the information exactly how to start earning money with this product.
Affiliate Page: https://johncrestani.com/jvs/
17. Zcode System
Now the number one payout product on ClickBank today is called "Zcode." And Zcode is sports betting training course.
It teaches folks how to earn money by betting on sports. And this product pays out over $757 commission.
Now, sports betting is only available in certain countries, unlike affiliate marketing, which can be done anywhere around the world.
And if you can target folks who are interested in learning how to make money through sports betting, it's really one of the best affiliate marketing opportunities in 2022 to make money on Clickbank.
How To Promote?
One of the best ways to promote this product would be sports betting forums like forum.punterslounge.com.
Affiliate Page: http://zcodesystem.com/affiliates.html
FAQ Page
What is the best way to promote ClickBank products?
The best way to promote Clickbank products is via free traffic like social media, forums, building an email list, YouTube channel, and blogging. You can also promote via paid advertising like Google ads, Facebook ads, or Solo ads.
Does ClickBank have good products?
Yes, Clickbank has good products that will suit your niche and audience. Clickbank has thousands of different products to promote including digital products and physical products. Also, Clickbank products are sold in different languages so there are some really good offers to promote.
What is better than ClickBank?
There are many alternatives to ClickBank like JVZoo, WarriorPlus, ShareASale, Rakuten Marketing, CJ Affiliate Network. Each has its own advantages and disadvantages. You can compare these affiliate networks to ClickBank before signing up with them.
Best Clickbank Products Conclusion
So those are the best ClickBank products that are working right now.
Clickbank is a great affiliate marketplace but if you're tired of promoting one-time payment products, make sure to check out this list of over 70+ best recurring affiliate programs.
Or take your affiliate business to a new level, then you'll love this list of best 2 tier affiliate programs.
And if you want to learn more about how you can make money with affiliate marketing and promote products that pay monthly recurring commissions, make sure to check out my Top Affiliate Training.
I take you step by step on how you can actually promote software with a high recurring commission.
I give you my campaigns, emails, funnels to get you started.
I'm actually closing this very soon and this is not a joke. I'm going to stop giving access to this training in the coming months but we will still be helping all our current students.
So, if you have been wanting to get into my training for some time now, click the button below.