When I came across BiQ SEO first time on AppSumo, I decided to give it a try and now I want to share with you what I like about this tool, what I don't like, and tell you how it compares to other AI SEO software that I've tested.
Let's get started.
What is BiQ SEO?
BiQ is an AI-powered SEO tool that comes with features like:
This is like an all-in-one SEO tool so if you're making use of separate tools like rank trackers, keyword research tools, BiQ SEO has got the potential to replace a lot of those platforms.
And before you get your hands on this tool, it's very essential to know whether this tool is really right for you or not.
So now I will be reviewing each and every feature that this tool has got to offer you and also hopefully giving you some pointers as to how this tool compares with other big players in the marketplace like SEMrush, Ahrefs, and even MarketMuse or Frase when it comes to content intelligence.
Keyword Intelligence
Let's start with keyword intelligence which is as easy as entering a keyword, language, and country.
BIQ's generated results include a keyword overview and even more details broken down in each of these 4 tabs.
And let's do for example a "paleo diet"
First, you've got your related keywords which are semantically related keywords and super helpful for including in your content to improve SEO.
And one really awesome feature that I like is it presents you the keyword data and as well as keyword intent.
You might know that there are broadly 3 keyword intents; transactional, navigational and informational.
So, you can see most of the keywords that are related to the paleo diet or navigational keywords. That means that people who are searching for this keyword are looking for probably how to get started.
You can also see:
And keep in mind, that competition is not organic competition.
Also, don't mistake this value score as keyword competition score. Value is something they define as a measurement of how valuable a keyword is. Higher valued keywords give you more traffic at a low competition.
But this metric is very unreliable.
For example, it's saying like the paleo diet, the stem is of 81 value.
By targeting this paleo diet keyword, you can get a lot of traffic at the really low competition which is simply not true.
So, this value score is really just an arbitrary number. At least as of now
And, it's taking a bit of time for it to load all the keywords. They need to obviously improve on the loading speed considering UX in mind.
So as you can see, there are only 1404 related keywords.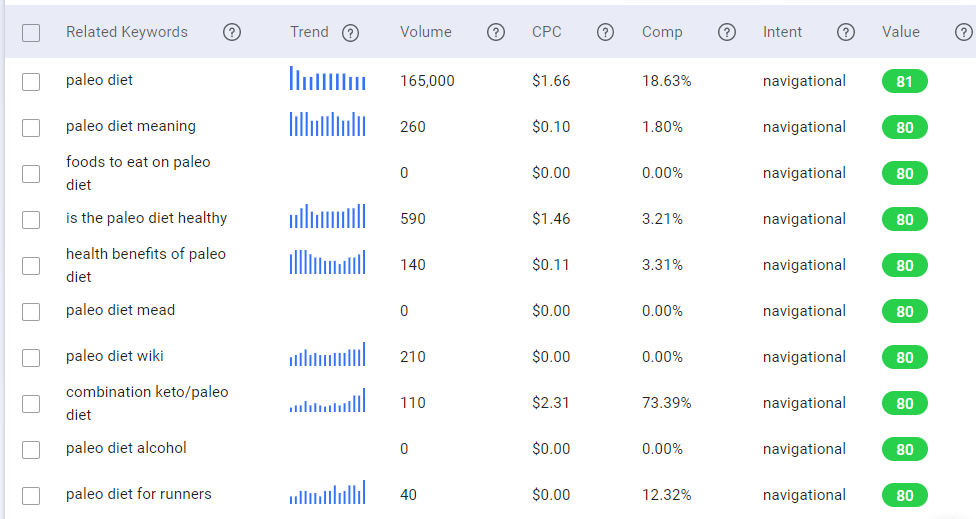 BIQ SEO allows you to search for specific words, add keywords to a collection and filter them based on a number of criteria.
Next, the content ideas tab generates keywords and phrases that are contextually related to your keywords for productive brainstorming.
The next cool Keyword Intelligence feature is a popular question. It's very similar to AnswerThePublic.
So, this is pretty good, I guess it is scraping the Google smart snippets and presenting you the questions and also the answers.
Trending searches let you know related searches that internet users are interested in when looking for this keyword.
And popular questions clue you in on the most asked questions related to your target keywords.
This is so helpful when it comes to writing your content.
Content Intelligence
Speaking up, the next major section of BIQ is the Content Intelligence feature which is the content optimization tool that helps you write the best content in the game.
So I have entered the "paleo diet" and I can start writing my article right here.
Also, you can import content from an existing URL and this tool will help you optimize your existing content for our page's SEO.
Then BIQ analyzes the content based on a number of criteria.
The first criteria is WordScope which matches your content up against the top 10 results based on the importance and relevance of words, heading, links, and word count in order to recommend keywords that can help you rank higher.
Then the analysis tab gives you access to tech built by Google that analyzes your content section by section to recommend specific keywords for each.
In WordScope it lets you use the right LSI keywords, related keywords so that it signals topical relevancy to Google.
So, here you can see related to the paleo diet terms that I need to use like:
There are a lot of LSI keywords that I can make use of that are related to the paleo diet that Google expects my content to have to signal topical relevancy.
So it's suggesting a lot of keywords based on the usage of the keywords in top ranking posts for this keyword, similar to other AI SEO tools like OutRanking.
Fundamental SEO is a list of criteria you should fulfill based on best practices.
Sentiment and readability tell you which sections can use a glow-up to be more entertaining for your audience.
What's awesome is that while you make edits based on all of these pro tips, BIQ will update the score in real-time.
Keep on tweaking your content until you've reached your desired score.
Once you're happy, add your content to a collection or export it.
Ranking Intelligence
Moving right along to ranking intelligence. Let's start creating a profile.
Heads up, you can do this for your own website or your competitor's!
So, once you create a profile by giving the domain name, it will automatically populate all the keywords that you're ranking for.
Here, there are 1,021 keywords that one of my site is ranking for in 1 to 10 positions.
In seconds all of the rankings associated with that website popup, and you can create multiple views to get a better understanding of these rankings.
For example, if I want to group all the keywords that this site is ranking for in the top 1 to 3 positions.
I can just enter in the search volume include or exclude the keywords and create a view.
At a glance, you can see how many rankings meet specific criteria and all of the pages and keywords that are ranking.
Plus, see which articles you can quickly optimize to boost traffic to that page in an instant.
Rank Tracking
Finally, the Rank Tracking Tool helps you track and monitor your website rankings in search results, get insights into the most important metrics broken down by desktop and mobile.
You can see all of the keywords that BIQ is currently tracking.
So, I can just head over to that keyword and I can add more and more keywords to track.
You can also get a better look into your metrics including a ranking of feature snippets and your average position in the ranks.
I can add a tag, I can get a SERP snapshot so that I would be able to visually see where I'm ranking.
You have all these essential metrics like rank movement, average position and all these things.
There are a couple of ways to group data together.
First, there are tags that allow you to group keywords into different categories and view the aggregated data for just that group.
For instance, I've separated out the articles that I'm currently optimizing to make sure I'm doing a good job.
There's also the collection function which lets you group together different items in a single view.
And you can export this as CSV for Excel formula purposes.
Compared to that of any SEO monitoring tool like Screpy, the features are not really so impressive. You have got a really essential feature when it comes to rank tracking and there's nothing much to this.
BiQ SEO AppSumo Lifetime Deal
So as of now, this tool is on an AppSumo and you grab lifetime access for a $49 one-time purchase. So, if you purchase one single code for $49, you'll get access to all of these features:
So again, depending upon how often you use this tool and how many keywords that you need for rank tracking, you may need to go with double or multiple codes.
BiQ SEO Pricing

When it comes to pricing, the monthly plan starts from $55 per month up to $115 per month.
In the annual plan, you can save 25% every month and it comes down to around $550 per year which is a pretty good deal.
And if you head over to your account, you have account settings, you can monitor your app usage here as per your limits set by the deal that you have bought.
So, in case if you are exceeding these limits, you will be charged on the overage system.
So, for extra research, keyword research you will be charged $0.025 if you exceed this limit.
Even if you compare the pricing to that of more established tools like SERPtrack the pricing is really high. At this price, you'd be better off with a SEMrush or even SE Ranking because those two tools have got a lot of data no matter what other marketers tell.
BiQ SEO Review Final Words
So, this is my honest BiQ SEO review and if you ask me BiQ is a nice software to have, it has got a lot of features across various SEO verticals.
It has got a lot of features but there's really a lack of depth to those features. And, it has a long way to go for it to be considered as a true alternative to some of the best SEO tools like SemRush, or SE Ranking.
BiQ SEO tool can't simply replace these tools. You can try out the tool and maybe some features may be helpful for you at this point in time.
Right now the biggest value I see is content intelligence and the intent of the keyword is really great feature.
I guess BiQ needs to focus on the depth of the features and also work on expanding its database.
For some people, if you want a really good rank tracker where you can track 100 or 200 keywords, you can consider getting your hands on this tool, but again, this is not a dedicated rank tracker.
BiQ offers a completely free trial so you can test this tool out and maybe some features will be helpful for you.