Although Builderall is a very solid all-in-one digital marketing platform out there, it can be too overwhelming or too expensive, especially when you're just starting.
Finding the right Builderall alternative means searching the software that allows you to build pages, create email marketing campaigns, and automate your business.
Trying to compare the features and prices of these different platforms will help determine which solution is right for you.
After testing most of these platforms over the years, I want to share with you my thoughts on each of these platforms that I used and answer the question of what is the best Builderall alternative.
Best Builderall Alternatives in 2023:
1. Kartra – Best Builderall alternative overall
2. ClickFunnels 2.0 – Best for building sales funnels
3. GetResponse– Best for email marketing automation
4. GoHighLevel – Best for marketing agencies
5. Systeme.io – Best free Builderall alternative
6. LeadPages – Best landing page builder
7. Shopify– Best eCommerce platform
Kartra is an all-in-one digital marketing platform that allows you to create sales funnels, set up email automation, and even run an e-commerce or service-based business with its advanced CRM system.
And where Kartra stands apart from the other Builderall alternatives is Kartra done for you campaigns where you get all your pages, upsells & down sells, countdown timers, as well as ready-made email sequences.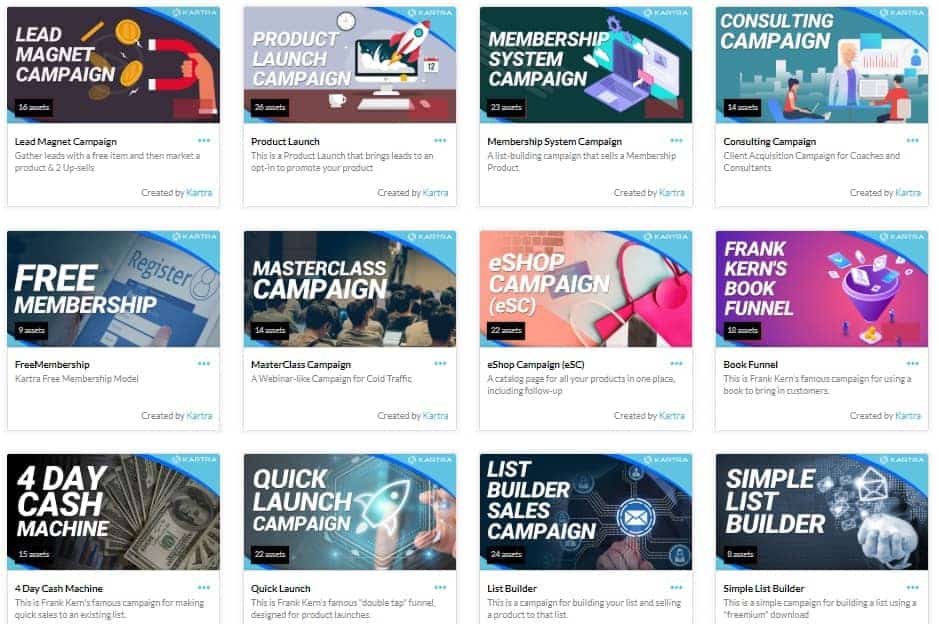 So whether you want to launch a product, membership site, or sell your service online, with Kartra Campaigns you can do that with just a few clicks of a button.
Kartra email marketing platform allows you to:
Send automatic emails
Set up email automation
Send out sequences
Tag people
Kartra email marketing tool has very advanced features comparable with dedicated email marketing tools. For instance, you can tag someone after they're already in your database simply for landing on a page or you can tag them for watching a certain percentage of your video.
So for example, if you put together a limited-time offer or a webinar funnel, Kartra email marketing software will automatically create sequences based upon whether or not someone watched a webinar or saw a particular part of your webinar.
So that part is really great because it gives you a lot of advanced features and the ability to do segmentation without having to go manually set it up.
Yes, you can also do that with the other platforms, and you can do that with most email marketing software but the difference is, with Kartra you're able to do it with just one click of a button.
It is also super easy to use for most of its features, including the sales funnel and tons of free templates which are compared to these inside Builderall Funnel Club.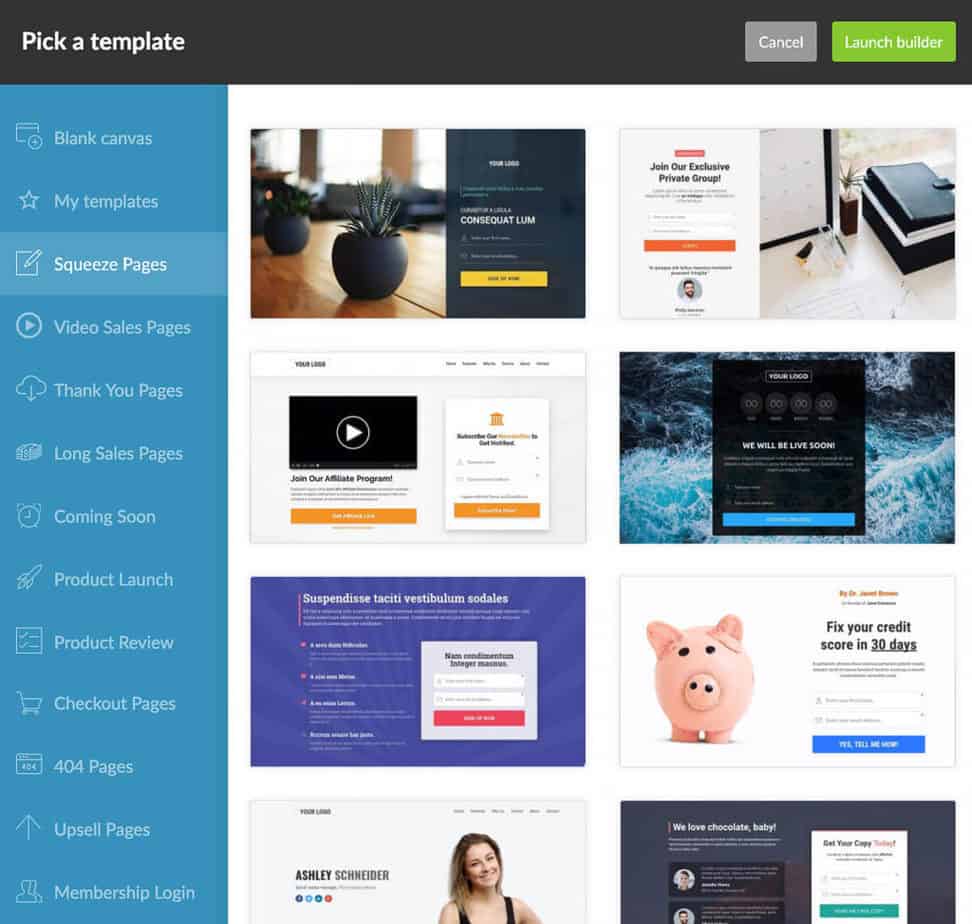 And when it comes to the membership area, Kartra goes head to head with some of the best course-building platforms like Teachable or Thinkific. It may not be the simplest or quickest to set up, but it is the most customizable.
Kartra also offers an analytic tool that enables you to track your customer's journey from the start to the end.
So you can see key metrics such as:
Subscriptions
Website Traffic
Conversion Rate
Sales
With Kartra video hosting, not only can you upload your videos but you're going to have unlimited bandwidth.
And once you upload your videos, not only can you add video overlays and calls to action, you can add tagging as people watch the videos.
You can also go back and look at statistics of how many people actually see your videos and what's working and what isn't.
So if you're really the video savvy entrepreneur and you want to see your statistics per video and just do some really cool advanced stuff, Kartra is the best option for you.
Builderall and Kartra go head-to-head in terms of digital marketing tools and automation functionalities as you can read more about in this Builderall vs Kartra comparison.
Kartra Cons
Unfortunately, with Kartra you're not able to create a blog. This is the thing that many entrepreneurs are hoping for the most improvement from them.
And when it comes to having your blog role or your feed appear on different pages, you basically have to design that manually and so as of now it's something that they're working on but they're just not cutting it in the blogging department.
💡 Note
Kartra offers our readers a 30-day extended trial which is super beneficial when you're trying a product like Kartra that does have a lot of stuff in it to test out.
Kartra Pricing
Starter plan – $99/month
Silver plan – $199/month
Gold plan – $299/month
Platinum plan – $499/month
▶ Start Kartra 30-day extended trial
Created in 2014, Clickfunnels is the most popular sales funnel builder in the market.
They've done one of the best jobs in terms of marketing themselves, thanks to Russel Brunson, one of the founders of ClickFunnels.
It's an intuitive funnel builder platform mainly focused on creating high-converting sales funnels.
ClickFunnels 2.0 is the latest version of this popular sales funnel software that has revolutionized the way businesses market, sell, and deliver products to their customers.
This comprehensive platform provides you with an easy-to-use drag-and-drop builder, allowing you to create high-converting funnels in a matter of minutes.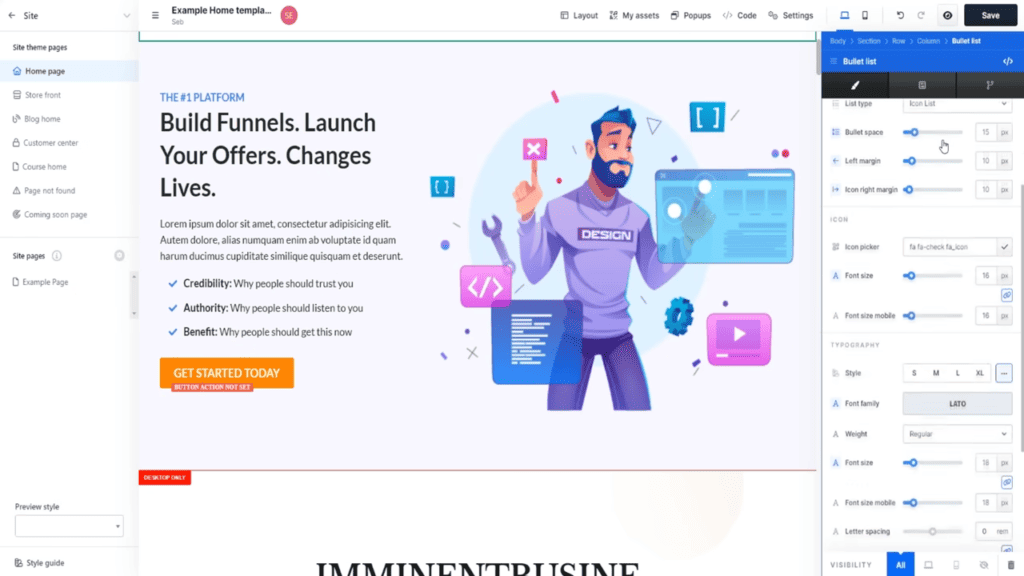 In fact, the new ClickFunnels page builder is much more intuitive compared to Builderall.
They also have a large library of ready-made funnel templates that users can use and edit.
As I explained in this Builderall vs ClickFunnels comparison, in the past, the biggest downside of ClickFunnels is that you still needed other software to build and run a successful online business.
We're talking about tools like WebinarJam, Funnelytics, MiniChat, some type of email marketing platforms, and other different tools depending on how advanced the marketing funnel you want to create.
But now, the new ClickFunnels 2.0 version is a true all-in-one digital marketing platform with all the tools, you need in one place.
Some of the new ClickFunnels features include smart funnel builder,
The other advantages of ClickFunnels are upselling and split testing.
It's very easy to run split tests and see which one works better and that is pretty much essential to optimizing your sales funnel.
ClickFunnels Cons
The main disadvantage of Click Funnels is the page speed. There are some things you can do to optimize this aspect.
ClickFunnels Pricing
Standard – $97/month
Premium – $297/month
TwoCommaClub – $2,497/month
▶ Try ClickFunnels ( 30 Day Free Trial)
GetResponse has over 350,000 users around the world and is one of the best email marketing platforms for small and medium businesses in the market.
Email automation is the best among other Builderall alternatives because GetResponse actually started as an email marketing software and then they moved into page building and creating funnels.
One of the most impressive features of this platform is an automated sales funnel creator called GetResponse Conversion Funnel.
With this tool you can:
Build sales funnels
Set up email marketing campaigns
Design landing pages
Convert your leads
And even it le's you run Facebook and Instagram ads inside their platform.
The last release of this platform is the GetResponse AI website builder which allows you to build an entire website within a few seconds.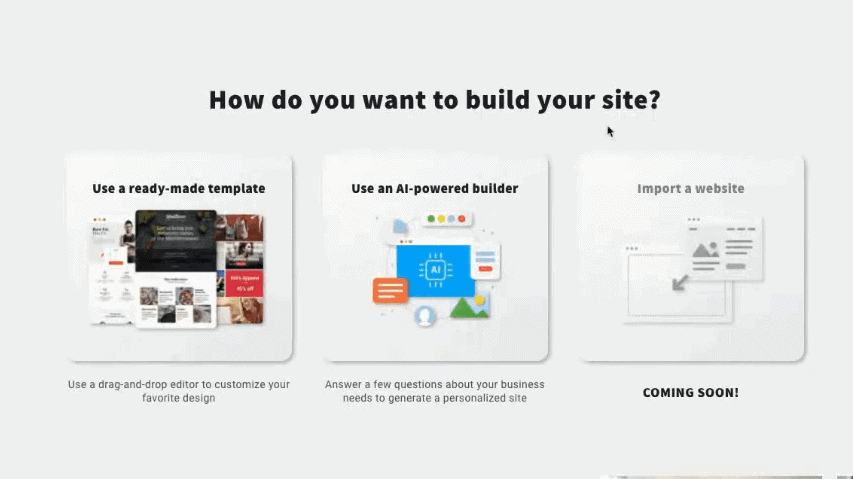 And when you look at the pricing, it's really hard to beat, given everything that you get.
Keep in mind that GetResponse released a new free plan where you'll get access to its sales funnels builder and email marketing fully-fledged automation.
GetResponse Cons
The only downside of GetResponse is the lack of ability to build membership sites and host videos.
So, if it's something important for you, then I would rather suggest Builderall.
They are both great solutions for small businesses offering plenty of features and tools for entrepreneurs.
These platforms go head to head when it comes to innovation, ease of use, and pricing.
GetResponse Pricing
Free – $0/month
Basic – $15/month
Plus – $49/month
Professional – $99/month
GoHighLevel is a business management platform geared toward digital marketers and marketing agencies.
Similar to Builderall, GoHighLevel provides multiple digital marketing tools such as marketing automation, customer relationship management (CRM), project management, membership site, and more.
The platform lets you capture leads, process payments, create landing pages, book appointments, and set up email marketing automation, manage your clients.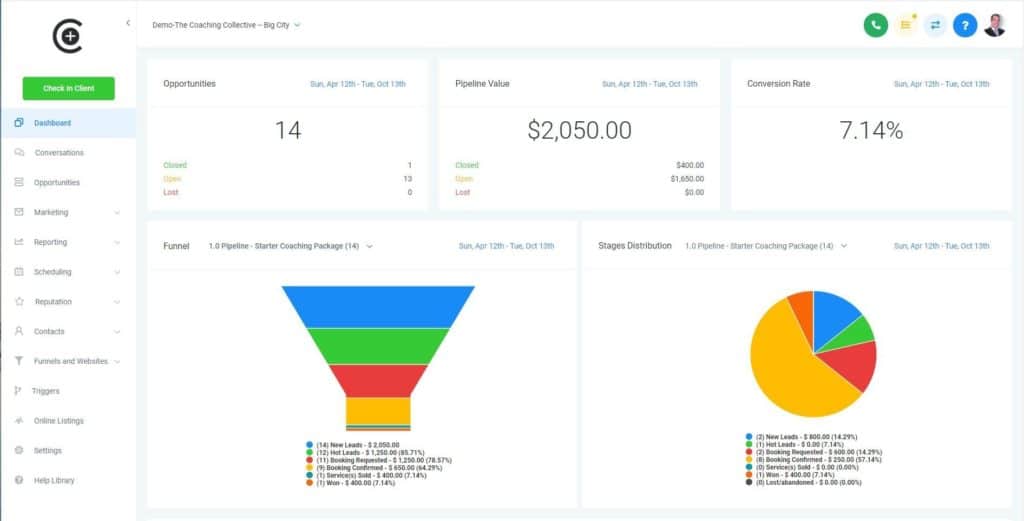 Other GoHighLevel features include reputation management, custom forms, pre-made templates (snapshots), GDPR compliance, reporting, and webhooks.
GoHighLevel also offers mobile applications for Android and iOS devices that streamline customer communication via voicemails, text messages, emails, and forced phone calls.
And the best part is that GoHighLevel is fully white labeled, so you can brand the platform and mobile app with your custom domain, logo, and company colours, and then resell it to your clients for a monthly subscription that goes directly into your agency's bank account.
In short, if you are a marketing consultant or agency owner looking for a marketing platform to automate your agency, GoHighlevel is the best Builderall alternative for you.
GoHighLevel Cons
GoHighLevel does have a few cons. The biggest con is that it can be expensive, especially for smaller businesses. Additionally, the platform has limited integrations with other software and services, so if you need to integrate with something outside of GoHighLevel's ecosystem, it may not be possible.
GoHighLevel Pricing
Starter plan – $97 per month
Unlimited plan- $297 per month
White Label – $497 per month
▶ Start GoHighLevel 14 Day Free Trial
Systeme.io is the best free Builderall alternative. It's an all-in-one digital marketing platform that has many similar features to Builderall including drag and drop sales funnel builder, email marketing platform, webinar tool, and a few other tools.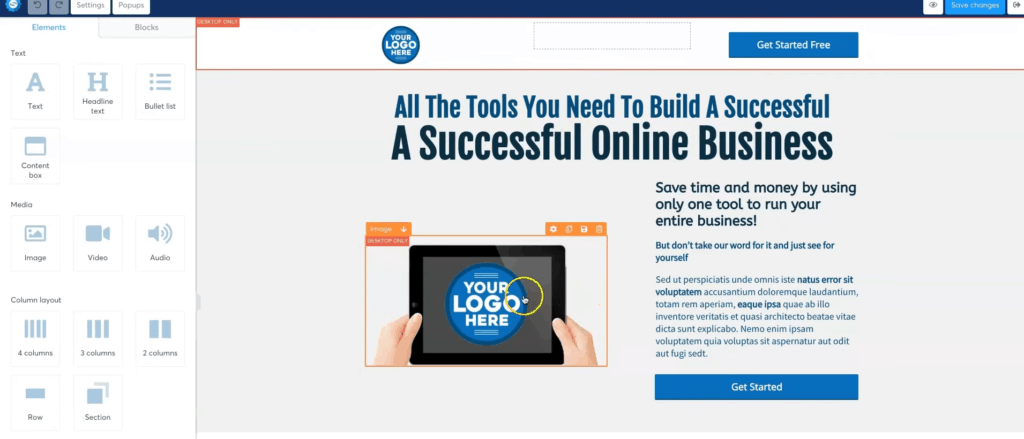 With this platform, you can also create online courses and sell your products online with upsells, downsells, and order bumps.
Systeme.io is a great solution for beginning online entrepreneurs who are technologically challenged or just want to get an all-in-one solution and have all the tools for an affordable price.
The main advantage of this software is the simplicity and ease of use, especially if you're just starting your online business journey or building your first online product.
In this Builderall vs Systeme.io comparison, you can see how these platforms stack up against each other.
Systeme.io Cons
With Systeme.io you have limited design freedom. There's some customization that you could do but you're a little bit limited in your design and the things that you can do with this platform. They have some templates but they are not as good compared to other software.
When it comes to pricing, Systeme io is relatively cheap compared to other Builedrall alternatives like Kartra or ClickFunnels.
Systeme.io Pricing
Free plan – $0/month
Startup plan – $27/month
Webinar plan – $47/month
Enterprise plan – $97/month
LeadPages do a really good job of having a bunch of different features, allowing you to split test your landing pages and grow your email list.
LeadPages integrate with lots of other tools that you might already use like MailChimp, Google Analytics, Infusionsoft, WordPress, and many more.
But to be able to integrate LeadPages with other platforms, you will have to use tools like Zapier, which is pretty complicated.
LeadPages has a very extensive library of professional landing page templates.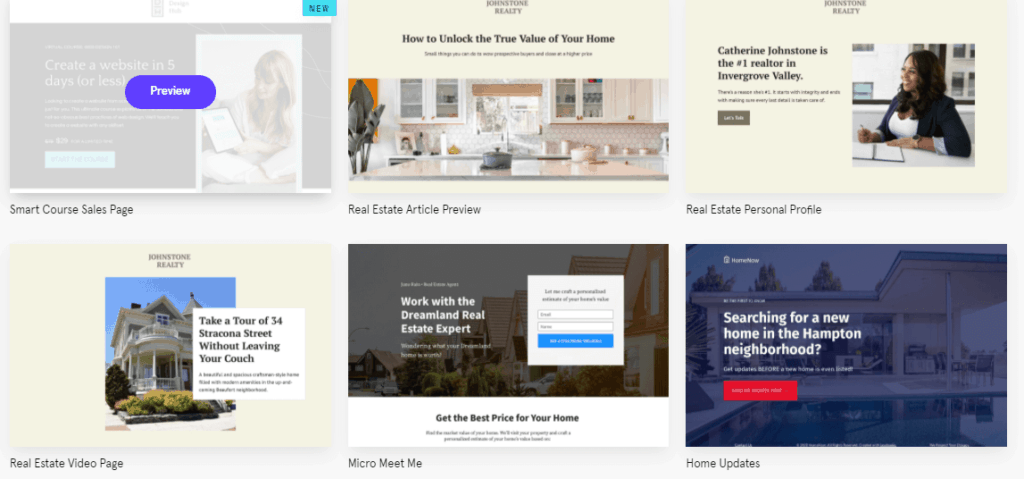 Leadpages is a great option if you have a WordPress website already or you're doing blogging and you need an easy-to-use landing page builder.
If you consider LeadPages as a Builderall alternative for your online business, make sure to check out this Builderall vs LeadPages comparison.
LeadPages Cons
With LeadPages, you need to pay $79/month just to have the split testing feature, which is very important in order to improve your landing pages.
And they also don't have an autoresponder built in so you need to integrate any third-party email provider.
LeadPages Pricing
Standard – $37/Month
Pro – $79/Month
Advanced – $321/Month
Shopify is a platform that allows entrepreneurs to create an online store for their products or services. It has many features, such as a customizable storefront, a drag-and-drop editor for merchandise, and in-depth reporting.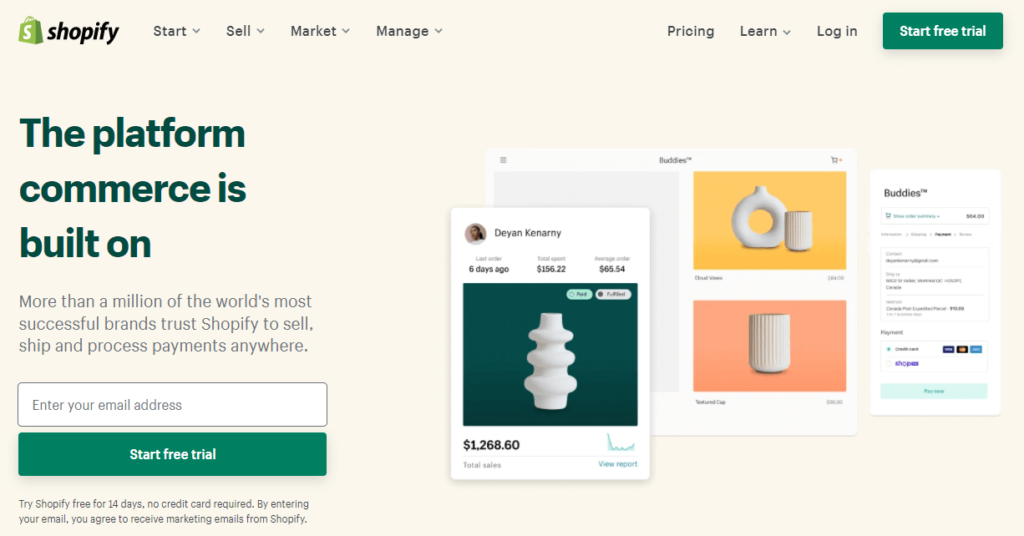 Besides that, it has all the features you would expect from an e-commerce platform including hosting, payments, inventory management, and more.
Shopify is no doubt one of the best Builderall alternatives to run an e-commerce store as I explain in-depth in this Builderall vs Shopify side-by-side comparison.
Shopify Cons
Shopify is a great platform for newbies to get started with their e-commerce store. However, it does have limitations that may not be suitable for more advanced users. For example, Shopify does not allow you to customize your own templates and you would also need to purchase additional third-party tools for your online store.
Shopify Pricing
Basic Shopify – $29/month
Shopify – $79/month
Advanced Shopify – $299/month
8. QuickPages
Now moving on to the next alternative to Builderall, which is QuickPages.
QuickPages is a free landing page builder,and because of that, it is very limited.
However, the templates are all right and they can do the job.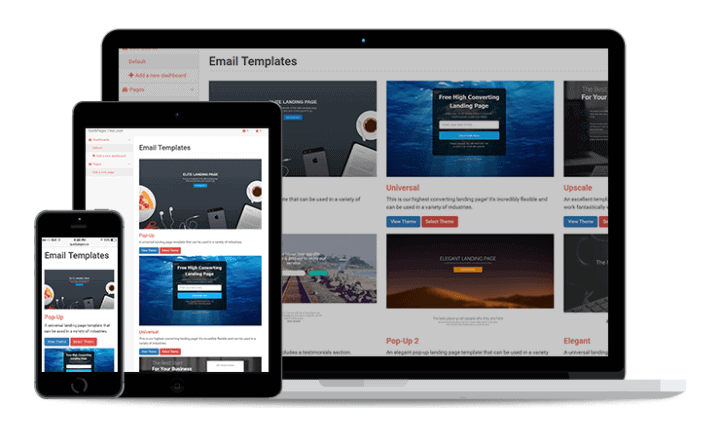 If you can't afford any other sales funnel builder, then you can give QuickPages a try.
QuickPages Pricing
QuickPages as of now is free.
QuickPages Cons
The downside of this tool is that before you can integrate it with a piece of email marketing software, you will have to use tools like Zapier and Zapier is a tool that you can use to integrate applications with other applications that normally can't be integrated.
9. MailerLite
You probably have heard of MailerLite before and you might be thinking that isn't this just an email responder?
Well, yes, MailerLite is an email responder service but it also has a landing page builder.
MailerLite is a great alternative for people who don't require other digital marketing tools.
Just like on any other page builder, you just have to select any of the templates and edit it a little to your fitting.
What's great about this software is that MailerLite is completely free until you have 1,000 subscribers
The next advantage of using MailerLite is that MailerLite actually has an advanced email marketing tool because MailerLite is mainly an email autoresponder.
MailerLite Cons
However, as you'd expect, there are some downsides to this software.
There are some disadvantages of using MailerLite as a landing page builder and the first is that there are no sales funnels.
Now you should take note that if your online marketing business evolves around helping people in your niche with free content and you are building relationships with your email list, then you are not allowed to use the MailerLite service.
If you want to promote affiliate products in your email then you can't use the MailerLite service because it's against their privacy policy.
MailerLite Pricing
MailerLite is completely free to build a subscriber base of up to 1000 subscribers. That means with the MailerLite service, you can create a landing page and you can use it to collect up to 1000 subscribers for free which is great.
And MailerLite is only free until you have a thousand subscribers after which you have to start paying a $15 monthly fee.
Again, this is not bad really because, at 1000 subscribers, you should be making money to pay for the service.
10. Wix
Wix is one of the best website builders available on the market.
Although many marketers are using Wix to host their blogs, you can also use it to create landing pages.
Wix platform makes it really easy to create a landing page that gets pretty good results.
Wix also offers you numerous templates that you can use to get started with your website and landing page building.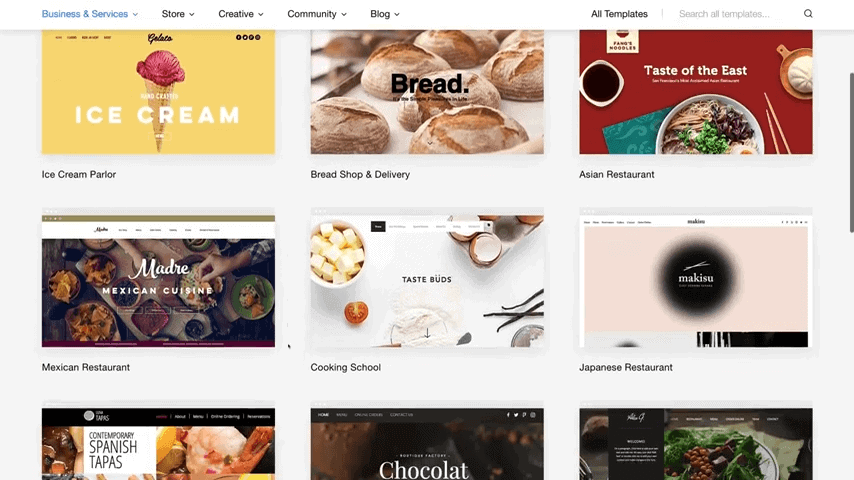 These landing page templates are fully customizable so you don't have to stick to an original design.
You can also integrate any email service with Wix to start collecting the email addresses of your targeted audience.
If you want to find out if Wix is a good Builderall alternative, make sure to check out this Builderall vs Wix comparison.
Wix Cons
Wix is a great website builder, but if you need all the marketing tools that seamlessly work together to build your sales funnels or email marketing campaigns then you'll not be able to do that using this platform since Wix does not include these options.
With Wix, you can get started for free. However, if you want to be able to create landing pages you would have to upgrade to the paid plan.
Wix Pricing
Connect Domain – $4.50 / month
Combo – $8.50 / month
Unlimited – $12.5/ month
VIP- $24.50/ month
▶ Try Wix
11. DropFunnels
This WordPress page builder has only been around for a few months now. It was launched by a guy named Jordan Mederich.
DropFunnels is built on the WordPress sales funnel builder and they've basically customized it and made it themself so you don't have to deal with plugins.
So, if you're a blogger, but you also want to do sales funnels and integrate with email autoresponders DropFunnels allows you to do that.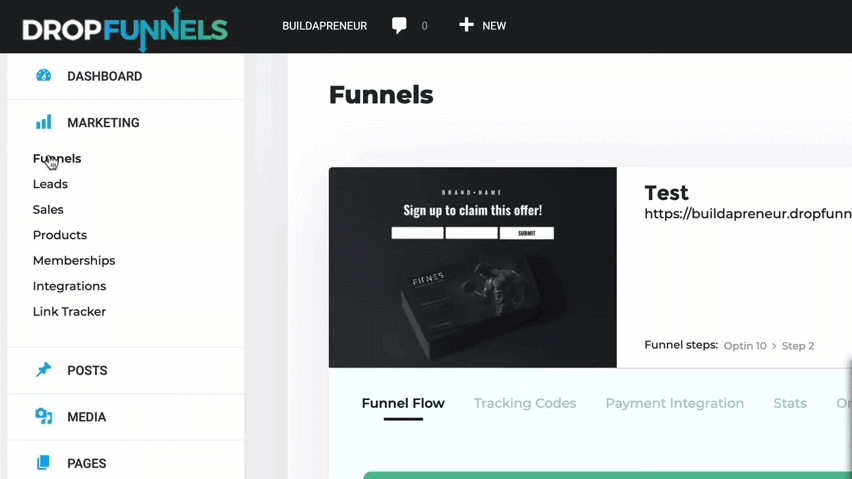 But then it still has all the things that you might be familiar with if you created pages in WordPress before.
So, if you're familiar with WordPress, it's got all these options that WordPress has in terms of tools and basically everything except for plugins.
Their goal is to eliminate that and give you the experience of having a WordPress site with sales funnels without actually having to deal with some of the problems that come with third-party plugins.
DropFunnels Cons
Since the DropFunnels editor is built in WordPress it's a little bit harder for beginners to use it and create sales funnels or landing pages.
DropFunnels pricing is honestly one of the biggest advantages over other platforms, maybe except GrooveFunnels but more about in a moment.
DropFunnels Pricing
Starter plan – $49/month
Pro plan – $149/month
Agency plan – $297/month
12. Thrivecart
The next Builderall alternative is Thrivecart which allows you to build checkout pages, upsells, and sales funnels.
The biggest benefit of Thrivecart is that there's no monthly fee that is pretty rare in the shopping cart space.
It's $495 as a one-time fee for a single brand. You can add some additional charges to get a few more users into it or a few clients.
It also allows a series of upsells and down sales.
You don't have the best customization for it but it's a pretty good shopping cart system especially for being no monthly fees.
And it does have good integrations with other services including HubSpot, MailChimp, Kajabi, and Teachable.
Thrivecart is a WordPress plugin so if you consider choosing WordPress as a Builderall alternative, make sure to check out this Builderall vs WordPress comparison.
Thrivecart Cons
The disadvantage of Thrivecart is it's extremely limited. What you can do with your upsell and down sales pages.
You pretty much have four templates to choose from, and that is it.
Thrivecart Pricing
Thrivecart costs $499 a one-time payment.
13. GrooveFunnels
The next free Builderall alternative is GrooveFunnels. And this is the part where I'm getting really jazzed about this software. GrooveFunnels is a brand-new digital marketing platform that has almost all of the features that Builderall has but this platform is still in beta right now.
It's created by the same creators of Kartra so they are building out a company called Groove Digital.
GrooveFunnels have a lot of tools including:
Website builder
Sales funnel builder
Email marketing tool
Membership area
Checkout system
Booking app
Besides that, they're planning to launch a blogging platform, surveys, affiliate program, webinar, so they try doing basically every single thing that you can imagine.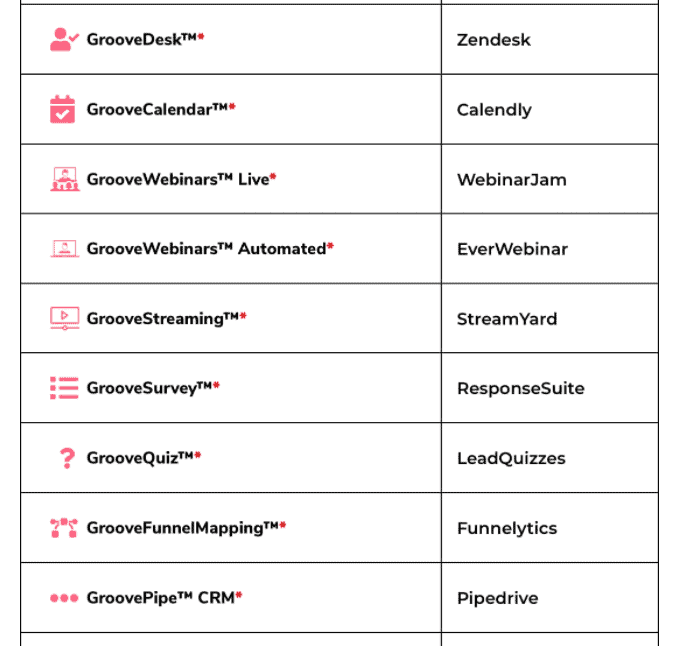 However, keep in mind that this platform is still in the beta stage and most of the features that this platform has to offer don't work properly.
I've also put together an in-depth Builderall vs GrooveFunnels comparison.
GrooveFunnels Cons
In terms of features right now there have still some bugs and things that they're working through.
Also, With GrooveFunnels it is quite difficult to integrate all the tools together into one complete sales funnel.
GrooveFunnels Pricing
GrooveFunnels Free Plan – $0
GrooveFunnels Lifetime Platinum Plan – $1,397 one-time payment
There's still an opportunity to get lifetime access to this software.
This is probably one of those times where you can get in at the ground level of software that's going to explode and get lifetime access so that you're not paying $100 to $300 and up every single month.
Choosing The Best Builderall Alternative
So in summation, the are many Builderall alternatives, and choosing the right one all depends on where you're at in your online business.
Are you wanting an all-in-one platform? Are you just want some of the particular features?
That would depend on what kind of software will be best for you.
The best most comprehensive all-in-one platform right now and the best Builderall alternative is Kartra for many reasons. Kartra offers a 30-day trial so that's enough time to test it out.
GetResponse is for you if you want the most advanced email marketing platform with an AI-powered website builder for a very affordable price.
If you're just getting started and want a free Builderall alternative, then I highly recommend Systeme.io.
I hope this review was really useful and I'm cheering you on in your business no matter what software you use; remember that it's all about taking your skills your gifts, and your talent and serving the world.