I've tested both of these platforms extensively, not just for my own business, but also for clients.
So today you'll find out what Builderall does better, what Kartra does better, which platform is easier to use, the best value for money, and how Builderall compares with other Kartra alternatives in 2023
So, if you're thinking of moving your business over to any of these platforms, or you're just starting out, then this Kartra vs Builderall review is for you.
Builderall vs Kartra TL;DR
The main difference between Builderall and Kartra is that Builderall is better for building sales funnels, websites, and running a blog since its offers a more intuitive page builder. Where Kartra has an edge is the CRM, checkout system, email marketing automation, and video hosting.
Both platforms have pros and cons so it's not clear and cut. No matter what software you choose, with bot platforms, you can start a successful online business.
As it is decision time and the answer to which is a better tool ultimately depends on you.
Builderall and Karta offer extended trials for our readers which will be super helpful since both platforms provide a lot of tools and features. You'll have more time to explore both of these platforms and decide for yourself.
👉 Start Builderall 14-day free trial
What is Builderall?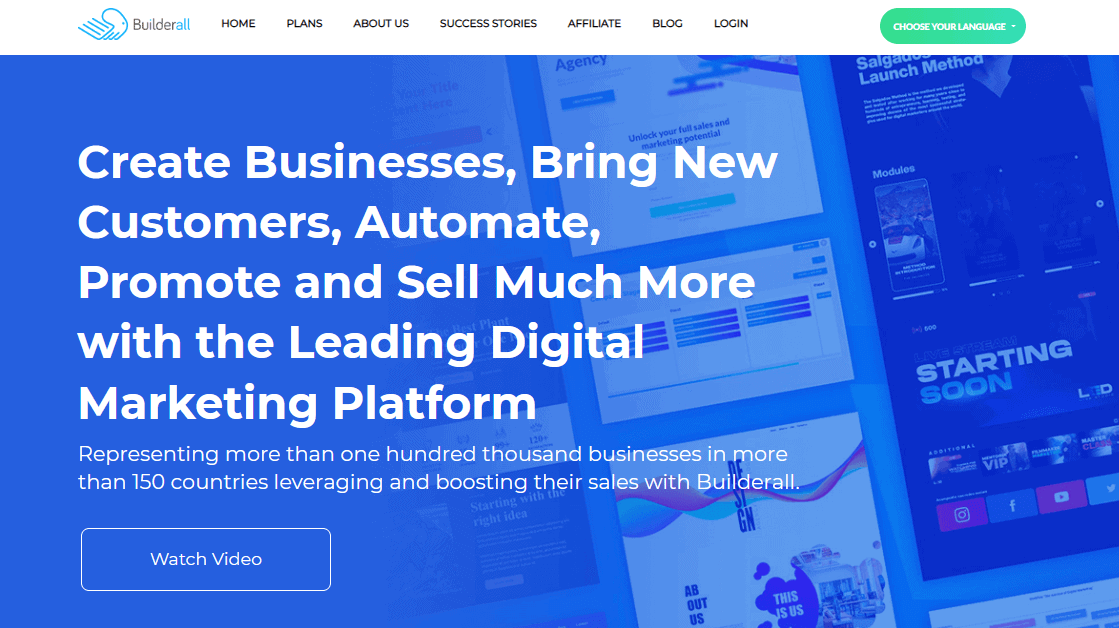 Builderall is an all-in-one digital marketing platform launched by Erick Salgado in 2011.
This platform offers over 50 digital marketing tools and assists you with building websites, sales funnels, email marketing automation, selling digital and physical products online, and so much more.
The platform is growing very rapidly since the launch of the Builderall 5.0 version in 2021.
What is Kartra?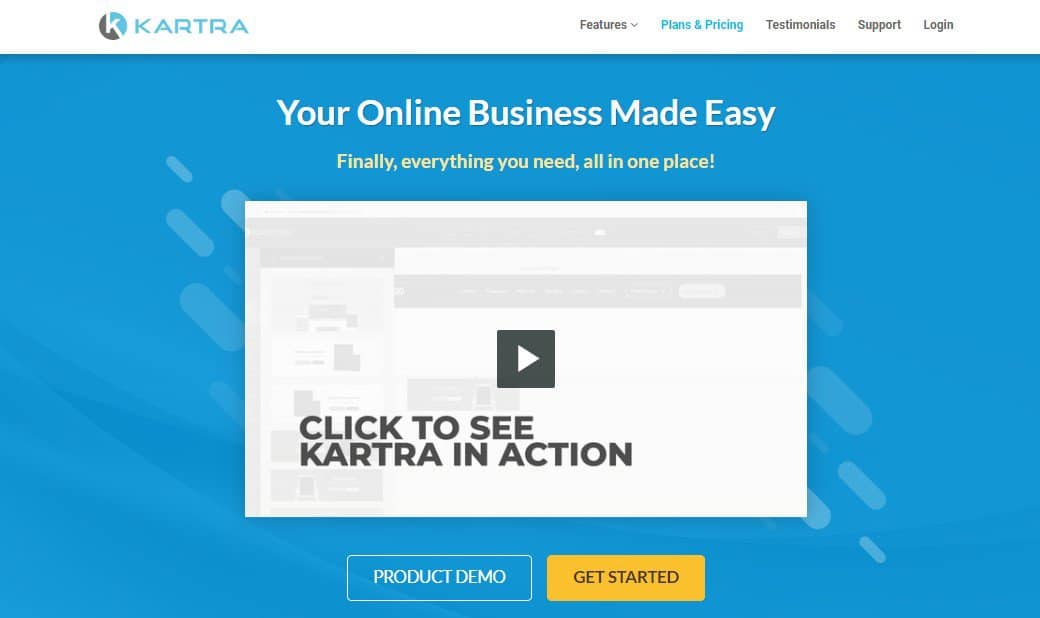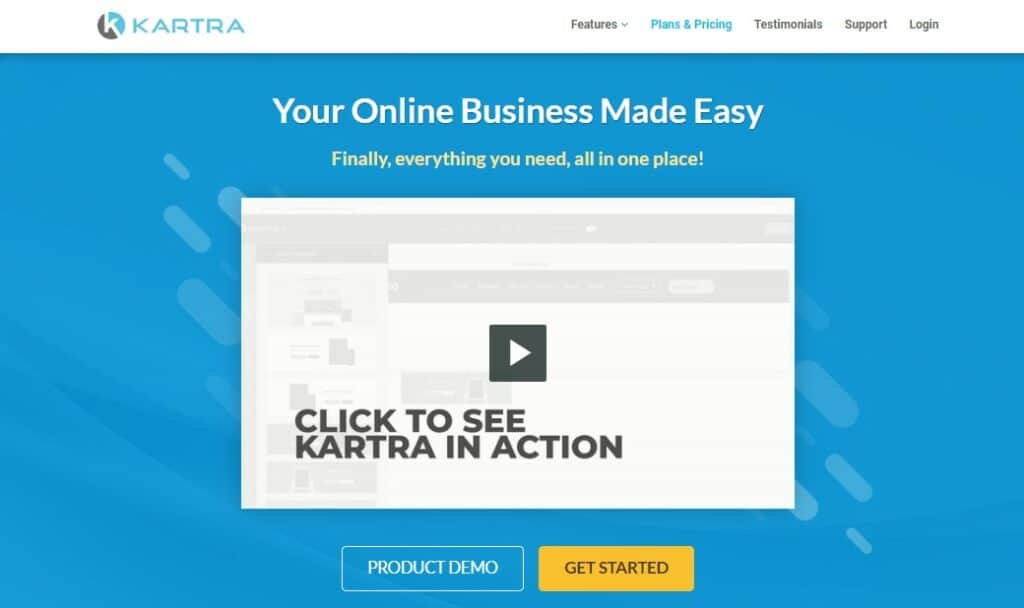 Kartra is an all-in-one digital marketing platform and with this, you can create, launch, and market your products easily.
This platform is for users who want to spend less time with various software and give more time to the sales of their products since it offers multiple digital marketing tools that we'll cover in a minute.
So now you know what Builderall and Kartra are used for, now let's talk about the first category in which we'll compare these platforms.
Sales Funnel
The first category we are talking about is building sales funnels and specifically what they look like, how they feel, and my experience with working with them.
Builderall Page Builder
And coming in at number one, I have to say is Builderall and let me explain why. Maybe a year ago I would probably choose Kartra as a better funnel builder.
But now after Builderall 5.0 launch in 2021, Builderall has developed one of the best sales funnel builders out there.
With Builderall you have the ability to create custom sales funnels that you can see and you can map out before you actually start creating them.
This is one of the best things I like about Builderall
And this is where the magic really happens. once you get inside the funnel you can choose ready-made layouts like:
Squeeze pages
Reverse squeeze pages
Lead magnet pages
Bridge pages
Webinar pages
Sales letter pages
Video sales letter pages
As well as all of these other pages.
So you have sales funnel pages for every case scenario.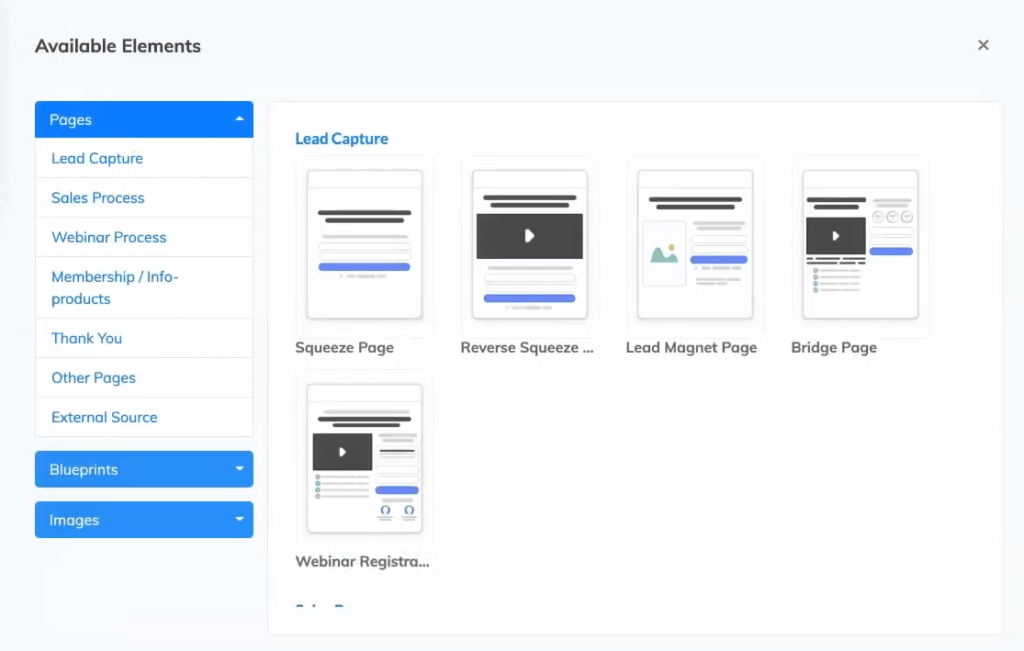 Basically what you can do is you can either drop them manually or you can come to what's called a blueprint which is actually got pre-created funnels.
You can choose a funnel that has been already created.
So it is going to create all of the parts of your funnel.
And this is a game-changer if you are brand new because it makes building sales funnels so much easier.
Kartra Funnel Builder
Where Kartra has an edge when it comes to building a marketing funnel is that the platform offers so-called Done For You Campaigns that we'll cover later in this Kartra vs Builderall comparison.
Kartra has a ton of options when you go to the page builder and they have many templates that are very professional that we'll go over in a moment.
They're modern, they're fresh so that gives it a huge advantage to your brand.
And also with Kartra, it is the number one way to control the value ladder of the services that you offer.
So everything from your tripwire, your lead magnet, your first product that you sell all the way up to maybe your highest product, which is your high-level coaching.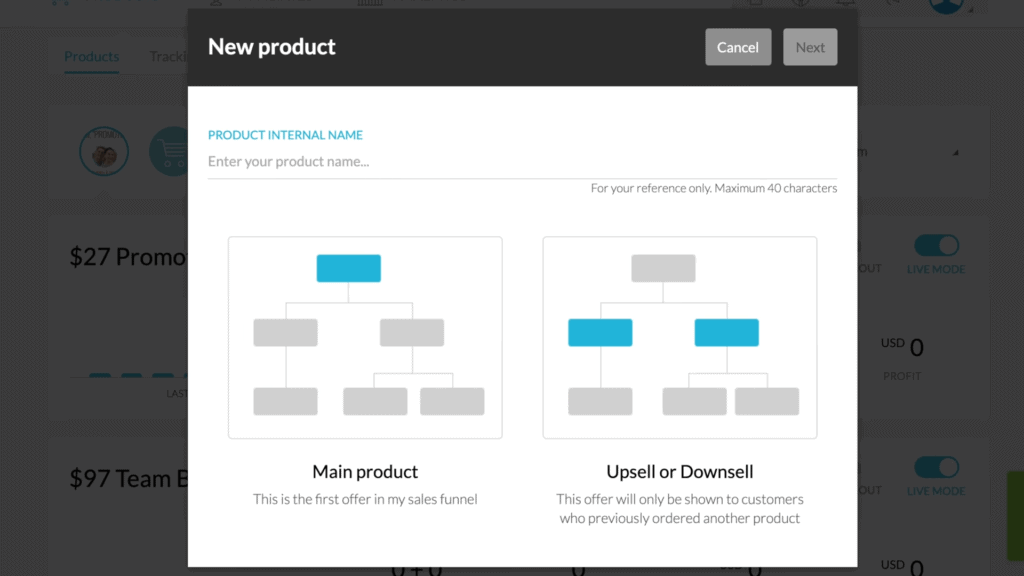 They integrate beautifully with webinars, with the product creation option in Kartra, the upsells, and the down sells.
These pages really do give you the control to figure out and see where each one of your customers is in each product of your funnel.
However, when it comes to creating and designing a funnel, Kartra is not as flexible as Builderall or other sales funnel builders like ClickFunnels as I explain in this Kartra vs ClickFunnels comparison.
You can't drag and drop stuff anywhere that you like.
There are some set outlines you have to follow and so you are kind of restricted in the things that you can build.
Another thing that is quite confusing inside Kartra that I believe not a lot of other software use is the form builder.
So have a form and to actually edit it you've actually got to go and create a form.
if it's your first time creating a form in Kartra you're going to have to go through all of the processes first.
So for example, if you didn't have a form, you've got to create a form first.
Next, you have to fill out all the form details and make sure the form is integrated before you can actually place it onto a landing page which is a bit of a pain.
However, if you've been using Kartra for a while you'll understand the flow of it a lot easier so it's not necessarily a bad thing in the long run.
Now, let's talk about building websites using these platforms.
Website Builders
Builderall and Kartra allow you to build websites but there are some huge differences.
Builderall Website Builder
Builderall Cheetah is a really advanced, simple-to-use drag-and-drop website builder.
As mentioned earlier, with Builderall you can build not just sales funnels but also really good-looking websites for any business.
And this for two reasons.
One is that the Cheetah website builder is super intuitive and you can place elements wherever you want across the pages.
The second reason is that they have hundreds of website templates for many different niches which the next category in this review.
They're already pre-designed you just really have to go in there and edit it to match your colors your brand your mission and all that good stuff.
Kartra Website Builder
When it comes to building your website it's possible to do that with Kartra but it's super difficult.
And what I mean by that is just building out a more robust website, having the menus, having the footers, having the sections that repeat on different pages however you want to describe your business overall rather than just a funnel based on one product.
You're not confined to different columns. You can't move all the elements anywhere you want, anywhere at any point in the page.
And I definitely would not recommend trying to build a website on Kartra. For this Builderall would be a much better option.
Templates
The template collection in both of these platforms is really impressive.
Builderall Templates
Builderall has the largest collection of +400 sales funnels and website templates called Funnel Club.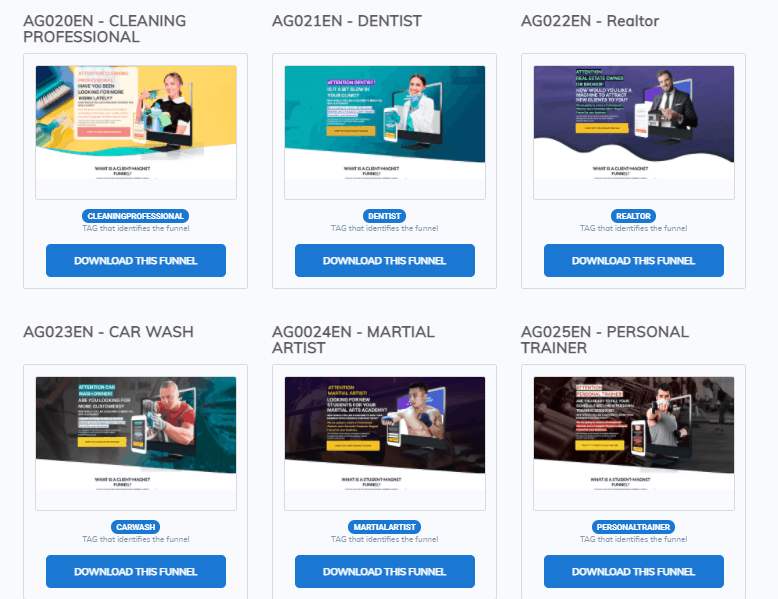 Builderall Funnel Club is divided into 5 different categories:
Premium Funnels
Niche Funnels
Lead Capture Funnels
Agency Funnels
Chatbot Funnels
So they give you a bunch of options to choose from with the sales funnel and websites templates to go with.
Whether you want to build a website or start a digital marketing agency, you can do this with Builderall Funnel Club.
Kartra Templates
The big, big pros that I see with Kartra is that it has fresh modern sales funnel pages.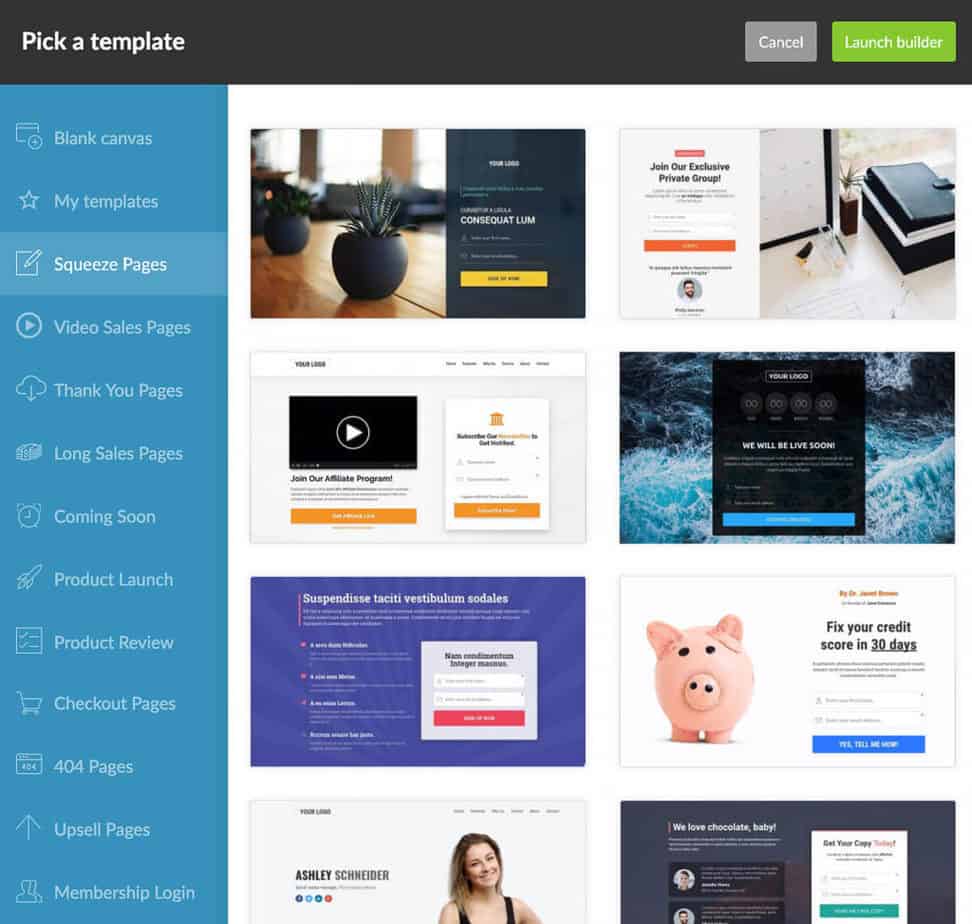 They look very innovative and up-to-date and you can't tell where they come from and they have so many options.
What I've learned from using these funnels is that they have pretty fast loading times, which is also a huge advantage.
However, Kartra doesn't actually have website templates. It has tons of other templates but it doesn't actually have website templates.
There are so many page templates that you can make a website and you can just link them all together but it's just not the sort of out-of-the-box.
Email Marketing Automation
The next category we have is email marketing which has many benefits for businesses.
So, Kartra and Builderall both have their email marketing platforms and they are included with any type of plan that you pay for.
Builderall MailingBoss
MailingBoss is the name of the email marketing platform for Builderall.
It does have pretty competitive open rates to Kartra.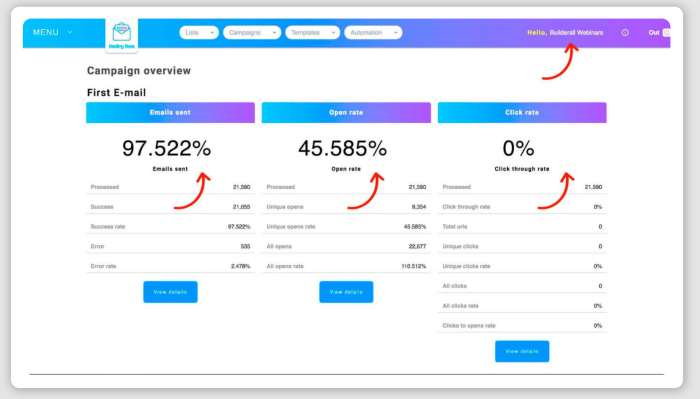 What I also like about MailingBoss is that on the premium plan you get unlimited subscribers. In fact, even on the lowest Buidlerall pricing plan you 2000 email contacts which is quite a lot.
They also have very cool and beautiful email templates.
However, they do lack a little bit in the automation category where Kartra really does thrive.
Kartra Email Marketing
Kartra has one of the email marketing tools compared to dedicated platforms like ActiveCampaign, Aweber, or GetResponse.
And I say that because it has extremely advanced automation options, the open rates are higher than usual.
I've split-tested it against AWeber and GetResponse.
And the open rates are higher, which is very essential in an oversaturated, competitive world of email marketing where your emails can go to spam very easily.
And I love that they do have really awesome split testing capabilities and producing and sending out any type of email whether it's a broadcast or whether it's a sequential email.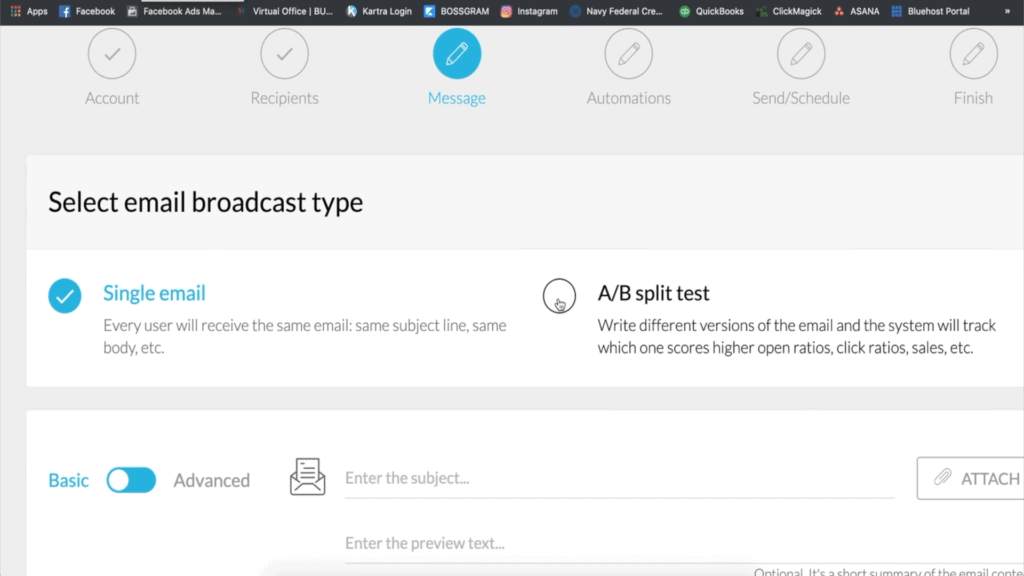 Their email templates are really cool and they have things that you can incorporate into them like countdown timers, cool pictures, and reviews.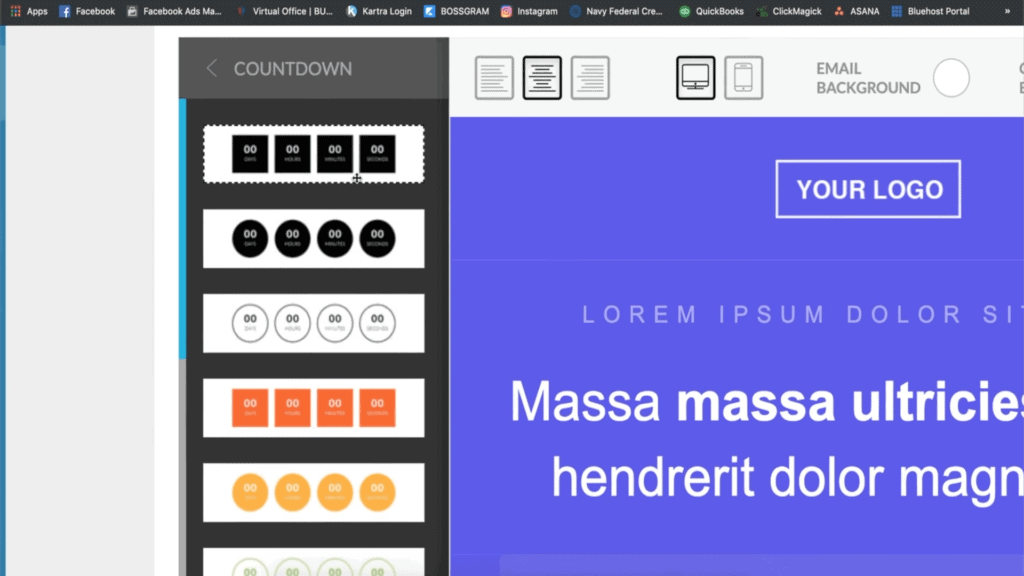 Whatever you want, you can put it into an email template and customize it to your brand.
CRM System
CRM stands for customer relationship management. It's a system for managing all of your company's relationships and interactions with customers and potential customers.
Basically, once the lead goes through your funnel is going to record every single step of that lead that it takes.
You're going to be able to see exactly what that lead or the person has done, what emails it has opened, what sequences it went through, and things like that.
And the great thing is that both of these platforms have CRM systems built in.
However, Kartra has more advanced CRM features and customization options including customizable pipelines, deal tracking, and the ability to create custom fields and tags for contacts.
So you can decide which CRM system would be a better option for your business.
Membership & Online Course
With both platforms, you can build and sell online courses and membership websites but there are some differences.
Builderall Elearning
In terms of online courses and memberships, Builderall is easier to set up and more streamlined but Kartra implementation is more advanced and customizable.
Let me show you what I mean.
On the Builderall side when you want to create a new course, they have some templates.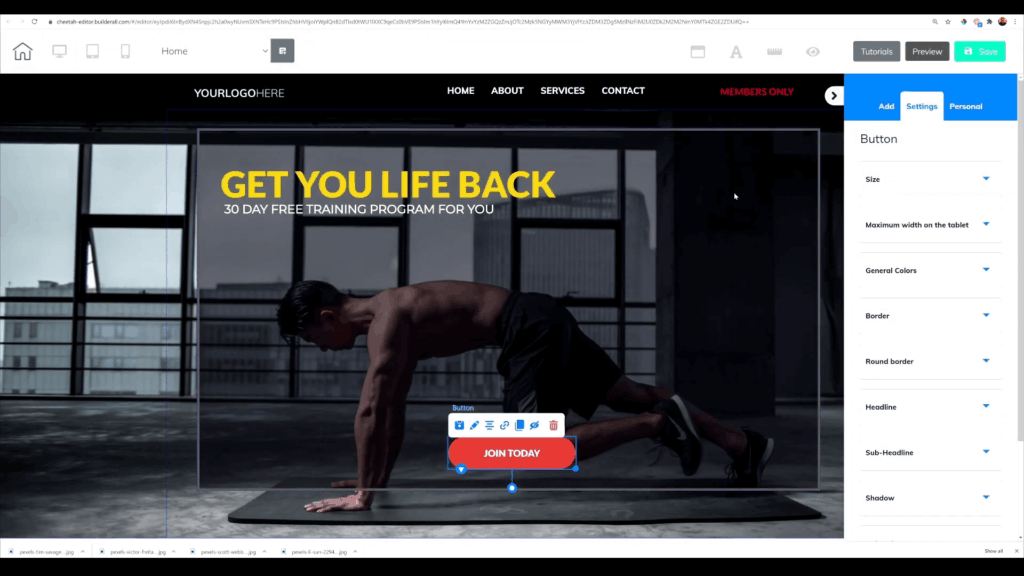 There are not too many options but they do have these options for you which make it easy to get out the door quickly because there's sort of a starting template you can work off of.
And just like the landing page builder, everything is pretty easy to use you just click and you can start editing.
You can also set up different pricing options like recurring subscriptions, you can also make multiple payments and upsells to sell your online courses.
Pretty much what you would expect with online course pricing.
So the benefit of Builderall experience with the course builder is it's really streamlined and it has a lot of the stuff that you would start out with creating an online course
Kartra Membership
Kartra membership has some of the features that Builderall doesn't have however they don't have any templates you can start with.
But where Kartra really shines is the level of customization in every single section.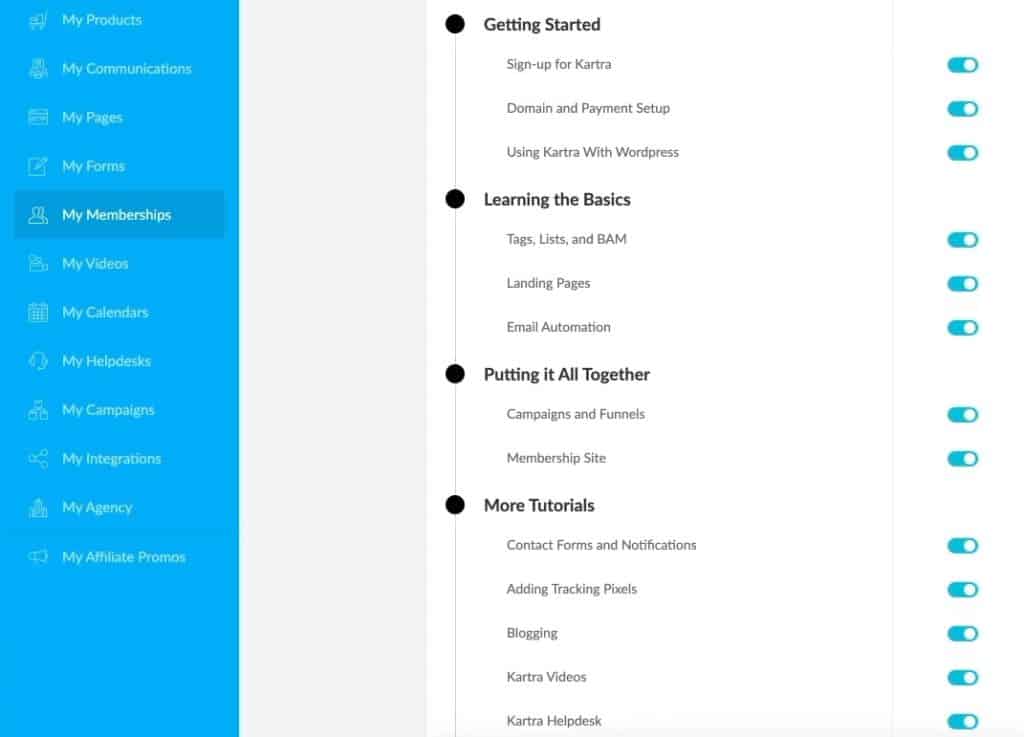 And just like Builderall you can have different pricing options you can have:
One time
Recurring
Installments
Recurring installments
You can of course do your shipping cost, sales tax, refund policy, and things like that.
So, in short, you have all of the components you need but there aren't any templates so keep that in mind.
Kartra membership is comparable with some of the e-learning platforms like Teachable as I explain in this Kartra vs Teachable comparison.
Video Hosting
Builderall and Kartra enable you to host your videos. That is really awesome because there are so many other platforms where you can only do a YouTube or Vimeo embed, which requires you to go put it at other places, and you lose a little bit of control of what's possible on your videos.
Builderall Video Hosting
Builderall has video hosting built-in where you can upload unlimited videos and you can pretty much do what you would basically expect.
You can play the video, you can upload a thumbnail, add a caption, and you can also see your analytics for what's been happening with your videos.
Kartra Video Hosting
Kartra takes it to another level. Kartra also has video hosting built-in but you have a little bit more options.
Kartra Video tool has options like:
Pop-ups
Logo watermark
Splash image
Closed captions
Skin color
Playback speed
Social Share
And if it was just that, Kartra would be slightly better than Builderall video hosting but that's not the reason why I said it takes it to another level.
Kartra lets you have calls to action within your videos.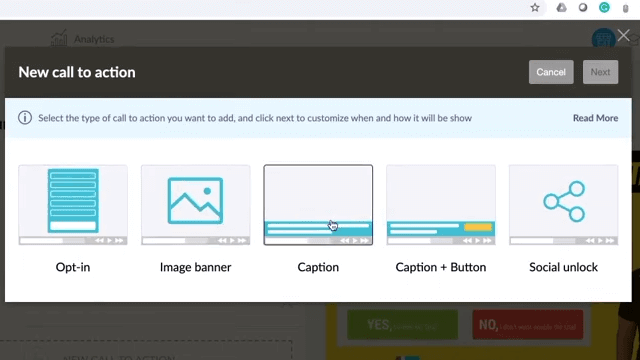 You could have an opt-in form that plays directly within your video which is super powerful.
So you can even choose if you want somebody to have to opt-in, you can choose which opt-in form you would want, and you can choose if you want to display it at the beginning of the video, or say 2 minutes in.
So if you had a 10-minute video and it was really valuable, and 2 minutes in, you wanted to say, "By the way, to continue watching this video, just simply put in your name and your email".
That is completely possible on this platform, which is really super cool.
In addition, you can also tag people who watch your videos, then those tags can be used in your emails and your landing pages in basically anything to trigger some other actions.
Or it could go the other way around this video could only be shown to people with a certain tag.
And finally, when you end the video you can actually keep the party going. You can send them to another video, you can send them to a different URL which just keeps engagement up.
Kartra video hosting is something that you'll not find in any other Kartra alternatives out there.
Blogging
So that brings us to the next category which is blogging. And blogging is still very important in 2023 since it's a way for you to set up things that people may search for on Google in the long run.
Builderall Blog
Builderall blog is very different from WordPress but if you are a business owner or if you're an agency owner and you want to super customize the blog page you are really going to love how this blogging platform works.
Because I've been using WordPress for years and I didn't have the ability to really make up my blog page look exactly the way I want it and now you have that ability with Builderall blog.
And as you would imagine things are super easy to use since everything is just drag and drop.
There are so many great blogging features like:
Pop ups
Countdown timers
iFrame
Social proof
Floating videos
Website analytics
And even an SEO tool that we'll talk more about it later.
In terms of blogging Builderall is comparable with WordPress but with the difference that you don't need absolutely any of the plugins that you would need with WordPress that just slow down your website.
Kartra Blog
When it comes to Kartra, Kartra technically has blog posts but they're not dynamic so they are not actually dynamically update when you post new content.
It's actually not tied to any kind of database.
Blogging in Kartra requires a manual effort, whereas Builderall has a setup for content management that allows you to add blog posts in a way where you could have galleries that auto-populate on other pages.
It's really hard to use Kartra as a blog. It's possible but again it's a little more manual whereas in Builderall these are actual posts as you build out.
Where Builderall is Better Than Kartra?
Builderall offers 50+ different business tools that are all integrated with each other.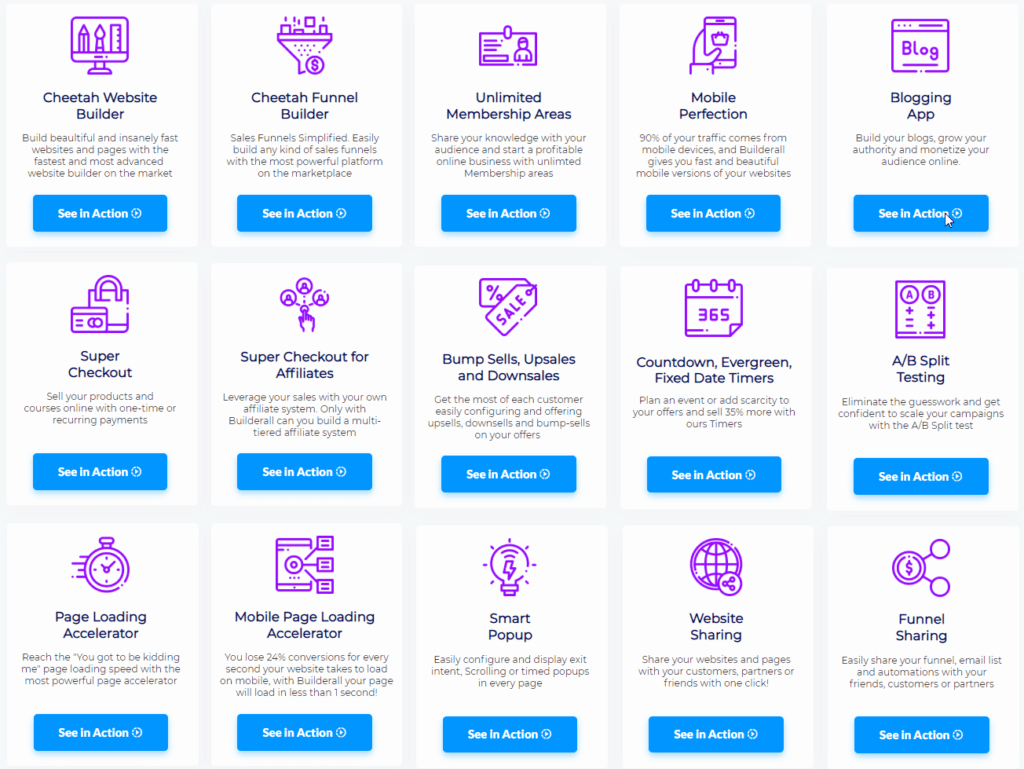 Builderall offers the most for the price that you get and any other Builderall alternative doesn't give so much for such a low price.
Let's be clear, you probably don't need all of these tools so I'm going to list the most useful features for your business will be:
Builderall Script Generator
Builderall Script Generator is a copywriting tool that allows you to generate copy for:
Professional emails
Advertising scripts
Headline, titles, and subject line scripts
Case study testimonials scripts
And more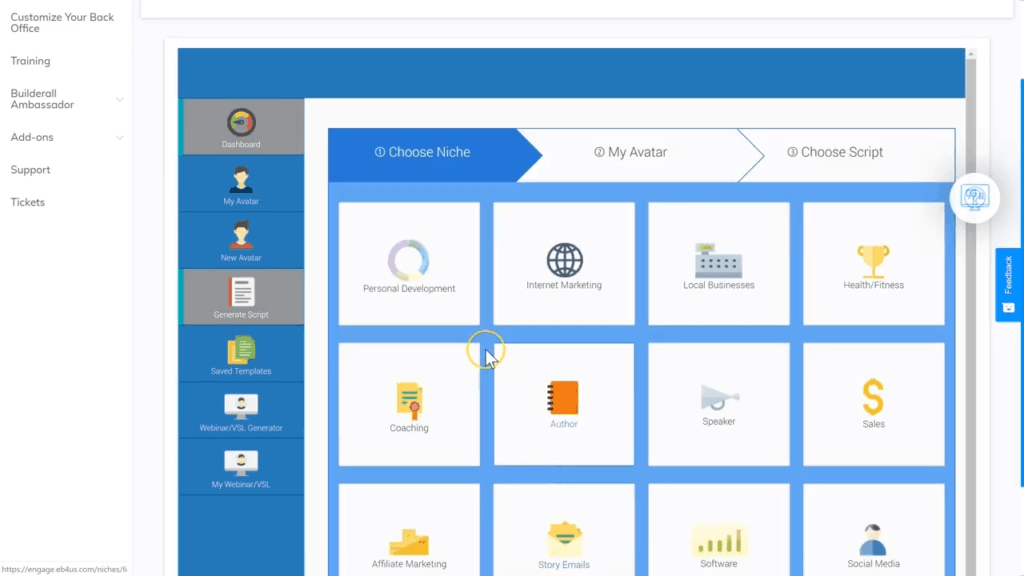 Especially this is great for newbies if you're stuck on how to write an email if you're stuck on how to write copy really anything you're stuck on this script generator will help you generate.
And this is important because no matter how advanced you are thinking of things to type and write is always challenging even now that I've been doing this for a little bit
This tool itself is worth hundreds of dollars.
For example, ClickFunnels for similar software charges $797!
VA Access
This pretty unique feature enables you to give VA access to your Builderall account.
So for example, if you have a virtual assistant and you hire them to do things on your website, or a sales funnel, you can give your virtual assistant access to certain areas without having full control and access to your whole Builderall account.
Builderall Webinar
Builderall has a free webinar integration which is huge. With Kartra you would have to purchase an additional webinar software WebinarJam which adds to your overhead fixed cost per month.
And Builderall has it right there for you to create a webinar and just integrate it into any type of funnel.
Builderall SEO Report Tool
Builderall SEO tool allows you to optimize your website for SEO to rank higher on the search engines.
The way it works is you just need to provide the URL of your website, keywords that you would rank for (or you rank already), and then it gives you a score of how well your website is optimized.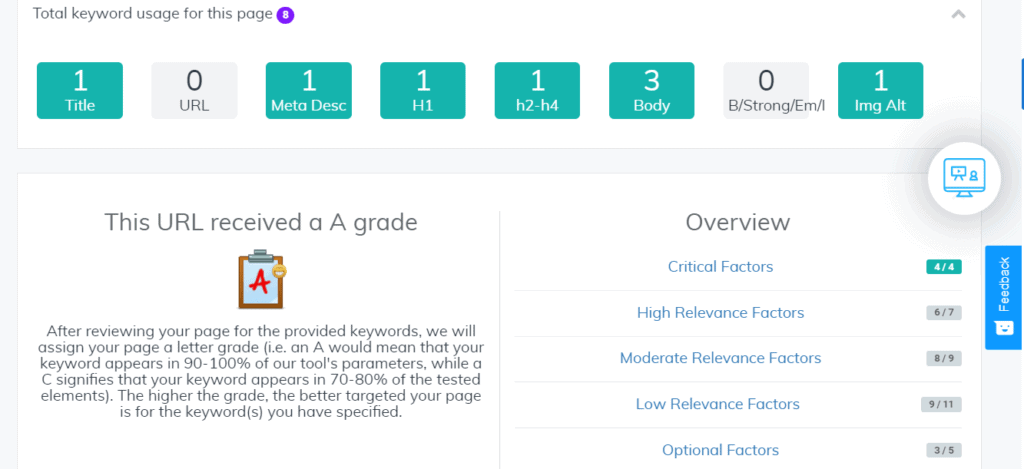 Not only that, but it will also give you recommendations on how you could improve your site in order to rank higher.
Messenger Chatbot
The next one that is super important is that as we're moving now into 2023 the Facebook chatbot integration.
Email marketing has been around for a number of years but we're moving into a new paradigm shift and we're seeing some amazing results using the Facebook Messenger bots.
And Builderall has built-in a Messenger bot that you can easily install on your website.
Builderall App Builder
And also they have a great and easy-to-use app builder where you can build your own application on your phone.
Other Builderall features worth mentioning are:
Click Map
Scheduling calendar
Video creator
Magazine builder
Professional email
Website bot
As well as unlimited hosting.
Where Kartra is Better Than Builderall?
Kartra has some additional tools including:
Kartra Done For You Campaigns
The first really cool thing about Kartra that sets it apart is the done-for-you campaigns that are created especially by Frank Kern.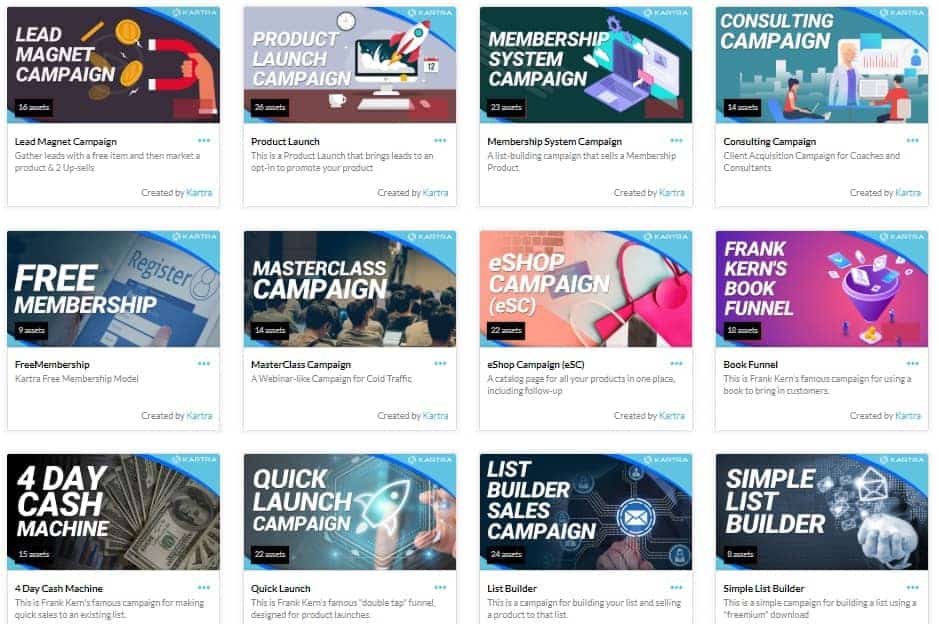 So Kartra set up complex funnels for different objectives that you can actually deploy with a click of a button.
Kartra will give you all the pages, all the videos, all the email sequences of copywriting done for you and you just need to make some simple edits to make them work for you.
Really all you have to do is to edit these templates to match your brand.
Kartra Agency
And then the other great thing which is pretty exciting is that for agency owners, you can also have subaccounts for your clients.
If you're an agency owner you can have a centralized account dashboard where you can manage other people's accounts and everything is going to be branded to you.
You can also generate reports for those accounts as well.
So if you're interested in starting your own marketing agency, Kartra is a great solution for you.
Kartra Expert
Inside Kartra there's also a marketplace where you can connect with other experts and you can hire them as a Kartra coach or develop your email marketing or sales funnels anything that you need related to Kartra you'll find somebody who can do that for you.
Otherwise, you can also become an expert and people can hire you if you want to make some extra income.
Kartra Analytics
Inside the Kartra dashboard, you're going to see very in-depth analytics.

Sales – This is how many sales you recently made.
Subscriptions – You can also check out your subscriptions so how many leads.
Traffic & Conversions – Then you can also see traffic conversions. In this section, you can see how many visitors you have, and how many opt-ins you have, you can even see data on your videos and your forms, etc which is very helpful.
Kartra Helpdesk
One of the key Kartra features is its help desk system. The platform lets you set up multiple help desks and so this would be a support portal that your users can use and you can see all your tickets.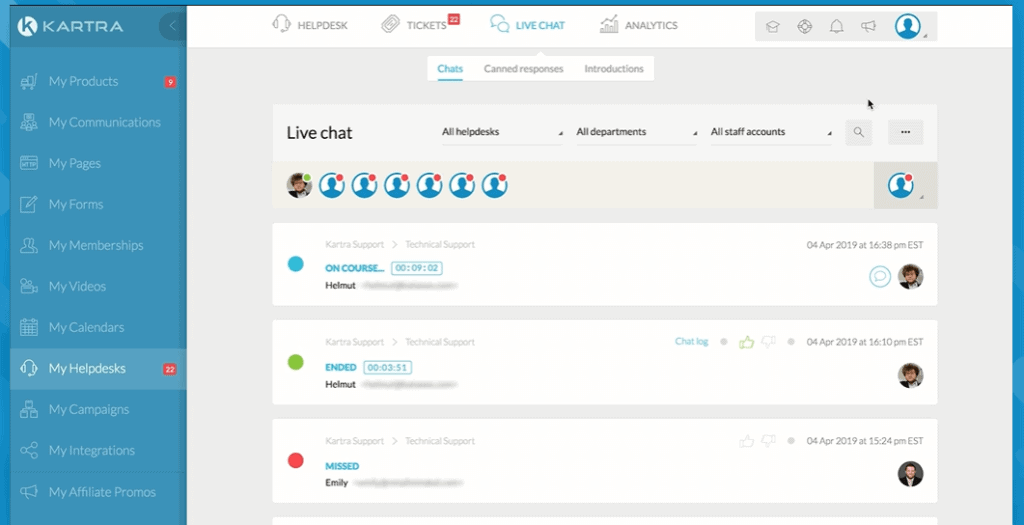 It has chat also out of the box so you're getting ticket support chat support out of the box with no additional tools as well and that is a pretty awesome feature in Kartra.
This is an additional thing you need to operate a business especially if you're running a service-based business where people will have questions.
Do you want to just have that all in your email and try to respond?
If you have one or two people who are just contacting you that's fine.
But once you start getting subscriptions at scale people are going to have inquiries and you trying to keep track of everything is impossible without a helpdesk.
Checkout System
As I mentioned, Kartra offers a more advanced checkout system that allows you to sell products and services online, process payments, and manage customer orders.
You can design and customize your checkout pages to match the branding and look of your business. Kartra allows you to accept multiple payment options, including credit cards, PayPal, and Stripe.
You can set up upsell and downsell on your checkout pages to encourage customers to purchase additional products or services. In fact, with Kartra you can do that with a single click since they offer so-called one-click upsells.
Finally, the system lets you create and manage coupon codes that can be used to offer discounts on your products or services.
Kartra Affiliate Management System
Kartra offers an advanced affiliate management system that provides you with:
The ability to set up commissions, track affiliate sales and manage affiliates
Marketing materials, including banners and email templates, for affiliates to use in promoting your products or services
Affiliate training resources, including training videos and guides
Advanced affiliate management features, including customizable affiliate registration forms, customizable affiliate dashboards, and the ability to set up tiered commissions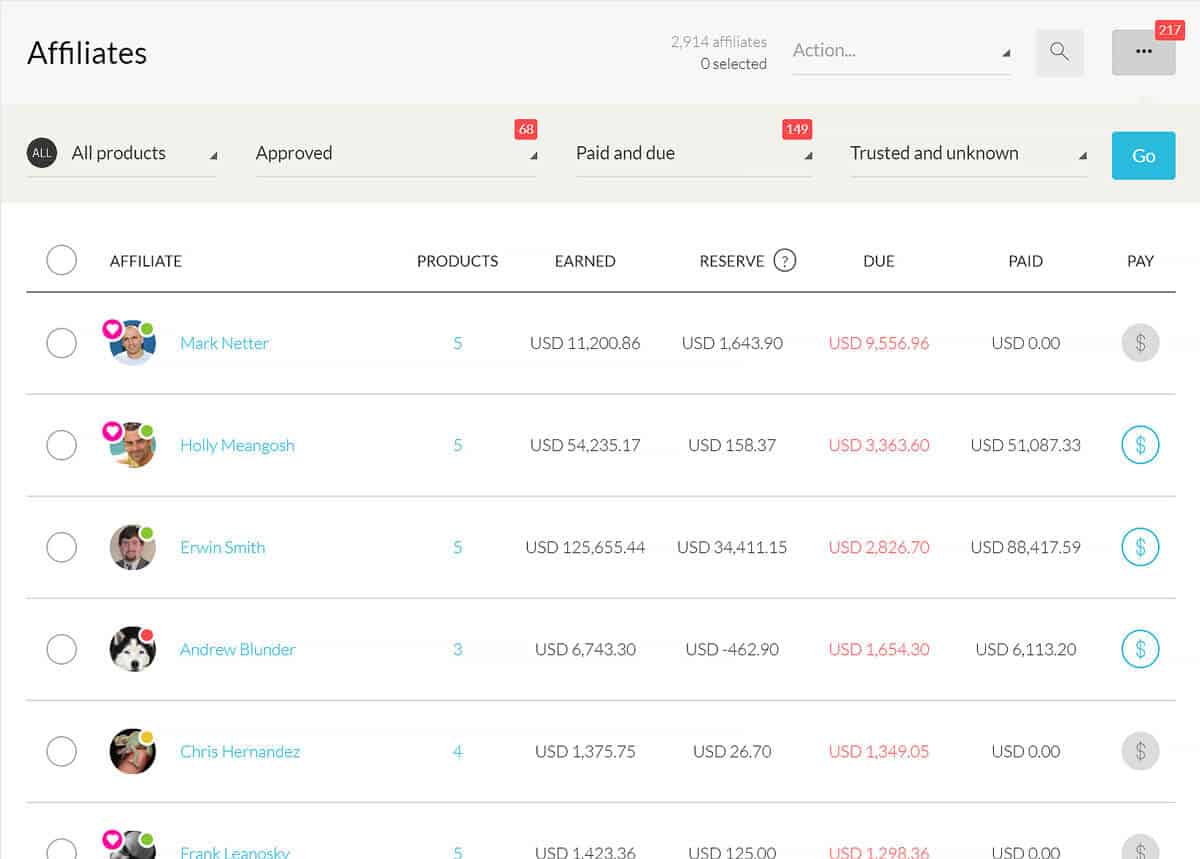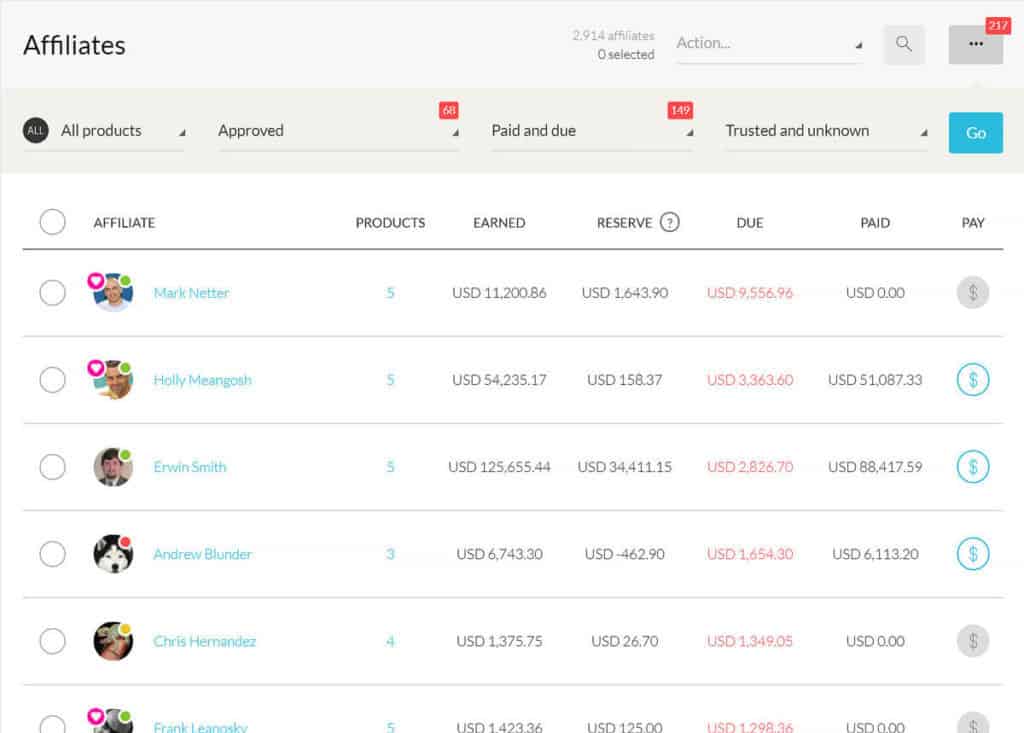 Kartra affiliate management is great for recruiting, managing, and tracking an army of affiliates to promote your products or services with flexible commissions, payment milestones, etc.
Builderall Cons
Their support does still take forever. I mean, the other day I used their support and put in a ticket and it took me two days to get a response.
It is very frustrating when you're in the middle of building something and you're in the flow and you have to wait an extra two days just to get a response on something simple.
So that is something I think Builderall recognizes they have to get fixed.
I do know that they did recently hire 50 more people for their support team but essentially I think that it does really, really need to get better.
The other downside here is, it is a Jack of all trades.
And so when you have a piece of software that really literally tries to do everything, you're ultimately going to wind up, not having the best feature set when compared to a solution that stands on its own.
Kartra Cons
Kartra page builder is not very intuitive and it could be confusing for beginners.
For example, when you're trying to build a regular two-step funnel with a landing page and a thank you page opt-in form, you have to work backward.
So you have to think of thank you page first, then you have to create a form, then you take that form and put it on the landing page and you connect the three of them together.
It's very backward from all the other sales funnel-building platforms out there and this could be very tricky when getting started with sales funnels.
The biggest Kartra con is blogging. This con would be a horrible con if you are an online magazine or a full-time blogger, this is probably not your platform.
But if you're a consulting company, if you are doing B2B business, if you're relying on your website for the occasional blog posts then it is perfectly suitable.
The second major con that people talk about is that it's not ranking as high on the Google search index as Builderall.
Pricing
Now, let's take a look a the pricing plans.
Builderall Pricing
To get you started, Builderall offers a free trial where you can experience all premium tools and features.
And if you feel ready to take full advantage of the platform you can upgrade to the paid plan:
Cheetah – $16.90/month
Marketer – $76.90/month
Premium plan – $87.90/month
Funnel Club – $87.90/month + $199 one time payment
And of course, you'll get access to all Builderall 40+ tools, training, and courses.
Kartra Pricing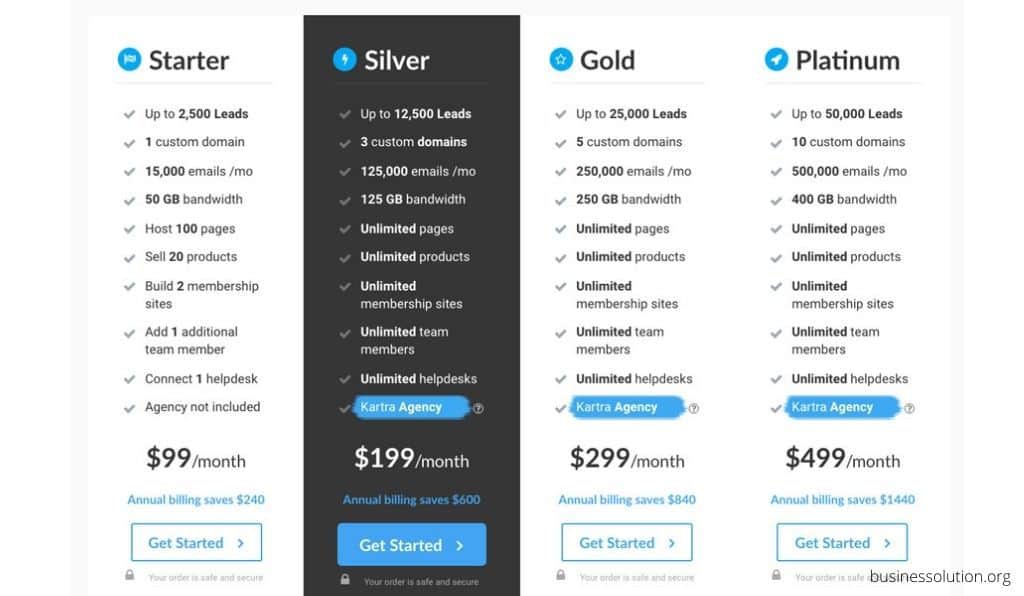 Kartra pricing features 4 different options:
Starter plan – $99/month
Silver plan – $199/month
Gold plan – $299/month
Platinum plan – $499/month
However, there's a big limit on the number of leads you can have
And you'll take a massive price jump when you reach 2,500 contacts and that's going to be up to $199/ month which is x3 more than the Builderall premium plan – $69/month.
But keep in mind with Kartra the prices are higher but it does include a robust email marketing platform and video hosting.
Kartra offers a 30-day trial so you check it out and see if it's right for you.
Kartra seems really expensive compared to other platforms but when you really add up the different softwares that you would pay for in your business, it's going to be much more.
And also I would convey you that from a mindset perspective, $99 a month is less than most brick and mortar businesses' water bill, or light bill, or electricity bill.
The idea that we can operate a fully functional business without any overhead is kind of insane. So I hope that that at least helps you.
And if you've been in that position where you think this is way too expensive, then maybe you're just not thinking large enough for your business goals. And that's okay, but there's a new day today right here right now.
Affiliate Program
For many entrepreneurs, affiliate marketing is how they got started in online business. And the last category we're talking about is the ranking of the affiliate programs. And both platforms offer monthly recurring affiliate programs.
Builderall Affiliate Program
Builderall Affiliate Program is one of the most lucrative affiliate programs out there.
I have not seen an affiliate program yet that is better than Builderall. It's hands down the best affiliate marketing program out there when it comes to talking about software.
And let me explain why.
First, if you don't even want to use the software and the tool of Builderall you can still be an affiliate and sign up for free.
And here's what the commission structure looks like.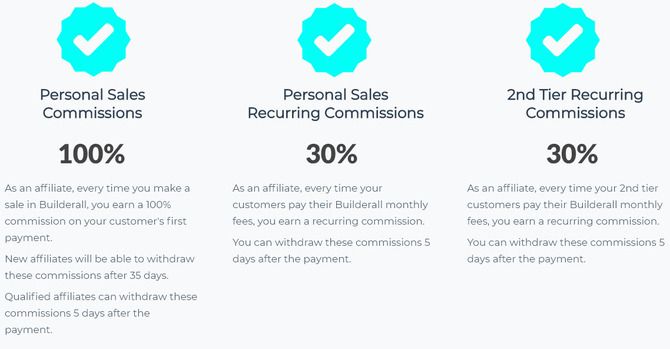 On the first sale of any plan that you sell you get 100% commissions.
And, every month after that you make 30%.
So if you do the math, that is a lot more opportunity to make a lot more money as an affiliate with Builderall.
Kartra Affiliate Program
With the Kartra affiliate program, you earn 30% commissions on any plan that you sell.
The downside of the affiliate program with Kartra is that in the beginning, it is hard to get approved to be an affiliate.
And so a lot of people that have signed up with Kartra have told me that they are not able to get approved to be an affiliate.
I don't really like that because if you're somebody who's wanting to be an affiliate and really just get your first few sales that it could have you pay for the subscription of your program that's really important when you're deciding on choosing between one of these all-in-one business platforms.
And The Winner Is…
Kartra and Builderall are both all-in-one platforms that you can use to replace every single piece of software you used in your online business, agency, or even your brick-and-mortar business.
Choose Builderall If
Builderall is a better solution for business owners and as well as digital marketers who need a platform less complicated than Kartra since Builderall is much easier to use.
Builderall is better than Kartra in terms of building websites and blogging.
If you're new to online business Builderall would probably be an easier one for you to actually use.
And overall the cost and what you get for that price is insane value.
👉 Start Builderall 14-day free trial
Choose Kartra If
Kartra is more of a professional package and if you're a product vendor or somebody that's wanting to sell some products in the future, have a membership site, and host it all under that umbrella then it may be the better option for you.
Where Kartra has an edge is the checkout system, CRM, email marketing automation, and video hosting. In addition, Kartra has built-in campaigns for practically every use case in business.
👉 Start Kartra 30 day $1 trial
Builderall vs Kartra Wrapping Up
So this is my honest comparison of Builderall vs Kartra.
I honestly do believe Kartra and Builderall are one-stop shops for an all-in-one business platform.
I really hope all the categories that I went over, each of these platforms were helpful to you.
Remember that both platforms have agreed to offer our readers exclusive trials.
So I highly recommend trying them both and checking out which one works best for you.
If you have any specific questions about Builderall, Kartra, or any other software, feel free to drop those in the comments and ask me because like I said, I'm a huge software nerd, so I've been on almost every other similar platform out there.