This is the most comprehensive guide on how to create an affiliate marketing website that you'll find on the internet. By the end of this tutorial you'll learn how to:
And more.
Basically, I'm going to be walking you through everything you need to start your affiliate marketing business and build your authority site from scratch.
And yes you will have a complete affiliate website set up if you follow along with this tutorial but that does not mean that you're going to make piles of cash overnight.
Affiliate marketing takes time and creating the whole website is like planting the seat but you still have to water it every day and make sure that it has plenty of sun exposure to grow a rewarding passive income with. Because as you might know a website is one of the best free traffic sources for affiliate marketing.
And if you're just getting started, I suggest you start small and then slowly adding more features to your website as your business grows.
So, in this guide, I'm going to show you how to build an affiliate website for less than $100 so that you will save money and avoiding overspending
Affiliate Marketing Website Overview
So what do I mean by an affiliate marketing website?
Well, I mean that you own your own digital asset where you can promote other people's products and earn a commission if customers actually end up buying them through your affiliate links.
So you don't need to bother with shipping, inventory or setting up any payment systems on your website.
You just collect a commission for driving sales to other people's products.
So first, let's find out what is the best website platform for affiliate marketing.
1. Choose a Platform
To create an affiliate site you can use a website builder like Wix, Weebly, Squarespace, or other affiliate marketing website builders.
However, if you're serious about this business and want full control over your site, I highly suggest getting started with a self-hosted platform like WordPress.
WordPress is a free and open-source content management system and it accounts for around 60% of the websites on the Internet right now.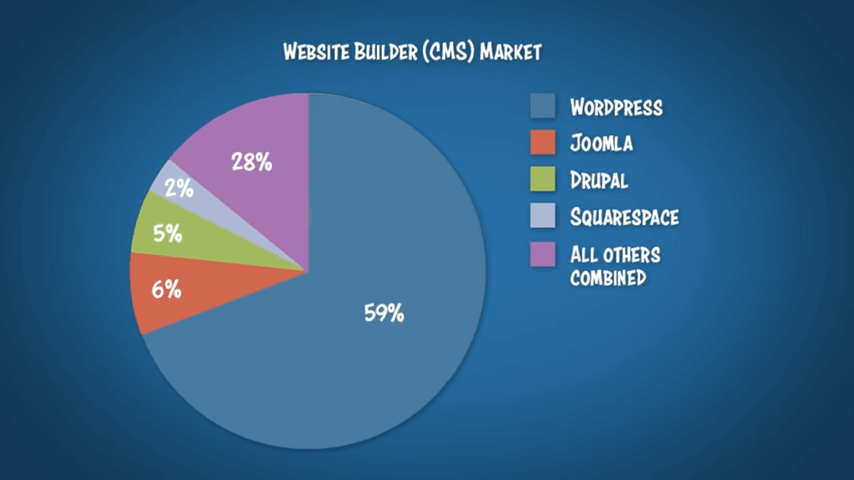 Big companies like ESPN and other huge companies use WordPress for their websites.
There's three main reasons why people use WordPress.
One is because it's so affordable it's typically $3 to $5 per month.
Number two is you can customize the website to make it exactly how you want it.
And then three is because WordPress is the platform with the best SEO capabilities which is crucial for affiliate marketing.
So that's why most affiliate marketers use WordPress just because of all those reasons.
And so for this tutorial on how to create an affiliate marketing website, we're going to be using WordPress.
WordPress.org vs WordPress.com
Now, this may sound like a silly thing to clarify but it's very important to clarify that there are two WordPress platforms.
WordPress.com and WordPress.org.
We are going to be using WordPress.org because WordPress.com is actually something that you just buy through WordPress and it's a blog but you can't customize it so we don't want to do that WordPress.org is actually a free add-on.
So all you have to do is buy hosting basically buying the space on the Internet and then you can add on WordPress.org.
And it allows you to customize everything on that space that you just bought on the Internet.
So, WordPress.org is what we are going to be using.
2. Get Web Hosting To Host Your Affiliate Site
So, there are a couple of hosting companies including:
Bluehost
HostGator
SiteGround
WP Engine
A2
There's a couple of big names out there and they all compete against each other.
And I absolutely recommend Bluehost and I wouldn't recommend that unless I personally use it myself.
I use it on all my affiliate marketing websites and I recommend it for a few reasons.
✅ Bluehost is beginner-friendly
There's probably no easier way to get your new website off the ground than with Bluehost.
The main reason is the dashboard is so easy to understand.
There are only a few buttons and it's very user-friendly.
The other ones get very confusing because they have a lot of buttons that have to do with what goes on behind the scenes on a website and if you don't know what those are it can be extremely confusing.
✅ Bluehost is cheap
And the other thing too is all these hosting companies are all about the same price.
The difference only comes down to 50 cents to a couple of dollars per month and Bluehost is actually one of the cheapest ones.
✅ Free SSL
And most importantly, we are going to have the SSL certificate completely free as well, which is really important to have on any website.
✅ Bluehost is recommended by WordPress
Bluehost is powering over 2mln websites and is recommended by WordPress itself.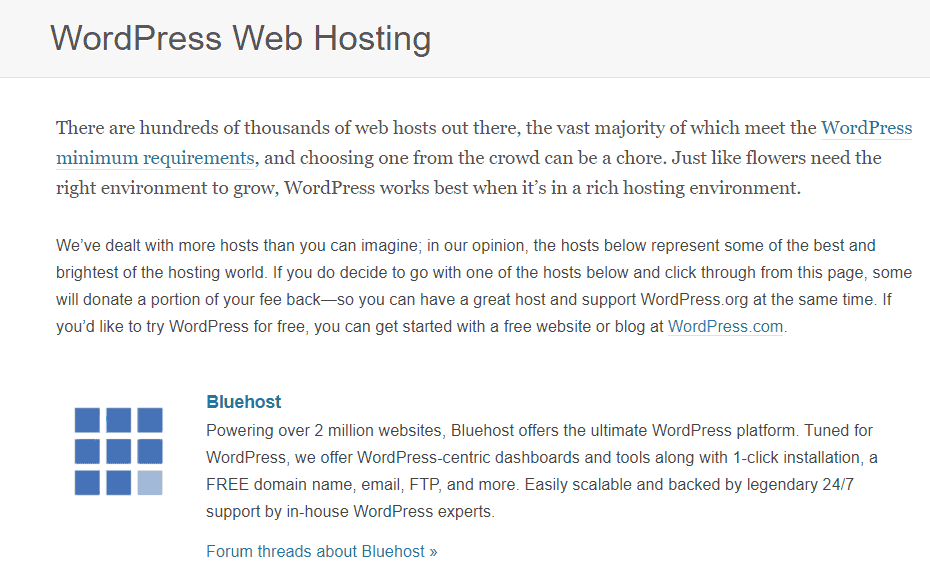 One thing that I do want to make a note is I'm actually an affiliate for Bluehost.
I stand behind their product. I know the product is good. I use it personally and I want to recommend it to other people.
And it doesn't make sense not to be an affiliate for it if I'm already going to be recommending it to other people.
So if you do go over to Bluehost and make a website all I ask is that if you're enjoying this tutorial and you want to thank me at no extra cost to you you can use my affiliate link.
Also, Bluehost has agreed to offer our users a free domain name and over 60% off on web hosting.
3. Set Up Your Website
In this section, I'm going to show how to choose a domain name, host your website and install WordPress.
Step 1. Choosing a Plan
Once we're at the Bluehost homepage all we have to do here is to hit "Get Started" button.
And it brings us to the couple of Bluehost plans.
So the difference between the four options and first off, I only recommend the basic or the plus plan.
You don't need to go over the top if you're just getting started.
There are just a bunch of extra things that we really will need for an affiliate marketing website.
But the difference between the basic and the plus plan is the basic is good for one domain so you pay for the hosting and you can put one domain.
But if you plan to have multiple affiliate marketing websites, maybe in different niches then you can go with the plus and you can actually put unlimited websites on this host so you pay $5.95/mo and all you have to do then is just buy the website name and link it up to this hosting.
So it's up to you if you want to do the basic plan for just one or if you want to do the plus.
And just remember whichever one you're on you can always change it.
So for this case, I'm just going to go ahead with the basic plan.
Step 2. Choosing a Domain
So then it brings us the setup of your domain page.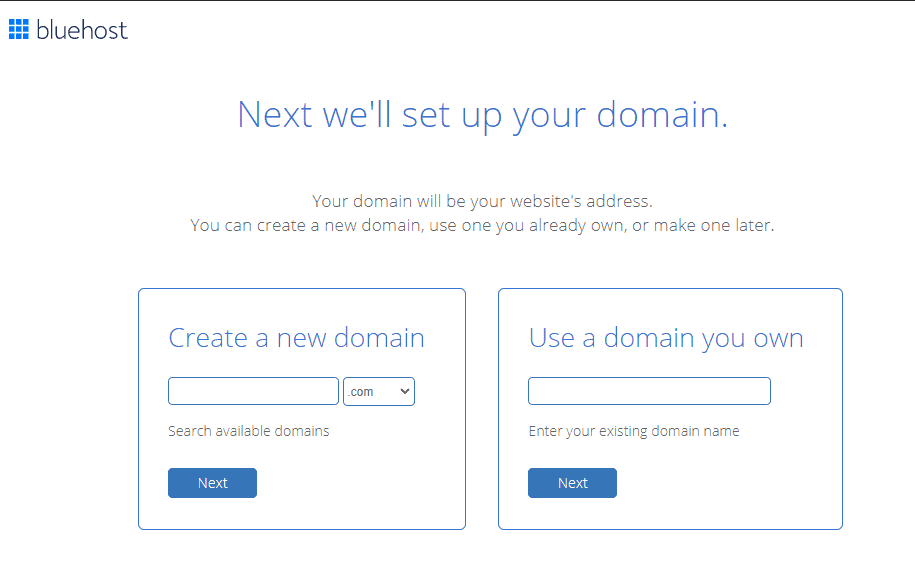 And this is actually just for your domain name so you can search for a new domain name if you don't already own that website name.
Or if you already have one you can put it on the right side and then you can link it.
So we're going to do is search for a new domain name right now so you can type in what you're thinking and they can actually switch the ending here.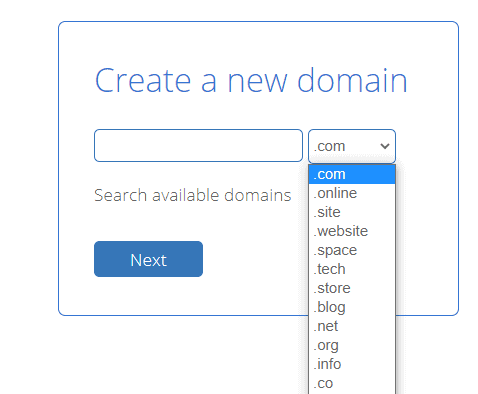 What I recommend is to stick with the .com domain because it's the most trusted people who recognize it the most so they're not afraid to click on .com's domains.
So try to stick with the .com if you have to go with a different one try out the .net or .org domain because that's the second most recognizable one.
And then just type in a domain that you'd like to use that goes right along with your niche and your keywords just to give you that extra boost in SEO.
So we're going to trail "climbingshoespro.com" and see if that's available.
So you click next and we'll give you one of two screens if the website is available you'll see a message that this domain is available.
If it's not, they'll say that someone already owns it and it'll ask you to try again with a different domain.
You can also check out this guide on how to choose a domain name for affiliate marketing if you're struggling at this point.
After choosing your domain name, click on the next button to continue.
Then you'll be asked to provide your account information such as name, address, email, country, city, etc.
Step 3. Account Information
We have to start out by filling out the basic information to make a new website.
This is completely normal so just go ahead and put your information in here and then scroll down a bit and you'll be at the package information.
Step 4. Package Information
Now we have to choose the right account plan.
So the way that this works is we're just paying for the hosting.
So if you plan to have websites long into the future you can go at 36 months and what that's going to do is lock you in at $3.95 per month for 36 months.
So as you saw we signed up the original price was $7.99 per month which is still a good price considering that you invest in a serious business that will make you money long into the future.
However the more we pay upfront the cheaper we can get that price down.
So personally, I always go with the 36 months because I think that package just works out best.
That's my opinion you can go with any one that you like.
Step 5. Package Extras
So the next thing we're going to do is turn off some of these package extras that we don't need.
You can turn off the coast guard basic and the site locks security we don't really need either of those.
Now I do highly recommend that you keep domain privacy protection on.
This is only $0.99 per month and what it does is all the information we just filled in up top actually becomes public so they can see who owns that website.
So by paying 99 cents per month it actually hides all that information so the general public can't just go on see who owns it and then start contacting you randomly.
So I think it's nice just to have the extra peace of mind.
Step 6. Payment Information
And then as you scroll down there's only one step left and that's the pay for the website.
You can pay with your credit card or PayPal.
And if you do want to pay with PayPal just hit the "More payment options" button to open up more payment options and you can pay with PayPal.
Next, just check off that you agree to the terms, and then if you have that PayPal selected when you click "submit" it will reroute you to PayPal just to complete the payment.
All right guys so this is where you should be at your confirmation page and all it's telling you here is congratulations you paid for your hosting and now everything is set.
Step 7. Creating a Password
First things first though we do want to create a password so we can get back into Bluehost when we need to.
So just go ahead and click the "create your password" button.
It will open up a new tab and allow you to create your new password.
So once you've typed in your password here and then repeated it just to confirm it just go ahead and click that you agree to the terms and hit next.
Your password is all set so we can go ahead and click log in.
Step 8. Instaling WordPress
And you no longer have to go through and manually install WordPress and get real technical with that because that's easy to get lost.
It's literally made so easy for us here.
So you can pick one of these themes if you'd like to start with.
And what I'm actually going to do is hit "skip this step" and what that's going to do in the next step it'll just apply the default WordPress theme.
So it's easy to understand without getting too technical in any of these themes right off the bat.
And now it's going to actually set up your site. It's going to install WordPress and put that VM on it.
So now this takes a couple of minutes so just hang tight here.
Once this finishes setting up you are officially going to have an affiliate marketing website.
Now it's time to do some housekeeping
4. Customize Your Website
When you get a new WordPress website, WordPress actually gets paid to install certain plugins by default those plugin companies pay WordPress.
And I understand that WordPress is a business so they do have to make money as well since they're giving this to us for free. So that's completely OK.
All we have to do is just do one quick step and it takes all those excess plugins right off so we start with the bare bones where we want to start and it doesn't slow down our WordPress site at all.
Step 1. Deactivate Plugins
So all we have to do is on the left side click on the plugins and hit the Select All button.
Go to "Bulk action" and then deactivate and then make sure you hit apply.
So give this a second to load and when it's going to do is deactivate all of the plugins.
Step 2. Delete Plugins
Now once that refreshes we're going to select them all again and we're going to actually delete them and then apply just confirm.
And one by one it'll delete all those plugins so nothing slows down our website.
All right that's all set. Now there's just one more important thing.
Step 3. Permalinks Settings
On the left side, hover over settings and then go down to "Permalinks"
And this is actually going to be for the description in a URL that you see when people are on your website.
So sometimes it's set on something crazy and really long so just confirm that it is set on the "post name" and then save changes.
That's just a small thing but I think it makes your site look that much more professional.
Now before we go into talking about the content for the website I want to show you if you want to change the appearance of your website.
5. Choose an Affiliate Marketing Page Builder
There are many WordPress website builders that will allow you easily build and customize your affiliate site without writing any code.
There are a lot of drag-and-drop WordPress page builders like Elementor, Divi, Beaver Builder, SeedProd, and more.
But the page builder that I recommend is Thrive Architect.
Thrive Architect is the best website builder for affiliate marketing. It's also easy to use and fast which is crucial for SEO.
They have hundreds of templates for:
Sales pages
Squeeze pages
Webinar pages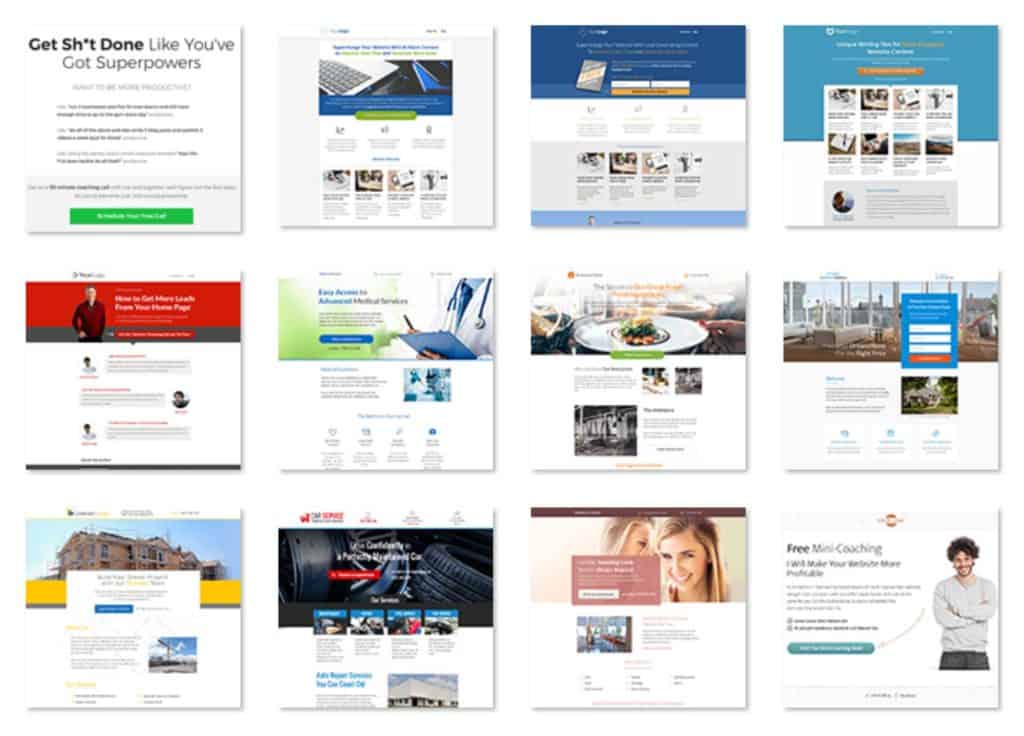 So basically everything you'll need for your online business.
It will also replace a lot of plugins thanks to their conversion-focused elements.
You get all these plugins and they are all included in the membership.
And that in the long term will save you a lot of money.
Thrive Architect comes at a very affordable price compared to other page builders because you can start for as low as $19 a month.
Great tool for affiliate marketers because it allows you to do things like scarcity, AB split testing, build an email list, as well as build affiliate marketing sales funnels.
6. Install a Theme
One of my absolute favorite parts of Bluehost is that they are integrated with WordPress so flawlessly that all we have to do here is pick a theme that we want to start with.
So, if you do want to take it a step further and customize the site even more all you have to do is add a new theme and this is what WordPress is really known for.
There are thousands of free themes that you can choose from.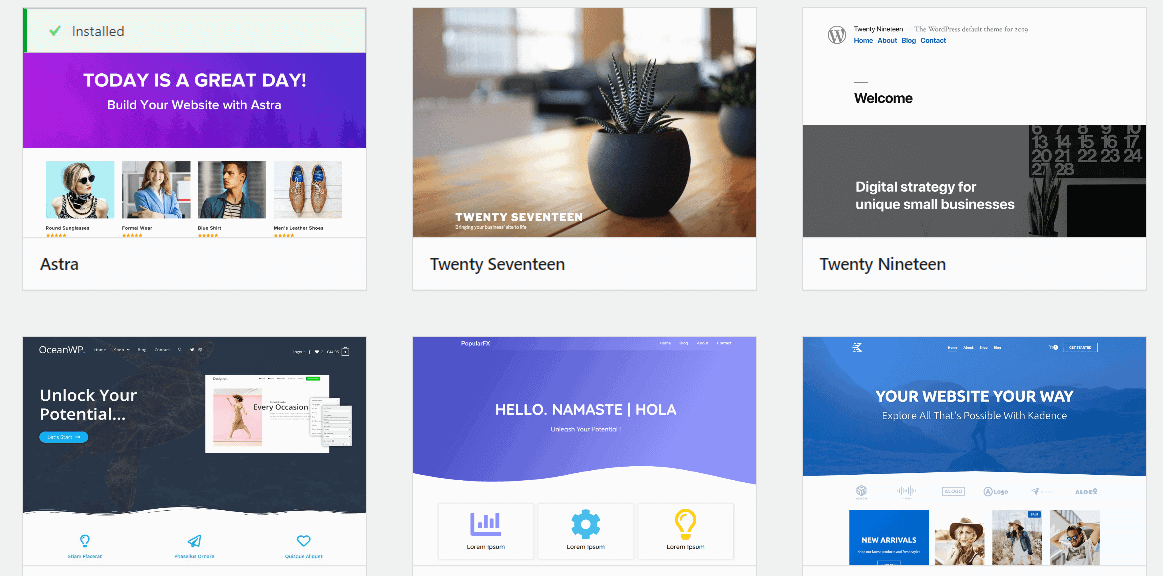 I like to sort by popular and then you can see what's really popular and pick any of these.
You can even preview it and see what it looks like and then if you like it you just get installed and then activate it.
On most of my affiliate marketing websites, I personally like to use GeneratePress because it's easy to use, lightweight, and clean.
For affiliate sites, you often don't need loads of fancy designs. You want something that's just lightweight and fast without loads of functionality so GeneratePress is the theme that most affiliates go to.
If you want something that looks better than GeneratePress you can have a browse around the WordPress theme library or check out a site like Theme Forest.
They sell professional themes for affiliate marketing for around $50 each.
And installing a theme from anywhere really usually takes like two clicks just to upload it or install it and then activate it
How to Change a Theme?
So if you want to change your theme, come over to "Appearance" and then you can hit "Themes" and this is where you can pick the theme that you want to use.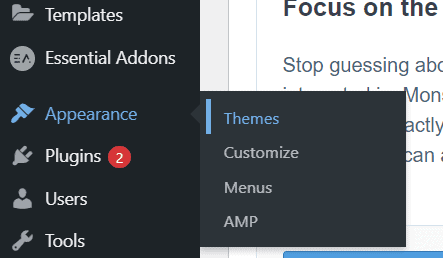 So here you can choose a theme whatever you like.
And if you don't want to get messy you want to change anything you can just leave that.
So that's how you can go about changing the appearance and the look of your WordPress website and customize it to exactly how you like it.
7. Install Plugins
In this section, I will take you through some of the WordPress plugins that should install on your site.
So you need to ensure that you have these plugins installed on your website whenever you decide to start the journey.
💡 Pro Tip
The good news is that if use Thrive Themes for your website, you'll not have to use so many plugins (paid plugins as well) for your website because Thrive replaces most of them making your website faster. And it will save you a lot of money.
Yoast SEO
The first one is Yoast SEO plugin. With over 5mln users this is actually the best WordPress SEO plugin.
This plugin helps us understand whether or not an article is optimized.
Let me show you an example.
At the end of any article, you will find this plugin.
It tells us whether or not this article is optimized for any particular keyword.
Whether the title is optimized, the description is optimized whether we have any outbound and internal links and more useful information.
NoFollow for External Link
Usually, you use do-follow links if you want to pass the link juice to the URL which you are linking on your website but we are linking most of our outgoing links out to the affiliate products and we don't want to pass link juice so we usually at this time no-follow for all the external links that we use.
So to avoid manually adding a no-follow tag to all the external links we use this plugin
Easy Table of Content
This easy-to-use WordPress plugin allows you to insert a table of contents into your posts and pages by parsing its contents for headers.
Here is an example: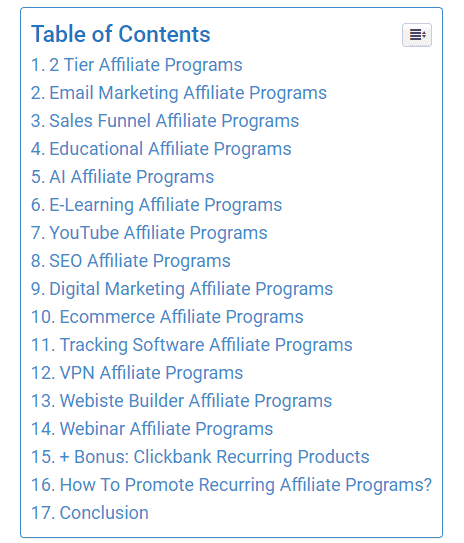 Broken Link Checker
Broken Link Checker is a very useful plugin that allows you to detect broken links that can hurt your SEO rankings.
WP Content Protection
A lot of bloggers usually copy-paste all your content and try to spin your article and then publish it on their blog and probably use your content for SEO purposes.
And was what usually happens is that when Google considers your post to be duplicated content because the same piece of content is across different various websites and some of them could hurt your website.
So to avoid that you can use WP Content Protection to ensure that no one can copy-paste your content.
There are a lot more WordPress plugins but these are the must-haves for an affiliate marketing website.
And the good news is that if you use Thrive Architect page builder you don't need any more simply because they have all the plugins included in their plan.
8. Add Key Pages
Here are the pages that you should include on your affiliate marketing website:
About us page
Contact page
Privacy policy
Terms & Conditions
Affiliate disclosure
All of these pages are highly important to have on your website.
To create a new page in WordPress all you have to do to click "Pages" just hover over pages and then click on "Add New".
And what this is going to do is bring up the form to actually create a new page.
So it's very simple.
Let's create an about us page.
On the about us page you should:
Introduce yourself
Explain what your site is all about
Share your story
Include your photo
9. Find an Affiliate Marketing Niche
Once you built and set up your affiliate website now, it's time to find an affiliate marketing niche.
If you haven't found a niche already, I'll give you a few tips and come up with ideas.
You can also use some free affiliate marketing tools if you're struggling at this point.
So there are two different types of websites that you can create.
Product-Focused Affiliate Website
Here you can be talking about a certain group product for example Dog Food Advisor which's all about dog foods so that very product-focused affiliate site.
I like product-focused websites because the traffic that you're going to be attracting is people that are looking for a product. They're kind of ready to buy.
They've got their credit card in their hand, they just need a little bit of help choosing a product that's going to be the best fit for them.
So generally with a product-focused website, you have a pretty high conversion rate and you're able to monetize your traffic a lot easier.
The downside to a product focus website is it can be a little bit restrictive so it's difficult to branch out into other things.
The other downside is it can be a little bit more tricky to attract traffic to your website without spending money on paid affiliate traffic.
However, if you follow the method that I'm going to show you in a few moments you should be fine.
Information Focused Affiliate Website
The other approach that some people take to affiliate marketing websites is to go for a more informational sort of site also known as an authority site.
A great example of information focused affiliate website is Swim University. It's is all-around swimming pool care.
And on this site, you can find topics such as:
"Pool Cleaning 101: Why, When, and How To Clean Your Pool"
"How to Get Rid of Algae in Your Pool"
"How to Fix Cloudy Spa Water"
"11 Common Pool Maintenance Mistakes"
So here the author set up an informational website with the hope of promoting swimming pools and other related products.
For example, he might go for something like "How to Fix Air in a Pool Pump" and talks about all these different pool pumps.
And then within the content there he might be able to talk about pool water chemistry and offers different things that help with maintaining proper water chemistry and all that kind of thing.
So generally he is creating content that offers valuable information
The trouble with those kinds of websites is that the traffic that you're going to attract is going to be people that are looking for information they may or may not be looking to buy a product so it's harder to monetize.
And I often see that those sites supplement their affiliate earnings with advertising for example Google Adsense and they're all about getting very very high traffic numbers in order to really make some money because the conversion rate is going to be a lot lower.
💡 Pro Tip
It's often a good idea to create a site around something that you yourself are interested in. It'll just make it easier to come up with content ideas to be able to create content and sprout a gauge of whether that content is any good.
So that's how you come up with an affiliate marketing niche.
I'm guessing that the majority of you have already probably chosen a niche that's why you've been looking for a way to create a website but if you haven't then hopefully that was useful.
So once you've thought about the type of site that you want to go for whether it be product-based or informational then you're going to want to get some ideas for a product to promote on an affiliate site.
10. Find Affiliate Products to Promote
Before we put together a real affiliate marketing blog post, we need to find a product to promote.
There are many affiliate marketing networks where you can find products to promote on your site. Here are the most popular merchants:
And more.
💡 Find out More Affiliate Programs to Promote
To get you started I highly recommend checking out our list of:
Once you sign up as an affiliate with a merchant they'll give you access to an affiliate dashboard and they'll also give you some tools that enable you to create your affiliate links.
The process to sign up is generally the same for all retailers. You find their page about their affiliate program, you fill in a form, and they then take a look at your application.
They might go and have a look at your website and then they'll decide whether you're a good fit for them and you'll be approved or rejected.
And basically, an affiliate link is what the merchants use to track all the clicks and all the sales from the traffic that you send over from your website.
So, for this example, we're going to use Amazon Associates.
So step number one is we're going to go over to Amazon.
Once we're on Amazon we're going to search for the things that we want to promote on our website.
So climbing shoes are definitely the niche that we're going to be in so we can go through here and we can find the price point that we want to offer.
Amazon choice is always a good one to go with.
It looks like the price point here is about $50 to $250.
So, next I need to find some products that got a lot of reviews because that means it is a good product.
Although I don't own all of these shoes, I don't want you to get the idea that I'm promoting just random products. I'm promoting this because it's Amazon's choice.
Have you ever bought a product from Amazon that was Amazon's choice that wasn't good?
And it has 62 reviews 4.6 out of 5 stars.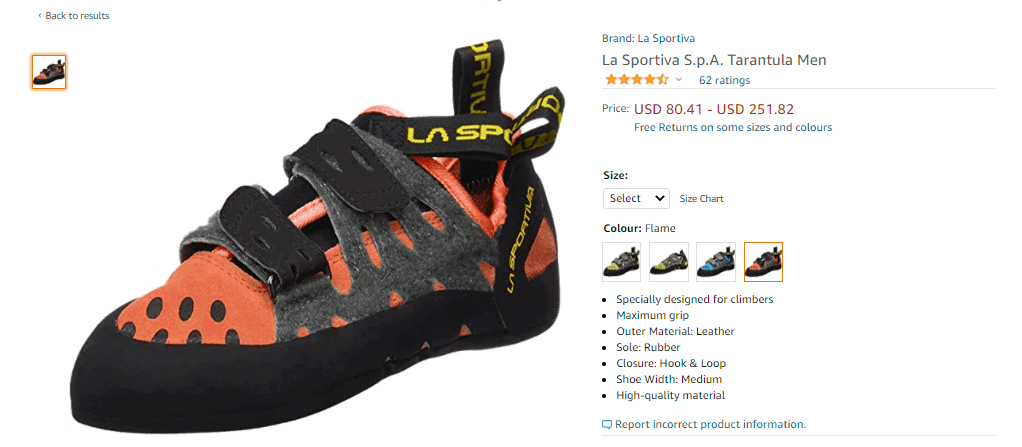 So that is going to be one of the products that I'm going to include in my review.
Next, I just need to choose between 5-10 pairs of climbing shoes that I'm going to review in my article.
And if you pick shoes with a good rating on Amazon, I don't think you're going to go wrong there.
So all we have to do now is come up top and get the link.
And we're going to use that as we put our post together.
So if get some information on these shoes we can start to write content about these shoes.
And now you need to do keyword research and then use these keywords in your post.
11. Perform a Keyword Research
In this part of the article about how to create an affiliate website, I'm going to be showing you how to come up with ideas for content for your website and perform keyword research for affiliate marketing.
Let's say we want to write a review article about "best climbing shoes". And this is going to be the main keyword that we want to rank for.
But one specific keyword is not enough to rank on Google. We need more related keywords also known as semantic keywords.
For this, we need a keyword tool. I personally use and highly recommend SemRush. It's actually the best keyword research spy tool for affiliate marketing. It also allows you to spy on your competitors which will be very helpful in the future.
SemRush shows you all the information that you need to know including:
Search volume
The trend of the keyword
Keyword difficulty
Competition
And more
So, first off go to SemRush Keyword Magic Tool (it's free to use)
And I'm going to type in the keyword that I want to rank for. In this case "best climbing shoes"
As you can see, it gives all the related keywords that I need to include in my article for example:
"best climbing shoes for beginners"
"best women's climbing shoes"
"best climbing shoes for wide feet"
"best climbing shoes for narrow feet"
"best climbing shoes for bouldering"
"best crack climbing shoes"
And ideally, you want to tag your blog post with a lot of these keywords.
You can also create different posts around this.
And you can play around and search for other keywords, maybe with higher search volume or lower competition.
So having a keyword research tool like SemRush is very helpful because just seeing what the keywords are regardless of the search volume is extremely helpful because then you can target what kind of blog posts you want to write.
And if you want a cheaper alternative to SemRush, you can also try something like UberSuggest.
Of course, It's not as powerful as SemRush because well SemRush is the #1. But if you're just getting started with SEO and affiliate marketing you should be fine with this tool.
So, once we found a list of keywords that we want to go after, now it's time to use these keywords in our article.
12. Write Your First Affiliate Marketing Post
In this section, I'm going to show you how to create content for affiliate marketing. Also, I'm going to share with you what you can do if you actually don't want to write content yourself
Content is a really important part of your website.
In fact, it's the main part of your website, it's what's going to bring people to your site from Google and the other search engines.
Research Phase
First, we need to gather some information about the product that we want to review.
And for this, I'll come back to Amazon, and then search more in the product description section.
Here you can typically see what the manufacturer is saying about the shoes and you can't believe that because you can't always just go and say oh this is what they do because you know just as well as I do sometimes when you get it it doesn't really do that.
So what I love to do and I recommend you do is come down to the reviews because these are how the shoes actually perform.
So, you should definitely check out all of the Amazon reviews to gather more information.
And if the review sounds too good to be true just stay away from it and go for the ones that make sense and you start to find the pattern of what people are saying.
Please, don't go in here and just copy all this and paste it because that is plagiarism and it's not good practice.
Get some information from here start to look at the reviews and then you can curate your content.
If you've owned this pair before it will make it a lot easier to write about it but if you haven't you can start to look at these reviews and you can start to summarize what everyone's saying about these shoes and put it into your content.
And the first thing I've picked up on is this five-star review says that:
"These shoes are so much better than normal running shoes you do have to train your calf up as it has to start again and normal running shoes prevent you from your natural run but these allow you to land on your forefoot with no issue doesn't matter if you run on concrete or not, I got no shin splint which was awesome but my calf did hurt as I ran my usual 1.5mile sprint as I'm training to sign up for the marines but I would recommend running a mile or less just to build up the muscles and ligaments for barefoot running"
So that is some great information that we're definitely going to want in our content because people who are reading this and have shin splints that's almost a no-brainer.
They're seeing that it's the best seller and it's good for people with shin splints. So that's really good.
And we'll keep scrolling through here and gathering information so we can start to put together a story and summarize how everyone feels about the shoes and that's all we're going to do here.
So I'm going to take a couple of minutes and gather some information and put together a post.
OK, once we have some information about the product that we want to review, now we can start creating our content.
The Perfect Blog Post Template For Affiliate Marketing
Now, I'm going to show the blog post template that we're going to create.
Title
In your title, you include the number of items that you want to review and specific benefits. You can also make your title more compelling by adding a benefit or including relevant power words.
So, I'm going to come back over to our post and I'm going to put "Best Climbing Shoes in 2021" in the title.
Get creative with this and make sure that you're using your keywords here because this is exactly what we want to rank for.
You can play around with this but make sure that in your title you just have the main keyword that you want to be ranking for.
Introduction
Once the title is all set, we can start to write the rest of our content.
In the introduction, we can put in something catchy that gets people curious for example:
Are you looking for the best climbing shoes that 2022 has to offer? In this guide, I'm going to bring you the most comprehensive climbing shoe review that you can find online. I evaluate each shoe based on metrics of comfort, edging, sensitivity, steep terrain proficiency, and crack climbing as well as the best climbing shoes for beginners.
So the whole thing is making sure that this blog post is keyworded correctly and ideally you would want to put best climbing shoes somewhere in this first paragraph as well that's just a helpful tip for SEO.
List Items
After short summary, you want to introduce your first pair of shoes.
Climbing Shoes KIME with Vibram Sole (H2)
Made with synthetic microsuede, the KIME will stretch less than a leather shoe, but an elastic patch on the top of the foot gives it a close fit. These climbing shoes come very accurately sized so don't have to worry about the size being off.
And ideally, the name of these shoes should be in an H2 or H3 heading
You should also include an image. And you can take a screenshot from the Amazon.
So then you would just go down and add more products like that below and you'd want to describe them with pros and cons and all the rest of it.
You get the idea and you can get some examples again by going over to my blog and you can kind of see how we structure our articles there.
Images
For images in your posts I really recommend trying to take your own photos but not many people do that including myself.
So what i recommend doing is going to sites like Unsplash or Pixabay to find images that are completely free to use and don't require any form of attribution whatsoever.
Affiliate Links
Next, you need to know how to get affiliate links on your website.
So, we want to add affiliate links and call-to-action buttons on your site. And typically you want to include your links at the top and then another one at the bottom of the post.
But you also want to include your link in other places as well because there are multiple places that people could click.
So you want to make sure that you're linking a couple of other places that people can click and still go to that same affiliate link.
In your call to action, you can type in: "Buy on Amazon" or "Check the price".
Here is an example.
So that's a pretty good blog article right there.
Outsourcing content writing
You can also outsource creating content for professional writers. The company I use for the bulk of my article creation is a company called WriterAccess.
Generally, the articles are of really good quality. I mean, of course, they need a bit of editing. I have to go through and add my affiliate links and lay them out very nicely, add tables that kind of stuff.
Creating content with AI tools
The other thing that you can do if you don't want to create content for your site yourself is you can use AI copywriting software that will do the heavy lifting for you.
I've tested all of them and in my opinion, the best AI tool for affiliate marketing is Jasper AI.
The huge advantage of Conversion AI over the other tools is that Conversion AI generates a lot better long-form copy and this is of course what we need for affiliate sites.
Jasper AI offers a free trial if you want to try this software out yourself.
How to write content for affiliate marketing?
The key thing to affiliate marketing content writing is that you should try and make them really useful for a reader and high quality too.
My approach to content has always been to create articles around what people are looking for and where there aren't too many other articles or visitor information already out there.
So you're basically looking to fill the gaps.
How long should a blog post be?
In terms of how long those articles need to be, there's no real fixed rule of thumb to this I tend to aim for at least a thousand words per article sometimes they're much longer really depending on the subject.
But in my experience, I found that Google does tend to favor those longer articles. Those articles that deliver some really good information.
Now of course you might be able to get away with shorter articles it really depends on the subjects that your you're writing about but well I would suggest is that you look at the Google search results.
Look at what other people are publishing and you know if their articles are long then your articles will need to be long.
If short articles seem to be ranking well then providing some good information then the length for the article doesn't matter too much.
How often should I publish a blog post?
The best way to do this is to publish articles on a regular basis ideally at least once a week maybe even two or three a week if you can possibly manage that.
13. On Page SEO Optimization
The last step is on-page SEO optimization and for this we're going to use Yoast SEO that we've installed earlier.
So, at the bottom of our blog post, we've got our Yoast SEO.
First, we need, to set our focus keyphrase and this is the main keyword that we want to rank for.
So in this case "best climbing shoes"
Next, we have slug and meta description.
SEO slug should contain only keywords that you want to rank for. Ideally seperated by dashes.
A meta description is the short description of your blog post that will display on the SERP.
And we have to ensure that whatever information you want to show is basically within the word limits because it will not display in full on Google.
The goal of the meta description is to encourage people to click on your article.
SEO analysis and there are certain things that I usually look into.
And here you'll see things like:
Outbound links
Internal links
Keyphrase in introduction
Keyphrase density
Meta description length
Image alt attribution
Keyphrase in title
Text length
And more.
When it comes to on-page SEO, a lot of factors come into consideration however I focus on a few things very important things.
Internal Links – first, you need to make sure that you link to other relevant articles from your site so people can easily travel around within your site. And internal links are a very important ranking factor.
Outbound links – are links from your website to another website. So make sure to link to relevant content from other websites. Ideally to high authority sites from your niche.
Text Lenght – longer articles typically rank better on Google.
Keyword Density – which is how many times that does the keyword that you are trying to target is mentioned in the article.
14. Off-Page SEO Optimization
So we've just done our on-site SEO using the Yoast plugin where we optimized around a particular keyword.
The other side of SEO is called off-site SEO and that's basically where you try to encourage people to link to your site from their website in order to raise your reputation with Google.
Google basically counts up all of the links that come to your site and it sees each one as a bit of a vote of confidence in your site and basically the more you've got the better your site will rank.
There are other factors involved like for example where those things are coming from. If they're coming from a site with high authority that would carry much more weight and have a bigger effect on how well your site ranks.
And by adding good quality content you will naturally attract links from other websites and from other places like social media but you can speed up the process by doing a few different activities.
Now, this is obviously quite a big topic and I'm only really going to just scratch the surface in this guide and just give you a few ideas.
Guest blogging
Blog commenting
Distributing infographics
Resource pages
Replacing broken links
And many.
Off-page SEO is a huge topic and If you want to learn more tips and strategies I highly recommend this guide to link building for affiliate sites.
Affiliate Marketing Website FAQ
How much does it cost to build an affiliate website?
The only costs that are essential to building an affiliate website are hosting and domain. Hosting prices typically range from $4.99 – $20 per month and domain costs you anywhere from $2 to $20 per year. However, some hosting services like Bluehost provide a domain for free. You can also go a step further and invest in other helpful tools for an affiliate marketing website like page builder, email marketing software, and more.
Can affiliate marketing be done without a website?
Yes, affiliate marketing can be done without a website. However, if you want to build a long-term business and start making mine online, it's always better to have a website where you have full control.
How To Build an Affiliate Marketing Website Final Words
Congratulations you all know how to create an affiliate marketing website and optimize it for SEO. You also know how to write content that ranks on search engines and makes you money.
While it's possible to do affiliate marketing without a website, if you're serious about his business, you should get one.
Now it's your turn to take action.
There's a lot of hard work and hustling that is required which not many people do. They give before they see any results.
So don't get disheartened if things are slow. Just ensure that good quality content is being published on your blog.
I really recommend not spending too much time on trying to improve tiny aspects of your site.
At the start, if you're trying to make a simple affiliate site that earns you passive income each month this is all about getting the work done and showing up consistently each week in order to see results.
I really think I've covered all of the basics that you need to start your affiliate marketing website.
If you would like to grow your affiliate site even further make sure to check this email affiliate marketing guide to help you build your next asset which is an email list.