Today I'm going to show you how to build a sales funnel for free. Actually, we are going to build it together from scratch and you're going to see that we can do it in minutes.
No matter what business you're in, you need sales funnel to bring new leads and turn them into customers. And that's why we need to understand what a sales process is all about.
You probably know that a sales funnel is basically a series of pages that are designed to get a potential customer and turn them into a buying customer. It's something very specific for sales.
It's different from websites because websites are for general information about your products or service, it's not something that sells. Sales funnels are built to sell directly to your customer exactly what you have to offer.
Get Started with Best Sales Funnel Software
To build our sales funnel we're going to be using Builderall, one of the best all in one digital marketing platforms available on the market.
Builderall offers our readers a 14-day free trial where you'll have access to over +40 digital marketing tools available on the platform.
Builderall sales funnel builder is super easy to use and all is drag and drop.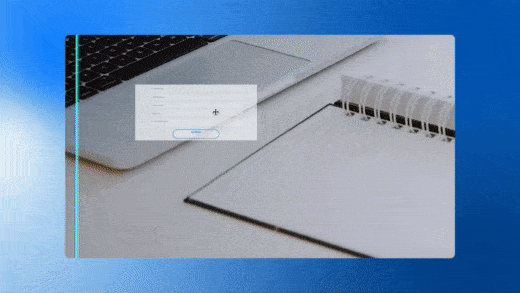 With Mailingboss – Builderall's email marketing platform you'll get access to unlimited subscribers and contacts where you can:
Set up automations
Create campaigns
Design email templates
Tag people
And more.
With this tool, you can set up really advanced automations to nurture your leads.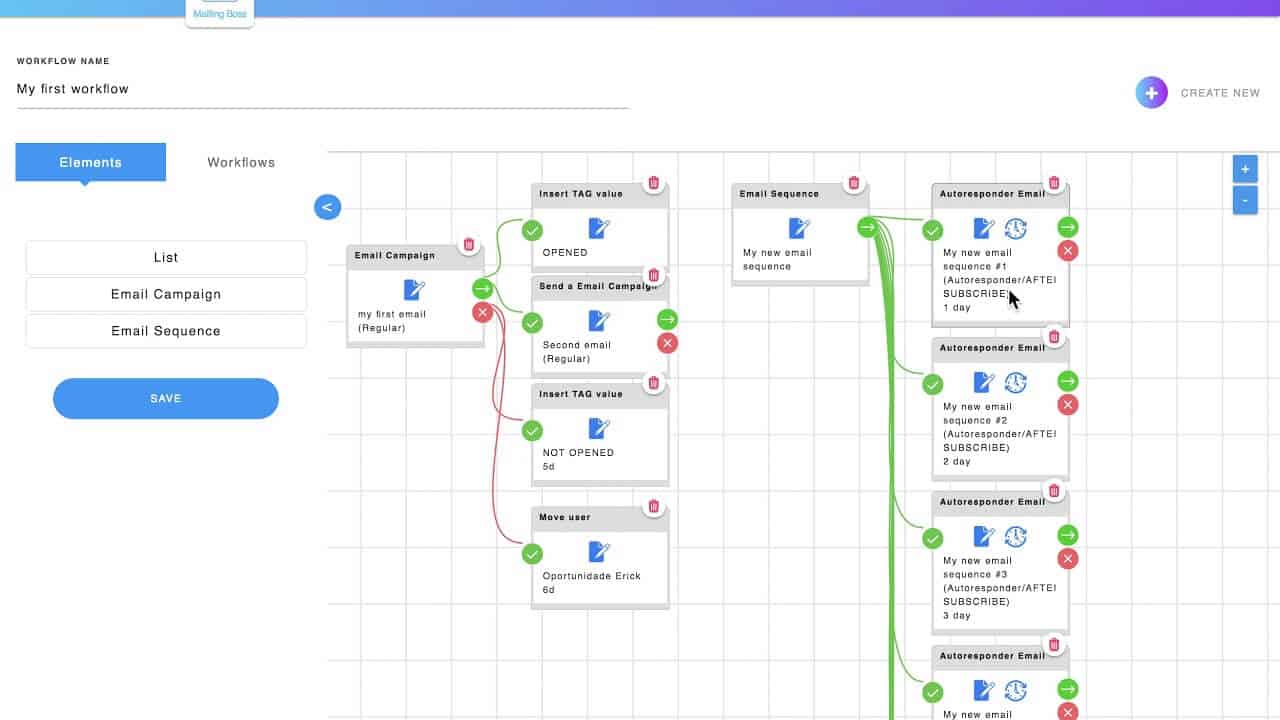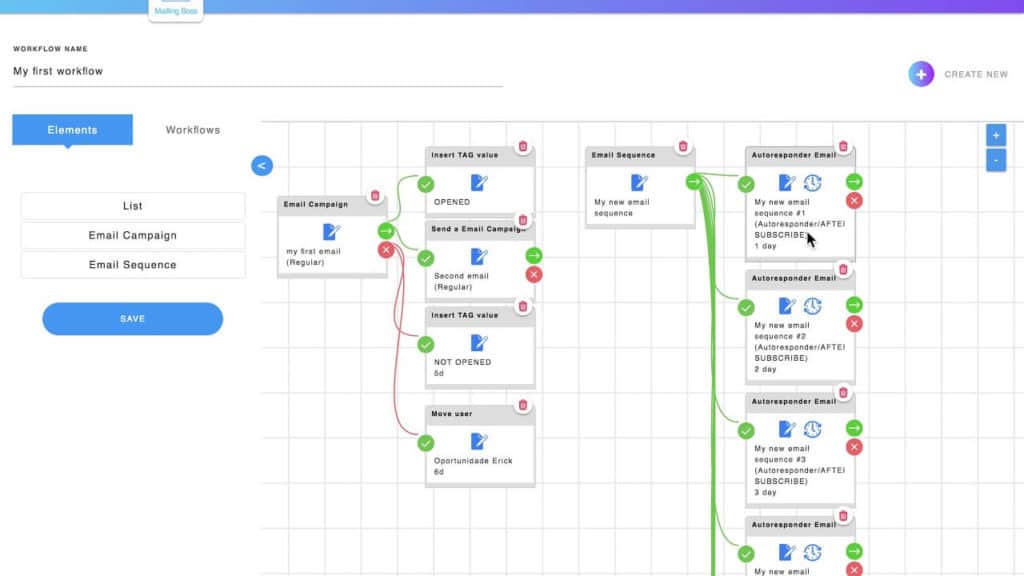 In addition, they have one of the highest deliverability I've ever seen.
So, that is everything that you need to start building your email list, creating high-converting sales funnels and websites all in one place.
In addition, with Builderall Funnel Club, you can get access to +400 professional website templates and sales funnel templates to choose from.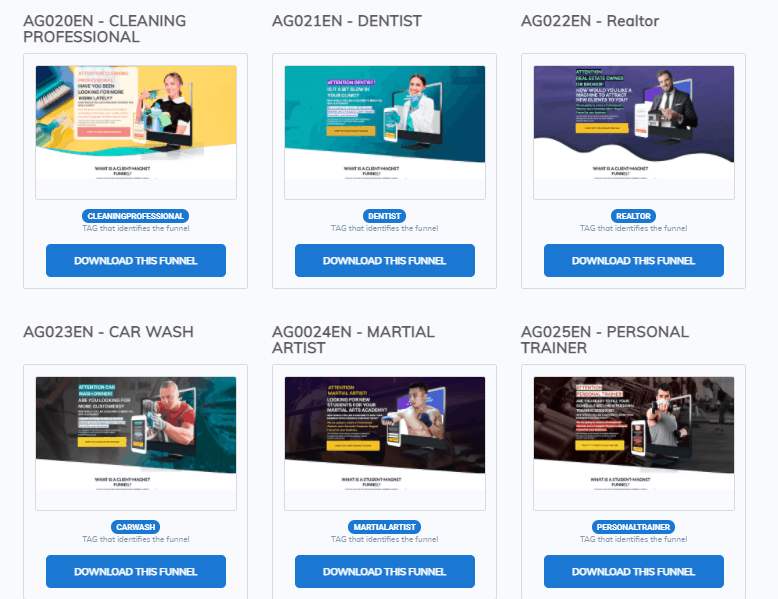 >> You can find out more about Builderall Funnel Club here.
For this, you can also use any other sales funnel builder like Kartra, or ClickFunnels but these platforms don't offer all the tools that Builderall has and they are much more expensive.
This is why I recommend Builderall, I guarantee that you'll not regret using this tool. It will also save you a lot of time and money in the long term because you have everything in one place.
Sales Funnel Breakdown
Today, we are going to create a sales funnel with three pages:
When you're building funnels in Builderall you have two options.
You can either start by going into the "Cheetah Funnel Builder" where you can lay out the funnel before you started editing each page.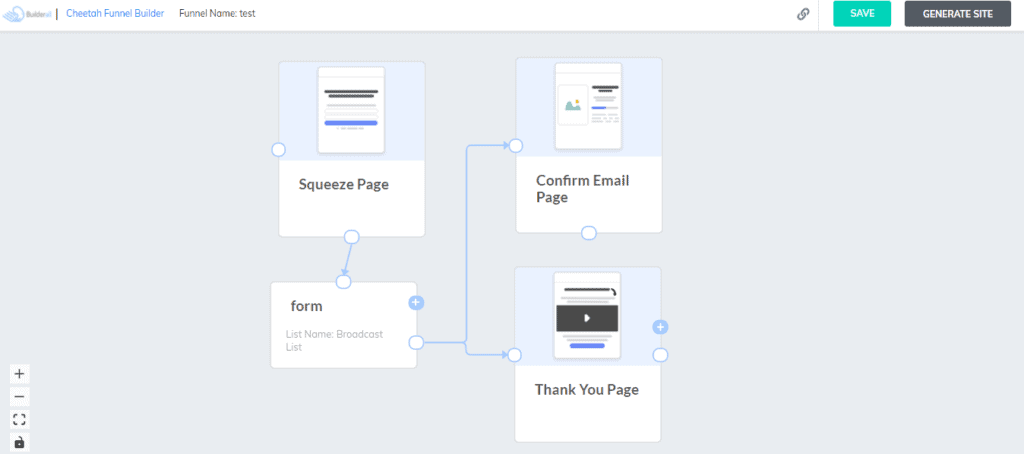 It's great if you have a more complicated funnel with more pages and more options.
So this is something like Funnelytics but with Builderall you have this feature included in the platform and this is just one of the reasons why I recommend Builderall.
But we are going to build a very basic three-page funnel so we're going to be using "Cheetah Website Builder" and that is a website and page builder.
So, let's start with the landing page.
1. Create a Landing Page
First, log in to Builderall, and on the dashboard, you'll see "Cheetah Website Builder"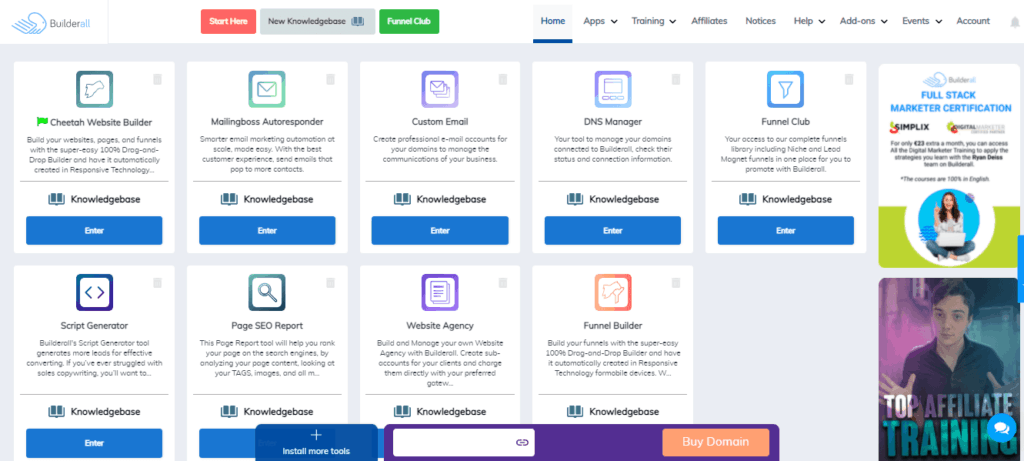 You can have the Cheetah that we're going to use in this tutorial and the Mailingboss. Obviously, then when you enter as a free plan you can see all the apps that you can have access to if you upgrade.
Step 1. Create new site
Let's enter Cheetah and then click "Create a New Site".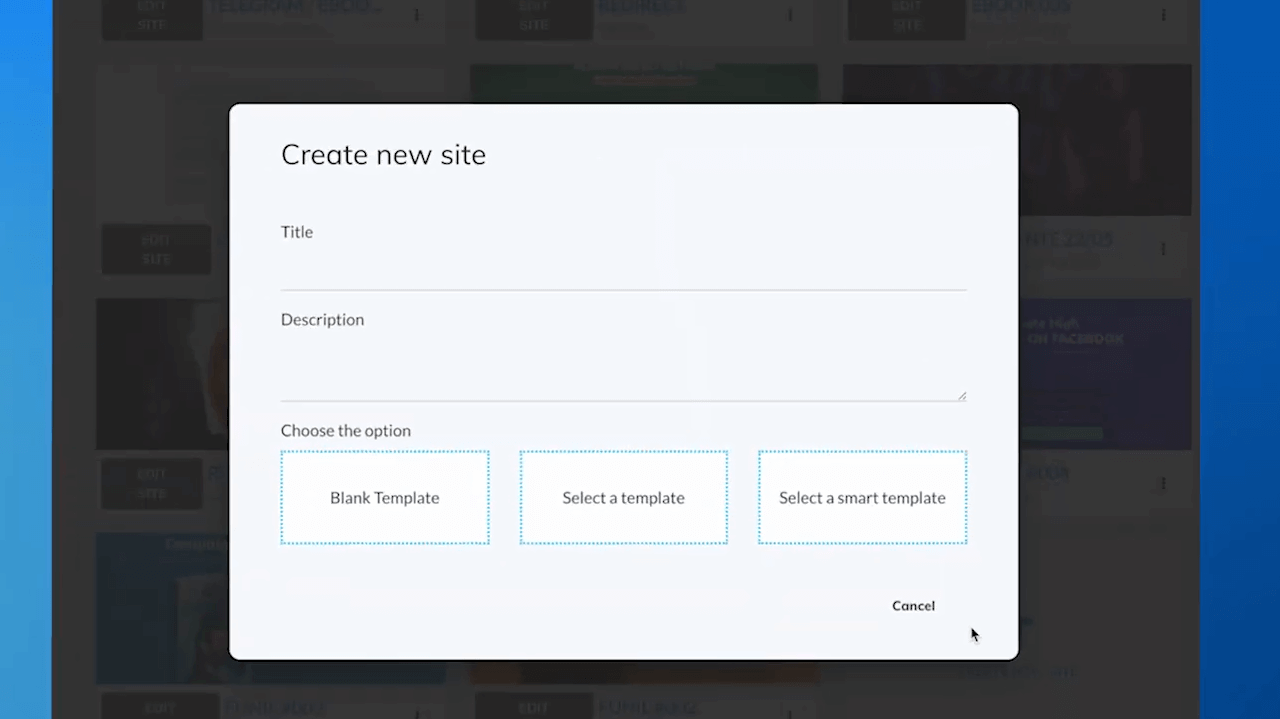 Step 2. Select a sales funnel template
And here you can choose from hundreds of ready-made website and sales funnel templates to get you started.

And for the purpose of this tutorial we're going to start with a blank template just for you to see how easy it is to build a sales funnel with Builderall.
So click on "Blank Template"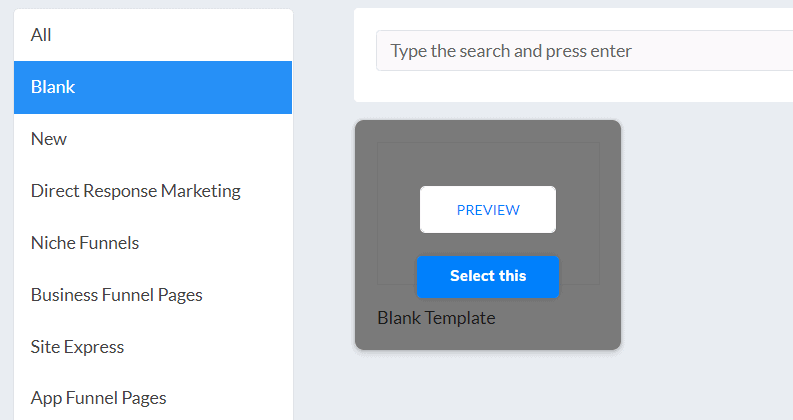 The first page of our marketing funnel that we are about to create will be the landing page.
Step 3. Select a panel
Let's just start with a panel.
On the right-hand side click on "Panels" and then select a "Title" and that will be the title of your landing page.
Simply drag and drop the text on the page. It's very easy to use.
And this is going to be the title of my funnel: "Want To Build Your Sales Funnel for Free?"

You can customize however you want, for example, change the font, size of the font, color, and all that good stuff.
Now, let's add some copy to this page. And for this example, I'm going to type in:
"Now you can build sales funnels and websites for free"

And let's save this because saving is our friend.
Click on "Save"
You'll see; "Do you want to publish this site?"
Click "Not now" because we still have like three pages to do.
Step 4. Add a CTA Button
And again, on the right-hand side click on "Elements"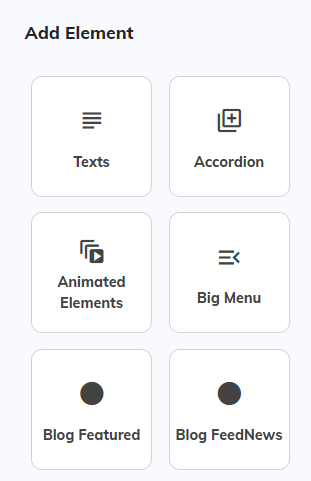 And select a "Button"
And let's add and design a button to take our lead to the next page.
In Builderall all is drag and drop.
You can play with the design however you like. Change the color of the button, centralize it, round the border of the button, and more.
My CTA will look like this.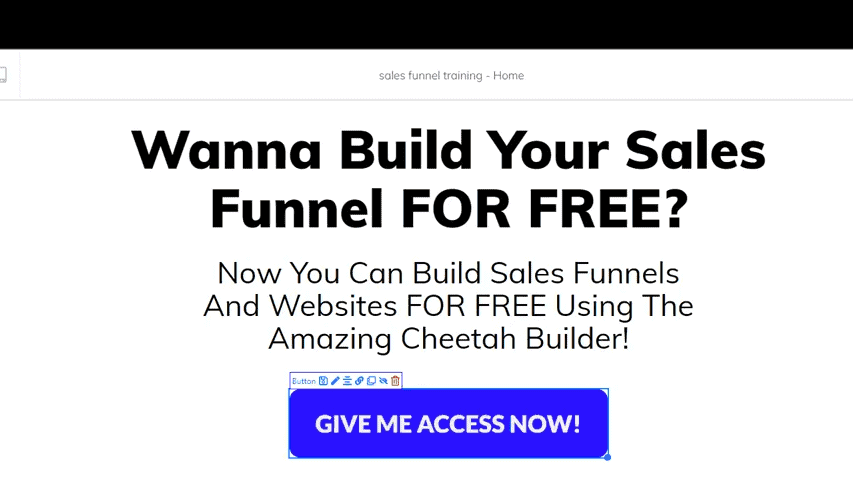 And then this button will be connected to our next page that is the opt-in page.
First, we need to create the other page and then come here and connect to the button because there's no page to be connected to right now.
So, let's save, and let's go and build an opt-in page
2. Create an Opt-in Page
This will be the opt-in page.
So let's add the title of our opt-in page, which is going to be "Almost There! Please complete the form below and gain instant access to FREE Builder"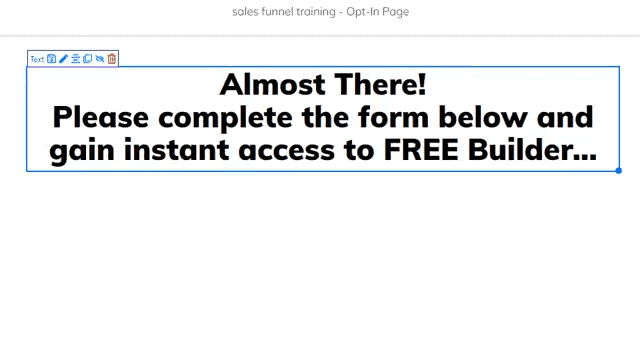 Very simple. Obviously, I'm not doing my best copy here, but it's just for you to understand how easy it is.
So, let's select another element that is the email marketing form.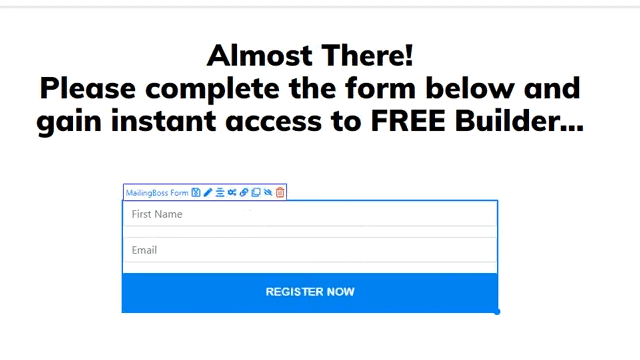 And that this point you can also offer a lead magnet in the exchange for the email.
And a lead magnet you be:
eBook
Training
Cheat sheet
Trial
Quiz
Discount
And more.
This is especially helpful for affiliate marketing. If you want you can see how to create a lead for affiliate marketing in this in-depth guide.
Now, let's enter a Mailingboss to create an email marketing list.
3. Create an Email List
And this is the Builderall MailingBoss dashboard where you can create your email list, set up automation, design email templates, and more.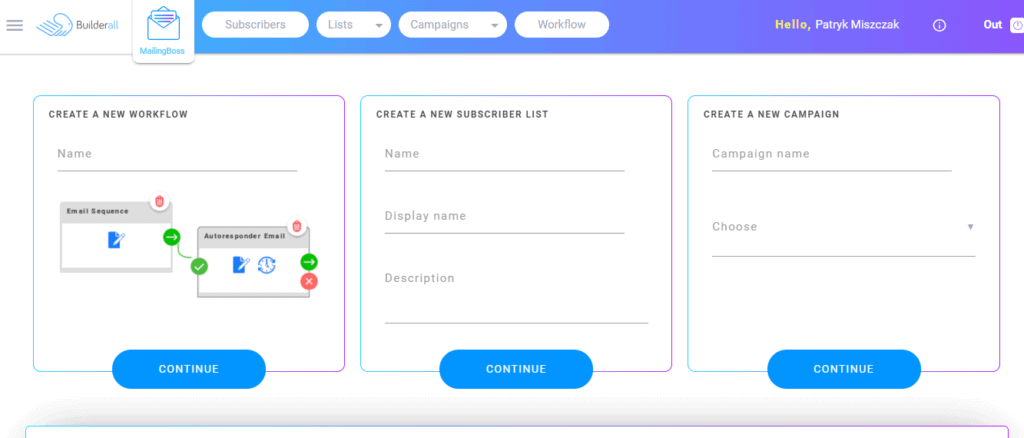 Let's create a new list, for your sales funnel.
First, click "CREATE A NEW SUBSCRIBER LIST"
Next type in the name of the list, display name, and short description.
Once you do that you're going to be directed to the settings.

And here you need to decide if you want to single opt-in or double opt-in form, you can also select some tags but it is optional.
Let's create a double opt-in for our form.
Now we have the form already set so let's go back to Cheetah.
4. Connect New Email List with the Landing Page
And here there is something you need to remember.
Because as we want this person to put his or her email and then we enter in contact with them by email, we need to connect our email marketing form to our list in our Mailingboss, that is the autoresponder system.
Let's select the email marketing form that we've just created and it's going to open directly the Mailingboss list.
Click on "Set list "button

And choose the email list that you just created.
Next, we are going to create the last page which is the bridge page.
5. Set Up a Bridge Page
So, let's start with adding a new panel again.
Step 1. Add a new panel
Let's add a title and then we say what a bridge page is. It's something that is just a video for you to introduce yourself. It can be very short, 1-2min in the maximum, just for you to introduce yourself and speak about what you have to offer.
So, I'm going to out in the H1 title, "Watch this video first."
Step 2. Add Video
Next, you can add the video from YouTube, Vimeo, or Wistia.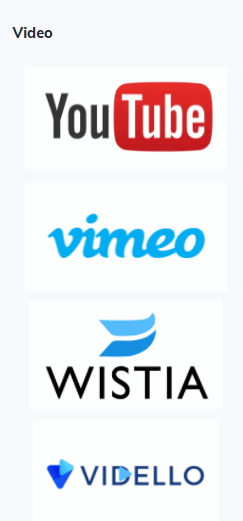 I prefer to use Vimeo.
And then you would embed your video.
You can decide to auto-play or and put it in a loop because it could be annoying for many people.
I don't like any of them, so I would just take it out.
Step 3. Add CTA button
And after that, we can then add another button that takes the people to the bridge page that we've just created.
And this is our bridge page.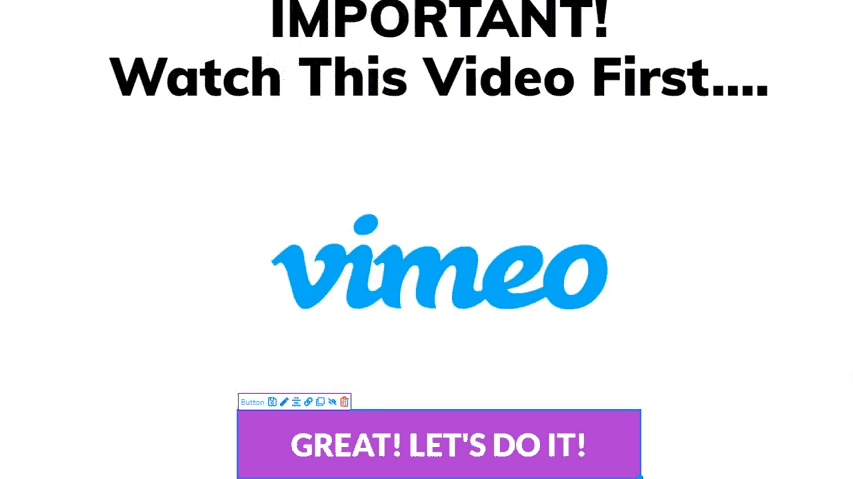 Obviously, you need to work on the consistency of the colors. I'm just showing you that it's so easy for you to do that.
6. Connecting The Pages into Funnel
Now that the pages are already created, let's connect them.
Step 1. Connect the landing page with the opt-in page
Go back to the landing that we've just created.
First, we're going to set the link of the button.
Click on "Set link"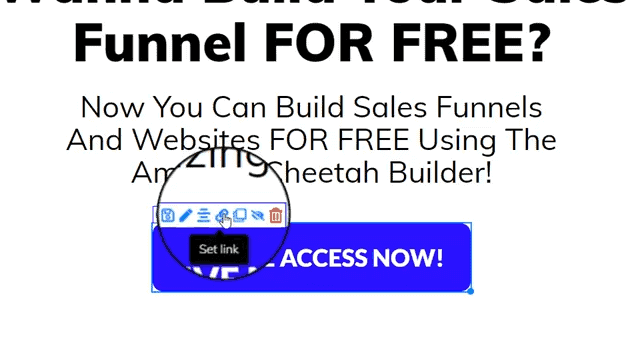 And you'll see the pop up where you can connect all the pages together into single sales funnel that looks like this.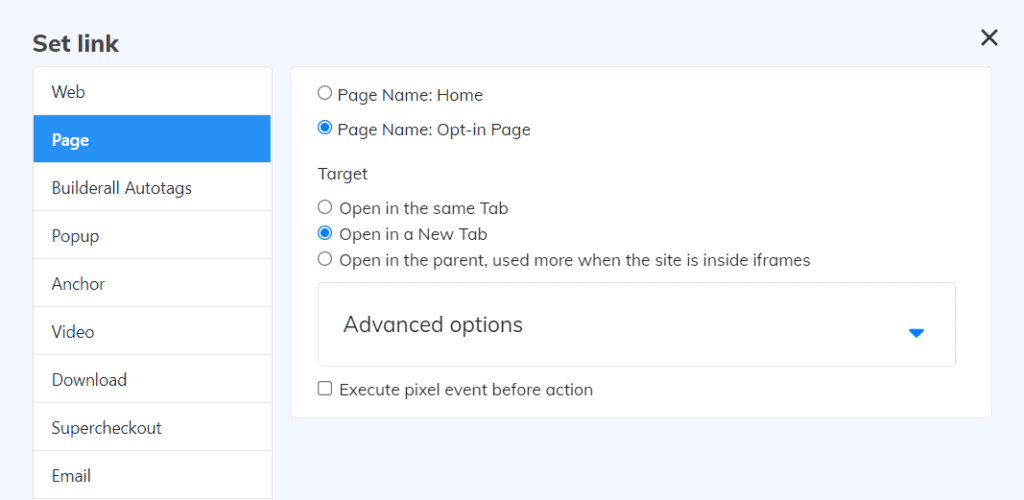 So here under the "Page Name" you want to select "Opt-in page."
And under the target option, you want to select "Open in the same Tab"
Last, we're going to save that again.
Step 2. Connect the opt-in page with the bridge page
And then let's go to the opt-in page and connect it with our bridge page
And here we need to do the same in order to connect these pages together.
So when the person subscribes it's going to go to the bridge page.

When the subscribers confirm it's going to the bridge page and "open the same tab"
And click "Save"
And when it comes to "Unsubscribe Confirm"; it's not necessary for you to put any information here because we are actually interested in subscribing not unsubscribing.
So, let's save it.
And there you go. Your marketing funnel is ready.
You see, that's it, it's easy guys. Just a matter of you connect to the domain right now and test it out and it's ready to go.
Amazing, isn't it?
Conclusion
So this is how to create a sales funnel from scratch. Now you're ready to build an email list.
Have you seen how easy was it to build a sales funnel from scratch?
Everything is drag and drop, very intuitive so you have lots of training that you can do inside Builderall to understand much more about the funnel builder.
So, if you want to try it out, you can start your Builderall free trial and create your sales funnel for free.