Today, I'm going to review Digistore24, and then you can decide whether or not you want to get onto this affiliate marketing network and start selling some of their products.
In this guide, I deep dive into Digistore24 to give you a really thorough walkthrough of how this popular affiliate marketing network works, the best ways to start making money with Digistore24, and how to correctly set up your account so that you get paid.
I also show you my personal tips and tricks for finding good products to promote so that you can increase your chances of making affiliate commissions.
I've been doing affiliate marketing for over 7 and I've tried tons of affiliate programs and networks.
So, in this Digistore24 review, I'll share my thought about this popular affiliate network and how you can make money on this platform.
Let's get started.
What is Digistore24 + How it Works?
Digistore24 is an affiliate network from Germany.
They have over 25 000 active affiliates and 4.8 million transactions in 2020 alone.
Trustpilot gives them 4.7 stars reviews.
And the great thing about Digistore is that they accept members from pretty much any country in the world.
So, unlike other networks like ClickBank who have been in the game just a little bit longer, Digistore actually allows people to get access to their platform pretty easily so, you don't have to go through any difficult verification or anything like that.
You can literally just sign up, get your Digistore ID and you can start selling products and earning commissions pretty much straight away.
So, if you're having trouble signing up for a ClickBank account because now they are very, very strict on who they allow into their network, then you can try Digistore24.
Digistore24 Niches
The great thing about Digistore24 is even though there are less products than ClickBank because ClickBank has been around a lot longer, they still have a lot of digital products and they do cover a lot of the same niches that ClickBank covers.
On Digistore24 you can find products on almost every niche including:
And more.
So, as you can see they do cover a lot of different industries and sectors.
And so if you're an affiliate marketer, then this is a good place to check out.
It doesn't have as many products as say ClickBank does, but you can still get access to some of the same products that you can get on ClickBank.
So, what a lot of product creators will do is they will list their products not only on ClickBank but they're also listed in Digital24 as well.
Digistore24 Payment Methods
Digistore24 is payout via ACH, via Wire Transfer, and via PayPal, which is great because ClickBank doesn't payout through PayPal.
But Digistore24 pays through PayPal so if you have a PayPal account, which is very likely because most people online these days have a PayPal account, then you can get paid directly through PayPal by Digistore24 if you promote their products.
They pay out about 300 million US dollars a year so they're very successful, and they pay on time, they pay every single week.
So, it's not that you're going to have a problem with getting your money from them. It's about whether you can generate a sale online and we'll talk about that later in this Digistore24 review.
Digistore24 Marketplace & Products
Now let me explain to get started with Digistore24 and find profitable products to promote.
All you do is sign up for an account and you can just go to Digistore24.com and you just follow the instructions and get signed up.
And once you get signed up, you have to set up your payment details, and they'll verify your cell phone numbers, stuff like that because these guys are 100% legit.
And then you click on any of the categories and they will show you a whole list of products.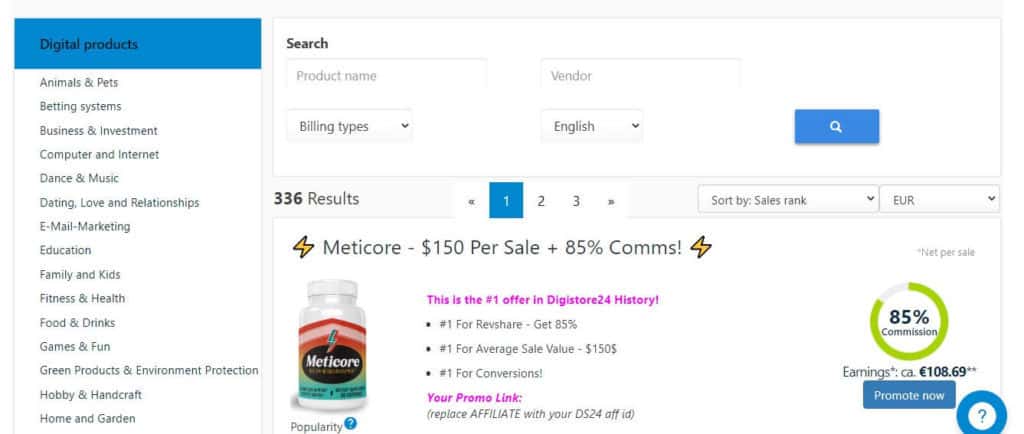 For example in the Health & Fitness niche, they have 54 products.
And they have a whole bunch of information about these particular products like:

You can have a look and even try the offers out yourself if that's something that you want to do.
And then all you would do is if you wanted to promote this offer, you would click on the "Promote Now" button and it's going to give you a link.
And keep in mind that for some of these products you have to get authorization.
You can also preview the actual sales page for this particular product.
All I do is grab an affiliate link and I'm going to right-click, copy and then paste it in a new tab, this is my actual affiliate page.
If I was to press enter and I send someone to this page, they're going to land on this page, and if somebody buys this particular product, I will make a commission.
And the commission that I make is basically 50% commission.
And they have a bunch of upsells and stuff like that as well.
It's as simple as that. It's a very, very easy system to use. I highly recommend that you check out Digistore24 if you want to check it out.
But before we do that, let me talk about the main ways to actually promote Digistore24 products as an affiliate.
How To Make Money on Digistore24?
In this section, I am going to show you the best ways to promote Digistore24 products.
First of all, this is not about get rich quick scheme or find a short way to make money via Digistore24.
But if you have 1 hour per day to invest to build those traffic sources, you will be able to build long term affiliate marketing business.
So, let's take look at how to make money on Digistore24.
1. Sales Funnel
The first and most fundamental step to promote Digistore24 products and any affiliate products for that matter is to create a sales funnel process.
When I started affiliate marketing in 2009, this was a strategy that was taught to me. They said, "just go out there and send them directly to your affiliate link"
People don't buy like that anymore. If you're reading this article now, you're probably reading it in the 2021 era so that means that people don't buy like this anymore.
So, if you want to promote affiliate products directly, as in you keep sending people directly to the sales page, people aren't going to buy.
Because they know that this is a sales page. People have seen pages like this so many times now online that it's not effective anymore.
If you're promoting your Digistore24 affiliate link directly, you're not going to generate any sales. What you need to do instead is you need to think about providing value to your marketplace first and asking for the sale last.
Now, you do that via something called the sales funnel process where you basically are attracting people towards you and you provide a lot of value to them.
🔎 Read More
If you didn't implement sales funnels for your affiliate marketing business yet and you have no idea how to get started, I've put together a step by step guide on how to create a sales funnel from scratch, using one of the best (and most affordable) sales funnel builder available in the market, Builderall.
2. SEO
The next traffic is SEO or search engine optimization and basically what that means is you will appear within Google's indexing for specific keywords.
If you had your website built and you had articles on there you would get free passive traffic for your Digistore24 products.
There are many moving parts to create an affiliate site but if you're looking to get into affiliate marketing and you want to do it legitimately, you cannot go wrong with building your own asset online.
3. Faecbook Group
The next way to promote Digistore24 products is through Facebook groups. I started this Facebook group last year.
Currently, it has 11 K members, and those are the targeted members.
So, I can easily promote Digistore24 products to those people.
But currently, I'm at a growing stage so I am not focusing on promoting anything on this group because I need to maintain the quality of this group.
If you won a Facebook group, always try to manage the quality of your group and you will be able to gain a lot of group members quickly.
4. Pinterest
So next social media platform is Pinterest. Pinterest is actually a very underrated traffic source for affiliate marketing.
I established my Pinterest account in January of 2021, and the engagement and impressions are really great.

But recently impressions and engagement dropped, but I will keep updating this Pinterest account and try to grow it.
Basically, how I did this?
I share my own content and re-pin other people's content.
Also, Pinterest is a search engine, so you can get high engagement easily on Pinterest.
5. Instagram
The next social media platform is Instagram.
You can create an Instagram theme page related to your niche and to your affiliate product that you choose on Digistore24.
You can either create posts yourself or you can even repost someone else posts.
I started this Instagram account last year and currently, I have 2.7k followers, and here is the engagement of this Instagram account.
Currently, I am not promoting any product on this Instagram account so I get zero website visits.
But I will keep updating this Instagram account and I will keep posting content and grow more than 10K followers and I will start to promote affiliate products.
So basically, what I did is sharing content for months and engage with the current audience.
6. TikTok
TikTok is by far the fastest way to get a lot of views fast and to reach a lot of people fast with free traffic.
it's not uncommon to get thousands of views on your first video and there's just nothing like TikTok right now.
So if you're interested in that way of promoting Digistore24 products, check out this guide on how to do affiliate marketing on TikTok.
7. YouTube
The next social media platform is YouTube. YouTube is the second biggest search engine in the world.
And the great thing is that a lot of people researching different reviews of Digistore24 products.
It will take time to grow your YouTube channel so you have to be patient with this social media platform, and do the consistent work to build it.
8. Email List
You have to remember; a lot of free traffic sources don't belong to you so you have to build your own email list and build your audience using your email list.
Basically, if something happens to your YouTube channel or any of those social media accounts, you can create a new account and send emails to your existing email list and ask them to join your social media account.
🔎 Read More
I've also covered this topic in this guide to affiliate email marketing for beginners where you'll learn how to build your email list, set up email campaigns, write affiliate emails, and more.
So, as I told you before, this is not the get rich quick scam or easy way to make money with Digistore24, but if you'll be consistent and at least dedicate 1 hour per day, you will be able to gain high-quality results.
And if you want to see even more ways to promote Digistore24 products, check this ultimate list of free traffic sources for affiliate marketing.
And also how to do affiliate marketing with paid ads if you think that is something for you.
Digistore24 Alternatives
Here are some of the best Clickbank alternatives.
Clickbank
Clickbank is one of the biggest affiliate networks that has been around on the internet. Clickbank has been around for over 20 years so they're a trusted platform.
Clickbank is a platform has absolutely thousands of different products to promote and each one of these categories has sub-categories.
Also, Clickbank products are sold in different languages. You can get one-time paid products you can also get reoccurring and even dollar trials so there are some really good offers to promote.
Unfortunately, there are some countries that if you happen to live there, unfortunately, you just can't join Clickbank and that's a drawback but it's their policy.
The major difference between Digistore24 and Clickbank is that Digistore24 has more physical products that you can also sell as well as just digital products.
The second difference is that Digistore actually allows affiliates to get access to their platform pretty easily.
Related article: Best Clickbank affiliate products to promote.
JVZoo
JVZoo is a very similar affiliate network but they do have some approval processes where you have to ask to promote a product. Jvzoo is mostly a software network where you can find a lot of good selling products.
You can find out more about this popular affiliate network in my JVZoo review.
WarriorPlus
WarriorPlus is another affiliate network where you can find products mostly in the make money niche.
Keep in mind that these products you need to take with a pinch of salt as they are mostly shiny and sound great to buy but will not get you anywhere.
To be fair you can find some high-quality products on the WarriorPlus network that you can promote with no remorse.
CJ Affiliate
Moving on to CJ Affiliate this affiliate network is very interesting because it probably has the most professionalism of all the websites because the affiliate offers that you can promote are usually really legitimate companies.
They're not just informational courses or software, they're mostly very legitimate companies like loan companies, insurance companies things like that.
And because of that, you're generally going to have a much lower refund rate on this network
So this is the most professional of all the websites however it's also the most difficult to get started because they have approvals that are required to promote their products.
Digistore24 Academy
Digistore24 Academy is a training course designed to teach people how to make money with Digistore24.
If you want to find how to promote Digistore24 products, check out the Digistore Academy course and find how to make money via Digistore24 without any marketing experience or email list.
They've got great affiliate marketing training where they go into a lot of detail on how to make money promoting their products.
It's super detailed and over the next few days, they will take you through how to pick good products and how to use Digistore24 so you can start generating sales.
You can get 14 days trial for $1 which is great to test it out.
Is Digistore24 Good?
Digistore24 is a great platform, it's another one of those big networks where it's completely legit.
It's not about whether Digistore24 is a good affiliate network, it is!
It's a big marketplace.
They've got legitimate products.
You get a payout on time, all that great stuff.
The problem is that can you make sales with the links that you're provided with on Digistore.
And that's all about understanding marketing. It's about understanding that you can't market the way that all these other people teach you out there because it's not real.
You need to learn affiliate marketing skills and you need to provide value before you actually send people to your affiliate links.
You need to learn how to sell the products that they actually offer here and do it properly.
Digistore24 Review: Wrapping Up
I hope you enjoyed this Digistore24 review.
If you'd like to learn how to sell these kinds of products the right way, go ahead and check out my free course by clicking the link below.
And I hope to see you on the next page. Take care and all the best.