In this Diib review, I'm going to share with you my personal experience with this software, the pros and cons, and how Diib can potentially help you with your SEO campaigns.
You'll also find out how Diib compares with some of the AI-based SEO tools available in the market.
So let's jump right in.
Diib SEO Metrics Analysis
Diib offers a very impressive selection of tools and features that can help you automate your SEO.
And once you log in to your Diib account, the first thing you'll see all of the different SEO metrics that Diib is monitoring including:
Website speed
Security
Sitemap
Core vitals
Website rank
Email deliverability
And more.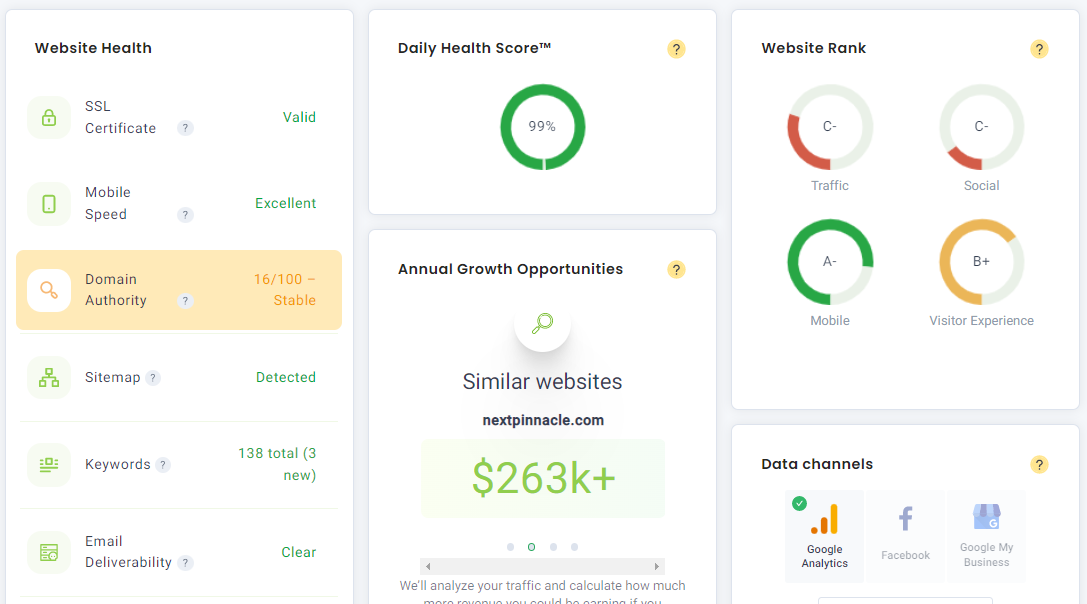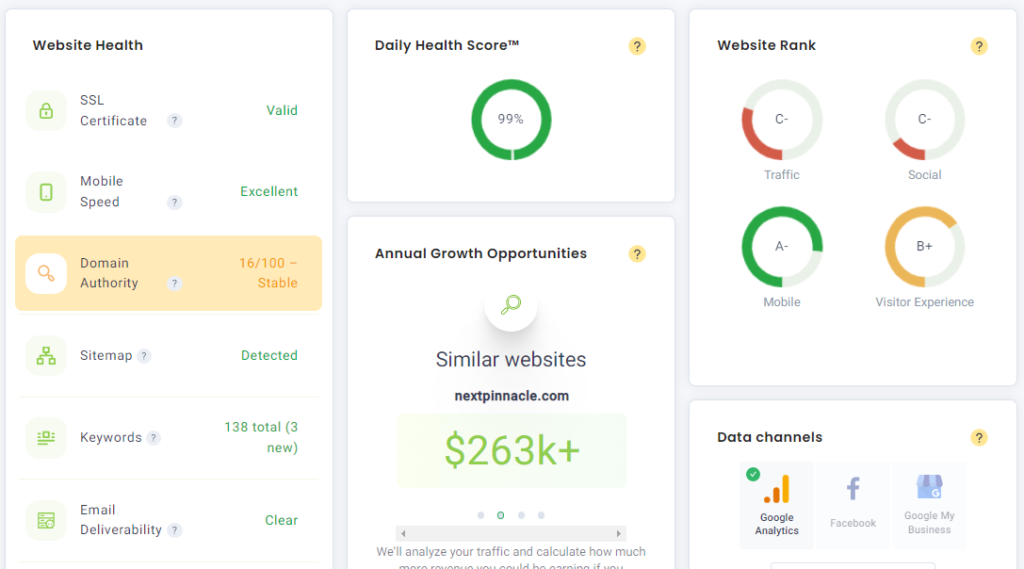 All of them are available in one dashboard kind of like in the Google Data Studio which is super useful.
Keep in mind that if you haven't already synced your Google Analytics, most of these metrics will be blank.
Once you sync your GA data channel to Diib, it will only take 30 to 60 seconds for these to be filled with real scores and data from that data channel.
Let's break down each of these metrics one by one.
Daily Health Score
First of all, your daily health score tells you how your website performed against similar websites. If you're close to 100%, your website is performing well. A score of over 100% means that you beat Diib projections.
it also looks at your major analytic metrics and adjusts for things like day of the week when building you a daily health score.
Mobile Speed
Diib tests your website's mobile speed. As we know, more than half of all the website traffic comes from mobile phones so this is very important that your website loads quickly on these devices.
They also alert you if there are any issues.
Domain Authority
Similar to Ahref or Moz, Diib shows your domain authority that ranges from zero to 100.
It comes from multiple factors, but primarily from other authoritative sites linking back to yours.
This is basically a vote of confidence from those high authority sites.
Website Ranks
Your website ranks are based on how your website compares to other websites, as well as their own historical performance.
Diib monitors your traffic, social media, mobile traffic, and user experience and they are updated regularly.
It's based on multiple metrics and data points, including long-term and short-term trends.
SSL Security
They also regularly check if you have an SSL certificate and if it's correctly activated and installed.
Your website needs an SSL certificate if you're asking for any personal information.
If the website is having subdomains then, a wildcard SSL certificate is required and for other websites' requirements, you can choose other types of SSL certificates.
Search engines and browsers are also cracking down on perceived non-secure websites by penalizing them in the rankings.
And they'll usually show your visitors a warning message before they arrive if you don't have this properly installed.
So that's pretty much all of the metrics you can find in your dashboard.
Now let's take a look at some of the Diib SEO tools.
Keyword Tracker
In the "my keyword" section, you can see all of the total numbers of keywords ranking within the top 100 of Google, your ranking position in Google, as well as an estimate of how much traffic they send to your website.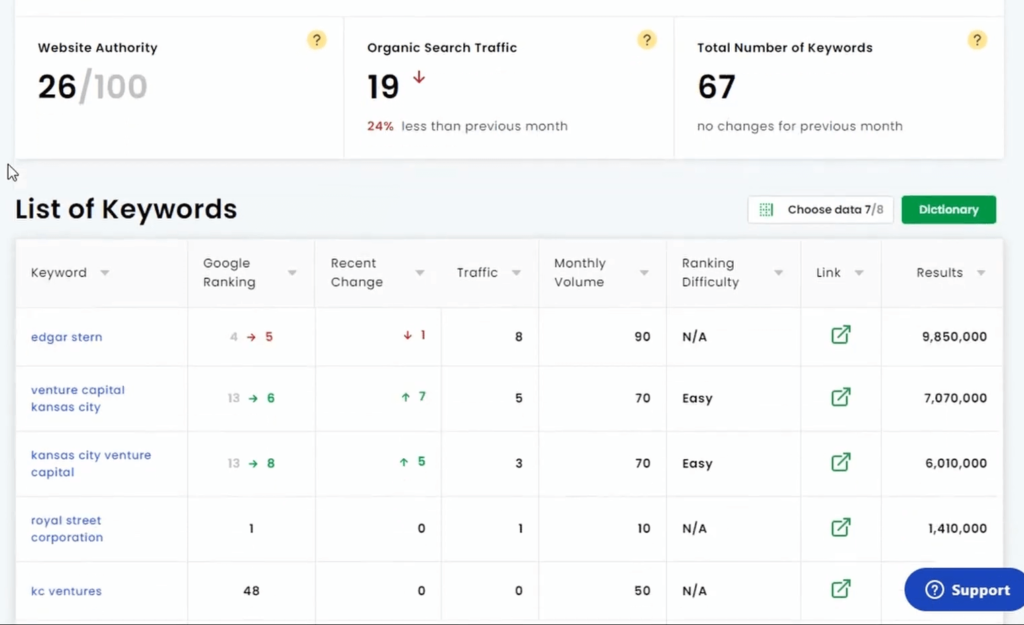 This is very useful for keeping track of your SEO progress and for identifying areas that you might need more work on.
For instance, if you notice that you rank number 8 for an important keyword to your business, you might want to go in and look at the websites that rank above you.
You can take a look at what higher-ranking websites are doing and see if you can move up the rankings.
The AI will automatically give you suggestions and track ranking changes, but you can also be proactive and just dive in at any time.
In addition, it can also be adjusted to any country in the world and your keywords will appear in their local language as they rank in Google locally.
You can also see what keywords your competitors are ranking for, but we'll talk about it in a moment.
Email Deliverability
It only takes a small percentage of fake email addresses and your member list or 1-2 people out of a thousand to mark your email as spam before they start to see email deliverability issues.
Diib regularly scans over 50 blacklists to make sure your emails are getting delivered into inboxes where people can actually open them.
What's great, they'll monitor this for you and alert you if there are any issues.
Core Web Vitals
Now let's take a look at the core vitals metric. Since June 2021, your website's core vitals are taken into consideration by the Google Search algorithm and can positively or negatively impact your keyword rankings.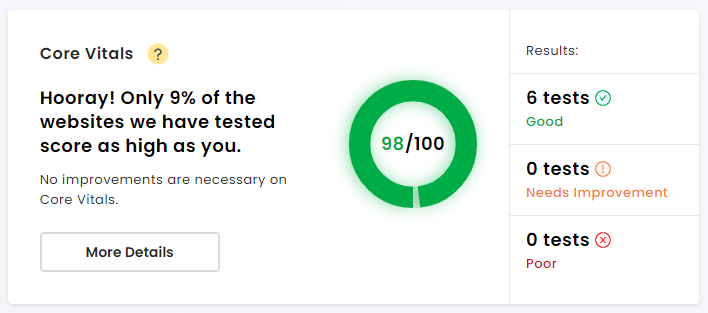 Similarly to other website monitoring tools like Screpy, Diib monitors all of the main core web vitals, including:
LCP (Largest Contentful Paint)
FID (First Input Delay)
CLS (Cumulative Layout Shift)
In general, these scores represent how fast your website loads and how quickly and efficiently a visitor can interact with your website.
Objectives & Alerts
In this section, you'll see all of the objectives as well as alerts. Objectives can range from simple things like if your bounce rate has gone up recently to much more complex aspects of growth.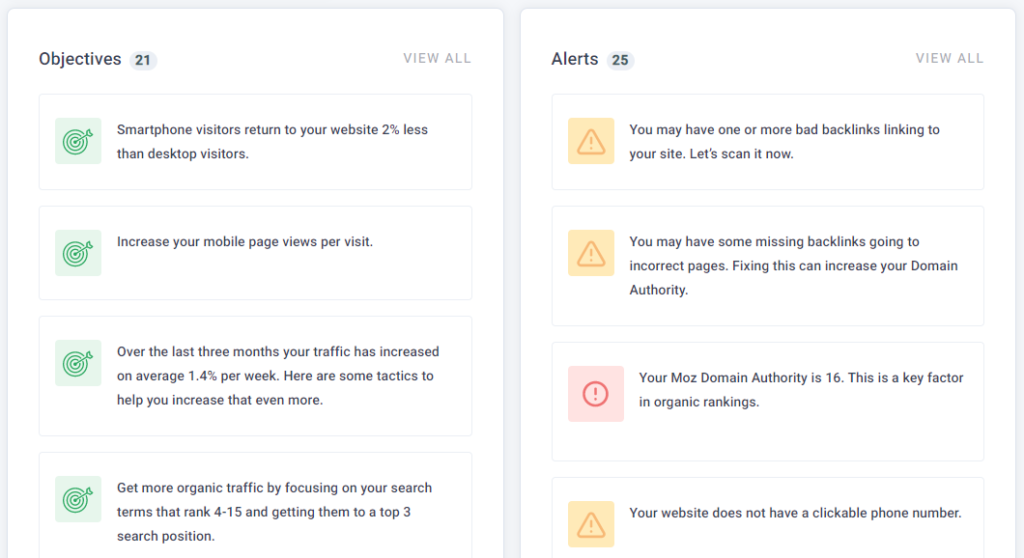 For example, Diib can tell you when a competitor's ranking has increased after they make changes to an internal page.
Maybe they added more content to a blog post and because of that their ranking increased.
Diib will notify you of this so that you can consider doing something similar.
Other objectives may tell you to localize specific pages of your content, or even just to add content if your rankings are too focused on one page.
Keep in mind that Diib uses a lot more processing and data for pro members, so you'll notice a lot more suggestions as a pro member.
Rank Guard
The rank guard is a powerful feature that can help you surpass your competitors for keyword rankings.
Basically, they scan your keyword rankings in Google and look for opportunities where your website already deserves to rank higher.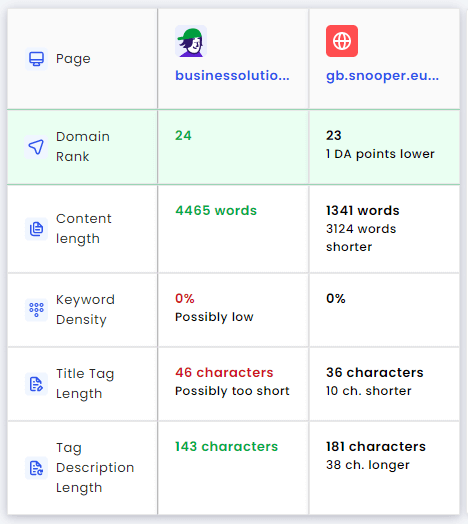 For instance, if you rank number 8 for a particular keyword, but they think you can rank up to at least number 3, Diib will alert you and then give you an in-depth suggestion on what you can do to immediately improve your ranking.
This feature is always running in the background, and they will alert you when we find a new ranking opportunity.
Keyword Explorer
This keyword research tool allows you to find valuable new keywords to rank for in Google.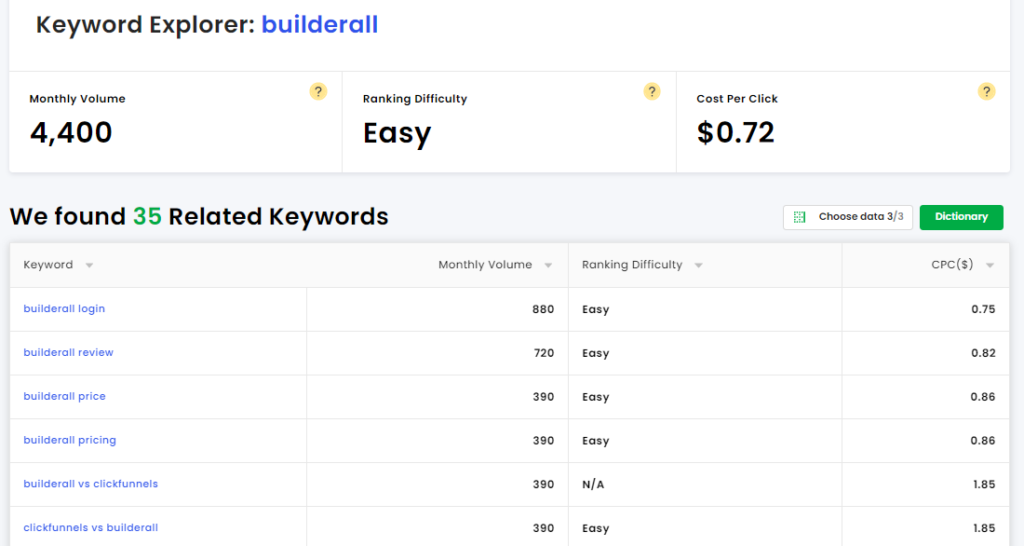 To use this tool, you just simply type in a keyword that you'd like to rank for in Google.
If you can't think of any keywords that are important to your business, you can skip over to the "my competitors" tab and see what keywords they're ranking for. And more about it in a moment.
I personally didn't find the Diib keyword research tool helpful since the keywords I've provided, it shows me that it's easy to rank but it's actually not.
Diib Backlink Analyzer
The "my backlinks" tab will also show you all of the backlinks pointing to your website.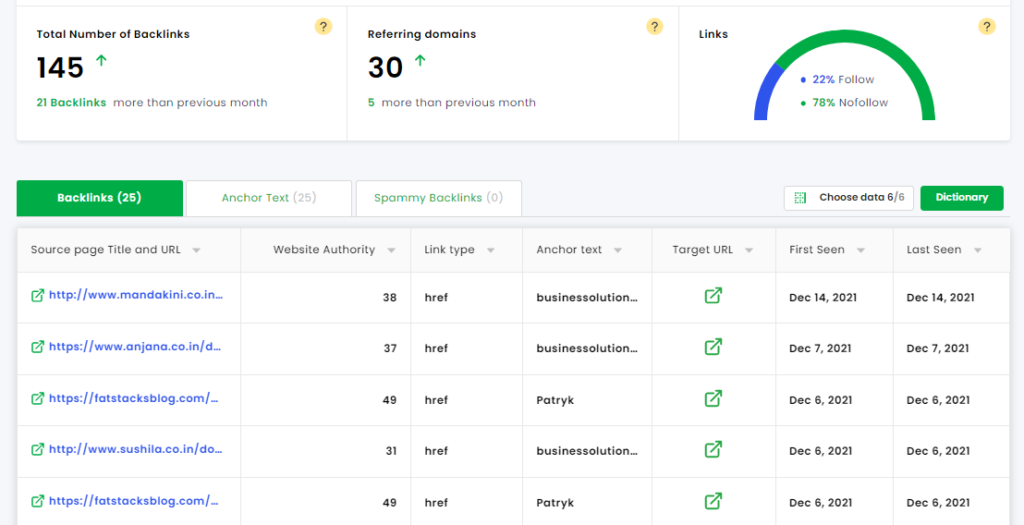 These are what give your website its authority and give it the ability to rank highly on Google. As you get more quality backlinks from other websites, they'll show up here and overtime, your website authority will increase.
For building links to your website, you can use tools like Postaga which is one of the AI link-building tools out there. You can read more in this Postaga review.
They also scan for potentially spammy or suspicious backlinks that can make Google lose trust in your website. This can also negatively affect your domain authority score.
And again, they'll notify you if they find any and most importantly tell you how to disavow them.
Competitor Analysis
The "my competitors" tab is a great way to see how your competitors are doing and what they're doing.
You'll be able to instantly see what keywords they rank for and get ideas of keywords you might have forgotten to write content about.
But you'll also be able to see all of the backlinks that make their website rank highly. Look at each backlink carefully and ask yourself if you think you could get them to link back to your website.
If so, you can send that webmaster an email and ask them if they can add your business to the same page.
If you keep doing that, you'll notice your website authority consistently increasing, and more importantly, your traffic and ranking are going up as well.
Diib Services
What's also great about Diib is that if you don't have the time to do something or just want to focus on your business, you can click on the Diib Services section and let someone else focus on getting you more traffic.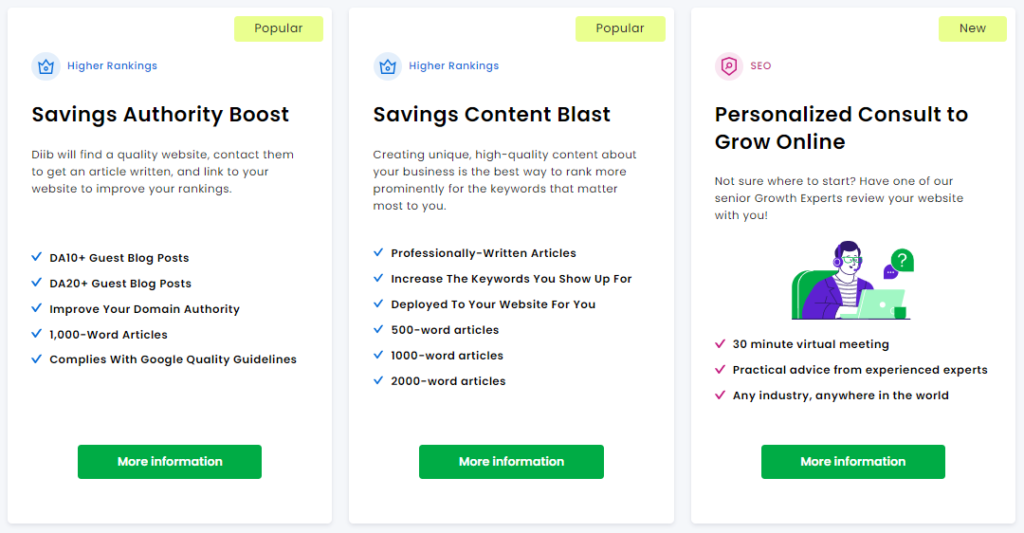 I found over 15 SEO and digital marketing services.
The Diib team can help you write content, do search engine optimization, or even build backlinks for you at an affordable and wholesale price.
So if you're unsure where to start, you can always reach out to the support staff or one of the Diib SEO specialists and will be happy to give you some good advice.
Diib Pricing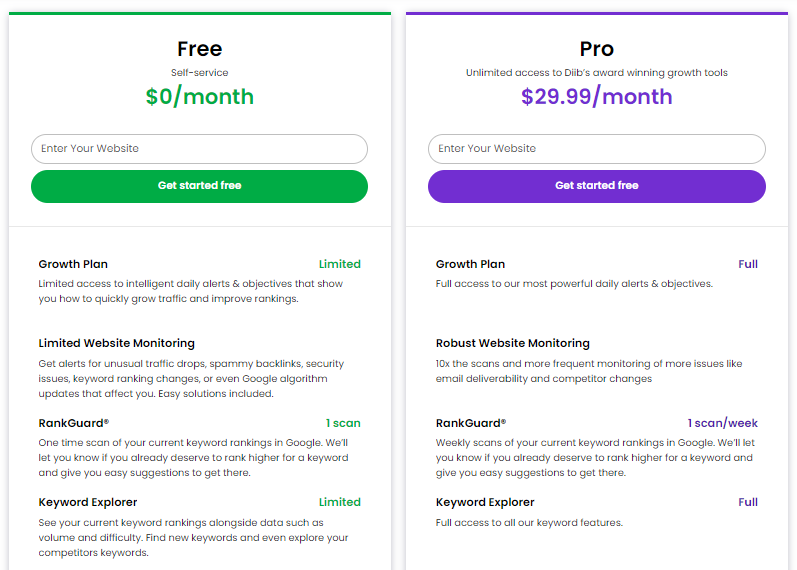 Diib offers 2 pricing plans:
Free plan – $0/month
Pro plan – $29.99/month
What's great Diib offers a very generous free plan where you'll get access to all of the tools and features including website monitoring, daily health score, daily updates, and comparison with similar websites.
The pro plan includes all of the functionality that you get with the free plan, plus additional features like monitoring up to 30 websites, analysis and improvement suggestions based on premium SEMRush and Moz data, social media channels monitoring, and a few more perks.
Diib Review Final Words
So that's pretty much it for this Diib review.
What I found really useful with this tool is the rank guard because it shows me where I can outrank my competitors. And not only that, I get notifications whenever there is an opportunity.
The daily alerts and tasks to complete are also very helpful because you know what's going on with your website.
And the majority of them you can complete without any programming skills because they give you simple step-by-step instructions to help you solve these issues.
So you can use it even if you have no SEO technical skills whatsoever. Diib is really easy to use.
And if you're struggling with something, the Diib digital marketing experts are always ready to help you.
When it comes to the cons of Diib, the keyword explorer is in my opinion way off from the truth, the metrics I think are not valid.
So for your keyword research, you'll be better off with some of the top SEO tools like SemRush or WriterZen which is recently my favorite content research tool.
But overall Diib is a great all-in-one SEO tool that has the potential to compete with some of the premium tools available in the market.
And remember that with the Diib free plan, you'll get access to all of the tools and features that I've covered in this article.
If you found this honest review helpful, below is my affiliate link to the Diib free trial where you'll get access to all of the tools and features available in the premium plan.
Thanks for reading!