In this guide, you'll learn everything you need to know about email affiliate marketing. From building your email list to writing engaging emails to launching your first email affiliate campaign.
Email marketing is an essential part of any type of online business.
And with affiliate marketing, especially these days, it becomes wiser and wiser to see what you can do and take actions to build your email list.
It's not only a smart business decision, but it can also make you a lot of money too.
We're going to talk about what actually is email affiliate marketing, how you can apply it to your affiliate business, and what does it actually take to set all this up and launch your affiliate marketing sales funnel.
So, let's jump into it.
1. Choosing an Email Marketing Software
Of course, before we dive into the nitty-gritty of actually growing your list, we should probably spend just a few minutes covering the basics of getting set up.
Because believe it or not, before you can grow a list, you actually need a place on which to grow it – some sort of email hosting service that allows you to segment your list and send out emails on a regular basis, and preferably one that gives you the flexibility to create campaigns, tag your contacts, and analyze your results.
Before I'll share with you my recommendations, I have to warn you first.
📢 Warning
I suggest you stay away from Mailchimp and MailerLite because they will shut down your account as they don't allow for affiliate marketing. It's against their terms of service.
And if you are already using one of the services I just mentioned and don't yet want to switch, then don't sweat it – any email system is better than none but keep in mind that you're risking losing your business.
If you are just starting out and don't have anything set up yet, or if you think you are ready to switch to something a little more advanced and dynamic, there are many different options to choose from.
After testing 5 different email marketing platforms, I can tell you that the best (and most affordable) email marketing software is MailingBoss.
MailngBoss is a part of Builderall – the most all-in-one digital marketing platform that I personally use in my online businesses.
It's a very advanced email marketing platform with insane deliverability compared to other email marketing software which is crucial especially for affiliate marketing.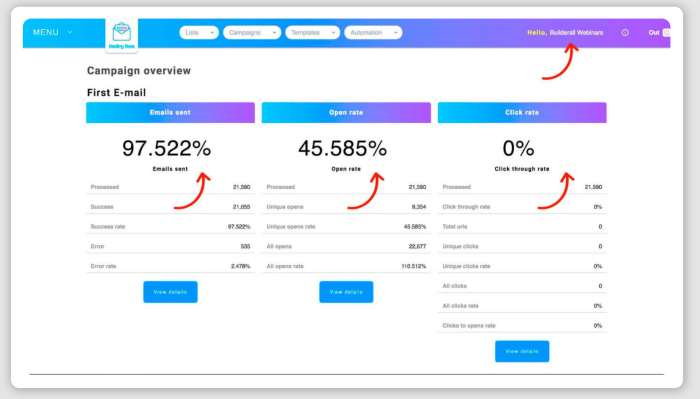 What I love most about MailingBoss is that it was specifically designed for digital marketers, which means that its automation features are designed to be used in exactly the way we use email, and in the way I'm going to teach you to use email.
It is simple and intuitive and allows you to create really advanced automation and visual workflows, which are really cool too.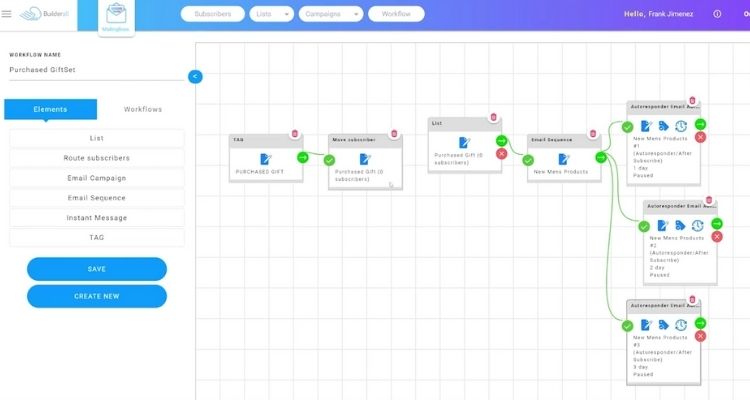 MailingBoss also has a 99% deliverability rate (higher than GetResponse) so no landing in spam or promotions folders which is pretty much unheard of.
Another great feature is that you can sign up absolutely free and try it out.
You can start for free and have up to 2000 subscribers.
If you want to give it a try here you can start your Builderall 14 day free trial (not available on the official website)
You can also take a look at some of the other affiliate marketing autoresponders.
Lead Capture Software
Next, you're going to need some kind of lead capture software. And this is basically what you need to create an affiliate landing page and start collecting the names and the emails of all these people that you're giving the lead magnet out to.
For my recommendations on which lead capture software to use, well for this I also recommend Builderall.
Because what's also great about this platform is that they have something called Builderall Funnel Club which is a huge library of over +400 landing page templates and done for you sales funnels where you can also find a lot of funnels for affiliate marketing.
All you have to do is to download some of the funnels and you can start collecting leads.
So, I highly recommend checking out Builderall Funnel Club if you don't want to spend hours on building marketing funnels.
And if you WordPress you can also use ThriveThemes, however for this you'll also need a third-party email marketing tool because Thrive doesn't provide that.
2. Creating a Lead Magnet
To start building your email list, you need to create a lead magnet in the first place.
A lead magnet is something of value you're exchanging for that contact information because after all, no one's just going to enter their name and email on a random page for no reason.
I almost exclusively use eBooks to do it. Some kind of guide, some kind of PDF that someone exchanges their email address for in exchange for this guide, which helps them solve a problem in their niche.
There are 5 different types of lead magnets I recommend when it comes to affiliate marketing:
eBooks
Course
Checklist
Case studies
Guides
What is really important with a lead magnet is it's helping with a particular roadblock or result that someone can achieve relatively quickly.
3. Building Your Affiliate Marketing Email List
We're onto the next step of email marketing for affiliate marketing, and that is building an email list.
We've gone through the process of creating a nice lead magnet, we've designed the content for, now, how do we get people to exchange their email addresses for this nice lead magnet?
That's the focus of this section right now.
This typically happens in two ways.
One is passively.
You can put it on your informational content pieces, your how-to guides, and stuff like that. The stuff where you typically only have display ads and then have a call to action buttons, and sidebar, exit popups, all of these kinds of different ways for people to get this guide.
You can put it on there and then anytime a visitor finds that piece of content, they see this, they potentially opt-in so it's passively going to grow it.
The second way you can grow is you can use paid ads for this. And if you know how to do that, make sure to check this guide on paid traffic for affiliate marketing.
Now, let's talk about the different types of call-to-actions that you would have on your website or landing page itself.
In-line call to action
Exit pop-ups
Sidebar call to actions
Let's jump in and start talking about in-line CTAs.
In-Line CTA
Here's how it basically looks.
You've got a button, and this will go directly into existing content.
Let's say I'm reading an article about how to build backlinks and then right in the middle of that article, you'll see a button like this that says:
"BONUS: download my backlink PDF – getting from day 1 to page 1."
It pops off the page, it's in the middle of the article where their eyes already are.
Let's talk about the button.
Button
For the color, we're going to be using our primary action color.
For example, if my website is green then an opposite but complementary color to green would be red.
That is a great color to use for a call to action. It's going to pop off the page and it's going to be complementary to the existing theme of a website.
That said, ignore businessolution.org.
My website does not do this.
Why is that?
Because marketers hate marketing. What I find with split testing, especially when marketing to marketers is a lot of these typical marketing tricks, urgency and different kinds of designs don't work as well on marketers.
Marketers know the name of the game so I try to keep it cool when I'm communicating with you on it guys.
Copy Tips
Make it actionable. What's the action here? Download, that's the action, that's a verb, this backlink PDF, so download the blueprint. This is an actionable CTA.
Include trigger words like free, bonus, instant, get, like these are all great words that make it very seductive.
Pop Up Form
Next, let's talk about the pop-up form.
So, once they click this thing, they're going to get a form that pops up like this.
So, a bunch of copy and images, and then a collection for their name and email address.
These inline calls to action usually convert the best.
The collection of this, all you need to get is the name and the email. If you ask for more, the number of things you ask above and beyond the name of the email, the less likely people are to fill out the form.
Name and email are the minimum amount of stuff you need to actually make this whole system work, just name and email. And then the primary action color would be the right color to place the button.
How to Place In-line CTA?
Now, how to place this thing. Typically, you're going to get some shortcodes from your lead capture tool.
For example, I use ThriveThemes. Once I design these buttons, it's just going to be a shortcode that ThriveThemes is going to give me, and I put this in my WordPress editor and it's going to place that button in there.
The next step is insertion.
How Often Place In-line CTA?
So how often do I insert this in my content? Do I put it 10 times and for every thousand words? What's the limit?
If we look here, we can see here's a basic design of a webpage.
We've got:
Navigation bar
Article title
Featured image
Display ads
What I typically try to do is all of the email opt-in, 1-3 times, depending on the link to the article.
Exit Pop-up
What do exit pop-ups look like?
Well, if the mouse is detected to be going in that direction to the exit or that direction to the back button, this kind of thing is going to pop up.
This is one of my pop-ups that I use to promote Builderall Funnel Club.
And exit pop-ups will overall give you about 10% of the total opt-ins depending on the niche and various other circumstances.
But about 10%, this is the second-best conversions compared to what I've shown you so far.
As for the design of these things, it's easy, you're already done. It's the same design as the in-line call to action, it's the same exact thing.
Insertion is a little bit different. This is typically controlled in your lead capture dashboard.
Sidebar CTA
Next, we've got a sidebar call to action.
Here is an example from the Neil Patel's website.
These are the least good conversions, about 8%.
I personally don't use sidebars on my affiliate sites.
Why do I not care about that? Because these have such low conversions.
I don't really care too much about getting too specific on it. And in general, it's better to put other things in the sidebar, such as your best affiliate product.
For example, if you're doing a top five ping pong table review, a great thing to put on the sidebar is the number one product. Another thing, it might be personal products and services.
For the design, I recommend collecting email and name straight away.
Here is a completely different design of a sidebar call to action. In this example, you can see a big headline, a red call to action so it's actually following the rules and straight to the offering page.
Confirmation Page
So once someone clicks on your call to action button, if it's an inline CTA and they get to the form, or if they're just inputting directly into the exit CTA, they're going to put it in their name, their email and click send or register.
You want to send them immediately through a redirect to a confirmation page.
This basically is saying some simple stuff.
Confirmation Page Template
"Before I can send you a resource, you need to confirm your email. All I need you to do is these two simple steps.
Step 1: Check your email for our message from [Your website name] with the subject, "Please confirm your request."
Step 2: Click the confirmation link in that email.
If you don't receive the email in 5 minutes, check your spam inbox."
What this does is, it reminds the person that they don't get their freebies, and they're not going to get email communication from you unless they do a double opt-in.
They need to go to their email and confirm that they want to be on the email list.
So whatever email marketing software you use, this is something you set up there.
So, you connect your lead capture software with the email software and the first step you're going to have it do is connect that to the almost done page.
See more affiliate marketing lead generation strategies to build your email list faster.
4. Setting up Email Affiliate Campaigns
Once you've collected some leads now it's the time to set up email marketing campaigns and start with some setup.
And I'll put together this short checklist for the basic first steps you need to implement in order to get this whole thing rocking and rolling from this point.
I must say a few different things though.
First for affiliate marketing, simple is better. You don't need super complicated automation and switch people from one list to another back and forth.
All that stuff is unnecessary unless you get into really complicated email marketing for e-commerce or info-products and stuff like that where people are abandoning cart and doing all this fancy pants stuff.
So, keep it simple.
And if you ever get to the point with your affiliate business where you've grown into an authority, and you're getting into some complicated stuff, you can always switch later.
It's very, very easy to export the contact list, import contact lists. Of course, these email providers make this as simple as possible because that's how they make money.
And again for this, I'm going to be using Builderall MailingBoss because it's the platform that use to run all of my affiliate businesses.
#1. Create a List
The first thing you're going to do once you've chosen software is obviously log in, and you need to make your list.
What is a list?
A list is a collection or categories of emails. Some people might call it a newsletter or some people might call it a campaign, depending on what software you're using.
So that being said let's go to the Builderall dashboard where you'll see a lot of tools and apps to choose from.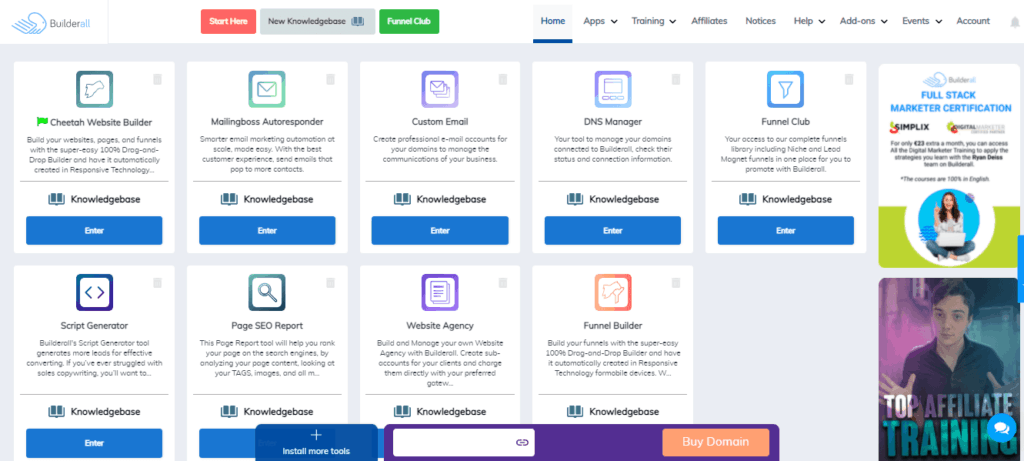 Next look for MailingBoss.
Select "Lists" and click on "Create New List."
And when you create that list, it's going to ask a few different things to set that up including:
List Name
Display Name
Description
Opt-in
Opt-out
Tags
First, you need to name the list. I would name mine Businessolution Newsletter.
Next, you could have a list description. This is important because when someone tries to opt out of your list. Let's say, for example, someone opt-in into my list nine months ago and then they all of a sudden realize that they get an email from me, they don't know what it's all about so they click unsubscribe and then they'll be taken to a page that asks,
"Are you sure you want to unsubscribe?"
They'll give you a list description of why it is you're on this list in the first place.
This list description might say, "you're getting up-to-date information on affiliate marketing techniques"
That might be enough right there to turn someone back and so they can remember, okay, that's why I opted into this, let's stay here.
Next, change the opt-in option from double opt-in to single opt-in.
And we're done.
Now it's time for setting up the user flow.
#2. Create an Email Affiliate Campaign
This is basically what you're going to want to set up when you're communicating so you need to establish communication from your lead capture software.
So whatever you're using for capturing the leads directly on a webpage, that needs to interface with your email marketing software.
And again, if you're using Builderall you have everything in one place so you don't need to switch back and forth between all these tools which can save you a lot of time.
With this is all easily set up.
Now refer to your email marketing setup guides for this.
here is how to set up email campaigns in Builderall:
#3. Test the Campaign to Make Sure that Everything is Working Correctly
Most importantly, remember to test.
So even though you believe that you got everything set up correctly, various things can go wrong.
For example, first, just test to make sure that the test email that you use to test this whole system actually ended up on your list.
So log into your email marketing software, click on the list, click on the subscribers and search for that test email that you used to test this whole system with.
Next, did you see all the pages along the way?
Did I actually go to the almost-there page?
Did I actually end up on the thank you page?
And then try this with and without ad blockers. Sometimes ad blockers can mess up the pop-up.
It shouldn't, but if it does, that could be some issue with how you're sending things up, and the email marketing software will be happy to fix this for you.
And then lastly, try testing with different browsers. Make sure it works on Firefox, make sure it works on safari, try it on mobile, try it all over the place.
Just make sure it works.
Now, let me share with you how to write emails for affiliate marketing.
5. Writing Automated Follow Up Series
We've talked a lot so far about how to build your list, including specific strategies for adding more contacts.
And while growing your list is pretty vital to the long-term success of your business, it is also important to remember that the power of email is not in the list itself, but in the relationship that you create with the people on
your list.
In order for your subscribers to trust you, they have to get to know you. And in order for them to get to know you, you have to nurture them. You can't just add people to your list by offering a freebie, deliver the PDF, then never contact them again until you're ready to sell something.
That list will be cold as ice, and it won't convert at all.
Instead, nurturing your list is a little bit like dating. You wouldn't want to get married to a stranger, would you? In the same way, you'd start with a first date and build up to more, you'll need to start slow and build up to a place where your email subscribers look forward to hearing what you have to say.
In the beginning, nurturing your list means giving a lot and asking almost nothing. You want to put your best self forward, and show your new subscribers exactly what they have to gain from being a part of your community.
💡 Note
I know writing a good email copy is not an easy task. Copywriting is a quite difficult skill to learn that's why I've put together this list of affiliate marketing email templates. You can take advantage of AI copywriting tools. like Conversion AI which is my favorite because they have separate tools for writing copy for your emails which will save you a lot of time.
1. Build Rapport With Your Audience
So how exactly do you onboard these new subscribers in a way that allows them to get to know you and trust and like you, and look forward to future emails? After all, you can't personally email each new subscriber to introduce yourself, right?
Actually, you can. At least, sort of.
And that's where your autoresponder welcome campaign comes in.
Your autoresponder campaign is a sequence of emails that are automatically sent to a specific segment of people on your email list, triggered by a specific event, such as joining your list, browsing behavior, downloading a PDF, or buying a product.
#1 Email – Your Lead Magnet
So the first step is to create an autoresponder welcome campaign to deliver your lead magnet, introduce yourself to your new subscribers, and begin building a positive relationship of trust and value.
Here is a basic plan for you to use to create your welcome campaign:
And here is a basic welcome email template.
Welcome Email Template
SUBJECT: Welcome to [YOUR BUSINESS NAME] (Here is Your LEAD MAGNET TITLE)
Hi [CONTACT NAME],
My name is [YOUR NAME] and I started [YOUR BUSINESS NAME] because [ADD VERSION OF YOUR ELEVATOR PITCH].
I wanted to take a second to say hello and welcome you to my community, and to let you know that I'm truly excited and grateful that you're here! [TWEAK THIS PARAGRAPH TO FIT YOUR OWN PERSONALITY, BUT BE SURE TO EXPRESS YOUR GRATITUDE FOR SUBSCRIBING]
Here's what you can expect from me:
I'll publish fresh content to my blog on [INSERT POSTING SCHEDULE AND LINK TO WEBSITE]. And then, on [NEWSLETTER DAY], I'll send you my [NAME OF NEWSLETTER], which provides [HIGHLIGHT BENEFITS OF YOUR NEWSLETTER]. That way you never have to feel like you've missed something!
Every once in a while I will also send you emails about any new events or opportunities we have going on.
Here's what you need to do now to get started…
This [NAME OF LEAD MAGNET] is the perfect resource to [INSERT BENEFITS AND INSTRUCTIONS FOR USING IT]
CLICK HERE TO DOWNLOAD YOUR [NAME OF DOWNLOAD]
Once again, I'm so honored to have you as part of [NAME OF YOUR COMMUNITY]. If you ever have any questions or feedback, please feel free to reach out via email to [YOUR EMAIL ADDRESS].
Sincerely,
[YOUR NAME/SIGNATURE]
After the first email goes out, where we're giving them their opt-in offer.
Now we start our rapport-building sequence where we're building rapport and we're ultimately going to make a paid affiliate offer when someone starts going through this sequence.
Now, what specifically should you do with these emails? And what specifically should you offer?
So here's a quick very brief rundown.
#2 Email – Biggest Challenge Your Face
In the first email of course we've already gone through where you're giving them their lead magnet.
In the second email, you want to build rapport by showing that you understand the problems and troubles that they're facing right now.
And if there are any myths or common misconceptions in your niche or industry, these are where you want to bring them up and talk about how you can actually be helpful and you know that it's hard where they are but they can ultimately achieve the results that they want.
And you'll actually want to make a small pitch for your affiliate offer, in the PS section of the second email.
So email number two, we're already looking to start the sales conversation. But we're just starting, we're not pushing hard at this point.
So in that PS section, you can just say something to the effect of "hey, if you're struggling with this too, I know of this cool offer that's really going to be helpful to you. I think you should check it out here".
And that's it.
That's all you do.
So let's go it go ahead and go into email three here.
#3 Email – Hero Story of Success
So for email three, you're going to want to have some sort of story.
Using story inside of email is extremely powerful and it helps you stand out from everybody else who's just blasting promotional messages or just creating generic newsletters.
So with your hero success story, it could be a story of one of your clients or past students or customers, or it could be a story of you achieving something similar to what your ideal customer wants to achieve.
So for example, if you're promoting weight loss as an affiliate it would be a story of someone who is able to lose weight with the program or supplements.
And of course, the email would end with:
"And if you want to have that similar results that this person, check out this cool thing here."
And you'd link to your affiliate link of the product that you're promoting.
#4 & 5 Email – Big Benefits
Now, these next two are going to be a little harder on the sale.
And these are going to be big benefits where you actually openly start to talk about the paid offer in the second half of the email, so the first half of the email should paint a really clear picture of something your ideal subscriber wants to achieve.
Very similar to the hero success story except we're not telling a story here, we're just talking about what life looks like once a big problem is solved.
And then, of course, you tie in your affiliate offer to and if you want to achieve this or you want to enjoy this kind of lifestyle or benefits or results, then this is what you need in order to do that, and you'll talk about the product or service.
What Next?
Now, you can have two more emails that follow a similar format.
Typically, we just stick with 5 and that does it for the rapport-building sequence.
So these initial 5-7 emails, are all you need in order to make your first promotional offer.
Now, most people aren't going to actually buy the first time round, right?
So what do we do?
Well, that's where this next step comes in and that's where engage comes in. And this is where the majority of your email subscribers will be.
Of course, you want to make sure that you've done all of this hard work before you just jump straight into an engagement.
So, we sent them a rapport-building sequence, that made a pitch for an affiliate offer.
If they didn't take you up on the paid offer or even if they did, the sequence is over.
2. Engage With Your Audience
Now we're going to be sending anywhere from 2-5 emails a week, that's a rotation of content, videos, stories, memes, jokes, whatever is appropriate for your particular email list and business.
And these should all keep an extremely conversational tone.
And I highly recommend using plain text emails here. So this is typically what you would have heard called a "broadcast list"
So this is not a newsletter, where you're just going to summarize everything that you've posted this week.
So let's say if you're on social media a lot or you're doing YouTube videos or blogs, this doesn't mean that you just weekly post some sort of newsletter where "hey, here's all the cool stuff we posted this week."
That doesn't really work too well.
You want to make sure that you're actually writing these emails and driving engagement because all your goal here is to get people to continue to open your emails and continue to engage with your emails to set up for the next step.
Here is an example of a broadcast email.
Broadcast Email Example
"Hey there,
Best rank trackers, and more. We've got some actionable tutorials for you in today's edition of Ahrefs' Weekly Digest.
What's new on the blog?
Best Rank Trackers: Choosing the Right One for You
Learn how to choose the right rank tracker for you, and how to use it to improve SEO.
Other interesting reads
Maximize every click with search journeys
How can we make the most out of each click we get? How can we keep users on the site and lead them to convert faster? The solution is to anticipate the user's next step in their search journey.
Till next time 😉
Cheers,
Joshua"
So anywhere from 2-5 emails a week, you'll just have to test on your own for what makes the most sense for you and of course, how much you and actually like writing.
Phase 3. Promote Your Affiliate Offers (Sales Sequence)
When do we start actually making some more sales or promotional offers that are going to be our next step.
And once we've set up our engagement sequence every 4-5 emails, we can have a promotion email.
Now, you can get advanced and have some triggers and have a promotional sequence if someone clicked, but we won't go into that, because that just causes more headaches and problems than it will actually solve.
So initially here, just think of your engagement sequence.
You're putting out content, you're building rapport, you're keeping engagement, every 4-5 emails go ahead and make another promotional offer.
And you can be as hard sales as you want here. It's okay, in your email to blatantly say, "I think you should get this because it's really good for you".
Here is how your promotional email could like this:
Promotional Email Example
Subject Line: My secret for fat loss is…
"Hi [FIRST NAME]
I've been helping people to lose weight for years.
People don't want to hear it, but…
Exercise only gets you so far.
The rest is diet.
People go to the gym 7 days a week but then go home and gorge on carbs and fats. But if you're going to eat crap, at least take a supplement to help your body process it.
I've taken an organic fat bummer supplement for the past 5 years and I've never been in better shape.
It's called Acme Fat Burner.
It's all natural, vegan-friendly, and sugar free… of course.
It's what | recommend to nearly all my students that are looking to drop weight. Especially the stubborn dieters.
Acme currently has a sale on right now.
Use coupon code MYSITE10 for 10% until the end of the week.
Get Acme Fat Bummer for 10% off [YOUR AFFILIATE LINK]
Thank me later.
Talk soon,
Joe"
At the promotion stage is okay to be a little salesy with these promotional emails as long as it's every 4-5 and you're legitimately providing value and entertainment in all of the other emails in between these promotions.
So at this point, you are really, really ramped up good to go.
You have your segmentation and rapport-building sequence you're sending out emails you're making promotional offers, and eventually making sales.
Email Affiliate Marketing Benefits
Now, let's talk about the benefits of an email funnel.
I think you guys have noticed this. You've probably given your email address somewhere on the internet for something and then you'll notice that that email will get overtime, a set of automated email follow-ups in a series type format.
What are the benefits of email affiliate marketing?
First, as I mentioned before, you're going to get a passive traffic increase for your affiliate marketing website or affiliate offer.
It's predesigned, it'll maybe drip out every day, maybe once a week, whatever you decide to set it to, and it's going to send emails every day, hopefully getting the reader back to your offer, so it's going to increase your traffic.
From that, you can increase passive revenue first by getting people back to your commercial content like roundups, reviews, and things like that.
Then you get another set of eyes on that content, they're likely to keep clicking affiliate links and make you some money.
You can also get people back to display ad content so they're going to see ads on that page and get you some ad revenue right there.
I've been talking about this automated follow-up series up until now, but you can also manually email blast out.
What this gives you is traffic on demand. Think about it like this, every time you post something new, whether it's a new page or a new post on your website, you can email that out to your entire list.
Let's say it's 20,000 people, then 20,000 eyes, depending on your open rate will take a look at that new piece of content, kickoff user metrics signals and now this piece of content will have a better shot out of the box.
Like I mentioned before, getting another traffic source is always a good thing. Typically, what people are doing is you're going from some free affiliate traffic sources and when you get to a certain income level, maybe you can start sprinkling in PPC, Facebook Ads, or Google Ads, but along the way, it's a low-cost thing to start implementing an email list.
Email Affiliate List Case Study
Here are some sample results. This is an email marketing list that I built in the diet niche for a website. This is a couple of years back.
We started it in about October and then roughly 12 months' time we built it up to about 5,000 visitors. The passive revenue increased from this email funnel.
The automated email follow-up series was about $2,500 a month. If we were using a 40 X multiple, meaning that I'm going to sell my website at a 40x monthly profit, by setting up this one-time passive funnel, I've increased the value of my website by 100,000 dollars. That's the power of this thing.
Email Affiliate Marketing FAQ
Can I Put Affiliate Links in the Email?
Yes, you can but not each email marketing provider allows for affiliate marketing. So always make sure to read the terms of service for any email marketing software you sign up for. And keep in mind that you cannot use Amazon affiliate links in emails in any email marketing platform.
Do You Need an Email List for Affiliate Marketing?
No, you don't need an email list for affiliate marketing however it's highly recommended if you want to build a sustainable business. There are many benefits of utilizing email marketing in affiliate marketing including owning your own asset and making more money.
Email Affiliate Marketing Conclusion
So that pretty much does it for the entire foundation of your new email affiliate marketing strategy.
At this point, you know how to launch an affiliate email marketing campaign, how to build your email list, and even write automated follow-up series.
You also know how to build rapport with your audience, engage with them and promote your and promote your affiliate products.
I hope it was helpful and if you want to know more about email affiliate marketing, make sure to check my free Top Affiliate Marketing Training where you'll learn even more strategies to get you started.