Artificial Intelligence has the potential to revolutionize the way businesses operate, making it more efficient and cost-effective. In this light, we compiled the best enterprise AI software including data science platforms, CRM, marketing automation tools, learning management systems, and more.
AI tools for business are designed to automate business processes and optimize efficiency. They can help organizations reduce costs, increase productivity, and improve customer service. By making use of AI technology, enterprises can achieve a level of sophistication not possible using manual methods.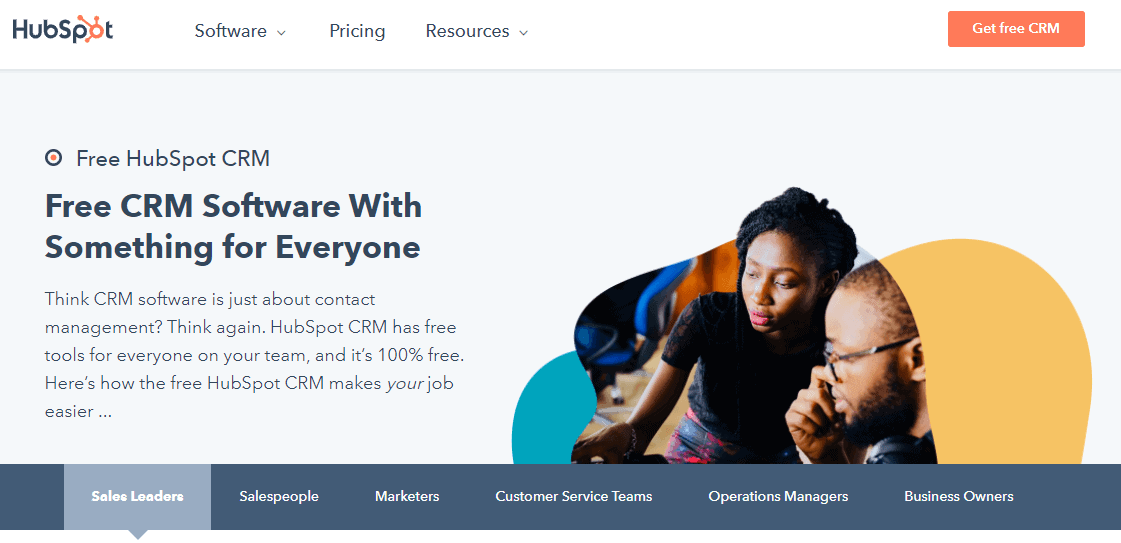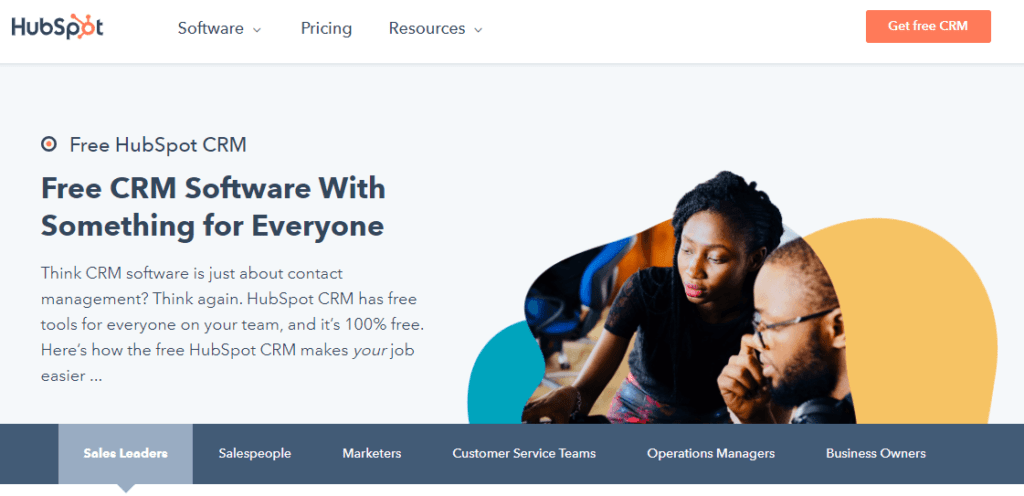 HubSpot is a renowned customer relationship management (CRM) software widely used and appreciated by businesses of all sizes -including enterprises. Its unique selling point lies in its all-in-one platform approach, harmonizing the efforts of marketing, sales, content management, and customer service teams. This results in synchronization across departments, all working with the same centralized data.
At its core, HubSpot delivers all the essential features of a CRM system. It streamlines contact and lead management, oversees sales pipeline progress, and efficiently handles customer service tickets. However, HubSpot's distinction from other CRM systems comes from its pioneering integration of artificial intelligence. In fact, HubSpot was a trailblazer in the AI business software landscape even before OpenAI was widely accessible.
The first way Hubspot uses AI in its CRM system is predictive lead scoring, where intelligent algorithms analyze lead behavior and interactions with your company. This predictive analysis assists businesses in identifying which leads are likely to convert into customers, optimizing marketing and sales efforts.
Moreover, HubSpot employs AI to maintain clean and well-organized data. It harnesses AI to eliminate duplicates, log details, and enrich contact and company information. AI also enables smooth data importation from spreadsheets, ensuring every piece of data is accurately placed within the CRM.
Artificial intelligence powers HubSpot's conversational bots as well. These bots employ natural language processing to deliver personalized customer support and quickly respond to common queries.
And for sales teams, HubSpot Sales Hub provides artificial intelligence features to gain insights into a sales team's conversions, automatically score leads based on hundreds of factors, and generate detailed reports to track recurring revenue.
But HubSpot didn't stop there. The platform recently added two new AI-powered tools to its suite: Content Assistant and ChatSpot. Content Assistant, driven by OpenAI's GPT model, helps marketing and sales teams in brainstorming, crafting, and sharing high-quality content.
ChatSpot, on the other hand, is a CRM bot that lets you carry out CRM tasks, such as creating new contacts, sending follow-up emails, generating reports, and creating new segments – all within a chat interface. Think of it as an AI assistant specifically engineered for CRM.
These additions expand on HubSpot's existing AI features, including conversation intelligence, data quality tools, data enrichment, predictive AI, and content optimization.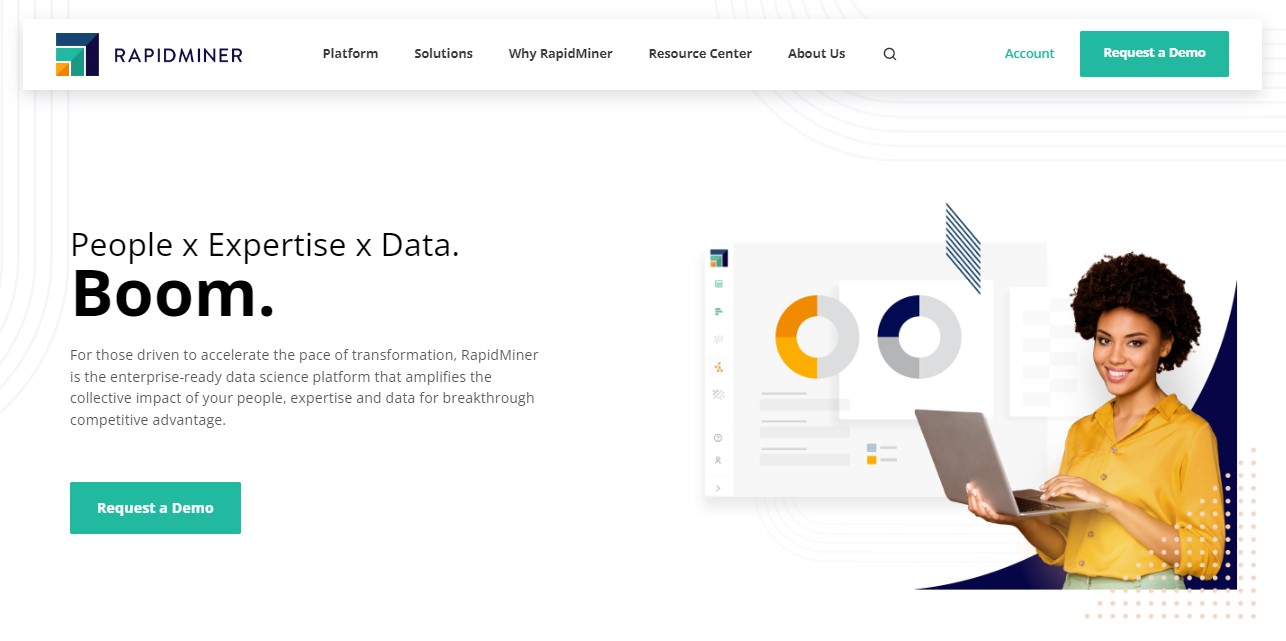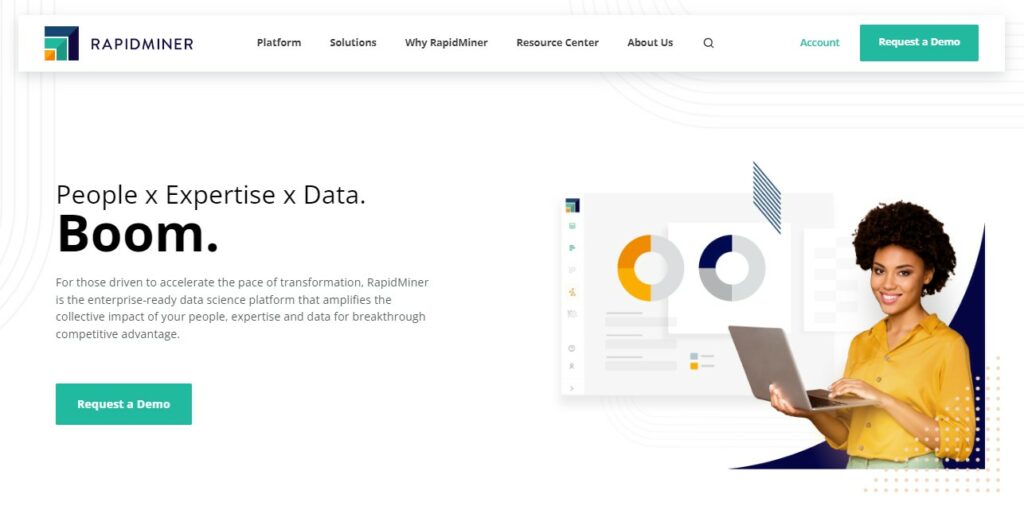 RapidMiner, now known as Altair RapidMiner after its acquisition by Altair Engineering, is a powerful data science platform built specifically for enterprises. As a comprehensive tool for analytics, its primary aim is to analyze the collective impact of an organization's resources – including employees, expertise, and data.
One of the major advantages of RapidMiner is its data mining and machine learning capabilities. It handles everything from data loading to transformation, commonly referred to as ETL processes, enabling users to streamline their workflow. This makes it an ideal platform for managing a broad AI lifecycle, from initial concept to deployment.
At its core, RapidMiner is a low-code platform which has proven appealing to more than a million users worldwide. Its low-code nature enables people with varying skill levels, from beginners to experts, to develop large-scale data pipelines and machine learning models. This opens the door for domain experts to leverage advanced data analytics, simplifying problem-solving within their specific fields.
RapidMiner provides end-to-end solutions, covering every stage of the data process. This ranges from data ingestion and modeling, to operationalization and visualization. With its comprehensive capabilities, the platform empowers businesses to extract meaningful insights from their data, streamline operations, and make more informed decisions.
And with the RapidMiner AI text analysis software, you can find insights that can be put into action from unstructured data to improve various business processes, including marketing, product development, risk management, and fraud detection.
In essence, Altair RapidMiner is not just a tool for data analysis, but a complete ecosystem for enterprise-level AI and data analytics.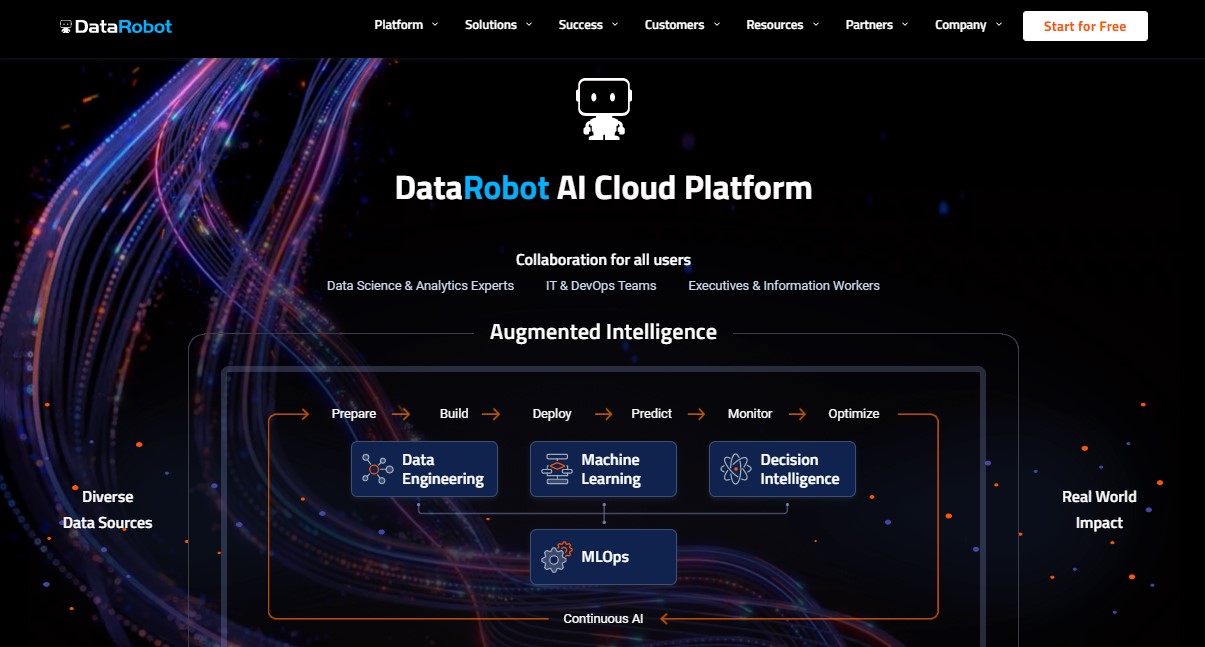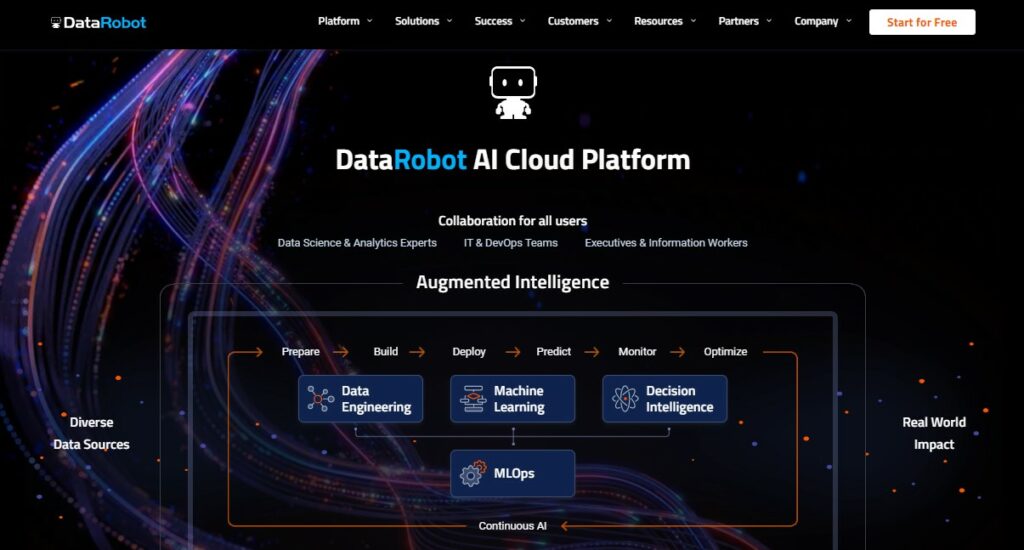 DataRobot is an automated machine learning or AutoML software that simplifies complex enterprise workflows.
The platform that enables businesses to build and deploy machine learning models and create advanced artificial intelligence applications with the assistance of AI and ML specialists.
DataRobot records the most effective procedures and precautions, allowing for the acceleration and scaling of both new and existing data science capabilities.
In addition, DataRobot offers businesses specialised AI and ML training as well as services via a team of AI architects, business consultants, and systems architects. These professionals work together to deliver these offerings.
The open-source machine learning algorithms and methods that are included in DataRobot's extensive library are made available for anyone to use. These are put through their paces to ensure that the best model is delivered on a case-by-case basis.
This is done by constructing and ranking multiple models for each AI use case, and then recommending the model that is the best fit to deploy. After it has been installed, DataRobot performs an analysis of how the data was processed, what features were engineered, and which algorithms were applied. It also continuously monitors the health of the service and its accuracy.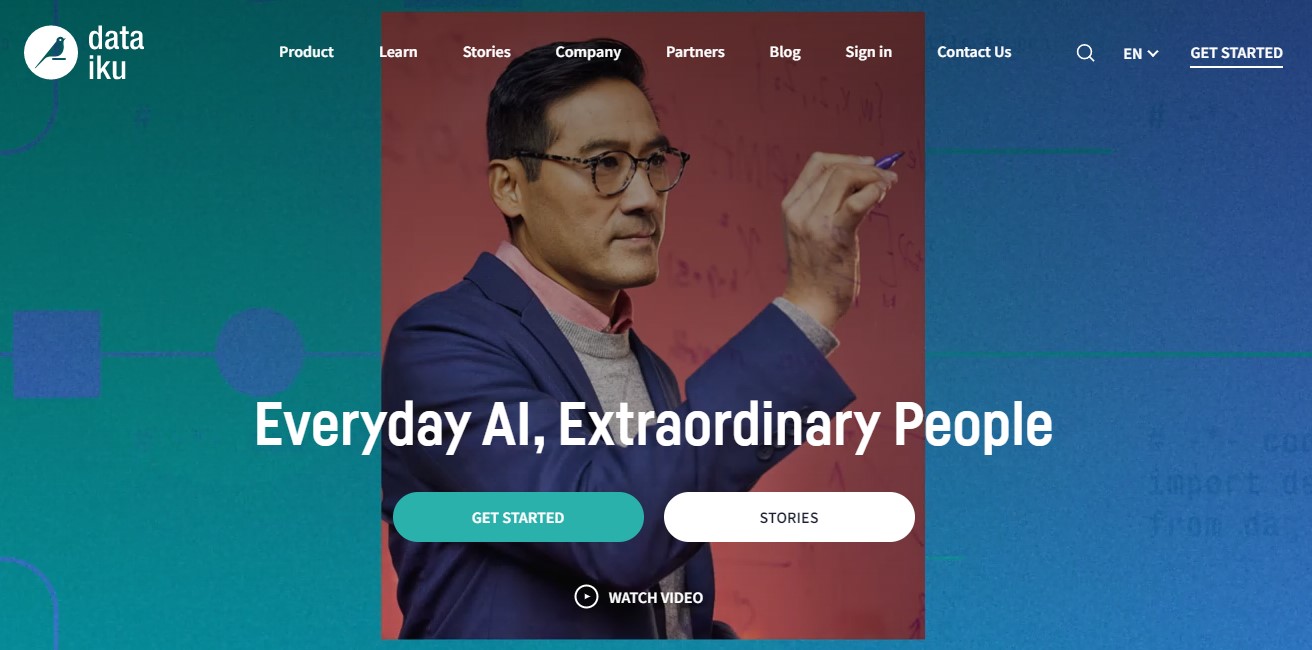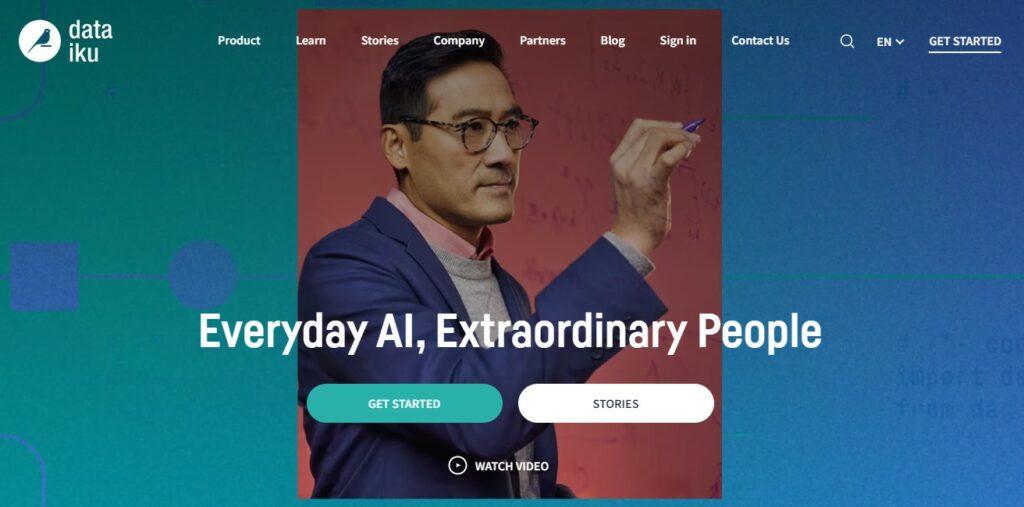 Dataiku Data Science Studio (DSS) is an online software designed to help data engineers, data scientists, AI users, and business analysts. Dataiku DSS also covers the entire machine learning process, from data preparation to MLOps and application support.
The solution offers two complementary components to assist organizations in reaping the full benefits of their data; self-service Analytics (SSA) enables teams to collaborate in identifying and designing high-impact projects and operationalization (o16n) is the process of maximizing reuse and automation in order to achieve concrete integration of operational systems.
The analytics and data science platform provided by Dataiku DSS includes a visual interface via notebooks (R, Python, Hive, SQL, Spark, and so on) or a drag-and-drop visual interface.
Machine Learning's visual interface uses ML technologies (Scikit-Learn, MLlib, XGboost, Keras/Tensorflow, and so on) to build and optimize models in Python or R, and integrate any external ML library via code APIs (Dato, H2O, Skytree, etc), and provide instant statistical and visual feedback on model performance.
Dataiku provides data agnostic Integration with over 30 data connectors and therefore the ability to extend with custom plugins, hook up with existing infrastructure, detect format and schema automatically, and push computation to your current Hadoop, SQL, or Spark infrastructure.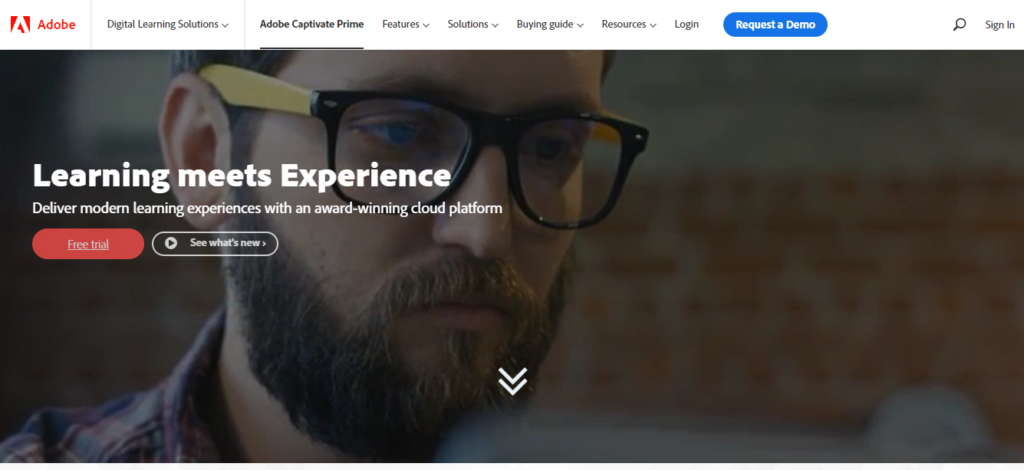 Adobe Learning Manager, before known as Adobe Captivate Prime, is an AI LMS (Learning Management System) with a learner-focused environment. It provides a variety of learning styles and course formats, unified playback of the majority of eLearning content types, gamification, mobile, and offline access, as well as other features.
Learners are able to monitor their progress through the courses in which they are enrolled, view a map of the skills they have obtained, and see which courses are recommended for them to take. Adobe Leraning Manager also includes fully customizable gamification features.
Learners' points earned from course completions and awarded badges can be viewed on their dashboards, along with information on activities that can be carried out in order to earn more points. The dashboard also has the capability of launching leaderboards, which compare the score of a single learner to the scores of their classmates.
The C3 AI Suite is a comprehensive software suite that leverages a model-driven architecture to speed delivery and simplify the development of AI-enabled applications. The C3 AI Suite allows businesses to deliver AI-enabled applications considerably more quickly.
The C3's AI Suite has created AI and IoT apps that scale powerful machine learning algorithms to give ever-smarter actionable insights for business-critical situations. Manufacturing, oil and gas, utilities, banking, healthcare, aerospace & defense, cities, and public sector, telecommunications, retail, and transportation are among the industries and areas where C3's AI solutions are deployed.
The following is a list of all C3.ai applications:
Predictive maintenance
Inventory organization
Energy management
Anti-money laundering
Sensor health
Fraud detection
Supply network
CRM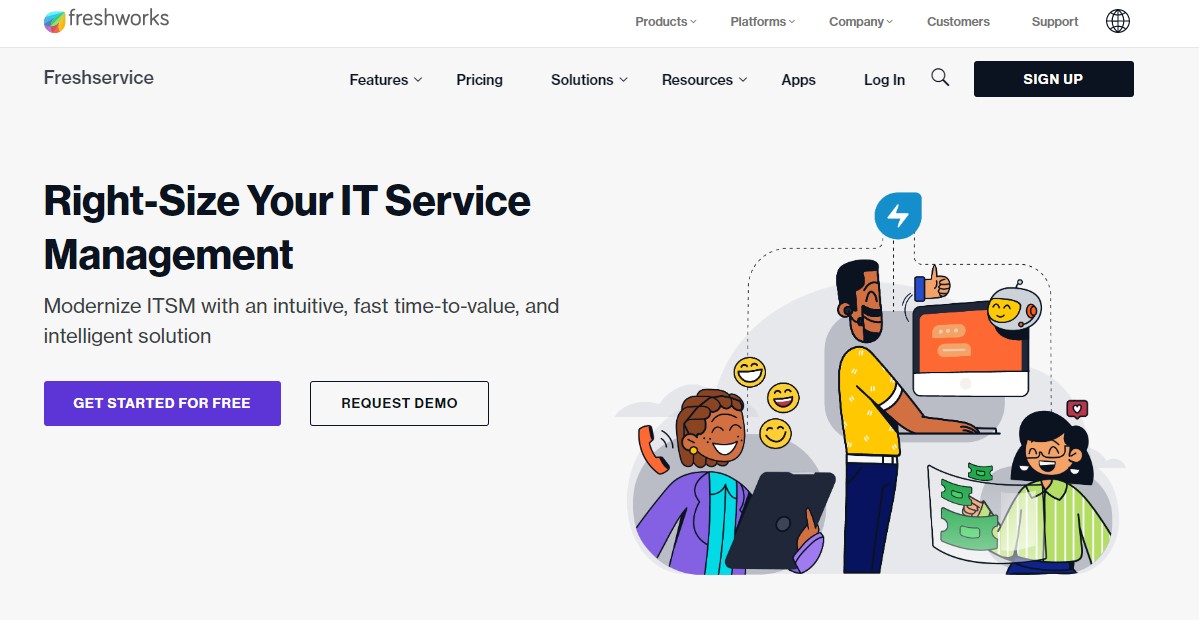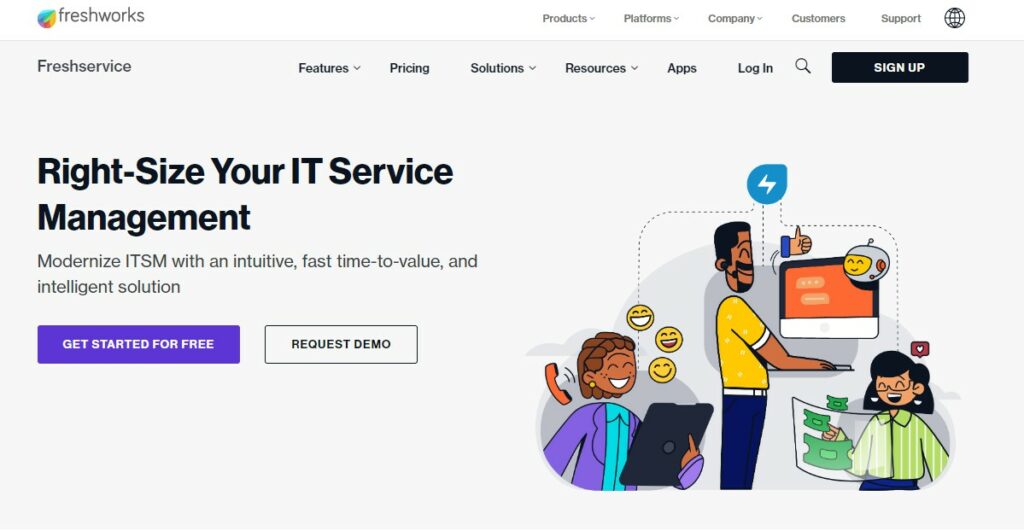 Freshservice is the type of enterprise AI software that you use when there's a need for smoother customer operations. Featuring a modern user interface and intuitive design, you're going to enjoy navigating your way through this app.
The core tools provided are targeted at ticket management for support services by using ITIL and ITSM, Freshservice enables the communication between customers and a helpdesk in a straightforward manner. Rather than investing time into ineffective communication methods, Freshservice allows IT organizations to achieve customer satisfaction through a fast series of communication channels.
While your organization may have a series of prescribed steps for certain management processes, Freshservice cuts time on the bureaucracy by integrating the steps for these processes by default. This is further supported by the presence of automation that expands the workflow of your office.
If you're looking for something to help your IT Company increase its customer success and provide a better CX, Freshservice should be on your radar. It is designed for speed of use and the affordability is an amazing selling point.
To further increase its effectiveness, Freshservice provides integrations with popularly used services like Dropbox, AWS, and Bomgar, ensuring that you can seamlessly add your organization's profile to the Freshservice ecosystem.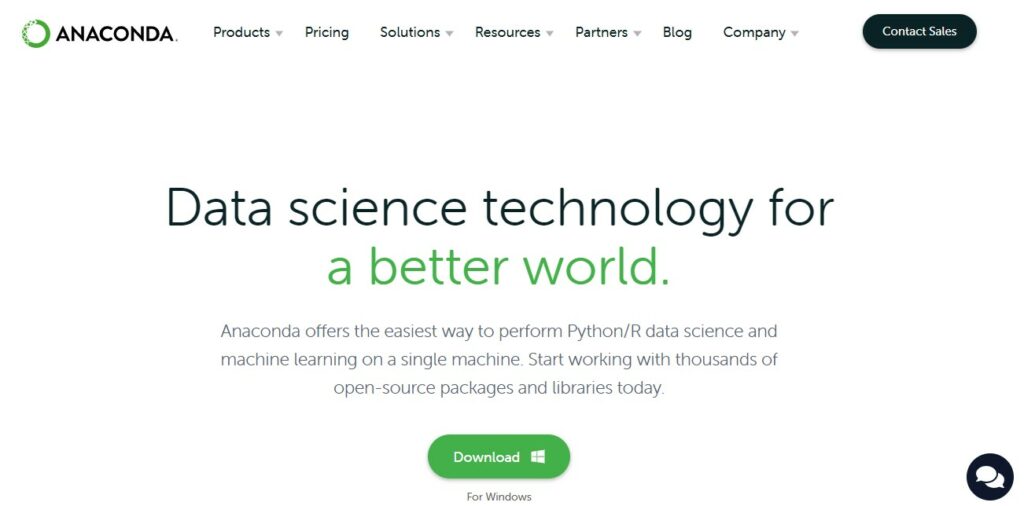 Anaconda is an AI enterprise data science tool that enables organizations to use machine learning to enable growth. As an open-source tool, most of the resources are right at your fingertips, ensuring that innovation can be tailor-made to fit in with your organizational needs.
By choosing to use Anaconda, you can successfully avoid getting locked into any templates or workflows. It primarily drives data science tasks and makes the life of a data scientist much easier, giving them the chance to process and study data to process into useful information.
While using Anaconda, you can successfully maintain a high level of competence at every stage of development. There are samples and preconfigured projects that can guide your development process. Additionally, your data is protected with the help of Anaconda's repository which is added to your infrastructure during the development of your data science resources.
The Anaconda Enterprise enables you to use Machine Learning in the best ways possible, especially because there is less resistance in terms of moving parts. Your data scientists can entirely focus on the areas where your business can be impacted. Rather than investing in DevOps or software engineering, the Anaconda tool glues things together.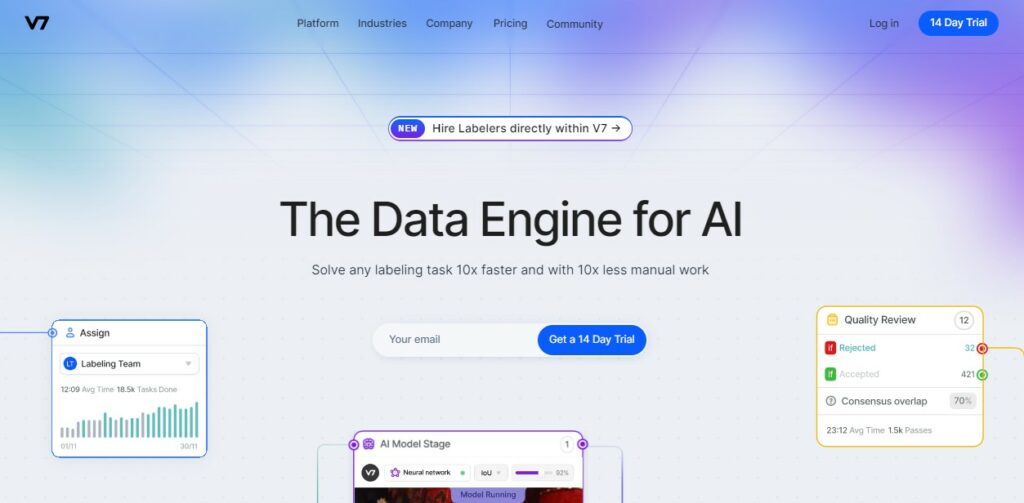 Computer vision tools are pretty nice to have if your organization wishes to speed up labeling tasks. V7 in particular could be the exact sort of tool you're looking for, thanks to the amount of control you're getting with the workflow.
It combines dataset management, video and image annotations, as well as autoML model training to successfully complete labeling tasks across a range of platforms and areas.
You can take advantage of the PDF and document processing to transcribe faster than ever, restore old files and generally give your workplace a strong tool to help with tasks.
V7's UI is simple and intuitive to use. A shallow learning curve is basically a necessity when it comes to enterprise tools that may be used by non tech-savvy folk in your organization. Automation is basically the future for most industries, and V7 presents the concept in one of the most convenient forms that most people are willing to accept.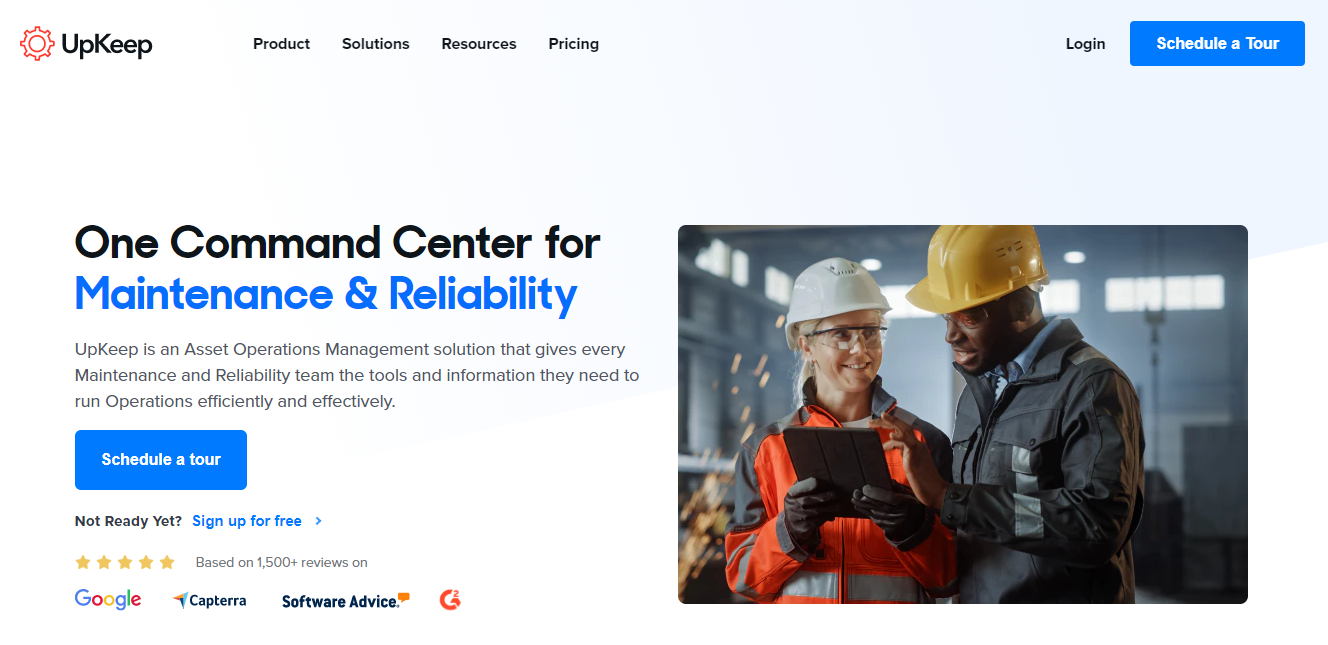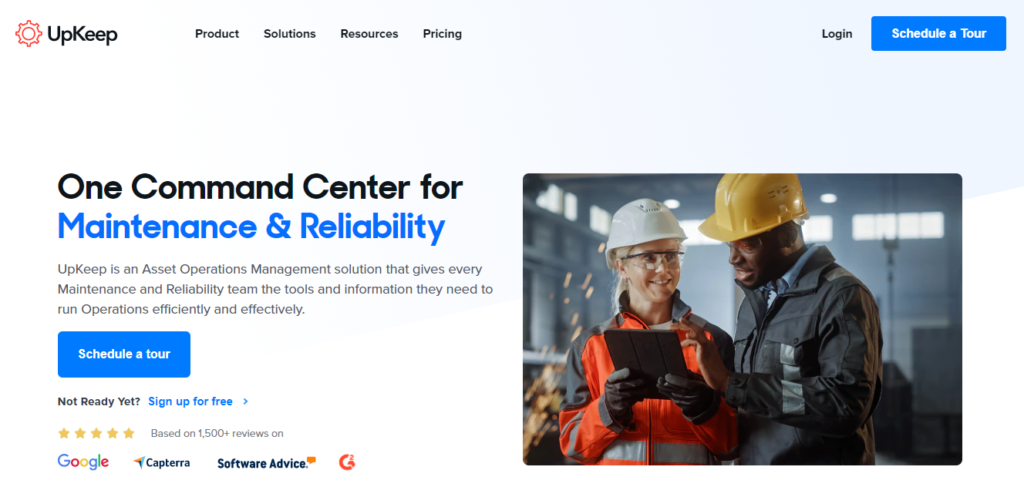 CMMS is a must for any organization that desires a solid way to organize their equipment and assets. With UpKeep, you're guaranteed to enjoy a host of features that help keep your operations efficient and on schedule.
With this application utilized by members of your organization, you can ensure that everyone is kept up to date on new developments, work orders, and tasks through any device of their choice. This includes smartphones, desktops and similar mediums. This is especially great as the alerts are sent straight to the app, marking any possible issues with communication.
Upkeep gives users a level of convenience that is hardly found in large workplaces nowadays. The presence of due dates, criticality, and worker assignments adds a strong level of connection from your workers to your organization's ecosystem. Rather than spending time printing schedules and working out conflicts, UpKeep is a one-stop shop for everyone.
Navigation with this application is something that adds a decent level of edge to the UpKeep experience. It is fairly simple to use, so the learning curve should not be a limiting factor for workers of all ages. It is an amazing tool for any logistics or manufacturing organization to adopt.
Do note that some users have noticed slow-downs and hiccups with the UpKeep mobile application.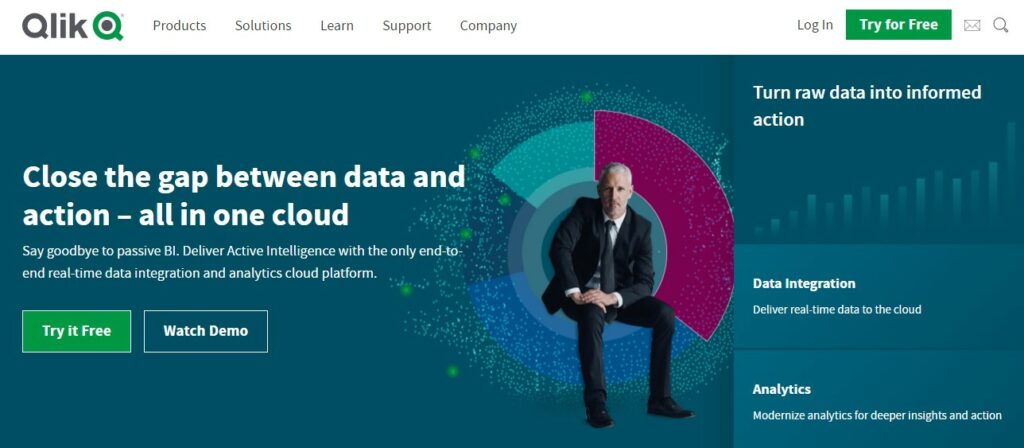 Qlik is a data analytics platform that harnesses the power of cutting-edge AI and machine learning technologies to deliver intelligent data analysis accessible to users across all business levels.
What sets Qlik apart from the crowd is its integration of AI and ML into the core of the platform, as opposed to the more conventional approach of implementing them as add-ons or plug-and-play solutions. This deep integration, paired with Qlik's innovative Associative Engine, supercharges the platform's analytics capabilities, empowering users of varying skill levels to glean more value from their data.
For business users, Qlik presents an advanced interface with natural language interaction capabilities, fostering an environment that promotes insightful decision-making. For analysts, the platform offers sophisticated analytics, automated machine learning (AutoML), and support for data creation and preparation.
Further augmenting its robust analytics offerings, Qlik supports the extension of data science models and the incorporation of generative AI. This allows for dynamic, real-time insights accessible to all users, making data-driven decisions easier and more impactful.
The next noteworthy component of Qlik's platform is Qlik Sense. It amplifies your analytics capabilities by leveraging AI's strength, enabling automatic generation of advanced insights, aiding in analytics creation, data preparation, and facilitating data exploration through natural language search, conversational analytics, and natural language generation (NLG).
An additional key feature is the Qlik AutoML software, a no-code solution designed to bring predictive analytics and explainable AI to a wider array of use cases that typically don't fall within the realm of data scientists.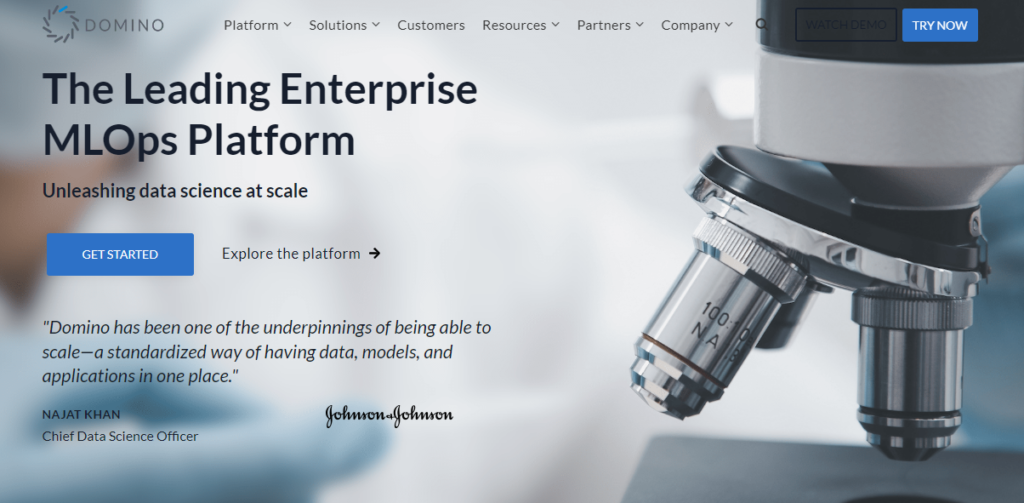 Domino is a powerful platform that provides model-driven data science solutions to users.
As an MLOps platform, Domino's Enterprise accelerates the progression of your organization through the state-of-the-art data science tools, languages, and computing available with the platform. You'll never really find yourself struggling with infrastructure or other issues when engaging with Domino. Stability is a solid selling point if reliability matters to you the most.
Domino enterprise is one of the best tools for artificial intelligence today. The machine learning and data science workloads are quite easy to train using the platform, and it allows for integration with Rstudio, visual studio code and other useful tools for development and debugging.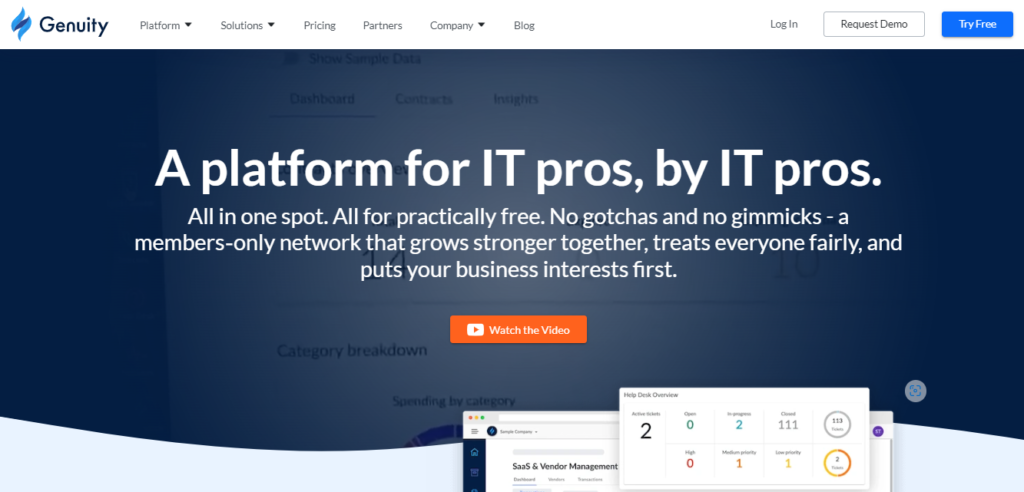 The Genuity IT Admin Suite is a cloud-based platform that assists businesses in the generation of actionable insights and the streamlining of process workflows for IT departments. Ticket management, network monitoring, asset performance tracking, and spending analysis are some of the most important features.
The application includes a module for contract management, which enables members of the team to manage documents, automate renewals, and visualise usage through graphs.
Administrators are able to identify errors in operational procedures or performance problems and receive alerts in real-time, which helps to prevent unscheduled downtime and network failures. Stakeholders are able to better analyse vendor purchases and inspect the breakdown of monthly transactions with the assistance of the system's expense management feature.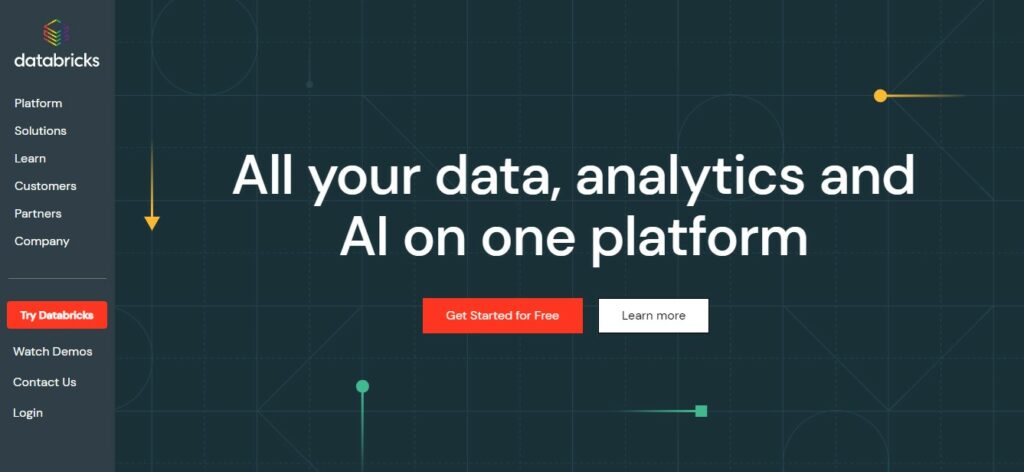 Databricks is a Cloud-based Data Engineering tool that is widely used by businesses to process and transform large amounts of data as well as explore the data. This is used to process and transform large amounts of data before exploring it with Machine Learning models. It enables businesses to quickly realize the full potential of their data, ETL processes, and Machine Learning.
Data processing clusters can be configured and deployed in a matter of seconds. To graph data, the platform includes a variety of built-in data visualization features.
Databricks Database Workspace is an Interactive analytics platform that allows data engineers and data scientists to collaborate on notebooks, experiments, models, and data, libraries.
Databricks Machine Learning is a managed service that includes experiment tracking, feature development and administration, model training, and model provides. Databricks ML can train Models manually or with AutoML, use MLflow tracking to track training parameters and Models, and build feature tables that can be accessed for Model training and inference.
The platform allows you to establish a Multi-Cloud Lakehouse structure and run SQL and BI workloads and also gives you a SQL-native workspace where you can run performance-optimized SQL queries.
Users may link it to some of the popular BI tools like Tableau and Power BI to get the most out of their data and collaborate more effectively.
Enterprise AI Software Final Words
In conclusion, it is evident that AI software has become a staple in the enterprise. Its ability to automate repetitive tasks and processes has saved businesses time and money. As AI continues to evolve, businesses should consider implementing it into their operations to stay competitive.