I'll also compare this to the other AI video makers that are popping up on the internet.
So, let's get started.
💡 Note
In this FlexClip review, I'm going to walk you through this video editing software step by step, and at the end of this tutorial, you'll know exactly how to create amazing videos using this tool. So if you want to work along with me, you can start your FlexClip free trial (no credit card is required)
What is FlexClip?
FlexClip is a video maker with lots of different tools that not a lot of other video editors have.
FlexClip also offers a huge variety of different ready-made templates that will help you create your videos quicker.
Now, I'll run through the different FlexClip features they have and give examples of what type of videos you can create.
Let's get started.
FlexClip Tutorial
Once you sign up to your FlexClip account, there's a simple process you just go through, they ask you what are the type of videos that you want to create for your business whether it is:
Business video
Lifetstyle video
Company video
Marketing video
Social media video
Slideshow video
And then what is your purpose with FlexClip to help AI understand the specific type of video you want to create.
Once you're all set up, you're going to be brought to your dashboard area, and this is exactly what you'll see.
On the left-hand side, you'll find tutorials and this will give you just different ideas of how to use Flexclip.
They'll walk you through getting started.
And also, we have languages you can choose from English and Spanish, Portuguese, Dutch, French, and Chinese.
Then you can choose from stock videos.
If there are particular videos that you want to use, then you can search the videos here and it should bring it up for you.
You can create a video from scratch or from the ready-made templates and browse from the categories on the left-hand side.
They have quite a bit of these templates but compared to tools such as OFFEO they are lagging behind. You can see what I'm talking about in this OFFEO review.
For this Flexclip review, I'm going to use a similar script I use for other video makers that I reviewed on this blog.
If you want to use some of the templates you can simply click customize and it takes a minute or two for the video editor to open up.
Now, I'll walk you through the features of Flexclip.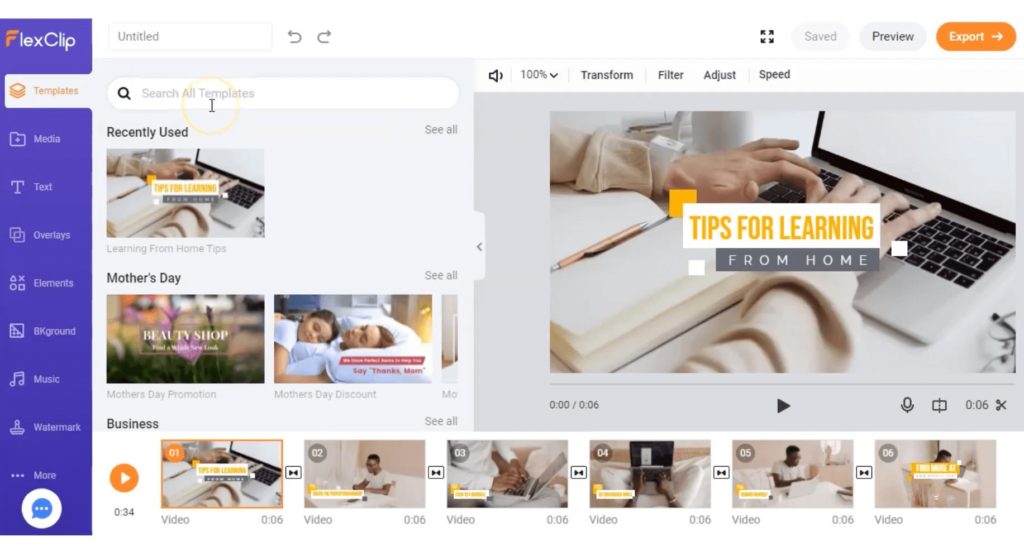 On the left-hand side here, we'll start off with templates.
And these are the exact same ones we were looking at before, except if you want to include more, you can include them in your existing clips.
Then we have media and you can upload your own file, you can stock media from their library, or you can go ahead and record your screen or your webcam and include it within Flexclip, and it's all done within the platform itself, which is a very nice feature to include.
And then we have our text. You can have different animations and overlays and they have loads there to choose from.
And then we have elements, which is another feature I really like inside Flexclip because you can make your videos very unique and personal to you.
We have loads of different ones there you can choose from.
Then we have backgrounds, we have an abstract background, technology, background, effect backgrounds, gradient photo backgrounds, pretty much, the list is very long as well.
And then we have music. Here you'll find the tracks that are included within the templates, but you can go ahead and change it from their stock music or you can upload your own music if you want to choose their stock music.
You can adjust the volume, the fade in and out, and if you want the music track to loop, if the video clip is actually longer than the track itself, it will go back to the beginning and you can play it again.
And then on the paid plans, you can include your watermark, you can include an image.
And then finally you can have the video in different formats.
You'll notice that there's an actual line showing you exactly where the clip is going to be shown on the video, which is pretty great if you want to create a video for different platforms.
Above the video, you have different options to customize your video.
You can zoom in and out, you can make it fit or fill the actual area or you can rotate this, you can turn it around.
it's actually pretty easy to use.
In the filter section, you can change the different color gradients, whether you want a grayscale, it will change the video and make it unique to what you want.
And you can adjust things like:
Exposure
Contrast
Brightness
Temperature
Tints,
Saturation
Shadows
And the list goes on there.
So, you can play around with the different colors and so on.
And then under the video, you can select the record button and you can record your own voice and if you let go of the button, it's going to stop, and that's going to be included in this clip.
If you made a mistake, you can go ahead and delete the voiceover and it's back to normal again.
Then you can split the video as well if you like.
You can choose exactly where you want to split it and then finally on the timeline itself, you'll see transitions.
When you select that button, you're going to be given options of different transitions between each slide.
I really like these transitions, they make it look very professional.
And that just shows you how easy it is to change with features and to add overlays.
If you're happy with your video you can simply export it.
And now we have an option of our 480p, which is a free version, export the video for free with the Flexclip intro if the video's longer than the one-minute length.
If you want that video resolution, you're going to have a FlexClip video intro at the start of your videos.
Now it does explain that if you go off this page, it may take longer to render, and if you stay on it, it might take that a little bit faster.
It can take some time, so I would suggest just leaving the computer on the screen and then coming back to it in a few minutes.
For my video, it took around 4 minutes to render.
Not bad but it was a super short video.
once the video is ready, you have a choice to upload this to Dropbox, you can share it on YouTube, or you can go back and edit it again.
And that's pretty much it. The video is done.
FlexClip Pros & Cons
And now let's go and take a look at the pros and cons.
FlexClip Pros
The first pro is that it has the webcam and screen recorder within the software itself. I think this is a really neat feature. It's not actually included in many other video makers that I've reviewed so it's definitely an added value.
You can create professional and unique videos with elements and transitions. I included transitions and some elements, and they do look really well.
And one thing I like about Flexclip is the fact that they do have a free plan that you can test out and even use the videos as it is, even though there is the Flexclip intro at the beginning of the video. If you don't mind that then the free plan is definitely your best option.
All their paid plans are very affordable. What I would recommend is to start off with a free plan, check it out, see if it's what you want, and if it meets what you're looking for, and if it is something you can see using in the long term, then move on to the paid plan.
FlexClip Cons
If you were looking to create a video from your blog post, it's a very, very long script, it is going to take a long time to create your videos with Flexclip. So Flexclip would not be the fastest video maker if you wanted this feature where you can input your script. You could use the like of InVideo, this is my number one recommendation as it is the most affordable and beginner-friendly software.
If you are looking for text to speech software within the video maker, Flexclip doesn't have it. However, as I showed you in the demo, you can include your own voice.
Who is FlexClip For?
So who do I believe Flexclip is best suited for?
Well, I believe this will be the ideal software for someone who is just beginning, you've never used any video making software before; it might be a good option if you're looking for a free version.
And then it's also affordable with the paid versions as well if you want shorter type videos. If you want the longer ones, InVideo will be my number one recommendation. It also includes the screen recordings and webcam feature.
So, what I recommend is to try the free plan first, and if you're happy enough with it, then maybe consider going on to paid version, as you will save some money if you do go on the yearly plan.
FlexClip Pricing
Flexclip has 4 pricing plans:
Free plan – $0/month
Basic plan – $9.99/month
Plus plan – $19.99/month
Business plan – $29/month
And if you pay yearly you can save up to 50%.
In the free version, you get 480p SD downloads, 1 stock video per project, a maximum of 12 projects, and a video length of up to 1 minute long. On the free plan, you will have a Flexclip intro on your video.
Then basic plan you have 720p HD downloads, you got 1 stock video per project, you got 50 projects online, you can have videos up to 3 minutes long, you can have a custom watermark and no Flexclip intro.
And then plus plan is just 1080p full HD downloads, you get more options and more availability for your projects.
With the business plan, you can go unlimited stock videos per project, unlimited of projects online, and then you can have videos up to 30 minutes long.
And that's with the monthly plan, and then you have the option of going annual, which will save you up to 50% on all the plans.
This may be something you want to consider if you decide to use Flexclip in the long term.
FlexClip Alternatives
Here are some of the best FlexClip alternatives:
Lumen5
OFFEO
Renderforest
Recreate AI
Kapwing
All of them are good but the best FlexClip alternative with the most features and very professional-looking templates would be Pictory AI.
I've also put together a complete Pictory review so make sure to check that out and see what makes this tool one of the best AI video generators available on the market.
FlexClip Review Final Words
And that's my Flexclip review. FlexClip is pretty good software they do offer a free trial so you can try it out and see if you like it or not.
The content though is not as good as compared with other tools like Pictory AI which is my personal recommendation for text to video maker.
And one thing I think you should be aware of.
If you check FlexClip on Trustpilot, you'll notice they do have an overall excellent start rating. However, they have some negative comments about the app not working and the videos not downloading.
If there's only one comment like this, I may not pass much heat, but there were a couple of comments really bad.
Something like that would trigger some warning that maybe there is an issue with the software. From what I'm aware of and from what I've tested so far, I've had zero issues.
But like I say, even on the free plan, there's nothing to lose, you can check it out yourself, see does it work for you. They do have an overall very good 4.3-star rating, but I just wanted to show you this so you're fully aware.