Let's face it. You could have the best converting funnel, you could have the best product you're promoting, but if you're lacking the most important thing for your affiliate business which is traffic, you're not going to get any results.
And especially as a beginner, it can be really hard to get your affiliate marketing paid traffic profitably because you don't have much experience yet, which is why I always recommend for beginners to start with free traffic.
And that's also why in this guide, I'm going to be revealing some mega profitable free traffic sources you can use to grow your affiliate marketing business and start getting sales.
With that being said, let's get into these mega profitable free traffic sources for affiliate marketing.
📢 Warning
For most of these free traffic sources on this list, you'll need any type of opt-in page or a landing page if you want to promote your affiliate links without getting banned. So this is why I highly recommend you to check out this step-by-step guide on how to create an affiliate landing page from scratch in 6 simple steps.
1. Blogging
Blogging is one of the best ways to make money with affiliate marketing and generate free traffic.
And when it comes to blogging you have two options.
First, you can create an affiliate marketing website using a self-hosted platform like WordPress.
The second option is to use a platform like Wix, Squarespace, or some of the other website builders for affiliate marketing.
Having your own website is not necessary. You can do affiliate marketing without a website but if you want to get approved by the affiliate programs and networks, you need your own website.
Because most of the popular affiliate marketing networks literally asked you for your primary website.
And one of the cool things about starting a blog is that websites are honestly pretty cheap these days.
In fact, you can start your self-hosted website for less than $3 per month, $2.95 per month to be exact with Bluehost (using my link you get the lowest price possible).
How Does Affiliate Marketing Work on Blogs?
Affiliate marketing on a blog means you promote a product you really believe in and stand behind on your blog and use a special affiliate link to promote that product.
Then when any of your readers click that link they're taken to the website and you get a commission when that person makes a purchase.
So let's talk about three of the top types of blog posts you can create to get traffic from Google.
Because you don't want to just post affiliate links all over your site that's really not effective you have to be strategic and write posts to where the people who read those posts are going to be in the right position to go ahead and purchase the product.
Which Type of Blog is Best for Affiliate Marketing?
So here are the three types of blog posts I strongly recommend for affiliate marketing.
1. Reviews
The first one is a review blog post basically where you just review the product.
So, for example, if you have a camera that you use and you really enjoy for your photography blog, you might write a product review of that camera and link out to it using your affiliate link.
2. Tutorials
The second type of blog post I recommend is the tutorial blog post.
This is the one I have had the most success with and it's just where you teach someone how to use the product that you are an affiliate for.
So for example, if you really enjoy a certain type of software you could write a tutorial blog post on how to use that software on your blog, and then all the links would be affiliate links within that post.
3. Round-ups
This is just a list-style blog post where you mentioned a whole lot of products you use and enjoy.
Now not every product in your roundup needs to be an affiliate link but at least one or more of them if possible.
And make sure everything you're recommending is something you really believe in and feel comfortable recommending to your audience.
Round up post example: 70+ Best Recurring Affiliate Marketing Programs
All these types of blog posts work really well because it's not just a sales pitch. you're actually providing value to your audience and teaching them something useful involving the product you are promoting.
So it creates that win-win situation your audience gets valuable content you get a commission that is exactly what you want to aim for.
💡 See How to Build an Affiliate Marketing Website
If you want to learn more about this traffic source, make sure to check out this step-by-step guide on how to create an affiliate marketing website where you'll learn how to create a niche site or an authority site.
2. Email Marketing
Email marketing is not just a great traffic source for affiliates but also one of the most important things of any successful affiliate marketing business.
And this is one thing that I wish I put a little more emphasis on to this step because I feel like I kind of just flew through it
And let me explain why you need email marketing from day one.
And the reason why is because as an affiliate, you're sending people to other companies all the time but you're rarely building up your own company, which is your brand, your website, and your email list.
Because if you build your entire affiliate company based on another company, if they decide to change their terms, or change their commissions, or to even possibly terminate you from the program for whatever reason, then you're completely lost.
And it's something that you have to watch out for.
This is why is essential to build your email list.
Also, email marketing results in more money by making your business much more efficient dollar for dollar.
How is it more efficient?
Email marketing has an average ROI of 3,800%!
With email, you get super targeted, warm return customers, repeat buyers, and upsell opportunities, which equals more profit per single customer.
So just to sum it up, I would not have reached six figures without the email marketing period.
Email marketing is also very cheap. In fact, there are many email marketing platforms for affiliate marketing where you can start for as low as $10 a month.
I personally use Builderall because it has not only a great email marketing software but all the that you need for a full-service affiliate marketing business like a website, sales funnel builder, funnel simulator, and over +40 plus tools to play with.
So, I hope I was able to drive home the point that with email, it's so important that you have that from the very beginning so that you can start capturing an audience and start building an email list.
Email is another asset that you have that grows with time and you can send traffic for your affiliate products and offers whenever you want.
And you can leverage when it comes to creating a sustainable business that will continue to earn sales and profits for years to come.
💡 Learn More About Email Affiliate Marketing
If you want to learn more about this one of the most important traffic sources for a successful online business, here is a complete guide on how to build an email list for affiliate marketing whether you have a website or not.
3. Quora
The next affiliate traffic source is going to be Quora.
I used to use Quora years back as you can see in my stats, this is my account.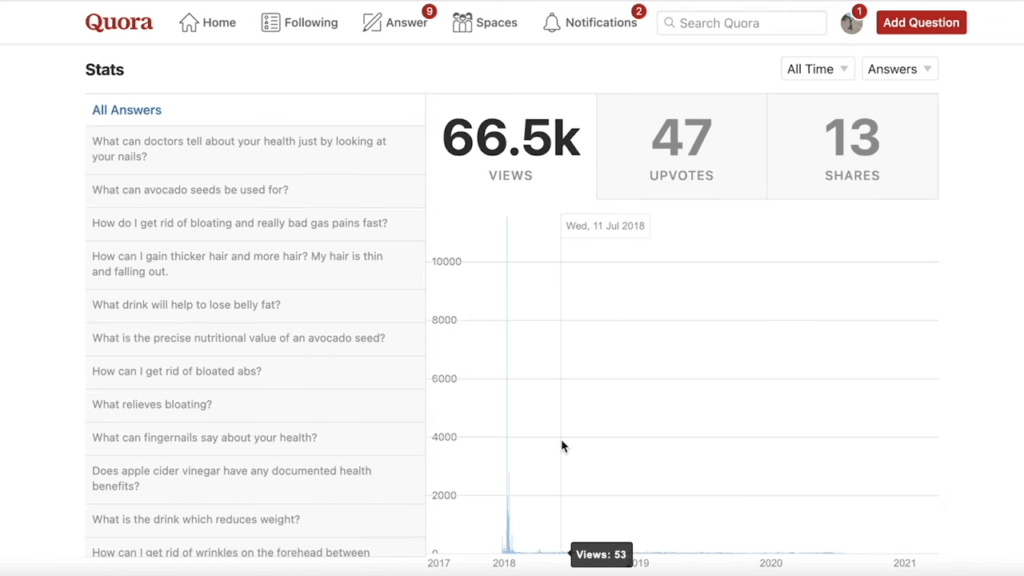 And obviously, I haven't been on this for a while, but you can see back in 2018 when I first started affiliate marketing, I was starting my Quora account.
And it started out kind of slow as getting a couple of hundred views per day and all of a sudden it picked up too 11,000 views in one day.
And this is literally probably from answering maybe 10 questions or so. I've gotten 66,000 views and I haven't written an answer for over two years.
And if I go to the last three months or so, I'm still getting views on my answers.
So that's one reason I like Quora for affiliate marketing because it can really be evergreen.
You can keep getting traffic over and over again.
And if you're wondering how to use Quora for affiliate marketing, basically Quora is the biggest question and answer website.
So, for example, what I would do is I would just type in your niche.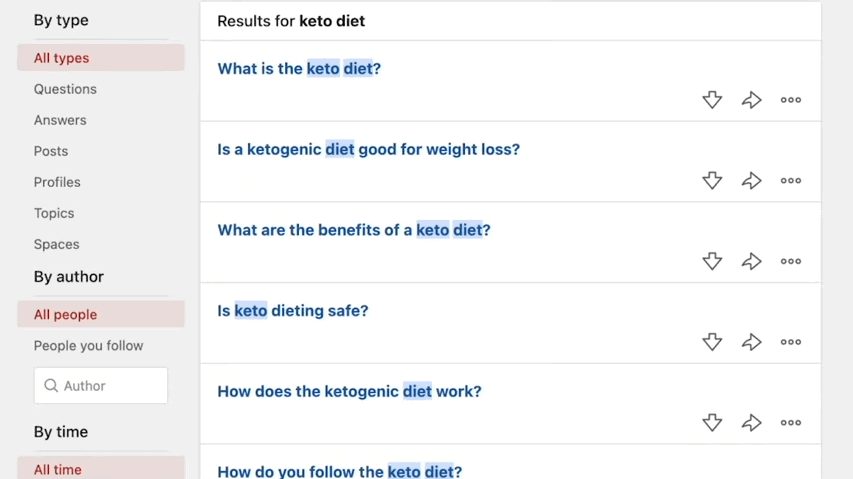 And you're going to see all kinds of questions that you're going to want to start answering.
Your answer should be decently long, maybe around 100-300 words, and at the end, you can always link to the actual thing you're promoting.
Answers with images really stand out so you can easily get a lot of attention just by simply inserting an image.
And like I said, it doesn't have to be perfect at the start, just start answering three, four questions a day and I guarantee if you do that for 30 days straight, all the traffics is going to start to compound.
Direct linking to affiliate offers on Quora is not allowed. Answers with affiliate links are considered spam and can get your account suspended and might even get your account banned which obviously is not what we want. This is why is crucial to have a sales funnel.
Read more about affiliate marketing on Quora
4. Medium
Affiliate marketing using Medium is a great way to drive traffic from search engines. This is a platform where people write articles, post anything that they want, and they don't need a website to do so.
A lot of people use this Medium for launch jacking, which means they will write a review about a product that's not yet launched.
And what you'd want to make sure of is to search for your keyword. And hopefully, there isn't a review there yet, so that you have a much better chance of ranking your own.
And if you don't want to do launch jacking, then you can just be creating articles in your own niche and offering a lot of helpful advice.
Like this person here, he's written an article on different apps for building health and fitness habits.
And as he explains each product, he's adding affiliate links to it. And if someone buys through his link, he gets a commission.
This is another great way to do affiliate marketing without a website.
💡 Struggling To Write Content?
Check out a tool like Jarvis.ai that automatically creates all the copy for your blog with just a few clicks of the button.
5. Cold Emailing
The next method to get traffic for your affiliate links is with cold emailing.
I am not talking here about spamming, I am talking about sending a bunch of cold emails in order to turn a prospect into a customer but this time the customer will be for a certain affiliate service.
So with this method, you want to choose a product or service that you want to promote to get traffic for this company.
So you are going to send maybe 100-500 emails per day and not mentioning the links directly.
It will be spamming you are going to open a connection with some people to convince them and tell them to use a certain product with your affiliate link.
And to start prospecting first you need to collect emails. And for this, you can use tools like Hunter.io or Uplead where you can get any email address from websites and social media accounts.
With that being said, let's go on and move to the next section.
We kind of went over writing, maybe that's for you, maybe it's not.
So, the next one we're going to go into is video affiliate marketing.
Now I know video and being on camera can be scary. It's hard for everyone when they're first starting out but the way you get good at something just like writing is you have to practice.
Getting traffic online is not about a secret method, it's about building your skillset; becoming a better writer, becoming better at video, or social media.
6. Udemy
Udemy is a huge platform where people can make courses and a lot of the courses are very low-ticket price and they also have free courses as well.
So, if you're in a niche that requires people to learn from a course, you can actually just start putting out free courses on Udemy and use that to kind of start growing your brand and authority.
And what I would do when you're first starting out and you're just trying to build your brand, you can just sell a free course
For example, this course "How to Build a Sales Funnel with ClickFunnels"
This is how he gets most of the sales on ClickFunnels and makes a recurring income because he's putting out all kinds of helpful free courses around ClickFunnels and building sales funnels.
You can create an affiliate marketing training course like I did and upload it on Udemy.
You can teach people how to build a landing page, or set up email marketing campaigns.
Maybe you took the Google Ads certification so you can start teaching people how to do it as well.
So Udemy is a great way to not only start making money from the courses you're selling at a low-ticket price, but it's also a great way to start gaining authority, get some traffic.
So, you can almost use your free course on Udemy as your tripwire and then you can sell them a high-ticket product in the backend of that course towards the end of it once you gain some trust and build some authority with them.
Plus, if you're promoting software you can use this to get all kinds of affiliate commissions and signups that way especially if you're doing a tutorial with the software, they're going to sign up with your link.
Udemy is a great place to get started because people already trust the brand of Udemy so if your course is on here, it's going to be a lot easier to sell something on Udemy versus selling it through your own website if you have no authority or anything like that.
7. TikTok
Now, another way to get a lot of free traffic as a brand-new beginner for affiliate marketing is going to be TikTok.
So obviously TikTok, I'm sure you've heard of it; where you're just creating anywhere from 15 seconds to 60 seconds long videos around whatever your niche is.
So, for example, there are two ways you can go about TikTok.
There's either the faceless account or there's more of the personal brand account.
A lot of people are getting tons of great results just doing faceless accounts and building up an audience that way.
So, for example, this is a spirituality niche.
And as you can see, it's completely faceless and all they're doing is posting different B-roll of stuff and interesting facts.
And obviously, these interesting facts get shared by a whole bunch of people.
It's kind of engaging to watch and you're attracting an audience who's interested in this kind of stuff.
Now you might be wondering, "okay but what can we actually sell these people?"
Well, if you go on ClickBank and just type in "spirituality", you're going to find all kinds of offers that you can actually promote as an affiliate.
I actually wrote an article about the best products on Clickbank if you would be interested.
The other way you can go on TikTok is actually starting more of a personal brand where you use your name and this is where you're showing your face and talking on the camera more.
And if you build a real closer relationship with your audience and you're making content around a specific niche and they know, like, and trust you, it really doesn't matter how many followers you have, you can still make money from a tiny little TikTok account.
Now by far the hardest part about getting traffic off TikTok is coming up with content. TikTok is a fast-moving platform, you have to post at least one or two times per day.
💡 Note
If you're interested in promoting your products on this platform, you can check this in-depth guide on TikTok affiliate marketing.
8. Instagram
If you want to make money on Instagram as an affiliate you have two options. First, you can become an influencer and post your own stuff. Or you can create something called a theme page where you don't have to show your face.
First, let's talk about becoming an influencer and promoting your affiliate products that way.
This is someone in the health and fitness niche.
And you can see all of the images that she's used for her posts.
And for anyone who is interested in health and fitness, these are very intriguing because they're not just pictures of anything but the picture of herself.
And so that really tells a story and gets people to engage with her.
And like anything you want to create a really interesting bio and add your links.
So like any social media platform, you want to make sure that you're working on developing good relationships with influencers in your niche and trying to grow your following.
When it comes to a theme page you only need to focus on at least three types of content on Instagram which works in almost every niche:
if you don't have any idea of what posts to create, don't worry you can start anyway.
Go to the hashtags in your niche and the explore page and you can start to find interesting content which Instagram is promoting.
And you can get inspired with these images to create your own posts or simply you can repost these images straight away (always giving credit) and provide content for your page fast.
But if your idea is to create something unique and powerful a solid Instagram affiliate business the best approach that you can take is creating your own posts, with your own logo and branded colors.
You can create the content on your using free tools like Canva or outsource it on Fiverr this very time-consuming task.
9. Pinterest
Pinterest is a great affiliate traffic source for certain niches. It's way more with women. So if you're in the health niche, fitness niche, or diet niche, Pinterest might works really well for you.
Also, people use Pinterest to shop. And this is what we want as affiliate marketers. So in other words, on Pinterest, you can rank for people who are actually searching to buy. So you're going to get a way higher conversion rate than any other traffic source.
So, what you want to do is start creating pins and boards that are related to your niche.
Look at other accounts and you can start getting ideas for your graphics as well. You need to have exciting graphics that are going to attract people's attention.
You can create graphics in a free online tool called Canva.
They give you the exact dimensions that you need to create a Pinterest pin and even provide you with a whole bunch of templates that you can use.
These are easy to use and you can edit them to your heart's content.
The next thing you want to do is to be joining Pinterest group boards.
These are all the different boards that would allow you to pin on them.
This is a great way to start interacting with other followers and to grow your audience this way.
10. Twitter
According to statistics over 320 million people use Twitter every month. It's free to open an account and you'd want to start growing your audience by doing lots of tweeting, preferably with helpful advice.
Pat Flynn is a very well-known affiliate marketer and he's very much an influencer in his niche.
He often tweet out just helpful information or announcements.
And of course, every now and again, he will promote his courses and products.
You can start attracting a following by:
Commenting on other people's tweets
Storytelling, telling your own story,
Re-tweeting other people's tweets,
Things like that.
Now, one thing I'd like to mention here is that you should never use cheap social media automation tools on any of your accounts. It's a great way to get banned from various platforms.
So make sure you do affiliate marketing on Twitter the right way.
11. YouTube
The next free traffic source for affiliate marketing is YouTube. YouTube is the second biggest search engine in the world after Google.
It's free to create your channel and it doesn't require expensive tools to create videos. Smartphones these days are superior to many of yesterday's cameras.
And what this method need is just consistency with uploading new videos, and that's what helps grow your subscriber list.
Always make sure you engage with all the commenters and you'll find that this is a very good way to do marketing.
And YouTube takes a little longer to generate traffic because obviously, you have to create a video and then rank your videos.
But once it's done it's done and it gets traffic for years.
Whereas with social media, your post is dead in a few hours.
What you want to do with YouTube videos is you want to focus on specific topics, ideally topics that you have some knowledge about.
You want to make the video about a smaller topic.
Don't expect to make a video about "How to play basketball" and rank number 1.
You probably will not do that.
But you might show up if you do "How to do a hook shot from the three-point line"
Make sure that the topic has views. If it doesn't have views, don't make the video in it.
Then what you do is you make a description you have a description and it's like:
"In this video, I'm going to show you how to do a hook shot from the three-point line. By the way, I learned all my basketball tips from basketballtip.com"
"In this video, I'm going to show you how to do a hook shot from the three-point line. By the way, I learned all my basketball tips from basketballtip.com"
And obviously, on this site, you got some affiliate links to any affiliate basketball course.
And the great thing about YouTube is that they are completely fine with you showing promoting affiliate links.
So you can insert your affiliate link and promote your products.
And I know that a lot of you guys are not willing to show your face on video and that's completely fine because you can create faceless videos.
There are many video creator tools that you can use to make videos without showing your face. And for this I highly recommend Vidnami.
And obviously, if you're starting TikTok, I would also start a YouTube channel so you'd have your short-form content on TikTok and then you'd have your longer videos anywhere from 10 to 20 minutes on your YouTube channel as well.
That's another way you can start scaling if you want to go with the video traffic strategy.
So, with that being said, the last part of getting a lot of free traffic online is going to be social media.
12. Facebook Profile
The next four methods all have to do with Facebook.
With over 2.85 billion monthly active users, Facebook is one of the best ways to generate traffic for affiliate marketing.
This one is using your Facebook profile.
For example, this person who is a nutritionist and best-selling author just use her personal profile for her business.
And she creates lots of posts, giving lots of great information.
Some of them have links to her tools that she's promoting or links to her live videos.
Again, this all involves offering a lot of value, reaching out to other people, and growing your friends.
She's up to over 4,000 friends and that's from engaging with people and offering value.
The only downside to using your Facebook personal profile for affiliate marketing is that you don't have access to Facebook analytics.
You can, when you use pages and groups, but not on your profile.
But if you shorten your links using online tools like Clickmagick, then you can use their link tracking and you can track your affiliate clicks that way.
13. Facebook Pages
The advantage of using Facebook pages for affiliate marketing is that you can use Facebook analytics to track everything because this is meant to be more for a business.
On your Facebook page you have to offer a lot of helpful advice, interact with your audience, and this is one of the ways that they run your business.
Now, if you go to Facebook insights, they have a lot of training on how to set up your pages and how to use insights.
This is all provided within Facebook.
14. Facebook Groups
Facebook groups are a great way of allowing people in a similar niche to interact with one another.
You would ask to join a group and you can start interacting with the people that are in that group and reach out with some friend requests.
There are two methods to do affiliate marketing on Facebook groups.
With first his method you want to become a "social media helper"
What does that mean?
That means you go to Facebook, you find different groups and these groups have all kinds of people that are interested in certain stuff.
You help them with the stuff and you share your affiliate link.
Now, this can actually make money instantly but disclaimer.
Have a disclaimer
Make sure you're focusing on help and not spamming
Always put your best foot forward and help people out.
If there are people looking for relationship tips, maybe they want to save their marriage and that's something you know about, go in there say,
"Hey, I was on a rocky marriage myself here's what I did to get out of it. By the way, here is a product that I really like"
Very simple to do, anyone can do this and there are groups out there literally about anything. All you got to do is share some value share your experience.
The second method is to start your own affiliate Facebook group.
Always nice if you can start your own group because then you're in control of the activities.
And it's the one place where you can promote your brand.
You can actually pin your top posts at the top of the activity feed so that everybody who enters will see it first.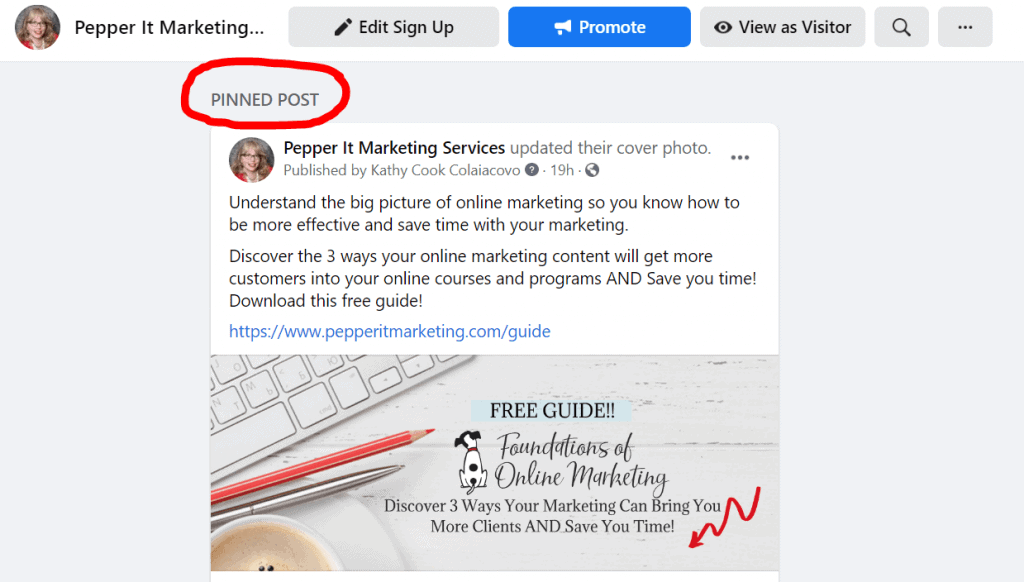 And another great reason for controlling your own group is that you can control the amount of spam that people will post to your group.
A lot of affiliate marketers will just spam their links all over in lots of different groups, which is kind of ridiculous when you think how quickly your posts are buried in the feed, but that's something that you can control with your own group.
15. Facebook Messenger
Another way to generate traffic for affiliate marketing is using Facebook Messenger. It's a very common way of staying in touch with people. And it's also a great way of communicating with your audience.
And if you wanted to automate any of your communications, you can use what's called ManyChat.
And this is a program created by Facebook for Messenger.
And it's a way to automate questions and answers and get people into your sales funnel.
They have a free training program to get you set up.
So you can set up questions and answers, and the funnel moves along according to what your audience chooses for their answer.
If you want to learn more make sure to check this guide on how to use chatbots for affiliate marketing.
16. Linkedin
Although Linkedin is a platform for job hunting and professional networking, we could also use Linkedin to
promote affiliate links.
Create content around products/services, rather than directly promoting, for better engagement and reception, connect with professionals in your industry, and see if they would be interested in writing a review or become an affiliate of your product/service.
Share affiliate content as a response to conversation topics or applicable questions in LinkedIn groups.
I have also a complete guide on how to do affiliate marketing on Linkedin to get you started.
17. Slideshare
Slideshare is a website by Linkedin where you can publish PDFs and slides like a PowerPoint presentation and then you can link back to your website or you can insert your affiliate links inside these files.
It has a lot of organic traffic from Google and a lot of views.
You can simply sign up and publish a PDF or a small presentation about your content and people will refer to your website for more info or to download the full version.
Related Article: Affiliate Marketing PDF
18. Forums
Forums are great places to generate leads for your affiliate business.
The cool thing about forums is they actually rank in Google and getting traffic right now so if you want to get instant traffic what you need to do is not invent a new audience, not create some new thing go in front of where the people already are.
Where are they?
Well, they're on forums and question sites asking questions and looking for advice.
You do kind of the same thing we talked about Facebook groups.
You're going to go to the forum and you help people out.
Maybe you're an expert in HVAC repair.
Maybe you're an expert in how to get a truck driving job.
Maybe you know a lot about HTML.
You go in those forums and you start to share your knowledge.
Say you are promoting a fitness book. You could promote this in Fitness and book forum.
You could also put this on any forum and say:
"I'm a fitness enthusiast, I use to cycle and now training for a marathon and currently reading this book (your link)"
When you write a long intro, this won't look spam and when you pitch a few sentences good about the product, you could bring in good traffic.
Very simple.
You go share your advice, you share some tips, you get an affiliate disclaimer and in the footer of all the posts and all the questions that you answer.
19. Hacker News
Hacker News is a social news website focusing on computer science and entrepreneurship. In general, content that can be submitted is defined as "anything that gratifies one's intellectual curiosity."
People interested in startups, programming, tech, entrepreneurs, fresh ideas, new products, tech insights participate in the forum. If your product could help them you can submit it.
You may be restricted with these keywords. But if you have a product that focuses on productivity, health, getting ideas you can promote.

Procedure: After registering, you can submit your links directly. When you enter the title start with "Show HN:" It's a tab where people introduce their products to the community.
Don't try to sell like "Learn how to earn $300/day", "Buy this to earn $1500 a month just working one hour a day".
This is not the place.
All you need is the right product and when you pitch it properly you could earn 1000's dollars in a few hours. You need to have your own domain with a landing page to place the link.
You could also place good information articles with affiliate links.
20. Blackhatworld
Blackhatworld is one of the best forums to market your product/service. The forum focuses on:
Website development
SEO services
Content marketing
Social media marketing
Coding
And ways you can make money online.
If your product or service could help people to increase social media followers/helps website owners to drive more sales, SEO ranking, or help people make money online you could use this forum.

Blackhatworld is one the best-moderated forums online. You can't go there and keep placing links to your product/affiliate links. Participate in the forum, discuss, contribute and then promote your product in the right discussions.
💡 Pro Tip
If your account age is more than 60 days and if you complete 100 plus posts you can purchase VIP membership for $97 for 365 days. The best thing is you could add your product link as a signature. You can add up to 3 product/affiliate links. This could skyrocket your sales
21. Growth Hackers
Growth Hackers focuses on high-quality trending articles on growth hacking, marketing channels, user acquisition, engagement, and product launches.
If your product /service/course/ebook is related to website marketing, e-commerce, social media, startups, and helps people to earn passive income Growth Hackers is a good option.
Like Reddit, Growth Hackers work on upvoting systems. People can upvote your product/post. This may be a good opportunity when compared to other websites since very few people submit their products here and with good traffic we could expect good sales.
22. Warrior Forum
Warrior Forum is the number one marketplace for digital marketers. You could sell your products, services, courses, ebook and associate with affiliates.
Warrior forum has 1.1 million registered users and people visit the site looking for ideas, cheap services, and shortcuts. This makes this a hot market.
It is easy to sell here, the tough part is you will have lots of competitors and you need to outsmart them to make sales. This is one of the best places to pick your affiliate products.
You could get good affiliate associates in this marketplace.
23. Indie Hackers
This is something similar to Growth Hackers and the audience circle includes programmers, start-ups, product developers. If your product can connect with them you can place the link on the website.
You may not get a response like Growth Hackers but you can expect good sales if your products connect well with the audience.
You don't need to spend a lot of time here like other forums. You can create an account and place the link directly.
24. Reddit
One of the reasons why I like Reddit for affiliate marketing is because it gets millions of page views per month. Reddit calls itself the front page of the internet.
Very few marketers use Reddit to market their eBooks, products, and services, and the majority of them drop out after getting less success or ban
In addition, Reddit has what's called subreddits where people are going in and they're actually sectioning themselves off by different topics.
So it's very targeted and you can get in front of target people and start making passive income if you do it right.
One of the drawbacks to Reddit is it's kind of prickly and if you don't do it right if you go there and just spam your affiliate links you are going to get kicked out of the subreddits and you're actually going to get banned.
📢 WARNING
Reddit is one of the websites that does not allow the placement of direct affiliate links. Reddit can ban accounts for placing direct affiliate links. You can still use Reddit for affiliate marketing but you'll need a landing page builder. I highly recommend Builderall which is a free sales funnel builder software.
Free Affiliate Traffic Sources Final Words
This is how to get free traffic for your affiliate marketing business.
Yes, you can make money with any of these methods if you concentrate on just one method and work at it consistently to grow your following.
And let me know in the comments below which traffic are you going all in on?
I love to hear your guys' thoughts.
If you guys want to see exactly how I make money with my affiliate marketing business, how to set up your funnel, how to set up your emails, and how to make your first commission online, make sure to check out my free affiliate marketing course.