GoHighLevel is a relatively new marketing tool available in today's market. Started in 2018, GoHighLevel has managed to gain popularity and momentum due to its advanced marketing automation features for an affordable price.
In this GoHighLevel review, I want to introduce you to this all-in-one digital marketing platform that's been getting a lot of attention lately in the agency and consulting space.
I'll share with you the pros and cons, and how does GoHighLevel compare with some of the best CRM for marketing agencies like Vendasta.
I want to give you an inside view of its high-end features that make it stand out from its competitors and what they could do better.
Let's get started.
What is GoHighlevel?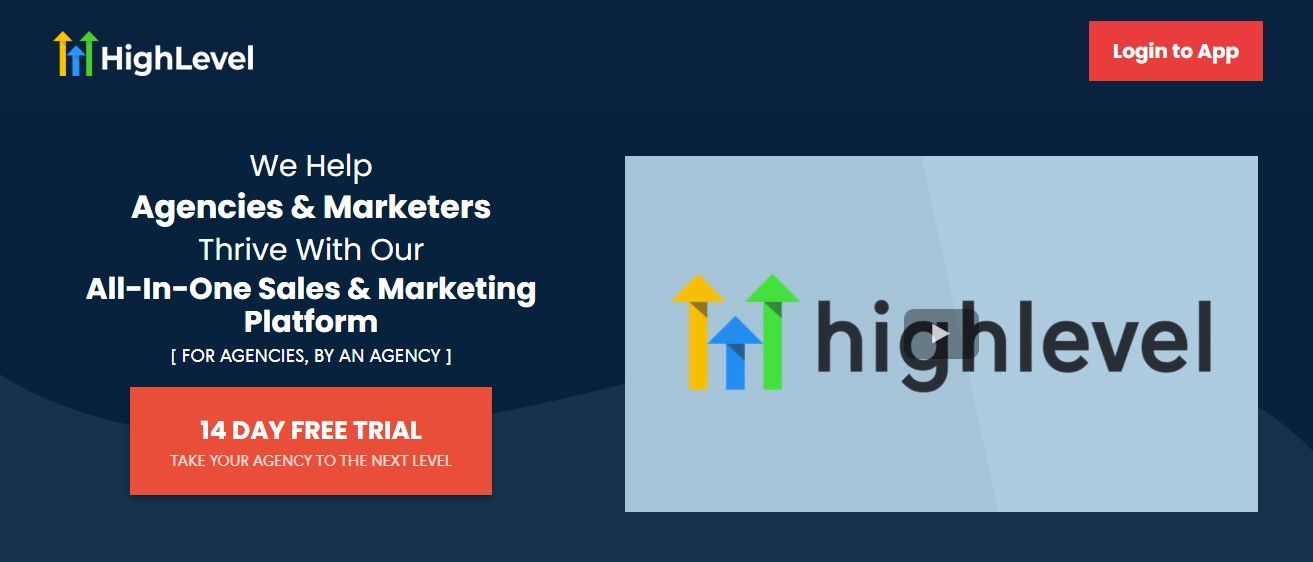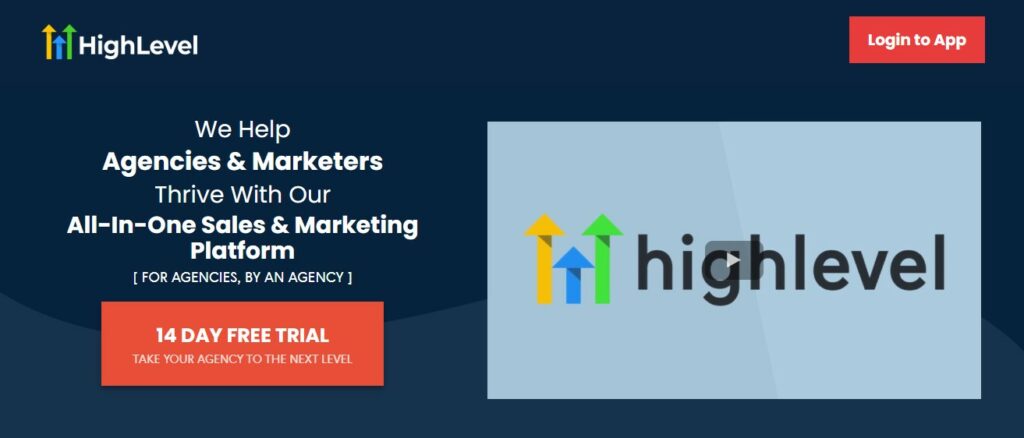 GoHighLevel is an all-in-one sales and marketing platform designed to consolidate all essential marketing tools under one umbrella. GoHighLevel gives you the power to white label it and resell it as your very own software.
Although GoHighLevel is new in the market, it has the potential to replace some more established well-performing software such as Pipedrive/Hubspot for CRMs and Clickfunnels for landing pages.
Continue reading this GoHighLevel review to get more detailed information on the CRM and features of this software.
GoHighLevel CRM
Whether you're a small business or a multinational corporation, CRM can help you gain valuable insight into your customers, employees, and partners; organize and manage your sales, marketing, and operations; and drive efficiency throughout your organization.
GoHighLevel is one of the best CRM for digital marketing agencies and empowers you to act on that insight with automated workflows, templates, and best practices.
In the GoHighLevel CRM, you will have access to the following.
Agency Dashboard
Inside the main dashboard, you will be able to have an overview of your sales and marketing activities.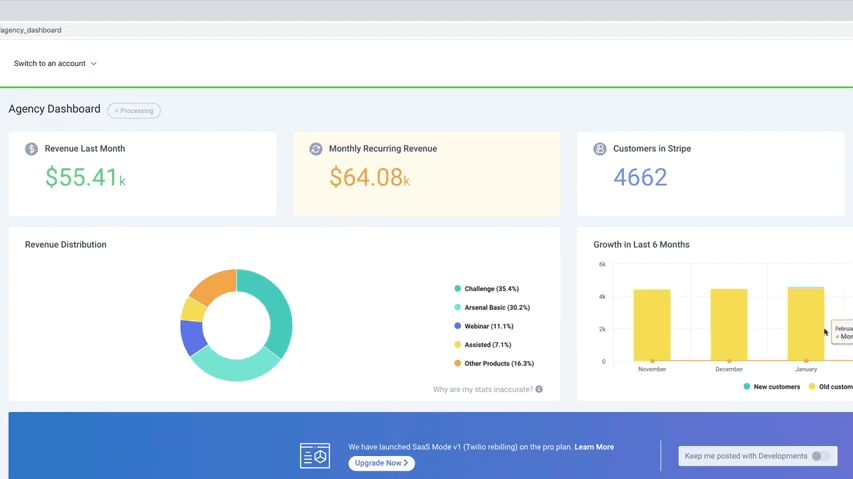 This is going to give you an idea of exactly where you are in your different pipelines, how many leads you have at the different stages, and what tasks have been assigned to you.
And a few additional options.
This is all going to be based on your pipeline once you start leads coming into the system.
Conversations
The conversations tab is going to be a mixture of email responses, text message responses, and Facebook messenger responses.
you're also going to be able to see inbound phone calls in that section.
And it's a really great way to consolidate what your leads or prospects are saying to you.
This is also ideal to be able to dig in and say what are the most frequently asked questions that my leads or prospects need to know before buying
You can also get a good idea of how many touchpoints it's taking for someone to actually become a lead to a client.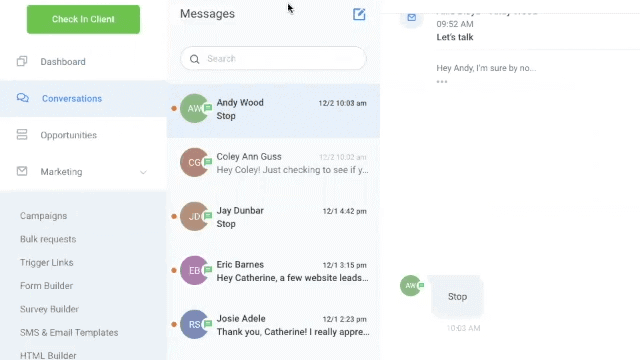 GoHighLevel allows you to add your leads to different automation for email, voice, as well as SMS.
It also allows you to call your lead from your dashboard directly.
Lastly, you can manage different client logins on Agency Plan Unlimited.
GoHighLevel Snapshots
GoHighLevel snapshots give you the ability to deliver a snapshot of an account and everything that's in that account to another account that I set up in HighLevel.
And they have lots of ready-made templates available.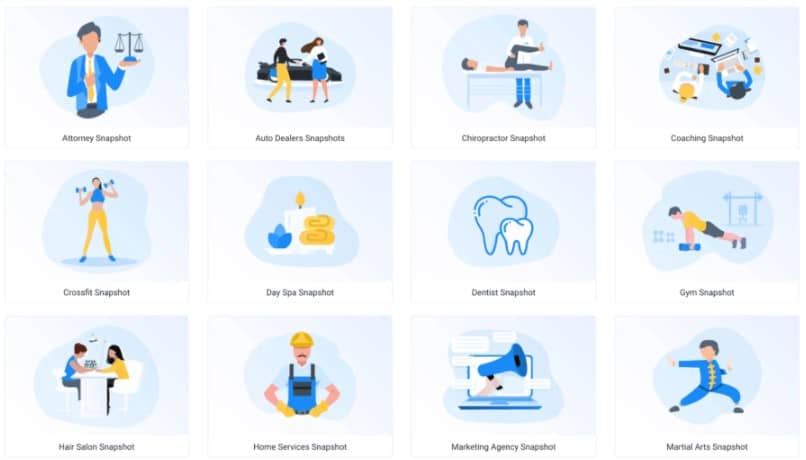 So let's just say I choose and set up a template account for the restaurant industry that has all the websites, landing pages automation campaign sequences that I want my restaurant customers to have.
So when I sign on a new restaurant customer instead of having to go and rebuild those things in that new account for that customer or manually copy those things into an account, I can just take this snapshot and when I set up that new customer's account I just put the snapshot into that account and immediately all of those assets that I've created are going to be available for that customer in their account.
Snapshots make your service delivery incredibly scalable and profitable because it looks like you did all the hard work of building that new website, new landing pages, and workflows but really all you did was take a picture of an existing template that you've created and you just installed it into that new account.
When you load that snapshot it's going to come with everything and be able to switch out your logo, switch out your photos, and switch out a few of the custom values that will allow the campaigns themselves to be very quickly updated to fit your specific offer your specific type of business and your individual business.
So that's GoHighLevel snapshots in a nutshell.
Opportunities
Here, you will be able to track and manage your leads in a funnel.
This is something that you're going to be able to see all of your leads, all of your sales, all of the different people that are in these different stages based on your specific sales process.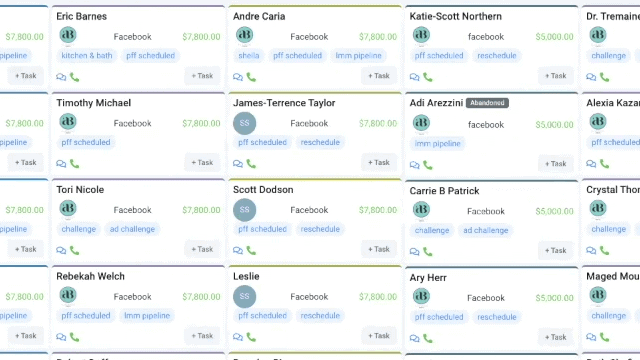 You can very easily click on them, see their additional details.
You can call them, you can see their text messages or email responses.
And you can also mark them as lost or abandoned.
Some of the big names for CRM, such as ZoHo, Hubspot, Pipedrive, and Salesforce, have a place, particularly among enterprise companies.
However, for top-notch functionality and affordable rates, they cannot match that of GoHighLevel.
GoHighLevel Automations
Automation is the key to success when it comes to marketing.
Whether you're a small business or a multinational corporation, marketing automation is a crucial tool for scaling your business.
If you want to market and sell your products or services to a specific audience, you need to find out how to best target them with personalized messages that will encourage them to take action.
And what's more effective than sending automated emails?
Or setting up automated campaigns that can send regular emails, SMS, and voicemail drop with customized messages based on customer activity?
With GoHighLevel Marketing Automation, you can set up all these and more.
Under the marketing tab, you can create automated email, text message follow-up campaigns, and Facebook follow-up campaigns.
It can also automatically do phone calls so reach out to that person to see if they're available and then it'll connect to you with them.
So you can follow via:
Text email
Phone calls
Voicemail drops
Facebook messenger
This feature allows you to create automated workflows in order to perform actions such as email marketing, drip campaigns, product promotion, and more.
And with this automation comes the power to drive greater efficiency through much less manual work. You can have more time to focus on what matters most, your customers.
GoHighLevel Automations Workflow
Let's start with the GoHighLevel workflow automations which are actually very advanced. comparable even with ActiveCampaign.
So here's the step that made the opportunity in the pipeline.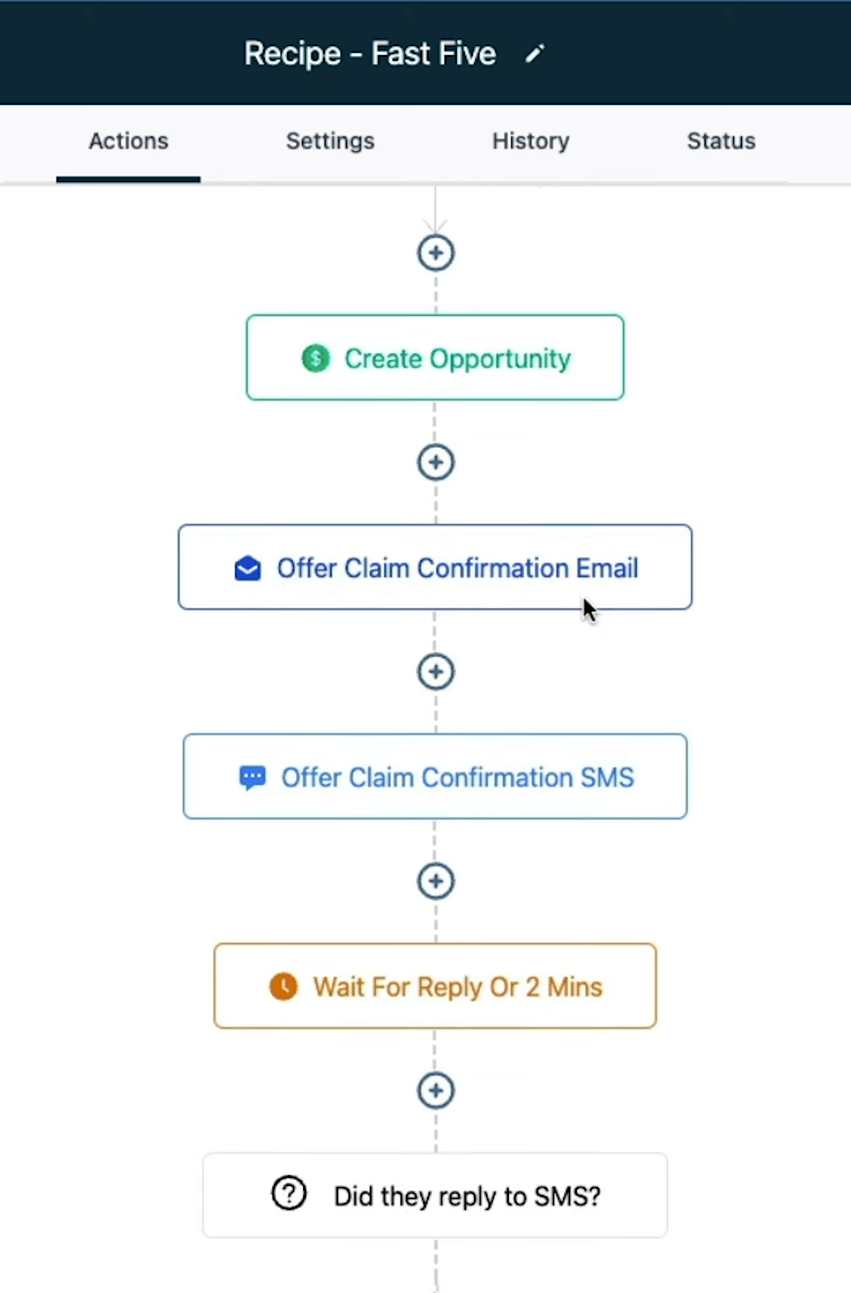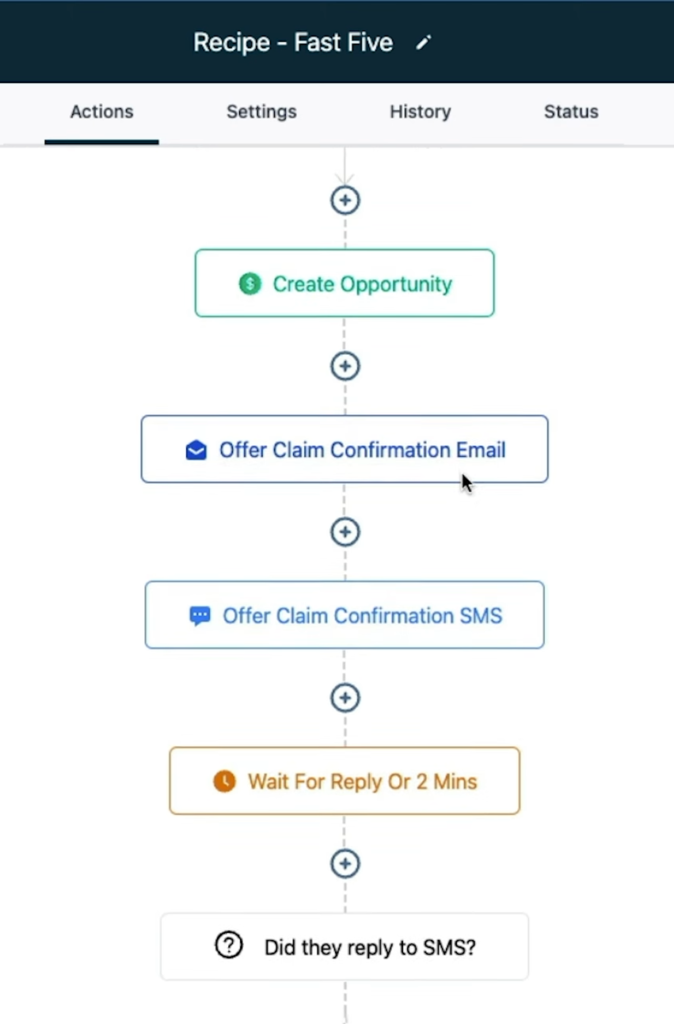 You can see the confirmation email, then there is an initial text message and we hit a wait step that's set up to wait for a reply or timeout after 2 minutes.
From here we have a conditional step that checks to see if there was a reply. If yes we hit that step and then we can send the second text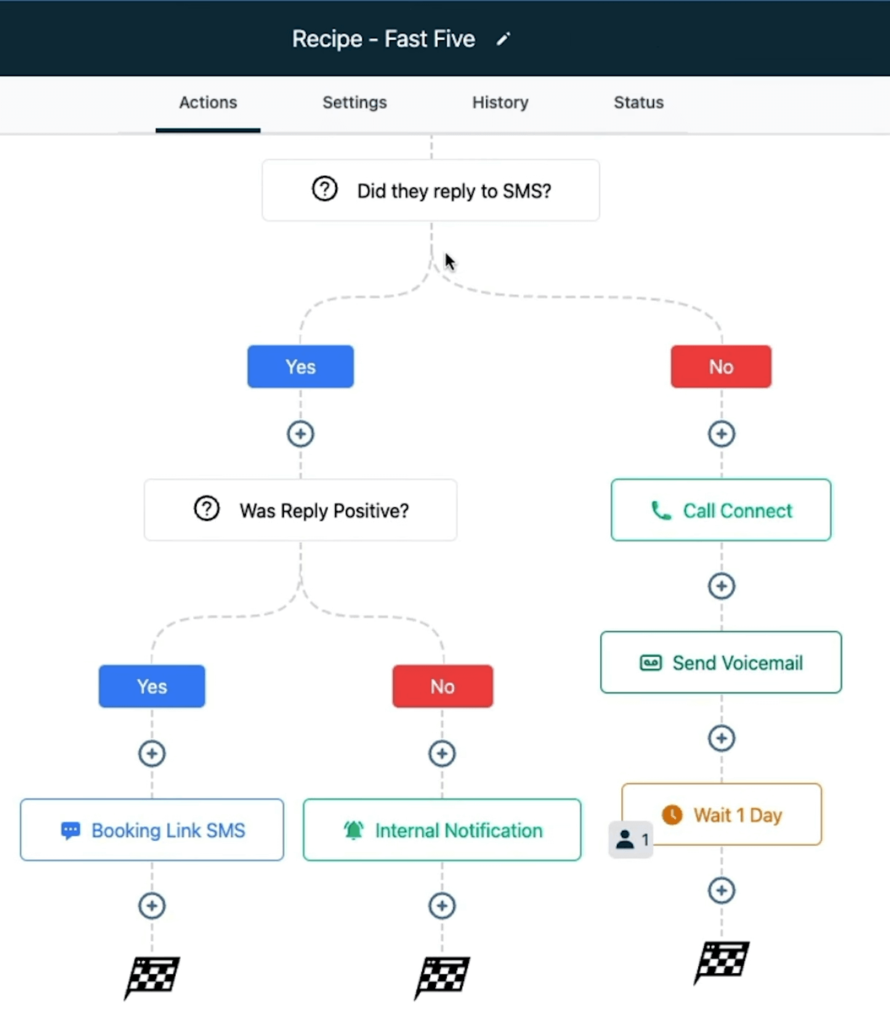 With no reply, we get this "call connect" step where you can set up a call with your agency and then prompt you to push a key to connect with them.
And when you or your sales team pushes a key it then dials the lead and if they answer it connects the call.
This is great because it's basically putting me or my sales team on the phone with new leads within 2 minutes after they were generated.
And if they haven't already engaged with the automated options.
Now if we couldn't get the lead on the phone we then push a ringless voicemail which is an mp3 file that we upload and then from there we wait a day and can continue building more automated nurture steps for the process.
This workflow is an absolute game-changer because it guarantees that every new lead is immediately engaged through multiple channels and it creates an automated path for new leads to become booked sales calls
Email Marketing
GoHighLevel's set of email marketing functionalities enriches your marketing and sales capabilities through campaigns.
Each campaign, just like in any other email marketing platform can be managed and customized to your unique business needs – from sending broadcast emails to creating email automation – all from one dashboard.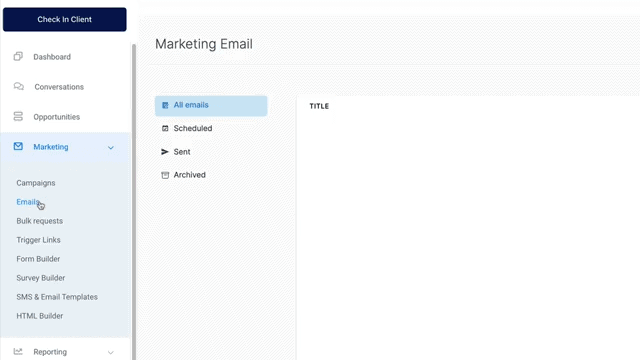 In addition, you can use email automation to create workflows and set up triggered emails for particular actions.
Blast campaigns are essentially going to be based on two different things.
One is the type of lead.
As you can see under contact type we have all and leads.
And then I have a few that are just two clients.
But ultimately I typically communicating with them in a different place.
Then you also can select tags.
So this is why tagging leads is an important thing because it gives you a very easy ability to send out specific campaigns to those people using those specific tags.
This should help you stay organized, improve your usual workflow, and deliver the best possible personalized customer experience.
Trigger Links
These are going to be links that you want to track what happens when someone clicks them.
You also can say if somebody clicks this link I'm going to have this other thing happen so it's a part of our triggers and automations that we'll talk about briefly.
Form Builder
The form builder is exactly what it sounds like.
You are building forms that can either be used in your calendars, they can be used in your funnels, and they can just be sent completely independently.
Survey Builder
They also have a survey builder. Surveys are similar to forms but they do have different options.
Most of you guys understand what a survey is but it's got that capability which is really nice.
SMS & Email Templates
Next, we have SMS and email templates. These templates are able to be used by anyone who's doing lead follow-up and sales.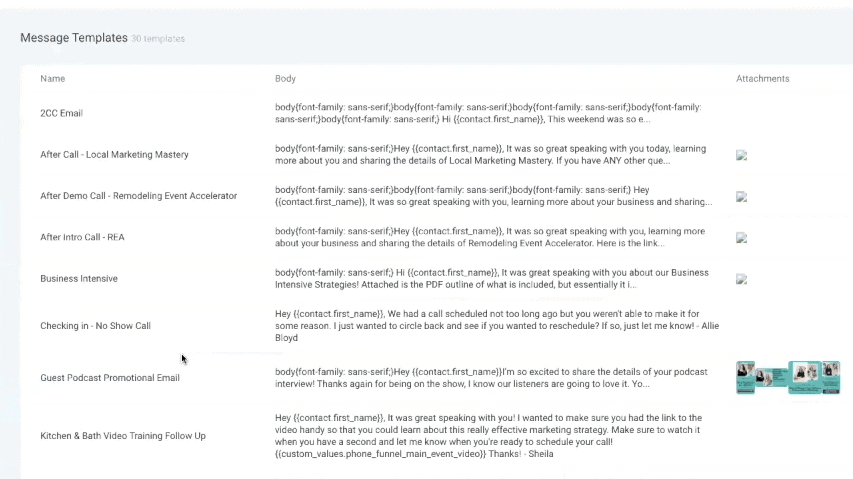 They can very easily select these templates then edit them as they see fit and send them out to a lead or prospect.
They won't have to spend the time copying and pasting from somewhere else or having to rewrite the same exact email over and over again.
HTML Builder
They also have the HTML builder but I personally didn't find this feature really helpful for my agency.
This allows you to create specific HTML email templates so that your emails will be a bit more polished.
Ultimately you do not need overly designed emails in order to make this work.
Really what I like to do is just have a container and then have a nice header and a nice footer.
Outside of that you really don't need to go crazy with that HTML.
GoHighLevel Reporting
In the GoHighLevel Reporting, you will have access to the following.
Call Reporting
Reporting is going to also show call reporting. Call reporting is going to show your:
Answered calls
Missed calls
First-time calls
Average call duration
And you can also look at certain date ranges.
So if you have someone doing sales this is going to cover a lot of different calls.
And then you can see these specific calls and you can also play those recordings.
This is very very important for training purposes.
It's also very important for people who want to see what their salespeople are saying, what's being done to close these sales, and gives you the opportunity to really verify that leads are being followed up with.
This is a very very important piece to me and to my clients because you can unfortunately always take people at their words.
So, I love call reporting because I want to be able to listen to those calls and consistently try and improve the conversations that are being had.
Scheduling
When you want to schedule a meeting or an appointment, do you check your personal calendar, or do you open up a new browser window and type in the information?
Either way, the result is the same – a lot of work going around in circles. If only there was an easier way.
Fortunately, that's where GoHighLevel's cool appointment setting tools come in.
These tools allow you to create an appointment from scratch with just a few clicks and import/export appointments between clients, all from within the CRM.
This not only makes it easier for you to organize your work but also gives your clients an easy and intuitive way to book and cancel appointments with you.
You can connect your Google calendar where they can actually automatically book appointments onto that calendar.
This is an example of our calendar inside GoHighLevel.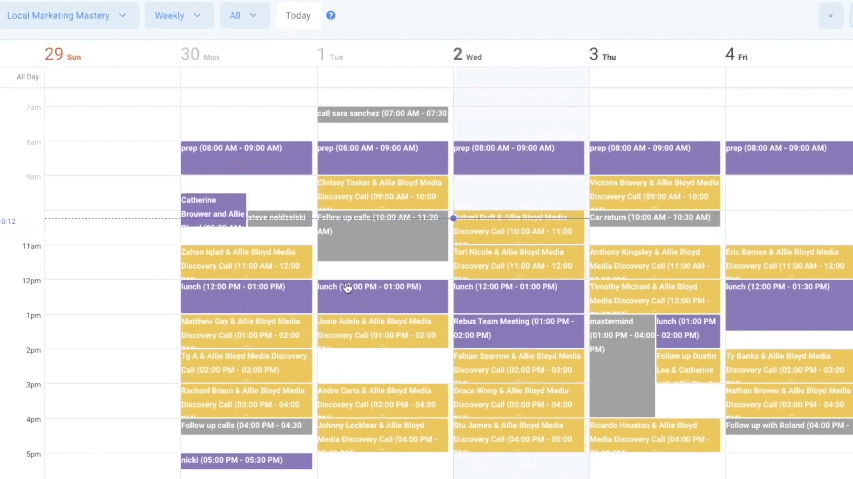 These are all the scheduled calls that we have for the week from our advertising and we can see them very clearly.
If we were to select one of them the contact information would come up we would be able to see the notes if they'd had a past appointment.
And we'd be able to add additional pieces of information to that lead.
If we select on the appointments tab we're going to be able to see all of these different people that have scheduled appointments.
We also can sort it by the date that they're added or that start date.
So you can have them auto confirmed but if someone needs to reschedule you can click reschedule and then you can simply update that day and time.
This is going to allow you to be able to keep that person in their appointment reminders campaigns as opposed to just adding a new spot on the calendar and then not receive any type of appointment reminder.
Once your appointment is set up, you can even set up a recurring appointment that is automatically added to your calendar on a specific day and time.
Additionally, with GoHighLevel's trigger automation, you can even send automated emails or texts when an appointment is made or changes.
This way, you can ensure that all your appointments are being taken care of properly. Further bringing you access to widgets, events, and more, the GoHighLevel Appointment Setting Tools bring your appointments to life and make them so much fun to personalize and use.
So basically Calendly and any of those other tools that you've used in the past, this already has it pre-built in so that's another expense that you don't have to pay for because it's already there.
Reputation Management
One of the biggest challenges small businesses face is keeping up with social media and the countless posts that people leave on various social networks every day.
While most of these posts are innocent and well-meaning, there are also some that aren't. Whether you're looking for feedback on your latest product or trying to boost your brand recognition, reputation management is crucial for any business, especially small businesses.
And what better way to manage your reputation than by using a tool designed specifically for it?
GoHighLevel has you covered with its reputation management features. You can use this tool to establish a solid reputation management strategy and boost your company's credibility on various social networks.
With just one click you can ask all your customers (or any specific list) to leave their honest feedback on any platform.
Furthermore, GoHighLevel empowers you to manage and track all your Google reviews in one dashboard – making it a perfect tool for any small business looking to improve its online presence.
Contacts
Contacts is really exactly what it sounds like, your contacts in the system.
Not every contact is going to be in your opportunities pipeline.
This is a great way to sort people, tag people, and then be able to send them customized communications.
GoHighLevel Funnel Builder
Building sales funnels can be both time-consuming and labor-intensive.
And for many businesses, they can feel intimidating.
This is why it's so much better to have a sales funnel builder built into your CRM that does all the heavy lifting for you.
That's exactly what GoHighLevel Funnel Builder is designed to do.
It works similar to another popular sales funnel builder, ClickFunnels so I think you should be fine even with o technical expertise or any prior experience.
As a matter of fact, if you're new to marketing and/or sales, it'll even help you understand the basics of the interface with tooltip and help text features.
Your funnels are a series of landing pages designed to drive a lead to take one specific action such as opting in for a lead magnet or scheduling an appointment.
GoHighLevel page builder allows you to build custom landing pages, add sections, rows, and columns.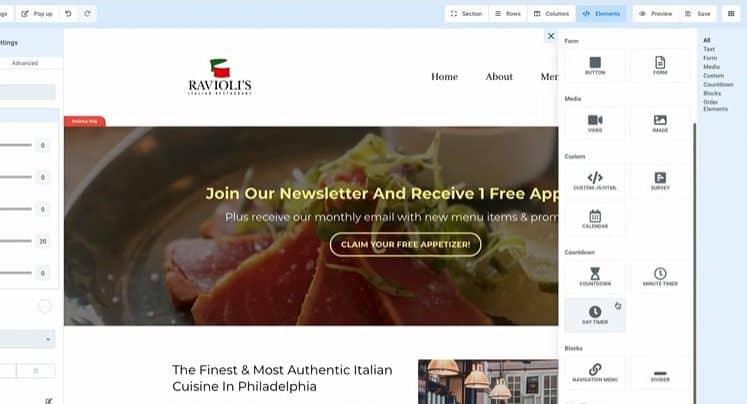 As well as populate them with elements such as:
Text blocks
Photos
Videos
Countdown timers
Custom code
And more.
Great thing is that you can easily toggle between desktop and mobile view and create content specific to each so your pages look great on all devices.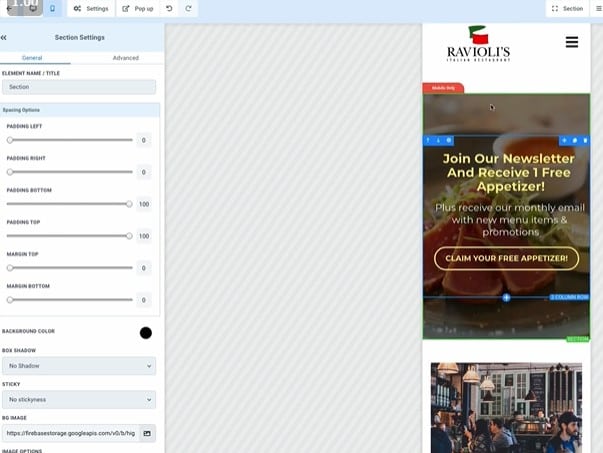 Next, you can embed your forms into your pages, or use the built-in pop-up model that you can launch from buttons on the page.
You can either use pre-built funnel templates or create your own.
Funnel templates are GoHighLevel's way of making creating sales funnels less overwhelming.
You get access to dozens of professionally built, conversion-optimized, pre-built sales funnel templates created by the GoHighLevel team.
All you have to do is customize them to suit your business's unique needs.
It's pretty easy to use however, it's not as customizable as a dedicated sales funnel builder like ClickFunnels.
GoHighLevel Website Builder
GoHighLevel website builder is pretty easy to use but is not as customizable as other popular website builders like Wix, Squarespace, or my favorite Builderall.
But keep in mind they literally just launched it, and it has almost all the basic features that you would need.
It doesn't have a lot of the advanced stuff but I'm sure they're coming out with that very soon.
GoHighLevel Membership
Here you can create a membership site.
You can select either a sprint course, a marathon type course, a membership type course, or build your own from scratch.

It's very similar to Kajabi, so if you have courses or members areas that you want to give to your clients, you can easily create that right inside of GoHighLevel and save you another couple hundred dollars per month by not having to sign up for Kajabi or one of these other membership platforms.
ClickFunnels Importer
The great thing about this is that you can actually import your funnels from ClickFunnels.
There are only a handful of changes that you would have to make to get those funnels to function perfectly.
So if you are already using ClickFunnels this can be a great alternative and ultimately, you can save money because now this $97/month product is going to be able to take care of your funnels, your automation, your CRM, your email marketing, your text message marketing and everything in between.
Funnel Sharing
This is something that is very important for everyone to have set up. However, it's really easy to share funnels between existing accounts, so if you do know someone who's already working with GoHighLevel, you can get their funnels shared with your account, or you can share your funnels to someone else's account making it a really great place to collaborate.
GoHighLevel Triggers (Automation)
The GoHighLevel triggers are basically automation where you can simply create a trigger and you're ultimately saying what is that starting trigger going to be.
Is it going to happen when someone schedules an appointment?
What we would like to happen when someone schedules an appointment is we probably want to add them to the appointment reminders campaign.
Now, any person who schedules in my GoHighLevel calendar is automatically going to receive the appointment reminder campaign.
Online Listings
Online listings are something that is similar we would need to connect our Google My Business page in order to take advantage of this.
This is something that doesn't matter terribly much for my own business but it's something I do encourage our local business clients to use.
In addition to the features discussed above, as a GoHighLevel user, you will have access to the following features;
Gamification
Client database
Electronic signature
Automated scheduling
Auto-responders
Mobile coupons
Mobile keywords
Group scheduling
Contact management
GoHighLevel SaaS: White Label
SaaS stands for software as a service and GoHighlevel just released something they're calling SaaS mode.
First, let's talk a little bit about what SasS mode means, SaaS stands for software as a service, and the latest new craze is creating your own white-labeled SaaS platform so that you can charge your client's monthly fee for accessing it and all or part of its features.
Now, HighLevel actually has had this feature built-in from the start, but just recently they have released the official SaaS mode to Agency Pro plan users.
And SaaS Mode V1 includes the ability to create a wallet for your client to put their credit card in so that you can recharge them for Twilio and rebuild them for Twilio.
That's been the main concern and sticking point for a lot of agency owners because Twilio charges, as we know, can get quite expensive depending on usage.
So basically, what you're able to do is white-label their marketing agency platform and turn it into your own SaaS company.
One of the most important things for the future of agencies is not just selling services but also selling software.
And the reason why is that every small business that we serve ultimately needs both.
And at the end of the day, there are endless choices in the software market in terms of small business software tools.
And the biggest drawback of all of them is the fact that they don't have you as an agency they're helping them to implement those pieces of software in their business.
So, this is absolutely an amazing opportunity for each and every one of you to start your own software company or convert your digital marketing agency into a  software company.
GoHighLevel WordPress Hosting
With GoHighLevel, you also have the ability to resell WordPress hosting.
You can control the price and the margins and the profitability that you're selling the service at.
WordPress is a major platform in the small business community so now you have the ability to offer world-class hosting to your small businesses and price it however you'd like to price it.
Hosting is just one of those necessities of being in business at this point and businesses oftentimes are hosting multiple sites so this is an incredible opportunity to get recurring revenue for your agency.
GoHighLevel Marketplace
As a digital marketing agency, you may have services that you want to deliver to your customers but you don't want to do the work yourself.
Perhaps you don't have the team that you need to be able to offer those services effectively or you just don't want to hire for those services, you'd rather have somebody else take care of it for you.
GoHighLevel marketplace has a variety of services that you can offer to your customers that you can then mark up however you'd like and sell out of profit to your customers.
They have everything from website and funnel building, copywriting, and HIPAA compliance there are all kinds of things here that you can offer to your customers and you just come in here into the marketplace and buy it so that you don't have to worry about creating the services yourself.
GoHighLevel Ease of Use
Any SAAS is only as good as its user interface, and GoHighLevel's interface is no exception.
From the very beginning, the GoHighLevel team has been focused on creating an intuitive and flexible interface that will grow with your business.
This means that your first-time experience with the software will be easy and enjoyable, regardless of your technical skill level.
While other CRM systems may hide some of their advanced features behind complicated workflows, GoHighLevel's simple and intuitive interface gives you direct access to all of its advanced functionality.
It also gives you the option to create custom dashboards to view and track important metrics and KPIs, all from within the application.
This provides you with the flexibility to adapt and use the application according to your business needs.
Also, the application itself is also responsive and optimized for both mobile devices and desktop computers, allowing you to access it from anywhere at any time.
So CRM is pretty straightforward however when it comes to building sales funnels or websites it's not as intuitive as other platforms which leads us to the next point.
GoHighLevel Alternatives
GoHighLevel is a great platform but it's not perfect. Here are the best GoHighLevel alternatives:
The best alternative to GoHighLevel is Vendasta. It's definitely a more advanced all-in-one platform for selling to local businesses whether you sell SEO, web design, or offers paid advertising.
The best option for enterprise-level companies not necessary agencies is HubSpot. It's more advanced in terms of features, it's easier to use but at the same time, the most expensive platform as I explain in my GoHighLevel vs HubSpot review.
The more affordable platform that offers the same (or even better in some cases) features is Kartra and I've also compared these platforms so if you would like to read more make sure to check out this GoHighLevel vs Kartra comparison.
There are more platforms like ClickFunnels that could potentially replace GoHighLevel in your business however I found that it definitely doesn't replace GoHighlevel in terms of CRM and automation.
Read more in this ClickFunnels vs GoHighLevel side-by-side comparison.
GoHighLevel Pros & Cons
Pros
Like CRMs, GoHighLevel offers high-end features that you will benefit from significantly. Here are some of the core advantages of using GoHighLevel:
Whenever you feel like you are spending lots of money and time on several marketing tools, GoHighLevel will help make your marketing activity very efficient while saving you time.
GoHighLevel Review: Final Words
So, this is my GoHighlevel review. One thing I really love about GoHighLevel is that they are always updating the features that their users are asking for so it's really great in terms of development.
Of course, there are going to be some bugs of course there are going to become glitches that are natural that happen with virtually every program.
And as somebody who has used virtually every program out there, I can say that by far Highlevel is my favorite.
It's all in one nature and is really the cream of the crop in terms of what I would recommend to anyone on the local business side or the agency side.
If you are tired of purchasing different marketing services separately, GoHighLevel will help you solve that issue.
Its outstanding features make it one of the best if not the best marketing tool in an all-in-one system.
Therefore, as a small business owner working on a tight budget, we strongly recommend you to check out GoHighLevel if you need to maximize your business profitability.
Cons
Here are some drawbacks of using GoHighLevel:
GoHighLevel Pricing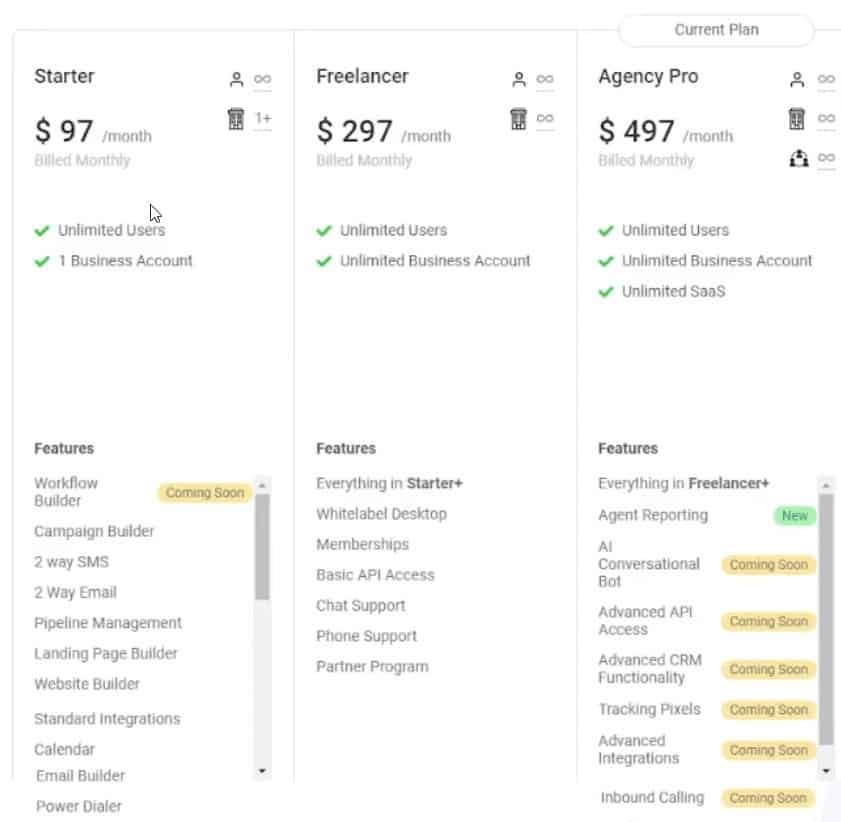 GoHighLevel rates vary from $97 to $497, depending on the plan chosen.
Compared to other marketing tools available in today's market, GoHighLevel is famous for being the most affordable and highly functional.
Suppose you are an individual who does not sacrifice quality for affordability. In that case, you will not be disappointed by GoHighLevel as it is relatively affordable while being an upgrade with top-notch functionality.
In fact, you will receive a 14-day free trial where you can access this software and check out its functionality before making a final decision.
With that in mind, here is GoHighLevel pricing;
GoHighLevel Starter Plan – $97/month
This plan is great for people who want to start a digital marketing agency and it goes for $97 per month, and once you subscribe to it, you will have access to;
TWILIO; key in your API and enable two-way texting.
Single Account; set up one client or use for personal agency.
Mailgun; key in your API to have unlimited sending.
GoHighLevel Freelancer Plan – $297/month
This plan goes for $297 per month. Subscribers under this plan will have access to;
All features are available in the Starter Account plan.
Unlimited subscription accounts allow you to create several accounts as you like for your business or client.
Branded desktop application; you will be free to use your personal domain and customize its look along with the feel of your platform.
GoHighLevel Agency Pro Plan – $497/month
This plan will cost you $497 per month. The users of this plan will have access to;
Mobile application; you will have access to a customized mobile application allowing you to be fully branded.
Requirements; to have access to this upgrade, you will require an agency Unlimited Account plan.
Zapier. You will receive a custom-made Zapier for your brand.
For small business and agency owners, the starter plan is more than sufficient, but for larger businesses, the Freelancer and Agency Pro plans should be considered.
Who Is GoHighLevel For?
GoHighLevel is specially designed for marketing agencies. This means that GoHighLevel is ideal for use among agencies, marketers, entrepreneurs, sales pros, sales teams, local businesses, and an individual who is on the lookout for sales and marketing solutions.
GoHighLevel is the best online marketing tool for everybody who would like to grow and maintain their company.
Therefore, GoHighLevel will be the best tool for use if you want to consolidate your marketing resources.
Whenever you feel like you are spending lots of money and time on several marketing tools, GoHighLevel will help make your marketing activity very efficient while saving you time.
GoHighLevel Review: Final Words
So, this is my GoHighlevel review. One thing I really love about GoHighLevel is that they are always updating the features that their users are asking for so it's really great in terms of development.
Of course, there are going to be some bugs of course there are going to become glitches that are natural that happen with virtually every program.
And as somebody who has used virtually every program out there, I can say that by far Highlevel is my favorite.
It's all in one nature and is really the cream of the crop in terms of what I would recommend to anyone on the local business side or the agency side.
If you are tired of purchasing different marketing services separately, GoHighLevel will help you solve that issue.
Its outstanding features make it one of the best if not the best marketing tool in an all-in-one system.
Therefore, as a small business owner working on a tight budget, we strongly recommend you to check out GoHighLevel if you need to maximize your business profitability.