In this in-depth GrooveFunnels review, I'm going to share with you the pros, cons, and my personal experience with this recently very popular sales funnel builder. As you may already know, they try to target everything in the market. But is the platform actually any good?
After testing multiple sales funnel builders, email marketing platforms, and many other digital marketing tools, I've decided to put together this honest Groove Funnels review so you can see how it compares with other software and if it's actually worth it.
So, let's dive in.
GrooveFunnels Review TL;DR
GrooveFunnels is an all-in-one sales funnel software that tries to do everything digital marketing-related. Its robust feature set enables businesses of all sizes and types to make the most of their marketing operations.
Groove Digital accomplishes this by giving a variety of functionalities such as opt-in forms, landing page designs, page templates, and a ticketing system, amongst other tools.
However, after testing this platform extensively in my business, I found that many of these functionalities are not working properly and a few of my campaigns have been ruined.
At this point, Groove seems like a half-baked product compared to tried and tested GrooveFunnels alternatives like ClickFunnels 2.0, Kartra, or even cheaper software like Builderall.
But if you are brand new to online business and you have a limited budget, then GrooveFunnels is definitely something that you should be trying considering that GrooveFunnels offers a completely free plan.
What is GrooveFunnels?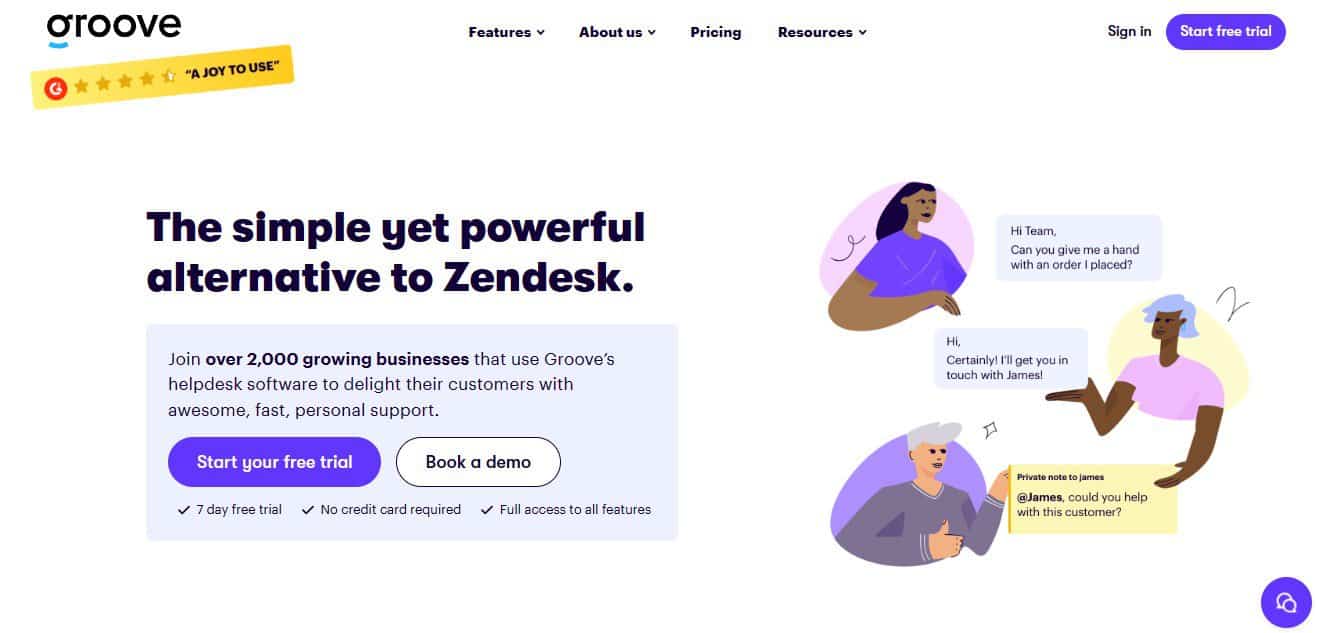 GrooveFunnels is an all-in-one digital marketing platform that assists with building websites and sales funnels, setting up emails marketing campaigns, selling digital and physical products,
But what makes GrooveFunnels stand out among other platforms is that with GrooveFunnels, you can start for completely free.
With GrooveFunnel's free account, you'll have access to several powerful services that are necessary to successfully run your online business so you don't have to pay for other third-party platforms.
As Mike Filsaime, the founder of GrooveFunnels, stated, they want to break through the barrier of entry that stops most people from starting an online business and that's lack of funds and lack of technical education.
The free version gives you access to all of those software apps, and I'm going to cover each of these so, you know exactly what you now have access to.
Plus, I'm going to detail all of the things you can do to build funnels, get more leads, make more sales and profits, and automate your business.
GrooveFunnels is a full-featured yet quite powerful all-in-one platform and your free version is free for life.
Whether you're just starting out, or if you already have an established business, your free GrooveFunnels account provides you more than just the landing page and marketing funnel builder. It has several more apps.
Let's explore them all.
GrooveFunnels Features
The idea of grooveFunnels is to integrate multiple tools and apps into one software that saves you time, money, and can scale with you.
And that way, you don't have to pay for several monthly subscription services together.
So, let's get started with what you get.
GroovePages – Sales Funnel & Website Builder
So, everything starts with GroovePages since a website is required to increase authority, build your audience, capture leads, and funnel visitors to a sale.
And with this drag-and-drop technology, you can easily build pages using predesigned blocks, and add elements, such as:
No coding or design skills are required.
If you want to get up and running even faster, you can use one of the conversion-focused website templates.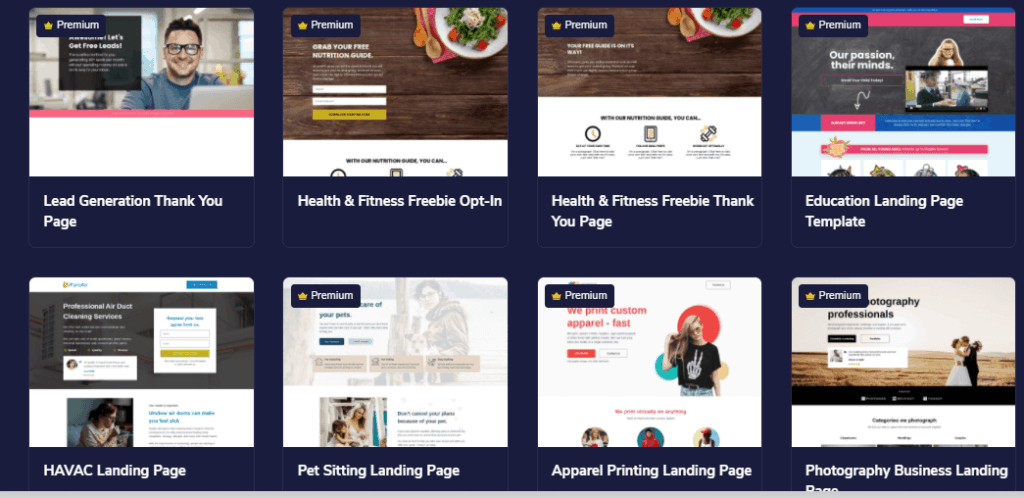 However most of these templates are only for premium members, and we'll talk about it later.
Also, you get full websites using your own custom domain name, all with unlimited pages and a free SSL certificate.
What's more, in the past few weeks, they worked on a bunch of optimizations to make GroovePages faster, easier to navigate, and quicker to load after publishing.
Here's a list of changes you will see in the app – but on top of these, there were many more changes in the backend of the app.
Remove unnecessary HTML attributes from HTML content
Now you can access form settings even when you select input inside of the form element
Ability to search single pages templates by name
Ability to sort templates alphabetically in the template modal
Now, most people won't ever need more than that. However, compared with other sales funnel builders like ClickFunnels, Groove seems like a half-backed product, especially after the ClickFunnels 2.0 version launch. You can read more in this GrooveFunnels vs ClickFunnels.
If you need more websites, you have to upgrade the GrooveFunnels paid plan to get access to unlimited sites
So, what about selling products?
GrooveSell – Checkout System
When your customer is ready to buy, you can sell unlimited physical or digital products and services to an unlimited number of customers with GrooveSell.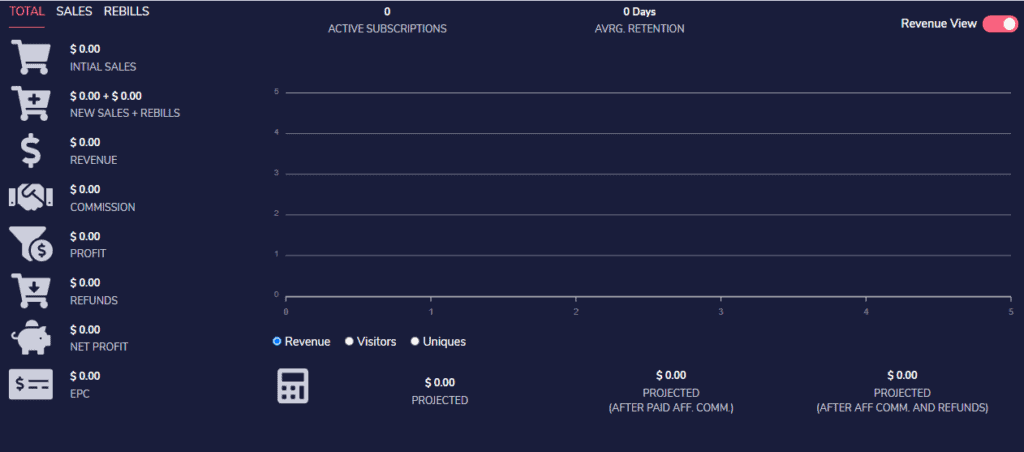 They also provide you with access to manage and communicate with unlimited affiliates with your GrooveAffiliate account.
You can also send transactional emails to paid customers, which is a great feature.
Also, GrooveSell allows you to market to people that abandoned carts at checkout so, you can send emails to save the sale.
For example, you'd have to pay around $100 per month for the same features with Samcart or Paykickstart, Thrivecart, or Infusionsoft.
So it seems like with just these two services GroovePages and GrooveSell, you're getting a $300 per month value and the ability to build a very profitable business all for free without even giving a credit card.
But what if you wanted to do email marketing, or build an email list?
GrooveMail – Email Marketing Platform
They claim that GrooveMail is a world-class email marketing platform. This tool will help you increase conversions with:
However, GrooveMail is temporarily put on hold so unfortunately, I cannot tell you more about this feature.
And also to get access to GrooveMail you'll have to upgrade to the premium plan.
GrooveMember – Membership and Online Courses Platform
So, what if you want to create a course or offer a subscription to digital content?
Well, you can commit to paying $149 per month with something like Kajabi, or you can create a membership site using GrooveMember.
And yes, it's also free but with some limitations.
GrooveMember is their e-learning platform where you can create an online course and do other things like:
On the free GrooveFunnels plan, you're limited to 1 membership site with 100 members
Now let's move on to what boosts conversion increases engagement and allows you to truly stand out from the competition. And for that, you need to harness the power of video, and GrooveVideo can help you do just that.
GrooveVideo – Video Hosting Tool
GrooveVideo is a marketing-oriented video player that gives you access to detailed video analytics and the power to modify and automate user's experience based on their behavior.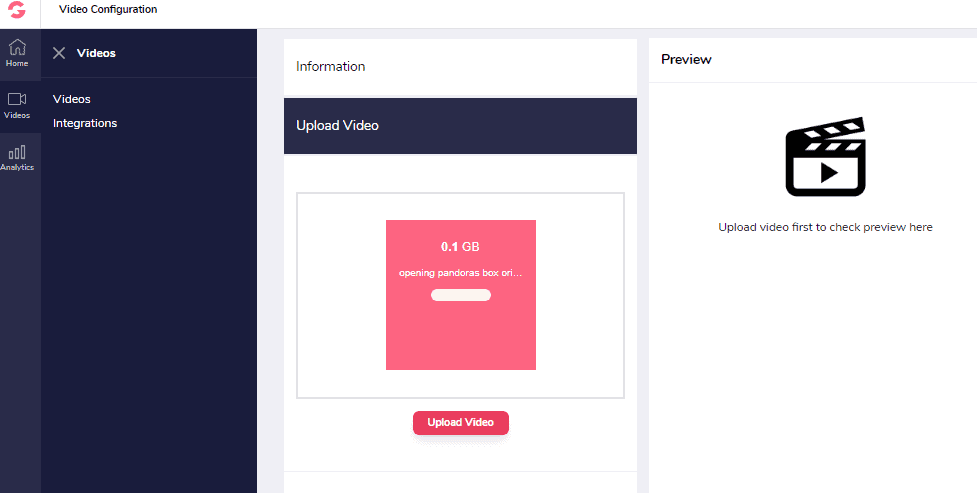 It's similar to Vimeo or Wistia, which people pay up to $99 a month for.
And yes, it's included with GrooveFunnels and comes with cools features.
For example, let's say the price reveal in your VSL or video sales letter is at the 13-minute mark.
With GrooveVideo, you can just set a tag so that if the viewer doesn't make it to that point of the video, then the tag will fire automation, which they'll send them a follow-up email to come back and re-watch the video.
And if they did see the 13-minute mark (which means they did see the price) but they didn't buy, you could send them a different follow-up, email or campaign, maybe one with a payment plan.
And as a free member of GrooveFunnels, you can create up to 15 videos, which is pretty cool.
So, let's talk about GrooveBlog.
GrooveBlog – Blogging Tool
Unfortunately, GrooveBlog is not yet released, so I cannot show you how it would look like and what this feature has to offer.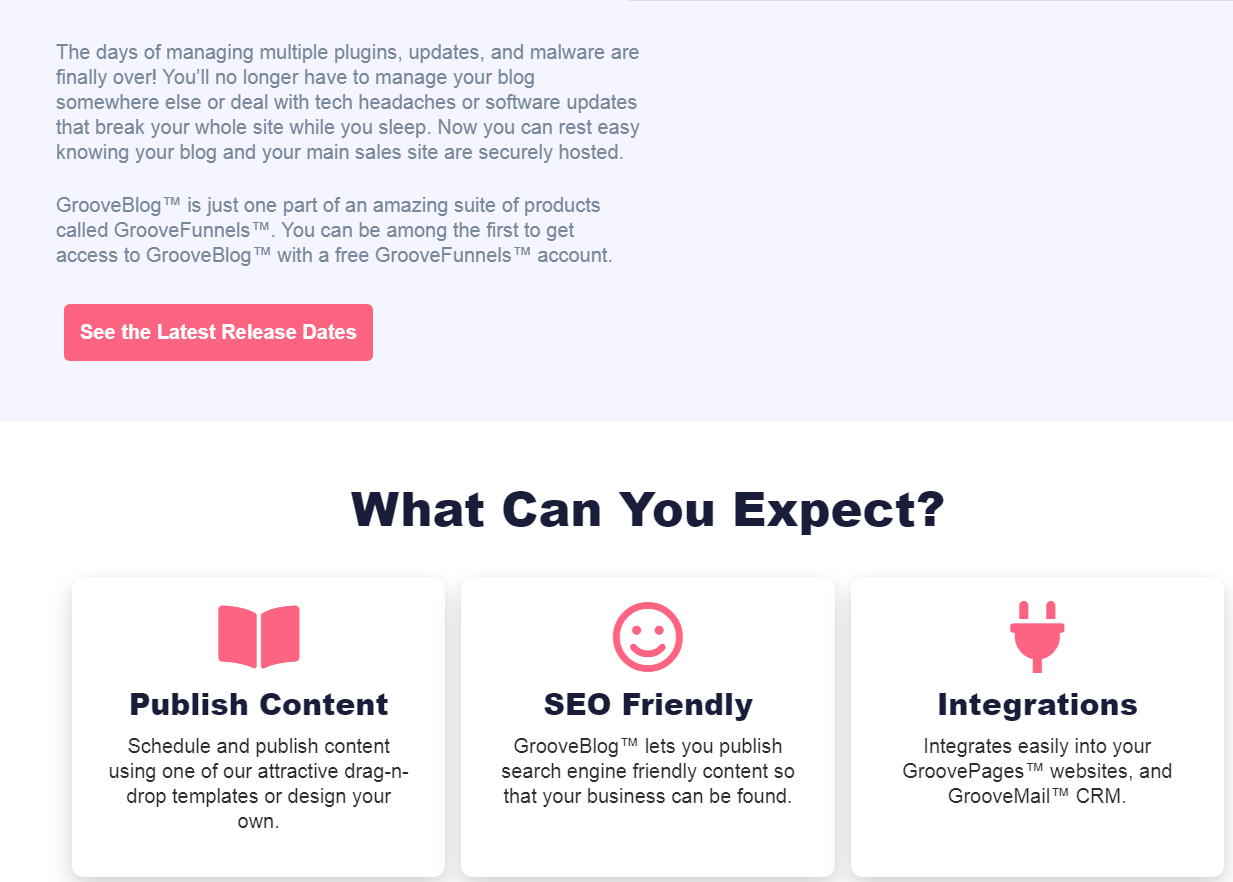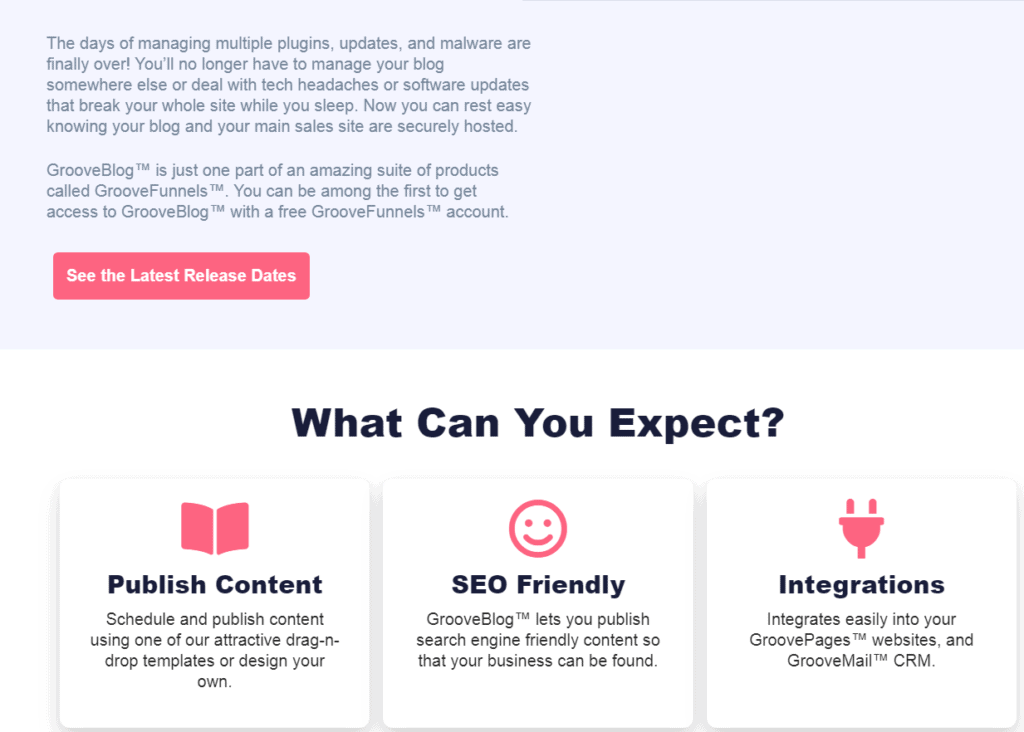 GrooveDesk – Help Desk System
The next feature that is not available yet is GrooveDesk.
It's integrated help desk software, which they are releasing later this year in December.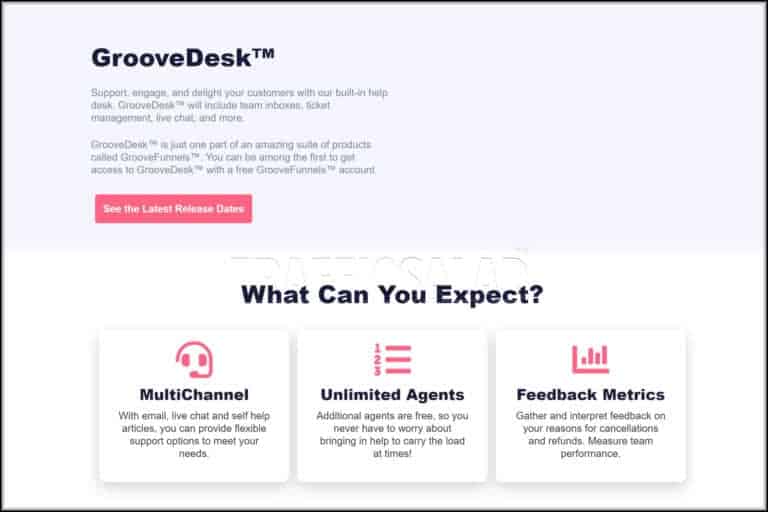 With GrooveDesk, you should be able to handle your support desk to engage and delight your customers with a built-in help desk.
According to GrooveFunel's founders, It's very similar to Zendesk or HelpScout. And it is also integrated and has all of your customer's sales info already pulled in when you're handling a support ticket.
So they're giving gold plan members, unlimited agents and tickets here to.
The power of having everything in one place should shine with an integrated support desk. Because if somebody puts in a ticket, you'll instantly be able to see their entire purchase history and all of their details.
GrooveCalendar – Scheduling Tool
GrooveCalendar will solve the hassle of emailing back and forth to schedule a meeting, which we all know is such a pain (once launched)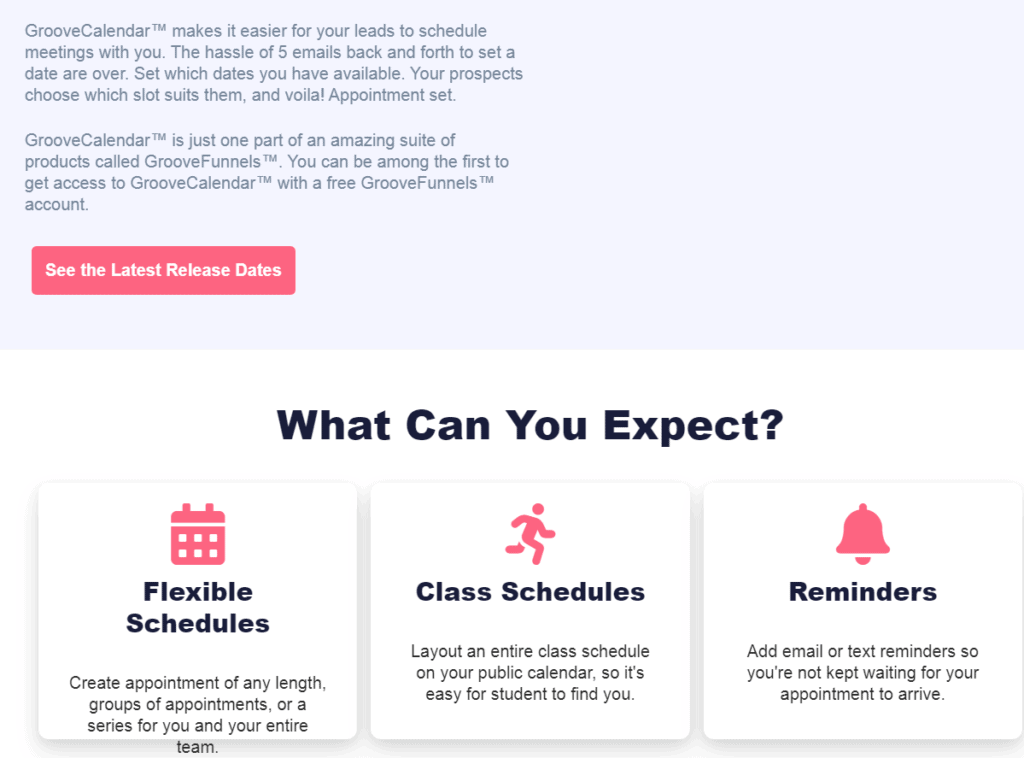 GrooveCalendar will make it easy for your leads, customers, or clients to schedule meetings with you.
This is great for coaches and consultants or private classes.
Several tools like Calendly costs $12 per month, but limit your options because it's a standalone app.
The best part of GrooveCalendar being built-in is when your leads or customers schedule a meeting, they'll go straight. It's a GrooveMail, and you can set up automated emails and follow-ups.
It's like having a salesperson, coach, and support team member available 24/7.
GrooveSurvey – Online Survey Platform
And while we're discussing automation, you can stop guessing about what works, what doesn't, how happy your customers are by gathering and analyzing back with GrooveSurvey.
Survey and quiz data are such gold mines.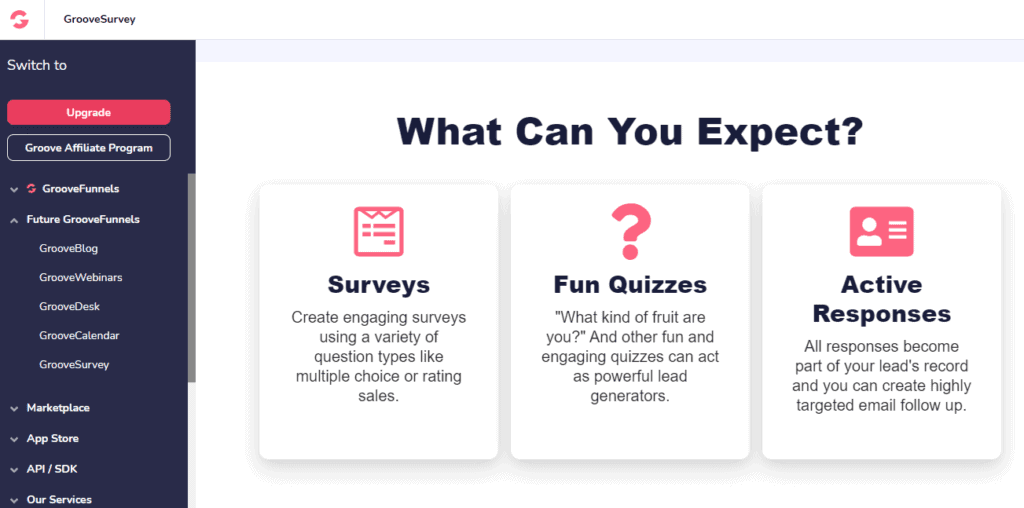 With GrooveSurvey, you can improve messaging products and even discover new products needed, but its real secret power is one of the best ways to start a funnel, build a list and lead people to a sale.
It's so much easier to sell to customers.
Similar tools like Responsuite cost around $70 per month. And to create quizzes, you'd have to pay another $50 per month.
With this tool, you can create irresistible opt-in offers, gain actionable insights, and segment or qualify your audience better.
Like all of the other Groove apps, GrooveQuiz and GrooveSurvey are completely integrated with the rest of the GrooveFunnels suite and products.
This means when a user answers a quiz or a survey, their email address will flow into GrooveMail.
So you can trigger workflows and automation around their responses. It is a very effective way to do marketing.
GrooveWebinar – Webinar Tool
GrooveWebinar is the next feature that is still in progress and available yet.
It will integrate with all your pages, cart, and funnels to save you time and maximize sales.
And if you want to make your webinars irresistible and significantly improve attendance by offering just-in-time webinars at your prospect's convenience, you can with GrooveEvergreen.
So if you're familiar with webinar platforms like GoToWebinar, WebinarJam, or EverWebinar, you know these are powerful yet very expensive tools.
But GrooveWebinar and GrooveEvergreen are included for free in only the platinum lifetime package.
You'll also want to increase conversions and engagement with the power of live streaming to Facebook, Twitch, or YouTube using GrooveStream.
You can compare this suite of products with GoTo Webinar at $99 per month. EverWebinar at $42 per month and StreamYard for $39 per month.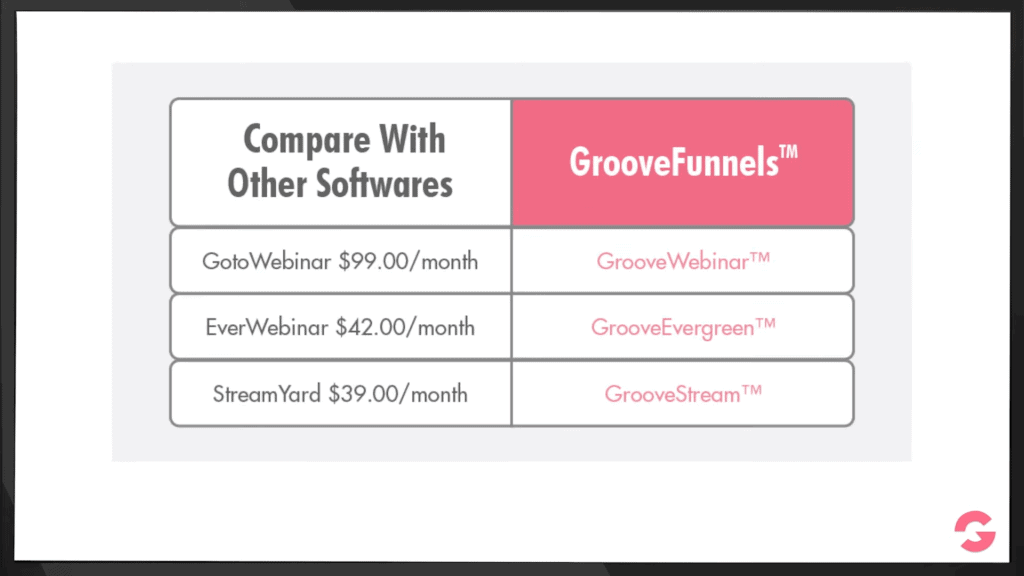 That's $199 in webinar marketing products alone, all rolled into the platinum level, which now gets you over 15 total app.
Later when the monthly platinum plan goes live, it will cost $299 per month.
GrooveKart – eCommerce Platform
GrooveKart is an e-commerce platform that's comparable to Shopify or BigCommerce. And there will be no monthly fee with the Platinum upgrade like you have to pay every month for life with Shopify.
With GrooveKart e-commerce, you can sell print on demand or drop-shipped items and you can create as many stores as you like.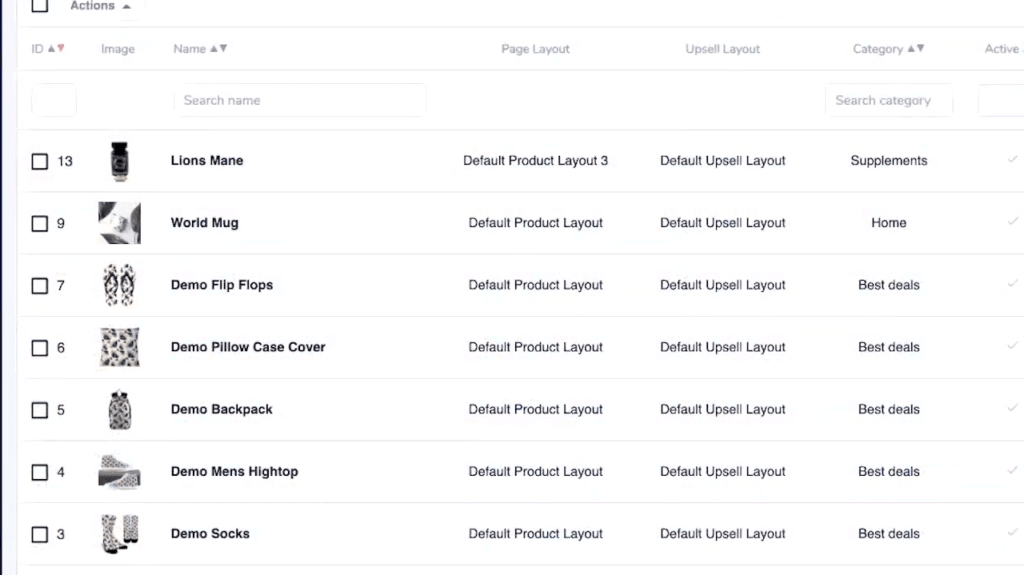 Free users pay a small transaction fee, but platinum members get those fees waived, making GrooveKart, free to use.
Remember the monthly plans will be starting soon. So you can't get started with the monthly plans today. And that's a good thing because this means you can save money with the lifetime offer.
GrooveFunnels SDK
And finally, another cool thing to mention that should be available at the end of 2021, is what they're doing with the platform is that they're opening API kit to developers. It's called an SDK.
So that people can develop and even sell apps used in GrooveFunnels.
GrooveFunnels Pricing
There are two plans included in the GrooveFunnels pricing:
Let's find out what's included in the free plan.
GrooveFunnels Free Plan
With the GrooveFunnels free plan you'll get access to the GrooveFunnels-based products including:
Another features that are available in the free plan are:
You're seeing how this goes. If you need more, as usual, you can upgrade, but nothing is stopping you from running your business and it will not cost you a dime, not until you're ready or soon to be ready.
All of the things we just discussed, that account level is free to you for life. There are no hosting fees, bandwidth fees, or even sneaky transaction fees on your digital product sale.
And they will never ask you to pay another dime to access, which is cool.
Now let's talk about when you need to transition from being a newbie to being a serious entrepreneur or someone who is ready to start that journey today.
GrooveFunnels Lifetime Platinum Plan
The GrooveFunnels Lifetime Platinum plan will cost you $1,397 one-time payment.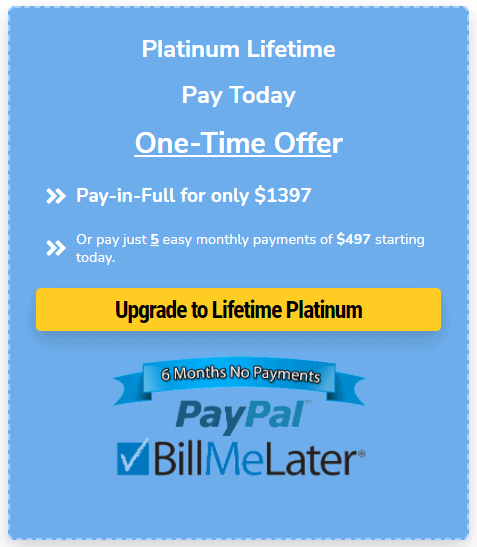 And with this plan, you get all of these tools included in the free plan plus:
And of course, everything is unlimited.
As you outgrow the free version or if you like having lifetime access to software and you like paying one time for something instead of monthly payments, you might consider an upgrade to the GrooveFunnels Lifetime Platinum.
They offer a lifetime upgrade option that ditches monthly payments altogether and gives you unlimited potential for just one flat fee.
If you want to be an early adopter, you can still start your free plan or get the GrooveFunnels Lifetime Deal for $1,397 and you can own all of GrooveFunnels over 15 apps in total and own it for life and never make another payment, which is cool.
So, let's talk about GrooveFunnel's future pricing structure to be released in 2023.
GrooveFunnels Recurring Payments (Comming Soon)
GrooveFunnels, like most SaaS companies, will have a monthly pricing option. They state that their future plans will be more affordable and offer more features than any other platform but much more expensive than the lifetime deal that you can get.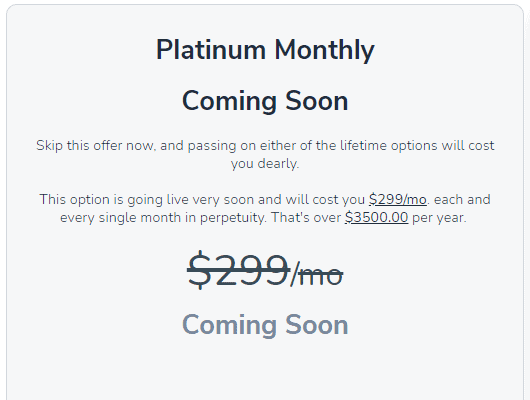 And these plans will be:
The silver plan, will include unlimited websites and funnels and more premium templates for you, extra storage, and bandwidth for GrooveVideo.
And it also increases your GrooveMember limit to 5,000. It also gives you unlimited email sends for GrooveMail with a 10,000-contact cap.
And that will cost future members that skip this offer $99 per month.
Under the gold plan, they're going to add:
In the Platinum Plan, everything will be unlocked and unlimited, plus there will be many bonuses included if you decide to upgrade.
Why is GrooveFunnels Free?
GrooverFunnels is still in beta, and they just don't feel right about charging anyone monthly fees for services that are still being released, tested, and improved.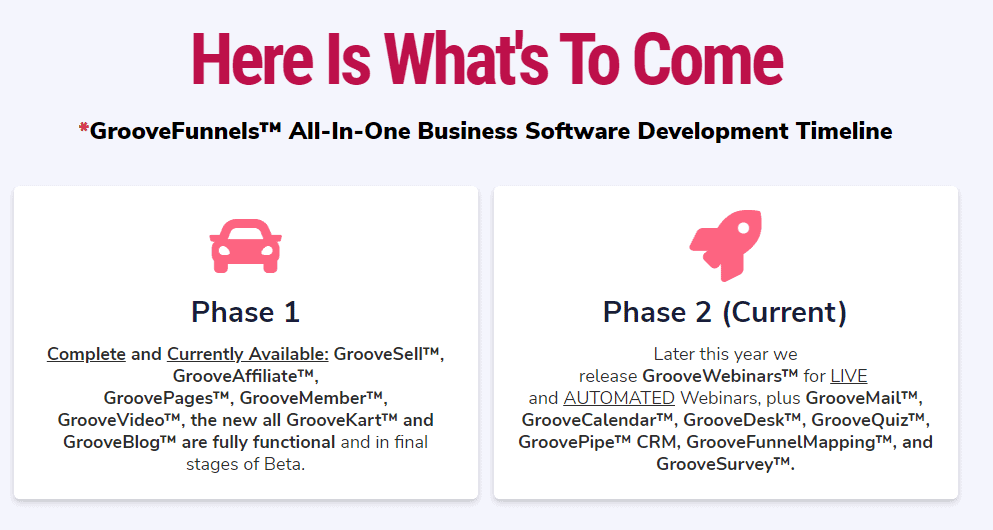 Once again, there was this huge launch where a lot of people actually joined GrooveFunnels to have a free sort of funnel builder that people could use so it was a very good entry point.
And then they did this huge buzz, which was the lifetime deal that was supposed to finish more than five months ago which is still going right now…
But apart from that's basically pretty decent software. It has a few cool features.
This year alone, they've reinvested more than $4 million into hiring developers and programmers.
They started this year with a development timeline that went out to 2022. And thanks to backers, they've been able to accelerate that by more than 18 months;.
So they're pretty rapidly rolling out new features and improvements. They're collecting feedback from more than 300,000 users to improve each and every feature.
GrooveFunnels Affiliate Program
As you might already know GrooveFunnel has a very powerful affiliate program. In fact, it's the most affiliate-driven platform, I've ever seen.
The first thing you'll see when first log in to GrooveFunnels is the "Groove Affiliate Program" button.
With the GrooveFunnels affiliate program, you can make 20% as a free member and 40% as a premium member which is really high commission.
💡 Pro Tip
I wrote an entire review about the GrooveFunnels affiliate program, where I share my opinions about this program as a pro affiliate marketer for huge software companies.
Double Affiliate Commission
Lifetime members get double their affiliate commissions for free promoting groove. Right now if you're at the free level, you can promote GrooveFunnels and earn a 20% commission for every person you refer who upgrades.
When you upgrade to the lifetime deal, they'll double your commissions to 40% and even pay you 10% on the second tier.
That means just refer three people who also upgrade and not only got GrooveFunnels for free for a lifetime, but you've also made a profit.
And for any referral after that, all of the profits are yours to keep.
Now, as we know results vary and since not all members promote this, it's not typical.
So let's take a look at Angie Norris who decided to promote, and again, while not typical, let's take a look at what groove funnels have done for her. She says,
In addition to her own product sales, Angie Norris generated $10,000 in affiliate commissions in her first week promoting GrooveFunnels. Some people are changing their lives just with this affiliate program.
GrooveFunnels Alternatives
Here, I'm going to be going over some of the best GrooveFunnels alternatives and competitors just in case you wanted something better or maybe you were looking for some more options.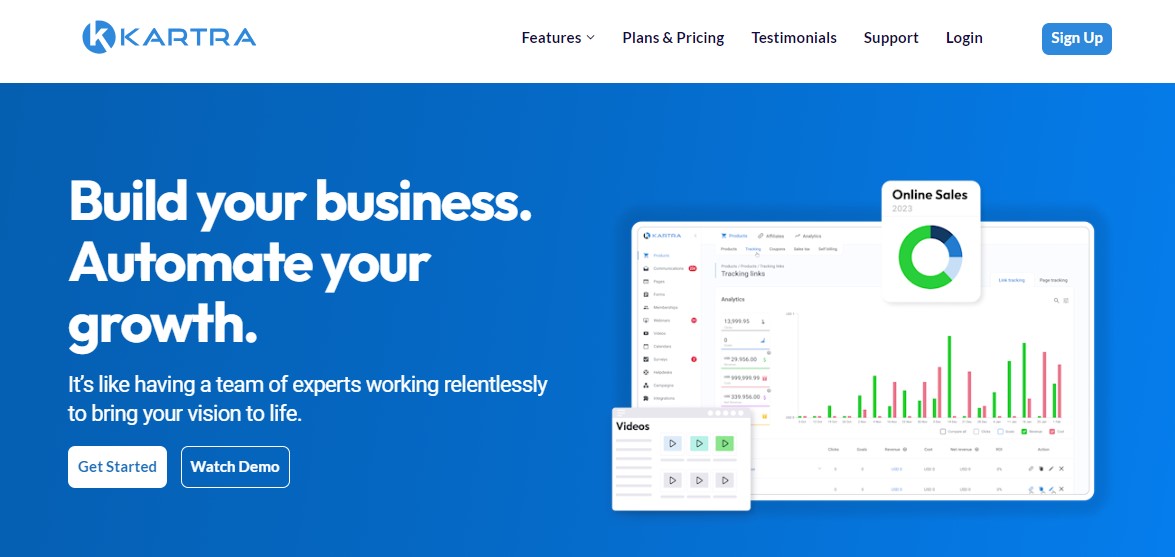 Kartra is a business platform and it's a very interesting GrooveFUnnels alternative given the fact that Mike Filsaime created both Kartra and then moved on to GrooveFunnels.
So there's a lot of big comparisons when it comes to these two tools simply for the fact that it was created by the same owner.
However, GrooveFunnels is still a new platform and many tools are not available so nothing is really ironed out yet.
On the other hand, Kartra has been out for a few years now and they have a lot of powerful features not only are they powerful but they're very simple to use as well and they can really help you out when it comes to building and growing your online business.
And I think they are much more powerful currently than GrooveFunnels.
Kartra also offers a 30 day $1 trial so you test it out.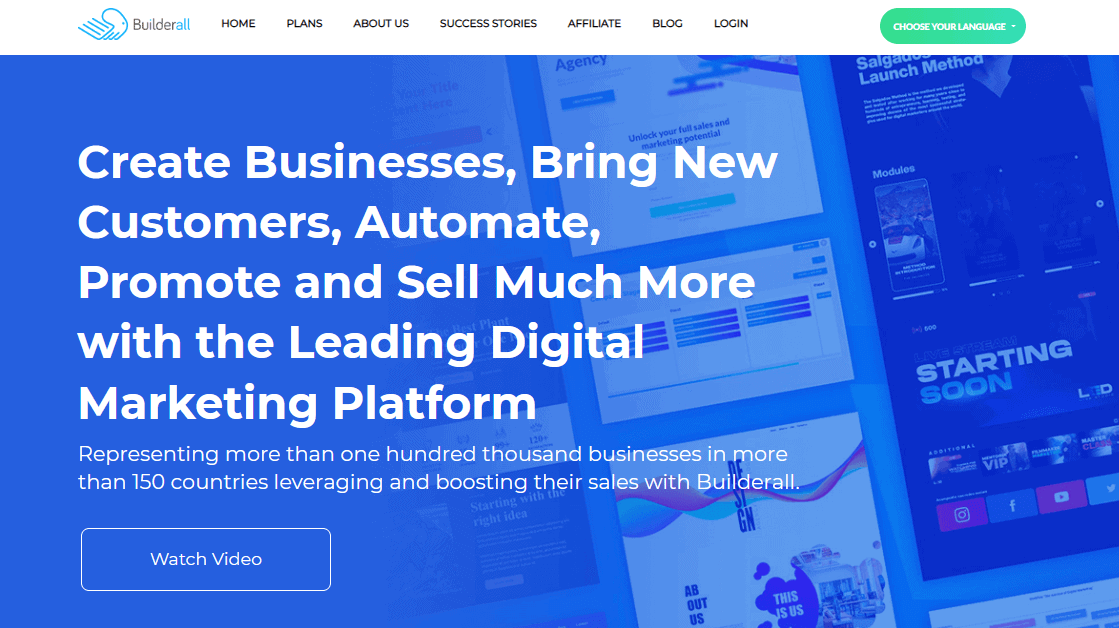 Builderall revolutionized standards for digital marketing software. It's one of the best all-in-one digital marketing platforms I've been using so far.
They have some of the lowest pricing plans, and combine that with the fact that they also have the most amount of features and tools which makes them one of the best software when it comes to building your websites and sales funnels.
Also, the number of features that they cover is insane because they offer over 40+ different tools, so with this platform, you don't need to worry about any third-party integrations.
Builderall offers a 14 day free trial for our readers.
You can also read more about this platform in this Builderall review.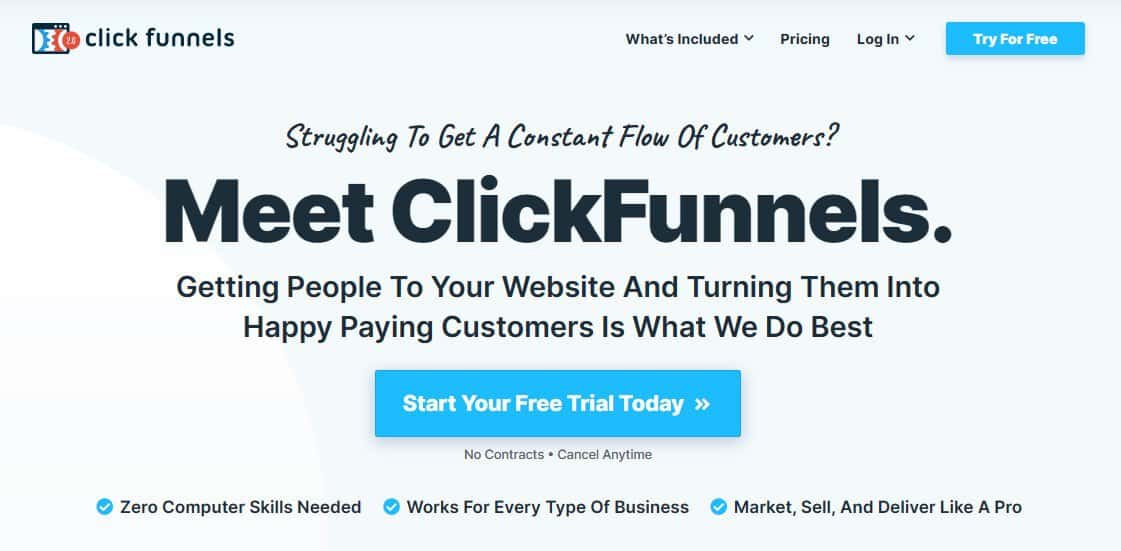 The next GrooveFunnels alternative is ClickFunnels which is a sales funnel builder. In my opinion, ClickFunnels is very overpriced and limited software however, it's still the most popular funnel builder in the market.
They are quite smooth to use when it comes to creating landing pages and sales funnels. They have a lot of other cool tools and perks such as checkout pages with order bumps, one-click upsells, down sales, and more.
I've put together this GrooveFunnels vs ClickFunnels comparison to help you decide which platform is better.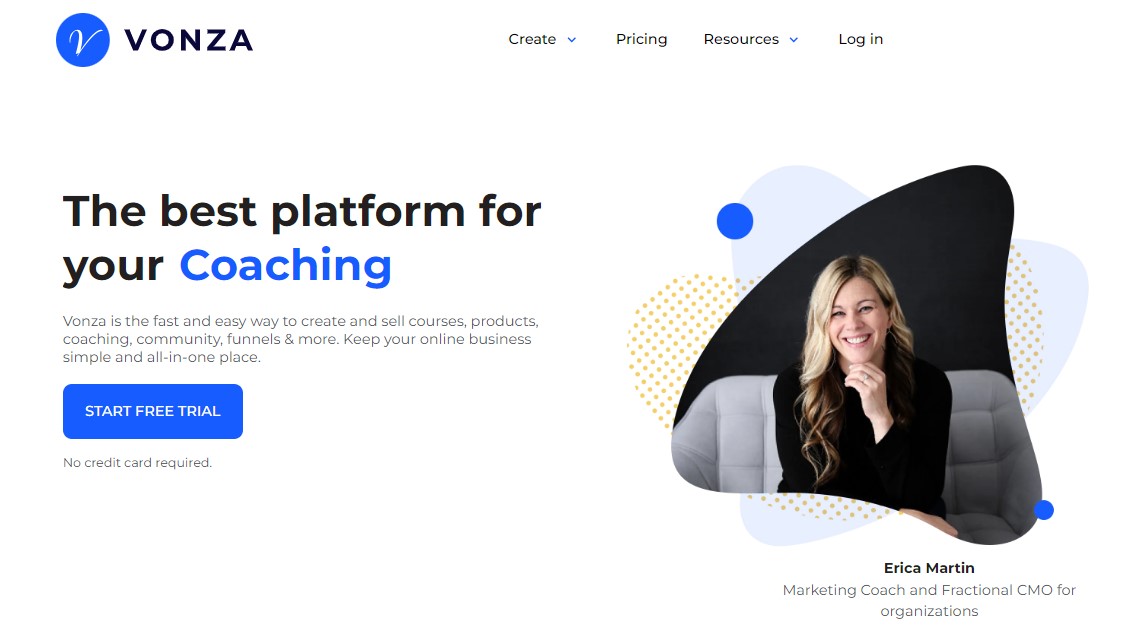 Vonza is a new digital marketing platform that offers tools like sales funnels builder, website builder, e-learning platform, membership sites, and calendar app.
It's best suited for course creators, coaches, and people that want to sell physical or digital products online.
You can check out my Vonza review to see how it compares to GrooveFunnels and whether it's a good alternative.
How To Make Money with GrooveFunnels
Now, I want to share with 5 ways to make money with GrooveFunnels.
#1. Affiliate Marketing
So, for the first method, we're going to straight-up promote GrooveFunnels to other people and make some money.
If you haven't heard of affiliate marketing it's basically a referral system where you promote using your special link and if someone buys GrooveFunnels you're going to get a commission.
The key to this is to educate yourself on how GrooveFunnels can help people, what problems it solves, what results it will help them achieve, find those people, and show them why they need this product.
If you're a paid GrooveFunnels member, you can earn 40% commission plus 10% of what anyone under you signs up and also earns.
If you're a free member, then it's 20% and 5% on the 2nd Tier, which is incredibly generous for free.
See how to start an affiliate marketing business promoting high products for a recurring commission.
#2. Shared Funnels
This is also a kind of affiliate marketing form but with a twist. I used to do that with another platform. I was giving away free funnels to anyone that landed on the site that businesses could use they had little pop-ups everywhere which would jump up and capture the email address and then send them these free funnels.
And each person who clicked on one of these free funnels would sign up for that software and I then earned a commission that would repeat every month that they stayed a subscriber.
Try creating sales funnels that work really well for one business, let's say a dentist or a chiropractor, or a personal trainer, and offer it to them for free. Include some extras on top if needed or even upsell them to some professional marketing services, simplify their life, and do it for them and boom there you go, money made with GrooveFunnels.
#3. Design Sales Funnels or Websites
Web design is a huge part of sales funnels whilst often the strategies are simple depending on your niche, an aesthetically pleasing funnel can make a big difference.
So use your design skills to create the funnel and keep it aligned with the brand and who knows what other opportunities this could lead to.
There are courses out there that teach you the fundamentals of design as well as sales funnels so that you can really hone in your skills as a designer even if it's a new field for you.
#4. Start a Digital Marketing Agency
This is a great upsell if you've gone down the shared funnels route or even the design route you can try and sell them other services.
For example, designing the funnels, creating a membership site to host a course creating, their email sequences, manage their paid advertising.
Because there are so many different components to GrooveFunnels the list is endless of what you can actually do.
#5. Create a Digital Product
The last way to make money with GrooveFunnels is to actually build a course or a digital product.
There are over a hundred thousand people in the GrooveFunnels Facebook group.
That's a lot of interesting people given how new this product is and its early days still the features are changing daily.
The GrooveFunnels is still in beta mode and already it can do all sorts and because it's changing so rapidly that means it's hard to stay on top of how to do things.
This hundred thousand people in that community alone are all looking for guides and answers they're all trying to seek how do you do this, how do you do that, I'm stuck with this.
So why don't you be that person who creates tutorials and helps people bundle all of that training into a course?
You can use GrooveFunnels itself to actually create a membership site where you can put videos in some training, maybe even some documents.
You can take payments if you wish to sell it you can also create your own affiliate program and other people will promote it in exchange for a commission
GrooveFunnels Comparison
So we've already talked about what value GrooveFunnels will be by the end of this year when all of the features are released.
And when they come out of beta and move on to monthly pricing, you would pay $1,459 a month with other services to get everything that GrooveFunnels has to offer.
When the platinum level goes live at $299 a month, and the apps are all integrated, making it easier because you have just one dashboard to log into.
Other popular platforms will cost you precisely $17,500 a year, compared to what GrooveFunnels users that pay for the Lifetime Platinum plan offer.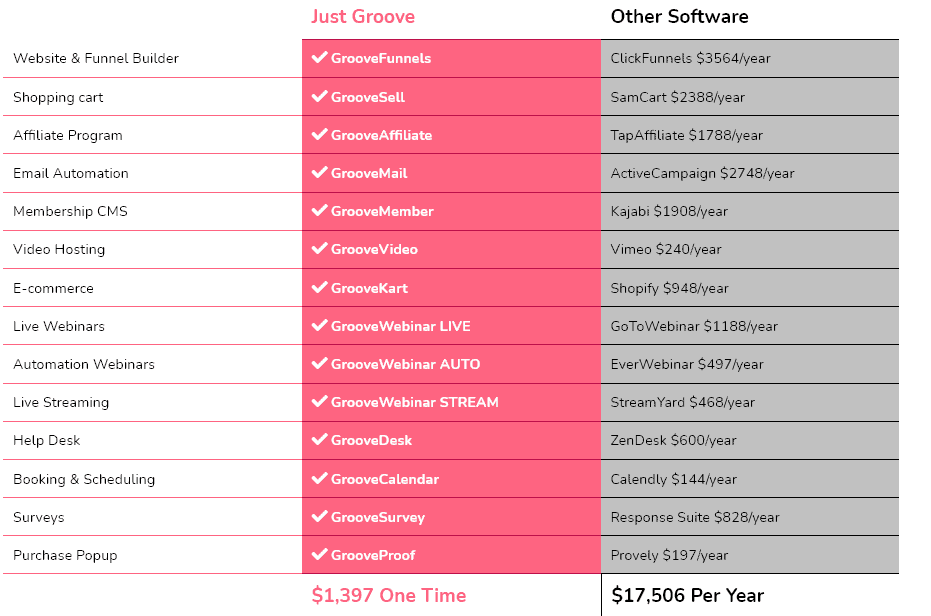 So, right now, you can get this lifetime option for less than half a year of what GrooveFunnels Platinum will cost future members or those that see this offer yet don't upgrade, which still seems like a great deal.
GrooveFunnels 30 Day Money Back Guarantee
If you're even at all tempted to get the lifetime option, now, while it's still discounted, you can rest assured that you'll still have a full 30 days to try out the full software and attend all of the training.

And if you don't feel like GrooveFunnels is right for you for any reason, just reach out to the support team and they'll issue you a prompt and full refund.
GrooveFunnels Review Final Words: Is GrooveFunnels Worth it?
So, that's my GrooveFunnels review. It's not the best software in any regard right now.
If you're someone like myself who gets really frustrated when things aren't working properly, especially when it comes to things like integrations and redirections and your whole automation chain is broken, then maybe this tool isn't quite ready for you…
Overall, GrooveFunnels is a good piece of software to run your online business, especially considering the fact that it's free.
But before you get started with GrooveFunnels, I would encourage you to have a look and have a play around with other platforms like Builderall that I really recommend for beginners as well as established entrepreneurs.
In fact, when it comes to software capabilities, GrooveFunnels is far behind Builderall and it's ready to go out straight out of the box so, you don't have to worry about things not working.
Check the Builderall 14 day free trial, test all of the tools, training, and features with no risk, and see how it compares to GrooveFunnels. You'll be surprised.