With all of this crazy, massive COVID, quarantine, and lockdown, so many businesses are struggling.
But I do want you to realize that there are a lot of businesses that can still afford to pay the exact price as you have been before all of this started.
So I am going to be sharing with you really one of my favorite ways that you can actually help local businesses who are right about to close or have even closed already.
And you can still make money from these businesses and help them out a lot and get some more revenue in their pocket.
And first, I want to present this idea of working as a pay-for-performance deal.
Pay For Performance
Pay-for-Performance is pretty much what it sounds like where you will work with a business and so long as you perform and they get the results, then you will get paid for that.
So this is why it really reduce the risk for the business who may feel like they don't have cash or they just don't have cash, but they still need more leads and customers and you got the skills, you need some work.
Well, this can work out beautifully for both so long, of course, as you can deliver.
There are some businesses that you'll be able to go in and see what they're not doing and be able to help close some of those gaps for them.
Some business owners know that they might need to be doing, let's say more email marketing, but they are just mentally drained or overwhelmed that, they're understaffed at this point because they can't afford more.
So you being able to go in and say:
"I can provide this service for you. And when we get results, that I would need a portion of that revenue back as payment."
That's just a way that you can structure these deals if you're finding that you're not able to land any clients at your regular prices.
So let's look at some of these ideas of how you can help support them during this time, what your offers could actually be.
Offer Digital Marketing Services
There are so many service providers right now specifically from everything that happened in 2020 with COVID and all kinds of service providers are trying to sell their services online.
So what this means is there tons and tons of small businesses who used to do their services in-person.
But what is the problem they're going through?
You see, the problem they're going through is they don't know how to sell their services online. They don't know how to take their business online.
So, let's take a look at some ideas on how you can actually help them with their online presence.
1. Create Websites
The first thing that you can actually do to help local businesses is to build a website.
Whether it's a dentist in your local city, whether it's a fitness coach on Instagram every business needs a website regardless of the industry.
2. Offer Sales Funnels
What does every business want? They need more clients, right?
So what you can actually do is to create a sales process and show them how to generate leads online.
The way I do that is by leveraging Builderall niche funnel templates.
They provide over +400 website and sales funnel templates designed for nearly every industry including:
Dentists
Cleaning services
Coaches
Lawyers
Gyms
Driving schools
Car dealership
This is what I do for many years, I offer free sales funnels and show them how to do marketing online.
And if they are happy, if it helps them generate more leads I can also profit from that leveraging Builderall Affiliate Program and making recurring income.
So if you can help them do that by showing them how to build a sales funnel, showing them how to bring their business online especially when people really need it right now, you're gonna get paid really well.
💡 Pro Tip
And if you're interested in this way to make money helping businesses, sign up for Builderall free plan, send me a message inside the platform, and I'll send you complete step-by-step training.
What's great about this is if they're happy you can offer them other services which lead us to the next point.
3. Build Chatbots
Also, you can implement a chatbot on the website, or even on Facebook, that helps the business answer customer support type of questions or inquiries, without them having to actually be there.
That can save a tremendous amount of time. And it can also help lead a customer who's right there in the moment into a sale by perhaps placing an order.
That something the Builderall Funnel Club has.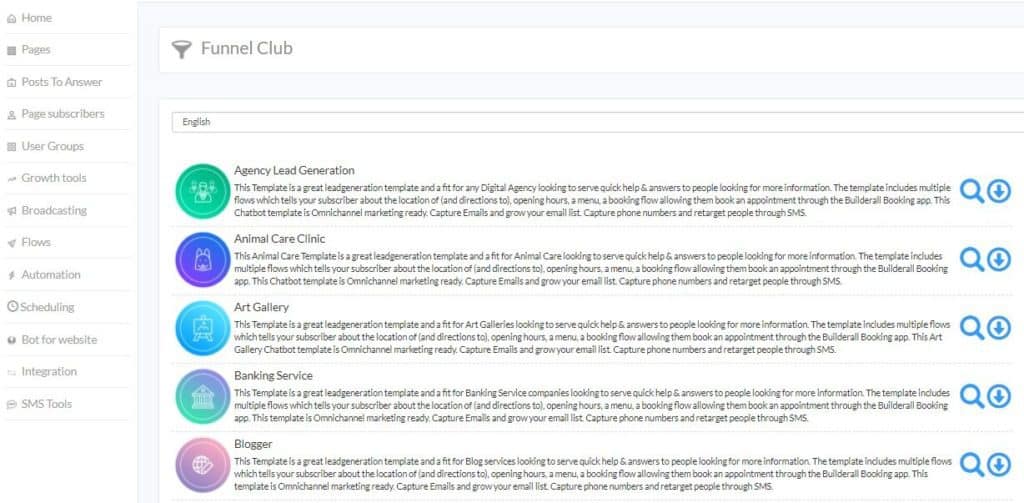 As you can see they have all kinds of chatbot funnels for many industries.
And that you could actually also offer to local businesses.
4. Set Up Paid Advertising Campaigns
A couple of opportunities exist within paid ads.
Right now the cost of paid advertising is so low because so many businesses have pulled out. Kind of a double-edged sword there because you need to pay for the ads to get people in, but you're not.
And Google has added in some ad credit for the businesses who were spending before, so they can get some additional free ad credit in there.
So some businesses may be able to benefit from that.
If a business has not done that and doesn't have the credit, let's say they don't want to spend, what they could consider doing is re-targeting ads.
So this way, the ads that are going out are in front of the people who've already seen their business or likely already customers, and it helps bring all of them back.
So not only are costs going way down, and that's normally a much cheaper option anyway, this is now going to be higher converting because well, it's people who already know about the business.
That's a really good option there and the best way to start your digital marketing agency.
5. Help with Email Marketing
If we have a business that has an email list, hopefully, they do. And we can segment that list out between, let's say:
Most loyal customers
Customers who've already made a purchase
And those that are more leads, they just kind of been sitting there but they haven't actually made a purchase, well we can segment the list and send them an offer according to their purchasing habits.
So we can send any new customers or potential new customers, a new customer offer and see if we can start bringing them in.
We can also go to previous customers and give them a different offer to get them to come back and continue spending with the business.
Being able to go back to the most valuable customers is definitely helpful two reasons.
One, they're more likely to spend more money because that is their regular place to go. They want that business to stay open.
Second is because they want that place to stay open, they're more likely to refer others to that business.
Of course, if we have a business that doesn't have an email list you can actually help them with that. See exactly how to build an email list (fast) in this step-by-step guide.
💡 My Advice
The point that I want to make is this. Learn some type of specific skill and leverage it to help businesses in your local city. And if you need more ideas, check out this list of 24 high-income skills that you can learn and find one that fits your best.
Curbside Pickup
Recently, I shared just about how important it is to have local businesses offering curbside pickup. I mean, that's really a must at this point. The number of searches related to curbside pickup has just skyrocketed in this past year.
So local businesses who are not offering curbside pickup are just really missing out on more customers and revenue. That's a pretty easy one to incorporate.
So helping them get that setup or getting a system set up for that is something that can benefit them and really help them there.
For businesses who had physical products, many of them knew they needed to get online years ago, but they just didn't do it.
And maybe they were overwhelmed with the process, didn't want to go through it, didn't feel like managing both. But now they are probably wishing they had done that.
So now you can help take them online for a percentage of those sales.
So this is really with all of these opportunities, you can choose to charge a flat rate if that works. Or you can benefit more really from being able to charge based on a percentage of the sales that are brought in through your direct work.
Sessions and Consultations
So many things are going virtual, obviously, sessions and consultations. Any businesses that can go virtual, with a consultation that previously held in person, that's a very easy switch.
Not everybody's done it.
But there are some that are less obvious. And if you think about, let's say, a salon owner if someone normally would go in to get their hair cut, or their hair styled you can't really do a virtual session for that and get your hair cut online.
That doesn't work.
But what you can do is set up these virtual consultations or sessions, where someone is able to come login virtually and talk to a hairstylist
Here's what I'm dealing with at home
What hair products can I use?
How can I style this on my own until I can get back?
So being able to alter some of the services in a way that can work online can be very important.
Which brings me into another recommendation is these home care kits.
Home Care Kits
This is where businesses are able to take a piece of their business and put it together in a way that someone could pick up or have a package shipped to them, that allows them to really just have a home kit.
So if you think about again, the hair salon, can they put together a particular color or something for one of their customers that they can come to pick up so they can try to style or dye their hair at home.
Do we have restaurants that can put together a little baking kit where it would taste like something that was in their restaurant and the process just come together, put in the ingredients, and then it's cooked and they get a little bit of that at home?
So there are different businesses that can benefit from this.
Sometimes it can't really be the exact service but maybe they just put some products together and offer this as a home care kit.
And sometimes customers will want this just because they also want to be able to support those businesses and might not have another way that they can do that.
Some businesses like gyms, for instance, are renting out their equipment. So it's just sitting in the gym, it can't be used, so they rent it out to their customers who are at home and have no equipment. That's why they had a gym membership.
Virtual Showrooms
Another good one that I've seen is virtual showrooms. And I wonder how much this is really going to work in the future as things open up? Will people still continue to do this?
So if you think about furniture stores, jewelry stores, dealerships, even realtors, for them to be able to have someone call them and on video be able to show them their products or their services.
So when COVID hit we were selling our home and we had a realtor come in and give a virtual tour before we had a video ready and all that to go.
But this is something that you can actually connect with a realtor and they can zoom in on different aspects of the home, a backsplash, or some aspect of the backyard that was hard to see in just a general video.
And being able to do those kinds of virtual showrooms is already proven to be very effective.
So if you have any types of clients that can benefit from that, something definitely to consider.
Those are really all of the ideas here. But, there's a couple of things that I want to point out, one I haven't shared with you about these businesses that are about to close or have closed yet.
Think Like an Entrepreneur
One thing I really want you to think about is to start looking around you at the businesses that you frequent. When you go into these businesses, start looking at them with marketing eyes.
What do you see that they could be doing that they're not doing?
So myself, for instance, I can go in and I just automatically start doing this, I just think it's fun to do, and ideas come to me.
If ideas don't come to you, that's okay, start looking at some of these ideas.
This is why I'm sharing this with you right now so you can have a list of some different ideas of things that you can do.
And as you go into businesses pay attention to what they're doing and not doing, so you can see where could you potentially step in and help them while they're in need right now.
And maybe you can even consider this pay for a performance opportunity.
For example, if you go into a gym, and they can sign up new customers, well, are they doing anything to make more revenue from that one customer?
If not, how can you help them create an upsell sales funnel to make more revenue from that same customer?
Can you send them a workout plan?
Can you connect that to different equipment they might need, whether it's just small things like water bottles, or different protein bars or gloves or headbands, sweatbands that they might need, and then gym?
So getting them to purchase more, leading them towards other services, like some classes that they could participate in, even if those are offline right now, they're online rather, they're virtual.
Or, the personal training, even if that is a virtual consultation.
But these are the things that we want to be leading them to and seeing how can we upsell the customers that they already have, so they can make more from each of their customers.
What About Businesses That Are Closed?
Now, I promised I would talk about these businesses who are either about to close or that they already have permanently closed.
A lot of these businesses are really not taking advantage of being able to sell their business. There is a really huge opportunity for people who want to be able to acquire businesses during this time.
Because since profits have gone way down, business owners are just overwhelmed, they're able to get businesses that cost substantially less than they did at the beginning of the year.
So this can really be a great opportunity for businesses or individuals, you to be able to go in, and there are a few things you can do here.
One, you can offer to work with them. And the pay for performance, because they're not gonna be able to afford you if they're about to close or already have closed.
But if you have a business, for instance, that says
"I've permanently closed, nothing that we can do here."
You can take their email list and can you send offers to that email list. Connecting them with another business who is still open but needs help.
And then offer that any percentage of the sales that go to this currently open business, go back to that owner or whatever percentage comes to you from that closed business owner.
So you see this is really helping a lot of people. All three parties are being able to profit from this. Otherwise, that business would have just shut down completely and close.
Take Advantage of What They Already Have
And sometimes business is closed. That decision has been made. There's nothing that can be done.
But you still can go back and say, well, how can I take this email list and help you profit from that list?
And they'll take anything they can get at this point because there's nothing there.
This also could be working to help them sell, maybe some assets that they have. Businesses that close, they don't close, because they have no assets, they might have the equipment, they might have online marketing material, they have that email list.
So that might be something that other businesses are interested in being able to acquire. And you can always arrange that deal and help to get a percentage of that deal.
Consider Acquiring a Business
And if you're really adventurous, then you can always consider acquiring any of these businesses.
A lot of them you're able to acquire, even if you're not putting money upfront, because you are stepping in at a time where things are really, really tough. And you're able to offer a percentage of revenue if you're able to help the business improve during that time.
Conclusion
As you can see the are many ways that you can help small businesses during these tough times.
There's just really a lot of opportunities that still exist and some of these opportunities just look very different than they did before.
And I hope this helps give you some ideas of things that you might be able to do, some offers that you might be able to put out there, and help you connect with businesses that maybe you have just passed over or thought maybe you couldn't.
So let me know what ideas stuck out to you and anything you'll be trying in the comments below. If you found this helpful, please share this article with other entrepreneurs or marketers and I'll see you next time.