We've all heard the kinds of strategies that are supposed to make us rich: go to school, get good grades, get a degree, and you will be guaranteed to get a high-paying job.

You've heard of that before if you're reading this article and you probably already know that things have changed.

Unfortunately having a fancy degree doesn't guarantee success in life.
If that's the case why are so many students who graduate are struggling to pay off just a student loan?
Why can't they get a job?
It's not the degree that pays the bills.
It's the skill that pays the bills.
So today you'll discover the complete list of high-income skills in 2022 that don't require a college degree.
We also included soft skills which are also really important. And many of them are very unique.
And to get you started we did a lot of research and compiled all the resources that will help you learn them.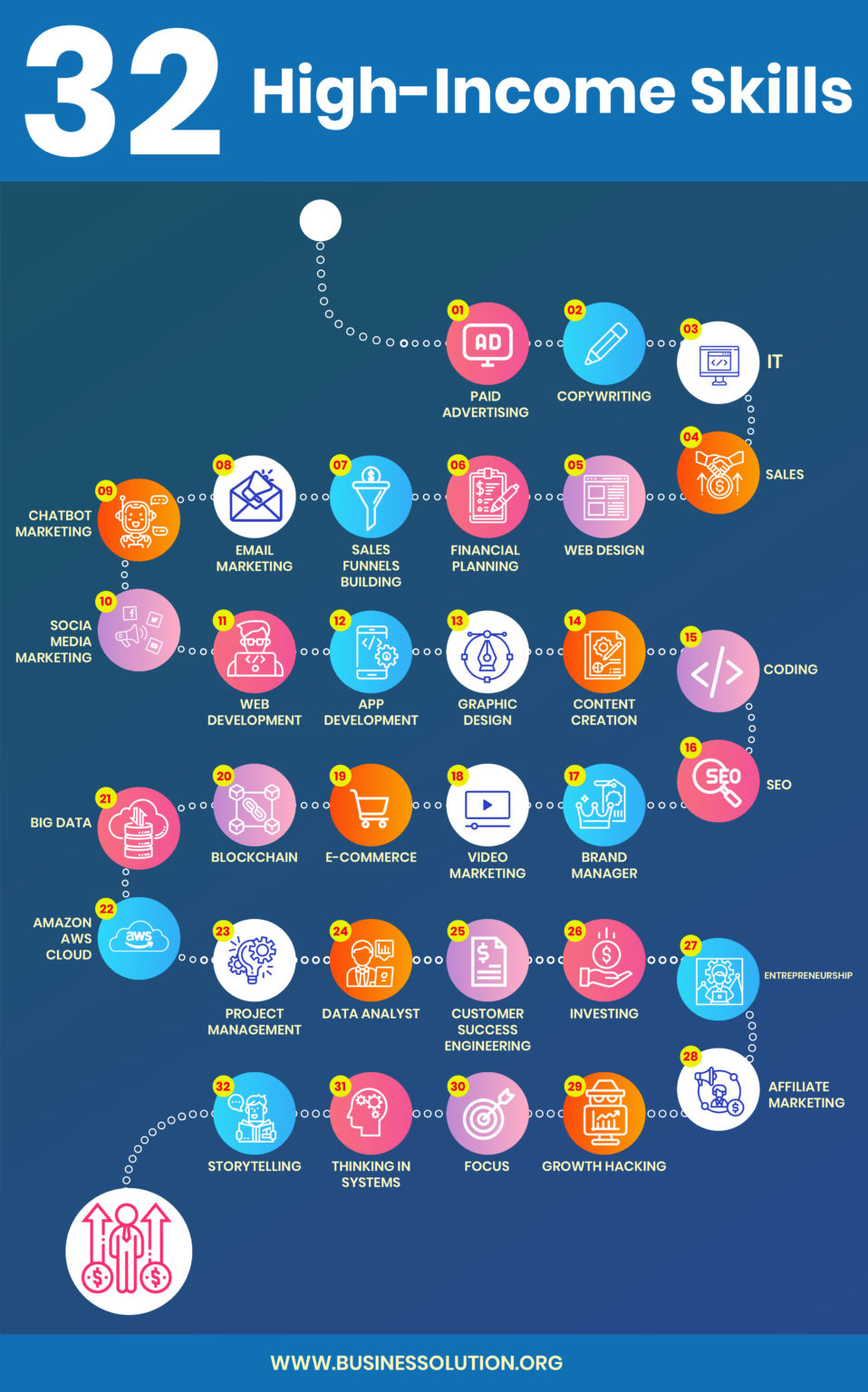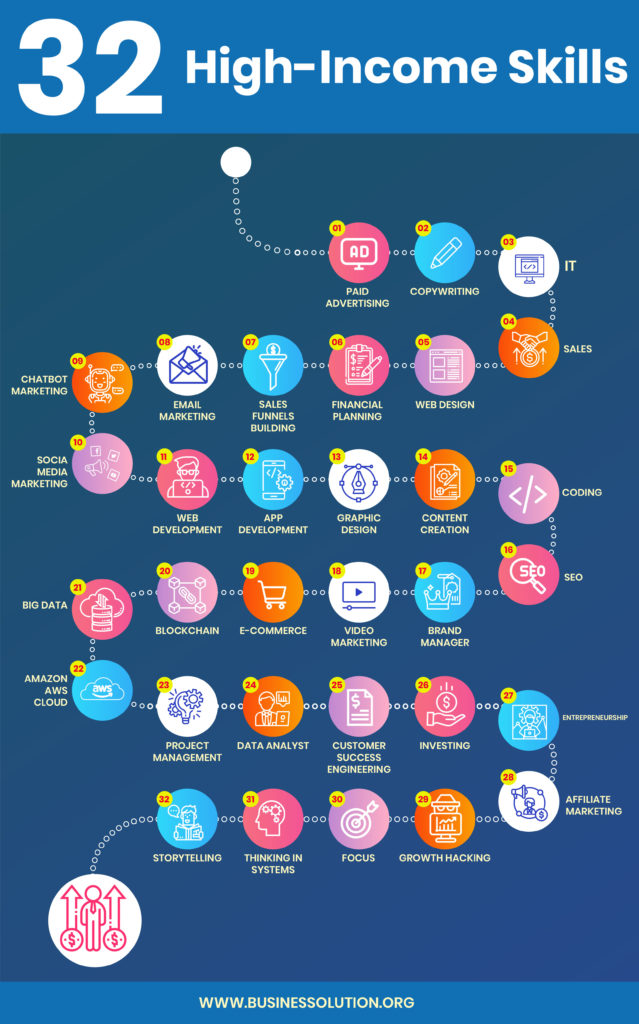 What Is High-Income Skill?
Before we go any further, it would probably be useful to explain what is a high-income skill.

High-income skill is a skill that anyone can learn that will allow to earn you a minimum $10k per month from anywhere around the world.

Here is a list of high-income skills you can learn to start making $10k a month or multiple six figures without a degree.
1. Paid Advertising
Digital advertising is such a great addition to any marketing strategy. So many businesses have adopted it, and around the world today, businesses spend over 250 billion dollars on it.

Digital advertising can have a huge return on investment for any business so it's great to take advantage of those benefits.

You might be wondering, what exactly is digital advertising?

Well, it's similar in some ways to traditional advertising.
Like traditional advertising, the goals of digital advertising can be to promote your products or services, generate brand awareness, or increase sales.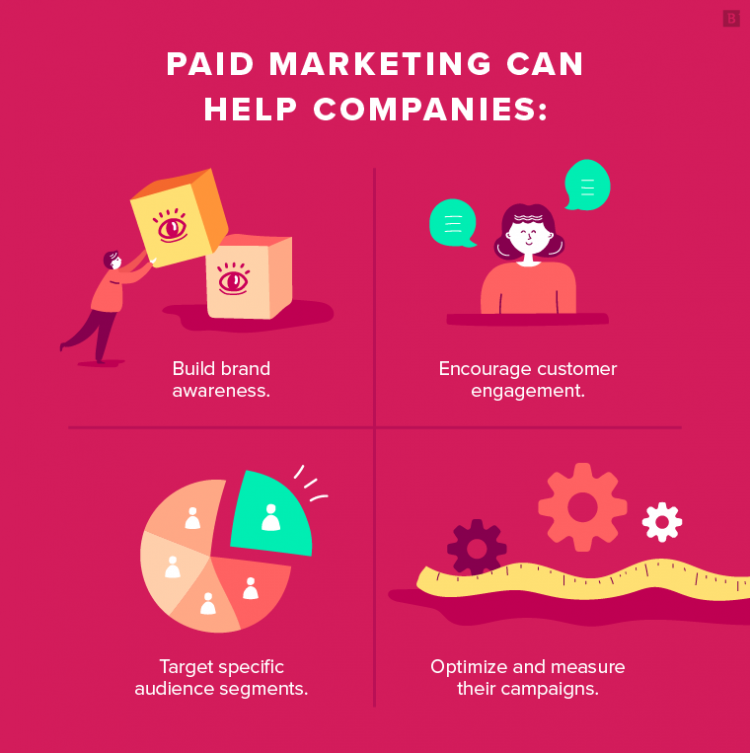 The goal of an online advertising campaign is to move people through the sales funnel.

Digital advertising gives you access to so many pieces of data that can help you create the most targeted and personalized campaign to reach potential customers.
You can target people by their interests, demographics, keyword searches, and even previous web activity.
Digital advertising offers so many choices when it comes to different types of ads like PPC (pay per click), CPM, SEM (search engine marketing), display ads, social media ads, and more.
Digital Advertising Specialist is responsible for:
Creating and planning a wide variety of campaigns across a range of digital channels
Optimizing existing campaigns
Writing engaging copy (Copywriting)
Proof-reading
Account management of clients
And more
If you're looking to enhance your knowledge of paid advertising, audience targeting, and retargeting, there are tons of guides on the internet.

The course that I highly recommend is Fiverr's Paid Advertising: Social And Search.

It's one of the most comprehensive online courses to paid advertising led by multiple marketing experts: Sharon Lee, Blitzmetrics, Jeff Sauer, Jon Yeoshaei, Isaac Rudansky.
👉 Read More
If you are interested in paid advertising on other related digital marketing skills, I highly recommend you to check out this in-depth guide on how to start a digital marketing agency.
2. Copywriting
I love copywriting because it's kind of the closest thing if you think about it to the true laptop lifestyle.

You can do this anytime, anywhere in the world.
You don't need a lot of fancy tech equipment you just need a laptop or even a mobile phone.

But what exactly is copywriting?
Copywriting is the ability to use your written words to inform, persuade, and convince people to buy a product or service.
In most cases, copywriting is used to increase sales and conversions.
Copywriting skill involves writing:
Professional Emails
Sales pages
Articles
Descriptions
eCommerce sites
Social media posts
Video scripts
Press releases
Interview questions

Why is this a valuable skill to develop?
Because of all the companies out there, anyone that's marketing online needs copywriters.
Copywriters will always be in high demand.
And to master the skill of copywriting you need to get good at the following skills like customer research, web copywriting, persuasion, and content structure.
Copywriting is not easy to learn. But it's a marketing skill that can improve nearly every element of your marketing.
In fact, 73% of employers want to hire people with good writing skills.
And if you're (or you want to be) an entrepreneur, you can use copywriting to improve your marketing and grow your business.
To get you started with copywriting I highly recommend The Copywriters Playbook by David Sharpe.
It's a complete copywriting course packed with the exact formulas you need to learn about copywriting.
3. IT
IT, also known as information technology is the use of computers to store, retrieve, transmit, and manipulate data.
There are many careers available for competent people who have this skill set.
IT professionals work on computers and computer systems.
Employers of IT professionals include banks, insurance companies, pharmaceutical companies, manufacturing plants, businesses of all sizes, and federal government agencies that need to keep information secure.
They are responsible for software development, management of company networks (including the Internet), operating systems installation and maintenance, database creation and maintenance for company records, and technology research to keep abreast of new technologies.
Recommended resources:
4. Sales
According to Forbes IBM, HP, and Microsoft, those three companies look at the average annual salary for a salesperson is over $142,000 a year.
At some point in your career, even if you're not a salesperson, you have to sell something.
If you run a business you have to sell, whether it's a product or service.
If you want to start an affiliate marketing business you have to know how to sell someone else products.
Even if you try to get a job you have to sell yourself to be hired.
No matter what you do or what is your industry, sales skill is the most fundamental skill you should develop.
With improved selling skills you are likely to improve your probability of successfully motivating and encouraging other people as well.
You will have the power of influencing others no matter what you do in life.
The challenge is most people have a negative association with the word sale.
There are a lot of negative feelings about sales.
Why?
Because many people hear the word "sales" and think of manipulating and maneuvering other people.
However selling is not pushing people to buy something they don't need, don't want, or can't afford.
Rather, selling is persuading, inspiring, and leading. Your goal is to work in collaboration with a client or colleague.
Selling is about building a relationship, building trust, and figuring out the pinpoints that a customer has.

This way you can give them the right product that will solve the problems that they have in a strategic way
If you focus on providing people value instead of trying to trick them, you'll get ahead of your competition in the long term.
So if you want to boost your career and get ahead in life, you should definitely consider developing your sales skill.
Here is a list of sales courses to check out if you want to get started in sales.
5. Web Design
Considering that 81% of people perform some type of online research before making a purchase, building a website puts a business owner in the driver's seat of his brand.
Every business needs a website. That includes your local store, plumber, and dry cleaner, as well as any entrepreneur looking to grow his business.
And if you know how to create a website you can make a lot of money.
Web designers can offer their skills to companies of all sizes who require professional-looking websites.
Today, there are many free and paid sites where you can learn website design without even knowing HTML and CSS.
The best place to start is by learning WordPress is a free and open-source content management system.
Less complicated options to learn web design would be website builders.
Drag & drop builders allow you to build and customize your website with absolutely no technical skills.
There are many website builders available in the market like Wix, Weebly, Squarespace, to get you started.
6. Financial Planning
Financial planning is a skill that can earn you an excellent income and help you to accumulate assets so that at retirement, instead of trying to make ends meet on Social Security benefits alone, you are able to maintain much more of your standard of living despite having saved less during earlier years than most people who still have full-time jobs that offer employer-paid retirement benefits.
Investment advisors and financial planners help clients achieve goals such as paying for children's education, buying or selling a home, and being able to afford more luxuries later in life after years of fiscal responsibility (which can include setting aside money for emergencies).
To get certified as a financial planner, check out the cisi.org website and see how to get started.
7. Sales Funnels Building
A sales funnel is the medium you can use to convert visitors into paying customers.
It is common for many digital marketers, affiliate marketers, and entrepreneurs to get stuck at this point.
They have worked hard to build up their websites and drive traffic.
And they think that that should be enough.
The problem is, people are still too easily able to leave the website. They have not learned what is in it for them.
A sales page can help you to do this.
Sales funnel building involves:
Landing pages
Bridge pages
Squeeze pages
Webinar funnels
Lead magnets
Application funnels
and more
Companies constantly looking for ways to increase sales.
There's a HUGE market for people looking for sales funnels.
Meaning they're looking for a way to take the traffic and convert that traffic into paying customers.
And if you have the ability to provide this service and you can help them to do this you could earn a lot of money.
You can simply create funnels for small business owners that in the modern world of the internet need a solid online presence.
Not only that, you can upsell them other services like email marketing, SEO, or paid advertising and we'll dive deep into each of these skills later.
A great place to start learning about how to build sales funnels is a 30-day Summit Challenge offered by ClickFunnels – the leading funnel-building software company.
8. Email Marketing
Email marketing is the next digital marketing skill you can sell for businesses.
More than 3.8 billion people have access to email, and almost 3 billion non-spam emails are sent and received every hour of every day.

Email marketing compared to other online marketing channels like social media, SEO, PPC, may seem a bit outdated.

However, email marketing is still the most powerful form of advertising with the highest average ROI – $42 for every $1 you spend on email marketing.
Despite the benefits of email marketing many entrepreneurs and business owners still struggle at this point.

If you know how to implement an effective email marketing campaign you can easily make more than 6 figures per year.

Email marketing specialist is responsible for:

Creating a wide variety of email marketing campaigns
Writing professional emails
Designing optimized user and mobile-friendly emails
Building an email list
Tracking and analyzing campaign results
and more

Recommended resources:
9. Chatbot Marketing
While content marketing and social media marketing are discussed and debated regularly, chatbot marketing is often overlooked.
Why chatbot marketing is so valuable for businesses?
According to HubSpot, social messaging apps have over 5 billion monthly active users,
Social messaging apps are of course such things as WhatsApp, Facebook Messenger, Skype, and iMessage.
There's a huge demand out there for this chatbot marketing skill.
Why?
Because everything is shifting to mobile.
People need someone to set this up for them.
So this is a new skill that is in demand and most people don't even know that it exists.
To be good at chatbot marketing you will need to have some copywriting skills as well as some technical skills but it's not complicated.
It is definitely learnable.
Recommended resources:
10. Social Media Marketing
Social media marketing is one of many skills used by social media managers who help their employers increase online visibility and awareness by managing the company's social media accounts.
They can work for these companies full-time, or they may be a freelancer who works on a contract basis.
These professionals manage their company's presence across the different platforms of social media, including Facebook, Twitter, Pinterest, Instagram, Google+, YouTube and many others.
They must maintain a consistent voice and style of messaging, and they often update content on the company's accounts by publishing blog posts or creating videos.
Additionally, they monitor their social media networks for customer service issues, use analytics to measure the success of campaigns, and research competitors in order to provide better social media services to their employers.
This is a great skill because it involves something most of us are doing anyway.
But it doesn't mean it's an easy job.
Social media managers get paid to run accounts, often several at a time.
They are responsible for many things:
Moderating, and responding to audience comments
Managing social media partnerships with other brands
Creating post shareable videos and images.
Planning and executing digital marketing campaigns
Analyzing the data results from those campaigns.
These positions are in high demand during these times so if you have the right qualifications landing this job may not be too difficult.
You don't need to be an expert on each social media platform.
I recommend mastering one single platform at a time like Facebook, Twitter, Instagram, or Pinterest.
You also need to understand how each platform differs so you can maximize them all.
You just need a reliable phone and/or computer so make sure you invest properly.
If you're not familiar with social media marketing, Fiver's social media marketing video course is the #1 place to start learning about social media marketing.
You'll not only learn about social media marketing but also everything you need to know to become a digital marketing expert.
There are 195 high-quality videos led by the top digital marketing experts in the world.
And once you get the hang of it the job itself isn't hard at all.
You'll be able to plan a week of social media posts in 30minutes.
It will almost become second nature since we are also used to posting on social media.
And you will also see a huge monthly earning potential.
👉 Read More
Do you like the idea of managing social media for clients? If so make sure to check out this in-depth guide on how to start SMMA in 2022.
11. Web Development
Web development is a skill that requires being able to write code for different websites and platforms.
Employers of web developers include businesses of all sizes, including small business owners who want to build their own website, non-profit organizations that need the services of a designer or developer, large companies that need their website redesigned or expanded, government agencies with online constituencies, and many others.
Skills required for this job include knowledge of the latest online technology, communications skills to coordinate with clients, strong analytical skills to solve challenges that arise during website development, and technical skills in writing code or digital design.
There are many free courses that you can find online. Here are some of them:
12. App Development
If a business wants to increase brand visibility, gain more sales, and generally take a business to the next level then they absolutely need an app.
You might be wondering what use an app may have for you.
Well, try asking a company like Starbucks or Amazon and they'll tell you how they make far more sales directly as a result of their app.
Or maybe you could turn to blogs like IGN and they'd tell you how their apps help them to connect with their audience and promote their posts.
Mobile apps are becoming more and more popular. If you have the proper technical skills you can take advantage of this and earn BIG.
App developers are always needed to help make games and applications for companies.
Depending on the content you may be making hundreds to thousands of dollars a month.
Recommended resources:
13. Graphic Design
Graphic design is a skill that requires creative thinking, an eye for detail, problem-solving skills, knowledge of color schemes and typography, computer design skills.
Also Adobe Photoshop, Adobe Illustrator, or the other software programs that are required, and the ability to use one's design skills to create logo designs for businesses and any other purposes that may be desired.
Recommended resources:
14. Content Creation
Content marketing is the future of the modern business world.

Content creators are responsible for:
Writing and publishing various types of pieces like articles, ebooks and social media posts.
Producing marketing copy to advertise companies' products
Conducting research on industry-related topics
Edit and proofread written pieces before publishing
Perform keyword research
And more.
If you decide to start with content creation, you need to understand the content creation basics.
Here are some options for content creators:
Content writer
Videographer
Photographer
And more
If you're starting your own brand the next step is to choose a platform on which you will create content.
Will it be a Youtube channel, a blog, or a podcast? Or will you want to focus on social media such as Facebook or Instagram?
And last, you need to think about how to monetize this skill.
You can also work as a freelancer and create content for other companies.
15. Coding
Code is all around you and the results of coding are everywhere.

Whether you're posting a tweet, watching a YouTube video, or even swiping a debit card.

Whatever happens, happens because of lines of code. In fact, just about anything with a plug or battery uses code or computer programs to do things.

Lots of everyday items phones, watches, microwaves, cars have computers in them and they all rely on code to make them work.

So what is code exactly?

A code is a precise set of instructions a computer can understand. Think of it as a recipe.

The instructions need to be precise. so whatever you're making turns out the way it should and just like people in different parts of the world speak different languages computers understand many different languages – with names like Python, C++, Perl, and Visual Basic they're all different in their own way.
There are plenty of free resources that will teach you about coding. Here are my favorite schools:
If you have technical skills in a certain field you may want to consider becoming a coder. It will take time but keep in mind that this can pay BIG.

You can easily market your skills on LinkedIn or freelance gig sites like Fiverr.

Coding is becoming the most in-demand skill across all industries.
16. SEO
SEO stands for search engine optimization. This is a powerful thing for business owners especially small business owners and their online shops.
For this skill, it is best if you are familiar with keyword research, technical SEO, link building, content creation, and UX signals.
If you can work with these technical skills and you can earn big as an SEO consultant you can help business owners benefit from analytical data and boost their marketing performance.
If you are unfamiliar with SEO yet you can try it out there are plenty of online guides and courses to get you started.

SemRush Academy provides FREE courses and exams and covers all the core disciplines of SEO (and digital marketing), which gives you an opportunity to become an all round specialist.
All of those courses and certification exams are 100% free.

All you need to start learning is to be a registered SEMrush user
Other free SEO resources are:
17. Brand Manager
You see with all these different industries every industry in the marketplace has its own influencers and also on the other side it has its own suppliers it has own product owners
Every product owner or company or manufacturer is looking for ways to get to the influencers in order for them to get in front of the targeted people because those targeted people are actually followers to those influencers.
And for the companies, it is the easiest way to get in front of the targeted people when they target them through the influences.
You might be saying but where do I come in place as a brand manager?
As a brand manager, you come in place when you are being the middle party between the influencer and the brands.
So basically you look in the industry that you might be interested in.
And even if you are not interested in the profitable industry because in the beginning let's be honest we all want to do something that we love but we want to do also something that is proven to be profitable
Because if it doesn't make dollars it doesn't make sense.
So, find out what industry is trending and what category is trending.
And maybe get closer to those influencers, close deal with them, and then you introduce brands to those influencers as a way to market their brands.
This is also something that you can make a percentage of the deal when it's closed between the brand and the influencers and that can generate you a great huge amount of money depending on the category depending on the niche and also depending on how big the influencers you are closing the deals with.
💡 Pro Tip
A great place to find influencers and to be a brand manager nowadays is TikTok because it's a new platform it's underestimated and everybody now actually is transitioning to be on TikTok. And there are so many influencers that actually have a huge following.
18. Video Marketing
Video marketing is fast becoming the most powerful content marketing format.

According to HubSpot, 87% of businesses are now using video for marketing.

And SocialMediaToday found that 90% of consumers claim that a video will help them make a purchasing decision.

To stay at the top of your digital marketing game you really should gain a solid understanding of how to implement a solid video marketing strategy.

Video marketing is great for things like:
Increasing social engagement
Building authority and thought leadership
improving SEO
Converting, and increasing sales.
Video marketing tools are becoming increasingly abundant, accessible, and powerful.
So, to get started with video marketing I'd recommend definitely following HubSpot and their video marketing resources.

They have great video marketing guides for beginners.
19. E-commerce
With systems like Shopify and WooCommerce, it's never been easier to set up a professional online store without vast programming knowledge.
E-commerce is one of the only systems you can use to make money online that is truly long-lasting and sustainable.
Today, more people than ever are shopping online and the number is growing.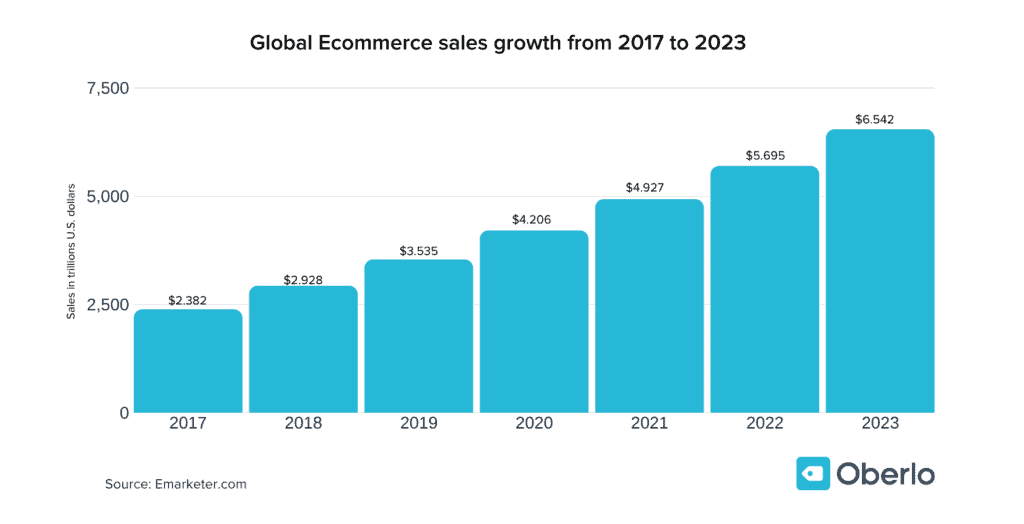 This means that if your (or your client's) business is not optimized, money is being left on the table.
From PPC advertising to blogging and from SEO to data analytics, e-commerce is a complex skill.

The aim of an eCommerce expert is to find those activities, promotions, and tactics that generate profits for his clients.
Here is a list of skills you should have as an e-commerce expert:
Content marketing (copywriting)
Email marketing
Data analysis
Testing and Data Collection
Website design
Driving traffic
The leading e-commerce platform, Shopify offers completely free learning resources that'll teach you everything you need to know as an e-commerce expert.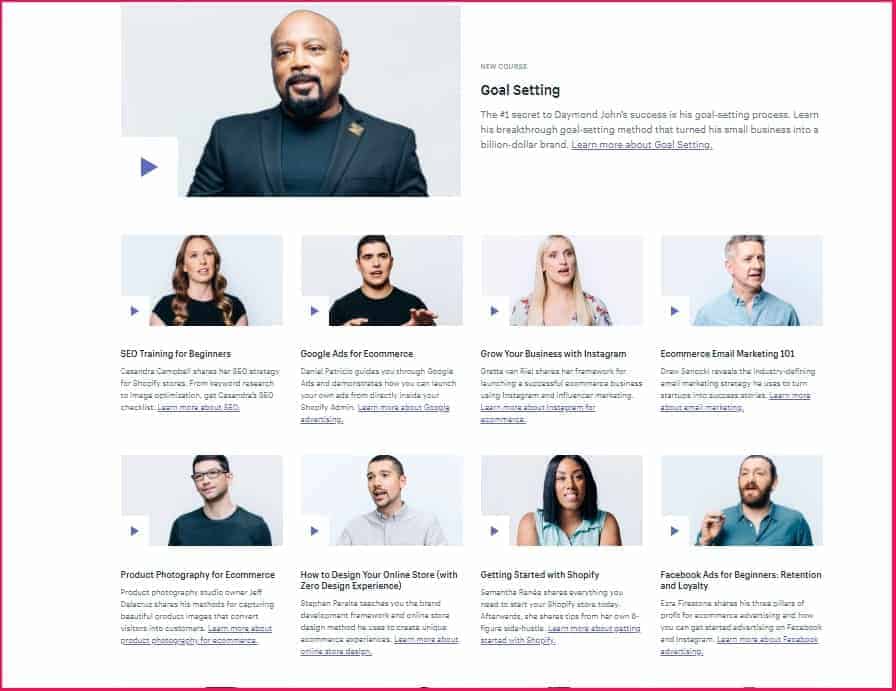 High-quality video tutorials taught by some of the most successful e-commerce entrepreneurs.

Anyone can register and start learning from Shopify Academy.
20. Blockchain
Blockchain technology is the platform for cryptocurrencies such as Bitcoin and Ethereum, two of the most popular currencies. This skill set can be very lucrative.
As an expert in blockchain technology, you will evaluate new cryptocurrency and token offerings to determine whether they are legitimate and worthwhile investments.
Developers are often needed to build apps or run a blockchain network. Use this skill set to get the best jobs in the field and further its development.
To learn about blockchain, you should start off by learning the basics of Blockchain and cryptocurrency.
You can begin this by joining various blockchain communities and visiting Bitcoin forums, crypto vlogs on YouTube, and other Blockchain news sites.
In terms of online courses, one of the best resources is the edx.org blockchain courses.
21. Big Data
Whenever we're looking at the increasing use of technology in business we're gonna more likely than not come across the concept of big data.
So let's explore what is meant by the concept of big data.
Whenever you use an oyster card on the London Underground whenever you search in a search engine or ask Alexa to give you the answer to something and definitely whenever you use a mobile app like Uber you're adding to the stockpile of big data.
What it is it's the collection and analysis of huge mega data sets not just from traditional sources but increasingly from digital sources.
The aggregation of those datasets is one thing but of course, the key then is to identify trends and patterns from that data that can be used in decision-making.
There are many reasons why big data is becoming so big.
If you imagine the increasing use of online or e-commerce every product every transaction, everything you add to your shopping cart is added to a database that is all part of the Big Data world.
Fortunately, you don't need to take expensive courses. For example, there's the website: cognitiveclass.ai.
They have a lot of free courses that are very good for beginners.
22. Amazon AWS Cloud
Amazon AWS cloud computing is a skill that requires knowledge of the latest technology as well as excellent people skills in order to interact with clients and move complex projects forward.
The person who is interested in pursuing a career in this field must learn how to install, configure, and troubleshoot the software required for setting up cloud computing.
This is not an easy task as it takes knowledge of programming languages including Java, HTML 5, Ruby on Rails, PHP, C++, and many others.
The best way to learn this skill is directly from Amazon AWS where you can acquire skills such as:
Advanced networking
Data analytics
Machine learning
Security
And more
23. Project Management
Project management is a skill that can earn you an excellent income if you find clients who like your idea for a project and hire you to bring it to fruition.
Once you have found the client, the project management specialist will research her subject area, develop a plan for completing the work using defined methods of doing things (in order to ensure quality control throughout the process), monitor the progress, and keep clients informed regarding the project's status so that they can use budgetary and time wisely.
You can develop this valuable skill platform like futurelearn.com. You can find more information about their online project management course here.
24. Data Analyst
Data analytics is the use of statistical analysis to interpret and learn from data.
This is a skill that requires knowledge of statistics, business intelligence software, numbers analysis, database management systems like Oracle or SQL server, visualization skills in order to create graphics that help people understand the information you are providing them with, and communication skills so that you can share this information with others outside of your organization.
In the business world, this skill is used to interpret how customers behave and what they want from their businesses.
Data analyst is a skill that can be used to ensure the profitability of many companies.
You will work to analyze large quantities of data in order to determine how best to use it, whether it needs medical claims processing software or marketing.
You will then make recommendations based on the information you have analyzed.
A great to start learning this particular skill is with Linkedin Data Analytics Online Class.
25. Customer Success Engineering
The next high-income skill is a bit of a weird one, you've probably never heard of it. And this applies if you have a b2c brand or a service-based business like an agency.
More than ever, customer and client space is the most important metric. Customers are bombarded with great products on a daily basis, so that is not new for them.
Nowadays it's all about how brands make them feel. Do they feel like they're part of a tribe? Do they feel like they're part of something bigger?
This could involve things like coming up with a creative way to onboard clients, or for example, effective ways of reporting to them and retain them for as long as possible.
In a nutshell, leveraging and upselling current buyers is way more profitable than finding new ones to sell to.
Also, you can transform these current buyers to brand evangelists who will just rave about your product.
And in a world where trust is at an all-time low, having real customers do the marketing for you is incredibly effective.
To get you thinking about the importance of client experience and customer success, I'd really recommend you pick up "The Everything Store". It's basically the story of Jeff Bezos on how he built Amazon. And in the book, he talks about one of the key pillars to Amazon's success, which is an insane obsession with the end-user.
So I would recommend you pick up this book to adopt the mindset. And re-start thinking about the ways you can engineer your customer journey and your client experience to have incredible customer success.
26. Investing
Investing specialists can find career opportunities in many different industries.

Investing may seem daunting at first, especially if you get started when the market is experiencing a crash.

If you do your research you should be well on your way to a healthy and robust financial future.

An investor is a person who devotes capital to an investment in the hope that it will receive financial returns.

A wide variety of investment vehicles exist to accomplish goals, including:
Real Estates
Stocks
Bonds
Mutual Funds
Gold & Silver
Cryptocurrency
and more
One of the most successful investors in history is Waren Buffet.
His multibillion-dollar fortune is amassed mainly through buying stocks through Berkshire Hathaway.

Those who invested $10,000 in Berkshire Hathaway in 1965 are above the $50 million mark today.
Here are some of the best investing books:
The Intelligent Investor" by Benjamin Graham
"The Little Book of Common Sense Investing" by John C
"The Book on Rental Property Investing" by Brandon Turner
"A Beginner's Guide to the Stock Market" by Matthew Kratter
Also, a great place to start is this list of best investing courses from Investopedia.
27. Entrepreneurship
First, let's define entrepreneurship.
What actually entrepreneurship is?
Professor Howard Stevenson the godfather of entrepreneurial studies at Harvard Business School defines entrepreneurship as:
This classical definition of entrepreneurship deserves a complete article on its own.
There is an age-old debate. Are entrepreneurs born or made?
Of course, the answer is both.
Entrepreneurs are born with certain attributes, have a familiar background, and all through their lives gain experiences and build networks all of which contribute to their values.
We know that entrepreneurs share certain characteristics including the ability to recognize opportunities, have a need to achieve, tend to be over-optimistic, and are prepared to take risks.
They like autonomy and actually feel that they can control things. Not all entrepreneurs have these characteristics or have them in equal measure.
So, with that being said the question is can you become an entrepreneur?
The answer is yes.
And like all things the more times you do it the better you get.
Entrepreneurship is like ALL of the other skills on this list. It is definitively learnable.
Many of us want to become entrepreneurs. Starting your own business is one of the biggest dreams of our times.
But how do you get to be an entrepreneur?
Most of the advice focuses on the practicalities: writing a business plan, raising money, finding staff, marketing, and PR.
But now in the world of the internet, with the right coaching and training, you can start your online business in a few days.
If you want to start your entrepreneurial journey I highly recommend a 15 Day Online Business Challenge.
It's a complete online course for aspiring entrepreneurs led by David Sharpe, who's made over $250 million in online sales in his career helping thousands of entrepreneurs launch and scale their online businesses.
And I guarantee that by the 15th day you'll also be able to set up your own successful online business.
28. Affiliate Marketing
Now let's discuss one of the most profitable high-income skills which is affiliate marketing.
In fact, here you can utilize all the skills from copywriting to managing ads to sales to every skill that you have acquired and every skill that you have learned and you can combine them all and put them into affiliate marketing.
You can just start with affiliate marketing selling other people's products and services. What affiliate marketing really is is you're receiving a commission when you are promoting and recommending some other people's products.
You don't have to own the service either you don't have to own any products.
So the only thing you have to do actually is to become a partner with these affiliate programs and then promote those products and put it in front of the targeted people who are looking and are going to benefit from these products.
A great place to start learning this high-income skill is this free affiliate marketing PDF
If you want to expand your knowledge even more I highly recommend my free affiliate marketing training where I'll show you how I became the top affiliates for a massive software company by the age of 24.
29. Growth Hacking
Growth hacking involves using creative low-cost strategies to help businesses acquire and retain customers.
There have never been more e-commerce brands entering the market and at the current moment, and we've actually seen this with the explosive growth of Shopify websites in the past years.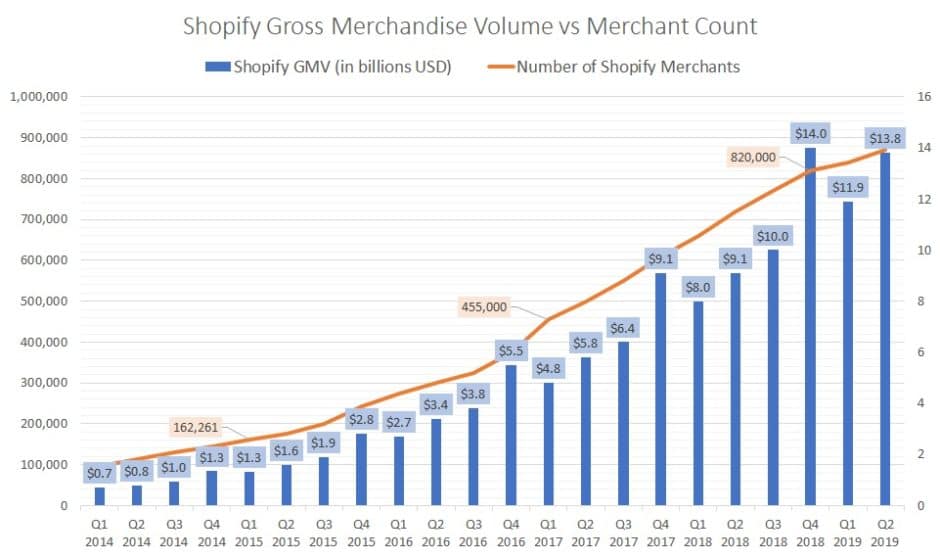 Some of these brands may have higher or lower budgets, but they're all after one single thing, and that one single thing is fast and profitable growth.
The role of growth hackers for any business is already massive, and it's only will get bigger. I personally like to say that we are the rainmakers of any business.
A business can have a great product, maybe a great team, but a brand with a great product and no customers is worth nothing.
And so to get started, I recommend you pick up "Growth Hacker Marketing" by Ryan Holiday, a very good starting point.
And I also recommend "Traction" to get an introduction on some of the platforms that you can tap into to grow pack brands and get them, customers, profitably.
30. Focus
Now the first one of the most important soft skills on this list is a focus. In his book called "Deep Work". Cal Newport describes Deep Work as:
The ability to sit down and focus for long periods of uninterrupted time is increasingly rare at the same time that is becoming increasingly valuable in our economy.
And those who master this skill in a world of distraction where social media is trying to suck as much of our attention and time for a profit will thrive.
Because there's not so much about the ability to get into a state of deep work is about what you can create when you're in that state.
When you are focused, when you are in that state of deep work, you can create things that are of value to society.
I really recommend you guys pick up this book. It's a great book by Cal Newport.
31. Thinking in Systems
The next high-income soft skill is thinking in systems. In his popular book Atomic Habits, James Clear argues that goal setting is overrated.
And the reason why that is is that most people in the world are goal-oriented. For example, they set a goal for themselves to hit $10,000 a month by the end of the year.
Now there's obviously a time and place for goals. But instead, people should be more systems-oriented – what do they need to do to hit that goal.
For example, I need to jump on 7 sales calls a week or I need to put together a sales funnel or I need to create a hiring process to find 8 players for my team.
What's important is being able to look at the outcome and the goal we're trying to get and reverse engineering to pinpoint the systems that we need to put in place to hit that goal.
And I came to realize that that is something that most people really struggle with. They struggle to see the causation of things, they struggle to see the cause and effect of their action.
They may be good at goal setting, but they're pretty poor in determining the rules that change their routines, the systems that they need to put in place in their life to accomplish that goal.
Obviously, this is a skill that will not come to you naturally. You have to work on it over the years and it will serve you very well to hit your goals over the years.
For this high-income skill, I recommend you check out "Atomic Habits" by James Clear, as well as the book called "Thinking in Systems."
32. Storytelling
Good stories are going to cut through and they're going to get people to take action.
Over the years as consumers have been bombarded with ads all over the internet, they've built massive walls around anything that looks like an ad.
The days when we could just put an ad in front of someone enough times that they would convert are over.
Consumers are incredibly desensitized to that type of advertising. And we need great storytelling to go unimpeded through the massive walls that they've built around advertising.
For example, I've seen this year more than ever brands coming to either my agency or my personal brand to tell their story online.
They may have an incredible product and amazing team but they're struggling to tell their story in a way that is going to resonate with the millennial Gen Z generation.
Now for this goal, there are two books that I recommend to get started. Number one is "Made to Stick", a very good book on how to tell stories that actually hook people. And "All Marketers Tell Stories" by Seth Godin very easy and quick read and definitely a great starting point in telling a story.
How To Use Your High-Income Skill To Start a Business?
So now you have learned your high-income skill.

Assuming that you're making at least $10,000 a month or $120,000 a year.

Now you can use that skillset that you have developed to start an online business, to generate a secondary stream of income.

For example, let's say one of your high-income skills is SEO.

You know how to optimize websites for Google, so you get more traffic.

Let's say you're charging a good amount of money for that.

You can now use that skill to start your own online business.
For example, you can create an online store and sell your products or services.

With proper search engine optimization, you can rank your e-commerce business on the front page of Google and get free traffic!
Do you see how that works?

That's the power, once you have developed high-income skills!
High Income Skills 2022 Final Words
So this is the complete list of high-income skills to learn in 2022.
I want you to understand that skill equals income.
It's the skill that pays the bills.
You have to make a decision about what you spend time on if you want to develop some of these valuable skill sets without a college degree.
And you don't want to spend years, waste a lot of time to learn some of these things and if you want a shortcut you want a smarter way of doing then you should consider checking out our free guides and other resources.
Drop a comment down below on which high-income skill you choose to master to go all-in on!