In this in-depth guide, we're going to take a look at is how to get clients for a digital marketing agency. If you want to start your own agency, getting clients is one of the most important parts of this business.
So, whether you run:
Today you'll learn exactly step-by-step how to find your potential clients, how to approach a business to sell your digital marketing services, and how to close every deal.
Let's get into it.
#1. Find Your Potential Clients
The goal here is to find and make a list of your potential clients. You want to start local, you can go broader later, but start local and just create a lead list. Collect information such as:
For this, you can use Google sheet, Google Docs, or it can even be pen and paper
So, let's take a look where you can find potential clients for your agency.
1. Google Listing
The first way where you can find leads for your agency is Google. Here all you want to do is just go on Google and type in your targeted niche and city where you're located. Let's say it's a chiropractor.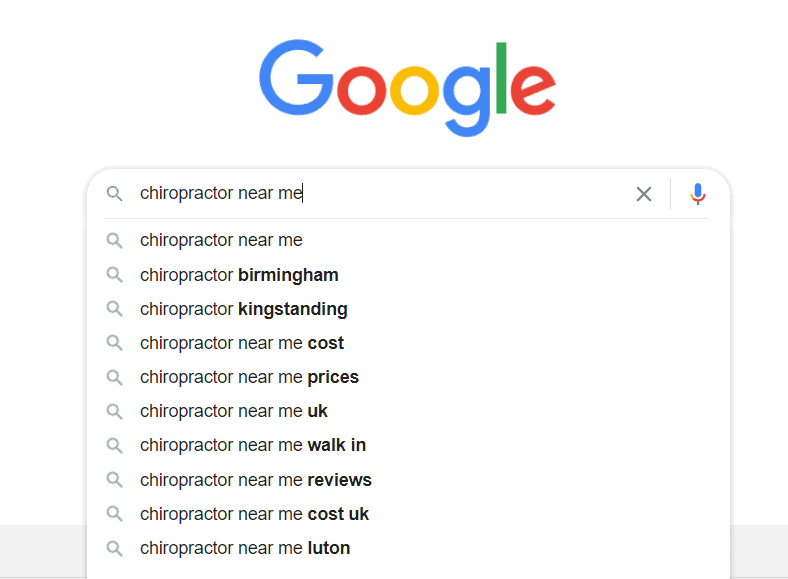 And see what ads pop up at the top.
And if a chiropractor is running ads that means they have bought into the concept of advertising their business.
More than likely they can actually invest money into advertising.
And so you can click on the ad go to their website, reach out, contact them and see if you can help them.
They probably already have someone running their ads, obviously, because that is why the ad is showing but can also offer other services.
So a great thing is, is it's a lot easier sale instead of finding someone you have to convince and sell them on the idea of advertising.
💡 Pro Tip: How To Find Leads In Minutes
If you want to save hours of researching, prospecting and all type of repetitive tasks I highly recommend you using some kind of lead generation tool like Snovio.
I personally use in my agency and highly recommend MarketerMagic.
With this lead generation tool you can find thousands highly targeted leads with just a few clicks of a button.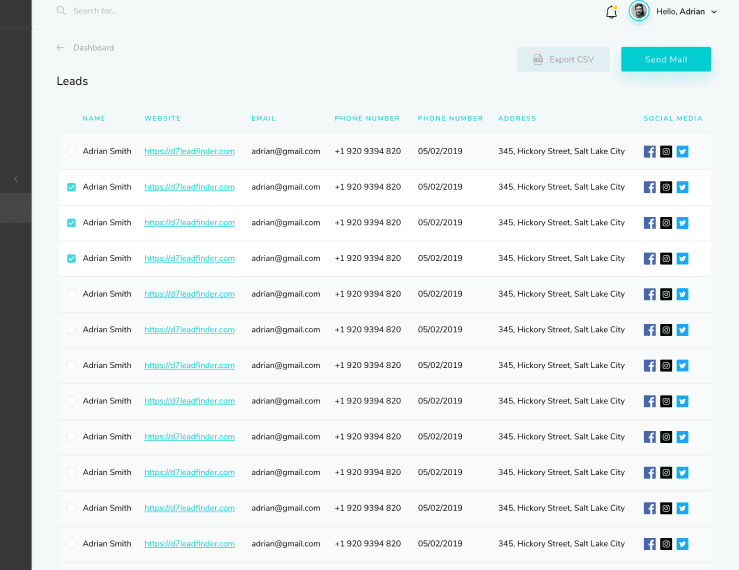 All you have to do is just type in the targeted city and industry you want to work with and you'll get all the necessary information needed.
Then you just download this list and you can upload to any digital marketing software you use.
This way you will save literally hours of painful researching so as an agency owner you can focus on more important tasks like outreaching and getting your clients results.
2. Google Shopping
We're also going to look at Google shopping. If you type something into Google, there's a tab for Google shopping, where you can type your niche.
And you can find all of the brands in your niche that are advertising on Google shopping.
These are going to be perfect potential clients for you because they're already spending money on advertising.
It's not new to them and you can just help them. You're just going to help them improve what they're already doing.
And if we're taking this example of skincare, when we type in skincare, as you can see, I've pulled up a quick example, we've got a few brands coming up here and they're dominating this complete area.
So like we said, if these businesses are already spending money on advertising, they are going to be an easier sell than companies that aren't already doing that.
So, find brands that aren't too big and haven't really hit that point where they're seeing massive success.
Brands that maybe don't have a huge amount of customers, but ones that are more in that starting phase because those are the brands you're probably going to be helping out.
3. Facebook Groups
This method consists of identifying Facebook groups where your prospects are hanging out. And what you want to do is you want to join groups in your targeted niche.
Search for keywords for your niche and then you want to add people or connect with people who might be looking for a service.
Then what you want to do is once they accept your friend request is you want to send them a private message (more about it later)
💡 Pro Tip
You want to do it in this order you want to add them and then private message them because if you private message them first it's gonna go through their filters and they're not gonna see your messages.
 So what should you be searching for or looking for in these groups?
We're looking for businesses so here are some phrases that you could type in:
"Need help with Facebook ads"
"How to set up Google ads campaign"
"How to create a website"
You can do a combination of these or you can type these in with your niche.
You want to get creative here because there are a ton of keywords people are typing in. You'll start to notice what people are commonly typing in.
So what you could do is once you're accepted in the group is you would just scroll through the groups read what people are writing and see if anybody needs help with digital marketing.
4. Networking Events
Now the next strategy I recommend isn't something I actually do, but it is a good strategy nonetheless. And that is going to networking events.
I'm a computer nerd so I just rather not do it. But it is a good strategy because again, this is a people business.
So if you can go to networking events and meet your potential clients, whether it's BNI or Meetup.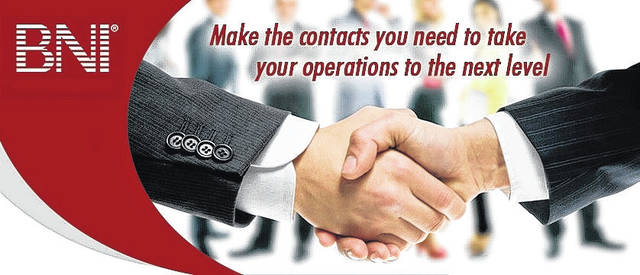 But by doing this, you can meet your potential clients directly, you can introduce yourself, and like with all methods mentioned earlier you don't sell to people at these events.
You just open the door to a relationship where you may potentially land them as a client in the future.
You may not like to do this, but the better you are at communicating with people, the more success you have in this business.
So maybe it's something worth considering. And certainly worth trying out even if you're not naturally good at those types of things.
5. Yelp & Groupon
Groupon and Yelp are huge platforms with thousands of customers where you can find local businesses in your area.
What you can do is go to Yelp, or Groupon and search for example a restaurant and you'll find their contact information.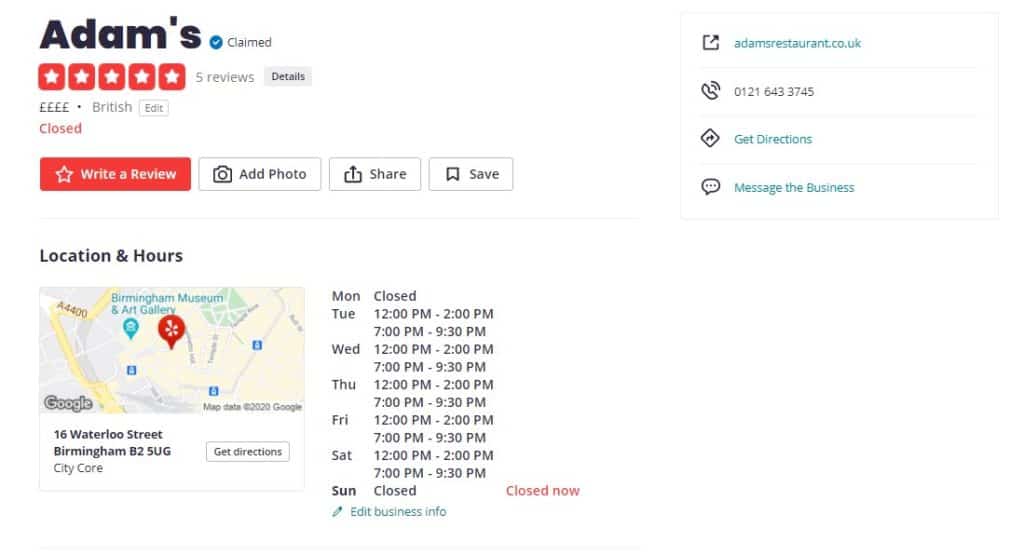 From here you want to start collect all these information that you will you need for an outreach.
So that is the process of lead generation in a nutshell. It's just collecting as much information about those businesses as possible, so that way you can have the highest likeliness of setting a meeting with them. 
#2. Outreach
You've put together a list of all potential clients and you need to start reaching out to them. And for this, we can use cold calling, cold emailing, social media outreach, or even door-to-door.
The goal of outreaching is selling the meeting, not the service.
So, let me show you the most effective outreach methods for digital marketing agencies.
1. Cold Emailing
Essentially, the way cold emails work is you're sending out emails at scale to businesses in certain industries, and then a small percentage of those businesses will email you back, and then you have a dialogue and proceed to sign them up as a digital marketing client.
Building an email list was one of the methods I use to grow my agency shortly after it made the transition from selling websites to selling monthly digital marketing plans.
And what we did is we created a list of essentially all the real estate agents in London using MarketerMagic.
And there was thousands…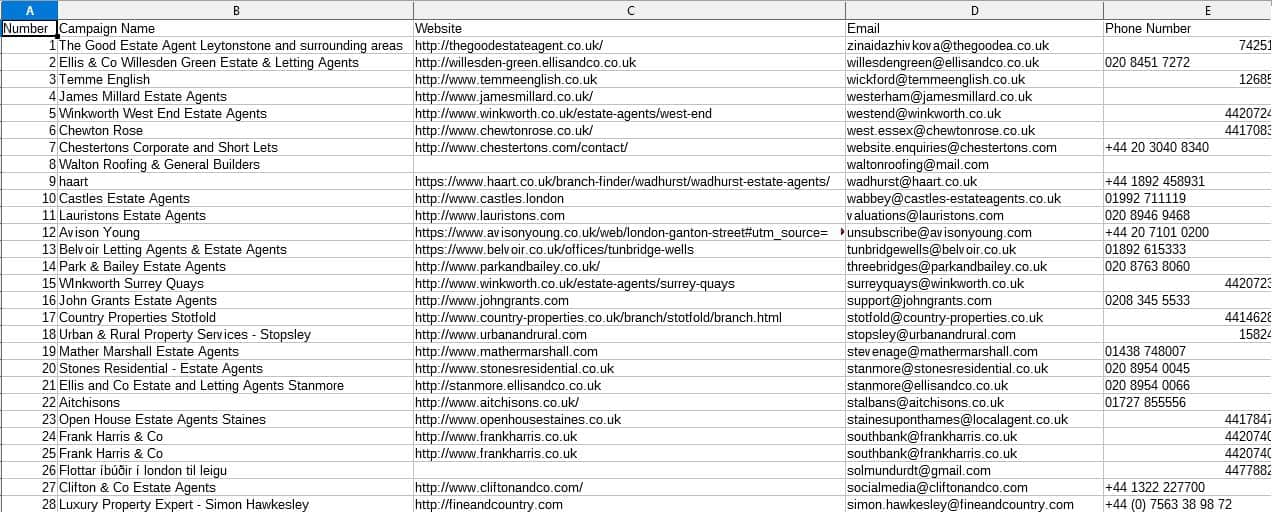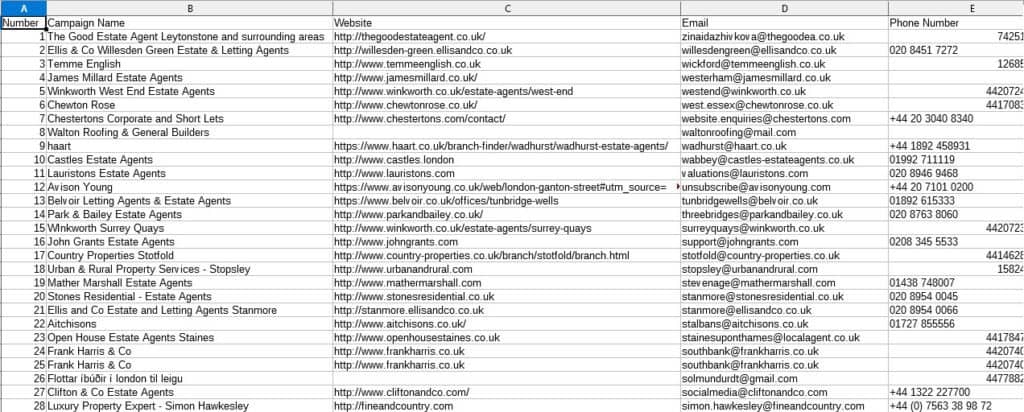 And once we got our list of prospects list, now we would do, is every day, we would send out approximately 300 emails to these real estate agents.
The emails were customized, we pulled the names from our Excel list so that when each individual real estate agent received the email, it was addressed to his or her name.
Here is an example.
📩 Cold Email Template Example
"Hi [Name],
I noticed that your website [Website URL] is not completely mobile device optimized and has a few search engine optimization issues.
I specialize in working with Real Estate Agents and helping them build an exceptional online presence.
Would you be open to a quick 10-minute conversation?
Best Regards,
[Your Name]
And we found that about 1 in 100, real estate agents would genuinely be interested in working together.
But you can send out 200 emails at the click of a button every day, and you can actually send out much more of this depending on the software you use.
I personally use and highly recommend GetResponse.
And the way it worked is he got the email, he responded to the email, I gave him a call, we had a preliminary discussion on the phone, we met in person, I got to know him a little bit, got to know what he needed to create created a proposal for him, and then we signed on to a monthly agreement.
So that is cold emailing and this is the old way of generating leads.
So if we want to find and acquire new clients today here's the new and the better way to do it which leads us to the next method.
2. Social Media Outreach
These are just a few examples of platforms where you can look:
There are obviously tons of other places so you could look at things like Reddit and blog forums.
I recommend you focus on Facebook, Instagram, and Linkedin because those are the most popular.
And why would we want to look at social media is because if you're looking to a brand and you're coming in and saying,
"Hey, I run a digital marketing agency. I can help you grow on Instagram or we can help you run Facebook ads."
It's a lot easier when they're already set up on social media, right?
Whereas if you go to a business that is not on social media is going to be a harder sell. They're maybe not even convinced of social media and how powerful it can be.
So if we look at Instagram in this first example, let's say we offer services to skincare brands.

So what we love doing is getting our niche and literally just typing it into Instagram, and look at the hashtags for that.
And then scroll through all the posts and the hashtags and find businesses that could benefit from our service.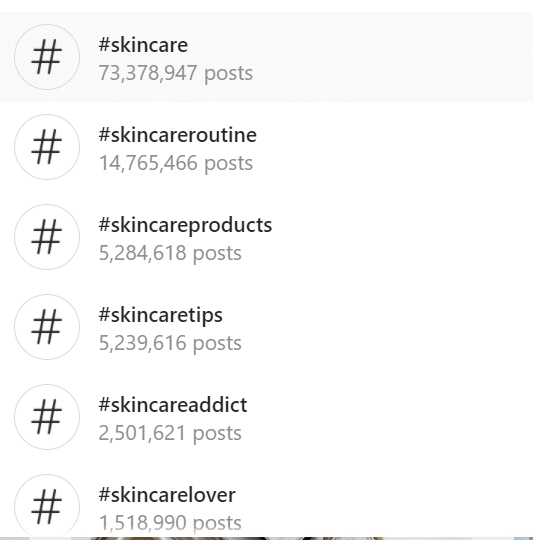 So straight away, you're going to see up under the related hashtags, there are more than 20 hashtags that we can look at.
For this example, there are over 73 million posts, and we're just going to find potential clients for us.
So when you're starting off, you want to look at brands that don't have a big following.
So let's say you're offering social media management because that's a very easy service to offer. You don't need a whole load of results or a case study to do that.
You just need to be able to know how to manage an Instagram page effectively.
So, find ones that are not doing too well and you're just going to come in and say,
"Hey, we can help you to manage your account, and get you more clients."
And you can do this on Facebook, Pinterest, and any other platform.
📋 Social Media Outreach Rules
Here are some rules that you want to keep in mind during outreachong on social media:
Clean up your profile because you don't want businesses seeing your profile if it has anything any posts of you being unprofessional.
You want to obviously watch out for the group rules. If you're on Facebook just be really careful about posting publicly it's safer to DM people.
Facebook limits you to adding 40 friends per day and if you add more than 40 per day then they're going to flag your account or they might stop you from adding more friends and on LinkedIn, there's a 20 connection rule per day as well.
You do not want to scam people at all so you want to provide legitimate services only. So if you're going to be marketing your services and your company you want to offer high-quality services.
The goal when you messaging them is you want to jump on a quick call to discuss business needs.
3. Cold Calling
This is the simplest, basic, and some would say a barbaric method of getting a digital marketing client and this is the simple cold call.
And what you do for this is you make a list of relevant potential clients in a given area. You can do that manually or using the tool mentioned earlier, MarketerMagic.
So let's say we're doing chiropractors in LA, or dentists in Houston, Texas, etc.
You make that list, and then you simply get them on the phone and ask to speak to the owner, and then give them a pitch about digital marketing.
And the goal of your first call is you don't want to sell them at all. You want arrange a metting.
This call is not for selling, you just want to screen them to make sure that they're a good fit.
So here's what you want to find out:
Current monthly income
Target monthly income
The biggest obstacle to hitting their target
If they're willing to work with you
And how soon you can start
So after you gather all this you can either close them or you can just schedule the next call immediately.
Here is what you can say to your potential customer.
📞 Cold Calling Script Example
"Hi there,
Is Patryk from a digital agency. I noticed that you booked a consultation call with me about getting your business online.
I've been having a look at your website and I was thinking that we could offer you a few services that are going to actually increase customer sales so to get more people booked into your yoga classes and generally is just gonna make your life easier as a business owner."
So you just talk to them normally and once you've done your prior research it will be easier.
Obviously, have a practice, and the more calls you do you will get more comfortable with talking to these clients.
Digital Marketing Services Difference in Selling
Now, the main difference between cold calling a business and selling them a website versus cold calling a business and selling them a digital marketing plan is that when you're talking about websites, you're going to be talking about things that are wrong with their current website
For example,
It's not a mobile device optimized
It loads slowly
It looks like it was designed 40 years ago, etc.
When you're talking about digital marketing, you're talking about return on investment.
You're talking about how if you spend X dollars in Facebook ads and in Google ads, then you're going to make Y dollars back in revenue.
And the math is going to make sense that you're going to make back significantly more than you spend.
So that's the pitch you want to lead with.
What You Need To Know About Cold Calling
Now, in my experience, I have done this to get website design clients, because my agency started off building websites.
And then about a year into its life, we transitioned it into offering digital marketing instead.
So most of my cold calling, well actually all of my cold callings was done in our website design phase. And when I was in that phase, it generally took me about 50 calls to get one person that was interested.
And then when I got the interested person, there's about a 25% chance that that person would actually sign on and become a client.
So if you do the math, that 1/50, and then 1/4 (25%), so you're looking at about 200 cold calls before you get a client through that method.
And this was how we got our first handful of clients. And when I'm working with a coaching client and coaching them on how to start their agency, this is one of the places I suggest starting.
4. Approaching Businesses in Person
This is also something I strongly recommend to my clients starting their agency at the beginning stages.
The benefits of approaching a business in person are that it shows the business owner, you're confident you're dedicated. And it shows them that you care about the success of their business.
Because most people don't have the drive to actually knock on a business's door and try to pitch them digital marketing or a website.
Now, if you remember my guide about how to sell websites. When I talked about cold approaching in person, I talked about talking about how the prospect's website is not mobile device optimized.
I would open up my cell phone, I would walk into Simon's Bike Shop and I would have his website open on my phone and show the owner that it doesn't show our property on the phone.
Now that works if you're selling websites.
For digital marketing, this is what I recommend. If you're trying to sell a monthly digital marketing contract to a business what I would do, let's say a chiropractor.
What I would do is stand outside that chiropractor's office, I would bring up my phone and I would type in Google "chiropractor near me."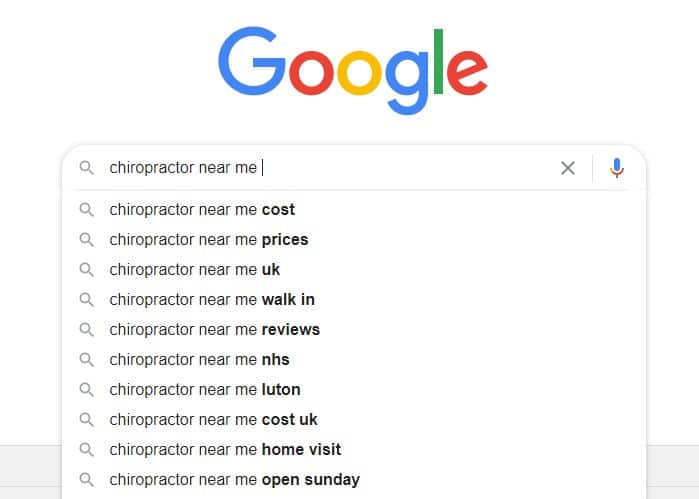 Chances are the chiropractor in question is not going to show up because the reality is most businesses are not optimized for SEO properly, and they're also not running Google ads.
So I would put on the phone "chiropractor near me". Then I would walk into the business I would talk to the owner and I would say:
📢 Digital Marketing Sales Pitch Example
"Hey, I'm a digital marketing specialist. I help businesses get noticed online and I help businesses grow online.
I noticed that when I googled "chiropractor near me" literally five steps outside your doorway, you didn't even show up.
And these five competitors showed up in front of you. This is a problem, and I can fix it for you.
So that would be my strategy.
And if you did that plan, and it turns out the chiropractor you're approaching does show up, I probably would just move on to the next one.
Because when you're doing something like a cold approach, whether it's through phone, or whether it's in person, you're gonna need some leverage to work off of and that can be your leverage.
For example, your leverage is to find a business that is not optimized for the front page of Google and is not showing up anywhere in Google ads.
What Next?
Now, at this point, that should be enough to get some leads coming in, it's not going to be quick. And it's not going to be easy.
But it will work because I do this myself and it is still working today.
It does take time, especially in the early days, when you don't write emails well, you don't know how to communicate well with people. But as you get more into it, it gets quicker and.
#3. Arrange a Metting
Now it's time to speak to a business. Meetings can be virtual, especially now.
And what happens once you've set a meeting? This is the biggest challenge as an agency owner. The good news is just like everything else. There's a system for it.
So let's say you've got the sales manager on a zoom call.
Step 1. Set Up a Rapport with Your Client
The first it's called the rapport stage and it's basically where you make friends. You get to know the person you're speaking to. You need them to like you and to trust you.
You're going to learn and get fuel for later on in the meeting.
So what you're going to do is you can have some small talk first of all with the business owner. You can talk about the weather or some common interest.
What I'd recommend you're doing actually is researching that business owner on social media beforehand find some common interest that you may have with them so you can throw that out there.
Then you're going start talking about their business so
well find out what their existing marketing strategy is this is something
Step 2. Go Digging
Next up, it's time to go digging. And this is where you ask for more information about the company and you try to work out what they're trying to achieve.
You want to ask them questions about the business and find out:
You want to learn about the issues that they're facing as a business.
Start thinking about maybe how you can help them to solve those problems. Write down all of this stuff that is going to be ammunition for later on in your meeting with this business owner.
Step 3. Present Your Services
So you've learned about the business, you've got some ammunition you're now going to present your service to the business owner.
This is whatever services you are actually offering it the business owner and what it is you think they actually need.
And here you're going to educate them. This is your chance to show them exactly how it is you can do what you do.
And what I always recommend you doing is getting it a simple set of screenshots together. Teach them about maybe Facebook ads. You don't need to create some fancy presentation. All you need to do is be able to explain this very simply in a series of screenshots.
Finally, it's time for the close and that leads us to the next step which is to close the deal and actually sign those leads as a potential client.
#4. Close a Deal
Finally, we have the close. So let's run through how exactly to do this. There are really just two steps to closing a deal on digital marketing services.
Here we're literally going to ask for the sale. and here's what I've found. I used to think I need to have a whole bunch of objection handlers or something like that.
Here's what I do, I get to the end of the presentation, I say,
Okay, here's our pricing, here's why our pricing is this, I just explained it all for them. And I basically say, Okay, so this is what I have for you, if you're interested in this, let me know. And I know you probably want to think about this, so have a little think about it. And let me know when you want to go ahead with a campaign.
And by simply going through this whole process, and not being pushy in any way, compels them to want to work with me.
I'm not trying to push them to sign the deal, I just want to provide some information, help them out. And they know I can help them.
If they want to hire me, that's great. If not, who cares? There are tons of other clients out there. I'm not struggling for clients. So it's not a problem. And by having that approach to sales, I actually found it converts better and it's way more fun.
Create a Proposal
Now it's time to create and deliver a proposal. I recommend actually create a detailed proposal, not just some generic, but actually explain here are the issues you already opportunities, here's exactly what we're going to do over the next, let's say, 12 months to get you results with this campaign.
I prefer selling this way, and it becomes very easy to sell when you do it this way.
By doing that, you just build up a ton of credibility.
🔎 Read More
If you want to learn how to close any deal, check out this guide to approaching a business and see find out how to pitch your digital marketing services the right way.
#5. Rinse and Repeat
So step number five is all about customer acquisition strategies. You sign a client, you get the results, and then that client will go ahead and give you referrals. And trust me, the longer you are in the agency game, the more and more referrals you get.
And your goal at this point is to ask for referrals because as an agency owner, these are your bread and butter. It's an easy way to get more clients without having to do much outreach.
In fact, 5% increase in customer retention can result in a 25 – 95% increase in company profitability
Ask For Referrals
Referral marketing is probably the way to get clients for any business.
And here's an example of an email you might send to a client after you've gotten them great results.
📩 Email Template Example
"Hi [Name],
Just a quick note to say I'm to see the progress we've made in the last couple of months – it's great to see how much your business has grown and it's been a pleasure to work with you.
We're a small agency but we're always looking to learn and grow so we can provide the best service possible for our clients.
I would be grateful if you could take a second to think of any other business that could benefit from our services and pass a good word about us.
Best Regards,
[Your Name]"
Once your business has momentum, this is for most agencies, the primary driver of growth.
And the reason why this works so well is that these prospects are, I would say anywhere from 5-10 times more likely to actually close and become a client, than people that we contact through cold outreach methods.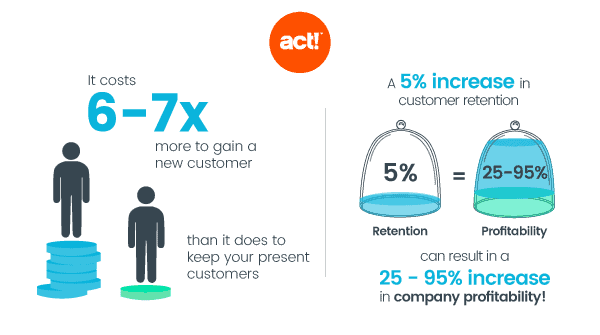 And the reason for that is there's so much more trust when someone is contacting you through a trusted referral from a friend or colleague of theirs.
Follow Up With Your Customer
What I would recommend is that at any given time you inform your customer what you've done so far on that campaign and what you're working on currently.
By doing that, by giving that level of communication, even if it's just automated, not specifically emailing them, it allows the clients to really see what they're paying for and increases the trust and credibility and effort so much more because retention is a big part of this business.
Partner Up With Other Businesses
If you're just starting out, there's nothing stopping you from finding other businesses that also serve the same types of clients you want to serve, and approaching them and saying,
📢 Proposal Offer Example
Hey, if you have someone who could benefit from Facebook ads, I will give you 15% of the revenue that I make. And I can assure you, I will do an excellent job of running Facebook ads for people you refer to me.
If you can win the trust of this potential partner, and they start sending a few clients, and then you do a good job for those first few clients, a few key partnerships could literally give you all the new business that you need for your agency.
Conclusion
So this is how to get a client for your digital marketing agency. At this point, you know how to collect potential leads, how to do the outreach, and arrange a meeting. And how to approach a business and eventually close every deal. If you have any questions regarding a digital marketing agency, make sure to leave a comment down below!