InVideo is definitely in my top 3 when it comes to best Vidnami alternative.
It does offer a lot of features that Vidnami offered. They have even more templates and there's more that you can do to control your videos with AI technology.
But is it really the best AI video generator?
This is exactly what're going to cover in this InVideo review.
Let's get started.
💡 Note
Today, I'm going to walk you through this AI video maker step by step and at the end of this tutorial, you'll know exactly how to make high-quality videos in just minutes using this tool. So if you want to work along with me, you can start your InVideo 7-day free trial. Using this link you'll also get a 25% discount for all of the InVideo pricing plans if you decide to upgrade to some of the paid plans.
What is InVideo?

InVideo is an AI-powered online video editing software but there are a few things that actually make it stand out.
First of all, they have access to over 4,000 different templates that I'm going to show in a moment as well as having access to over 10 million assets that you can use in your videos.
That alone makes it quite a unique software but on top of that, it also comes with great 24/7 live chat support that you can reach out to any time of day.
And also an official InVideo Facebook community where you can share your videos and get ideas and opinions from more than 20,000 designers, experts, and creators.
>> See all the things you can do with InVideo
InVideo Features & How To Use It
Once you log in, on top of the main page, you have 3 main options to generate video with InVideo AI technology:
You can pick any pre-made template to make your professional intros, outros, advertisements, and social stories.

You can either browse through the list and check a direct preview on these or select the category from the top left corner.
To see everything you can do with InVideo, let's start with a blank project.
By going to a blank canvas, select the aspect ratio between a wide 16 x 9 for YouTube and video platforms, a square 1 x 1, and a vertical 9 x 16 for Instagram and smartphones.
When you click on make a video, the main interface opens with the video preview on the center, the main timeline at the bottom, and all the editing tools and features on both sides of the page.
On the left, you can click on templates to choose and apply any of the 4,000 templates available.
These define the shapes, the pieces of text, the effects, the kind of media running on it, all ready to use and export thanks to the transitions, the animations and the sound included.
All you have to do is shape your own content and you are done.
Each template can have a single or multiple scenes, each made by several objects or layers that can be videos, images, text, or shapes inside it.
To edit any layer, you can select it from the layers list on the right or directly on the preview.
If you select text, you can change its font family, size, color, and background, but also, its distribution, perspective, and style.
You can also add a great shadow effect to it.
In addition, you can also click and drag it to move it on the preview and use its nodes to resize and rotate.
When selecting shapes, you can set fill and opacity.
Whereas you can select videos to adjust their length in time with trim or crop it to fit the aspect ratio of the project.
Even when the video has black bars, you can go to fit type to cover these by adding blur, transparency, or by simply stretching it.
You can also set the video volume and adjust its speed, slowing it down below 1X or making it faster over 1X.
Enable loop to put the video in a loop in case you increase its scene.
With uploads, you can import your own images and videos or go to video or image to take any professional royalty-free media offered by InVideo from iStock and Shutterstock.
You can use these even if you own any free plan, but you may get watermarks on your final video if you do not upgrade to any paid plan.
To import any media, just drag and drop it on the preview. At this point, select replace to replace the current background used in the scene, or add as a layer to add the new clip as a new layer above the existing one.
When editing images, you have several options, similar to videos, including filters to make outstanding color corrections and enhancement.
In addition, the new remove background feature removes the image background to make it transparent, very useful, in the case of green screens.
From the left side, you can add several extra objects, including more pieces of text used as headings, subheadings, body, or even more complex pieces with shapes and unique styles.
You can add your own logo in the gray placeholder inside the scene.
You can also include great stickers, overlays, and big shapes to highlight attention.
You can also add masks in order to crop the media files you drop on it.
With collage, you can add several visual media with cool separators.
InVideo includes several animations over each layer that you can edit by going to animate.
You can apply in animations to make content appear and out animations to make it disappear with nice effects, selecting animation type and length.
As you work on the project, the timeline gets updated, showing each scene with its duration in time and quick thumbnails on it.
You can also adjust its length by clicking and dragging it.
Moreover, if you select any layer, this appears on the timeline so that you can check its time placement and adjust its length.
Inside the music tab, you can browse through loads of sound files offered by InVideo, select any genre, mood, sfx for any sound effect, and miscellaneous for other miscellaneous sounds.
You can preview the sound and import with the right button.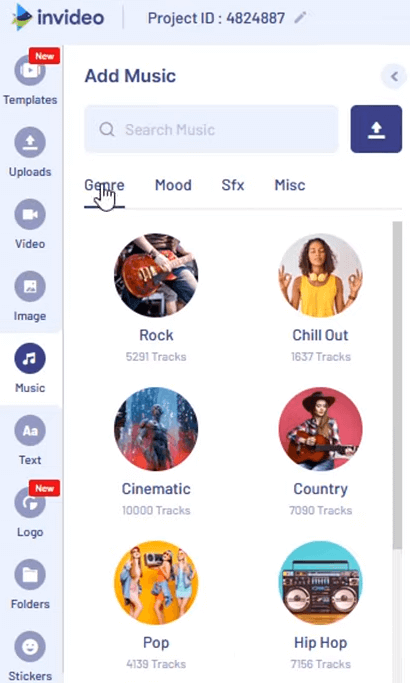 There is an option to replace any sound clip present on your project or added before or after the current track present which is cool.
The timeline shows the sound clip with its audio wave form during time.
Moreover, you can click on voiceover to add any vocal clip, select automated text to speech to convert any script into speech, selecting language, accent, and voice.
This is very useful to make your video accessible and understandable worldwide.
You can also import any recorded file you have or start recording directly with your microphone.
All your InVideo projects are saved automatically and listed within the project list of your InVideo account.
With your profile, you also store all your videos without the need for any hard drive.
If you want to render and export any of these, go to download and share in the top right corner, select the video size between 1080p and 720p HD, and wait for its completion.
Then you can download it as an MP4 file format up to 30fps, a frame rate, or share it across several socials, including YouTube, Facebook, Twitter, or directly to the InVideo Facebook community to get tips and help from more than 20,000 creators and marketers.
And you can also invite multiple members to make your own team with admins and editors.
InVideo Text To Video
You can also select text to video to share any message with the right background and sound.
This is one of the best Vidnami alternatives.
This is a good feature because as you might know YouTube favors these compilation-type videos or informative videos.
People love watching these and reading the words so I'm going to show you how quickly and easily it is to create one.
To get started, just specify the title and each message on a new line.
You can also specify any website link or any image.
InVideo will analyze it and build a complete scene on each text line specified by matching images, sound, motion effects, and transitions.
And at this point what you can actually do is start searching for your clips or you can use the ones that are suggested for you.
As you start going through them when you start pressing play it's going to show you the images or the clips that they suggest.
If you keep coming down each clip is going to have something different.
And what you can actually do is edit the individual scenes and you can customize things similar to the video editor that we went through before you can easily come in here and do that.
The majority of it is drag and drop so you can actually just start typing your own things and then adding logos, images, and things like that.
Apart from that it's all pretty much straightforward you can download your video it takes a few minutes to render and that's pretty much InVideo.
InVideo Discount – 25% OFF
InVideo offers our readers 25% off discount code so you can sign up for either a free plan or one of the paid plans so there is quite a significant discount added to your total.
So make sure you use that it's going to save you a bunch of money.
It works both monthly and yearly on all InVideo plans so go ahead and check that out
InVideo Pricing
InVideo has 3 different pricing plans:
InVideo is now available for free with all its editing features and a complete library of 4,000 templates and millions of images and stock footage.
You can also upgrade for a paid subscription plan as low as $15 per month or $90 per year to get access to a huge media library from premium resources, including Shutterstock, and iStock.
InVideo Alternatives
There are many InVideo alternatives available in the market like:
FlexClip
Pictory AI
Designs AI
OFFEO
Renderforest
Synthesia .io
And more.
Most of these AI video generators however are miserable at best. The best InVideo alternative in terms of tools, features, and high-quality templates is Wave Video as you can see in my Wave Video review)
Wave video also offers a free plan and a 40% discount for our readers so feel free to check that out.
Another tool that you can use as an InVideo alternative is Synthesia.io but it works a little bit different than any other AI video maker as I also explain in this Synthesia AI review.
InVideo Review Wrapping Up
So that's my InVideo review and I really just scratched the surface of what this AI video generator can do.
You can create infinite different possibilities when it comes to videos with so many different templates you can use.
If you are interested in finding a good online video editing software then I highly recommend InVideo, it is an amazing tool.
Once again if you want to save yourself 25% of all the plans, make sure you use our InVideo discount code.
But apart from that, I hope you've enjoyed this review if you have any questions, leave a comment down below.
So you think this is the best free Vidnami alternative?
Drop your comments down below!