We will also look into the pricing structure of some of them to decide if they will be a good fit for you, depending on your budget and your overall needs for creating content for your business.
Jasper AI is the most popular AI copywriting tool in the market due to its aggressive marketing.
But just because Jasper is the most popular software in this space, doesn't mean that it will be the best solution for you.
There are other tools that offer really unique tools and features that Jarvis does not have.
Best Jasper Alternatives:
1. Copy.ai – Best Jasper AI alternative overall
2. Article Forge 3.0 – Best AI article generator
3. Anyword – Best Jasper AI alternative for marketers
4. RankIQ – Best AI SEO writer
5. Ocoya – Best AI writer for social media
6. Contentbot.ai – Best for WordPress users
7. Rytr – Best free Jasper alternative
If you're not familiar with the Jasper AI platform, it used to be previously known as Jarvis. And before that, it was also known as Conversion.ai.
So, it's gone through multiple changes in recent years, but with each iteration, there has been a number of updates and features that have been added. As a result, the pricing increased exponentially.
So, let's find out what is the best Jasper alternative for you depending on your individual needs.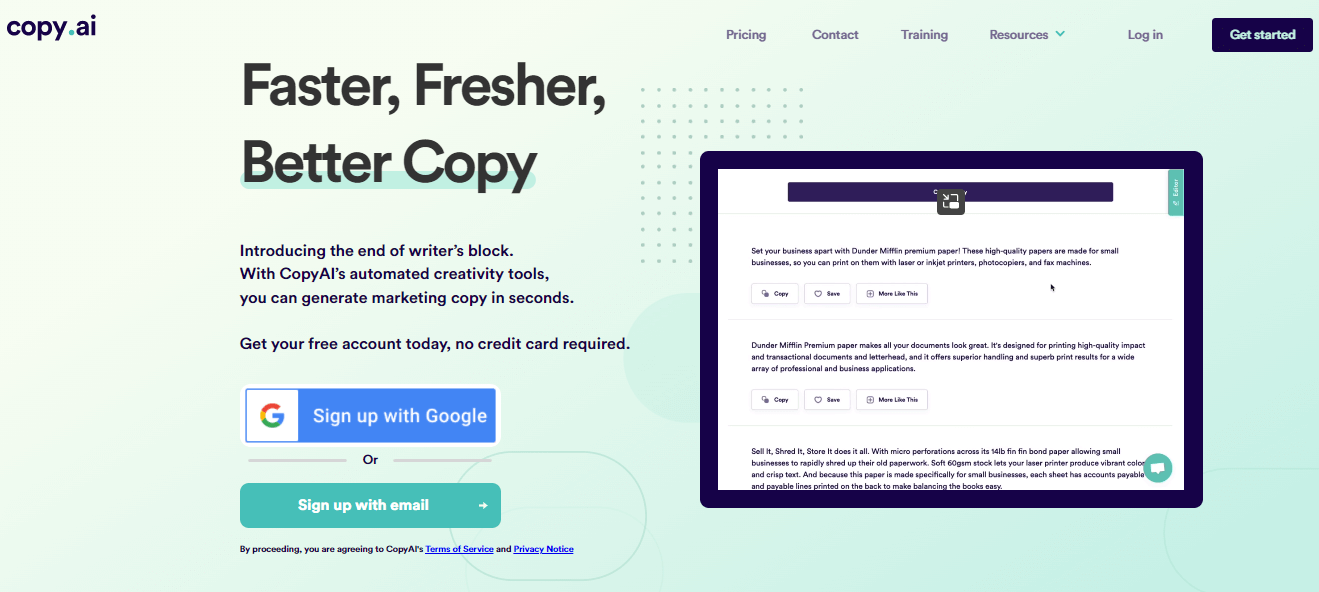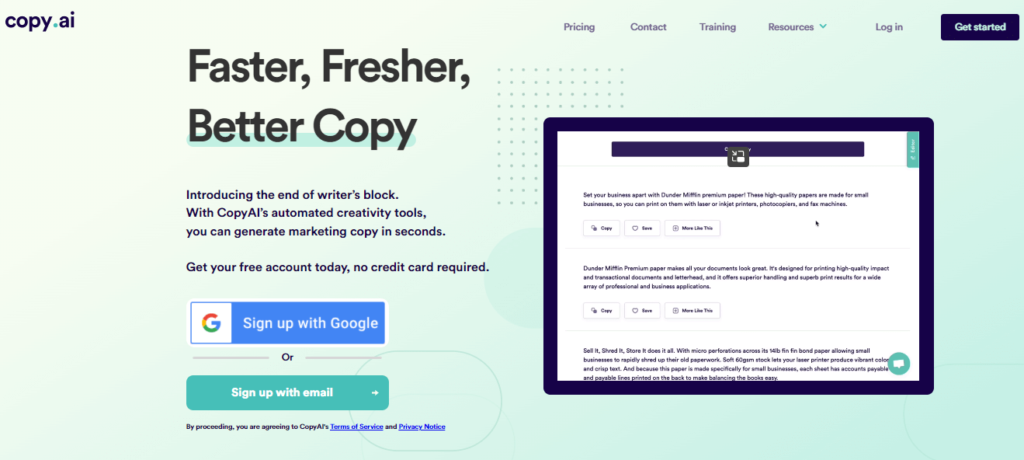 With over 70 copywriting templates, a user base of over 250,000 marketers around the world, and high-quality generated copy, Copy.ai ai is the best Jasper alternative overall.
Essentially, this is a very similar AI writer to Jasper. It allows you to create ad copy for Facebook ads, LinkedIn ads, Google ads.
You can create posts for social media, website copy, blog content, even generate content for your e-commerce sales pages and stores, even as far as creating written copy for emails.
In fact, Copy.ai has more AI copywriting tools than Jasper.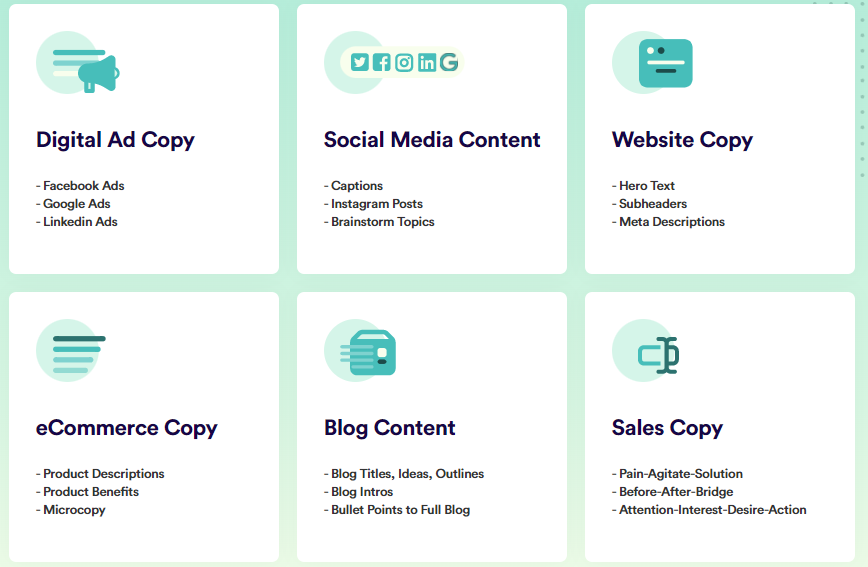 ▶ See all 90+ Copy.ai copywriting tools.
Copy.ai has a free plan, however, it doesn't tell you how many words you can write per month. It always goes by primarily like a credit system.
So, generally depending on the amount of credit you have, it determines how many words you can write before you have to upgrade. It generally starts off in the pro plan of $49 a month, but if you pay annually, it drastically decreases. But it still pays out one particular bill, which is up to about $420 which is a massive saving.
So, it's still a great Jasper AI alternative, especially if you don't have the funds.
Copy.ai Pricing
Free plan – $0/month
Pro plan – $49/month
Team plan – custom pricing
The Copy.ai Pro plan is unlimited and if you pay yearly you get it for just $35/month.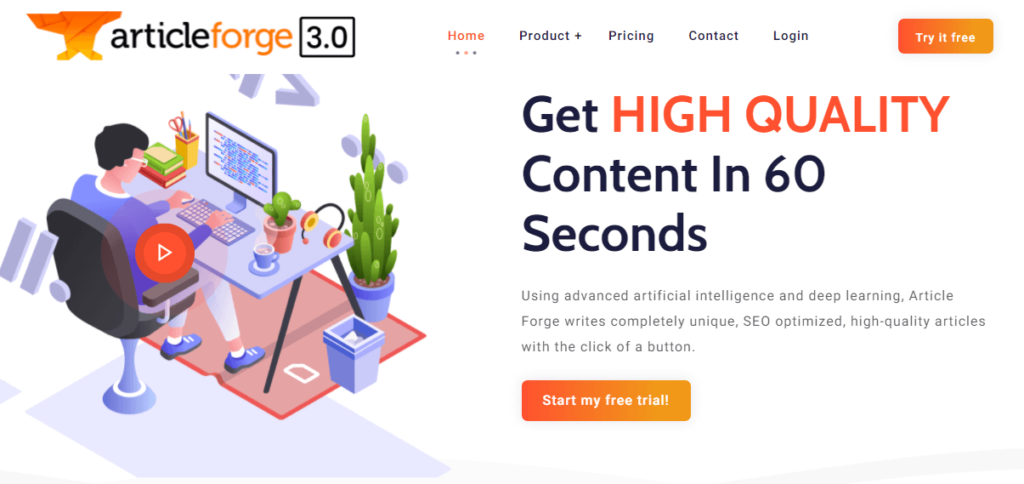 The new Article Forge 3.0 version is one of the best article generator software. With the new update, its content is now more relevant, fluent, and valuable, while being 100 percent original.
You can now type in a term and be certain that you will receive high-quality content that you can use on your website without having to spend hours fact-checking, editing, or rewriting it yourself.
Article Forge 3.0 uses 8 deep learning models. These models are responsible for the article's improved quality and relevance. Longer articles were more likely to be repetitious, off-topic, and of worse quality than shorter pieces, in the previous version.
This upgrade radically transforms the way longer articles are produced, improving structure, flow, and relevance. The team has made significant improvements to Article Forge's UI to make it more user-friendly.
You can schedule and upload articles directly on your WordPress site using the Article Forge API. You will have a steady supply of new content for your website this way. In addition, this enriches your fresh content with LSI keywords, relevant photos, videos, and links.
In addition, English, Dutch, French, German, Italian, Portuguese, and Spanish are supported on Article Forge 3.0. Its ability to produce content in many languages allows you to dominate overseas search engine results. It will undoubtedly assist you in tapping into unexplored overseas markets.
In addition, Article Forge offers a 5-day free trial where you get full access to the software.
Article Forge 3.0 Pricing
Standard – $57/month
Unlimited – $177/month
▶ Try Article Forge 3.0 For Free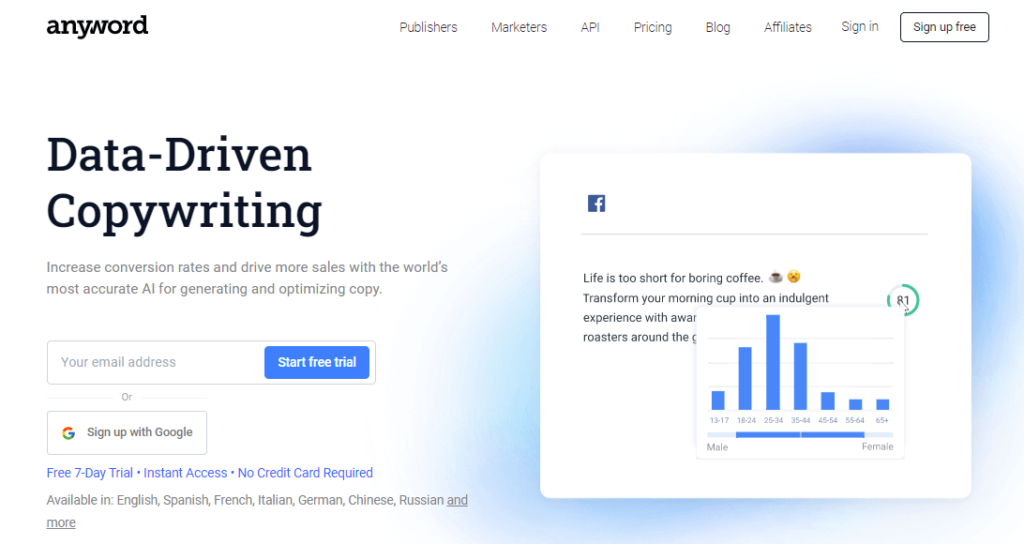 Anyword is one of the best AI copywriting software for long-form content. It does generate very good written copy and has access to some unique features and tools that are not available in Jasper.
And recently, it has gone through some big changes. So, you can get access to a free platform, which before you couldn't do it. You only had access to a 14-day trial and when the trial period is up, then you couldn't use it anymore.
But now, they're giving you access to a free account that you can use for a month. However, the Anyword free plan only allows you to generate up to only 1000 words per month, which is grand when you're just starting off.
It's not a cheap AI writer because they're charging almost double for the same amount of tools and features you can find in other Jasper AI alternatives on this list.
However, the quality of the copy is top-notch and its predictive analytics feature takes your copy to another level.
Now, it'll work depending on who is looking for it and depending on the type of work that you're creating. If you're on a budget, you may be better off going with a cheaper alternative.
But again, Anyword has changed in all for that over the last couple of months, but as a result, the price has gotten extremely expensive.
With the Anyword 7 day free trial, you get 5,000 words which is enough to write a few long-form articles.
Anyword Pricing
Free – $0/month
Data-driven basic -$79/month
Data-driven unlimited – $239/month
Enterpise – $999/month
4. RankIQ
RaniIQ is a copywriting tool and AI SEO software combined under one dashboard. It advises you on what to include in your articles and titles, allowing you to generate properly optimized content in half the time. For each blog genre, RankIQ also offers a hand-picked library of low-competition, high-traffic keywords (over 200 niches and counting).
One of the best keyword research professionals in the world does the research for you here. The keyword research specialists at RankIQ uncover the lowest-competition terms in your niche with the biggest traffic potential. Every single term in their carefully selected collection is an obvious winner.
RankIQ can generate a concise report outlining what Google wants you to cover so you can write the most thorough piece of content possible on that topic. This is the ideal recipe for ranking on Google's first page.
Bloggers, content providers, publishers, and anybody else who generates web material and wants it to rank well on Google can use this amazing copywriting tool. Beginners, intermediates, and expert bloggers can all benefit from it. Even for a business that needs to build up SEO content all by itself, this tool is going to be a perfect pick.
RankIQ Pricing
RankIQ offers one pricing plan which is $49/month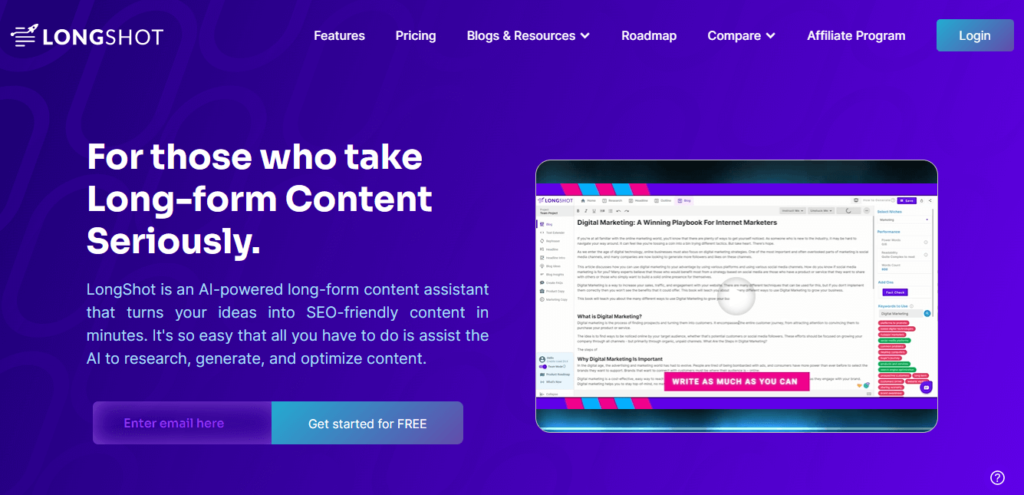 Signing up for LongShot is the beginning of the process. When you do, it will present you with an easy-to-navigate dashboard that will allow you to establish many projects using various models such as blogs, long-form blog posts, FAQ or blog insights, text extender, and many more.
Along with these fundamental and fantastic functions, it also provides you with ideas and generates headlines and blog outlines.
LongShot offers the greatest AI-based analytical tools to you by utilizing the most recent developments in machine learning and neural networks.
Hence, the organization can provide an easy-to-use interface to its users. LongShot, like any other AI content production tool, has all of the functionality you require.
LongShot has a number of features that set it apart from the competition. It does not matter what type of content you need, it might be blog posts, marketing content, ads copy, brand development, product reviews, or any such content. LongShot can do all that for you in just a few clicks.
All you have to do now is type in the primary keywords you want to include in your article, along with a brief description, and you are done. With so few details, you have the option of selecting a pre-installed template before AI fills in the blanks for AIDA based on its marketing data.
Even if you want to attract people by advertising your goods in the most effective way possible, this can do it for you. Do not worry, LongShot is also here to assist you. You cannot make advertising for Google, Facebook, or LinkedIn using its high-quality templates and concepts. So, quite apparently, this can help you in many ways.
Plus, LongShot AI offers a 7-day free trial for our readers.
Longshot AI Pricing
Starter plan – $0/month
Pro plan – $29/month
Enterprise plan – $109/month
If you're tired of wasting time on the internet researching topics for your blog or creative writing, then Scalenut is might the best Jasper alternative for you.
Scalenut is the content research and AI writing software that not only does it have SEO capabilities, but Scalenut can also help you write amazing content that will keep people coming back for more.
Its content research tool gives important information about your competitors like:
NLP terms

H tags

Readability score
Grade of writing
Images
Average word count
And more
In short, Scalenut takes all of the grunt work out of finding high-quality information sources, and its AI capabilities help you to write content that will rank well with search engines.
With its ability to research and compile information quickly, you'll be able to churn out high-quality content in no time.
Scalenut Pricing
Individual – $35/month
Growth – $99/month
Pro – $149/month
7. Contentbot AI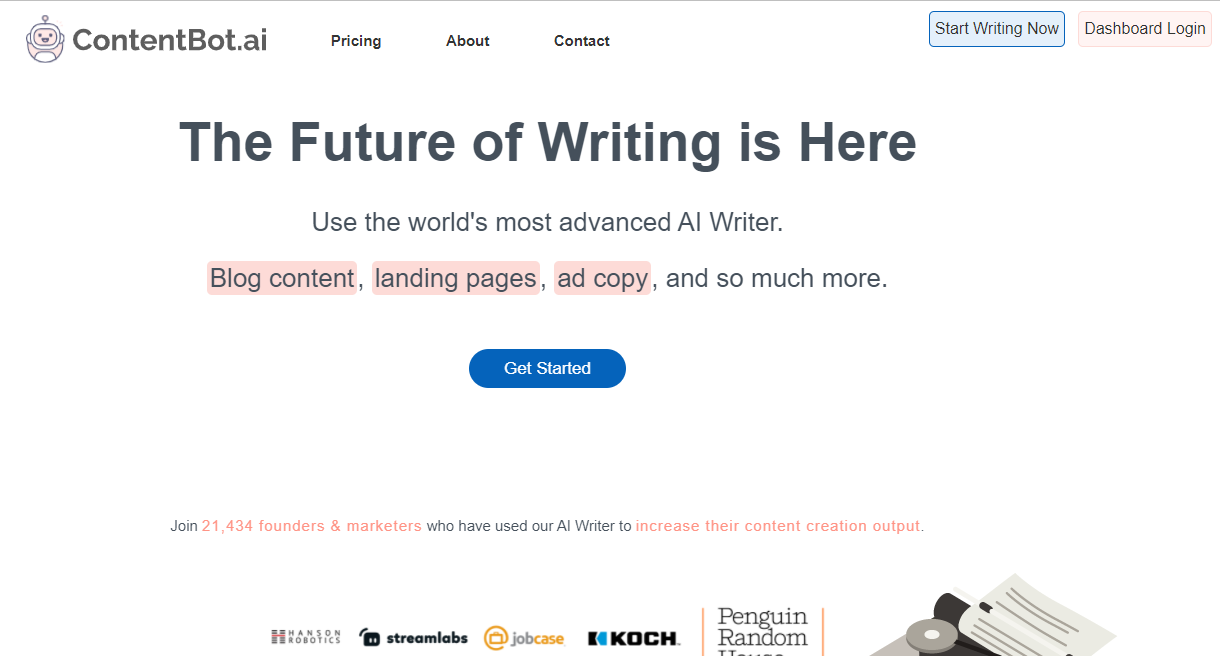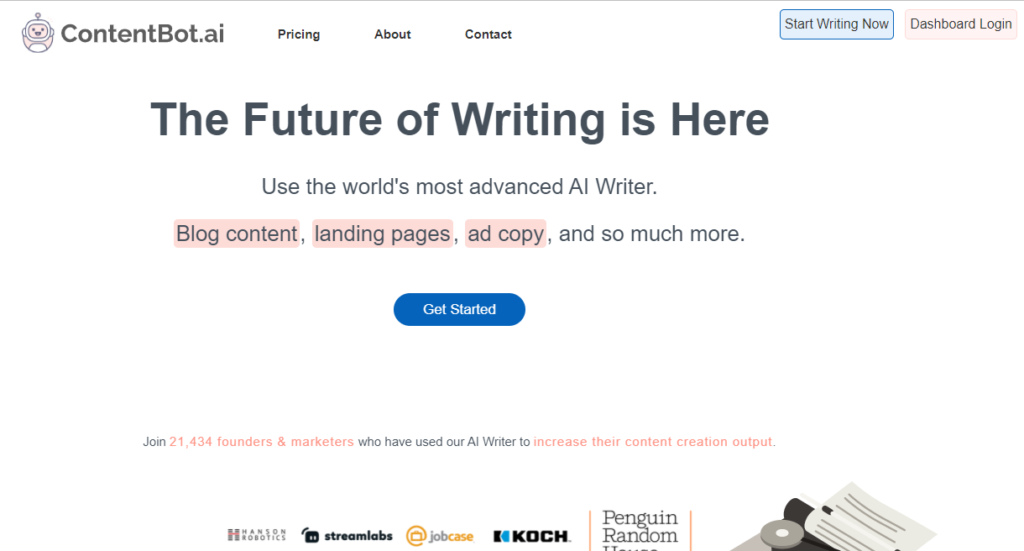 ContentBot is a fully automated content creation tool that allows users to produce unique and new material by merely entering a data key. ContentBot has a large number of templates, including social network templates, article templates, and listicle templates.
It has lately begun to provide the capacity to produce full-length articles as part of its services, as well as a text editing tool to round out the generated content. This includes an auto-complete feature, which means the AI will finish any phrase you start typing in the editor.
This AI's traits are all incredibly human-like. The interface will respond in a very human-like manner to the queries you will ask when producing content and determining its quality. To stand out in social marketing platforms, all material will include relevant keywords and be grammatically accurate, as well as be related to the users' customization or relevancy.
ContentBot can already produce up to 5000 words of high-quality material in only a few minutes without requiring any input from you. It's built on Natural Language Processing (NLP) technology, which allows it to analyze information and organize words in a way that produces highly relevant and useful content.
It is built in such a manner that it understands exactly what has to be focused on and what questions must be answered. The AI writer does an excellent job of organizing the responses and information in the most well-known and requested response by the user, taking into account all preferences and marketing positions.
What sets ContentBot AI distinct is its WordPress plugin as well as Chrome extension which is a huge time saver.
Contentbot AI Pricing
Free – $0/month
Premium – $29/month
Premium – $79/month
Ocoya is the best Jasper AI alternative for social media content. It's a cloud-based tool for creating and scheduling content across several social media sites.
You can also use the campaign analytics function to check how those campaigns fared after they have been uploaded. You can not only build content kinds from scratch, but you can also access hundreds of templates, images, and creative commons material, and it even interacts with Canva so you can utilize your own designs.
Ocoya's copywriting tool is something that helps massively in terms of building up content. Travis AI, the AI copywriting tool, is one of the fascinating aspects of Ocoya that helps it to be more than simply a content creative scheduling tool.
With Travis AI copywriting tool, you can produce ad text, product reviews, titles and descriptions, tweets, and pretty much anything else you can think of with just a few clicks of a button.
This tool is best for small businesses and content marketers in need of a comprehensive social media marketing strategy that saves them time and money.
Ocoya Pricing
Silver plan – $49/month
Gold plan – $119/month
Diamond – $539/month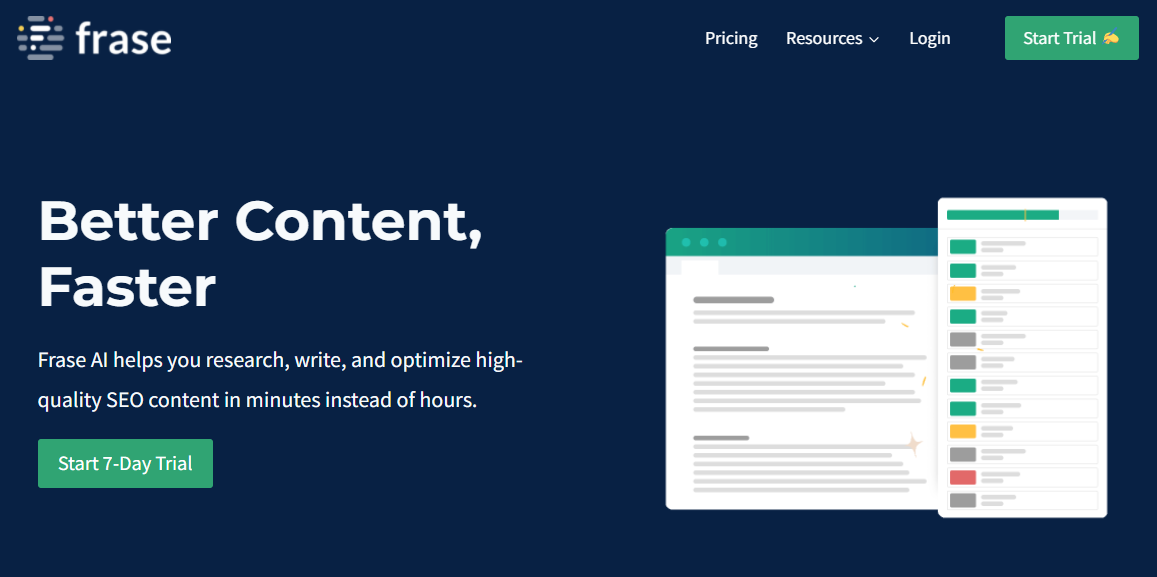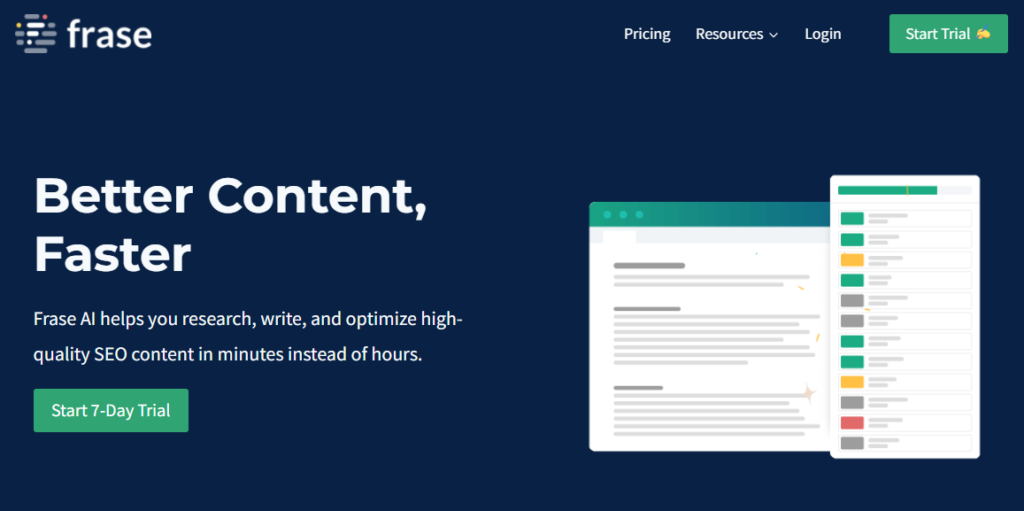 Another platform you can also look into is Frase io. And Frase allows you to create optimized SEO content in only a few clicks. And like Jasper, it allows you to create well-written copy, and it will generate it in a way that it'll be optimized for your sales pitches, sales copy, YouTube video descriptions, your blog posts.
You can even create detailed lists, content briefs, even if you're doing various kinds of step-by-step tutorials and bullet points.
You can create individual breakdowns of different segments in the lists as well as the generated. So, when you look at the pricing, it starts off at just $20 a month and you do get saving if you pay for it annually. And the same goes for the other plans.
Now, it is a bit more expensive compared to some of the other platforms, but it is a lot cheaper per month if you go for the standard plans compared to the likes of Jasper. Now, it wouldn't have the same amount of features that Jasper has; that's the only thing. But it really all depends on your own wants and needs, depending on the type of content that you're creating.
Frase.io Pricing
Solo – $19.99/month
Basic – $44.99/month
Team – $114.99/month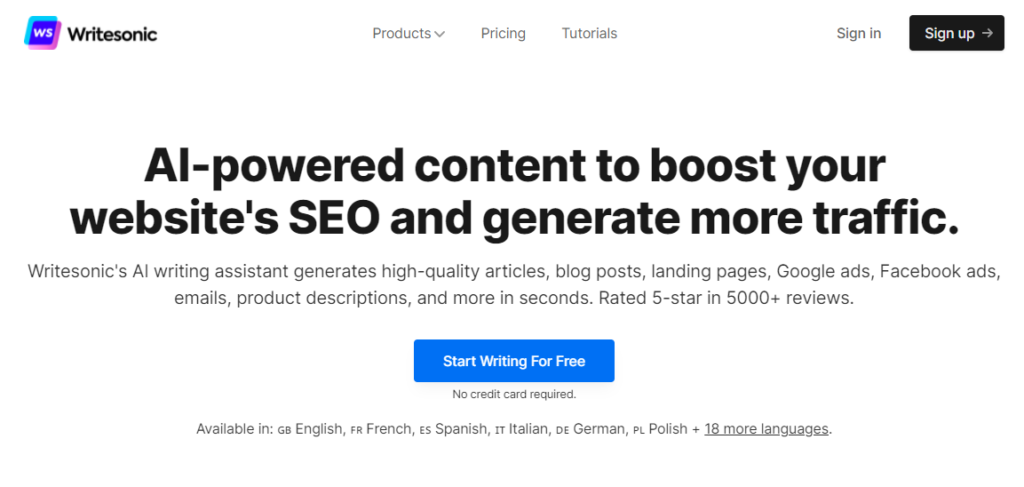 Another Jasper AI alternative you can also check out would be Writesonic. And like the previous AI copywriting tools, it also allows you to generate copy; anything from articles to digital ad copy, website copy, e-commerce, sales pitches, and it's very simple to use.
And it's great for generating copy for social media posts. And on this platform, they do have more options in terms of the pricing structure so you can start off with a free trial where you can generate a certain amount of words per month.
But just know that it is going to be extremely limited and you can opt-in for the basic, $415 per month, which allows you to generate up to 50,000 words, so it's not an affordable Jasper alternative.
But if you're making enough money from your side hustles or your jobs or from the content that you're creating itself, a lot of these pricing tiers will pay for themself because you can just add them into your own expenditure.
Writesonic Pricing
Free trial – $0/month
Basic – $15/month
Professional – $15/month
Startup – $95/month
Agency – $195/month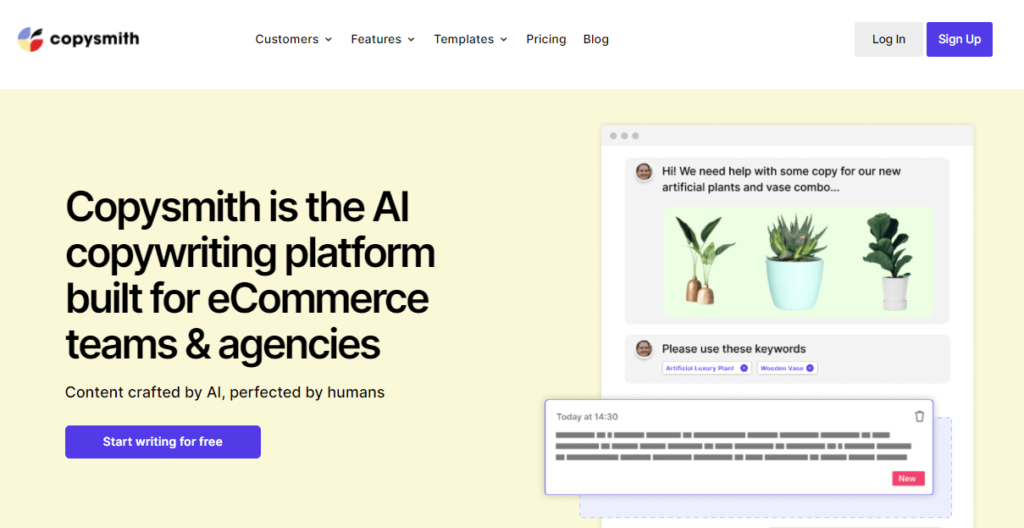 Another platform you can look at is Copysmith.ai. And like the previous platforms, it also has its own unique set of tools and features that helps you to generate copy very quickly.
It has access to tons of different templates for blog articles, product descriptions, advertisements, even has additional features like campaign builders, bulk content, generation, integrations.
And in terms of the pricing, it's fairly reasonable for what it does offer. So, it starts off at $19 per month, but then it moves up to professional for $59 per month. Now, it does give you access to be able to write more and generate more words, but it is still fairly limited compared to other platforms in terms of what's possible.
But you could opt into the enterprise price where you could generally get more, but they're generally more expensive. But that's only really if you're running a business where you have multiple people working, creating copy on a daily basis.
So, if you decide to pay yearly, you can pay less, but it's still quite an expensive Jasper AI alternative, especially if you're on a budget.
Copysmith Pricing
Copysmith has 4 plans:
Starter – $19/month
Professional – $59/month
Teams – $118/month
Enterprise – custom pricing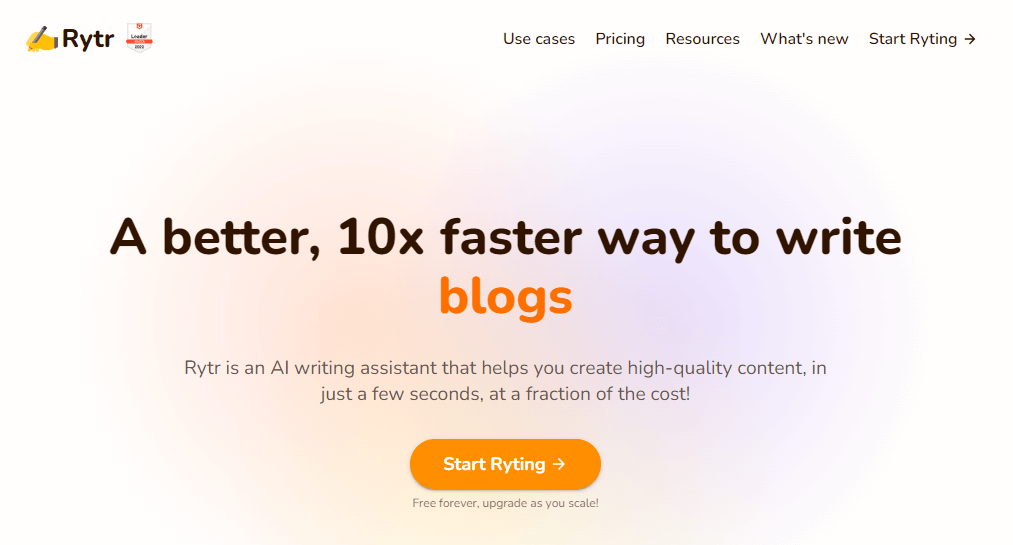 Rytr is a free AI writer that allows you to generate content. It has some really useful tools and features inside, and it's very user-friendly.
It has access to a lot of really cool features and it can generate anything from blog post content to YouTube descriptions titles.
And it can even write based on a specific tone that you set, whether you want it to be convincing, like if you're writing a sales pitch, whether you want it to be witty, or even throw in a bit of sarcasm.
It can really think about what it is that you are wanting to get done, which is a pretty cool feature.
You can also write it up to at least 30 languages with access to 20 different tones.
And Rytr does have its own built-in plagiarism checker so that you know that you won't have to be worrying about getting in trouble for copying other people's content.
But one of the best ideas behind Rytr, unlike the previous Jasper AI alternatives, it's also the best value for money in terms of monthly subscriptions.
Because with a Rytr free plan, you can generate up to 5,000 words, which is perfect for getting started.
But then if you are doing more writing if you're doing it more of a kind of like a side hustle, or if you're doing it part-time, you can opt-in to the $9 per month plan, which does allow you to generate up to 50,000 characters.
What's cool about this is that you can also pay yearly, so if you decide to pay yearly for this plan, you can get 2 months free and it only costs you $90 a month, which is really good value for money.
And then if you want to opt into the unlimited plan, which you won't have to worry about having the restrictions of generating characters per month, it works at only $29 a month, which again, is a massive, massive saving compared to all of these other platforms.
Rytr Pricing
When it comes to payment, here is the pricing plan for Rytr;
Free plan – $0/month
Saver plan – $9/month
Unlimited plan – $29/month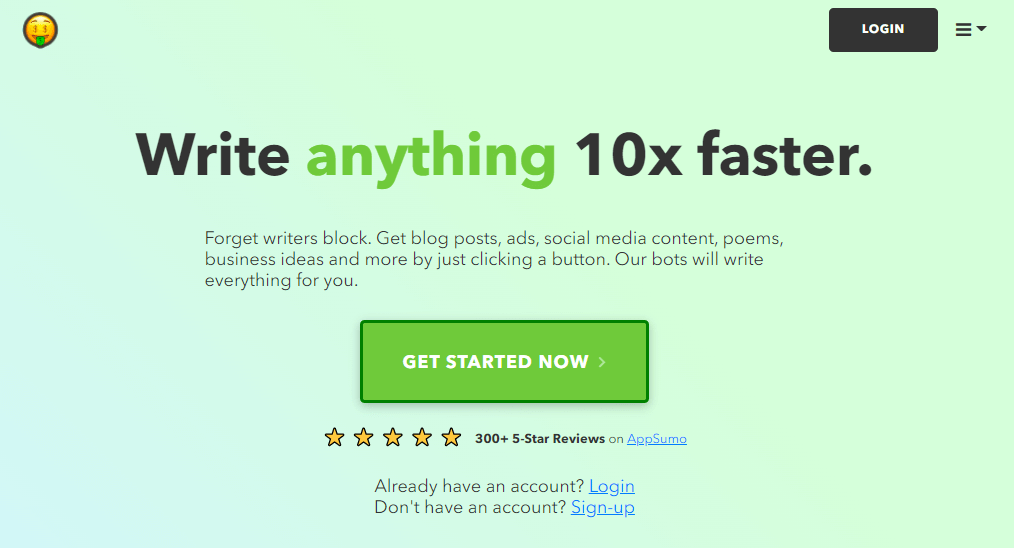 Nichesss is a really unique AI writer that can help you create marketing copy as well as find an online business niche.
Nichesss is not as advanced compared to some of the other Jasper alternatives that I've mentioned before, but it can do pretty much everything that all of these other tools can do.
With Nichesss you can generate long list item templates, conclusion templates, post generators, title generators, even business name generators, book titles, book descriptions, you can rewrite and repurpose content, and generate different types of dialogue.
It even allows you to create email subject headlines, and content copy for your emails and your newsletters. You can even generate questions and answers based on the feedback you get from people's queries and initial feedback.
So, if people are looking for any answers, you can generate FAQ forums and unique preferences using this tool.
And you can get access to Nichesss for a limited one-time purchase fee of $59 on the AppSumo website.
Nichesss Pricing
Nichesss has a single pricing plan of $19/month.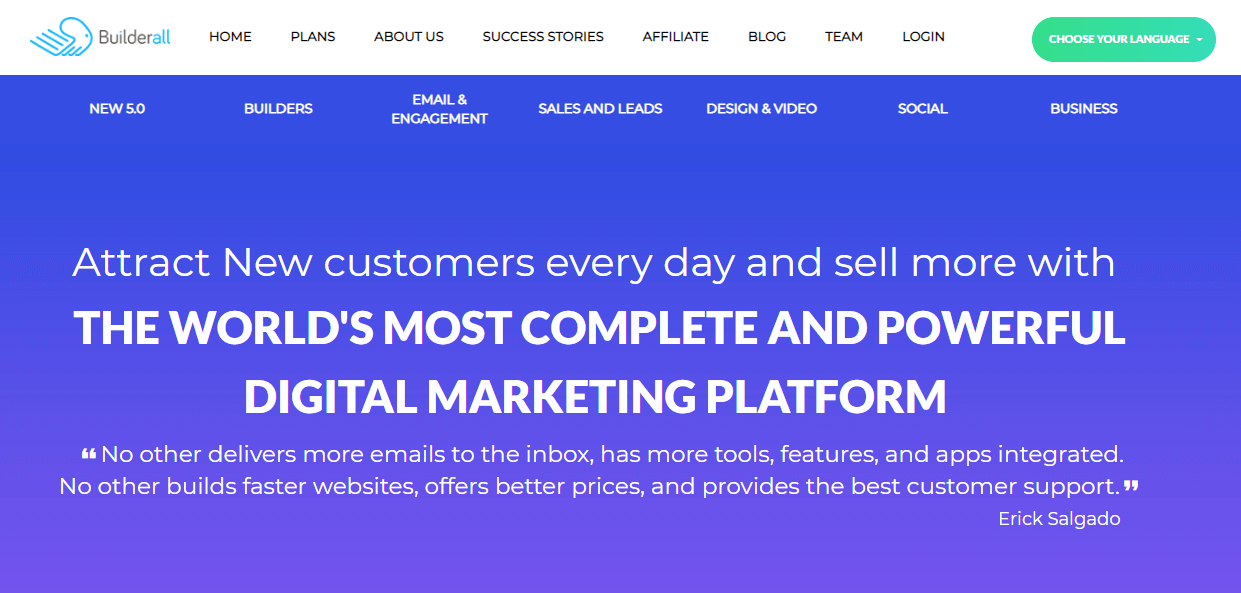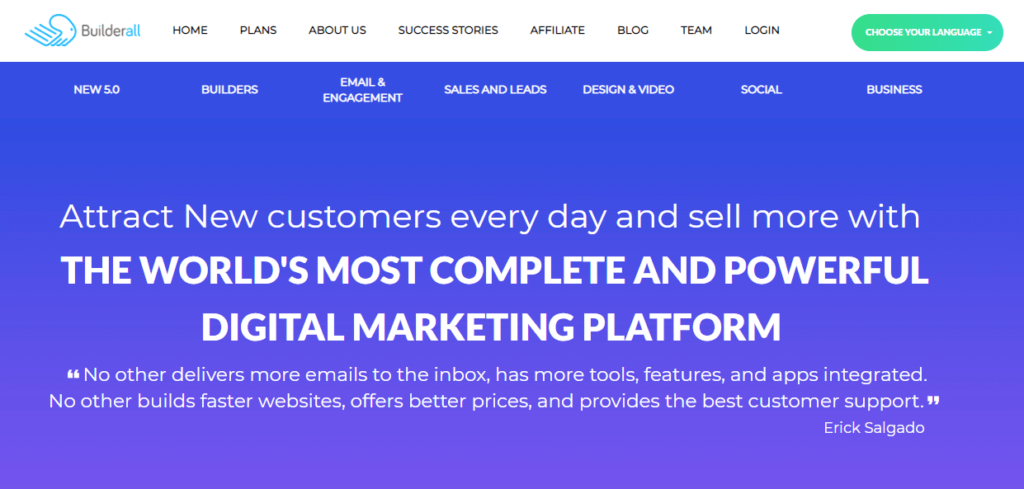 Builderall Script Generator is the newest version of Builderall 5.0, one of the most comprehensive all-in-one digital marketing platforms. It comes with over 45 plus business tools such as a website builder, sales funnel builder, email marketing platform, and much more. It does not matter what you want to write with this.
You can get it done pretty quickly. It can be emails, advertising scripts, webinar scripts, and almost anything that you would need for your business.
With the Builderall Script Generator, you can determine who your ideal audience is and create a variety of scripts that speak to your ideal target demographic.
So, there is no doubt that using this tool would be massively useful for you.
Since we partner with this platform, here you can start your Builderall 14-day free trial.
Builderall Script Generator Pricing
Cheetah -$14.90/month
Marketer – $69/90/month
Premium – $79.90/month
Funnel Club – $79.90/month + $199 one time payment
▶ Try Builderall Script Generator For Free
How To Choose The Best Jasper AI Alternative
Consider Type of Content You Want To Create
Depending on the type of content that you are writing or you're generating, you may need different tools.
For example, if you write SEO content, then RankIQ would be for you. If you write long-form articles, you should consider Longshot.ai.
And if you would like to generate an article by just providing a few keywords, try Article Forge 3.0.
Think About Your Budget
As you could see pricing on some of the AI writers is quite expensive. And if you are on a budget, especially if you're just getting started with AI writing, consider some cheap Jasper alternatives out there.
If you genuinely are stuck for creating content and you don't have enough financial funds to be able to pay $99 per month, tools like Rytr and Nichesss would be your best alternatives to get started with, if you are really struggling with being able to pay any sort of monthly fees.
Nichesss would be a good option also because of the fact that you don't have to pay any monthly fees so you can save a ton of money by doing that.
So, you can have a look at them and see what you think.
Fact-Check Content Generated by AI Writers
Even though all of these Jasper AI competitors can help you to generate a lot of content, the thing is, if you're writing a blog post or an article, you're never really going to be able to just copy and paste what's written or what's composed and just paste it into your descriptions or your blog posts.
You're still going to have to take time to tweak all of the content available, you're still going to have to change out certain words, you're still going to have to tweak it to suit your own preferences, to make it look unique to you and what you are presenting and what you're promoting. So, it's never going to be a 100% simple copy and paste to fill.
The only way for you to stand out is to make your content original. Ai writers like these here are only going to make your life easier, but they're not the solution to the overall problem. These will just give you a helping hand in order to speed up your processes.
Best Jasper AI Alternatives & Competitors Finnal Words
So these are the best Jasper AI alternatives and competitors in 2022.
Depending on your own uses and your own preferences, you can have a look at all of them, see which ones you think, and if you do have the budget to opt into some of them, and if you do like them, you can try them out.
In most cases, most of them do have a free trial so that you can just get started and just get a fill for the platform. But if they're not for you, you can always try some of these other alternatives. There are plenty of them there that you can use.
And if you're still undecided, here is the most complete list of +31 best AI copywriting software in 2022 where you'll discover even more tools.