Today, we are going to be taking a look at Kapwing, a free-to-use multi-platform tool that you can use for free to create graphics, logos, and videos but with some limitations which we'll find out in this Kapwing review.
Kapwing is an AI video generator that can actually be really beneficial for you, especially if you're only starting out on your online journey and you have limited to no budget, this would be a good platform to check out.
Today, I'll walk you through the tools and the features available within the platform. And if you want to work along with me, you can start your Kapwing free plan where no credit card is required.
Let's get started.
Kapwing Tools & Features
If you come over to the tools section, they have a whole platter of different unique features and tools that are available.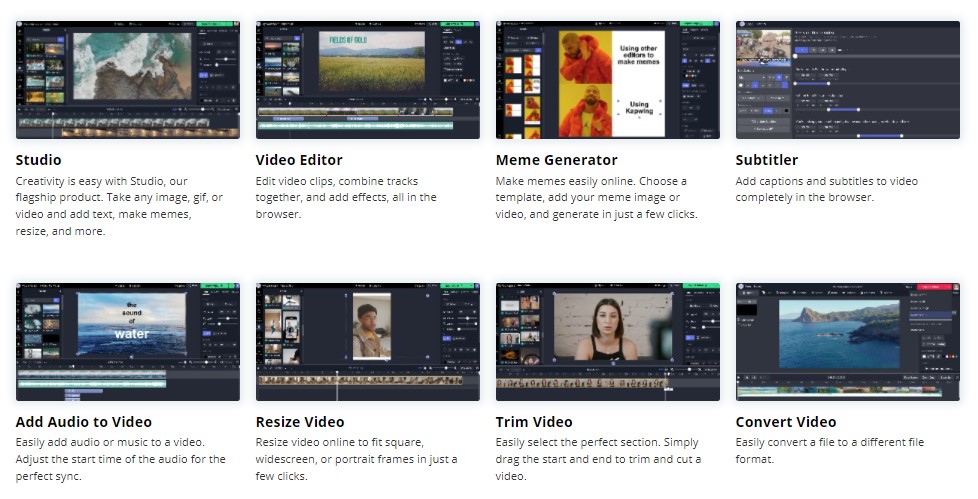 We're talking about:
Studio editor
AI video generator
Video editor
Meme generator
Subtitler
Collage maker
Slideshow maker
MP3 editor
Green screen video editor
You can also create your own subtitles, resizing videos, add audio to videos, and even remove backgrounds.
So they do have a lot of features all combined together in one content creation platform which is cool but they are not as good as compared to Designs AI – one of the best all in one content creation powered by AI.
So it would be ideal for someone starting out to have a look into it, especially if you create a lot of the different content yourself, like your own thumbnails, your own images, your own videos, and so forth.
They've also got access to loads of different templates and mockup generators. You can create templates for social media, advertisements, and more.
Kapwing Workspace
Inside the Kapwing workspace, you can have access then to a lot of different features.
Here you can add your own text, images, and timeline.
You can start with a blank canvas or upload your own videos if you want to add any other unique features to them
You can set up the aspect ratio of the videos, you can set up custom sizes, and background colors, you can crop and zoom the videos, you can add borders, or take the borders out kind of like in Lumen5.
When you open up a video, you'll find even more additional unique tools.
You can adjust, crop, you can incline the corners of the video.
You can increase the run speed of the videos, increase outlines, you can rotate the video as well.
This here will be pretty cool if you're doing animations and so forth.
You can import your own images, videos, or even import sound and music but in my opinion, Wisecut does a much better job with that.
It can work with scenes and I didn't find any limitation for the size of the video,  
Working with full HD videos is possible here but for the animations, you don't have much choice or control.
So, you can add in your own text, you can even add images and you can do an image search.
So, you can actually search for images from other websites like Pixabay and Pexels.
Then you can add extra scenes to the timeline.
You can add in audio and as the video plays, you can actually get in and drag in audio samples, or you can even record your own samples if you so wish.
There is also an option to add subtitles to the videos and they are auto-generated.
So, you can actually add a little bit more creativity to the style of how you want the video to actually look.
Then when you're finished with your video, you can actually publish it or share the video as well.
It does allow you to; it gives you a unique link that you can use to copy, and you can post it, let's say on social media or whatever.
It only takes a few moments to set up a quick video and then they'll publish it onto social media.
It will also give you a piece of HTML code that you can use to embed on your website as well.
And once you've logged in using either your Google or Facebook account, you will automatically be brought to the workspace through the homepage, and you'll be able to have access to pretty much all the tools that are available.
I decided to take a look at the other tools they offer. I have tried the video subtitle, which can help you make dynamic subtitles for your videos in many languages. 
I uploaded the video from my computer to the website, re-adjusted the size of the canvas, and then imported the video into the scene. 
You can even translate the subtitles in multiple languages, but I can tell you, this was a waste of time because, in the end, you can't download the SRT file for free. it feels like I'm only using a demo version, which is very disappointing. 
Kapwing Pricing
Kapwing has 3 pricing plans:
Free – $0/month
Pro – $16/month paid annually
Enterprise – Custom pricing
On the pro plan, they increase some of the file size limits of your uploads to 2GB, and it gives you a lot of other premium features.
But ideally, the free version will be more than enough for you to get started, especially if you're only starting out with a limited budget.
Who is Kapwing For?
If you're starting this as a beginner on your video marketing journey and you want to get involved with creating short types of videos or even just any types of graphics, Kapwing would be a very good way in order to do so.
Final Words
That's it for this Kapwing review of the Kapwing platform.
With Kaping you can do some simple animation, nothing special really so don't expect that you can do some epic videos with this, but there are many other tools that are useful.
So if you're looking for a free video maker, when you're starting out online, definitely feel free to give this platform, Kapwing a try, and see if it's something that would suit you.
And if you looking for a more professional video creator, I highly recommend InVideo – the #1 AI video maker available in the market.
You don't have to worry about any payments or anything like that, and thus it's relatively simple to get involved with, even for an absolute beginner.
And if you do feel like it's something that you want to look into for real, you can definitely upgrade to the pro edition if you want to unlock any additional features.
But even starting out, this here would be ideal; just to keep using the free platform.