In this in-depth Kartra review, I'm going to give you my honest thoughts on this platform. I love Kartra, but it's certainly not perfect. We're going to go over what it is, the features, pros and cons, learning difficulty, who it's for, pricing value, and more.
So, stick around if you're considering the product and hopefully by the end of this honest Kartra review, you'll be able to make an informed decision.
I'm going to also show you how to get an extended Kartra 30 day trial.
So, without further ado, let's get started.
Firstly, quick recap, what exactly is Kartra?
What is Kartra?

Kartra is an all-in-one business tool. It's a Swiss army knife for running your business operations and your marketing and sales. So, it is a sales funnel builder, e-commerce platform, CRM software, and email automation platform.
With Kartra you can create membership sites, host videos with lead capture, host meetings and host your appointments, as well as run affiliate programs.
You can even run an agency, so it has a ton of features in it and all under one roof.
But it's not just a collection of all of these tools that you get in one product.
The real value of it is first, it's all integrated, so all of these tools can talk to each other in one database.
And because of that, you can actually create some really advanced campaigns that build off of each other and we'll talk more about it later.
Kartra Page Builder
Kartra has a pretty easy to use drag and drop page builder that allows you to create landing pages, sales pages, and even websites.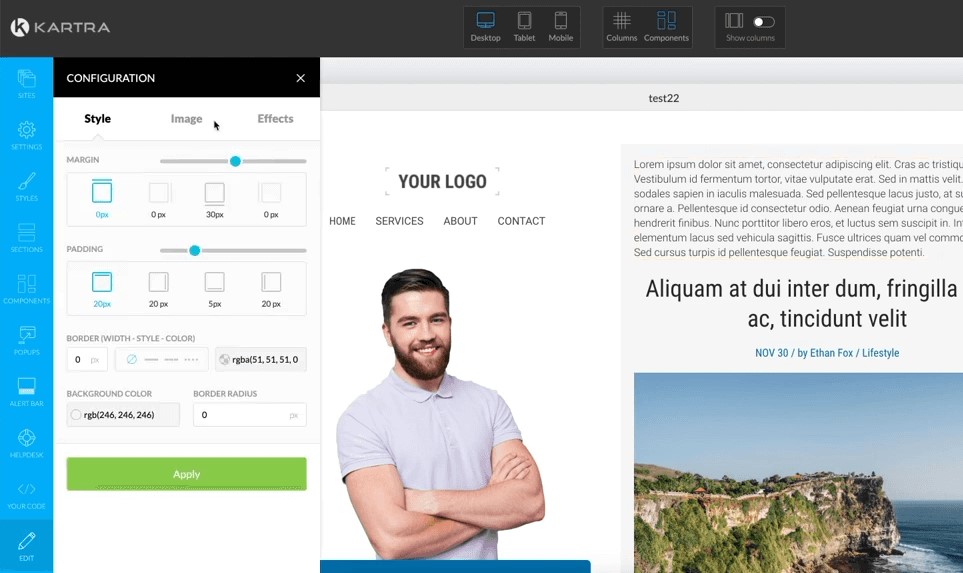 Creating your landing pages is going to be one of the most important parts of building your sales funnel because your landing page is where you put all your text, your images, your video on that page to get people to convert and go to the next step in your marketing funnel.
Site Settings
One of the other interesting features of the Kartra page builder is site settings, which allow you to make a custom header menu or a custom footer menu.
As well as an exit pop-up or a landing page pop-up, all these different tools that you used to have to go find a bunch of different plugins to put together you can now put together inside Kartra.
And you can with a click of a button, send them to every other page in your site.
So that's pages.
Kartra has a whole bunch of different templates that you can use to help you get higher conversions.
And that's fine, pretty much all of these funnel-building tools these days have templates that you can use including:
Squeeze pages
Video sales pages
Thank you pages
Long sales pages
Product launch pages
Legal pages
And more.
So that's nothing unique but what I do like about Kartra's landing pages is the speed.
And when you compare different landing pages, let's just take ClickFunnels as an example; if you compare a landing page, which would be identical on ClickFunnels and identical on Kartra, the Kartra page, most of the time is going to get much faster page load speed.
And the reason this is important is that the faster your page loads up, the more conversions you can get when you're running ads to that page.
And I'm not the only one who has seen this. There are many digital marketers that have the same experience.
They've had identical landing pages one in ClickFunnels or another software, and then one in Kartra, and then just by switching over to Kartra, they've got much better conversions, they've got more leads and a lower cost per lead because the page load speed is much faster with Kartra.
However, the Kartra page builder is not as easy to use compared to dedicated page builders and we'll talk more about it later.
Kartra Email Marketing
Kartra also provides very advanced email marketing automation features where you can set up high-level email sequences in your campaigns.
The platform makes available to you the performance of the email marketing efforts by providing very detailed analytics.
It's also easy to use even among the newbies. Under their email tool, you will have access to the following;
Broadcast
An in-built email editor
Ready-to-use email templates
Lead scoring
Email split testing
Automated sequences
Options for email personalization
Segmentation
List cleaning
The tracking message opens
Automated follow-up and re-engagement
Moreover, the automation feature is almost the same as that of dedicated email marketing platforms like GetReponse of Aweber.
This means that it is possible to create an if and then condition automation system.
The implication of this is that the automation system actually makes it easy to manage specific tasks when you want.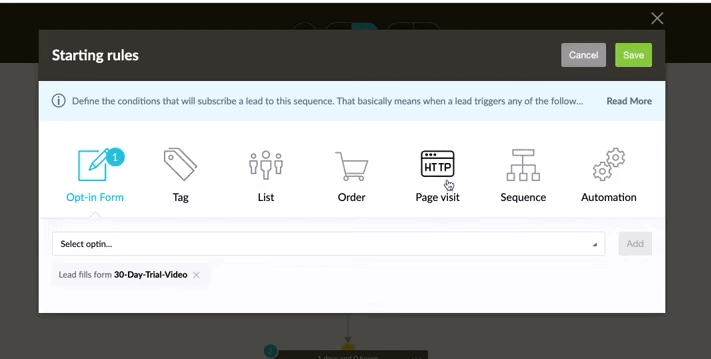 Now you're starting to see how all the data is integrated.
For example, when someone watches a video you tag them when they watch a certain portion of that video, and then because of that tag, you can now trigger an email sequence off of everyone who's watched your demo video.
So once you start to learn how all the tools are tied together, you sort of having this aha moment.
In terms of marketing automation, it would be world-class.
Email Split Testing
Furthermore, Kartra also allows you to split test your emails.
You can also do all kinds of testing for landing pages, you can do that split test for emails, basically, anything which is a premium feature in a lot of different tools.
Email Builder
The email builder is also drag and drop and it'll just create that email for you.
One of the interesting features includes the various email templates as well as sections that make it easy to build your emails.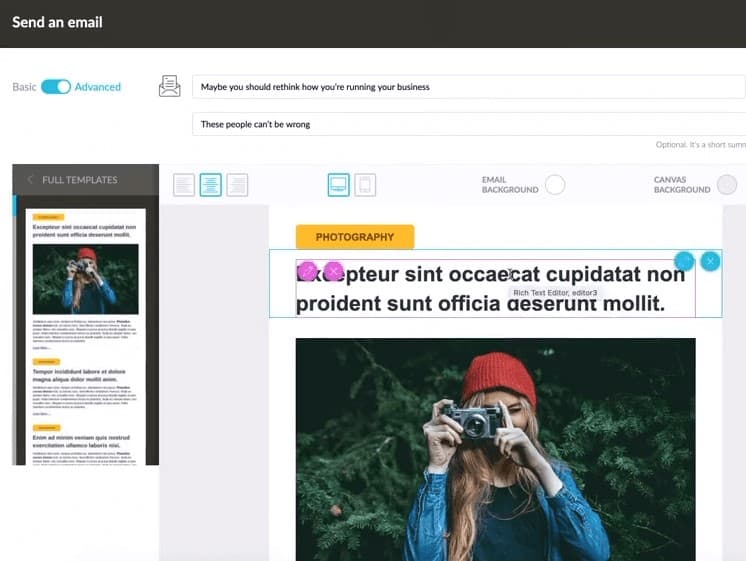 But unfortunately, there's no back or undo button for the email editor so you have to be super careful.
Again, you can do the trick I do where you can just save it and all that, and then just refresh it, but it's super annoying.
Now, a little limitation of Kartra compared to something like HubSpot is there's no reverse logic.
For example, in HubSpot, I'd like to do something like, if the person is not a member of this list, then do this.
But again, this is a tool that is a fraction of the price and still has the vast majority of the functionality of something like HubSpot.
It is still insane, but it's not on the same level as an enterprise-level automation tool.
You can check out my Kartra email review if you would like to find out more about this powerful email automation tool.
Kartra Video
Probably one of my favorite features in Kartra is the video functionality.
With Kartra Video, it can replace other paid video hosting software because you pretty much can get all the features that Vimeo has and you get that as part of your Kartra membership.
So, with Kartra you can get high-quality video hosting that loads up really fast, that can also track at which point people are watching the video.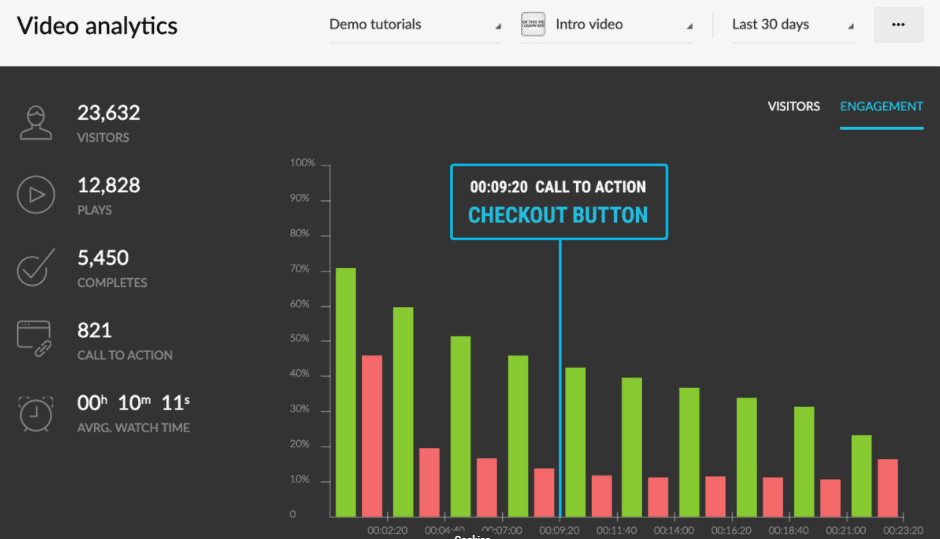 And you can even tag certain people at certain parts in the video.
If you look at something like with Wistia or Vimeo, they can't even do some of the stuff Kartra can do.
For example, in your videos, you can actually add call-to-actions like:
Opt in forms
Banners
Captions
Buttons
And even social unlock so they have to take social action to watch this video.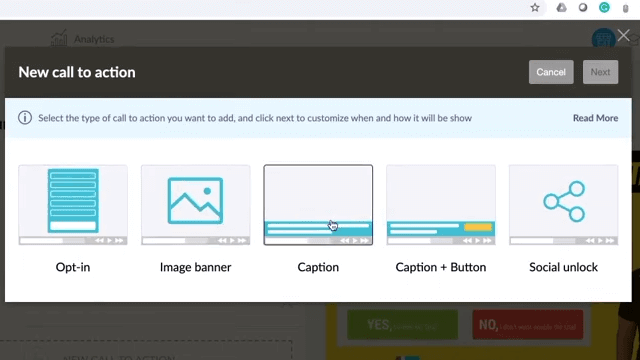 And because Kartra Videos is part of the whole Kartra system, anything that one lead does with a Kartra video can easily be integrated with any other part of Kartra.
So, for example, if a certain lead watches a video up to the five-minute mark, you can tag that lead, and then you can set up an automation in Kartra so that anyone that has that tag automatically receives an email.
So, you can trigger an email when they've reached a certain part in the video.
Obviously, there are other tools that can do something similar, but the great thing is that Kartra does all of this as part of the Kartra software.
With other tools, you usually have to get Zapier and integrate all these different tools together to get something like that to work.
But with Kartra, it pretty much does it all out of the box.
As I said, some tools are good, some are limited and some are exceptional. And the video is one of the tools that is absolutely exceptional for this functionality even compared to dedicated platforms like Vista or Vimeo.
Kartra Forms
The next feature that is pretty unique compared to other tools is Kartra Forms.
You can actually use the page itself so there's already styling on the page and then you can even embed this in a third party for example if you're using WordPress, you can actually export the code.
And you can use one of the ready-made templates or you can start styling it, if you like because there are different styling options.
And as you would imagine, super easy one click and it's done for you.
And when you have an opt-in form or any kind of form on one of your landing pages, what most other software or tools will do is that they will have those forms empty.
And when someone sees that form for the first time, they're going to have to enter their name and email or their phone number, whatever it is that you are asking them to do.
But one of the really cool things about Kartra and what a lot of people don't realize they can do is that Kartra is tracking all of the different forms that people are filling in on every single funnel on Kartra.
So, for example, imagine there's a person that has filled in a form on a Kartra funnel, but it's not your funnel, it's someone else's funnel.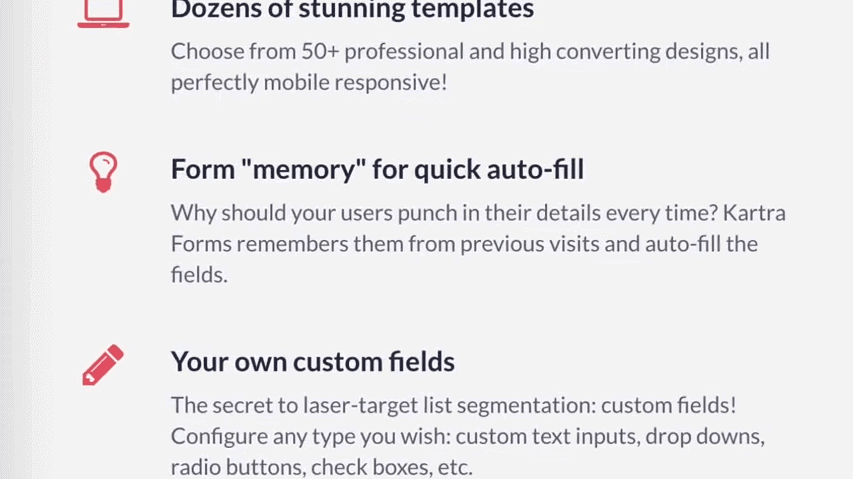 Because he's still filled in this Kartra form, when that person in the future maybe sees your funnel and your Kartra form, Kartra remembers that he's already entered his details previously in another Kartra form and he won't need to re-enter those details.
Kartra can actually save that person's information; like their name, email, or anything else that person has entered in the past, and Kartra will automatically fill the form for that person.
So that person doesn't have to fill in the form from scratch, it comes in pre-filled.
And this isn't even a really big feature that Kartra talk about, and a lot of people don't even know that Kartra can do this, but it's one of those things that just make everything easier, especially for your leads that you're generating, it makes it so much easier for them to fill in different forms because Kartra can remember what they've entered in the past.
Kartra Checkout
And the next feature that I want to talk about is the Kartra checkout system which is a great solution for e-commerce businesses as well as service-based business owners.
That means you can have checkout pages for both service-based products and physical goods.
You can also measure the statistics of the sales that are coming in through the pipeline.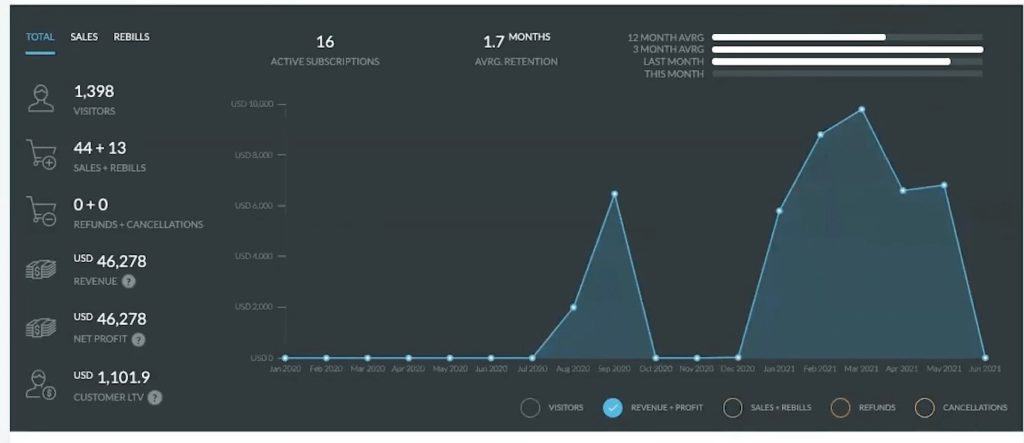 You can add pretty much unlimited products; it depends on the plan. We'll get into that with pricing.
You can also customize the Checkout form however you like.
You can also set up recurring payments very easily from within Kartra.
Kartra Leads (CRM)
Kartra Leads is a sort of CRM system where you can manage all of your clients.
From an analytics standpoint, everything you go into actually has analytics built into it. Every little section has detailed analytics for every single piece.
You can see how all of these components are doing, and you can get deep analytics into each of these components.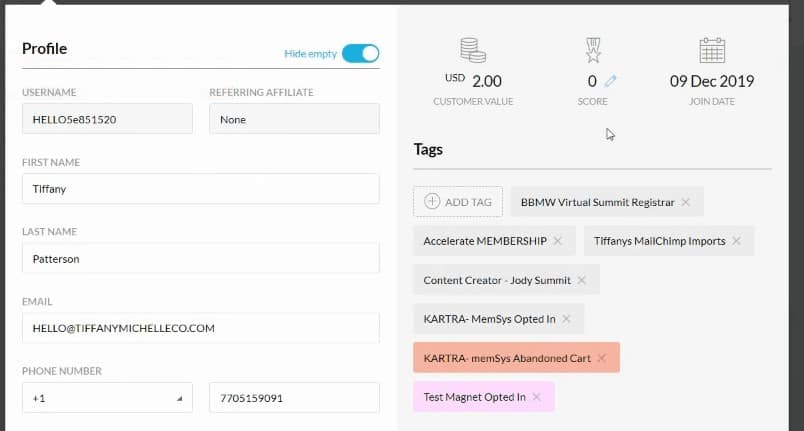 But there are going to be shortcomings or fallbacks if you compare it to a dedicated CRM system.
But Kartra more than makes up for that with the fact that it's all integrated and you can actually build these one-click campaigns that put all these tools together.
I will gladly give up a little bit of functionality for the integration and for the data sharing and having it all be in one CRM.
So, think about the data from all of these things. If you want to put that into a CRM, it is insane the level of automation to have, because at the end of the day, your CRM is what contains all your leads and that's exactly that.
Read more about all the possibilities of the Kartra CRM here.
Kartra Membership
With Kartra Membership you can create a membership site, a subscription service or an online course.
Where Kartra Membership stands out is it focuses on not just building your courses but selling as well because you can integrate your membership area with Kartra Checkout that we've talked about earlier.
Kartra is focused on creating products and helping you sell them and upsell them and get more revenue and that's why it's better to build it from the holistic funnel viewpoint.
Where Kartra also really shines is the level of customization.
With Kartra you can really add unlimited things like:
Text
Buttons
Images
Custom coding
Video
Opt in forms
Drop-down list
Checklist
You can add any kind of page element that you would on a normal funnel page into the member's area which makes it the most customizable choice among other membership platforms.
Maybe you want comments on this post and not that posts.
You can even have it so that only people who have this level can access this content.
You can also give them access only after three days of signing up so the level of customization is just insane in Kartra.
The other great thing about Kartra membership is that after launching your course is great to have some affiliate partners that will promote your online course for you and Kartra allows you to create your own affiliate program
However, Kartra doesn't have many templates you can start with compared to other platforms.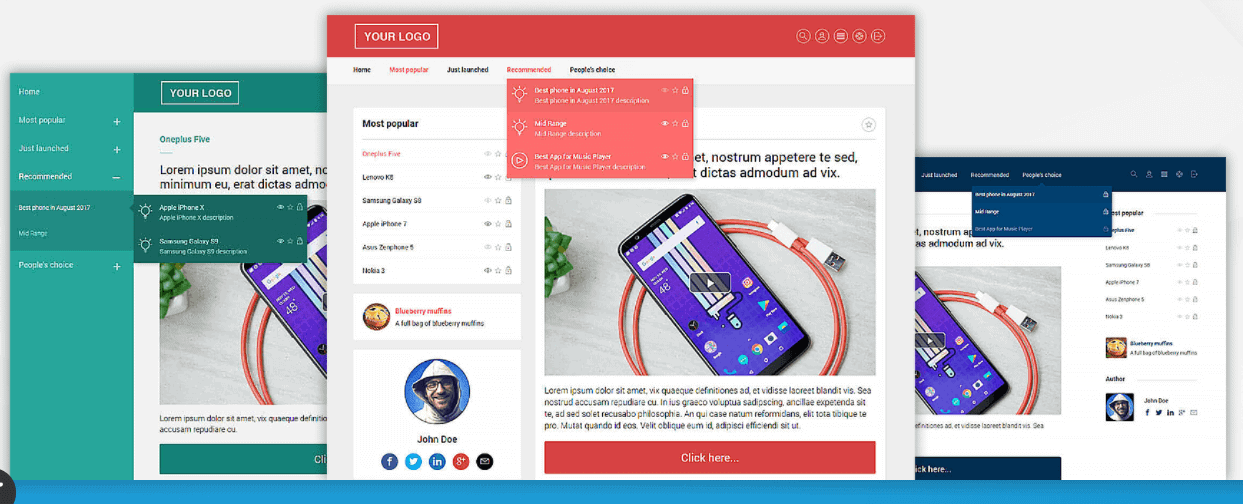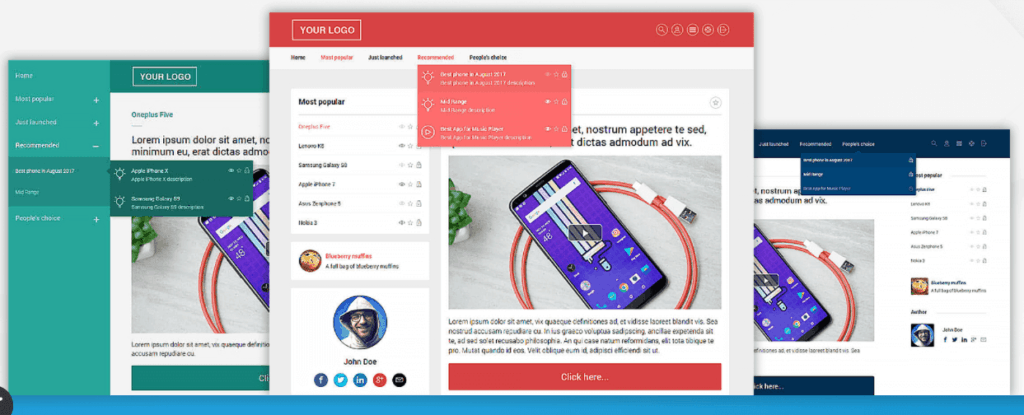 You have all of the components you need but there aren't any templates or reference points of pre-built courses.
Not a big deal but it is worth noting.
Kartra Calendar
So, the next piece of functionality is Kartra Calendars which is a great replacement for scheduling tools like Calendly.
Kartra released a brand new calendar that is truly doing what it claims to do.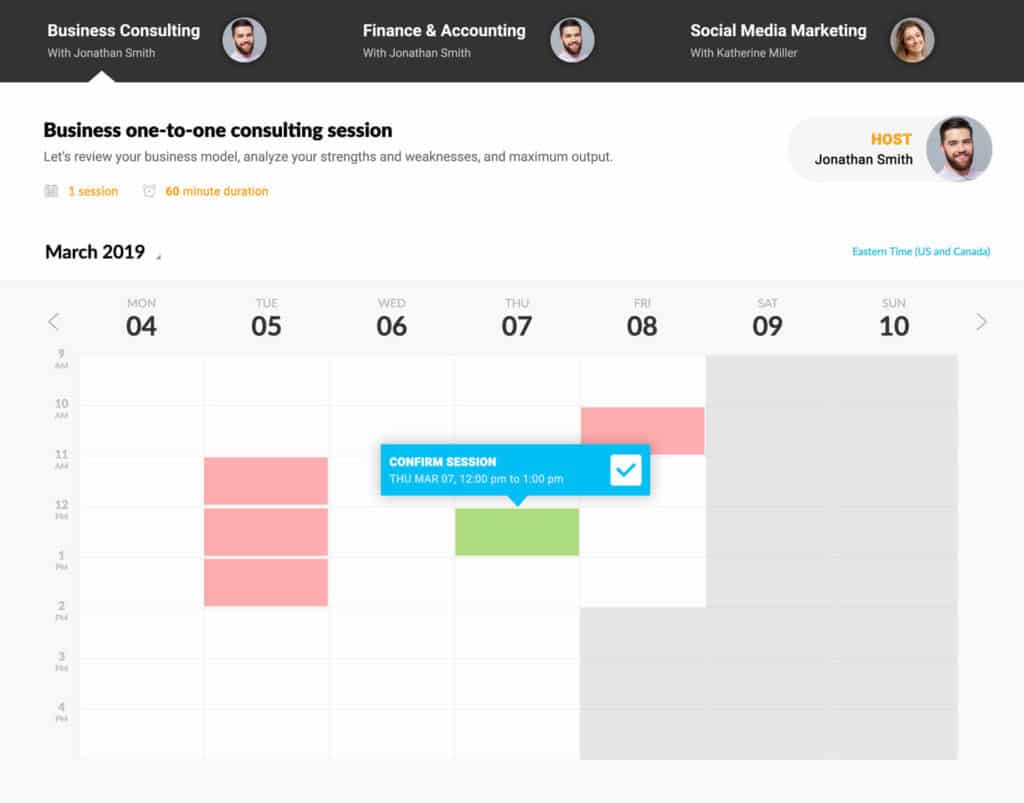 You can sync these with your Google Calendar so that it's pulling what's currently on your calendar with your availability.
You can have these set up as group classes for your business if you want multiple people to register for the same exact event, you can do that.
Or they could be one-on-one consulting calls or coaching calls, discovery calls, you name it. They can also be events in the future that are free or paid workshops or webinars.
And not only can you have people opt-in for these, but you could also even choose paid if you want to have them check out at the point of registration.
But you can also tag these users and send them follow-up reminder emails, and all of the emails will be based on the event, date and time.
So that could be an hour before reminder, the day before reminder, you name it.
The possibilities here are truly profound when it comes to calendar scheduling.
Kartra Helpdesk
Kartra in their baseline plan has something called a Helpdesk which is incredibly robust.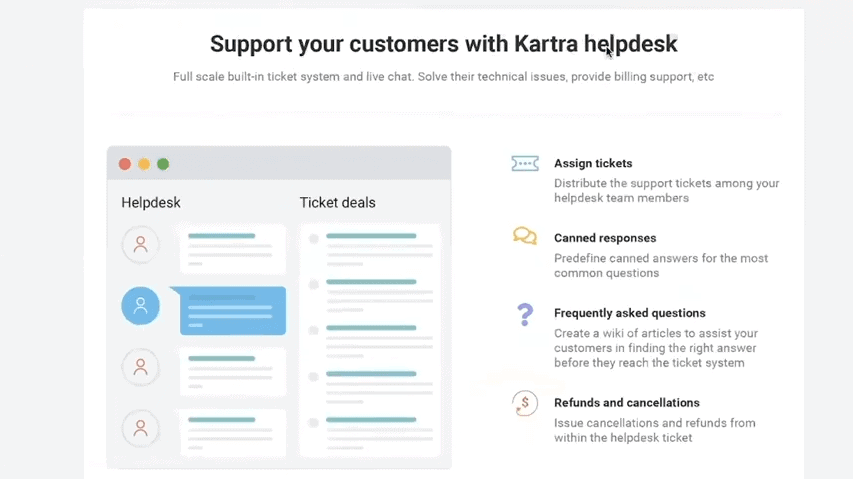 And anytime someone will click on the little helpdesk widget and they want to submit a comment a question support ticket to your company through your website, it will attach itself all of their answers and all there's their ticket request to their person in your communications tab.
So that you can see a history of everything they've bought, everything they've asked for, everything they've discussed with your company.
Kartra Affiliate Program
Kartra allows you to an affiliate program where you can create custom links for partners that want to promote your products or service.
Kartra features an in-built affiliate management system that gives you all types of options for paying, incentivizing, and communicating with your affiliates, all with one-click simplicity.
You can even do an automatic payout on PayPal to people that promote and help sell your programs and your digital products.
Kartra's affiliate program offers;
You can set commission product by product or globally; furthermore, you can set it either a fixed dollar value or percentage-based.
Their program allows you to control when and how your affiliate gets paid. You can set the minimum number of sales to unlock your payments or withhold a reserve period to cover refunds or a progressive payment release plan.
Instantly pay your affiliates in every transaction via PayPal Adaptive Payment Technology.
And this is all available even on the basic plan.
Kartra Done For You Campaigns
Kartra helps you take your marketing to the next level by actually having these done for your campaigns.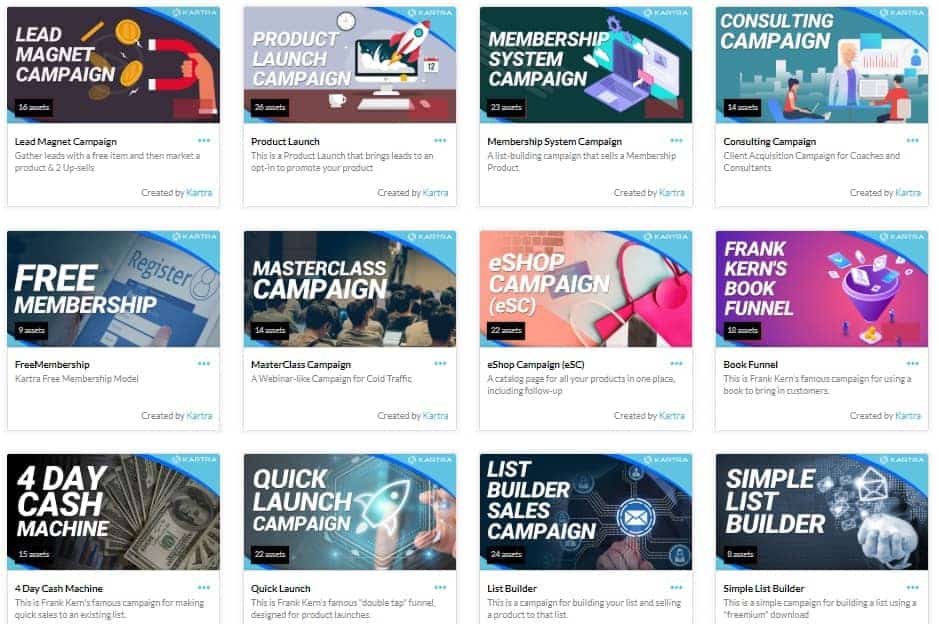 So, let's say you're looking to launch a product.
You can see, all this stuff it's going to build for you.
And the way it works is you just hit deploy and then what it does is it actually imports all of the content for you and then you go through each of these sections and then you can actually, just configure it.
So, essentially you can create these one-click campaigns and it really shortens the learning curve of how to put all of these different things together.
You could have email and landing pages and videos and all of this stuff, but how do you actually put it together in a way that helps you turn these prospects into customers?
You can call it a funnel builder in that sense. It helps you create these funnels that take customers down that customer journey.
I will say one other thing though, about the one-click campaigns is that you do need to have a certain number of assets already, or maybe you need to spend the time to create it.
So, for example, if you're doing a product launch campaign, or let's say you're doing a book campaign, obviously you need the book ahead of time in order to do the campaign.
Or if you're doing email list builder you have the whole gated, download the e-guide. Obviously, you need the e-guide or the product, or you need the video.
But again, everything is super easy to create and do, but just something to be mindful of, that it won't be as out of the box for you.
So, to recap, it's all of these features, it's all of these products that talk to each other in a database and the done for you campaigns help you bring all of these tools together. That's exactly what it is.
Kartra Integrations
My Integrations tab is for integrating with all types of different third-party software.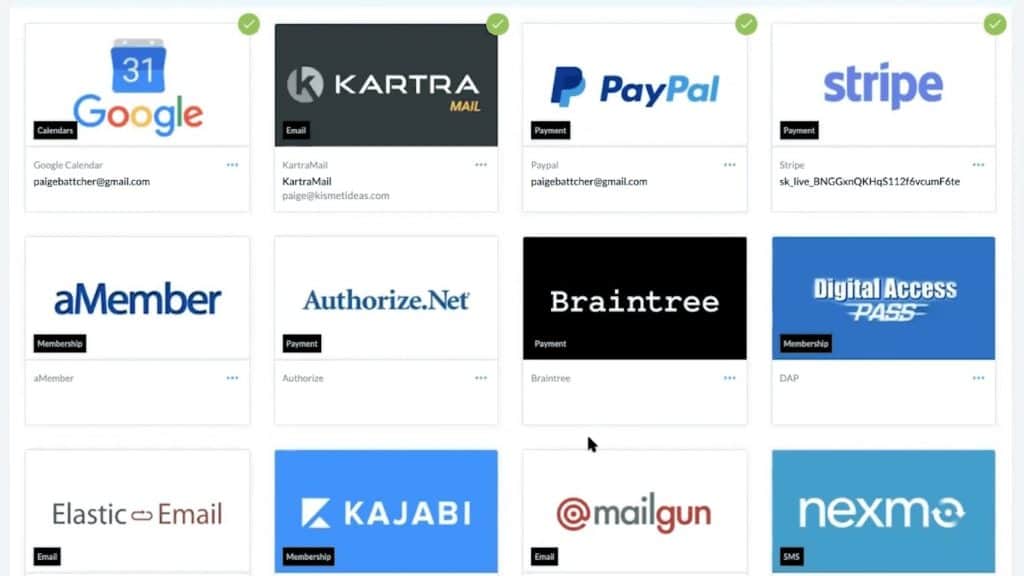 Kartra integrates seamlessly with platforms like:
Google Calendar
PayPal
Stripe
aMember
Kajabi
Authorize.net
Braintree
MailGun
Zapier
Twilio
And more big names in the industry.
Kartra Agency
This is a great addition to Kartra for agency owners. You can now run your entire agency through Kartra.
Kartra is one of the best CRM systems for digital marketing agencies and small business owners.
With this feature, you'll be able to have full control over your clients. That means no more worrying about your clients making unknown changes, locking you out of your account, or meddling with the process.
With Kartra agency you can grant account access to clients based on what they need or you can give no access at all if you want.
With the Agency analytics dashboard, you'll be able to share their stats with them so they always know details that keep them happy.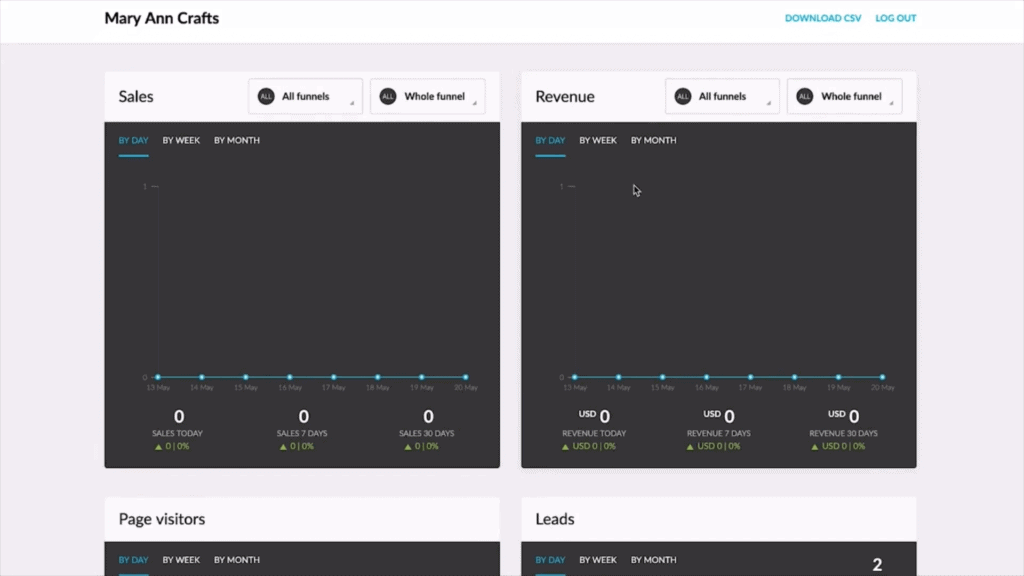 This dashboard allows you to quickly get a pulse on every client's analytics like:
Revenue
Generated sales
Rebills
New leads
And most important all without logging in and out of each individual account.
Kartra Training
Talking about the difficulty of learning for a bit. So Kartra all you need to get started like tutorials, support, tooltips, and every little step has videos in it.
They also have the Kartranaut training program, which interestingly is free and you don't even have to have Kartra to do it.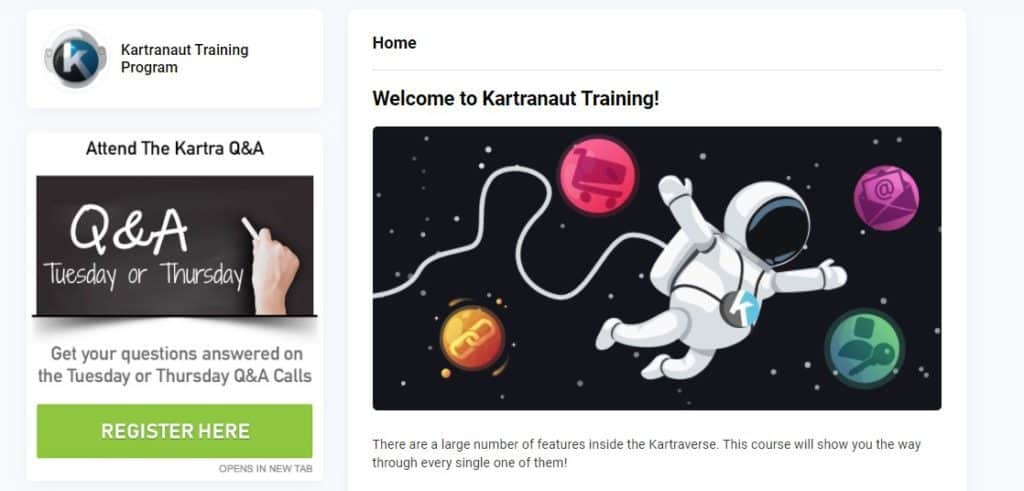 So, even before you start with Kartra, you want to just see how it really functions, you can actually go into Kartra training and it is just deep.
It teaches you step-by-step how to do everything.
So, let's say you want to learn a bit about the help desk component. You're simply going in here and it's going to have detailed, deep explanations for every single topic, with videos, for the help desk.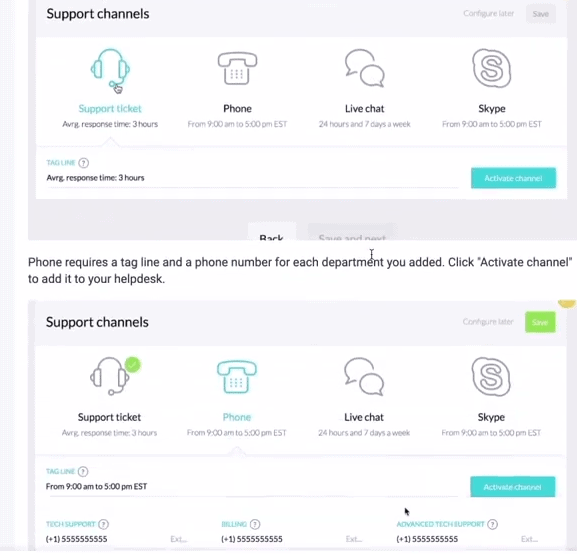 And that is for every single tool in Kartra.
Once you go through this course, you're going to be a Kartra master. It's way easier to learn Kartra than 10 separate solutions that have their own methodology of doing everything in their own UI and everything.
So, Kartra is longer to learn, obviously than any one solution.
That's common sense, but at the same time, it is easier than if you were to learn the 10 tools.
Kartra Pros & Cons
Let's go ahead and dive into the pros and cons.
Kartra Pros
As you know, we're calling this a multi-tool, it's sort of this all-in-one platform. It's not 100% of everything you'd ever need to run a business, but you can see that it has taken the power of three or four or five different kinds of softwares and putting them into one nice platform. So that is the biggest overarching pro.
The other pro over some of the similar-based softwares out there would be that it has global elements, the ability to push changes across multiple sites, the ability to duplicate entire membership areas, entire pages, and entire campaigns or sales funnels.
Kartra Cons
And you're probably thinking, Kartra sounds completely amazing. And for the most part, it is.
But there are some shortcomings, as you can imagine, if it's an all-in-one tool, it very much falls into that whole Jack of all trades adage.
There are some tools that are exceptional, some that are good, and some that really need improvement.
When it comes to Kartra page builder as mentioned earlier everything is just drag and drop and easy to use.
But there is some annoying quality of life stuff that.
So, for one, the undo button, it works but sometimes let's say you delete a major section or you add something, it doesn't undo certain things.
Again, not a big deal, but it is annoying.
The next what I don't like about Kartra is that there is no auto-save. You actually have to manually go in and save the progress.
And you can imagine if let's say your internet connection breaks or something happens and you accidently navigate away from the page, you could really lose a lot of time.
Now, some people hate autosave. So, for some people that that's pro that it doesn't have autosave.
That's a preference thing.
So those are just things to be mindful of.
Again, not deal breakers. You just have to learn to save every time you build like a single component.
Another little thing is that you actually have to add tracking codes to every single page manually.
There isn't a global variable you can add.
Again, not broken, not unusable, nothing like that, just annoying.
Another thing about the page builder is that you can't create blog posts in the page builder.
You can build any kind of page: sales pages, squeeze pages, it has templates for literally everything but if you're trying to build a blog, you can do it, but it's not dynamic.
It's not like a real CMS, it's not that it can now pull content that you've recently published.
You have to actually manually edit these things.
So, it isn't actually a fully-fledged blogging platform.
You can build your website in Kartra, you can build the blog, but if you're heavy into blogging, in the long run, you're probably better off just adding a blogging software, like WordPress.
And of course, then you can link out to your website software with Kartra as well.
Kartra Pricing
So now switching gears to the pricing component. Kartra pricing goes as follow:
Starter Plan – $99/month
Silver Plan – $199/month
Gold Plan – $299/month
Platinum Plan – $499/month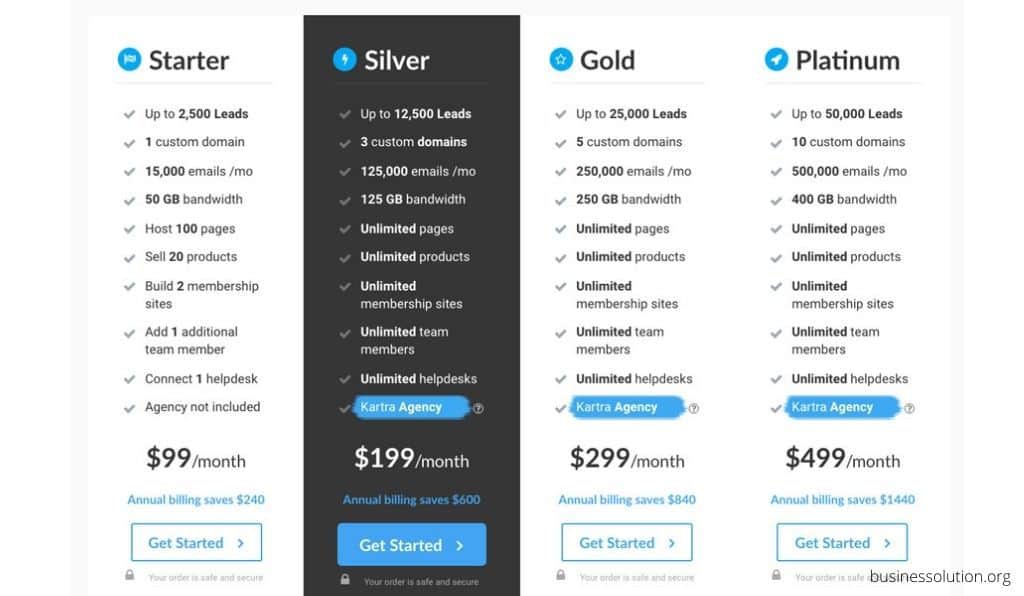 Also, Kartra offers a 14 day trial for $1 that you can extend to 30 days (if you use that link)
So, it starts at $99 a month and it does have limitations but what I like about it is the limitations never lock away functionality.
The only functionality that's locked away in a higher tier is the agency functionality.
But otherwise, the only difference is the scale.
You can hold 50 videos, 100 pages, sell 20 products, all of this stuff.
So, depending on the scope and scale of your business, that is when you upgrade, which is fair.
So, you guys can see here, I broke this down where you can see if you were to try and get comparable software for everything Kartra does.
Kartra
Website
Landing Pages
Email Marketing
CRM
Membership Site
Video Hosting
Forms
Calendar
E-Commerce
Sales Funnels
Comparable Solution
Squarespace/Wix
LeadPages/Unbounce
Aweber/Mailchimp
Pipedrive/Salesforce
Teachable/Thinkfic
Vimeo/Wistia
Wufoo/HelloBar
Calendly/Acuity
Shopify/Squarespace
ClickFunnels
Cost
$15
$48
$15
$25
$29
$55
$30
$10
$30
$99
= $356
For example, Wistia alone is $100 a month where you can do videos with forms and that's already the price of Kartra.
And none of these are integrated with each other out of the box.
Maybe you'll be able to integrate two of them but you're definitely not going to be able to integrate all of these together seamlessly and then feed it all into your CRM.
That would be a super custom job if it's even possible to work with their API.
If you're going to spend all that money, you're better off just getting a tool like Kartra, or if you have that much money to spend you can go off and get something like HubSpot.
Kartra Trial
Kartra offers a 14 day trial for $1 but I'm going to show you a little trick to actually double your trial and you'll get a 30-day trial instead of the 14 days.
1) First go to the Kartra pricing page by using this link which will extend the trial.
2) Click on the "Start Your Trial" button.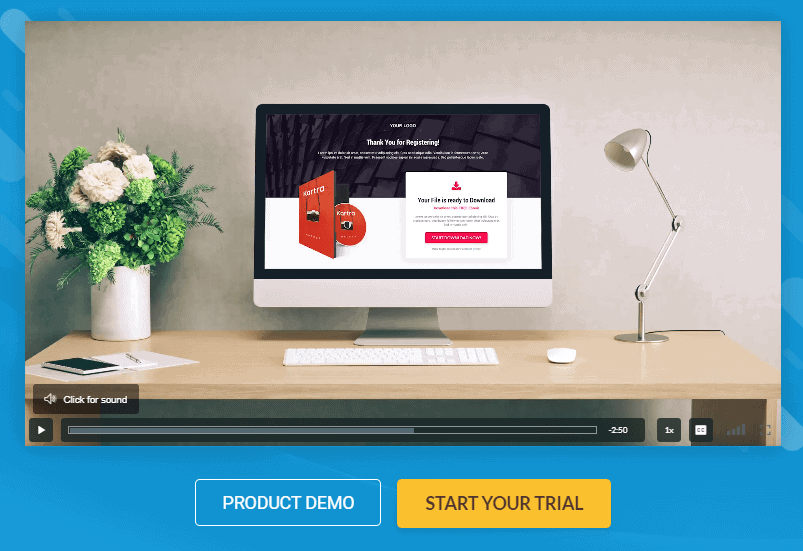 3) Then you want to slowly try and exit.
And then once you do that, you'll do enough behavioral actions for Kartra to dynamically trigger this exit intent pop-up, which gives you a 30-day trial.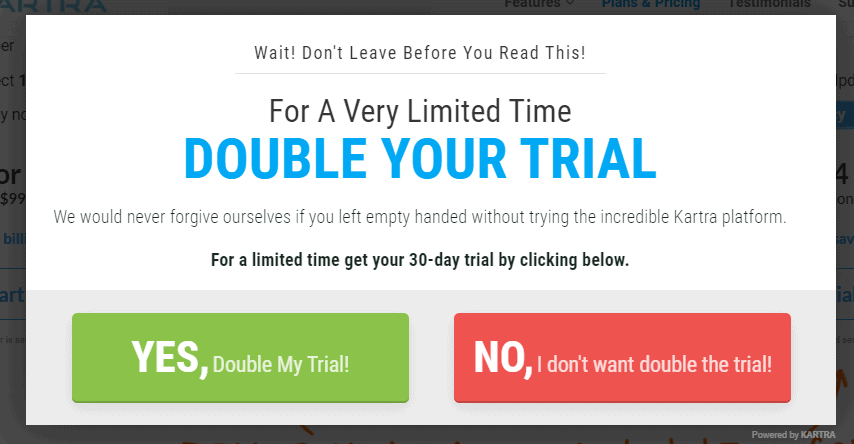 So that's how you activate the 30 day Kartra trial.
There's only appears once, so you want to hop on it.
If you clear your cache and cookies, maybe you can make it happen again.
And it's going to say that you have to do the silver plan, but that's fine. Just you have to go through it with the silver plan, and if you want to upgrade, let's say you need more or you need less, you can just go into your billing and upgrade it.
You can change your plan at any time, but you want to first do this so you get the 30-day trial.
I would highly recommend you do the 30-day trial instead of the 14 days, obviously, because there are a lot of tools in Kartra, and I want to give you guys the opportunity to make sure that you have enough time to build a few campaigns.
Here you'll find a more in-depth tutorial on how to activate the Kartra trial.
Kartra Alternatives
Kartra is a great platform but it's not perfect so here are some of the Kartra alternatives:
All of these platforms have pros and cons and I break down each of these platforms in my Kartra alternatives review to help choose the right platform depending on your needs.
You can also check out this video right here:
Who is Kartra For?
Kartra is for entrepreneurs, service-based businesses, and digital marketers who are using a couple of other tools. If you've been running your business for a little while and you're ready to take it to the next level.
Kartra will also help you sell your products or services, add new revenue streams and get more out of your existing contact list.
Kartra is for you if you're looking to actually build a marketing machine that'll scale over time and just bring you amounts of automation and revenue over time, then Kartra is for you.
Who is Not Kartra For?
And the other component of that I would say is that it's also not for someone who is experimenting.
I would highly recommend you stay away from Kartra if you're in that experimental phase, Kartra is probably overkill and it's probably going to be more involved than you need because a lot of the functionality you're not going to use.
If you just getting started and don't know what to do, you can check out how to make money with Kartra here.
Kartra Review: Final Thoughts
Hopefully, that's been enough of this Kartra review for you to really see if it's going to work for you.
Kartra is an amazing value for what it provides, but there are shortcomings. A lot of their tools are going to give you 80% of what you need with the 20% of the nice-to-have quality of life missing.
The website builder is the biggest weakness of Kartra. Landing pages, squeeze pages, all of that stuff, amazing. but if you actually want to build a website with a blog, Kartra is not the best solution.
You can definitely do, but the blogging component, probably the weakest part of Kartra is because it's not a CMS, it's not a content management system, it's a page builder.
So that's the one thing I would say is the one shortcoming of Kartra that you can't really do exceptionally well.
And then there are also some functionalities that aren't built-in. So Kartra is not like the only software you'll ever need.
So, for example, if you want to run webinars, Kartra has integration with WebinarJam. So deep integration, but it's not out of the box.
There are other tools you will need, but Kartra covers a lot of the marketing and sales automation portion. And all of this information going into your CRM is invaluable if you're trying to build contacts over time.
The best way to test that out is to take advantage of the Kartra 30-day trial and that's, what's going to help you decide for yourself.