There are many ways to get quality backlinks for your affiliate website but not all methods work well with every site or niche.
Some require lots of time while others can be done quickly without much effort. If you want to know which method works best for affiliate marketing then read this guide carefully.
First, let's take a look at the big picture and the 3 players in the SEO game. So we have;
The searcher
The search engine
The business (or you – the marketer)
What motivates the robot or the search engine whether it's Google, Bing, or Yahoo?
Well, all of these search engines however they are monetizing – they want revenue. Usually through advertising.
In order to do that they want to serve relevant and popular results to that searcher so that they can make more money.
Essentially, they want to keep searchers on web properties that they own so that they can make more revenue.
Now, the one we're going to be really focusing on in this tutorial is this idea that the search engine wants to serve popular results, in order to keep that searcher satisfied and so that they'll make them more revenue by clicking on ads or however it is they monetize that search engine.
Now, I want to talk to you about white hat vs black hat link building.
Black Hat vs White Hat Link Building For Affiliate Marketing
A lot of search engine marketers are terrified of Penguin, Panda, and Hummingbirds, and all of these Google updates.
And the reason is because the Penguin update is the one that came in and really hammered anybody that was doing any sort of shady link building or earned media link schemes, buying links, all of these different horrible things that we won't be covering in this tutorial.
And so the Penguin update really sort of ended the Black link-building tactics. So everything that we're going to do in this tutorial is going to stay congruent with what Google wants.
Matt Cutts is the head of Google's Team, he's been around forever and this is a really great quote from him that sums up how Google thinks about links: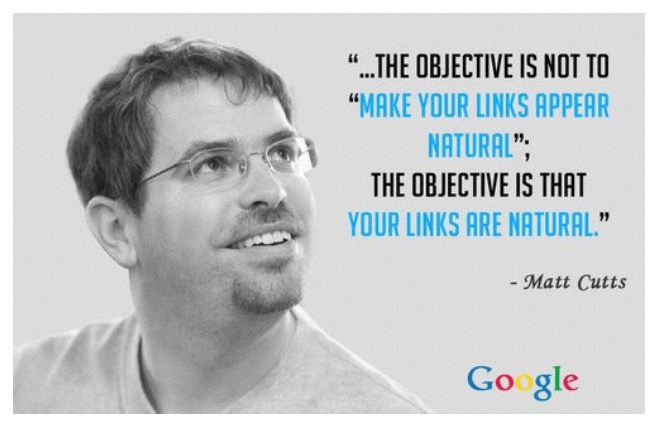 So, it's become sort of this game of gaming this system and making links look like you naturally just are that good that these many people are pointing at you.
And that's what we're going to be working on in this link building for affiliates sites tutorial is how to actually gain links in the way that Google wants you to do it.
And how to gain natural links that lead to higher rankings and then traffic and then more leads and sales for your affiliate website.
So everything that we're going to be covering in this module, is going to be white hat as opposed to grey hat or black hat. We're going to be talking about how to naturally build links for a sustainable SEO process that you can put in place for your business.
1. Competetive Research
The first method to build links for your affiliate site is to simply do some competitive research and find the links that are the low-hanging fruit.
Let's say I'm running an affiliate photography blog and I want to find more links. I'm going to go in and I'm going to take a large photography blog like digital-photography-school.com and I'm going to put it into Moz Link Explorer and then I'm going to export all of that backlink profile.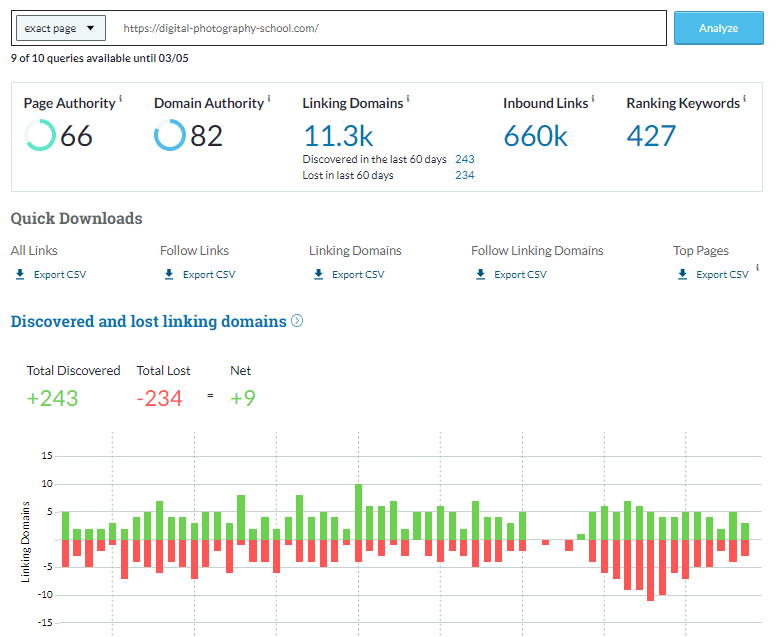 Now I can work through it and see if I can find links that I can just get right. So from other people's blogs that I might reach out to them and say:
"Hey I run this blog"
So it's a great place for you to find the links that your competitors already have. That would be really easy low-hanging fruit for you.
And you do that by going into a tool, Moz Link Explorer, and running that link profile on your competitors and then literally going through those links and finding the low-hanging fruit.
If you find directories just simply submit to those, if you find other places where it would be simple and easy for you to pick up a link, you go ahead and do that.
So this is the first easiest way to pick up large quantities of links. All right. Now, let's talk about creating generous content.
2. Crowdsourced Posts
Crowdsourced post is content that mentions other people and especially influential people in your niche that could link back to you or share the content out to their social networks.
So when you do a crowdsource post, what you're doing is you're going out and you're reaching out to a number of different people, asking them the same question, and then aggregating those results together.
In other words, you're putting a lot of different influential people on the same page.
This is a crowdsource post from Digital Marketer that aggregates "32 Split Testing Ideas From 4 of the World's Leading Conversion Experts" on the same page. And these are the kinds of posts that pickup links very, very easily because you've got all these different experts on there.
So you get people outside of these experts that will link to the post because it's a solid piece of content. But then you actually get the experts themselves that will often either share it out on social media or link to it.
So, for this link building method essentially you're going to put:
Headline
Introduction
Headshots
And you're going to aggregate all of their responses and then move on to the next person then aggregate their response.
Here is a template you can follow:
It's multiple experts answering the same question you aggregate those together and these posts tend to pick up a lot of links.
3. Interview Post
Now, the interview post is another template that you can use to pick up links. So when you start running an interview series on your blog, first of all, you're creating really stellar content assuming you're interviewing good people and have solid interviewing skills.
Here you're going to do a headline, you're going to do a quick introduction of the topic and the expert and link to their blog, link to their Twitter or Linkedin profile, or something like that.
And then you're either going to do a text interview, a video interview or an audio interview and these posts tend to pick up links as well.
Here is a template you can follow for an interview type post:
4. Quote Post
The quote post is also another fantastic way to pick up links. Here you don't even need permission to do this one since you're going to take quotes from experts and aggregate them together.
So pick a topic aggregate the quotes together from a number of different experts. They could be experts in fitness, experts in home improvement, experts in financial planning whatever your affiliate niche.
You're going to go through and find things that these experts said about this particular topic and then you want to go out and tag those people in social media, you want to drum up, buzz around the fact that you've aggregated the thoughts of a number of different industry experts about a particular topic.
So those are three great post types to use when you're creating content that is intended to pick up links.
Now. Let's talk about creating particular types of content that we would call link bait.
5. Link Bait
Let's talk about building links using something called link bait and link baits have gotten kind of a bad name over the years.
What link bait is it's really just any asset that you produce, that's really just intended to build links, but I can tell you that the best kind of linkbait is the kind that your audience just absolutely loves and it's very useful.
You can do things like tools. For example, Canva did something like Color Wheel which got thousands of links.
This is a great tool that you can use to pick out hex colors and RGB colors and things like that.
If you're in design and need a color wheel, which is something that is very connected to Canva tools then, you're going to want to use Canva color.
So tools are really great things to attract links.
6. Epic Blog Posts
Usually, the higher word counts the more words that you have at a blog post that the tendency is for that post to get more backlinks than posts with less words as you can read in this study by Ahrefs.
The idea here is that creating something that is as thorough as for example, Yoast's WordPress SEO Tutorial which is, literally so long that it got an entire table of contents to it. This method is also known as the skyscraper technique.
These kinds of epic end-all-be-all ultimate guide posts tend to pick up a lot of links.
7. Creating Controversy
Creating controversy will pick up a lot of links. People will cite and source what you've been talking about on your site if you can be controversial.
So, for example, Mark Schaefer from businessesgrow.com came up with this concept called "content shock"
And it's pretty controversial in the content marketing space. And so, a lot of people cited this article because of the controversy that it started.
Really anything about politics is going to start as good as it's going to be controversial.
Now, we're going to start talking about earning links using one of the best types of link bait which is primary research.
8. Primary Research
I was talking to a friend of mine the other day, who's very interested in SEO and he was telling me that if he was going to start a new agency right now that his agency would do nothing but build primary research for their clients because it is such a great piece of link bait.
So primary research like this study from Backlinko analyzed 912 million blog posts.
This kind of content is so rare to find that in and it's in such demand to find actual data actual like graphs and charts, and things like that.
So it's very rare to find good solid primary research and it's very much in demand but if your business can produce some actual primary research, you're virtually guaranteed to start getting links for your affiliate site.
9. Getting Out More
One of the best ways to start getting more links is to start getting out there more, for example, giving more interviews.
One of the things that start to happen, when you start giving people interviews online is you tend to get more interviews.
So, if you start doing podcast interviews, you'll start picking up links if you start giving text interviews, you'll pick up links, and the more you do interviews, the more interviews, you'll get.
You can also give more quotes and participate in things like quote posts in your niche.
Find out who's producing content because there's going to be somebody in some group of people that are producing content in your industry and your niche and they probably looking for expert quotes and interviews.
And when you contribute that stuff, you can expect a link back.
Another great way to pick up more interviews and more invitations is to speak from the stage. Nothing better than getting out there and speaking from the stage.
you can also get involved in charities and communities in your surrounding community.
And so, those kinds of things just naturally lead to more press and more links and we earn more media that way.
So get involved, find some true way to start giving back to your community and you'll see that that will pay.
It will pay dividends through the actual mainstream press, more links, things like that.
And especially if you don't do it just for that reason, you'll find that you'll actually get more out of it.
10. Internal Linking
Building links that is most under your control is the internal linking that you're doing on your own site. So consider cross-linking, anywhere that makes sense to your visitor.
And remember that the search engines are pretty much in lockstep with the user experience of your actual human visitor and they try to mimic that in their algorithm.
There used to be this rule where it was like we don't want to link off this page too many times because it'll leak page rank off of the page and we don't want to link to other sites certainly and we wouldn't want to link to another blog or somebody else's product page or whatever because we don't want to leak link juice off of the page or page rank off of the page.
I don't subscribe to that at all, and I would encourage you to any place that you feel like a cross-linked makes sense to your visitor include the crosslink.
So cross-linked to your other content cross-link to your affiliate pages, cross link to other people's content, cross-linked wherever it makes sense for the user and you will win.
11. Newsjacking
The last Link building strategy is newsjacking. And the first thing if you're going to try to employ this strategy, you need to be listening to industry news. You need to be connected.
One of the best ways to do that is through Twitter and just kind of staying on top of who's tweeting about what because Twitter tends to be sort of the nervous system of the internet.
You need to be ready to build assets, sort of at a moment's notice. So newsjacking is about jumping on the back of things that are trending.
Now whether it's in your industry or something related to your industry, or something that you find a creative way to connect to your industry, it can pay to be first in line. The first person to produce something.
For example, Digital Marketer jumped on the sort of announcement that Facebook was coming out with something called Facebook Flex Targeting 99% of the world could care less.
But the small percentage of people that do care about this was kind of a big deal.
And so when it launched, they were quick to publish about it and they published essentially with a post that was just Facebook Flex Targeting guide.
So you want to practice what I call Agile SEO or having a content team that is agile and ready to pounce on things as the scenarios are changing.
And I'm talking about within 24 hours of things happening that you are able to produce an asset, get it out there, have it optimized, get it out into different channels and optimize for that search intent.
So agile SEO is all about being ready to pounce on things as scenarios change and producing assets, and being quick. To get them published in different channels.
So practice, agile, SEO, or don't. but this could be a really great way to pick up links because you'll be one of the only sources of information out there about something if you can, stay on top of producing assets quickly.
Link Building For Affiliate Sites Wrapping Up
So this is how to build links for your affiliate site. Links from other sites play a part huge in establishing visibility on your website. And as you can see the links themselves can be built through a variety of methods.
I hope this guide will help get some high-quality links and take your SEO game to the next level and dominate your niche