Today, I'm going to show you how to make money with Jasper AI by starting your own business, creating services, and serving your clients.
I am always looking for more ways to make my work simpler for myself, plus serve my clients better, and diversify my income.
And now thanks to AI, it is totally possible. We're living in an age where artificial intelligence is capable of doing things people would never have thought possible just 10 years ago. The applications are infinite.
So now I'm going to tell you about the best ways to make money with Jasper – the #1 AI copywriting tool (formerly Jarvis.ai)
After testing over 9 different AI copywriting software, I've found that Jasper.ai helps you generate a way better quality copy than any other tool out there. It really helps you to write content faster without sacrificing quality or accuracy.
In addition, they have plenty of useful tools that you might need to make money online.
You can read more about this AI writer in this in-depth Jasper AI review and full tutorial on how to use it.
But there are other (more affordable) software that might fit better for you depending on your situation and what business idea you're going to choose:
So choose the tool that you like and let's get started.
How To Make Money with Jasper AI
Here are the best ways to make money online with Jasper AI.
1. Start an Affiliate Marketing Business
The first way to make money online with Jasper AI is through affiliate marketing.
Simply put, affiliate marketing is when you recommend or refer a product to someone in order to earn a commission on the sale if they buy it.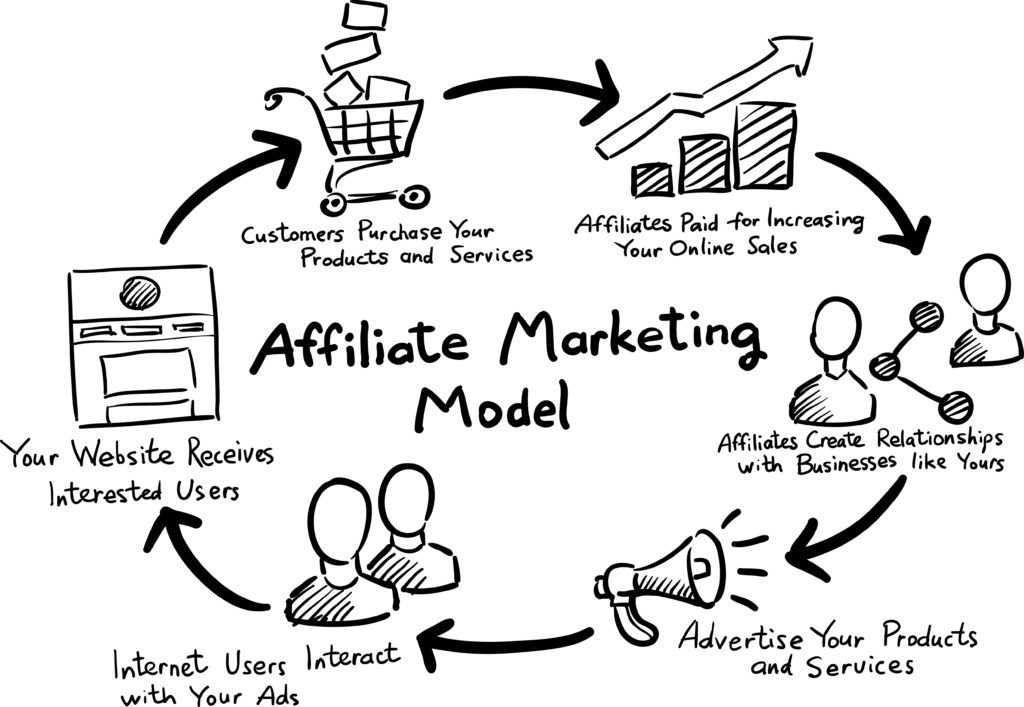 Affiliate marketing is getting a bad rap these days for many reasons.
Many "online marketers" just try to promote a product shamelessly with no knowledge on the subject that they are creating content about.
They don't care if the product is garbage if it's low-quality they're just going to promote it.
This is a bad practice that will not get you anywhere and it actually hurts affiliate marketing as a whole.
But affiliate marketing can be very powerful if done correctly.
If you're promoting high-quality products that help your audience solve problems and will take them closer to the end goal then it's your duty to get this product into their hands and use it.
What's great about affiliate marketing until this day for the work that I did many years ago I'm still getting paid recurring commissions.
You can earn money with affiliate marketing by promoting any products related to your niche. For example, if you have a tech blog, you can promote anything tech-related like mobile phones or computers.
With AI copywriting tools, you can save yourself a lot of time because you can create any type of content with it:
Product reviews
Blog posts
Ad copy
Emails
And more.
However, affiliate marketing will require some background knowledge on the product so that you know what to say about it.
For example, if you are affiliate marketing mobile phones, do your research on each phone and write an honest review for your readers.
You can also form affiliate relationships with other bloggers and websites to promote their affiliate products.
In order to do this, you have to contact the affiliate manager of a company or website and ask them if they would be interested in working together.
💡 Pro Tip
If you would like to know about this business model, make sure to check out our free affiliate marketing training where we'll show you the strategies to start a successful affiliate marketing business that makes you recurring monthly commissions.
2. Create a Blog
Now I know what you're thinking,
"Everyone knows you can use Jasper to write blogs. That's what it's meant for right?"
You are correct in thinking that lots of people are using AI copywriting tools to write blogs.
In fact, I would wager, it is one of the most used ways people use them, but it's still worth a mention.
For example, Jasper long-form assistant makes writing blog posts and other content, super-duper easy and very fast.
You just create a new project and Jasper guides you through the entire process.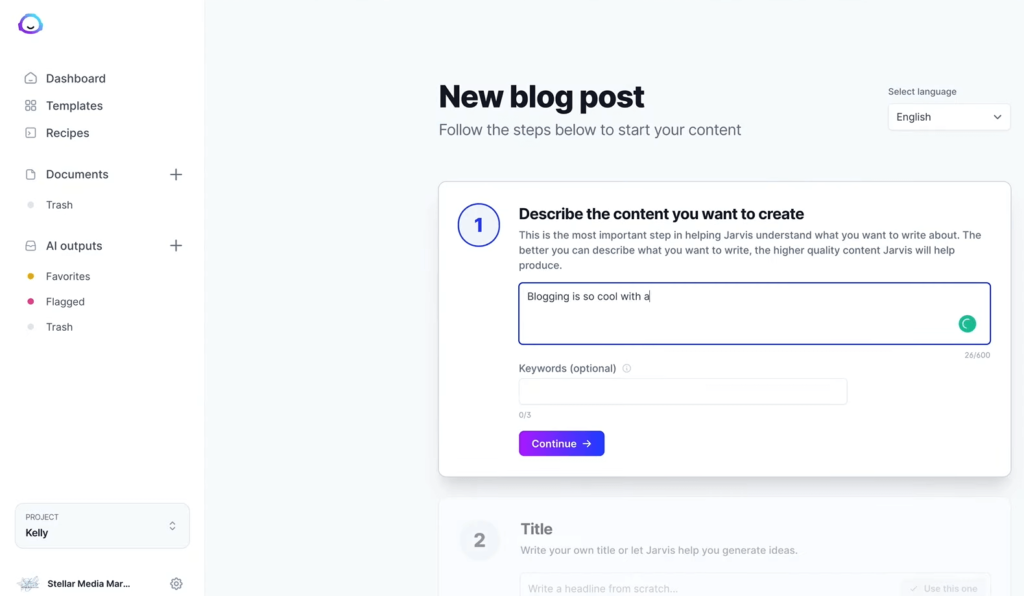 Blogging has been around as long as the internet, and it remains one popular way to make money online.
You can make blogging a full-time job or a part-time hobby depending on how much time you have to work on it.
Blogging is a great way for people with knowledge in any area, from gardening and cooking to hairstyles and makeup, to provide valuable content with knowledge and inspiration.
You can monetize your blog through many methods, including:
Sponsored ads
Afiliate marketing
Selling your own products
With all of these website builders like WordPress, Squarespace, and Wix, and my favorite – Builderall, creating a blog is easy even when you have no technical skills.
While these website builders letting you set up your blog within the same day – exist for quite some time, one thing that still needs a lot of time is writing the blog content.
The Jasper AI Long-form assistant takes off 80-90% of the workload in the writing process, which increases the
amount of content you can write by at least 10x.
3. Sell SEO Services
Google's ranking algorithms are changing frequently on the back end which makes it hard for businesses who rely heavily upon search engine traffic.
Jasper AI provides many SEO templates that you can leverage to create content that you can sell as a freelancer.
In addition, now you can integrate Jasper AI with one of the best on-page SEO optimization tools – Surfer SEO so you can rest assured that your content will be 100% SEO optimized.
💡 Pro Tip
You can also read more about Jasper AI and Surfer SEO integration to see how to dominate search engines with this powerful combination.
4. Start a YouTube Channel
The next way to make money online with AI on today's list is to start a YouTube channel.
Obviously, Jasper cannot do the video for you, for this, you can use video maker tools like Pictory AI or InVideo.
However, with Jasper, you can create YouTube video scripts, SEO-optimized YouTube titles and descriptions, and more.
With a trend of video content gaining in popularity, YouTube is the perfect channel to create engaging content, build a following and generate a high return of investment.
You can monetize a YouTube channel in many different ways, including
Google Adsense
Affiliate marketing
Selling your own products and services
Selling your own merch
Brand deals
While YouTube is one of the best ways, if not the best way, to build an audience that knows, likes, trusts, and buys from you – it's at the same time definitely one of the most time-intensive ones as well.
Keep in mind that consistency is key on YouTube. So, when you're not able to deliver high-quality content regularly, it's hard to make a significant amount of money from YouTube.
5. Launch an E-Commerce Business
E-Commerce is another great way to make money with AI copywriting tools.
With online shopping getting more and more popular, it's an excellent opportunity to enter the market and start an eCommerce or dropshipping business.
Nowadays, you don't need to have a physical store. You can simply start your own online shop with platforms like Shopify, WooCommerce, or Magento, or you can sell your products on (third-party) marketplaces like Amazon or eBay.
While the entry-level into selling physical goods definitely got lower, it might still get overwhelming to handle all the tasks that go into running an E-Commerce business.
Luckily, Jasper AI can take off a big part of the workload by providing templates for high converting product descriptions and ad copy for different types of E-Commerce and Advertising platforms.
With Jasper, you can also write blog posts for your online store to drive traffic or create email marketing copy to increase your revenue.
That will help you work on your business instead of in your business, which will ultimately increase the productivity and revenue of your efforts to make money with E-Commerce.
For this business model, the best software would be Ocoya since they have integrations with e-commerce platforms like Shopify or WooComerce.
Now let's take a look at some of the service-based businesses.
6. Sell Blog Services
When you are selling blogging services, you can choose to sell by word or per blog or even blog packages.
The price of blogging depends on the length and the complexity of the post but you can start as low as $10 per blog post, which I actually think is way too low and goes up to hundreds of dollars per blog post.
If you're charging per word, you typically see around 10 cents and up to $2 per word.
So obviously, blog writing services offer a great opportunity to diversify your service offering and bring in more clients.
7. Offer Copywriting Services
This is something different than blog writing. Copywriters are experts at writing sales pages, sales letters, or any other type of sales copy.
Copywriters charge between $25 up to even $25,000 per page.

Copywriting is what drives sales for any business, and without sales, a company does not exist. That's why copywriting is a very lucrative way to make money online.
You can offer your services directly to businesses or on platforms like Fiverr. As this service is in high demand and
essential for every business, there is no earning cap on how much money you can make.
This way, you'll be able to convince your target audience to buy it.
Writing creative and persuasive sales copy and enticing the reader to convert is where Jasper shines.
Jasper.ai got trained by experienced copywriters and by reading millions of documents on the internet; many of those being marketing copy proven to make sales.
With the AI Jasper AIDA formula template, you can create amazing copy efficiently however you still need to have some background knowledge about copywriting.
💡 Pro Tip
If you are interested in making money through Copywriting, you can check out The Copywriters Playbook by David Sharpe.

It's a complete copywriting course packed with the exact formulas you need to learn about copywriting and it costs just $1.
8. Sell Email Marketing Services
Another way to make money is by selling email marketing services. Email marketing has come a very long way from old-fashioned spammy lists and newsletters clogging up your inboxes.
Thanks to AI, there are now a lot of ways you can provide email marketing as a service for your clients.
I personally love using the AIDA template to create emails.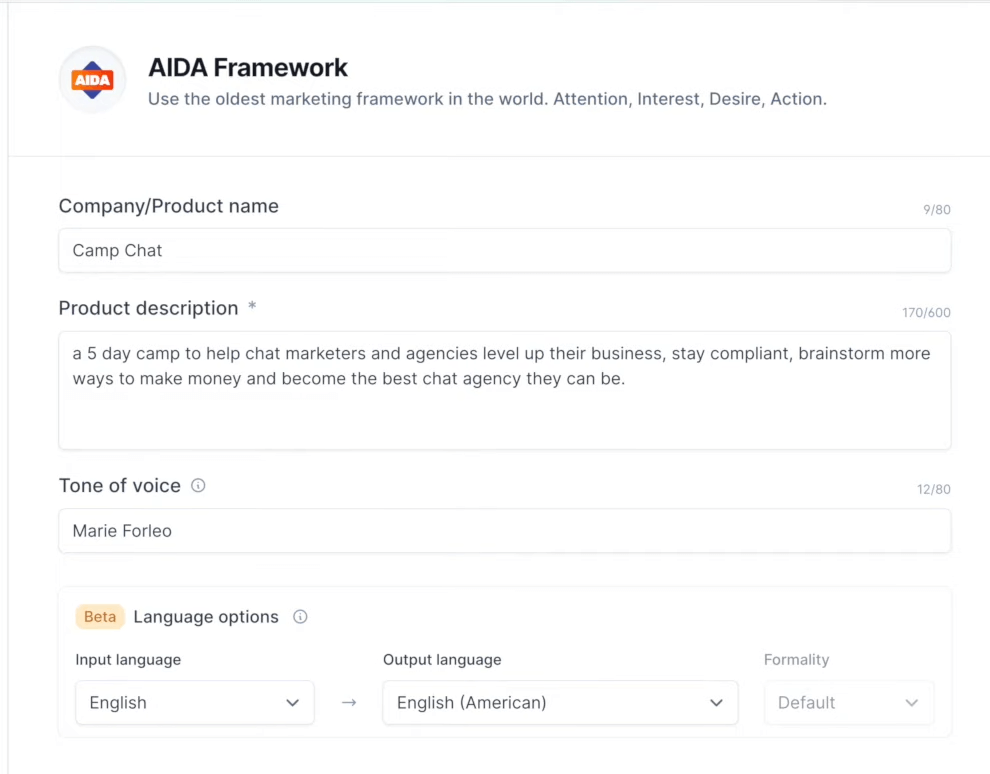 In no time flat, you can create tons of email content for your clients.
I've seen email writing services range from $5 per email to $125 per email, or even more depending on the client's needs, and if you are simply delivering the content to the client, or if you're managing the entire email marketing system, which means you can charge more.
If you're using Jasper AI, that is easy money.
9. Provide Content Ideas For Clients
The next great service you can offer is a content ideas list. Sometimes clients just need ideas on what they can create each month for:
Blog posts
Social media
Video
And more
Offering a low-cost subscription service, where you provide a client list of content ideas is a great way to get clients in the door.
You can use the video topic ideas template, the blog topic ideas template, or Boss Mode over in Jasper to quickly compile a list of ideas and titles for blog posts and other content that clients can use to create their own content.
This can be a low-cost offering, or you can create a huge list of ideas and use it as a lead magnet to build your own email list of potential clients.
10. Sell Video Scripting Services
If you have a client that does video marketing, Jasper can help you offer them scripting services.
You can use the video script outline template to create a video concept for your clients.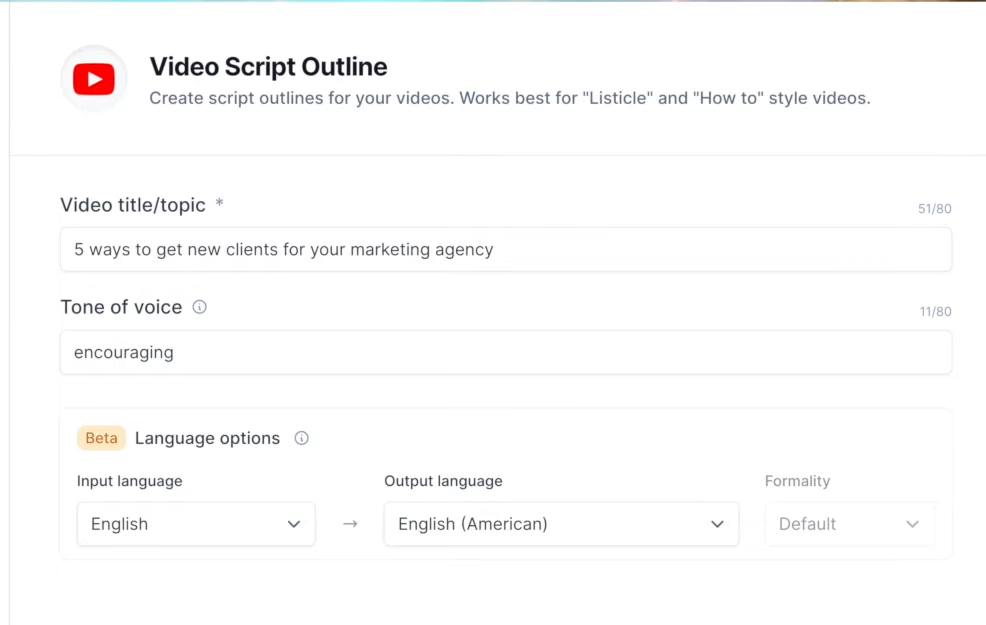 Or they can upgrade to a full script service, in which case you can use Jasper Boss Mode to help fill in that outline and create full scripts that clients can use.
With the popularity of YouTube and the growing number of people who want to create content on that platform services like the content ideas list and video outlines and scripting can be a fantastic money maker for you.
11. Publish a Book
One popular yet traditional way to make money with Jasper is by writing and publishing books. Once upon a time, writing books required a publisher and an agent because everything depended on printing.
Nowadays, it's easier and cheaper than ever to publish your book through services like Amazon's Kindle Direct Publishing (KDP) program.
You can make your book available for purchase on Amazon Kindle and post it on other platforms like Google Play, Kobo Books, Nook, and Apple Books.
Writing a book is usually a process that takes weeks, months, if not years, and sometimes gets never finished. With the Long-form assistant by Jasper AI, you'll be able to write your book much faster than if you used traditional methods and without any of the hassles.
12. Provide Social Media Management (SMMA)
Another great service idea is to offer social media management.
Social media is not only for young people these days. The times where social media is reserved only for young people are over.
Nowadays, people of all ages are hanging out on social media, making it necessary for businesses to be present on there.
You can offer Social Media Management services in two ways – as an agency or a freelancer.
You can contact businesses directly to provide them with your services, promote them with paid ads, or offer your services on platforms like Fiverr.
Whether you go the agency or the freelancer route: you need to create a lot of high-quality content that will engage your clients' audience, especially when you work as a full-service agency or offer your freelancing services for multiple platforms.
The best AI copywriting for this business model is Ocoya since it's a social media management tool that allows you to create content inside of the platform including copy and graphics with AI.
In fact, they position themself as the platform for agencies.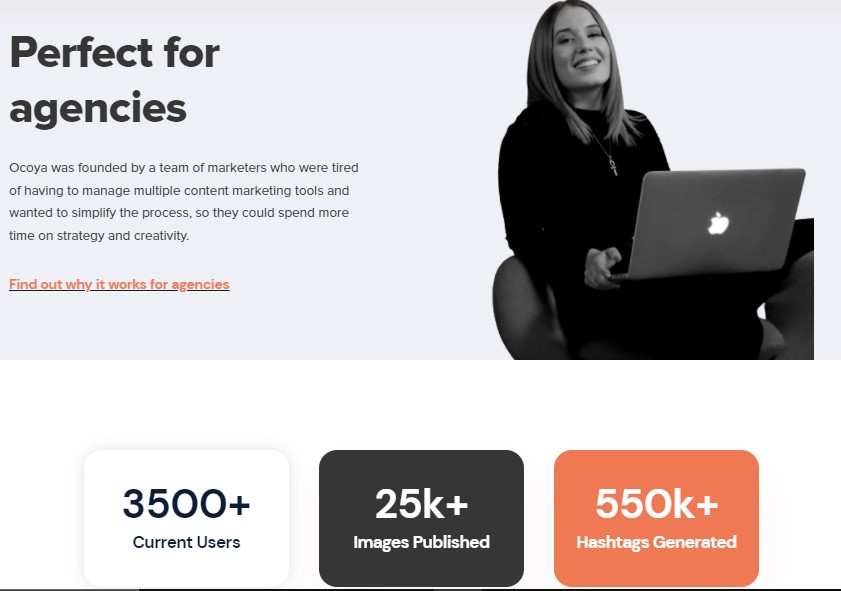 You can use it to craft content and manage social media platforms for your clients in one dashboard.
This way, you will be able to increase your client engagement and ultimately generate more revenue by selling higher-priced services, attracting higher-paying clients, or giving you the ability to serve more clients in the same amount of time.
Consider offering packs like 5 posts per week to use on your social media for X amount of dollars or something like 30 days worth of content for only $200.
That's just a suggestion. You can price it however you want.
Making Money With Jasper AI Wrapping Up
As you can see there are many different ways to make money with Jasper AI
From blog posts to email marketing, to video scripts and social media content.
If you found value in this article, please give it a share.
Thank you for reading!