In this MarketerMagic review, I'm going to show you the number one software that you need to get your hands on if you run or want to start a digital marketing agency.
I'm going to be sharing with you what exactly MarketerMagic does, how you can save so much money in your business using this tool, and also the one very unique feature that actually drew me to the software that no other software is currently doing.
So, let's get into it.
Note: In this MarketerMagic review I'm going to walk you through this platform so if you want to work along with me you can start Marketer Magic completely free trial. And if you use that link, you'll also get a free bonus, digital marketing training that I've created for you.
What is MarketerMagic?
Created by Kevin David, MarketerMagic is a suite of software made by marketers for marketers and agency owners.
Marketer Magic will make sure that your emails actually get delivered into inboxes.
Immediately increase the profitability of your email marketing, increase your conversion opt-in percentages on all of your landing pages.
It can help you improve the productivity of your remote workers of your virtual assistants.
Also, it will show you how to spend less time tracking and more time actually growing your business.
They have a revolutionary tool that's never existed before where you can immediately find thousands and thousands of new and profitable leads with the click of a button for your agency.
Marketer Magic Features
MarketerMagic incorporates six different software's into one that actually gives you different features that most paid platforms that don't give you.
Marketer Magic gives you a free trial if you wanted to try it and training from Kevin David himself. So, I will say that just the value alone inside of this software is well worth it.
So, what we have here is we have basically six features.
And when I consolidate it six different things that I was using, it saved me over $500 a month. So, I want to introduce it to you because again, if I'm saving that kind of money, you should be too.
ClickProof – Social Proof Tool
ClickProof is an amazing tool that allows you to basically have real social proof on your landing pages.
And ou can put it on any landing page you currently have.
Any landing page no matter if you use Builderall, Kartra, or GrooveFunnels, whatever your case may be.
And if you've gone to some landing pages and in the bottom left-hand corner typically you would see a little pop-up that looks like this:
You can actually create custom thing, whatever you want to say.
This also could be used on Shopify.
So, you just type in the URL of your landing page.
Next, choose the type of social proof you want to use and it will give 3 options:
And you can put in whatever message you want, for example, "Join our Master Class with 7 Days Free Trial".
Then you get all these hooks.
You have a ClickFunnels, Shopify and your website/funnel webhook.
Then you install this, you click "Test My Pixel" and your social proof is live.
It works so, so easy.
There are some other tools like UseProof that do some similar stuff but most of those tools charge you such ridiculous prices and the problem is you can't actually make custom notifications just like I showed you.
And for social proof alone, I was already paying $97 a month to use that.
Let's just cut that alone back down to $47 a month and that's a cost savings all together.
Think about it for yourself, when you're walking down the street and you see a bunch of people looking up at something, you look at that same thing. It's just human nature.
And having real social proof on your pages makes people much more likely to actually convert.
LabPick – Email Marketing Personalization Tool
LivePic is a way that you can really personalize every interaction with your customers and with your email subscribers because it allows you to actually append their real name live onto a picture and that's why it's called LivePic.
LabPick is a great tool for email marketers because now you can add your own picture and you can put in your custom variable.
The platforms that are currently used for your email marketers, that you put that picture inside of your email and customize the picture per whatever the actual person's name is.
if for some reason somehow somebody opts into your e-mail and they didn't give you their first name then you want like a default fallback value so it doesn't just say like "hey …" or "hey" you'd rather have it say "hey my friend"
You can actually add "my friend" as a default variable because if the person does not have a name, it's going to come in and say, "Hi, my friend" or you can change that up to however you want to talk.
And this makes email marketing that much more personable because now not only are you saying, "Hey, first name" in your email, you're actually bringing it in a pitcher, that's going to actually show their name.
And you can use so many different platforms like:
You can customize this however, you wanted, including, snippet text, colors, and more.
It actually makes it look like you are writing someone a note and you're actually writing their name on to a whiteboard.
So now every single time somebody gets this email it's going to automatically put their name.
I guarantee you that it will drastically increase your conversions.
EmailVerifier – Email Verfier Tool
The email verifier is a really cool tool. You have two features on it. You can actually take your email list and actually run it through the verifier and make sure that emails are confirmed.
One of the problems that a lot of digital marketers have is people putting fake emails into their opt-in forms which clog up your SMTP s and actually drastically lower your deliverability rate.
The big thing with email is you want your emails to actually deliver to your customers so that they're reading whatever you actually have to say.
Now, the reason I say this is because the email marketers nowadays, have to understand that people are smart enough to know that all they need is an @Yahoo or an @Gmail or an @Outlook, whatever the case may be so, it might not be a valid email.
Now, the more you start emailing these non-valid emails, you're going to get listed as spam.
So, your SMTP is not going to be correct. It's going to actually start showing as spam.
And so there are two ways to do that the first way is you have to clean your list.
And when I say clean your list that basically means you want to make sure that any of the fake emails or spammy emails that are actually on your email list are not actually getting sent to because that can really damage your SMTP.
And so the way that you actually prevent that is by periodically at least once or twice every single month cleaning your actual email list
So, let me show you how you can do that with Marketer Magic.
How To Clean an Email List with Email Verifier?
To verify these emails you can just simply download that from your email marketing provider and just download that as a CSV.
You come up here and you can it as a CSV.
Live Verification
Now here's another cool feature to this is if you have a landing page, you can do live verification.
You add a code to your website and all you do is live verification.
So, if the email is not valid at all, it will not accept and it will prompt a user to enter in a valid email.
Now, how valuable is that alone?
So, this is how to make sure that your emails actually get sent because when your emails get sent, when they get delivered into people's inboxes that is when you make money.
If you don't have good deliverability rates because your SMTP and all your emails are clogged with all this spam and all these fake emails that people are putting in then it's a really bad thing for your business.
So make sure to use EmailVerifier to clean your list at least once a month.
WorkHub – Project Management Tool
WorkHub basically is a time tracking tool and it tracks everything that you need as far as:
So you can really know exactly what's going on.
But the coolest part is you can actually invite people.
Your employee just has to simply download the Marketer Magic Chrome Extension that is required to track his performance.
You can add all of your virtual assistants so you can just continue to add members.
You can add them to the same project or multiple different projects If you have different team members for example accountants, advertisers, content creators graphic artists things like that.
You can see how long they worked, how active they were when they worked, you can see how much you actually paid out to your employees.
Also, you can check by individual members or by individual projects.
So this is a way that you can kind of keep a tabs on everything that is happening in your business.
And as your business starts to get larger and larger it becomes next to impossible to make to make sure that all of your employees are working as efficiently as they can because you don't want to hire people that aren't working on what they say they're working on.
WorkHub is one of my secret weapons, I can't explain how important WorkUp is to my agency.
Using virtual assistants is the future. Leveraging the fact that other countries have a much cheaper cost of living is an incredibly valuable thing that everybody should be taking advantage of.
So WorkHub allows you to do exactly that.
MiniMe – Link Shortener Tool
MiniMe is a very advanced link shortener with multiple features:
You can use it for 50/50 splits. You can use it as a link tree, meaning you can have one link going to multiple URLs.
And here's a very interesting thing. If I told you that you could build a link and actually puts your Google tracking code or your Facebook pixel inside of that actual link and have it not even going to your landing page, say, for instance, you hadn't gone to an Amazon listing and you were having it go into Amazon.
That's not even your product, right?
But you could be building a list every time somebody visits that actual landing page because they have an interest in that product, right?
So, you could do that with a retargeting link right here, and just simply change and put in your destination URL.
And all you have to do is you have to create a retargeting link, add your pixel and your retargeting link is good to go.
There are some other tools that cost min. $29 a month to be able to just retarget people that click on a link.
MiniMe allows you to do so much that just wasn't available before or people were charging way more just for this one feature alone.
ManyLeads – Lead Generation Tool
ManyLeads when I was actually building my social media marketing agency was a tool that I always looked at for getting new clients and I'll show you why.
Basically, what it will do is if you type in certain parameters based on what type of business you are looking for and what location, it's actually going to scrape all of the businesses within that area.
It's a really basically, powerful tool.
In fact, this is one of the best lead generation tools I've ever seen.
It that scrapes tens of millions of different term and pages and websites and all these different things.
And so let's say for example that we wanted to find real estate agents in San Diego.
So we'll type "real estate agents SD", enter the keyword "real estate agents" And then in the location we'll type in "San Diego."
And what's going to happen is ManyLeads go out and find hundreds if not thousands of different entries.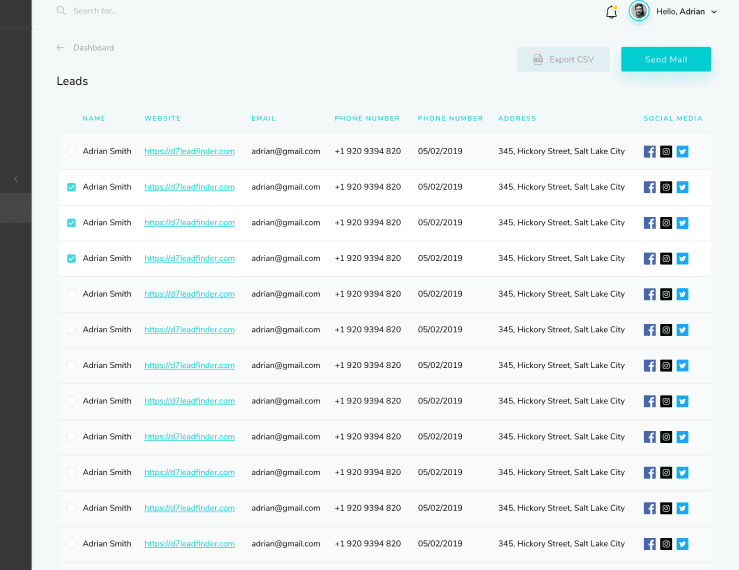 And it shows us all the details about these real estate agents including their:
But the most important thing is to see if they have a Facebook pixel installed.
So, you can get all of this information instantly from a search using ManyLeads.
You can also upload that as a CSV file.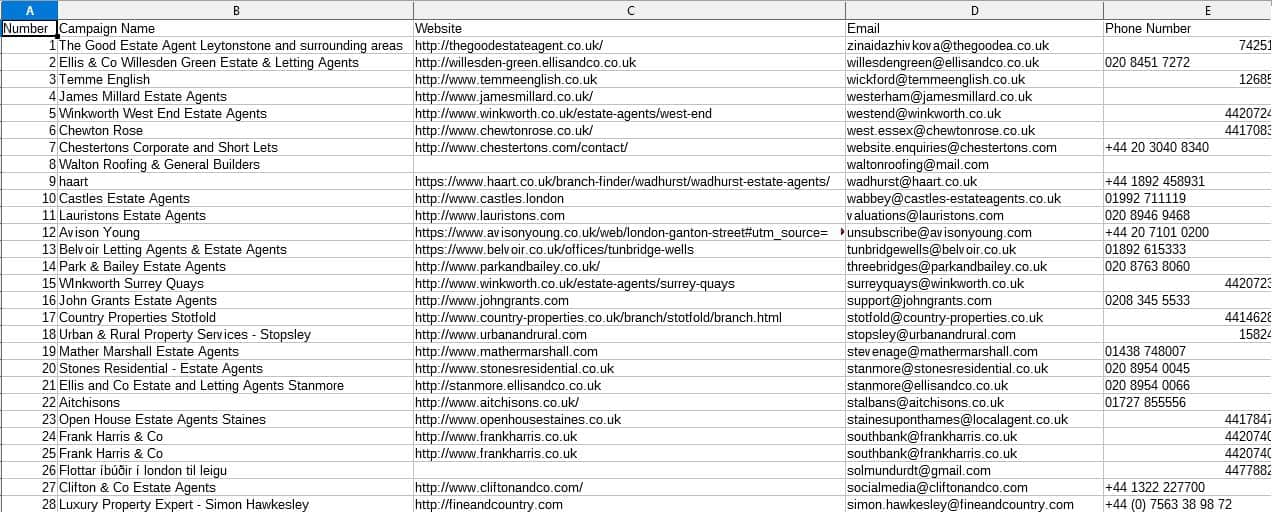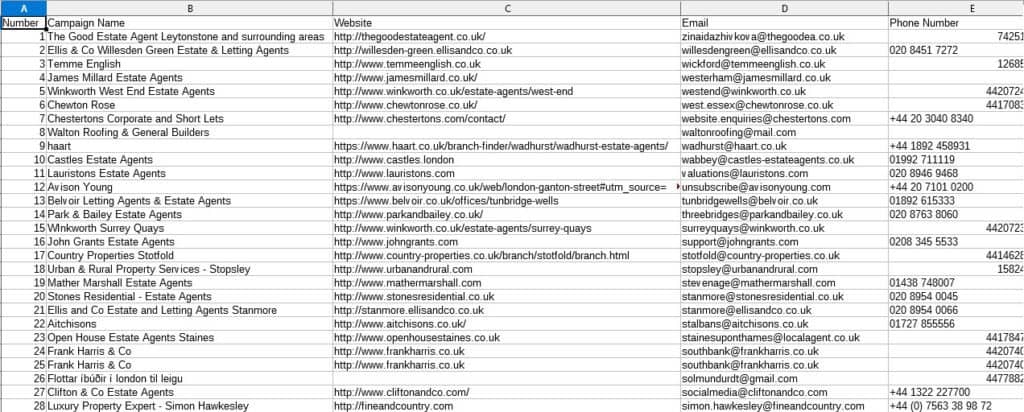 Look at how easy this is.
Normally prospecting used to take me days if not months.
I used to do this manually one page at a time to go out and find all of these people but now ManyLeads does this all for you.
And with just a few clicks of button I've got 1062 entries for real estate agents in once city.
With this ManyLeads alone, you can make thousands of dollars.
And if you're just seeing this actual process for the first time you don't even realize how much ridiculous amount of time savings ManyLeads actually gives you.
Because if you've ever tried to do manual lead generation on your own or you have a service base or agency business and you've tried to do this it literally takes forever.
It's the worst part of the whole process.
And ManyLeads automate all of that.
MarketerMagic Pricing
MarketerMagic offers a completely free 7-day trial so you can test the software out and see if you like it or not.
And after the if you want to get your hands on it, here are MarketerMagic pricing plans:
Legendary Plan – $47/month ($37/moth if billed annually)
Targeted at digital marketers and entrepreneurs in the early growth stage, the Legendary plan is enough to get your digital marketing campaign off the ground.
Legendary Plan includes:
You can pay yearly which will cost $37 a month.
Platinum Plan – $97/month ($67/moth if billed annually)
This plan is best suited for large companies and digital marketing agencies and include:
That's like handing the software to you.
Not only is he going to give you a free trial, but you can actually do this for just $47 a month.
I literally took all of the stuff that I was using, consolidated into this Marketer Magic and basically save $500 a month.
I guarantee you that this software will also save time, money and give you better results for your business.
MarketerMagic Affiliate Program
With MarketerMagic affiliate program you can make recurring income by promoting this software.
The cool thing about their affiliate program is you earn 41% of every dollar ever spent completely recurring.
So if somebody buys an annual plan you get 41% of that, if somebody buys a monthly plan you get 41% of that and you get it every month forever.
And so that can really start to add up especially with all the different types of tools that they offer in their collection you can make a lot of different content about those.
And the best part is that you don't need to pay for Marketer Magic to become an affiliate.
How to Become a MarketerMagic Affiliate?
Let me walk you through the process of becoming a Marketer Magic affiliate.
1. Go to the MarketerMagic.com
2. At the top of the page click on "Get $300".
This will take you to MarketerMagic, where you must register as an affiliate.
And btw it's free.
3. Here , you'll need to provide your details.
Select the payment method, enter the required information and you're ready to go!
MarketerMagic Alternatives
As mentioned earlier Marketer Magic combines six different tools that other software don't give you under one roof.
So here are alternatives to some of Marketer Magic features:
UseProof – ClickProof Alternative
UseProof is one of the best social proof tools available in the market. It allows you to boost your website conversions using:
It also works with most popular website and sales funnel builders.
Hunter.io – EmailVerifier Alternative
Hunter.io is an email finder that allows you to find professional email addresses in seconds.
They also offer an email verifier feature so you can send your emails with a complete confidence.
TimeDoctor – WorkHub Alternative
TimeDoctor is a time tracking software for the whole team with features like:
And many more great features.
UpLead – ManyLeads Alternative
UpLead is a lead generation tool helping you build a clean prospecting list.
They offer multiple features like:
It generates very clean lists that you can push straight to your favorite digital marketing CRM software.
PixelMe – MiniMe Alternative
PixelMe is a cloud-based link management tool primarily targeted at digital marketers. With it, you can brand, track, share URLs through its platform, and do retargeting on 3rd party websites.
Marketer Univerisity
As you can see there are a lot of great features that Marketer Magic has to offer and if you are a little bit confused of what to actually do with these tools, luckily there's a thing called Marketers University.
And if you go to Marketer University, it's actually just going to show you all of the different training that is relevant to the tool.
Marketer Magic University is the last training that you'll ever need on digital marketing and how to immediately improve your conversions, your analytics and your optimization for your online business.
Kevin David has all of these training videos for you inside of this.
Once you get into your dashboard there are many completely free videos where you can see exactly how to implement all of the different tools in your business.
And, you don't even need any sub training after this.
How To Make Money with MarketerMagic?
Now, I'm going to show you how Marketer Magic can make you literally thousands of dollars for you even if you have no experience and no money to start.
Step 1. Search For Businesses
So, first, I would look for a particular business that doesn't have the Facebook marketing pixel installed, it doesn't have any social media links installed and has a pretty bad website, and then instantly there I could offer them a new website, I could offer them a service to install their Facebook pixel as well as a retargeting campaign. And I could also link their social media.
So just for the example, I'm going to choose any business that has no Facebook pixel installed, they have got no social media presence and I'm going to check their website and see what it looks like.
And as you can see this doesn't look good at all…
Step 2. Reach Out These Businesses
Next, you want to start reaching out to people you have found using ManyLeads. You'll have all of their information that you need.
So basically, what I would then do is come back to Marketer Magic. I would email this guy and say:
"Hey Steve,
My name is Patryk and I'm looking to find some clients in this Auckland area and I saw your website and thought you could use a helping hand."
Best,
Patryk"
I would also offer them a discount just to get the foot in the door so I can get a few clients.
You can send them emails or call them if you want. A lot of people don't like actually reaching out via phone but you can if you're good at phone calls it's probably the easiest way to actually close these deals but if you're not and then you can just send them an email.
💡 Pro Tip: Offer Something For Free
The best way to actually get digital marketing clients is to give things away for free at first. Because it gets your foot in the door, it gets past the hardest part which is opening the conversation with these businesses. Showing them that you can deliver some type of results before they pay you, makes them paying you so much easier and so much faster. And then once you actually show them what you can deliver some results you can actually negotiate how much they're going to be paying your monthly retainer.
Step 3. Offer Digital Marketing Services
So what I would do is I would email every single one of these people and offer different digital marketing services
And once I have a few clients and get them some results, I can leverage those to scale and get more clients from the same area if that makes sense.
So, go through their websites one by one, see which ones have terrible websites or see which ones needs a bit of additions, see which ones they don't have their social media listed and then create a package based for them.
And then hopefully after you have one or two different testimonials from these guys, then you can start charging full price if that makes sense.
There are dozens of services that you can sell as a freelancer, or agency owner.
And remember that you don't want to be a jack-of-all-trades you want to be a master of one.
And the one thing that we want to master that is the most valuable for business owners. Remember the number one way to start creating a real income source for yourself is to master a high-value, high-income skill and one of the highest value skills you can possibly master is digital marketing.
Digital marketing is a very broad domain with more specialization, so I would encourage you to start with one.
You can check this list of 12 digital marketing services you can sell.
Who is MarketerMagic For?
Marketer Magic is a software targeter at digital marketers and agency owners
So whether you wan to:
This platform will help you find clients for your business and sell your services, improve the conversion rate on every landing page, help you get more out of your remote workers and virtual assistants.
Also it will give you tips on how to track less, and spend more time making your business grow.
Is MarketerMagic Legit?
Yes, Marketer Magic is a legit company that provide great customer support and Money Back Guarantee if for some reson you are not happy with the platform.
How to Cancel MarketerMagic Subscription?
After the free trial ends, you can cancel your MarketerMagic subscription at any time. A cancellation request must be submitted at least 24 hours in advance by contacting the Marketer Magic support team via their email address: [email protected]
Conclusion
So this is my Marketer Magic review. As you can see, there is a load of tools in there for one simple membership, all in one place. It's absolutely incredible.
And a tool like ManyLeads is a one-of-a-kind software I haven't actually seen before. And there are so many other very unique tools.
It's a perfect tool for anyone who is a social media manager, digital marketer, web developer, or if you're affiliate marketer, it's perfect for all of these types of things as well.
So, I highly recommend checking that out if you haven't yet. Once again, there is a free trial