I'll go over all the Marketing Blocks tools and features in detail to show you how you can use it.
Potentially you can turn this AI software into a money-making machine because you could easily sell these marketing assets to clients and get paid for something that's 100% automated and done by artificial intelligence.
But how good is that new software in practice?
If you want to know what I do think about this tool, after testing dozens of AI digital marketing tools, feel free to skip to the conclusion.
Marketing Blocks Tools & Features
Marketing Blocks is powered by a combo of artificial intelligence, natural language processing or NLP, big data, and the SMA proprietary technology.
It allows you to create:
Marketing copy and ads
Landing pages
Graphics
Promo videos
Voiceovers
Stock media
Emails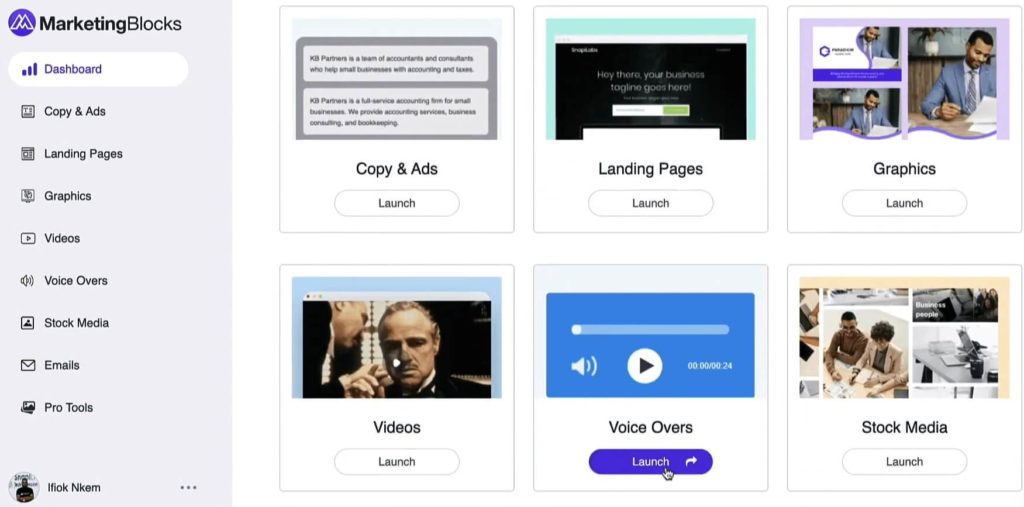 And all you have to do is provide your business name and a description of your business and everything will be created for you.
Now let's say you own a company. You can easily create marketing assets for your business or any business in just 3 simple steps.
First, we want to enter the product name and description. The AI will ask you a few questions to get some information about your business.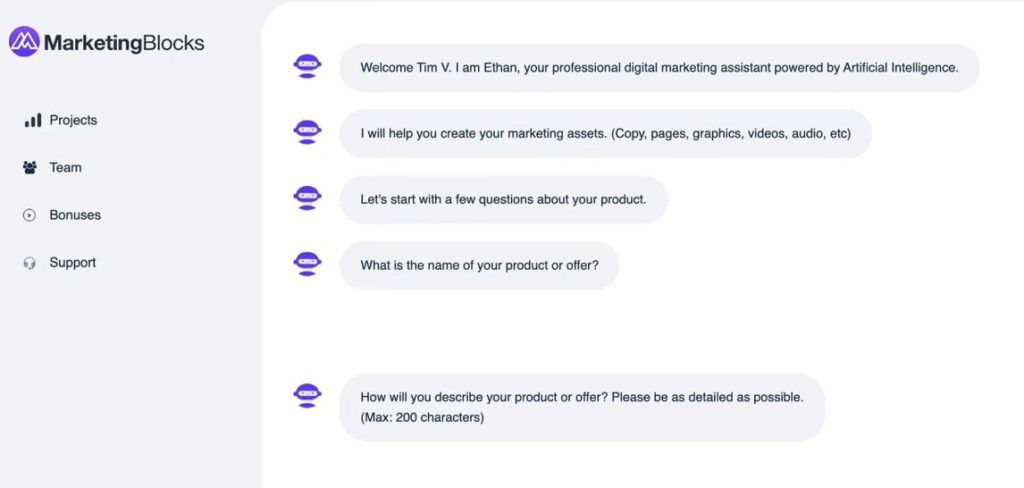 Once you answer the questions you can start creating landing pages, generating videos and graphics, and all of these things that I'm going to show you
So let's explore each of these tools one after the other.
Landing Pages
The intelligent AI also creates landing pages for you, preloaded with relevant text and images that fit your business.
You can instruct the AI to rewrite any of the sections in one click.
One thing that does not match is the images but everything can be modified on this page.
Sometimes it takes better pictures than the other times but you can change it very easily.
Designers have created done for you drag and drop sections on the canvas that helps with high conversions.
You can use the drag and drop landing page builder to develop multiple ideas and move around some blocks
Then you can use your own media or again, choose from the library of over 10 million stock images, illustrations, icons, objects, people on transparent backgrounds, and more.
Then they have the ability to add entire blocks so you don't have to create anything from scratch.
So on the left side here you see different blocks and sections.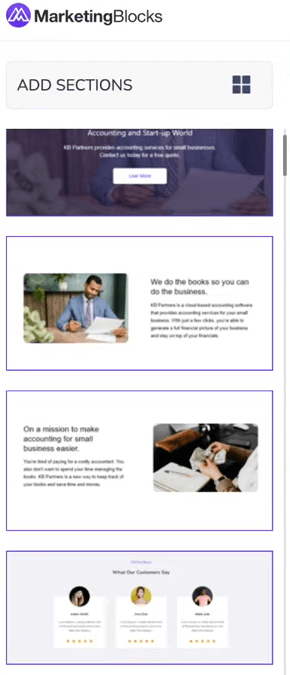 So when I drag this and it's going to add an entire block.
You could also add an opt-in form directly or through a pop-up to receive leads and even connect to your favorite autoresponder or marketing automation apps like:
Mailichimp
Sendlane
ActiveCampaign
Sendiio
GetResponse
MailerLite
Omnisend
And more.
The page builder is pretty easy to use however it's very basic compared to the one that I'm personally using which is Builderall -the all-in-one digital marketing platform with over 40 tools.
Copy & Ads
The AI writes 100% original copies that you could use in your business. It will not write an entire article but it's a great starting point to get you started.
They have all of these different copywriting tools like:
Ad templates like descriptions, headline, sub-headlines for Facebook and Google
Blog templates like ideas, titles, listicles titles blog post intros and outline
Sales copy templates based on proven copywriting: PAS, AIDA, feature to benefit,
Business templates like bio, value proposition, motto and mission
Video topics, script outline, script hook, introduction
Website & e-commerce templates like product description headlines, subheadlines
SEO meta titles and description
Email subject lines and copy
Unlike other tools in the market, Marketing Blocks uses real artificial intelligence and does not fill in the blank templates.
So it's not an article spinner or anything like that.
You have total control over your copy. You could set the tone of your copy and even translate it into over 100 languages in just one click.
The AI uses the most advanced natural language processing model and has been trained using more than 400 billion data feeds. But keep in mind that this applies to all AI copywriting tools not only to Marketing Blocks
So the content generated with the Marketing Blocks is decent. There is a lot of range for improvement and I am sure they are working on that.
Obviously, it's not the same quality output as in the best AI copywriting tools like Jarvis but it will get your job done with some editing efforts on your part.
Videos
Marketing Blocks AI also writes a video script, searches for relevant background media, and combines them to create promotional videos for your business.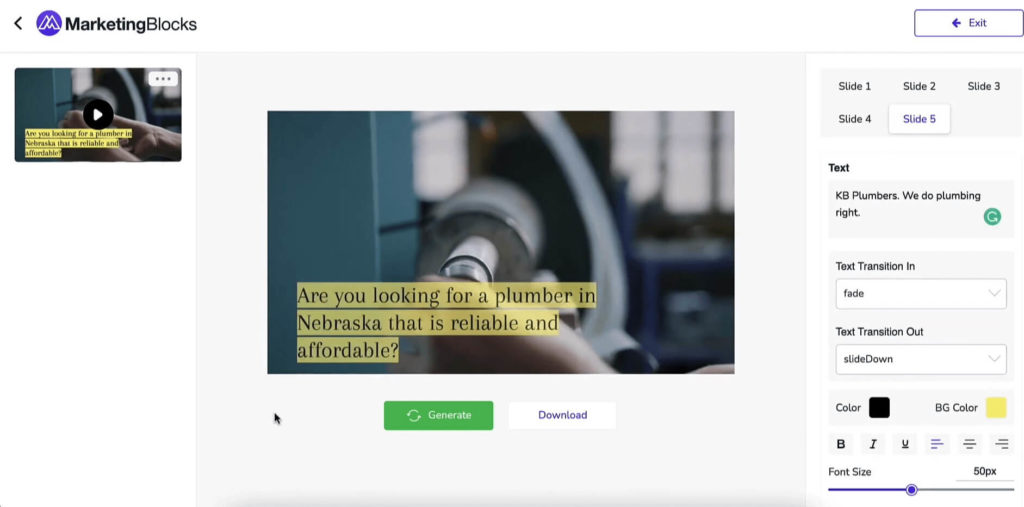 With the editor, you can edit each scene, change the text, background media, and background music.
Again, you can use your own media or choose from the library of millions of stock videos and images from Pexels then you can add background music, add render either as rectangle, square, or story style videos that you could use to get more traffic, leads and sales for your business.
Voiceovers
Marketing Blocks AI creates real human-like voiceovers for you. The AI writes the script to sell your services. You could edit the script and add your own, or even have the AI rewrite the script with one click.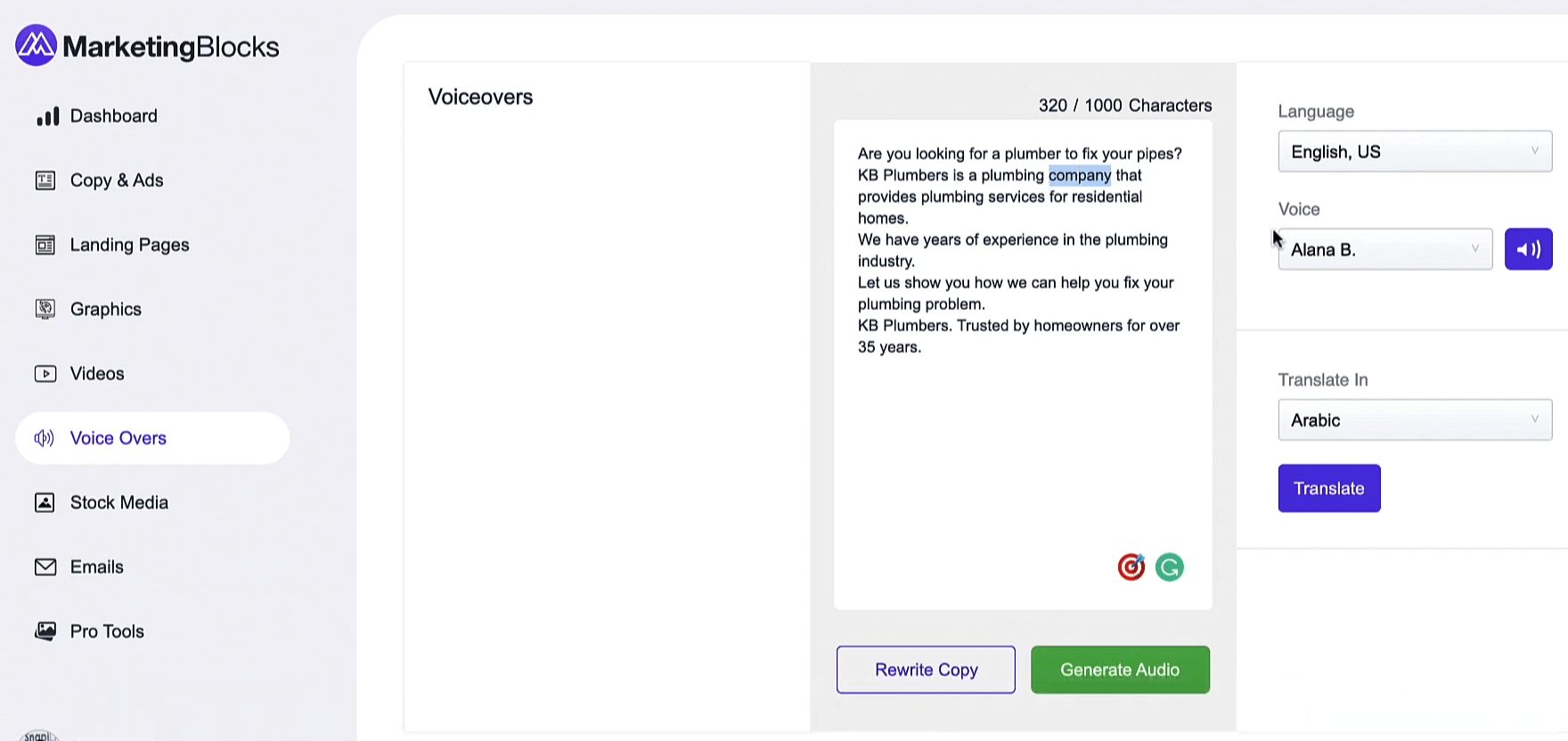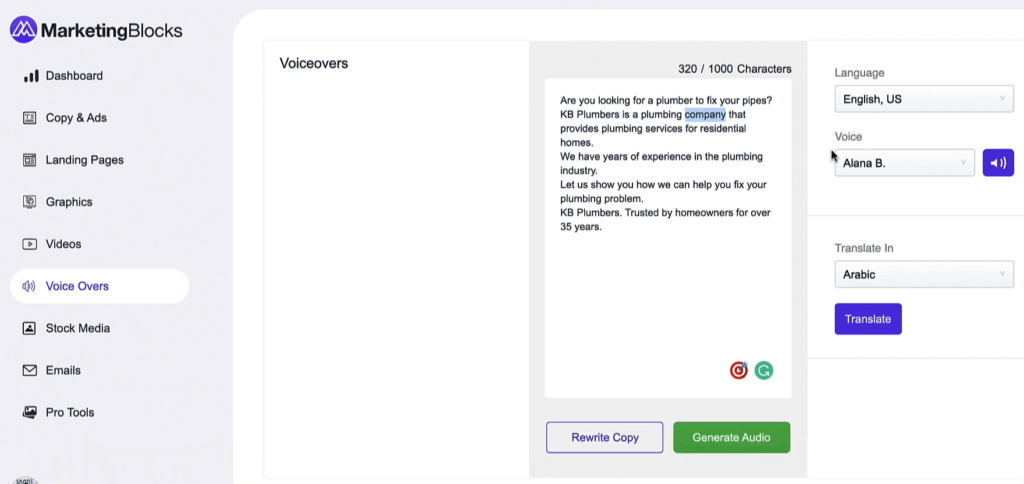 .All you have to do is choose one of the professional voiceover artists and convert the script to an AI voiceover using the text to speech technology.
Graphics
Marketing Blocks can generate bulk graphics for your business: banners, social media graphics, logos, letterhead, business cards, and many more, all preloaded with relevant images and copy.
You can retouch and edit your designs using the drag and drop graphics editor to create unique graphics that stand out in a flash.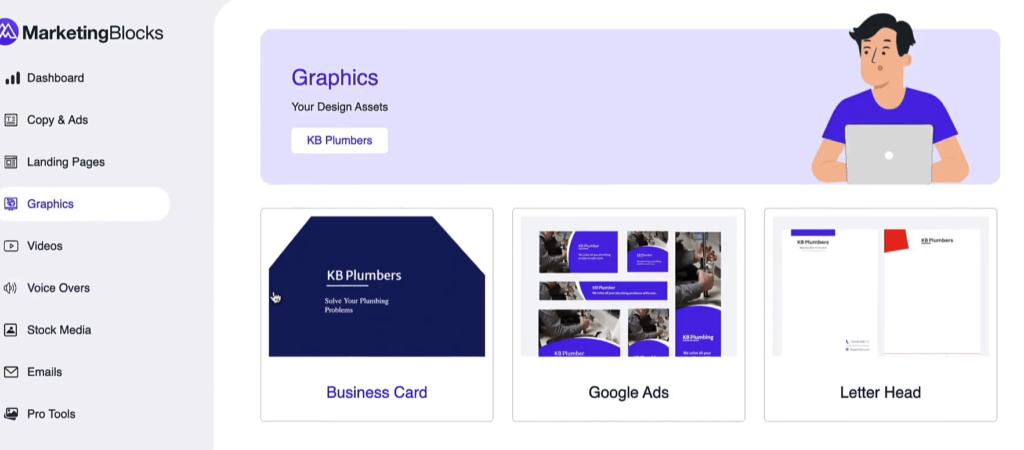 Similar to Canva you can use your own media or choose from our library of over 10 million stock images, illustrations, icons, objects, people on transparent backgrounds, and more.
The background remover tool allows you to edit the background out of an image with just one click using AI.
Email Writer
Email writer uses AI technology to write emails to sell your services. It's basically the same as the copywriting tool mentioned earlier.
Here you can write copy for your email newsletter or cold email outreach.
Marketing Blocks Pricing
Marketing Blocks offers 2 pricing plans:
Personal – $47/month
Commercial – $67/month
With both plans, you'll get access to all of the Marketing Blocks tools. The difference between these plans is that with the personal plan you can have 3 projects, 10,000 credits,
With the commercial plan, you can have up to 10 projects and 40,000 credits. In addition, you'll get access to the free commercial license, translation to +120 languages, and many other bonuses.
And keep in mind, they have over 5 different upsells once you decide to purchase this tool.
Who is Marketing Blocks For?
So exactly who would find Marketing Blocks useful? Well, it pretty much can create anything you need if you starting your business or you can use it to create content and copy for an already existing business as well.
So it's great for marketers, business owners, agencies, e-com sellers, affiliate marketers, startups, coaches or consultants, social media marketers, digital product sellers, and even brands.
Basically, if you're looking to build your business's online presence then I do think that a platform or a tool like this is something that could serve you very well. Plus it's going to save you a lot of time.
Is Marketing Blocks Worth It?
Marketing Blocks is really an easy way to create marketing assets because everything is in one place.
All you have to do is enter the product name and description, or just the keyword, and allow Marketing Blocks AI to do all the work for you.
However, keep in mind that the quality of these tools leaves a lot to be desired…
It's not as high quality as you would purchase all these tools separately.
For example, the Marketing Blocks landing page builder is very very basic and it will not replace professional funnel builders like Builderall.
Their AI copywriting tool is not even close to tools like Jarvis AI or even free alternatives like Rytr.
Also, their video marker is not even a close replacement to tools like Pictory and their graphic tool to Canva.
So, overall the idea of Marketing Blocks is great but the execution is mediocre at best.
And that's wrap up my Marketing Blocks review. I hope it will help you decide whether Marketing Blocks is the right software for you.