Today, I'm going to show you how you can do affiliate marketing on Medium. If for any reason you don't want to create an affiliate marketing website, or you want to leverage Medium authority to get more traffic for your affiliate offers it can be a great option for you.
If you're a good writer or if you just kind of want to stay behind the scenes in your online business and you can take a couple of hours out of your day to write some articles, this is going to be the perfect affiliate traffic source for you.
What is Medium?
If you haven't heard of Medium, it's a blogging platform where you don't have to have hosting, you don't have to pay for anything. You go in there, create an account and you can blog and create content about your niche.
Medium is basically just a community of people that like to read around certain topics.
Why To Use Medium For Affiliate Marketing?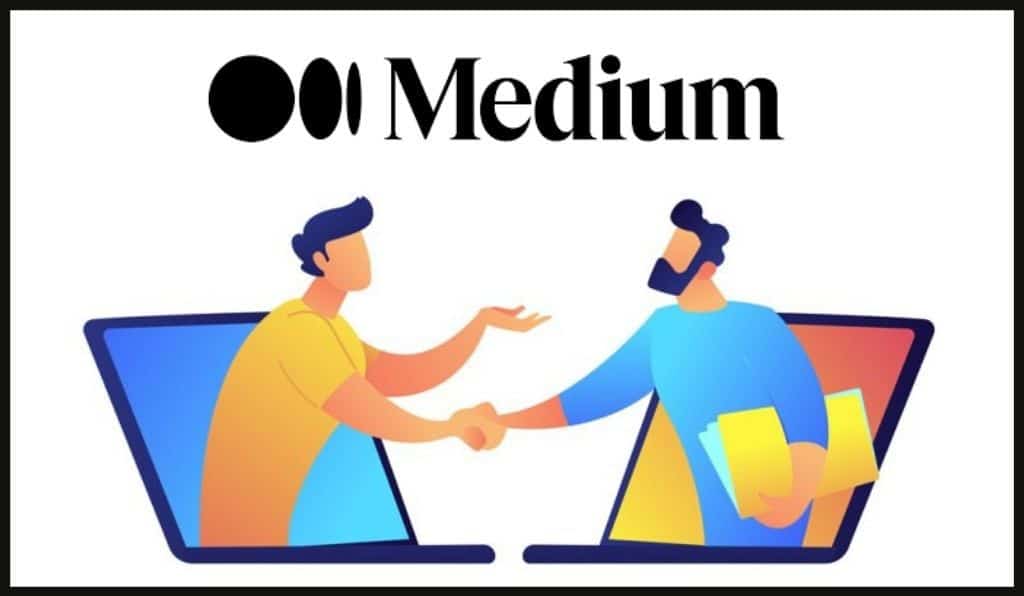 Now, why would Medium benefit you?
First, you're leveraging Medium authority so when you post a blog post there if it's well written and people like it, they will see it because it's posted on Medium so you get access to their whole audience.
The second benefit of using medium.com for affiliate marketing is that It also ranks on Google.
We all know that you can go spend some time writing a blog post the problem is a lot of times when you're trying to rank for these keywords it takes sometimes weeks even months for it to actually rank on Google and other search engines.
Medium is a fast way to get traffic because you can write a blog post, tag it on a certain topic, and not only will this post be more likely to rank on Google since you're writing it on Medium which is a more trusted website but also this post is going to get shared to the Medium community.
So you're more likely (if your content is good) to get traffic instantly to whatever affiliate program you promote.
How to Do Affiliate Marketing With Medium?
To get started first you need to create an account, and then you start following topics, as always guys within your niche.
If your niche is let's say music, you follow those topics and you start simply creating blog posts.
You come in and go to "write a story", and you simply write.
And you can do some keyword basic research using some free affiliate marketing tools if you want to.
Think of this in terms of blogging, you can do just basic research and simply post stuff in here, add images and all other stuff and you simply post it on this platform.
If you do keyword research, it will rank in Google and you can get traffic from there as well.
Now, I'm going to share with you some strategies that you can use to do affiliate marketing on Medium.
Medium Launch Jacking
Launch jacking is a method by which you promote products that are not yet been launched and released in the marketplace.
So it's kind of like just like affiliate marketing but instead of promoting the products that have been published in the marketplace, you focus on promoting those products during their launch time that's why we call launch jacking.
Let me break down the entire launch jacking process.
Choose an unreleased affiliate product to promote
Write a review about this product
Drive traffic (optional)
Where do you go to find those products that are not launched yet?
Well, you can go to websites like cbengine.com which is free.
And here you can find all of the best Clickbank products to promote.
Next, you want to write a review about an upcoming launch of this particular product and publish it on Medium including your affiliate links.
Drive Traffic To Your Affiliate Website or Sales Funnel
Now keep in mind the second little tip I have for you inside a Medium instead of writing your whole entire content piece you can just write a couple of paragraphs of your content on Medium and then you can leave continue reading the link that sends them to your full blog post, or a sales funnel explaining whatever you're talking about.
So maybe it's weight loss with a certain diet or maybe it's about making money and get free traffic online and then once you get them on your own platform like YouTube channel, your website that's where you want to start collecting their emails.
And that way in your email marketing you can always send them to your affiliate offers or send them back to your own platform instead of sending them to a place like Medium.
And I'll show you a good example.
Here's an article from a guy called Nick Wignall, "4 psychological habits for better self-esteem".
This is a long, well-structured, well-written article.
You can see it's been clapped given 5,500 times so this is a great engagement.
And right at the end, "clarifying your values means building a habit of reflecting on them regularly."

And this link goes to his blog.
You see how simple that is.
Use AI Copywriting Tools to Generate Content Fast
Writing a good piece of content is not an easy task. So for this, you can leverage some AI copywriting software like Jasper AI that will generate high-quality content with just a few clicks of a button that you can publish on Medium.
There are many great AI copywriting tools out there. I personally use and recommend Jasper AI.
And this is because they have something called "Long-form assistant" which is a long-form content generator tool that will an entire article for you.
Jasper AI offers a 5-day free trial, and if you use this link you'll get 10,000 free credits to get you started.
Medium Rules To Follow
Now the exact same principle as on other social media platforms, but the most important rule to follow for affiliate marketers is to avoid a call to action.
Medium allows affiliate links always try to disclose affiliate links on Medium otherwise you can get banned.
So write for the user.
No clickbait.
No bullshit.
Basically, don't be a spammer.
Also, do not use content spinners, do not use automatic software to automatically write content for you because you can be banned. Don't import or copy other people's content, that's plagiarism and Medium will know about it and they will ban you quicker than you can fart.
Simply write good content, give value and people will appreciate that because you can still link out to your blog if you want to.
You can find Medium rules and full policy on affiliate links here.
Medium Affiliate Marketing Example
Here is a great example of how you can use to make money on Medium using affiliate marketing.
The article is called "5 Easy Ways to Optimise Your Website Without a Developer"
Obviously, he's taken a lot of time and care to write a really good blog post.
And here you can he is linking to affiliate offers that you straight to the products.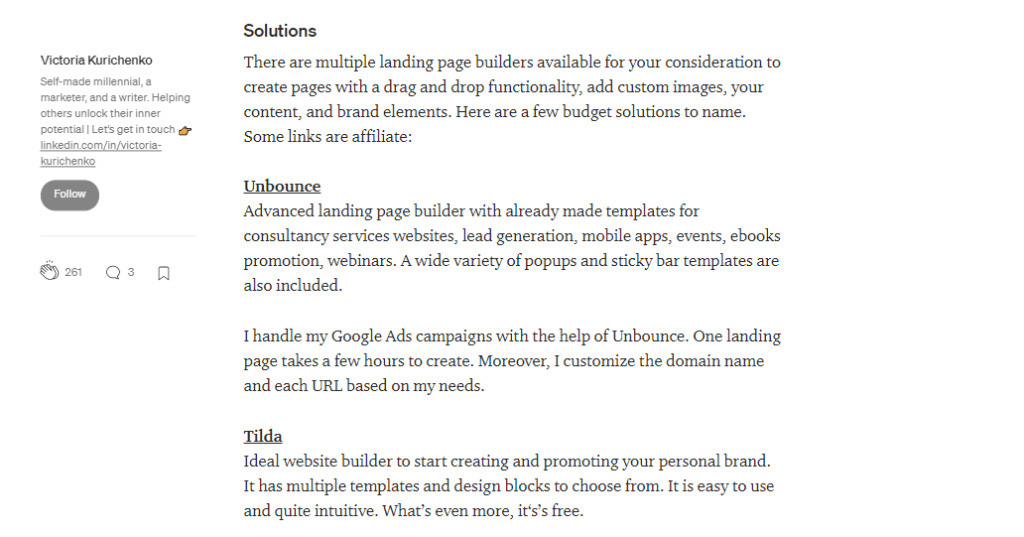 You can see it's a case of you offering value, you put your heart and soul into content, post it there, and then you have the authority and the privilege to link back to your blog or affiliate offer every once in a while.
Do you link back every single time, multiple times, and every blog post?
No, you don't.
You play within their rules and you follow their guidelines.
Again guys, here, you're balancing the act here. When you post stuff on Medium, you don't own that content anymore. That content becomes Medium's content and you have to play by their rules just like on Quora and Reddit.
But it's a balancing act because in the beginning when you have no traffic, no customers, nothing, it's beneficial for you to try and sort of build up a rapport here and build a following on Medium or Reddit or Quora because you are starting from scratch and every last visitor counts.
And Medium is a great place to do it because it's all here for you and you can leverage their existing viewership.
Medium Partner Program
Also, what you can do is if you become quite good at this, you can join the Medium partner program where basically you get paid a very small fee whenever someone views your content. Again, there'll be a very small amount but if you have thousands and thousands and thousands of followers it adds up pretty quick and you can start making money here as well. That's another option for you there.
Medium Affiliate Marketing Summary
With Medium guys it's simple. You join, create a profile, write out your profile, and then start blogging, you start writing blog content about your niche. It's the same principle. You have a very narrow niche and you focus all your attention on that one niche and your blog.
It's a great way to do affiliate marketing without a website.
And every once in a while, you can link back to your actual real blog and get traffic siphoned off to there, that's simple. Follow the rules, read the terms and conditions. If they say don't use clickbait, don't use clickbait, that's simple. There's no trick here, there's no secret. Follow their rules, you're on their rented platform, that's simple, there's no magic here. You simply create valuable content and the rest happen naturally, that's simple. That's Medium.
Don't use that, it's spamming. Create your own content and put your heart and soul into giving value and you'll be fine. You're growing a real evergreen business, a proper real business. You're a business person, take it seriously and build a real business you're proud of.