NeuralText comes with correlational SEO features as well as GPT-3 based AI content generation features.
Along with these two features, it also comes with a keyword clustering feature that potentially can replace some of the keyword clusterings tools.
But is NeuralText any good?
Well, in this NeuralText review, I'll go over each and every feature that this tool has got to offer and at the end, I'll compare them with dedicated copywriting tools as well as some of the AI SEO tools out there.
So let get started.
NeuralText Tools & Features
Inside the NeuralText dashboard, you'll find 4 main tools including:
Keyword tools
Content tools
Smart copy
Export
Now, I'm going to break down each of these NeuralText features.
Let start with the keyword research.
NeuralText Keywords
Inside the keyword research section, you can do the keyword research, you'll see all the keyword research history.
Then there is a keyword clustering option to save you time in doing bulk keyword research especially very helpful if you are creating content at scale and cluster reports.
Let's take a look at the keyword research.
Keyword Research
To do keyword research using NeuralText, first, you need to type in a targeted keyword that you want to rank for as well as the country.
And once you do that, click on the search and then the software will do keyword research and it'll show you different SEO metrics this particular keyword gets.
So for this example, I use the keyword AI SEO tools and here I get its monthly searches, PPC competition, you can also get the CPC, and you can download this data.
And when I click on one of these particular keywords, then you will see a popup where you'll get some additional data.
And to be honest it's this additional data is still nothing compared to some of the other all-in-one SEO tools like WriterZen where you get in addition to just search .volume – the trend of a keyword, related keywords, and how easy it will be to rank for it.
And you can see that in my WriterZen review.
But anyway, let's go to the keyword cluster, and let me show you how this works.
Keyword Cluster
Under keyword cluster, you need to upload a CSV file of your keyword research.
And you can get your keywords from different sources like Google Search Console, SemRush, Ahrefs, or any other keyword research tool you use.
And basically, it applies its NLP and topical modeling algorithms to cluster the keywords.
So if you have a big list of keywords, redundancy is a real big problem to scale your keyword research efforts.
In those cases in order to get rid of redundancy when scaling up your keyword research process keyword clustering tool helps you a lot but depending upon your plan you will be able to only analyze 3000 of those keywords.
So you might need to buy more credits by making use of this section.
NeuralText Content
NeuralText Content is a tool that helps you to do content research by analyzing the SERP results kind of like you can do with Frase.
To get started, you simply click on the "new project", give it a name, type in your main keyword, and then click on the "create project".
And once it's done, you'll get your SEO data including:
Competitor content
SERP widgets
SERP intents
Relevant topics
As well as the people also ask section directly from Google.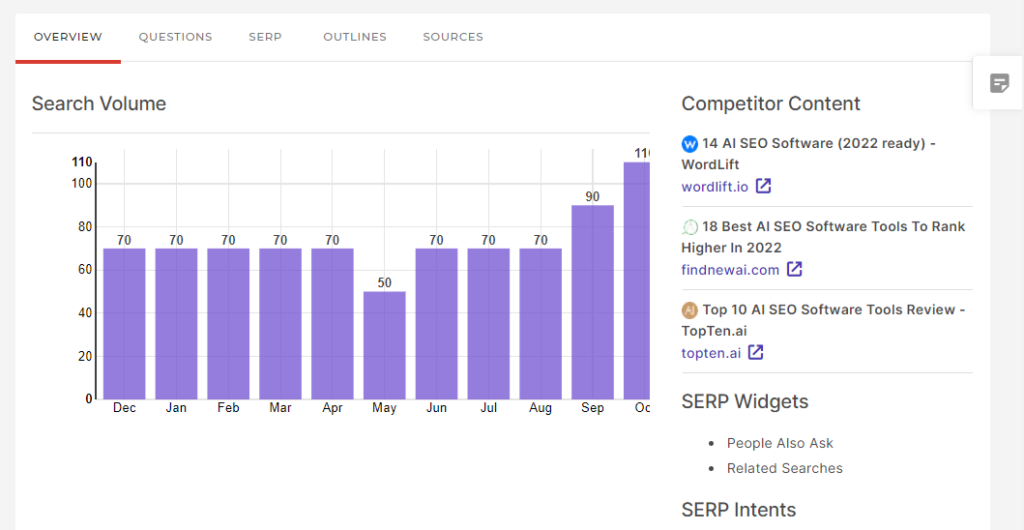 If you go to the question section, you'll find all these relevant questions on this particular keyword and you'll see all the questions from Quora, Reddit, Google, etc.
So, you can use these questions and then can write a blog post based on these questions or add a FAQ schema section.
In the SERP results, you will see all of the top websites that are actually ranking for this keyword.
You can see their word count for a particular keyword, internal links, and external links, which is really handy.
Then in the outlines, you can see what is the outline of these blog posts that rank on the top of Google.
So again, you can use this particular content structure to create your own blog post, and that's really going to help you.
But I don't actually recommend just copying and pasting these headings because it will not help you at all. Instead, use it as an inspiration for your own outline and tweak them a little bit.
So, with the help of this content brief, you get more information about your competitors, questions, SERP results, and their backlink profile.
NeuralText Smart Copy
Smart Copy is its AI copywriting tool that helps you to create content based on the inputs that you have given to the software with the help of advanced neural networks.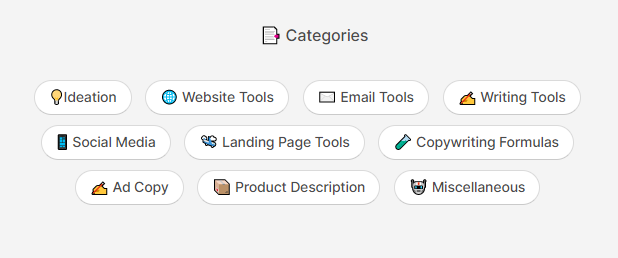 Inside the smart copy section, you'll find many different copywriting tools that allow you to create things like:
Blog ideas
Growth ideas
Viral ideas
Deck outline
Microcopy
Viral ideas
Catchy subject lines
And more
There is also the long-form editor.
And what's cool, all of the NeuralText tools work together so you can create a brief under content and paste that content to smart copy and then let AI fill in the brief to make it a complete blog post.
And the quality of the output that you get from its AI content generator obviously depends upon the niche that you are in.
If you write about some generic topics then this would be much better but even in some kind of technical niches, Jarvis.ai did beats this tool when it comes to the accuracy of generated content.
NeuralText Pricing
NeuralText has 3 pricing plans:
Free – $0/month
Starter – $49/month
Pro – $119/month
With the free plan will get access to 5 content briefs. And every time you create a content brief by scraping the other competitor content via correlational SEO this will cost you 1 credit.
The free plan also comes with 50 smart copy runs and smart copy runs every time you run their AI content creator then you will be spending these runs.
To get access to the content templates, you would need to upgrade to the Starter plan. And every time you research a keyword then it is a keyword report so keep that in mind.
There are 1000 keyword cluster credits available in the Starter plan so if you want to cluster the 1000 keywords then it would cost you 1000 credits.
So suppose if you upload a file containing 1000 rows with 1000 different keywords and if you want the tool to cluster those keywords so that it will let you know what would be the most keyword that you need to target and what are all the relevant keywords that you need to target in that blog post. Then for every row, 1 credit is required.
Is NeuralText Worth It?
As you may have guessed NeuralText comes with a lot of features but it is not a specialist in any one of these.
For me, the most useful features of NeuralText are correlational SEO features as well as keyword clustering for researching keywords at scale.
However, it's still not there yet compared to Frase.io when it comes to correlational SEO and content research. Especially considering the fact that Frase has released many interesting AI features recently making this tool even better.
There is a huge difference between dedicated AI writing tools. This is just a feature that they have included but has not developed in my opinion.
So if you are mainly looking for NeuralText only for AI content generation there are far better options like Jarvis.ai – the leader in the market, or even some mid-range products like Rytr.
If you don't want to purchase separate tools for SEO optimization or content creation then you can give NeuralText a try and hope for it to improve.
I hope this honest NeuralText review will help you decide if it's the right tool for you. If you found this helpful you can also check out some of our reviews of the best AI SEO tools as well as AI copywriting software.
Thanks for reading!