We'll take a look at how Ocoya compares with other AI social media marketing tools available in the market like StoryChief.
I'll walk you through this tool step by step so, at the end of this review, you'll know exactly how to create and schedule content for your social media platforms.
And if you want to work along with me, here you can start your Ocoya 7-day free trial where no credit card is required.
Let's get started.
What is Ocoya?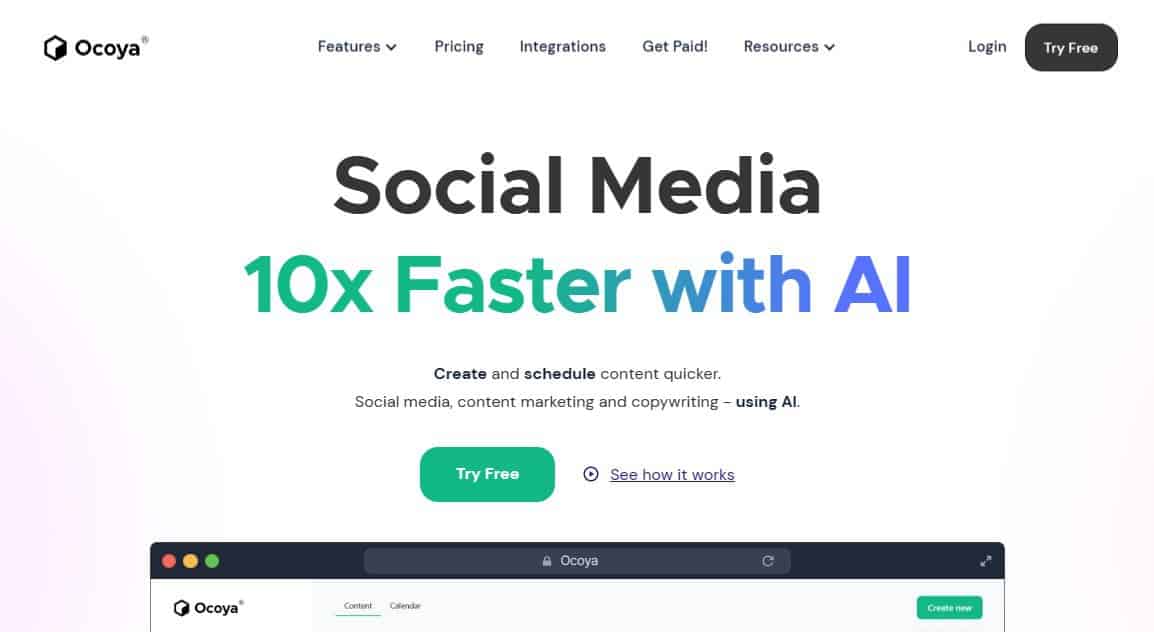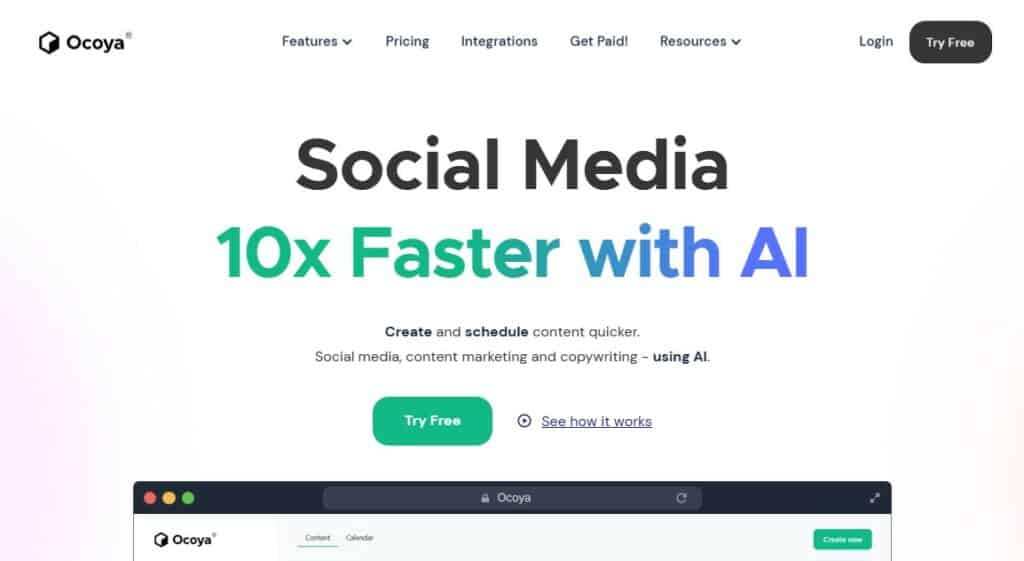 Ocoya is a social media marketing tool powered by AI technology that allows you to create, content, analyze, and schedule your posts on social media platforms like Facebook, Instagram, Twitter, Linkedin, and TikTok. Ocoya also has an AI copywriting tool called Travis AI that can help you create copy for your social media.
And it also connects with Hootsuite and Buffer so you can use other platforms inside of that.
So, they've really put all of these different tools into one platform, which makes this so unique compared to different platforms out there.
Ocoya has just been recently featured on Product Hunt as the number one product of the day.
If you do follow Product Hunt, you'll know this is a very good achievement for this company, so that's really good to see.
And then the second thing I just want to show you is the officially trusted and partnered with Facebook, Instagram, LinkedIn, TikTok, and Twitter.


So, this means you can schedule posts on these platforms and there aren't going to be any issues.
I know a lot of other tools out there, try it, and then they face issues because they're not partnered with these tools, so that's really good to see.
Ocoya Tutorial & How To Use It
Once you log in to your Ocoya dashboard, it will automatically prompt you to connect your social media channels because you can't do anything in the tool if you haven't connected anything.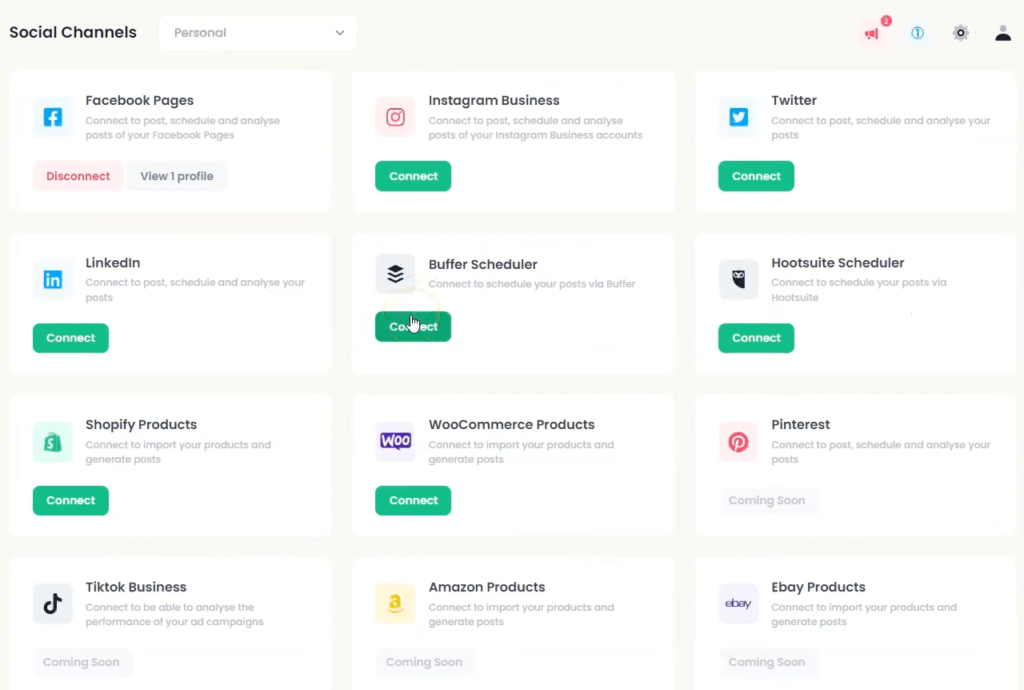 I actually don't have a brand on social media, I'm using Ocoya to manage social media channels for my clients. But it is something that I'm considering doing for myself so I can stay connected on different platforms.
Anyway, a really cool thing is in the near future you'll be able to integrate Ocoya with Pinterest and TikTok.
So this is something that separates Ocoya from other social media tools like Predis AI that I've been using which is still pretty good tool but it enables you to only connect your Instagram and Facebook profile.
And really no other tool that I've been testing connects with all these other different platforms like:
So if you have an online store, it will automatically pull on all your listings, and you can quickly post those to social media, which makes your life so much easier as a business owner or an agency.
Once you connected your social media channels, on the left-hand side, you'll find all of the Ocoya tools including content creator, Travis AI, eCommerce, Analytics, and social channels.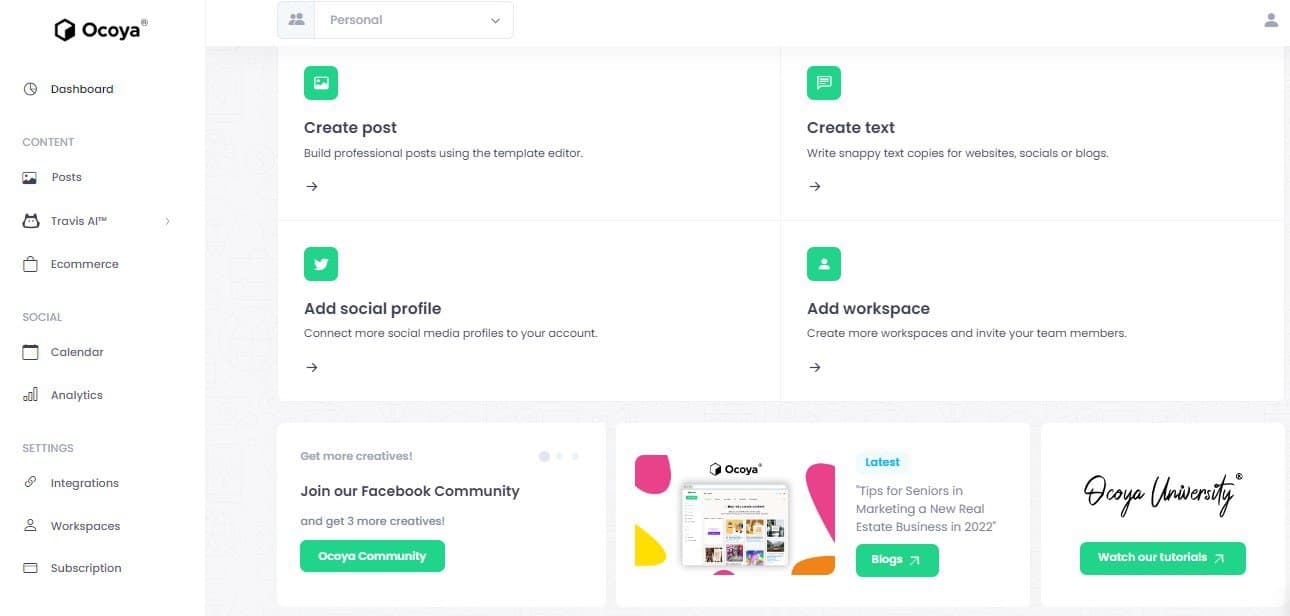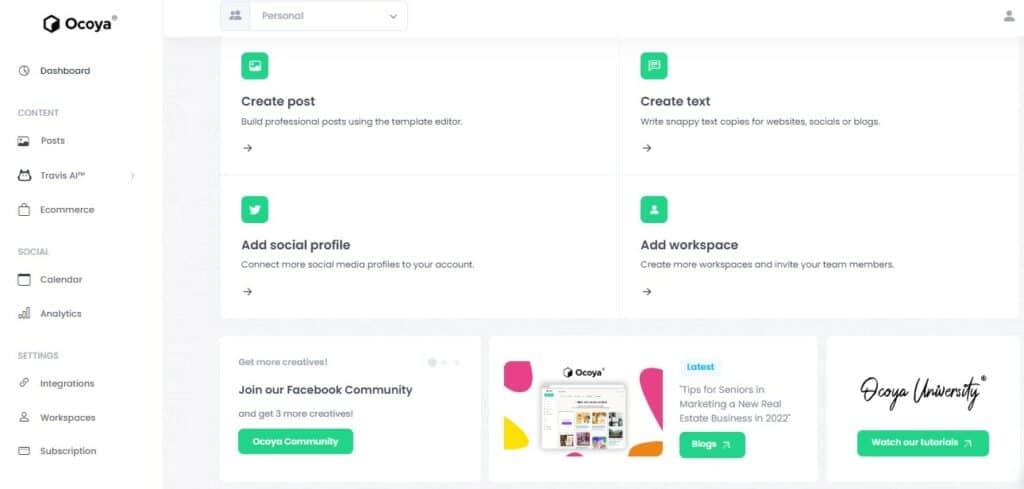 So, let's break down all of these features and we're going to start with my content just to show you how things work.
Ocoya Creator Studio
Inside the Ocoya Creator Studio, you can select from multiple templates, opening its drag-and-drop template editor, where you can customize and create content for your post.
Inside the content tab, you can create your social media graphics for all of these different social media platforms.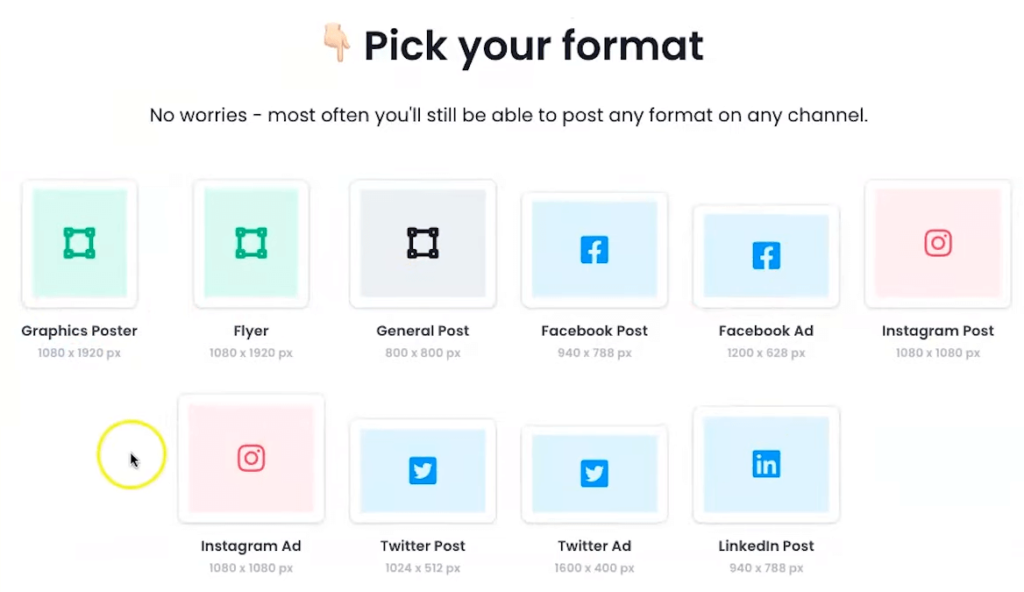 You can also select from thousands of stock images or create them directly in your Canva account and add as many creatives as you like to publish a carousel post.
So inside Canva, it's got all of your normal tools. You've got different types of templates that you can go from, different photos, objects, backgrounds, text, brand kit, and my files.
if you've ever used Canva, you'll know how to use this graphic design tool.
And you want, you can also use Canva and this is going to log into your personal Canva account.
So, it's really nice to see that you can use your own images and everything inside of the Ocoya dashboard using your Canva account.
Inside my content tab, you'll also find the scheduler which is actually going to allow you to schedule posts that we'll take a look at in a minute.
We've also got stock imagery where you can go ahead and choose different types of stock imagery from different platforms out there like Unsplash, Pixels, and Pixabay.
And if you want to do this, you can actually click on one and you can create a poster using it.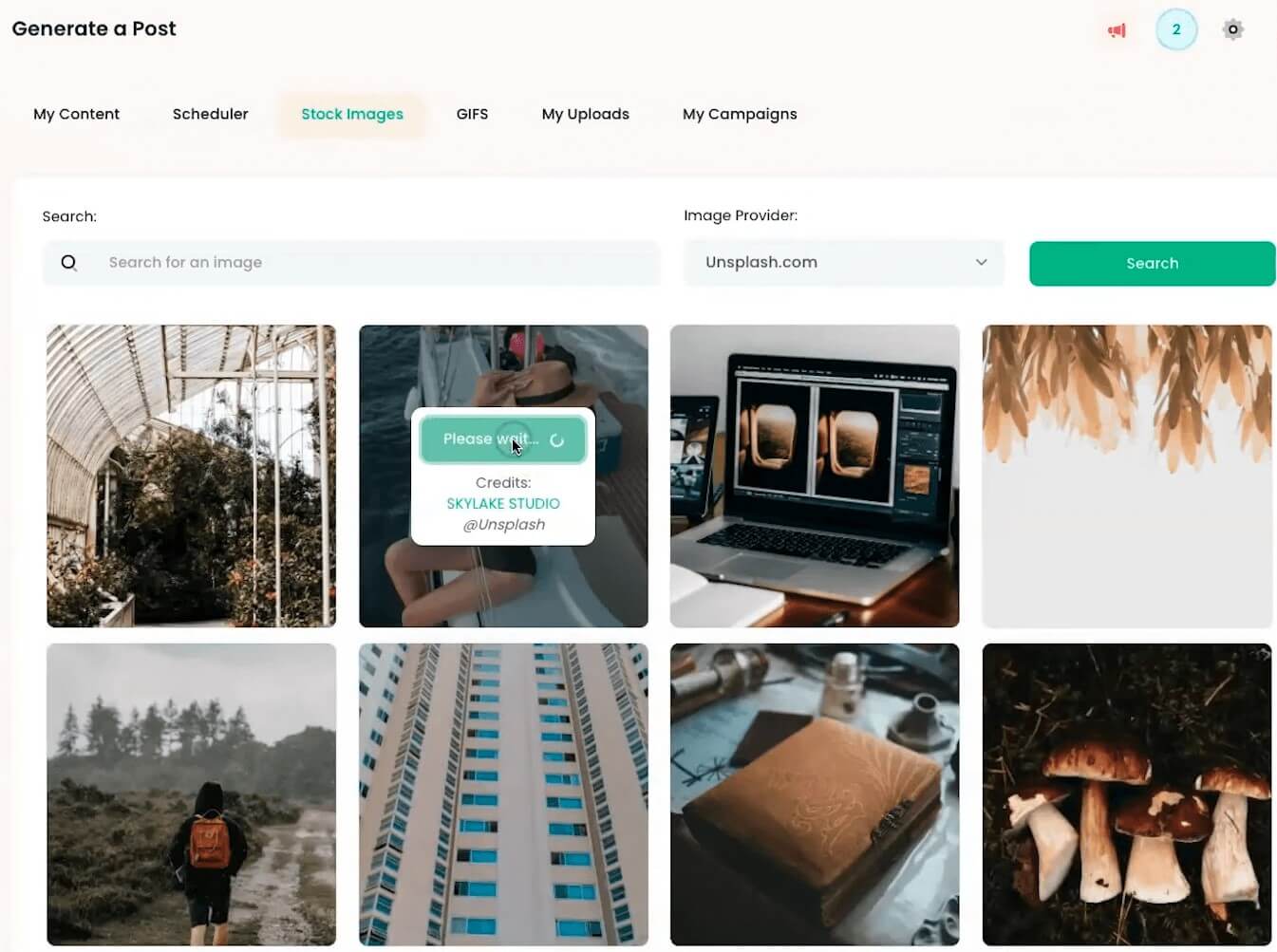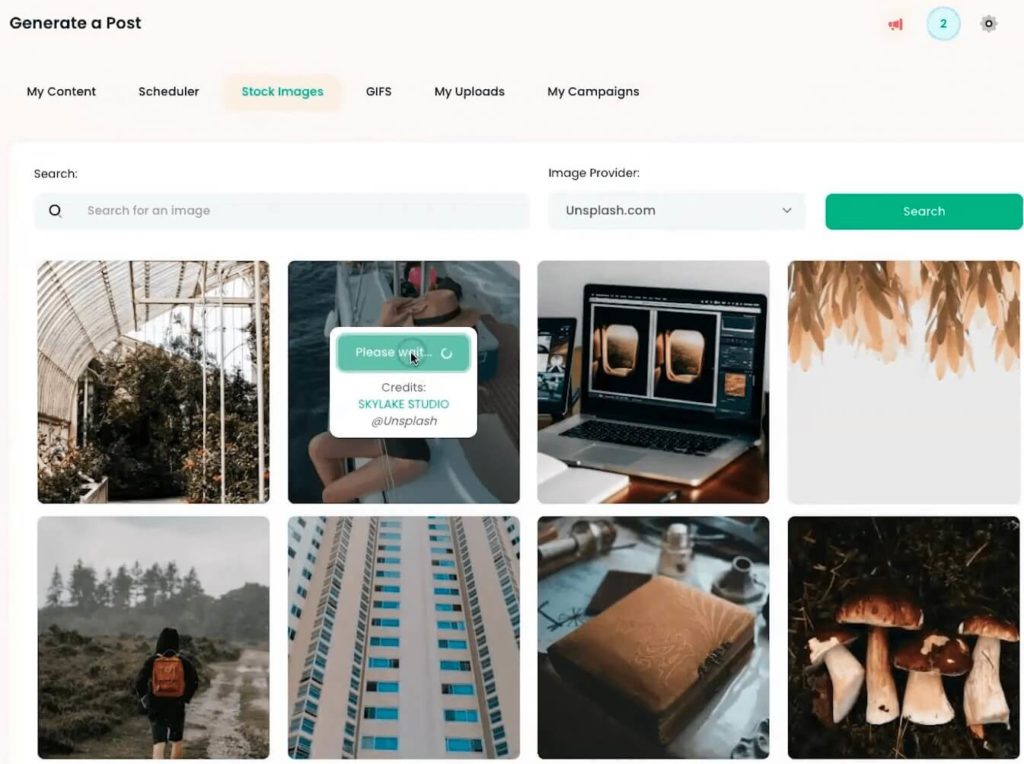 In addition, we've also then got gifts included, which is from Giphy. So, you can look up different gifts that you can schedule on your social media.
And once you created an image that you want to use inside of your social media, it's time to create some content for it using Ocoya AI technology.
Ocoya Travis AI – Captions, Hashtags, Quotes & More
So you've now decided on the perfect creative for your post. The next step is to write your caption and produce your hashtags.
Instead of writing your own, you will see the option to generate high-converting captions powered by AI.
You can just give this machine some ideas, and it's going to find some sort of content to talk about.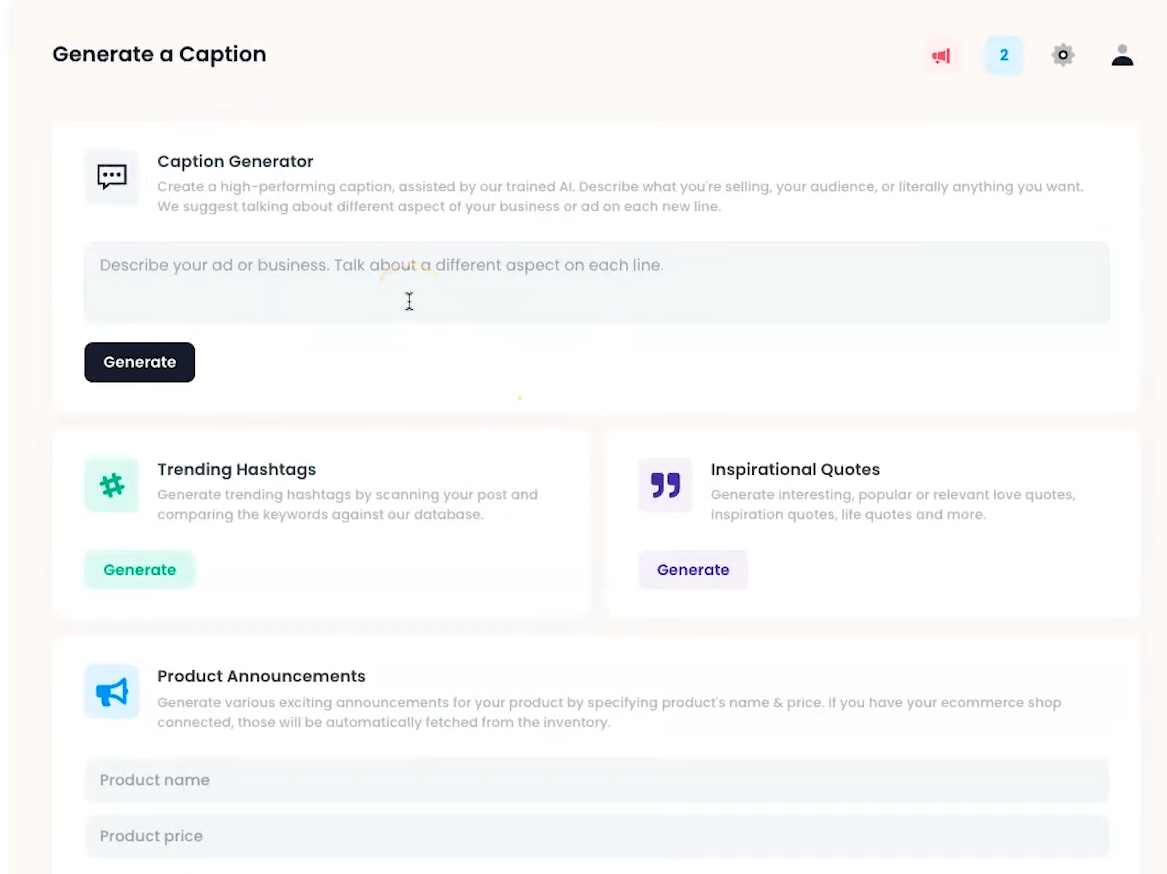 Using the "Generate hashtags" button, instantly produce trending hashtags related to the caption you've written.
Alternatively, you can select from "Quotes" and even product announcements. So, it's a very powerful tool, especially if you experience writer's block.
Besides a caption, hashtag, and quote generator, Ocoya Travis AI offers 50+ AI copywriting tools to choose from.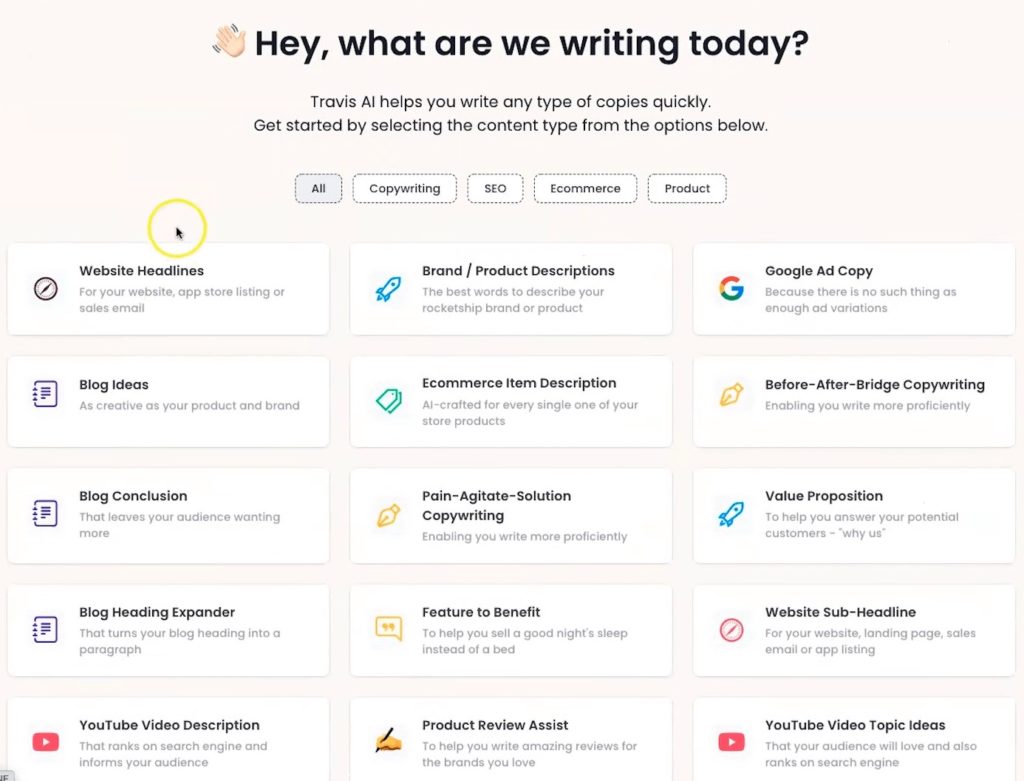 And all of these tools are divided into 4 main categories:
So you can quickly find what you need.
They have even a template to create a personal bio for your social media platforms.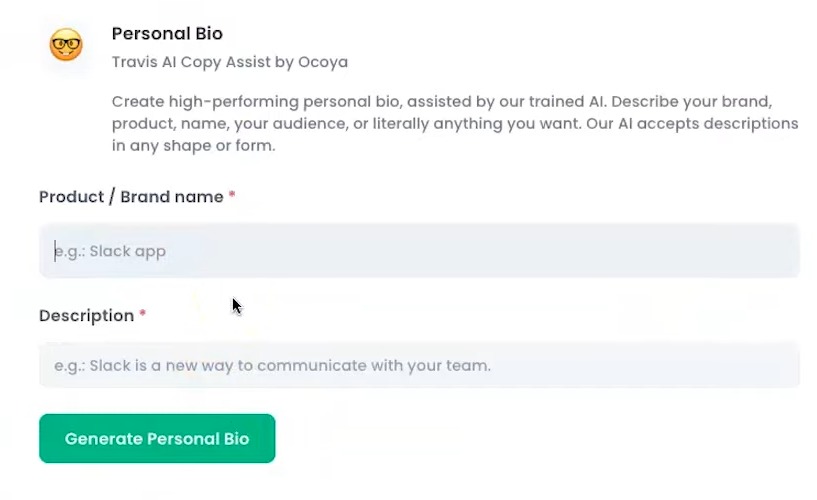 You simply type in your brand or product name and a description and the AI will generate a personal bio for you.
It's very helpful for Instagram or Linkedin bio.
And if you get something that's not quite right, just click on generate more.
In my opinion, their AI content generation is not pretty up to mark because you don't have much control over the type of content that you want to have. Although they have something God Boos Mode that isn't much flexible compared to Jasper Boss Mode.
But if you are on a budget and you don't want to invest in other third-party tools all in one place for your social media, this is a great tool to pick up.
Ocoya Scheduler
That is your post ready, with eye-popping creatives and optimized copy, in just a few minutes.
The next step is to do something with it!
In the Ocoya scheduler, you can post immediately to all your social media or schedule ahead of time from the calendar. You can also download your post for use elsewhere.
Here you can schedule a post by simply picking a time and date.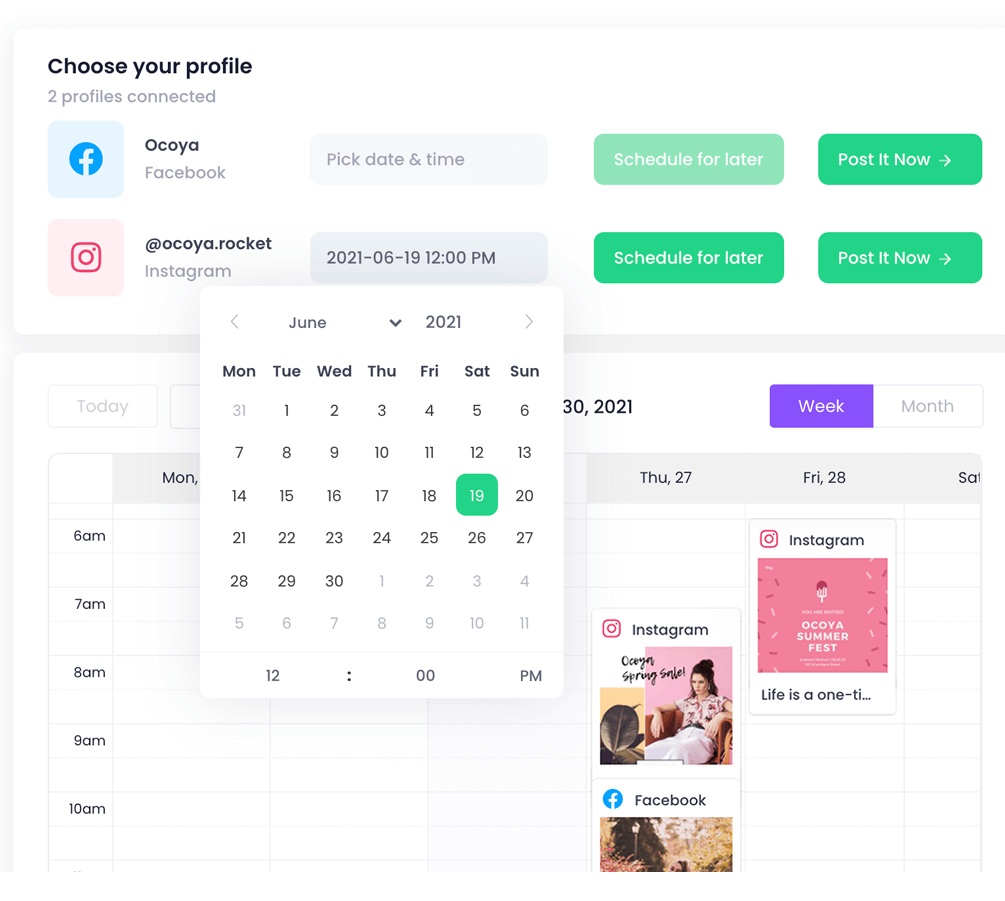 And it's as simple as that. It's scheduled and ready to go.
And you can also check out everything weekly and monthly as well.
Ocoya Ecommerce
Next, we've got e-commerce. Inside the eCommerce tab, you can integrate this with:
So this also separates Ocoya from most tools. There are not a whole lot of social media management tools that actually enable you to connect to your Shopify store, Etsy, eBay, and Amazon.
And if you run a dropshipping store, in this video you can learn more about the Ocoya eCommerce feature.
Ocoya Analytics
Analytics is going to show me things like posts, hashtags, shares, downloads, and hashtags.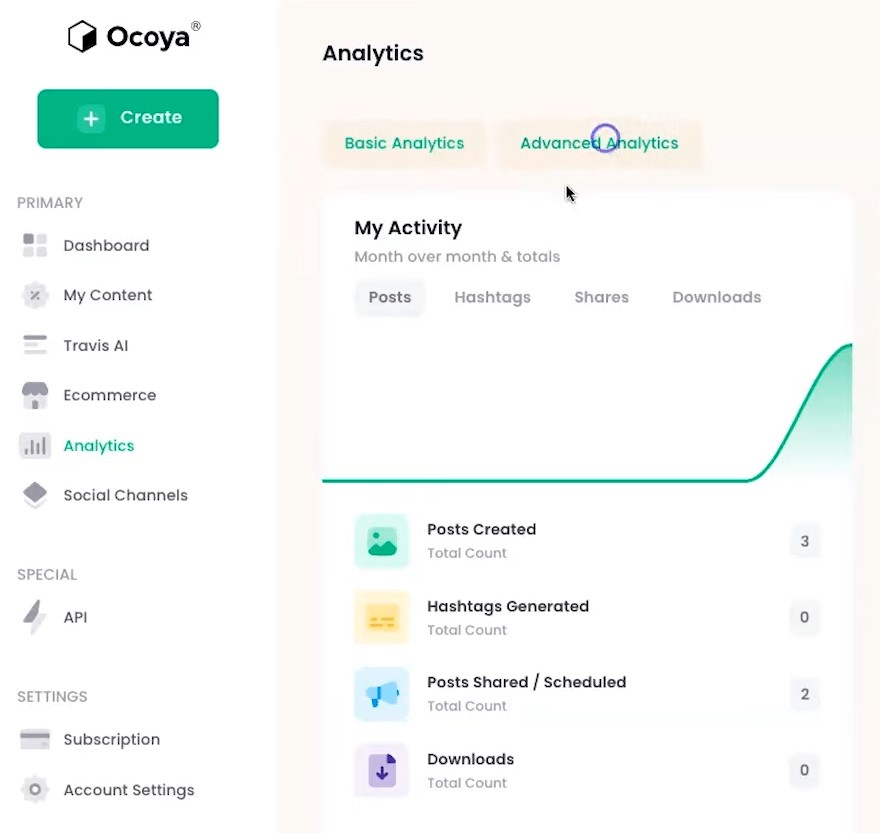 And there's an advanced analytics, but it's not out just yet. Once again, this is on launch.
Ocoya New Tools & Features
So as mentioned at the beginning of this Ocoya review, the platform introduced some big updates in 2023.
AI Assistant
This cutting-edge tool is designed to simplify your social media marketing efforts and provide you with an expert by your side. Powered by ChatGPT and tailored for marketing, this AI assistant will generate high-quality copy or can help you come up with creative ideas for any marketing activity. In short, with this feature, you'll be able to save time and streamline your social media management.
Action Links
With this new addition, you can trigger post creation automatically, streamlining your workflow. This feature is designed to work best with automation tools (Zapier, Make, Integrately, etc.), making it easier to manage your content.
For instance, you can use its AI Assistant to generate 100 captions in a table, paste them to a Google Sheet, connect with an Ocoya 'Text Post' action HTTP request on make.com, and you'll have 100 posts in your Ocoya dashboard. Nice.
API
Ocoya API it's something that many users have been waiting for. With the brand-new API, you can now easily create and publish posts directly from your own tools and platforms. This means you can enjoy a more streamlined workflow and save time by automating your social media posting process.
Ocoya API also includes copywriting in all languages, so you can generate engaging captions for your posts automatically. Whether you're posting on Facebook, Instagram, Twitter, or any other platform, its API can help you create high-quality, engaging content that your followers will love.
Ocoya Creator Studio
Ocoya Creator Studio now allows you to create and publish a post in less than 10 seconds with the new updated content management UI. That was one of the things that bothered me when I tried to create content using Ocoya.
It took too long to create a post and there were a few different steps that you had to go through. So it's interesting to see what they've changed to make this faster workflow
Link Posting
This was another thing that most members really wanted was that you couldn't just take a link from your website or a link from a Youtube video and then post it.
And you can do those things on most other social media channels, especially Facebook. It automatically will bring in an image or thumbnail – it was missing that in the previous Ocoya version.
So they added that, and that is a huge feature that was definitely needed in the professional social media tool
Image Cropper
With this feature, you can crop into 15 different formats of your choice if, for example, you posted to Instagram, but the image won't publish on Twitter.
New Hashtag Generator
The hashtag generator was also something that was not useful, it was basically pointless because it was relevant to the image, not to the text of your social media post. And so they have improved that trending hashtags as well which is great.
Other improvements made to the platform include Stock photo / GIF previews, workspace management, Dropbox integration, caption autosave, and template search.
Ocoya Roadmap
Now, I'll show you the Ocoya roadmap where you can all of the upcoming things.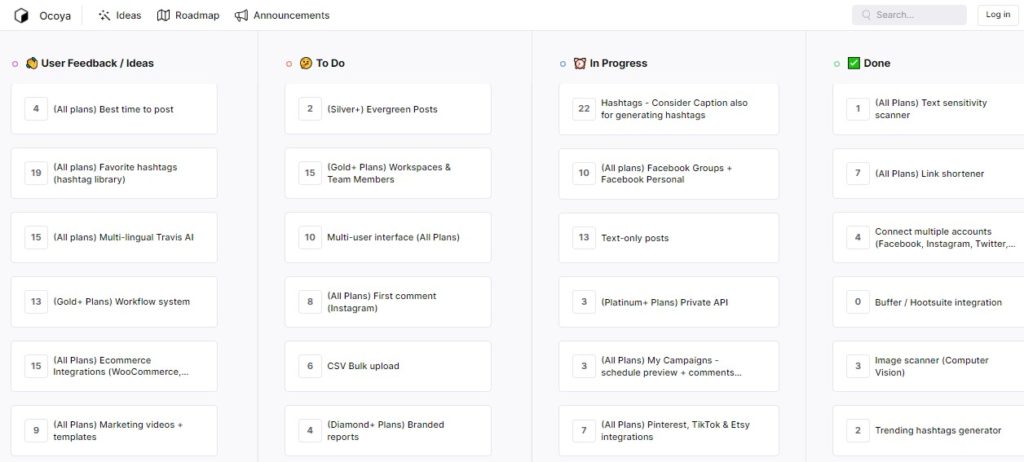 And basically, this is what they're planning to do with the platform.
For example, the features in progress are:
More Automations
They're adding more automations, including RSS and general (recurring) campaign automations. This will make it easier to manage your social media content and ensure timely posting, even when you're busy with other tasks.
New Channels & integrations
Another great upcoming thing is they're expanding social media channel options, adding GMB, Tiktok, Pinterest, Facebook groups, Reels, and Shorts. They're also integrating with more platforms, including Zapier, Airtable, and Make, to manage all your content in the same place.
Post Approvals and Previews
They're about to add post approvals and previews, so you can view posts before they're published and approve them before they go live. This is a great way to ensure brand consistency and avoid any embarrassing mistakes.
Ocoya Pricing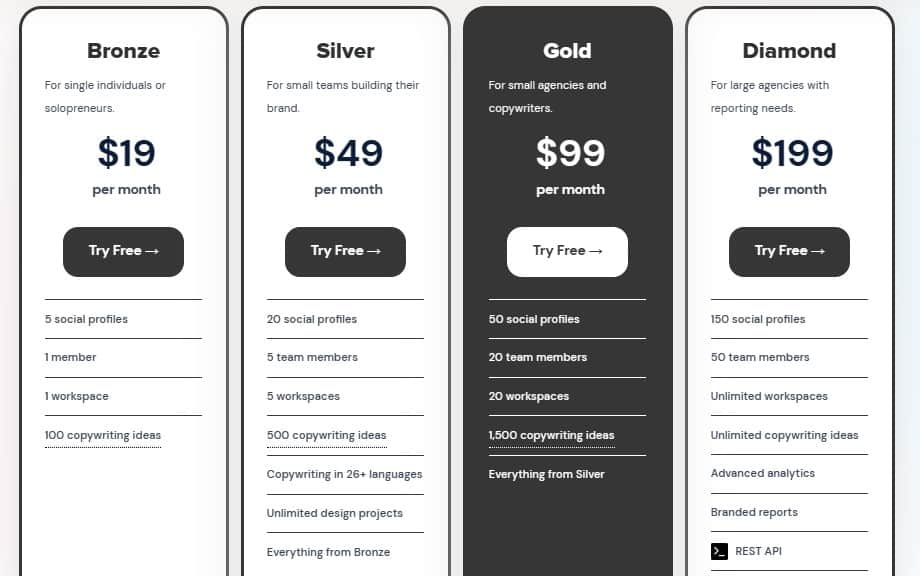 Ocoya has 4 different pricing plans:
On the bronze plan, you can have up to 5 social profiles so that's would be enough for a business with a social media presence.
If you are a marketing agency and you have more clients or you want to have more profiles to manage all of your clients, you would need to upgrade at least to the silver plan where you'll have 20 social media profiles and up to 5 team members and 5 workspaces.
Ocoya offers a 7-day free trial so you can test the software out before upgrading to any of the monthly pricing plans.
Ocoya AppSumo Lifetime Deal
The Ocoya lifetime deal on AppSumo is no longer available so the only way to purchase this product is via Ocoya's official website.
Ocoya Alternatives
Here are some of the Ocoya alternatives:
StoryChief
Missinglettr
Feedhive
Hootsuite
Buffer
Predis.ai
The only social media platform that is really close to Ocoya is StoryChief which is also a content marketing platform that helps businesses create, publish, and distribute content. It offers features such as a content calendar, team collaboration tools, content curation, SEO optimization, and integration with social media platforms.
Another great Ocoya alternative is Missinglettr which has an awesome content curation feature that Ocoya doesn't currently have.
Ocoya Review Wrapping Up
So that was my Ocoya review. As you can see, it is a very powerful tool.
Not many social media marketing tools can include graphic design, AI copywriting, and scheduling under one platform.
And those three just alone are worth their weight in gold.
However, Ocoya AI copywriting tool doesn't work as well as a dedicated tool such as Jasper AI. There is also a lack of a content distribution feature that you can find in StoryChief.
Overall, the Ocoya reviews are very positive, with most users finding it to be a useful and comprehensive social media marketing platform. Some reviewers have praised the platform's analytics and reporting features, which provide insights into the performance of social media campaigns.