You'll see what makes Ocoya one of the best AI social media marketing tools as well as the new massive updates released in 2022 by Ocoya founders.
I'll also walk you through this unique tool step by step so at the end of this tutorial, you'll know exactly how to create and schedule content for your social media platforms.
So if you want to work along with me, you can start your Ocoya 7 day free trial where no credit card is required.
Let's get started.
What is Ocoya?
Ocoya is a social media marketing tool powered by AI technology that allows you to create, content, analyze, and schedule your posts on social media platforms like Facebook, Instagram, Twitter, Linkedin, and TikTok. Ocoya also has an AI copywriting tool called Travis AI that can help you create copy for your social media.
And it also connects with Hootsuite and Buffer so you can use other platforms inside of that.
So, they've really put all of these different tools into one platform, which makes this so unique compared to different platforms out there.
Ocoya has just been recently featured on Product Hunt as the number one product of the day.
If you do follow Product Hunt, you'll know this is a very good achievement for this company, so that's really good to see.
And then the second thing I just want to show you the officially trusted by and partnered with Facebook, Instagram, LinkedIn, TikTok, and Twitter.


So, this means you can schedule posts on these platforms and there aren't going to be any issues.
I know a lot of other tools out there, try it, and then they face issues because they're not partnered with these tools, so that's really good to see.
Ocoya Tutorial & How To Use It
Once you log in to your Ocoya dashboard, it will automatically prompt you to connect your social media channels because you can't do anything in the tool if you haven't connected anything.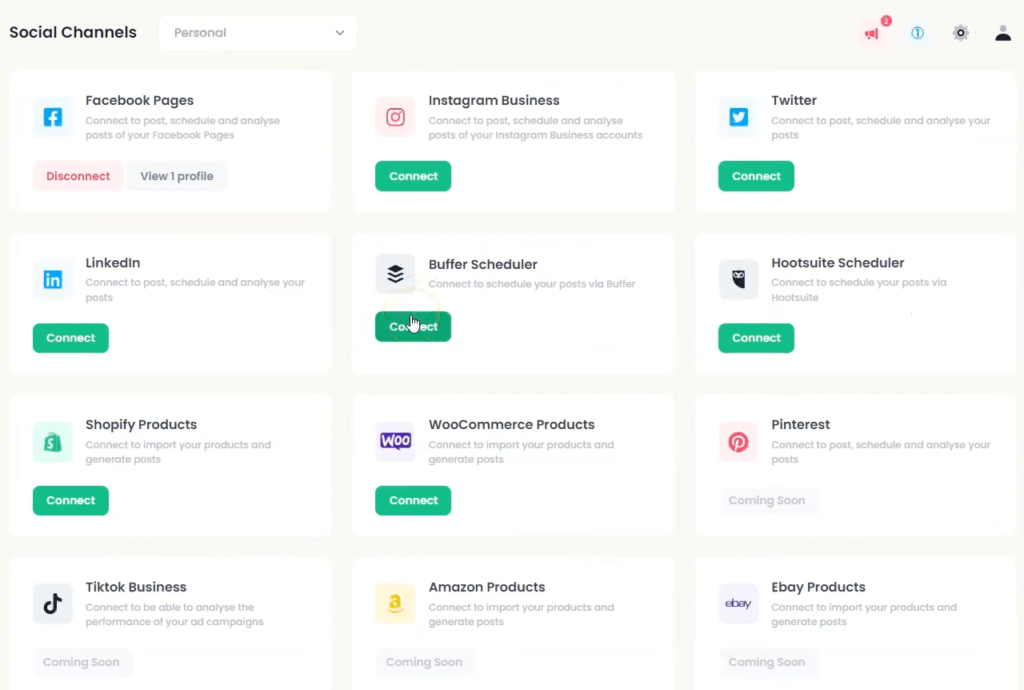 I actually don't have a brand on social media, I'm using Ocoya to manage social media channels for my clients. But it is something that I'm considering doing for myself so I can stay connected on different platforms.
But a really cool thing is in the near feature you'll be able to integrate Ocoya with Pinterest and TikTok.
So this is something that separates Ocoya from other social media tools like Predis AI that I've been using which is still pretty good tool but it enables you to only connect your Instagram and Facebook profile.
And really no other tool that I've been testing connects with all these other different platforms like:
So if you have an online store, it will automatically pull on all your listings, and you can quickly post those to social media, which makes your life so much easier as a business owner or an agency.
An once you connected your social media channels, on the left-hand side, you'll find all of the Ocoya tools including content creator, Travis AI, eCommerce, Analytics, and social channels.
So, let's break down all of these features and we're going to start with my content just to show you how things work.
Ocoya Creator Studio
Inside my content tab, you can create your social media graphics for all of these different social media platforms.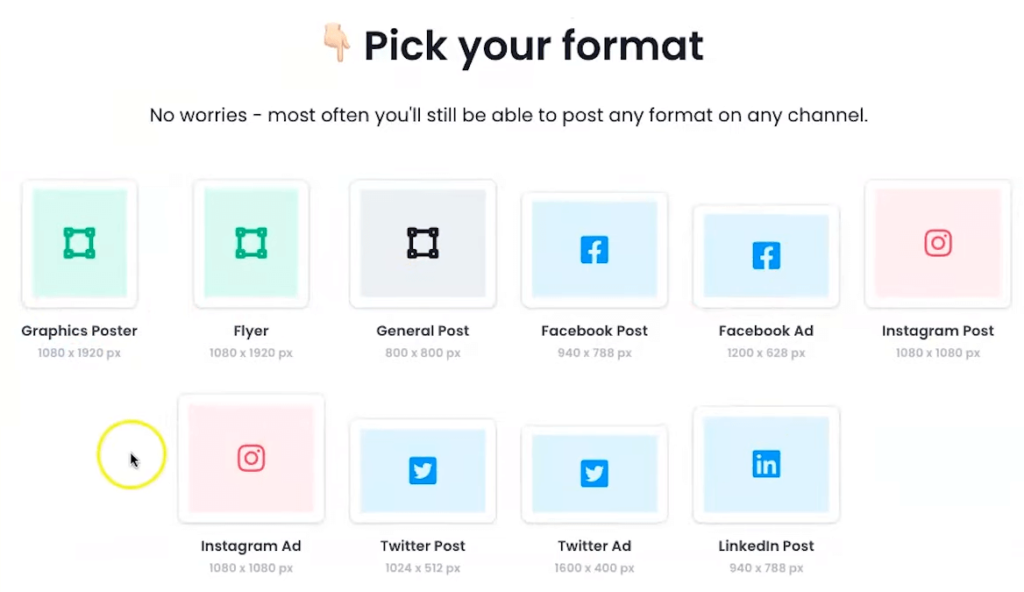 And something really interesting to actually talk about is this visual builder that they use is from another type of software that I've actually got access to, which is called Crello.
And I absolutely love Crello, so it is really nice to see.
So inside Crello, it's got all of your normal tools. You've got different types of templates that you can go from, different photos, objects, backgrounds, text, brand kit, and my files.
if you've ever used Canva, you'll know how to use this graphic design tool.
It's nice and easy. Super intuitive. I absolutely love this tool.
And you want, you can also use Canva and this is going to log into your personal Canva account.
So, it's really nice to see that you can use your own images and everything inside of the Ocoya dashboard using your Canva account.
Inside my content tab, you'll also find the scheduler which is actually going to allow you to schedule posts that we'll take a look at in a minute.
And once you created an image that you want to use inside of your social media, it's time to create some content for it using AI technology.
Generate Caption, Hashtags, Quotes and More
Travis AI is the AI copy generation tool. So, you can just give this machine some ideas, and it's going to find some sort of content to talk about.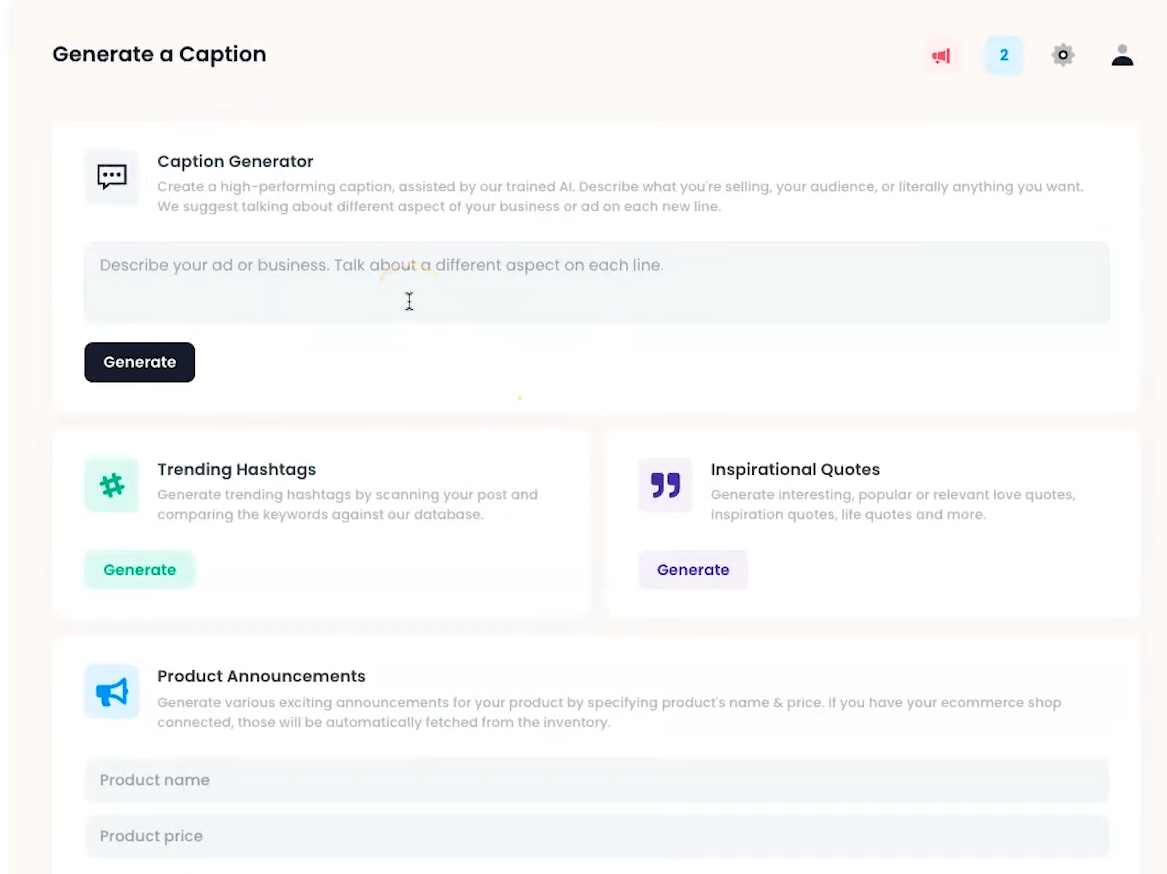 It's also going to find hashtags, quotes, things, and even product announcements. So, it's a very powerful tool, especially if you experience writer's block.
So, I've got the caption, I've also got the image, so what I can do now is actually publish my content on social media platforms.
Ocoya Scheduler
Now, this is where the fun begins. You can actually choose where you want to publish it.
So I can schedule a post by simply picking a time and date.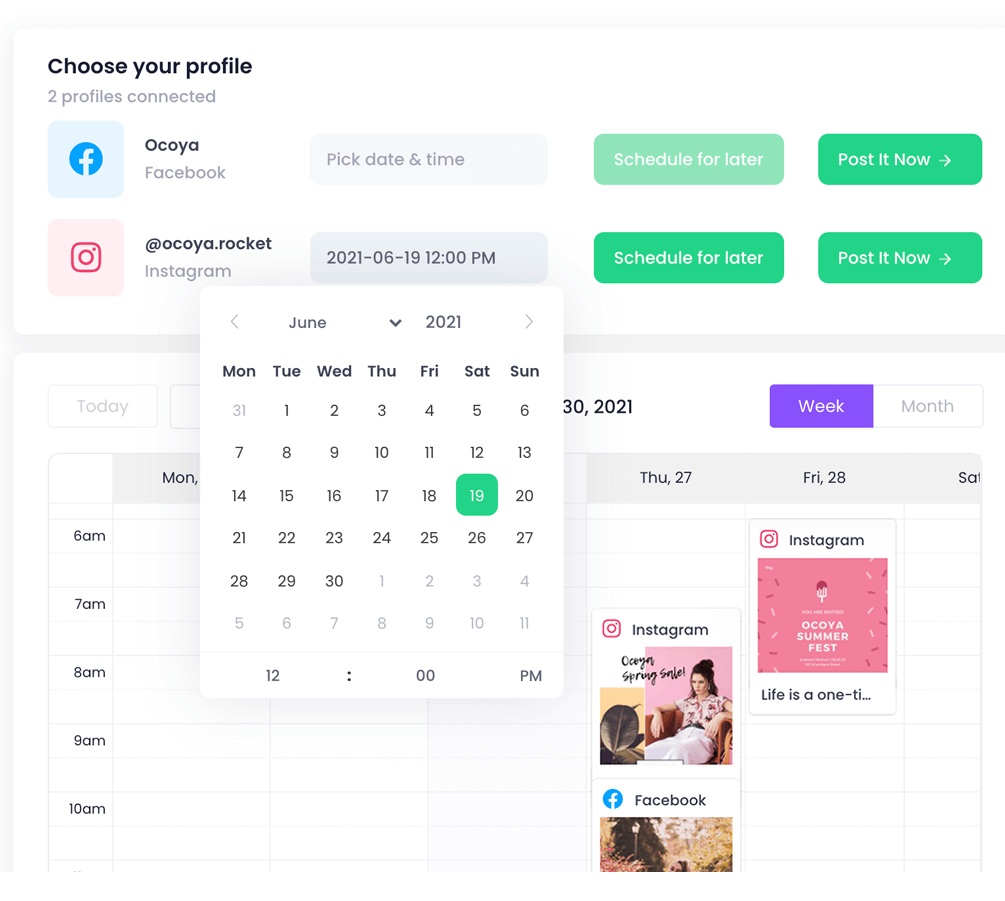 And it's as simple as that. It's scheduled, ready to go.
And you can also check out everything weekly and monthly as well.
We've also got stock imagery where you can go ahead and choose different types of stock imagery from different platforms out there like Unsplash, Pixels, and Pixabay.
And if you wanted to do this, you can actually click on one and you can create a poster using it.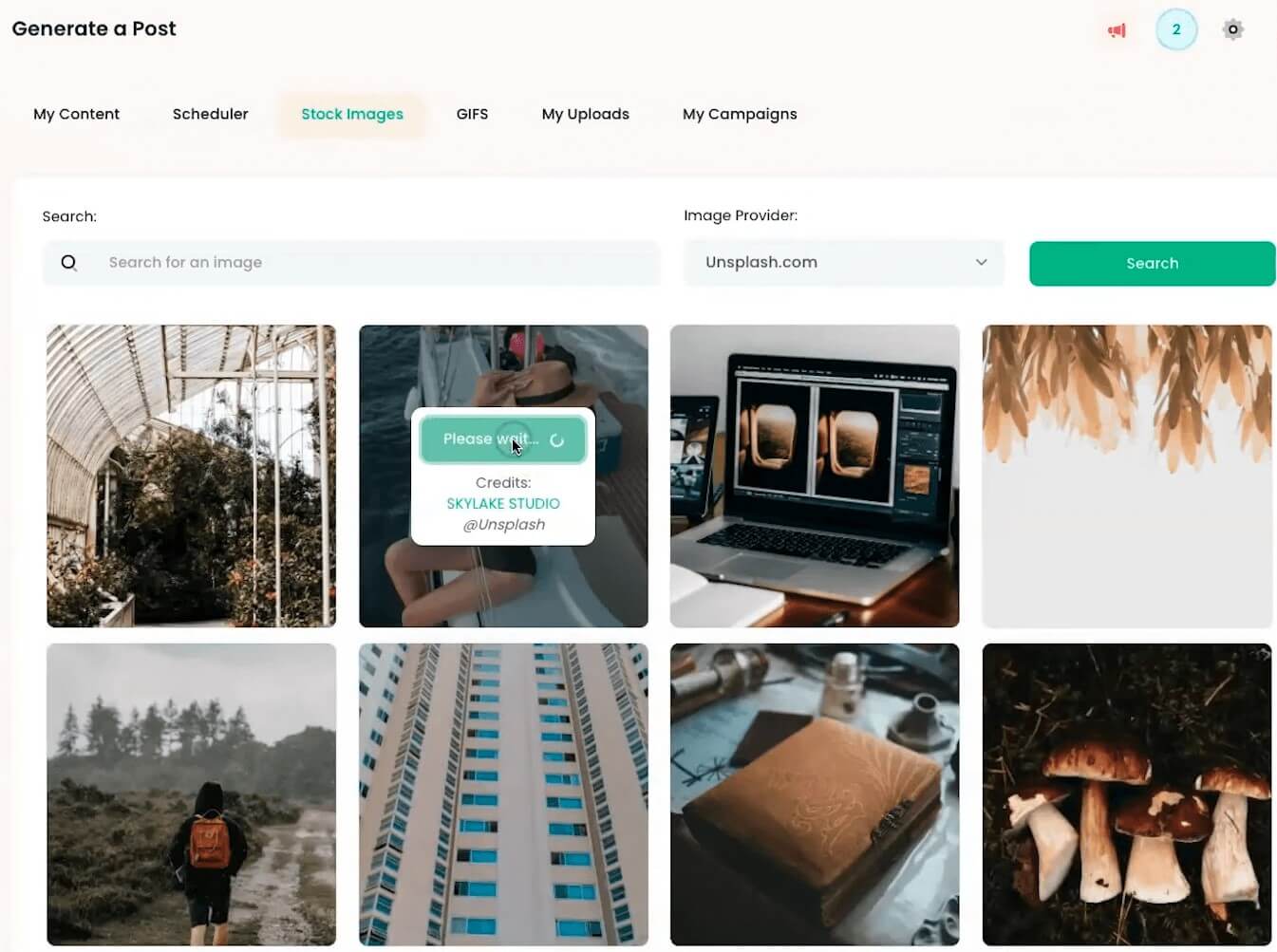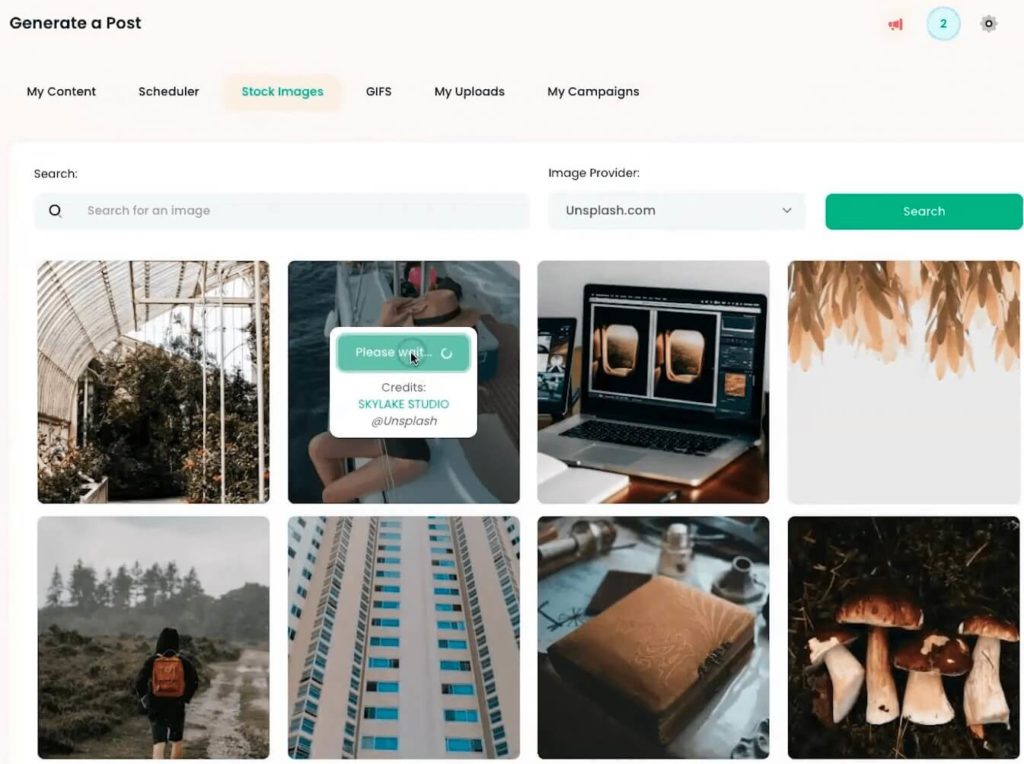 The same thing again, it's going to ask you if you want to generate a caption, and then once you've generated a caption, it's going to ask you if you want to post it, things like that.
In addition, we've also then got gifts included, which is from Giphy. So, you can look up different gifts that you can schedule on your social media.
So that is the creation and scheduling process inside Ocoya.
Now let's get onto the AI copywriting.
We've only just touched on it really.
Ocoya Travis AI
Travis is an AI copywriting tool powered by GPT-3 technology. And here you'll find dozens of different tools to choose from.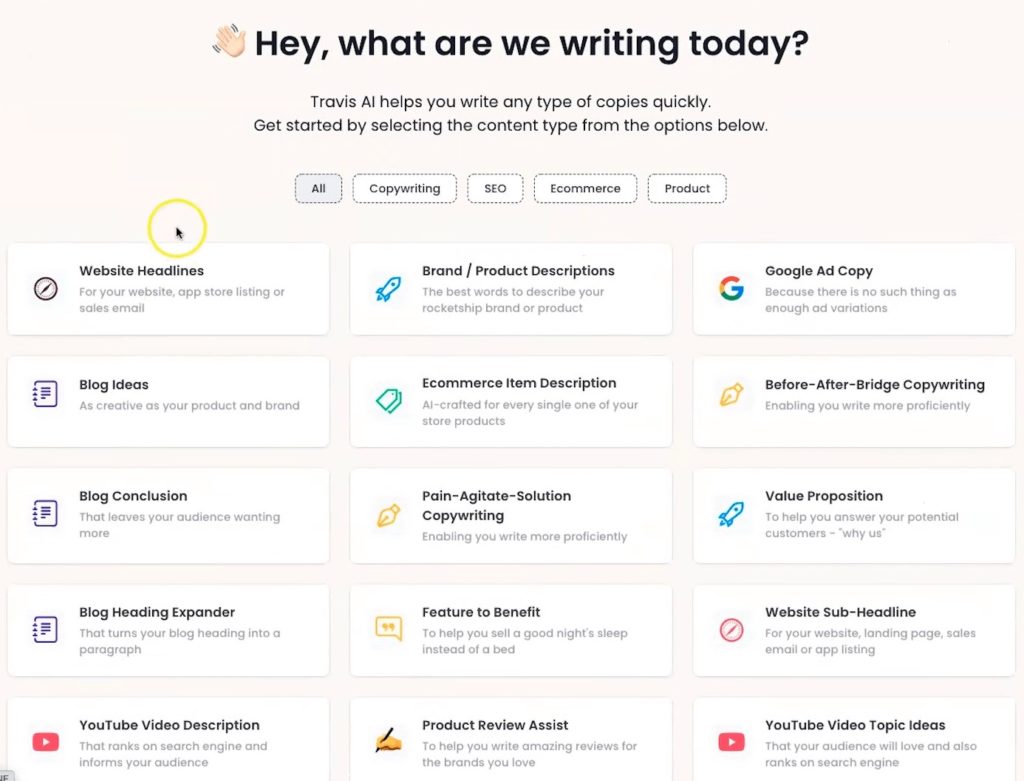 And all of these tools are divided into 4 main categories:
So you can quickly find what you need.
They have even a template to create a personal bio for your social media platforms.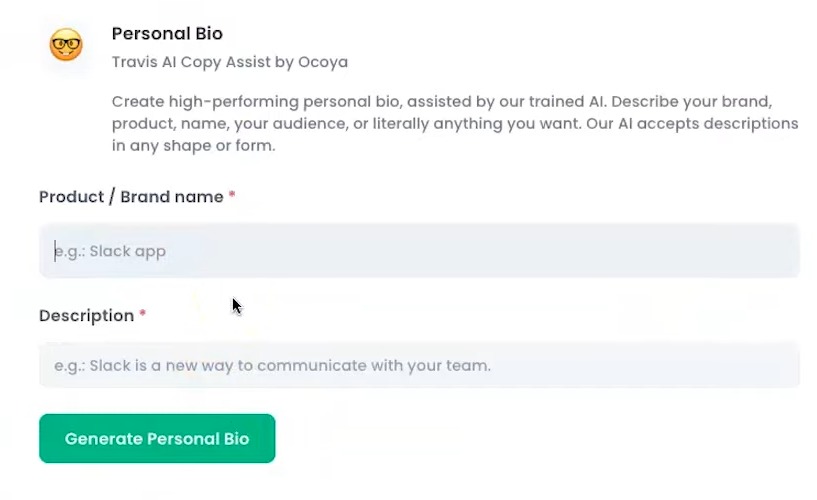 You simply type in your brand or product name, a description and the AI will generate a personal bio for you.
It's very helpful for Instagram or Linkedin bio.
And if you get something that's not quite right, just click on generate more.
In my opinion, their AI content generation is not pretty up to mark because you don't have much control over the type of content that you want to have although they have something God Boos Mode that isn't much flexible compared to that of Jarvis Boss Mode.
But if you are on a budget and you don't want to invest in other third party tool and all in one place for your social media, this is a great tool to pick up.
So that is Travis AI.
Ocoya Ecommerce
Next, we've got e-commerce. Inside the eCommerce tab you can integrate this with:
So this also separates Ocoya from most tools. There's not a whole lot of social media management tools that actually enables you to connect to your Shopify store, Etsy, eBay, and Amazon.
Ocoya Analytics
Analytics is going to show me things like posts, hashtags, shares, downloads, and hashtags.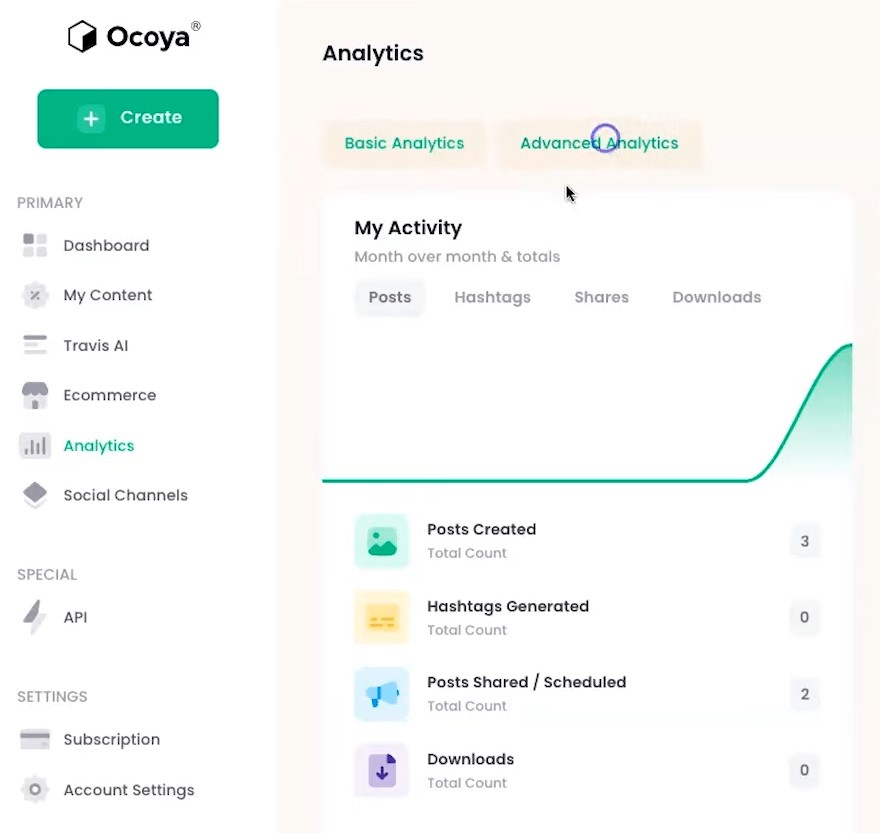 And there's advanced analytics, but it's not out just yet. Once again, this is on launch.
Ocoya New Tools & Features
So as mentioned in the beginning of this Ocoya review, the platform introduced some big updates in 2022.
Ocoya Creator Studio
Ocoya Creator studio now allows you to create and publish a post in less than 10 seconds with the new updated content management UI. That was one of the things that bothered me when I tried to create content using Ocoya.
It took too long to create a post and there were a few different steps that you had to go through. So it's interesting to see what they've changed to make this faster workflow
Link Posting
This was another thing that most members really wanted was that you couldn't just take a link from your website or a link from a Youtube video and then post it.
And you can do those things on most other social media channels, especially Facebook. It automatically will bring in an image or thumbnail – it was missing that in the previous Ocoya version.
So they added that, and that is a huge feature that that was definitely needed in the professional social media tool
Image Cropper
With this feature, you can crop into 15 different formats of your choice if, for example, you posted to Instagram, but the image won't publish on Twitter.
New Hashtag Generator
The hashtag generator was also something that was not useful, it was basically pointless because it was relevant to the image, not to the text of your social media post. And so they have improved that trending hashtags as well which is great.
Other improvements made to the platform include Stock photo / GIF previews, workspace management, Dropbox integration, caption autosave, and template search.
Ocoya Roadmap
Now, I'll show you the Ocoya roadmap where you can all of the upcoming things.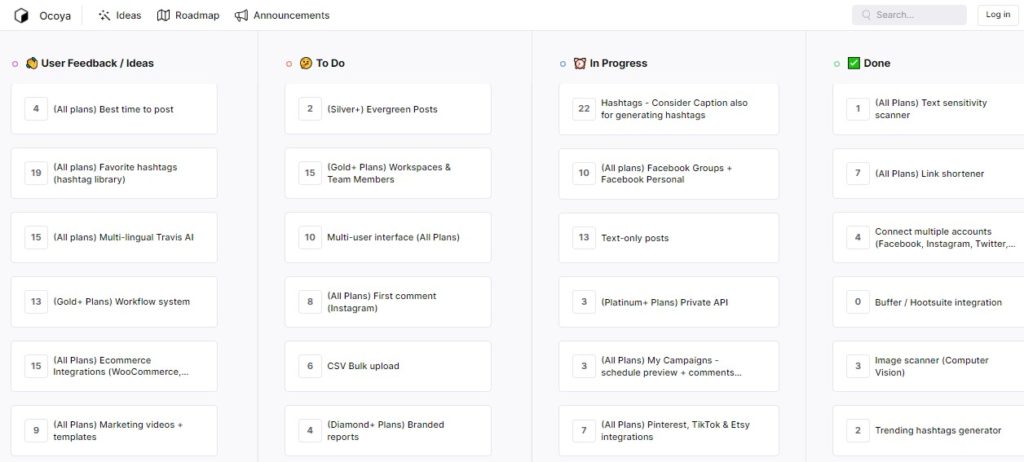 And basically, this is what they're planning to do with the platform.
For example, the features in progress are:
And they also do Facebook groups and Facebook personal and that's a really good feature right there.
And then "User feedback and Ideas." This is where people can actually log in and suggest different things to improve with the platform or add-in.
Ocoya Pricing
Ocoya has 4 different pricing plans:
On the silver plan, you can have up to 25 social profiles so that's would be enough even if you run a digital marketing agency.
If you are a bigger social media marketing agency and you have more clients or you want to have more profiles to manage all of these people, you would need to upgrade to the gold plan.
If it's just for individual use, it's also is just $59 and you can use this scheduler, AI copywriting tool, and content creation tool.
Ocoya offers a 7-day free trial so you can test the software out before upgrading to any of the monthly pricing plans.
Ocoya AppSumo Lifetime Deal
The Ocoya lifetime deal on AppSumo is no longer available so the only way to purchase this product is via Ocoya official website.
Ocoya Alternatives
Here are some of the Ocoya alternatives:
Missinglettr
Feedhive
Hootsuite
Buffer
Predis.ai
The only social media platform that is really close to Ocoya is Missinglettr which is awesome content curation feature that Ocoya doesn't have.
Ocoya Review Wrapping Up
So that was my Ocoya review. As you can see, it is a very powerful tool.
Not many tools out there can actually include content creation as well as an AI copywriting tool inside of it, as well as the scheduling by verified partners.
So those three just alone are worth its weight in gold.
Their AI copywriting tool is really good but it doesn't work as well as a dedicated tool such as Jarvis.
I hope you enjoyed this Ocoya review. If you have any questions, leave me a comment down below.