In today's article, we're going to be reviewing a video content creation tool called Offeo. And in this Offeo review, I'm going to be walking you through exactly what this product does, who's actually currently using it, and what kind of content you can create you using this software.
I'm going to also share with you my personal opinion of the platform and how it compares to other AI video makers.
💡 Note
Just to let you know, there is also an OFFEO lifetime deal going on right now. It's not going to last much longer. However, the pricing of OFFEO is ridiculously cheap so regardless if you miss out or not, it's still a great deal.
What is OFFEO?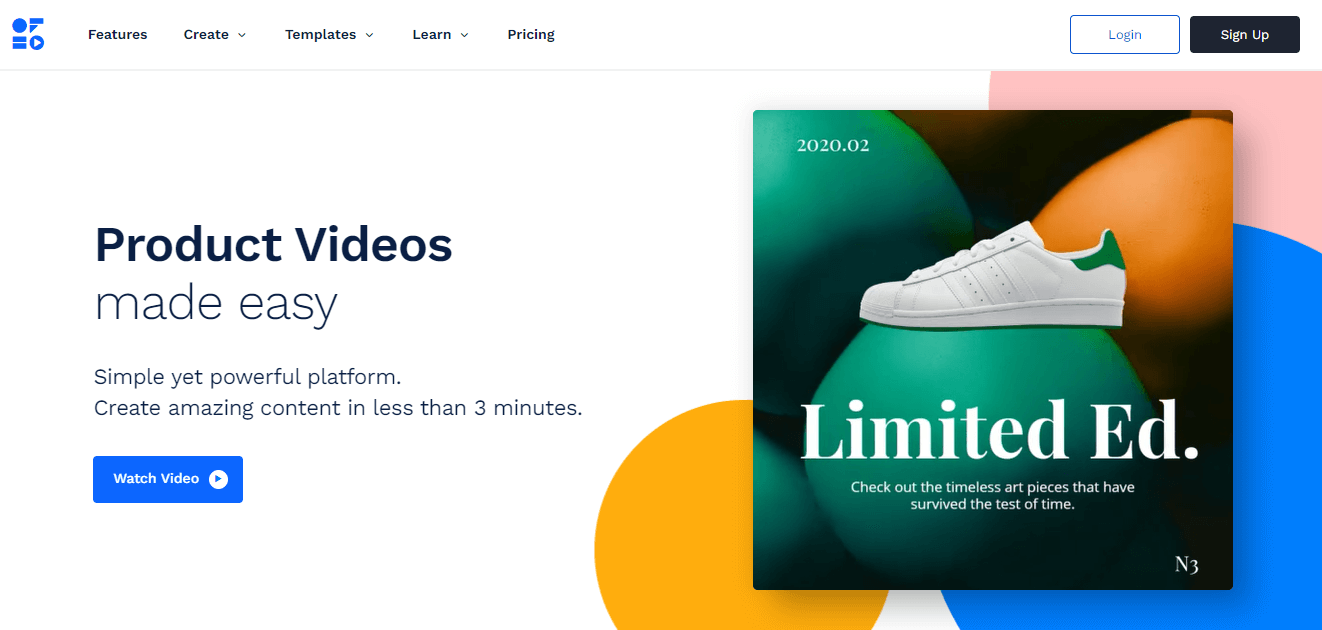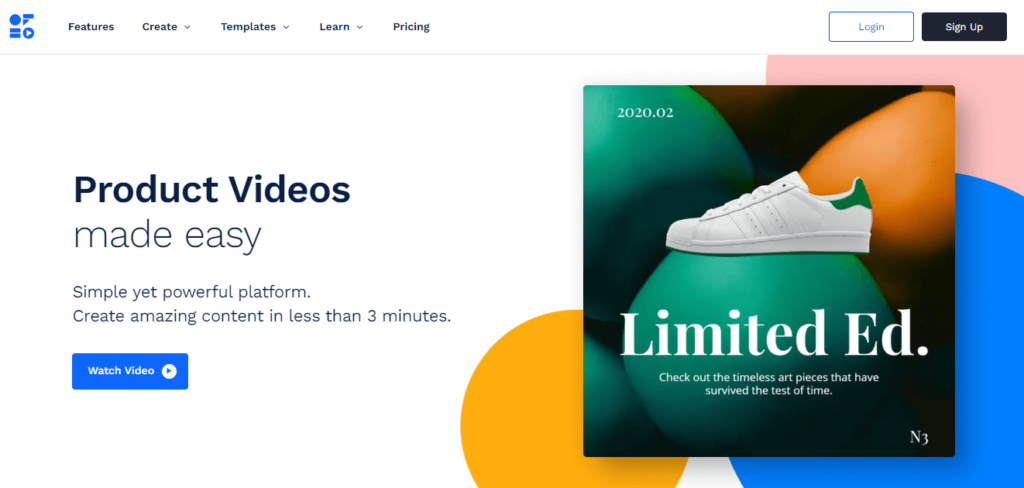 Offeo, as they state is a video content creation tool, but honestly, I like to think of them as an all in one social media marketing tool, because what it actually does is allow you to create posts or videos that have animations and templates pre-made that I'm going to show you later.
It will save you a ton of time if you are someone that posts on social media or create advertising for your brand or company.
So, now I'm going to show you how Offeo works.
OFFEO Tutorial & How To Use It
So, here's my Offeo back office.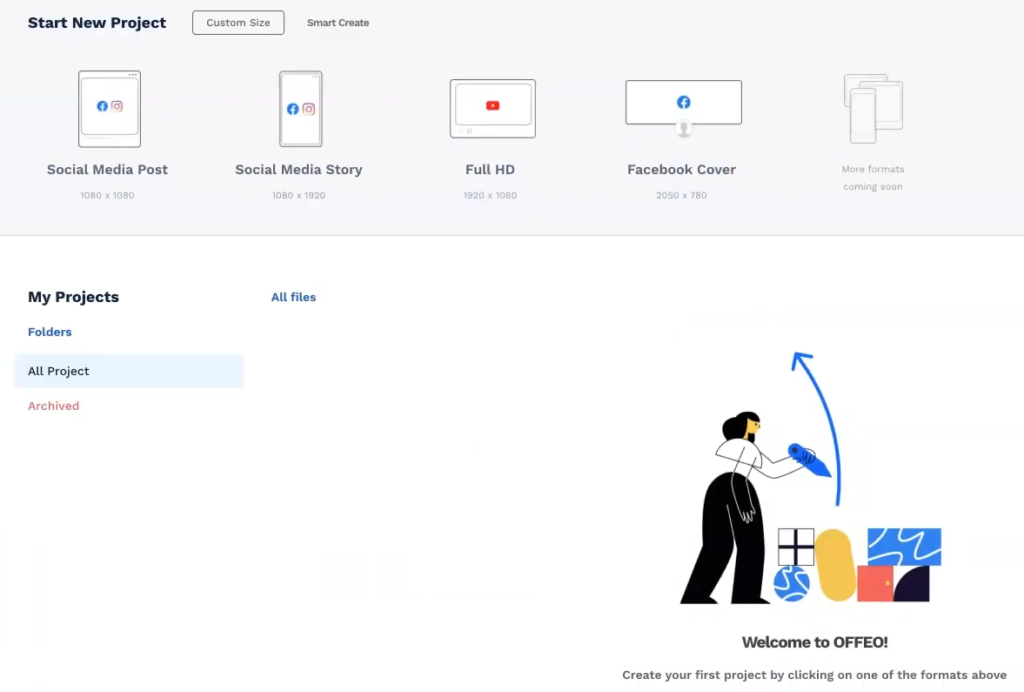 And when you do first join up with Offeo, there is going to be an amazing onboarding sequence that will guide you through how to use this tool step by step.
The great thing is that you can create videos that match your brand.
So if you go to the brand section what it's going to ask you to do is add in your website link.
And then it's going to scrape information from your website, such as the color scheme and your logo and different types of fonts to match your color scheme.
And once you actually do put that in, it's going to come to this page.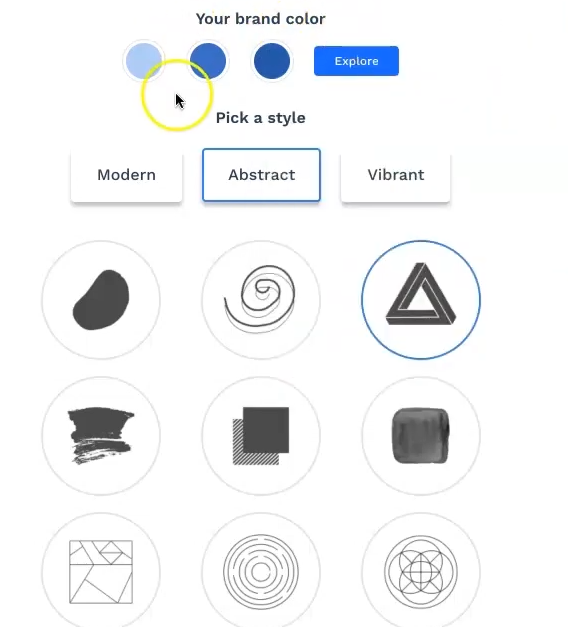 And this gives you the branding colors that are picked from your website.
If they're wrong, you can actually choose different ones from the suggested palette, and you can also change things like your brand name.
We also have three different types of styles, which are modern, abstract, and vibrant.
So, it's all pretty much based on what you like. I personally like the hexagon with the triangles. I'm a big triangle fan.
But what it's doing is it's creating basically a type of template of the different types of scenarios that your Offeo membership can handle.
So, as you can see, we've got a membership-type layout that Instagram would have as well as different types of social media posts, as well as a different type of Facebook cover.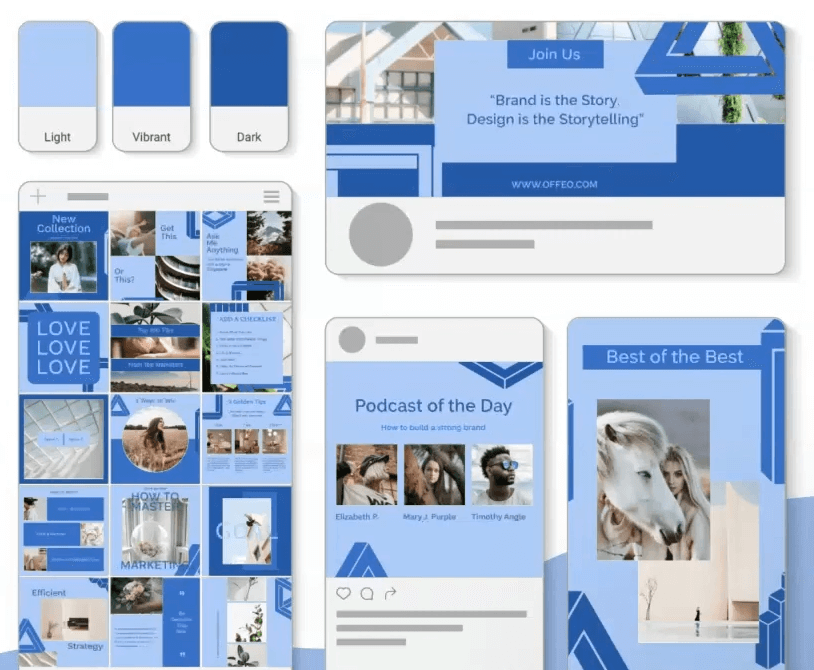 So, once you've done that, you'll have six different font schemes.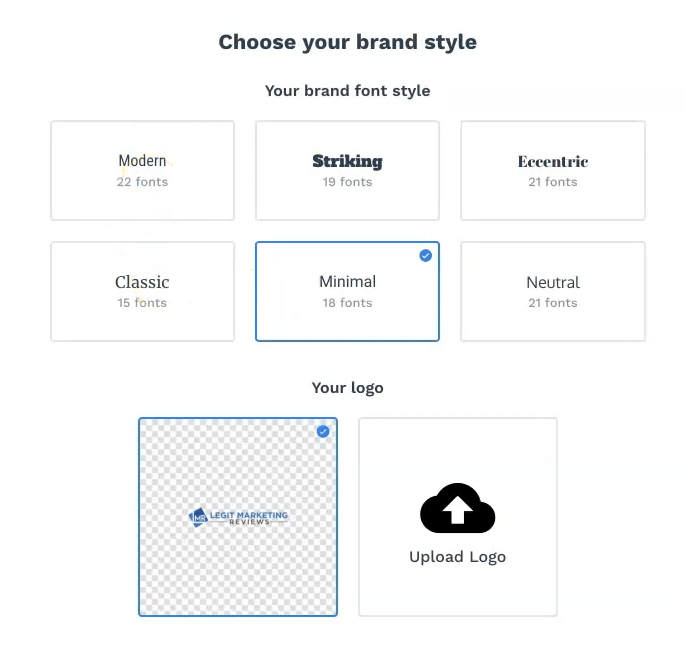 And what this is going to do is it's going to create this style for all of the templates that are branded which I'll show you what they are in second.
And that just makes it super easier to keep your brand on point rather than slipping off it.
OFFEO Social Media Posts
And once you do that, you can actually start a new project like:
And more formats.

So, let's just say we're going to go and create a social media post.
And inside here, as I mentioned, you've got your templates that are around your brand, or you've got other templates or you've got a blank.
What I'm going to do is show you, first of all, the brand templates, and then I'm going to show you what other templates these guys have as they are incredible.
And one thing I do like about Offeo is that it actually does have templates that you can use as images, not just as videos, so it is a very powerful tool in that regard.
As you can see, there are lots of templates to choose from.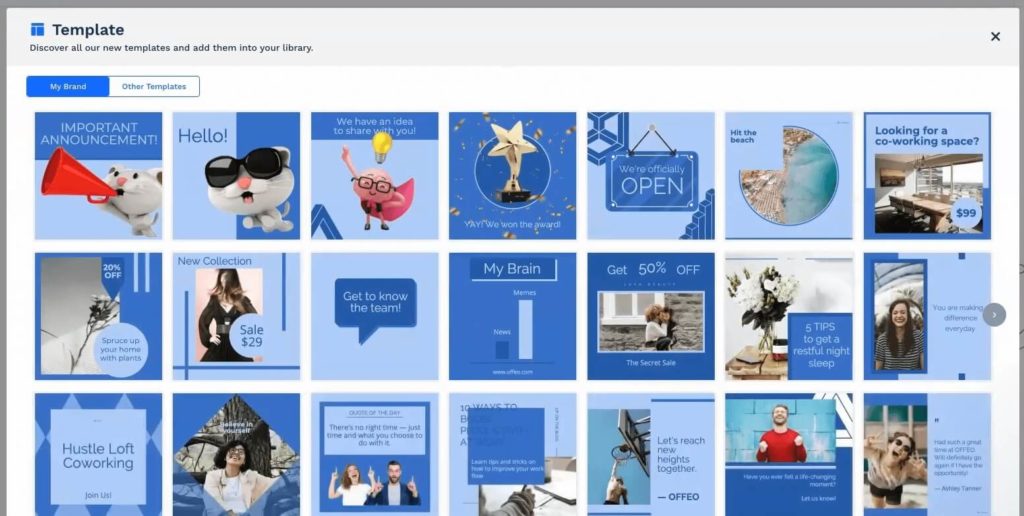 And that's not all because there are 6 pages of these branded templates that you can use.
Now, just to show you some different types of templates they have available.
And these are not branded.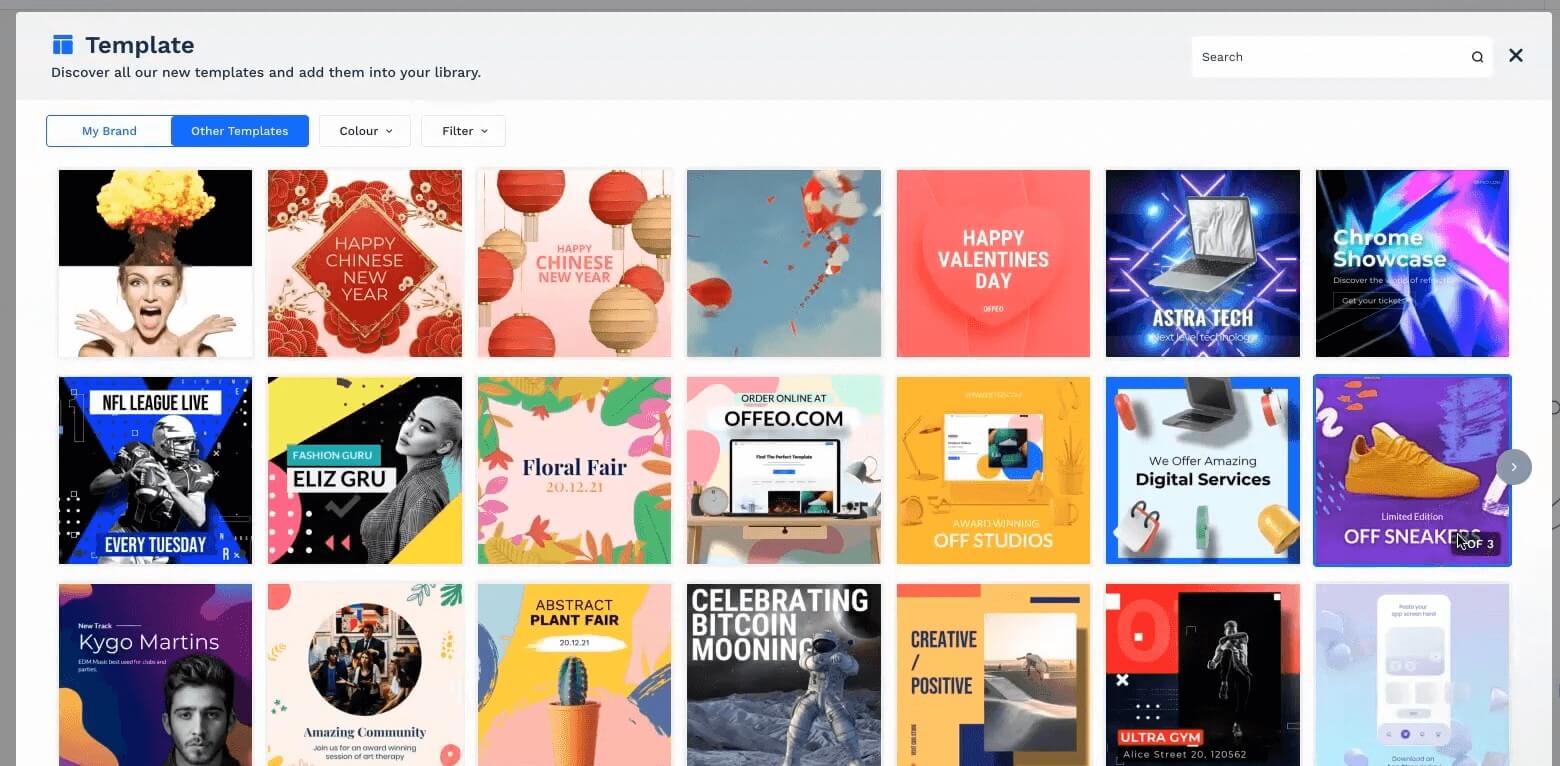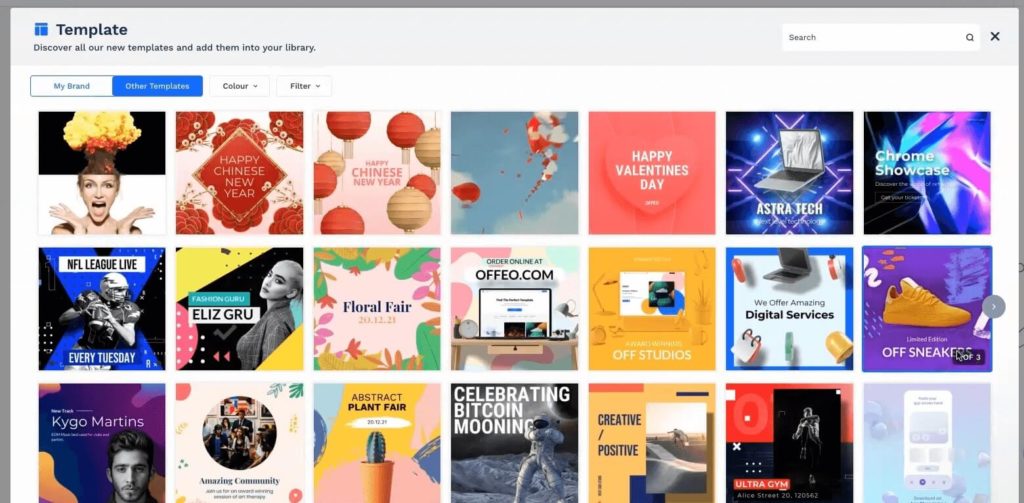 As you can see these are very high-quality templates compared to other tools such FlexClip.
So, if you have a physical product you're trying to sell, ones like these here are incredible as they do stick out very well.
And if someone was scrolling through Facebook or Instagram, these would already start livening up as they're scrolling past it, which makes it a very, very good selling point.
Once again, they do have 6 pages.
There is a lot.
So, all you need to do to actually check on them is just hover over them and it's going to show you what it looks like.
OFFEO Graphic Design
For this example, though, I'm actually going to go back to my favorite template, which is the testimonial template.
I absolutely love it so I'm going to show you how easy it is to actually edit.
Everything it's just drag and drop. You can click to edit however you like. It's super easy.
It reminds me of Canva that is also a great tool but Offeo has more powerful features
As you can see, it's got a nice interface.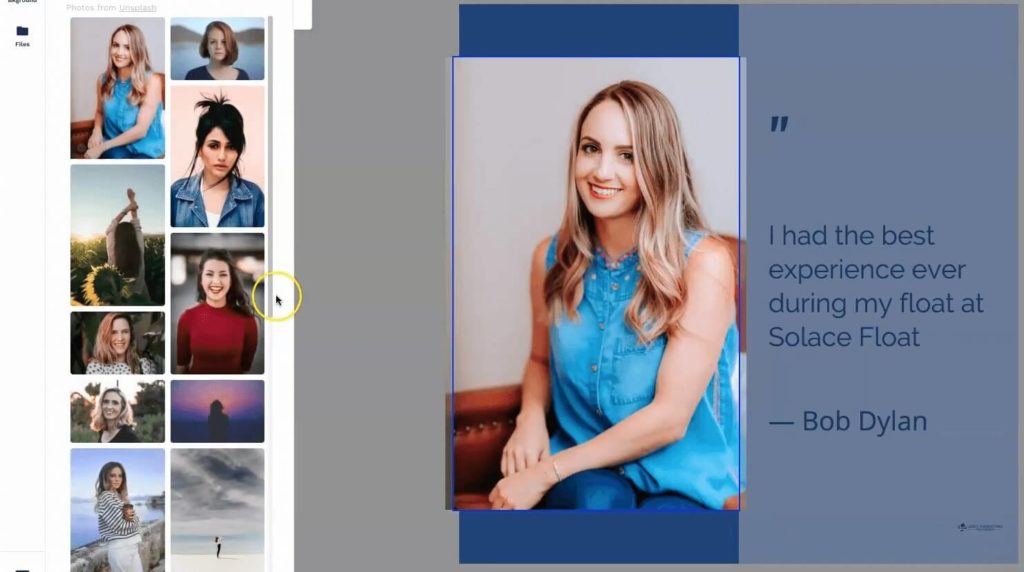 And if you want to change the image, just click on that, click on "Replace Image" and then either you can upload one from your own personal files or you can choose from Unsplash that is integrated with the Offeo.
So it's actually going to pull up all the images from Unsplash.
And there's also a logo to keep everything on brand point.
Now, if I wanted to download this as an image, I could just come to the top right, click on "Image" and it's going to ask if I want PNG or JPG, and then it's going to take a few seconds to download.
OFFEO Video Maker
If I wanted to create this as a video with animation, what I can actually do is to come to "Animate" and here are all these different types of animation templates.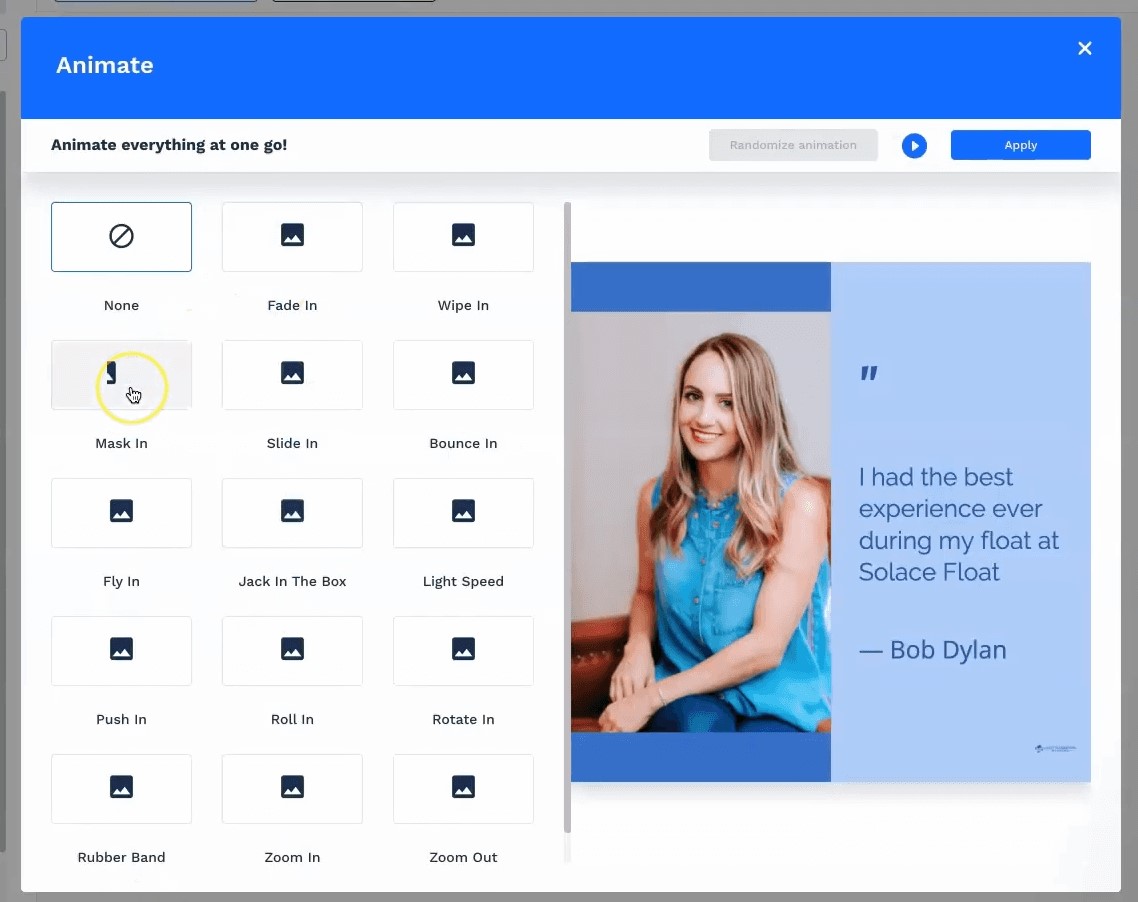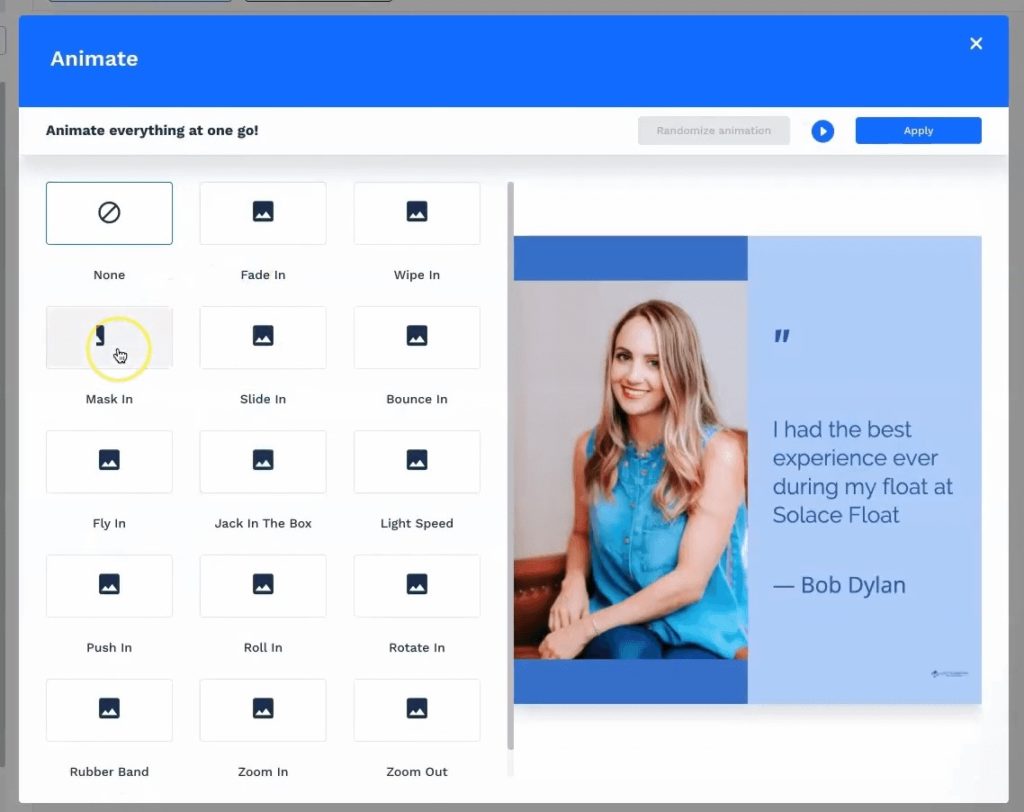 You can find animation elements such as:
And so much more.
You've also got random animation which is just going to choose one from the lot.
So, this is perfect just for these basic types of animations, especially for the testimonial template, it doesn't need to be anything aggressive, but it just needs to create curiosity.
And there are also things on the left like music so, you've got a selection of stock music that you can use on your videos.
There are also things like backgrounds and graphics in different styles and designs you can add on top of it.
For this particular example, I'm happy with this.
What I can do is go ahead and click on download video and it's going to give me a few options.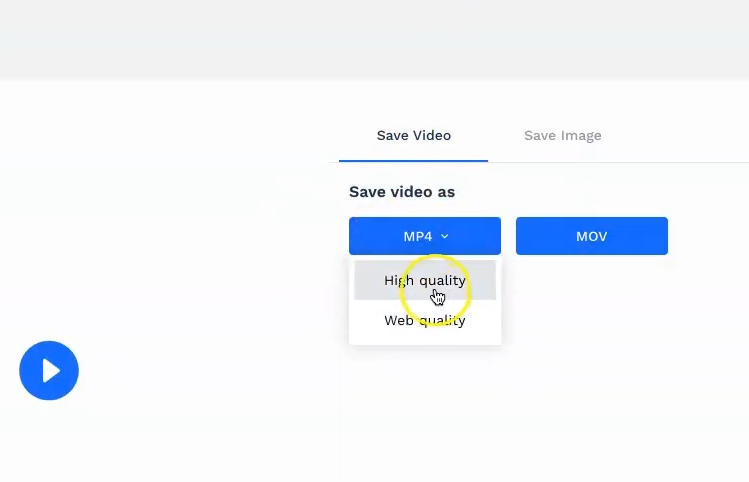 I can save as an MP4 or a MOV, and I can save as high quality or web quality.
So about 30 seconds it took and the video is complete.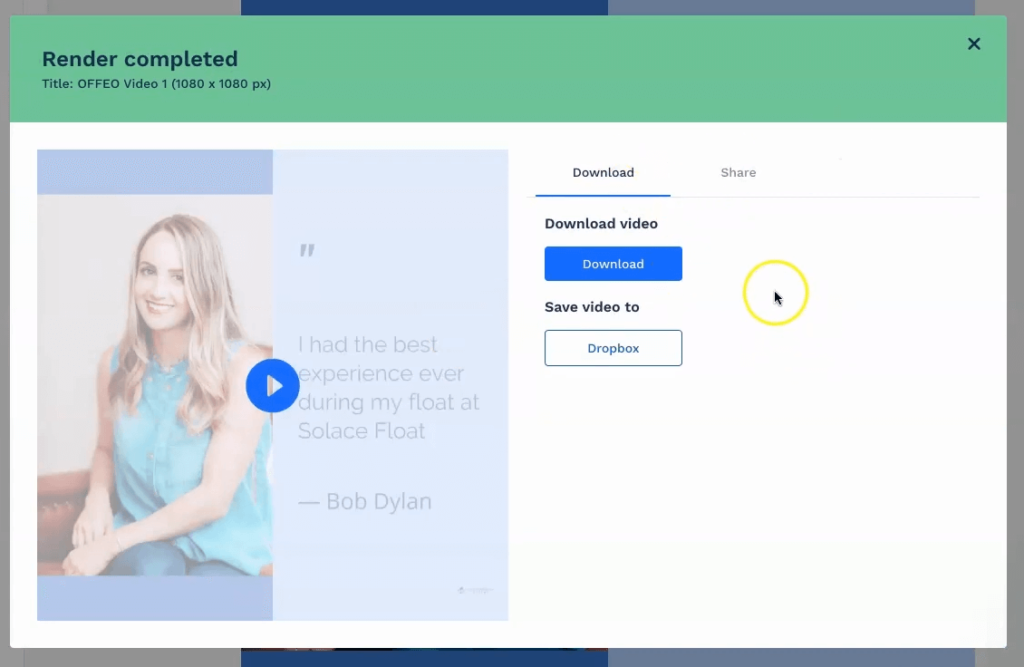 Here, I can save, or I have to Dropbox or download it.
And here is the best part.
I actually also got a notification on my phone saying the export is complete.
So, if you've got a few of these batch running, or if you've created a long one, you can just go ahead, let it export.
You can actually shut down the browser and it's going to give you an email notification to show you that it's ready.
So that's how you would do it. If you want to change the length, you can change the scene duration which is also really easy.
Offeo Storyboard
Now just keep in mind this is actually just a scene. If you wanted to create a long-form video, they have also what's called a storyboard.
So, if I click on the storyboard, you can see we have the first scene we've created.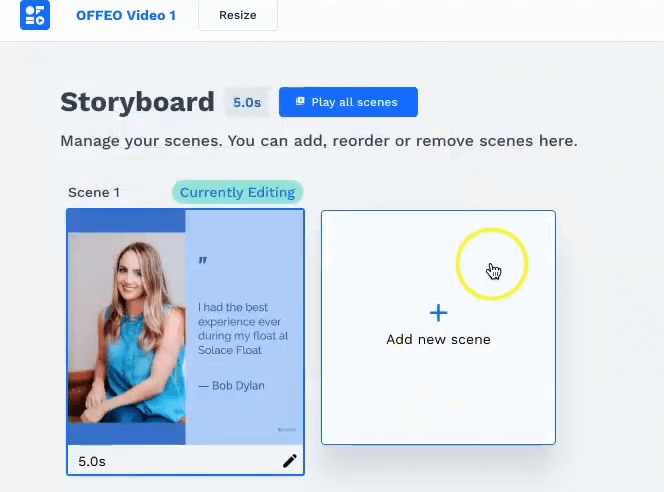 We can go and create a second scene, similar to the way we actually created the first scene.
Now, another cool part to point out as well is you can actually edit the time inside the back office kind of like in Recreate AI – another AI video maker.
You can change the length of each scene.
So, it makes things really cool.
OFFEO Pricing
Offeo has just one pricing plan:
And if you were to miss out on the Offeo lifetime deal, you can still get it monthly for as low as $19 per month, which is unlimited, everything, or you could actually get the annual membership which is billed at $149 per month, which is $12.46 basically over each month.
Now, if you are lucky enough to read this review, as I have released it, the lifetime deal is actually still on.
As you can see, it's $98 for life, which is 2/3 of the price of a yearly subscription, which makes it an incredible deal.
Is OFFEO Worth It?
For me personally, I love this tool because what it's going to allow me to do is have these pre-made templates that are already created for my brand.
So it's just going to cut the amount of time it takes to actually create posts, schedule posts, and create video content, especially advertisements.
I do run a few other businesses as well so if I have a special going on, I could quickly and easily create a video advertisement and throw it up on social media and I'm not going to have to stress about editing and things like that.
OFFEO Alternatives
There are many Offeo alternatives including:
InVideo
Wave Video
Crello
Vyond
Moovly
Viddyoze
Pictory
However, most of them are not powered by AI technology and don't have other features that Offeo does have like branding, animations, logo makers, and templates.
The only software that is very comparable with Offeo is Designs AI. It's also an AI all-in-one content creation software with even more tools and features than Offeo.
OFFEO Review Wrapping Up
So that's my Offeo review. As you can see, it is really easy to use.
For a person like myself that struggles to keep on top of social media posts, having a tool like this to actually allow you to create posts so quickly with minimal content and still have it looking amazing is a very vital tool.
Now you can also do things like one-click resizes which is super helpful.
So, if you created a square image, you want it to make it into a social media story image or video, you can do so very quickly as well, it's not a big deal.
There are so many other functionalities I haven't even touched on inside of Offeo but to me, this sort of sells it as itself.
It's super easy to use, and it is such an affordable price, especially if you can manage to get the lifetime deal. That is an absolute steal, I'm stoked I got it.
But that's it from me guys. I hope you've enjoyed this review. If you have any questions, please leave me a comment down below.