In this Omnisend review, I'm going to show you how to use this all-in-one e-commerce marketing automation platform to help automate your online store.
As an e-commerce business owner, email is probably your most profitable marketing channel. However these days email marketing isn't enough to achieve a high level of personalization.
Omnisend is an AI email marketing software and omnichannel marketing platform that helps you make your marketing messages relevant and super personalized. With Omnisend you can integrate email, SMS, push notifications into the same automation workflow.
So now I'm going to show what Omnisend can do for your e-commerce business and how it works step by step. So if you want to work along with me, here you can start your Omnisend free plan where no credit card is required.
Let's get into it.
What is Omnisend?

Omnisend is an email and text message marketing platform built for e-commerce. The entire platform seamlessly integrates with any online store and is packed with email templates, prebuilt automation, workflows, segments, suggestions for your customers. Omnisend is also consistently rated the highest among similar tools for its ease of use.
Omnisend Dashboard
So here's a short rundown of what Omnisend can do for you. Your sales performance dashboard will be the first thing you see when you log in.
This is a great place to show you an up-to-date view of your performance and how much of your total sales are coming from Omnisend.
Your dashboard is showing you how much revenue your campaigns or your automations are bringing in and conveniently comparing that with your total store revenue.
This reporting is fully synced with your e-commerce platform.
On the dashboard, you can always keep an eye on your email and SMS audience growth as well.
In short, this page gives you a bird's eye view of everything that's going on with your sales and your contacts.
Now let's see how you can grow your sales by sending an email campaign.
Omnisend Email Campaigns
If you're used to any type of modern email marketing automation software, building an email campaign and Omnisend will look pretty familiar to you. It's very easy to use and easy to get going.
And to create your first email marketing campaign click on the "email campaign" tab on your main dashboard and then click on the "new campaign". And here you can send a couple of types of email campaigns.
You can send an email campaign. You can AB test your campaigns. You can send a text message campaign or a browser push notification as well.
Let's just create an email campaign.
And in the settings, you'll see some very interesting Omnisend email marketing automation features.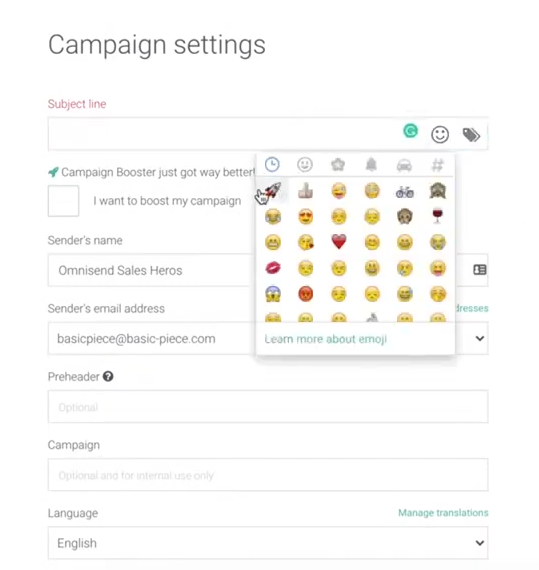 When you type in your subject line, you can add emojis.
And if you really want to boost your opens and engagement with your audience, you can check this box "campaign booster"
And what the Omnisend campaign booster does is 48 hours after you send an email campaign out, they will resend it to anybody that has not opened your email campaign yet.
So if you're used to having 20% open rates, there's still 80% of your audience that hasn't seen your message.
So if you tick this box, 80% of people who haven't opened your email will now get your email 48 hours later.
It helps you drive more engagement and more views to your campaigns.
And if you wish you can also cross-post this to your business Facebook page which is really handy if you do some Facebook marketing for your e-commerce store.
Email Templates
In terms of email templates, they have got you covered. You're never alone to build out your entire template from scratch.
Everything here is going to be drag and drop. You can write a plain text email, or you can have a little bit more customized email Omnisend professional-designed pre-build email templates that you can use an upload your logo.
And also as you go along and Omnisend, you can save an email template.
If you build one that you really like and want to reuse in the future, you can save that, come back and use that over and over again.
Emal Editor
Inside the Omnisend email editor, everything is customizable. If you want to change the background, color, the font, the logo, the colors, the image size, what the text looks like, everything you can design it and customize it to your brand specifications,
You can also save that for future use so you don't have to recreate the wheel every time you send an email campaign out.
Do you want them to show up on mobile and desktop, or maybe you want them to only show up on mobile or only on desktop?
You can select those types of things to make your emails more mobile or desktop friendly.
You can also drag in features like:
Featured product
Discounts
Video
Product listing
Scratch card
Social media
Gift box
And more.
What's great is for example if you choose the featured product, they'll automatically take you to your store, then the Omnisend product picker will pop up, and it will bring the product with all of its information including the image, the price, the title, the description, as well as a link directly to that product directly into your email.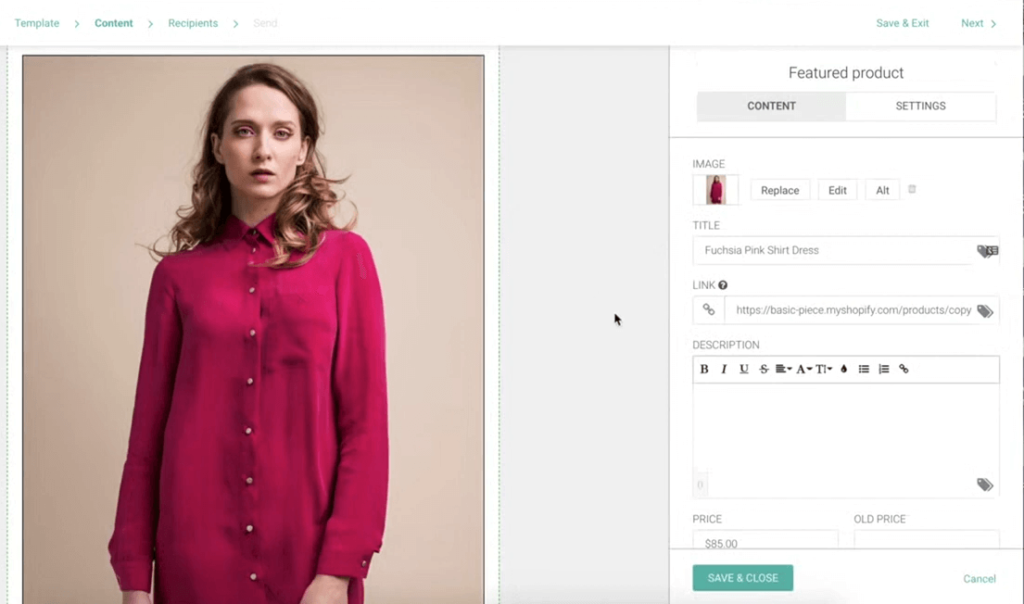 So you don't have to worry about copying and pasting anything. You don't have to worry about having the wrong link. They'll even bring in the image for you as well.
Other great blocks are things like the discount block, where you can create a dynamic discount code.
So not everybody is going to get the November 15% off discount code that will end up on a popular coupon site. You can send dynamic custom coupon codes to your audience where every person on your list gets a unique discount code.
So you don't have to upload it into your e-commerce platform. They'll take care of sinking that for you for most major e-commerce platforms.
Other ones that are popular, including HTML block, same as you can find in the other popular email design tool, BeeFree.
If you're more technical, you can add other items like gift boxes, which are gifts that encourage people to open and click as well as you can save your blocks.
You can preview what this is going to look like for desktop, as well as for mobile users.
You can always send yourself or anybody on your team as many tests, emails as you want.
The next thing you'll do before you send it out is just select who you want to get your email.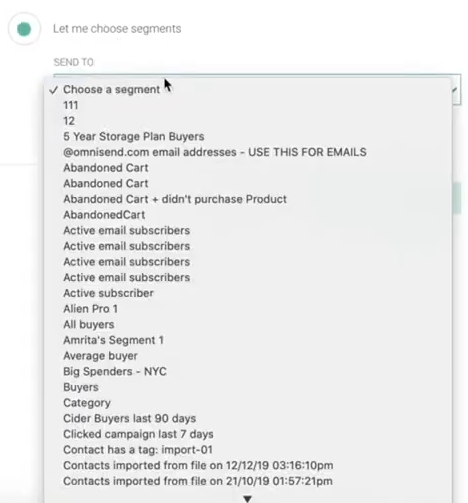 You can send everybody, you can exclude certain segments of customers, or you can send it just to specific users.
If you have wholesale clients or you want to send it to just buyers, or you want it to send it to your VIP customers or customers that have bought it in the last 30 days, you can select which audience you want to send it to.
Now that we've covered the campaigns, do you want to go a step further?
Let's go into Omnisend automations.
Omnisend Email Automation
Automations are an important part of driving more conversions and revenue for your e-commerce store. On Omnisend 29% of all sales and conversions are driven by automation.
Email Automation Templates
To get you started on workflows they've created over 30 prebuilt workflow automations.
They data team looked across over 55,000 e-commerce merchants that use Omnisend to look at what automated workflows are performing best for their customers.
So whether you want a welcome sequence, which by the way, has over 91% open rate.
So whether you want a welcome sequence, a cart abandonment workflow, browse abandonment, post-purchase, or if you want to cross sell, or maybe you want to build loyalty by sending automated customer feedback emails after the purchase, you can do things like that.
But in this Omnisend review, I'll show you an abandoned cart email workflow.
Abandoned Cart Templates
So when you get started, you've got already prebuilt 4 different types.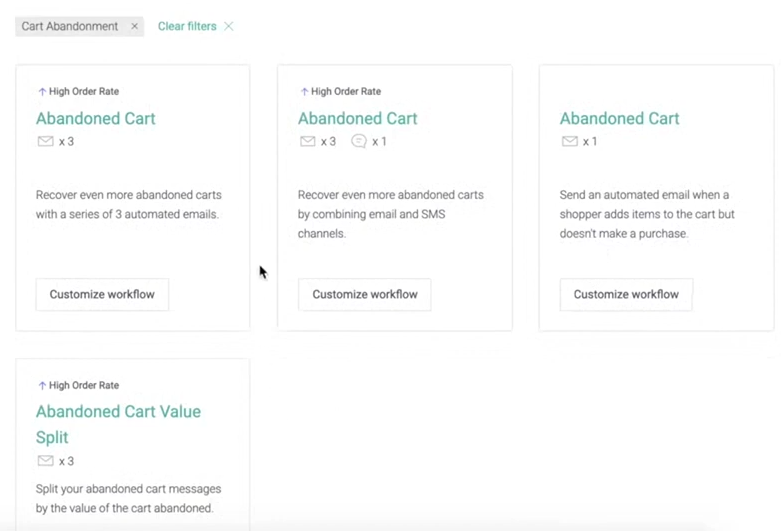 You can pick and choose whether you want to. 3 emails, multiple channels, emails, and text messaging, just 1 email. or if you want to really optimize, you can do the abandoned cart with split automation.
So they are prebuilt the entire workflow already for you. All you have to do is change out the logo and the emails, and you're ready to go.
And it will trigger, meaning start when a customer adds an item to their cart, but they don't make a purchase.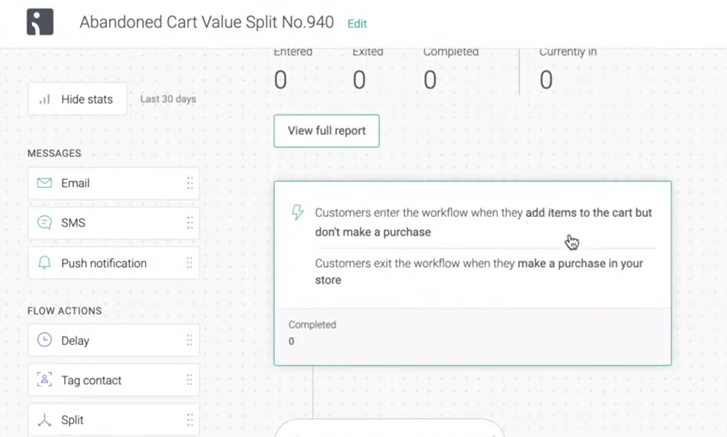 And then they will stop the automation sequence as soon as they do make a purchase.
So they'll send 1 to 3 emails to your customers after they abandoned the cart.
But rather than send the same email to every customer, they've added split automation and what this will do is it will look at your customers and determine if it's greater than a certain amount of emails.
Maybe you want to send them 1 email versus a different email if it's a lower margin item or if it's a lower amount in their cart.
So for example, if you wanted to send a discount code to anybody that has a cart sum of over $100 or pounds, depending on your local currency, if you want to send it to somebody that has more than a hundred dollars in their cart, it'll send them down this sequence.
Maybe that includes a discount or free shipping incentive It'll send them that number of emails.
But if their cart sum is less than $100, for example, you can send them a different group of emails. So it might just send them a reminder email rather than a discount for those lower margin or lower value products as well.
Omnisend AB Testing
You can also do things like AB testing, again, everything in Omnisend drag and drop.
If you want to AB test one email versus a different email, for example, you want to send a reminder email versus free shipping or a discount email – you can test which one's going to perform better.
The great thing on Omnisend, you can also AB test different channels. This is also a feature that Encharge does provide as you can see in this Encharge review.
So maybe you've heard the exciting returns and conversions for text message marketing – you can just AB test emails versus a text message.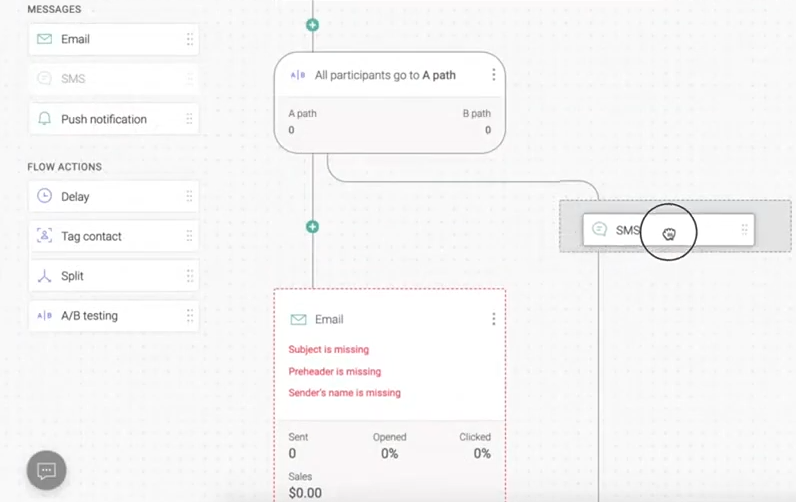 Other great tools, you can drag and drop push notifications, a different channel, can tag your contacts based on their behavior, or you can add specific delays if you wish to.
The other email platform with great AB testing features
Omnisend SMS Marketing
In addition to email, automations and campaigns, Omnisend enables you to add SMS marketing to help you connect in more targeted ways with your most engaged customers.
You can send both text message campaigns to your larger audience as well as include text messaging into your automated workflows.
You can just add an SMS message into your workflow by simply dragging and dropping it and begin writing your message.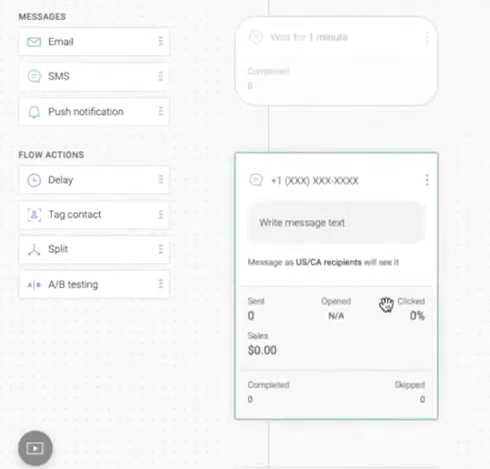 While the SMS messages work for your contacts globally, you can also include engaging pictures, gifts, and even product images for select countries.
Well, this is one impactful example of how to add SMS marketing to your store. There were many more templates and best practices built right into your Omnisend account.
Omnisend Forms
The next feature inside Omnisend is forms. There are 4 different types of forms.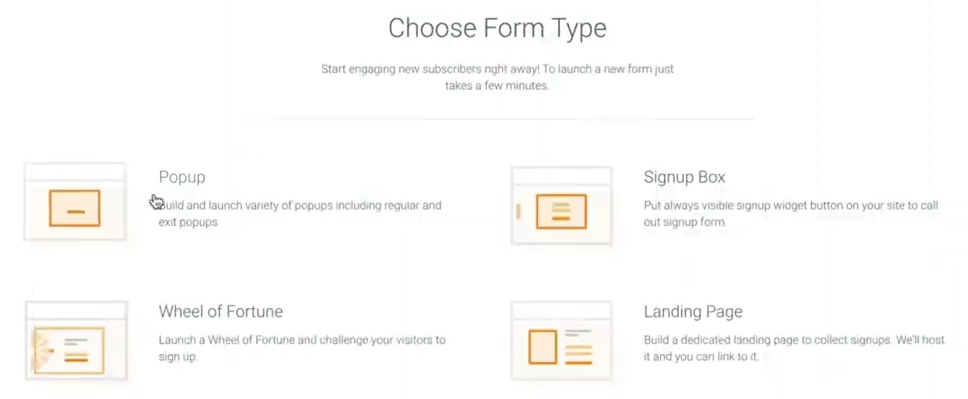 You have pop-up form including regular and exit pop-ups, sign-up boxes which is just a pop-up form with a little button on your site.
They have landing pages as well as wheel of fortune – a spin-to-win incentive gamification tool to help drive more engagement with your customers.
The goal of all forms is to generate user generated content, have people sign up for your subscription list so that you can reach them.
Here you'll find a number of different designs that are pre-built for you, and you can customize these for your brand.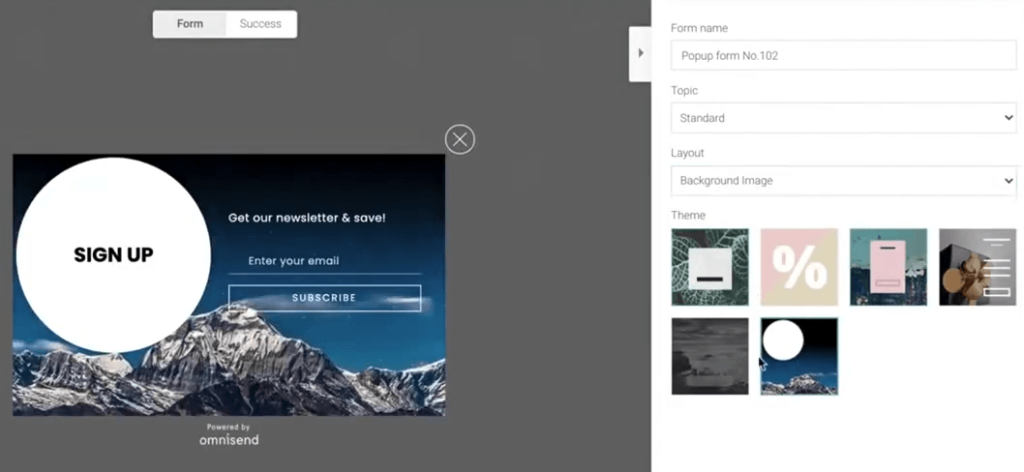 You can always change that by just dragging and dropping a new image in the background.
If you want to you can collect names or custom properties like birth dates,
And if GDPR or TCPA compliance is important for you, you've also got pre-built legal text that you can use
You can also see what it's going to look like on mobile and decide when you want this to turn on.
Do you want it to show up immediately when they hit your site? Maybe you want to time it after a few seconds or number of pages or an exit intent pop up when somebody goes to leave your site – you can have a pop-up come up.
No extra coding or effort on your end is required. It's going to be live on your site.
Omnisend CRM
The next part of the platform is the CRM system and segmentation. This is where you can see all of your contacts in their records.
Here you have people that are subscribed to email, text messaging, and browser push notifications, as well as you'll see people here that are non subscribed.
For billing purposes, you are only charged for your active email subscribers those are the people that you can actively market to.
You can search for their name or email address and you can see all the information about this person where they're located, which channels he or she is subscribed to all the personal information that maybe they have input, whether that's on a cart or maybe a form that they filled out.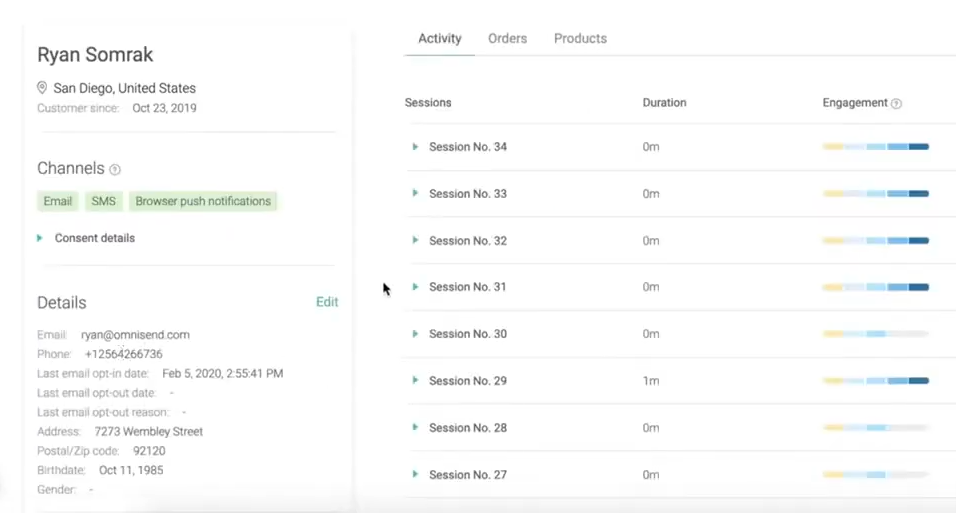 So here you'll be able to see all the activities that each of your customers has done. I can see the entire progression of that customer journey as well as all of his historical orders.
All of this is user-generated content that you can segment on.
So maybe you want to segment by showing a VIP list of everybody that's placed more than 5 orders with your store, or you can do it by total revenue or average order value.
Maybe you want to see a segment of customers that have spent more than $500. You can create segments of customers based on their lifetime value and their order patterns.
You can also sync tags over from your e-commerce platform as well as those that you create inside o Omnisend.
Omnisend Email Segmentation
The order status segments are an important part of any e-commerce business strategy. In Omnisend you can see the total contacts, but an important part of your business will be segmenting your customers to get personalized lists based on their specific shopping activity or their prior history with you.
So here you can see I've created a number of different segments of customers.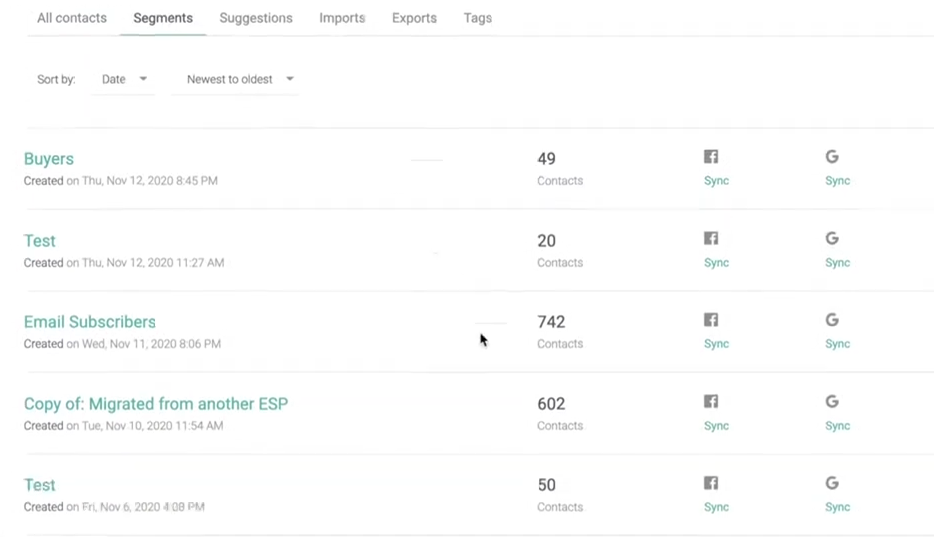 One thing to note is these are all dynamically updated in real-time so once you create a segment, these will automatically update and refresh in the background.
You never have to re-update your contacts.
You can also sync this over to Facebook and Google ads, where you can sync any of your segments over to Facebook ads and retarget them there, or create a lookalike audience to retarget your customers on those platforms.
There are already pre-built and powerful customer segmentations for you.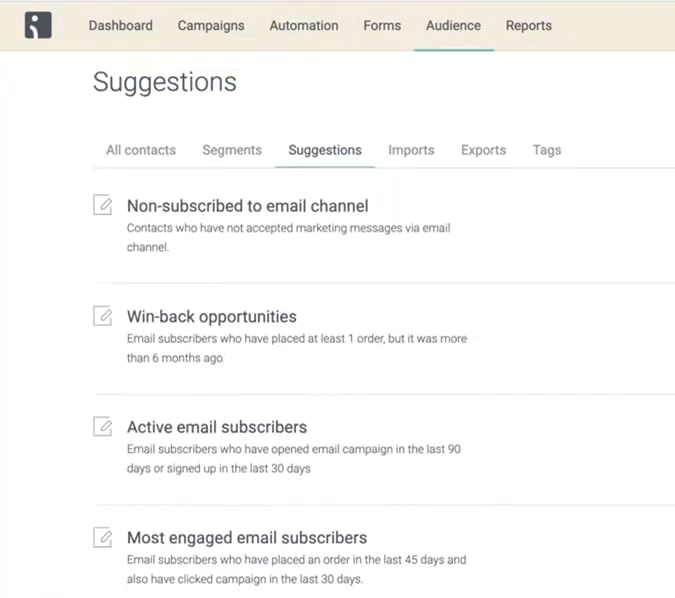 You can filter by which channels they're subscribed to, you can filter by their shopping behavior, you can filter by their email campaign activity and what have they been sent, not been sent open, not open. clicked, not clicked.
And then you can filter by individual properties. So maybe you want to filter by gender or birth date or postal code for geo-targeting your email campaigns or even tags or custom properties.
Omnisend Reports
After you've segmented your audience created your forms, sent out your email campaigns you're going to want to see the reporting on those. That's where the reports tab comes into play.
So here's where you're going to see very granular reporting on your campaigns.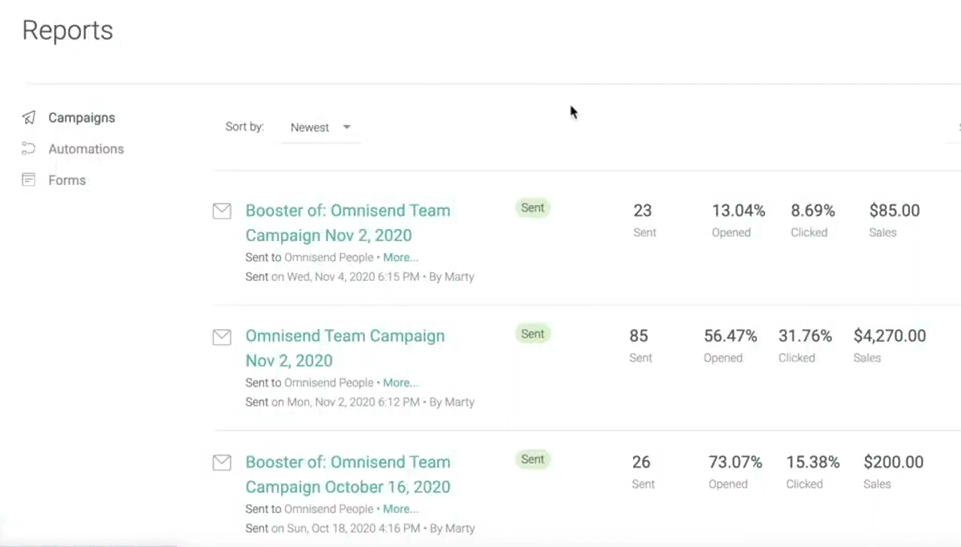 You'll see the number of sends opens, clicks, sales and all the important information on your customers, where they came from, where they're viewing when they did that, you'll see your revenue on each campaign.
And my favorite tool is the click map for every email campaign that goes out. You can see a click map of where your customers are clicking so you know what your customers are most interested in and what's driving clicks on your email campaigns.
The last part of the reporting will also show you various similar information, but specifically for your automations.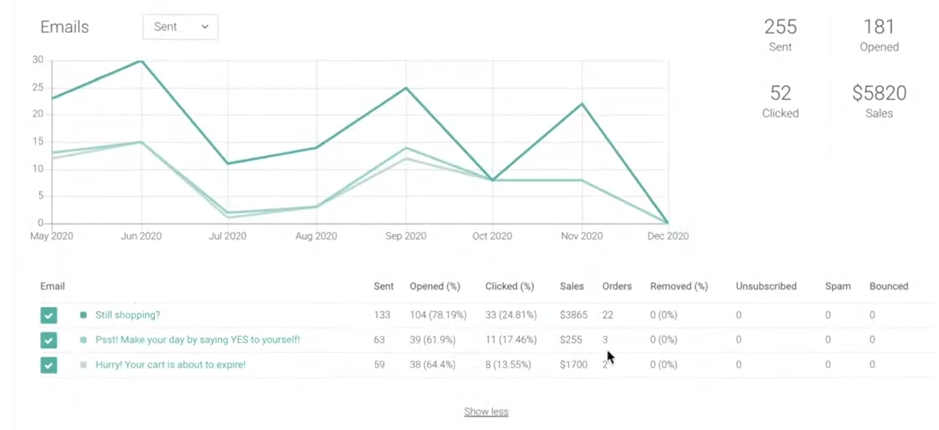 So you can see, for example, the abandoned cart workflow, the open rates, click rates, and sales. Basically, they're going to show you each step of that workflow automation, where your customers are converting.
If you did have push notifications or text messages, you'll also see those stats in here as well.
Omnisend Alternatives
Here are some of the Omnisend alternatives:
Remarkety
GetResponse
ActiveCampaign
Klaviyo
Drip
Sendinblue
The most complete Omnisend alternative in terms of e-commerce capabilities and marketing automation is GetResponse.
Omnisend Pricing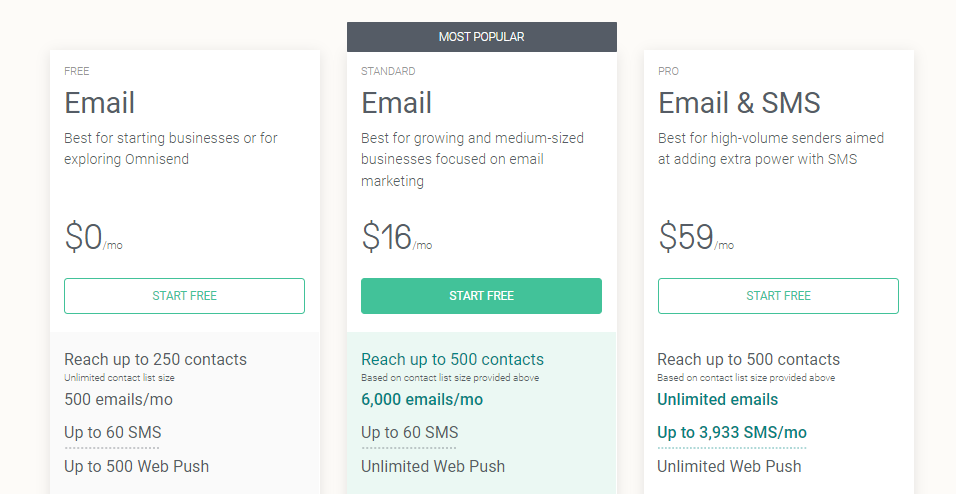 Omnisend features 3 pricing plans:
Free – $0/month
Standard – $16/month
Pro – $59/month
The Omnisend free plan includes email automation, templates, pop-ups, sign-up forms, segmentation, reports, and more.
Omnisend Review Final Words
And that concludes this Omnisend. I hope that you enjoyed it and it help you decide if this email marketing automation platform is right for your e-commerce business.
When you're ready you can always start your Omnisend free plan.