In this guide we're going to cover:
According to statistics, half of the adults who say they lost a job due to the pandemic outbreak are still unemployed.
A lot of people are feeling pain right now. We've either been laid off or lost a significant portion of our income. Job security is at an all-time high.
If you're interested in starting an online business, now is the time.
And to help you get started we did a lot of research and compiled this list of the best online business ideas.
Many of these businesses are based on my personal experience. Also, many of these ideas are really unique.
Let's get started!
Best Online Business Ideas For Beginners
First, I want to show you the best online business for beginners.
Let's get started.
1. Affiliate Marketing
This is one of my favorite online business models simply because it generates recurring income for the work that I did many years ago as an affiliate marketer,

If you want to start making money online without investment, affiliate marketing is the best and easiest way to get started.

You can earn money by promoting services and products which other companies have already started selling online. You will be paid commission-based (normally a certain percentage of product's or service's cost) once you have contributed to their product sales.
You're not just a salesperson working for that company you are independent and on your own.
However, some affiliate programs are not worth it as they give you a very low commission. Amazon, for example, gives you an average commission of only 4% so you make very little money from your sales.
The trick is finding an affiliate program that gives you recurring commissions.
Another thing that you have to look for whenever signing up for an affiliate program is the demand.

Is the product that you're selling really worth it?

Is someone actually want to buy the product that you're promoting?

If so that's great because it makes your life way much easier as an affiliate marketer.

What's great, even after all these years, until this day for the work that I did many years ago I'm still getting paid from affiliate marketing.
👉 Read more about affiliate marketing
If you want to learn more about how to make money with affiliate marketing, check out my completely free Top Affiliate Marketing Training and I'll show you step-by-step how I generate six figures a year promoting a massive software company.
2. Blogging
Blogging is still one of the best ways to make money online. According to research, 60% of bloggers make money through blogging.
I feel like this idea is pretty straightforward you guys probably all know what a blog is. Blogging isn't something that's going to make you money overnight and it's definitely something that you're going to need to invest a lot of time and upfront before you even start to make any money.
But there are a few different ways that you can monetize a blog that can make it a profitable online business in the long term such as Google AdSense and mentioned earlier affiliate marketing.
One of the big upsides of starting a blog is a low startup cost. All you really need is the domain and web hosting which can be very affordable.
Web hosting is relatively inexpensive you can get web hosting from Bluehost for less than $3 a month which is actually under $50 a year. It is plenty of time for your site to start making money online.
3. Web Design Business
As more people want to establish their presence online many business owners want to create a website.
If you are creative or have the skills or willingness to acquire those skills then the web design business can be a great way to go.
If you have little to no experience in this field you can still learn the basics of web design and master the tools you need for success in this field
For example, if you plan to offer e-commerce-related websites to your clients then Shopify is a great platform.
Another very popular platform to check out is Builderall.
Not just because Builderall is the best website builder out there but also they give step-by-step training on how to build websites for clients.
And even if you're new to this it is still super easy to create a professional business website. with a simple drag and drop method.
👉 See how to make money selling websites
See Exactly Step By Step How to Make Your First $500 in 7 Days Selling Websites For Clients with my 7 Days Website Challenge
E-Commerce Online Business Ideas
According to statistics, In 2019, retail e-commerce sales worldwide amounted to 3.53 trillion US dollars and e-retail revenues are projected to grow to 6.54 trillion US dollars in 2022. 
E-commerce is a multi-billion dollar industry. Now people are fast becoming fond of online shopping.
If you are one of those who still want to see how wonderful an e-commerce business is you must definitely start now.
And if you want to take advantage of this huge industry as an e-commerce entrepreneur then there are many ways for you to start.
4. Dropshipping
E-commerce is the number one most trending actual niche in the past decade that people have made a massive amount of money from it's a multi-billion dollar industry.
For those of you that don't know what dropshipping is, dropshipping is an online business model where you don't have to keep an inventory of the products that you sell on your online store.
Instead, when you get a sale you then order that product from a third-party supplier and have them ship it directly to your customer.
And there are two main ways that you can do dropshipping: eBay and Shopify.
The main difference is since eBay is an online marketplace you can get that free organic search engine traffic to your product listings.
Whereas with Shopify, yes technically you can do SEO on your store however that is more of a long-term type of strategy. So most Shopify dropshippers have to rely on paid advertising to drive traffic to their products.
So if you want to start dropshipping for free then you should probably start on eBay but if you do have a low budget and you still want to start with Shopify then you could try Instagram theme page shout outs because that will still be a little bit cheaper than using Facebook ads or any other form of paid advertising.
5. Amazon FBA
The next great way to make money online with e-commerce is Amazon FBA.
Amazon has a program called Amazon FBA which means Fulfillment By Amazon.
And basically what it means, is that you send your products that you're going to sell to the Amazon warehouse and then whenever someone buys one of those products, Amazon actually sends it to the customer.
They deal with all the transactions and they also deal with all of the customer services.
This business model is similar to drop shipping, but it definitely has some different pros and cons.
Now, specifically, because you're working with a very well known company, Amazon, you can trust them more than maybe you could trust a manufacturer that you don't have as much knowledge or experience working with,
Now amazon FBA has actually changed my own personal life. Amazon handles most of the work for you. All you have to do is actually find a product that has more demand than it has supply.
👉 Read More
If you want to learn more about this online business idea, then you'll love this step-by-step guide to Amazon FBA.
6. Print On Demand
Print on demand is a type of dropshipping but instead of selling just any products you can design and sell your own custom made:
Like with dropshipping you can sell your print-on-demand products on your own online Shopify store. Or you can list them on an online marketplace like eBay, Etsy, Amazon or Redbubble.
The process of starting your own print on demand business works like this:
#Step 1. You create designs using Photoshop or alternative design software or if you can't design then you pay someone on Fiverr to create designs for you.
#Step 2. You upload your designs to products on print on demand websites like Printful or Printify. These are the companies that will be creating and shipping your products out to your customers when you get a sale.
#Step 3. You create an online store and you connect it to the print on demand website of your choice. Both Printful and Printfy can integrate easily with platforms like Shopify and some other platforms as well.
#Step 4. You push your products to your online store and again if you're selling on a marketplace like eBay Etsy, Amazon or Redbubble you can start this with no money because you'll be getting free organic search engine traffic to your product listings.
But if you choose to create your own Shopify print on demand store you will then have to run paid advertising to get traffic to your products
7. Etsy Business
Etsy's website connects artisans and merchants to a consumer base of over 22.6 million active buyers.
There are currently over two million active sellers on the handmade and vintage goods marketplace.
When first starting out as an Etsy seller, it will probably need to be a side hustle or part-time online business because competition on the platform is high.
However, if you have a product that customers really love, you can make thousands from the Etsy platform, even six figures.
Agency Business Ideas
If you have built a good reputation as a competent freelancer with a large client base, it may be time to start thinking about building an agency.
The Agency business model is a business where there is more than one person providing services for clients.
Here is a list of agency business ideas.
8. E-Commerce Agency
This is a similar idea to the previous one but instead of selling your products, you'll be helping other e-commerce entrepreneurs run their online stores.
There are so many business owners right now so many brick and mortar retail stores that are looking to go online because of Covid.
They're looking to sell their products online.
So this is something you can do kind of as an agency to help people sell their products online.
Whether that's a restaurant just trying to sell their food online you can set up the whole menu processing for them or maybe it's just a local store that sells women's or girls' clothing.
So you can build them an e-com store, you can do that with Shopify or Builderall has their own e-commerce store their partner with Magento
So you can learn one of those platforms and you can go and offer that service to local businesses who need to put their products online.
9. Digital Marketing Agency
According to research, the average company planned to allocate 62.3% of its total media ad budget to digital in 2021, with that rate increasing to 66.8% by 2023.
Think about how many small businesses are in your city. Chances are most of them are not effectively using social media to attract more clients or drive more sales to their business.

Most will have a regular Facebook page but that's not enough to spread the word in today's crowded newsfeed.

That's where you can come in as a marketing expert. One of the best parts about this business model is that once you have a client's advertising campaign set up and running smoothly there's very little ongoing work needed on your end.
Outside of checking in for a few minutes each day, it is a relatively hands-off business model.
You can be an agency of one person or you can choose to expand as they start to serve more clients. Even with very little experience of learning the art and skill of digital marketing is doable and can be very inexpensive.

There are numerous beginner and intermediate level tutorials on YouTube..
However, the most effective way to learn about digital marketing is directly from the experts in this field.
And this is why I highly recommend Fiverr's Paid Advertising: Social And Search.
It's one of the most comprehensive online courses on digital marketing I've ever seen led by multiple digital marketing experts.
So how much can a paid advertising agency earn you?
It's quite common for marketing specialists to charge anywhere from a few hundred to a few thousand dollars a month per client. As long as you're getting the results.
10. SMMA
Social media management is basically managing a person or business's social media accounts.
You will be surprised at the number of businesses that do not have a social media presence and the number of businesses that want to be on social media but don't know how to do it.
This business is really amazing because you could do this with no money.
The strategy would be to just contact different businesses that do not have social media and ask them if you can run their social media accounts for them.
An experienced social media manager can charge $120 or more per hour.
And all you need is a computer and an internet connection to get involved with this online business.
11. Paid Advertising Agency
By 2023, digital spending will be more than double television spending.
And if you don't want to start a general digital marketing agency you can specialize in only paid advertising.
Paid ads are incredibly effective especially if you know how to put a dollar into the machine and take two dollars out.
And the cool thing is you don't actually need any money to get started!
You can actually learn the basics of Facebook, Google, and YouTube ads or literally just focus on the one that you feel is most effective.
And then you can charge other entrepreneurs and other business owners a thousand dollars a month.
The way you could start to do this is with real estate agents setting up basic Facebook ads that look like this: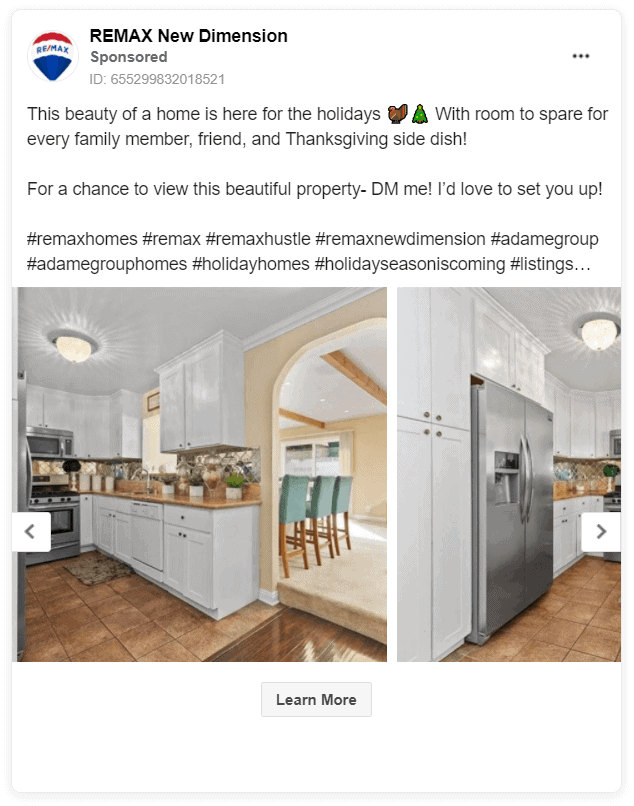 I personally and many of my students have actually been able to do this incredibly successfully to the point where they've been able to supplement or replace their actual full-time income just by setting up basic social media ads for businesses.
12. SEO Agency Business
SEO is an exciting high-growth sector. In fact, according to Search Engine Land, SEO is a 65 billion dollar industry and it shows no signs of slowing down anytime soon.
Most small businesses pay between $1,000 to $5,000/month just for SEO and larger small businesses may even pay anywhere between $5,000 to $10,000/month and even more depending on the level of competition and geographic scope.
Of course, if you are a starter here then your first step is to find out what niche you're going to be in. The more specific you are the better it will be in finding your clients.
Also don't expect big bucks to start with. Your first goal is to build a reputation in a client base and as you progress you will charge more and more money.
Also, don't shy away from getting a certification either. Most SEO certification programs like SemRush offer training and resources to help you learn best practices so that you can sell and fulfill.
Also, the ability to sell your services as SEO certified is a huge competitive advantage.
13. Affiliate Marketing Agency
This is actually a cool one that I've actually seen no one else ever talk about before.
I'll tell you what again, there are many business owners that could benefit from having an affiliate program.
There are so many even online businesses that can benefit from having an affiliate program but they don't have one set up.
All that stuff is time-consuming and hard for some of the business owners out there. And typically the way most people get paid is just like affiliate networks think of ClickBank.
Every product owner that is listed on Clickbank gets a certain percentage of every sale that goes through Clickbank.
So it's super powerful when you can actually build it up.
14. Drop Servicing
Dropservicing is basically the same concept as drop shipping but instead of selling physical products that you yourself won't have an inventory of like dropshipping, with drop servicing you are selling services that you yourself won't be performing.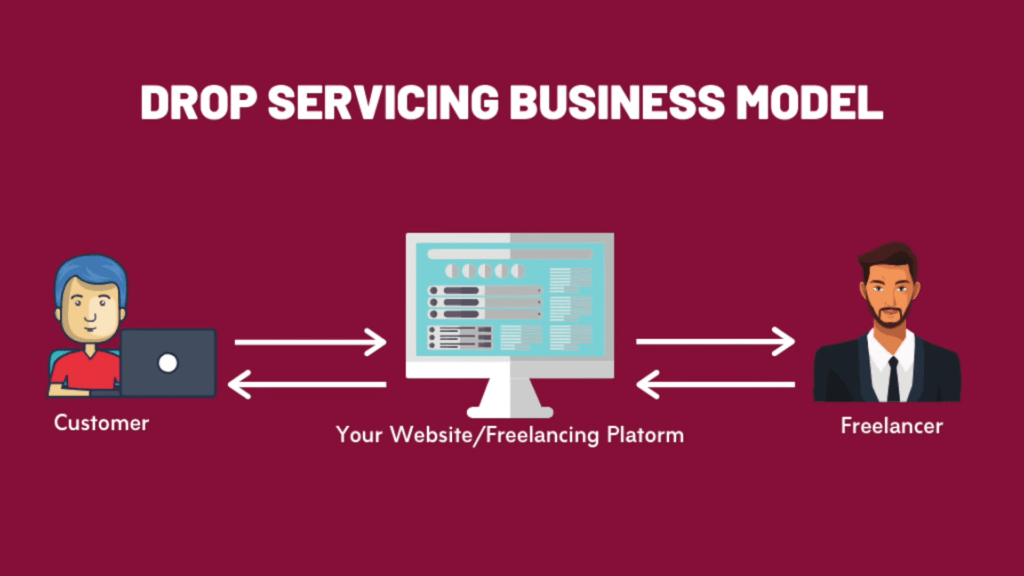 Let's say that you know some people that actually want to have websites built, but you don know how to build a website. What you can do is you can say sure I'll build that website for you it'll cost $1000 to build the website.

Next, you can actually look on freelance sites yourself find somebody in another country that has a cheaper cost of living who might build the website for $250.

And then you actually net the difference between what you charge for the people that wanted to pay you $1000 the actual freelancer and the expert that you outsource the work that only charges $250 and you get $750 in between.

Now there are so many agencies that do this with:
And all sorts of things where they'll actually handle all the sales and marketing on the front end.
Then they'll outsource a lot of the work itself to more cost-effective markets where there's the cheaper cost of living where they can actually charge significantly less to do the same exact work.
👉 Read more about drop servicing
If you're interested in learning more about this business model, then make sure to check out this step-by-step guide to start a drop servicing business.
Buy And Sell Business Ideas
Flipping is when you buy low and sell high. You do this with just about anything.
Let's take a look at some examples.
15. Retail Arbitrage
The way that retail arbitrage works is that it involves buying products from physical stores for cheap and reselling them on sites like eBay or Amazon.
So let me explain. Do you live close to a Walmart target or any other major retailer?
Just go in and look through some cheap products and compare them on eBay.
If you find a product that is sold more expensive online on eBay or Amazon then you can buy it in-store and just resell it online.
it's really that simple.
16. House Flipping
Now, a lot of people are familiar with the idea of house flipping, which is to buy a fixer-upper or distressed property, renovate it, and sell it for a profit.
But, many people overlook this as an online business because they don't think they have enough money to flip houses.
Well, you might actually need less money than you think. There are parts of the country where the median price of a home is well under $100,000, which would require a down payment of less than $20,000.
To flip houses, you can also partner with a team so that each individual person invests less money in a piece of property.
Adam Mitchell from Dallas, Texas flips houses by night while working his sales job by day. He makes about $100,000 to $200,000 annually from this business model
17. Website Flipping
You've probably heard of house flipping, but what about website flipping?
As you might guess, this involves buying websites, growing them, and selling them for a profit.
You can buy a domain name that isn't too costly, add blog content to that site, and utilize affiliate marketing to build up a revenue stream for the site.
Finally, once you've built up that revenue stream, you would sell the website on platforms like Empire Flippers.
Jenn Leech from Houston, Texas, runs the website Jenn Leach School and has taught over 700 people how to flip websites. She says you don't need technical skills to make this a lucrative side hustle.
Jen brings in $30,000 to $50,000 per year with this side gig.
Unique Online Business Ideas
Here you'll discover some new unique online business ideas in 2022.
And they are not only quite new on the market but also very fast growing.
Let's take a look.
18. YouTube Channel Manager
Once a YouTube channel starts to grow it quickly becomes overwhelming managing everything uploading videos, managing the comments, and taking care of the entire channel.
I've talked to a few YouTube channel creators that have large audiences and they all shared that they pretty much started to lose control of their channel once they got to 50,000 subscribers.
The required skills for this online business are of course to have deep knowledge of YouTube Studio and to be very detail-oriented.
The average hourly rate is average $33 per hour and can up to $75 per hour for very large channels.
To market yourself I don't recommend you to leave a comment on these creators' channels. I would advise you to reach out to them on other social media platforms.
19. TikTok Management
TikTok Management is one of the most fast-growing online business ideas on this list.
According to statists, TikTok is the second most-downloaded app overall worldwide.
What is TikTok management?
It's basically just like being an Instagram manager for Instagram influencers but doing it on TikTok.
And the reason I say this is because TikTok is something that's not only growing in demand but there's all kinds of content creators and influencers blowing up on TikTok.
And they need help managing their content. They need help finding new growth strategies. They need help editing their videos. They need help finding content ideas.
So this is all services that you can do for these people as a monthly payment.
So you could charge around $500/month to do all these services and if you get 10 clients you could be making around $5,000/month.
So many different people make a full-time income from their TikTok alone. Why not get a piece of that pie yourself?
💡 Pro Tip
You don't want to just go after any influencer on TikTok. You only want to go after the people who are going to be making money and not too huge already. You don't want to go after someone that has millions of followers because chances are they probably get tons of requests already.
20. Software Business
Software can be sold as a product that is sold for a one-time price or it can be sold as a service where customers pay an ongoing fee every month.
Software is a bit different from other physical products that you might sell online because it typically has a very high development cost.
But once the development is finished there is not as much ongoing cost in order to deliver to your customer.
And software that is sold as a service is very different from other services that could be provided to customers because the seller of the software doesn't have to continue to do work for the customer every month. The software just works for them.
21. Content Recycling
The next big opportunity for 2022 is content recycling.
So this is another service that you would sell anywhere from $500 to $1,000/month.
And this is a very simple service it's kind of similar to a TikTok management agency but instead of managing their content what you're going to do is you're going to recycle their content.
And all you're going to do is you're going to focus on finding people's YouTube channels.
So here's a good example of someone like Jason Capital.
His team recycles his content with tools like InVideo.
They'll post all kinds of long-form videos on YouTube because that's what YouTube is for.
Now what they'll do is for example they'll post a long video and they'll split it into all kinds of clips and content for Instagram and TikTok.
And like I said this is a service that you can do for these influencers because you can literally download a video and start recycling this content.
And turn long video into let's say 10 different Instagram posts. 10 different Tik-Toks so he has content for the whole entire week.
So again that's going to be another big opportunity for 2022 as more social media platforms start to rising and kind of take over.
Digital Marketing Business Ideas
Digital marketing is a huge umbrella of different things and it is made up of so many different categories but it is necessary and 99.9% of businesses.
So with marketing, you have a lot of different areas where you can specialize and make money in.
And the great thing about it is it is fairly low cost to start up.
Being able to make money helping local businesses market their products or services is definitely in high demand.
22. Podcasting
Today, the best way to capture people's attention is to deliver interesting, on-demand content that fits a busy schedule.
50% of US homes listen to podcasts on a monthly basis, and 60 million US homes do so every year.
That's a huge potential audience.
And if you look around you'll see there's really no limit on topics that you can have a podcast about.
Casper Mattress, for example, has a podcast called "In Your Dreams" that helps listeners interpret the dreams they have. Even Trader Joe's explains their product development on its podcast.
Once you have an idea, it is easy to get started in podcasting. All you have to do is simply record your podcast episodes and upload them to a podcast hosting service like Buzzsprout or Podbean.
Next, go out and grab an audience by marketing your podcast.
23. Video Game Design
You probably expect to see a profession like software engineering or coding show up on this list of online business ideas, but you might not think of video game design.
Getting paid to design code and test video games is a dream job for many people.
If you don't already have the technical skills for game design, there are plenty of tech boot camps that can teach you the skills you need to know in just a few months.
Today, games are developed only by a few major studios around the world, so it can be tough to break out as your own game publisher.
However, many work-from-home gamers consult with and develop games for larger studios contractors.
Although video game design jobs have remained stagnant for many years, this industry is now showing an annual growth rate of almost 12%. Even inexperienced game designers can make an annual compensation of over $40,000.
24. Copywriting
Copywriting is not like academic writing that you learn in school.
It's more about persuasive writing.
Social media posts, ads, sales pages, websites.
All these things on the internet need a copy.
So companies are constantly looking for copywriters.
The best copywriters in the world can make over six figures for one sales letter because one sales letter can generate a ton of revenue for a company.
Knowing your customers well and creating a killer solution for their problems is huge. But you also need to know how to communicate that solution.
That's where copywriting comes in.
Great copy is:
The other two copywriting rules to remember are:
#1 – effective copy is always about the customer not you
#2 – no one buys features they buy outcomes in other words make sure your copy focus is on actionable solutions to your customer's problems.
If you don't have a background in writing that's okay, you can take a various copywriting course online.
Here are a a list of copywriritng books to get you started:
Also, I highly recommend The Copywriters Playbook by David Sharpe.

It's a complete copywriting video training course created by a highly respected entrepreneur who made over $250 million in online sales.
💡 Pro Tip
Even if you don't become a really good copywriter this skill will help you with many other business ideas on this list. It's going to teach you how to write good headlines, better social media posts how to get people to take an action from your ad, etc. And that's going to be the high value you're going to be able to perform better when it comes to sales.
25. App Development
The next business idea is building apps for businesses.
Consumers are projected to download 196 billion mobile apps from the Google Play Store.
Again notice the trend here all we're doing is little services for businesses around digital marketing.
Helping them get set up with digital marketing and what this one is some businesses need apps. Maybe it's a gym they want an app to help their clients train from home. Maybe it's a restaurant that wants an app to deliver food.
How To Create an App?
The app that I used and recommend is Builderall App Builder.
Very super easy to use. You can create an app in minutes using the simple drag and drop method.
26. Coding
Coding is no doubt a very very technical skill but its remuneration makes all the troubles worth it. Just have to know the major programming languages.
You can use your coding skills to design plugins, create custom websites or build apps you can even create games people can download on their phones or play online.
A lot of the 500 fortune companies started with this and have now made name for themselves.
Coding schools are abundant, but some of the most popular are:
27. Sales Funnel Building
A website is not exactly the best way to make sales or capture leads. For this, a sales funnel is way better.
A sales funnel is the most effective way to convert visitors into paying customers.
The sales funnel is essential to digital marketing because it explains how to target customers at every stage of the buying process.
And there's a tendency for many business owners to get stuck at this point.
They have worked hard to build up their websites and drive traffic to them and they think that it will bring them more sales.
The problem with this strategy is that people are not ready to buy the first time they land on the website.
Business owners are becoming more aware of this and the demand for sales funnels is very high.
In other words, if you can help them achieve this, you can earn a lot of money.
I personally use Builderall Funnel Club for building sales funnels for clients. With this platform you build a sales funnel from scratch in minutes using done for you templates.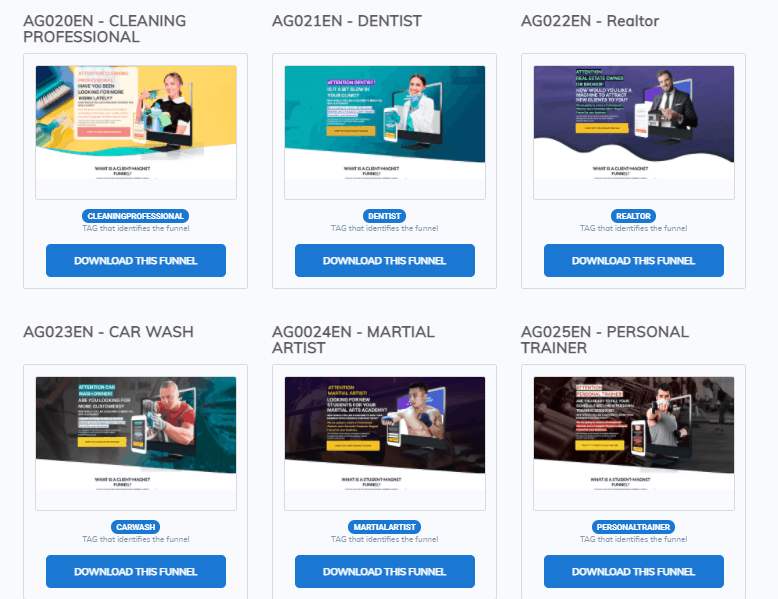 You can offer these ready-made templates to business owners and charge hundreds of dollars.
28. Email Marketing Business
Email marketing, especially when considered in comparison with other online marketing channels like social media, social messaging apps, and SEO, may seem a bit outdated.
However, email marketing continues to be the most powerful form of advertising with the highest level of average ROI.
While email marketing offers many benefits, most entrepreneurs and business owners are still struggling with it at this point.
You can easily earn more than 6 figures per year if you set up an effective email marketing campaign for business owners.
29. Chatbot Building
There is a huge demand for chatbots in the market.
Chatbots give businesses the opportunity to better reach their target audience through different APIs, and social messaging apps are becoming a must for some industries.
And there are plenty benefits of chatbots for business including:
And if know how to build a simple chatbot for a business you can make a lot of money.
Building a chatbot with code is very difficult for people with no development background. However, with tools like Builderall, you can create a professional chatbot in minutes.
They offer two different chatbot tools: Professional Messenger Chatbot, and Website Bot included in their plan.
Passive Income Business Ideas
If there is one thing 2021 has taught us then that would be not to trust your paycheck to provide any kind of financial security because the economy can take wild swings beyond anyone's control.
And unfortunately for most people, their only source of income is from their good old job and suddenly when something unexpected happens like the current illness situation then that reliable nine to five disappears and most people find themselves in serious financial trouble.
And not only that massive popularity of books like "Rich Dad Poor Dad" and "The 4 Hour Work Week" has only made people very interested in the concept of passive income and also to have multiple sources of income which I'm a big proponent of.
Let's take a look at some passive income business ideas.
30. Rent Your Car
Seriously rent that damn thing out. It's sitting collecting dust inside your garage anyway.
An average car sits unused for 22 hours, that is 22 hours your car could be earning money for you.
In many United States cities, you can rent out your car on a daily basis using apps like Turo.
There are a lot more other apps as well which will let you rent out the car.
There are a few restrictions for the age of the vehicle but besides that, you are pretty much good to go.
You list your car and decide how much you want to charge for the car per day. Or you can let the website decide the best price for your car and mark the availability for it.
31. Advertise Products On Your Car
I'm not a fan of this one but you can use your vehicle to advertise products.
I have not done it and to be honest with you I don't know anybody who has personally done it.
But while I was doing my research I found out the companies such as Wrapify paid drivers up to $450 a month to wrap their car with ads.
You can simply download the app and sign up for it to see what offers they have in your area based on your zip code and they will post advertiser stickers in your car and you get paid for it.
32. Start YouTube Channel
YouTube is one of the best online business opportunities to start in 2022.
YouTube channel can be a complementary source of income to any of the other online businesses on this list or just really anything in general as a hustle.
There are plenty of ways to monetize a Youtube channel not just through Google AdSense you can also monetize a Youtube channel with affiliate marketing, selling merch, or starting your own e-commerce brand.
Or even selling online courses if your channel is about something educational.
And those are just a couple of different ways to name a few.
33. Sell Online Courses
Online Education Market will reach US$ 350 Billion by 2025.
The world of education is changing especially this past year with most high schools and colleges moving their classes online because of what's going on in the world.
But even before this past year technology and the internet have been revolutionizing education and more people are starting to realize that they don't have to pay an arm and a leg to learn valuable skills.
If you're knowledgeable about any particular topic out there whether that topic be:
And you can teach that to other people then you can create a course on that topic and sell it on your own website.
34. Write and Sell Ebooks
If you know much about a particular field, writing an ebook could be one business idea for you.
Ebooks allow you to access a large potential audience through platforms such as Kindle.
To get started you need to first articulate your thoughts, decide on the premise of your writing, structure the proposed text, edit, and then publish your finished product.
The secret to excelling in this business idea is to write great books, grow your audience, and build a strong reputation.
35. Create Membership Site
There are two different ways that you could do this. But both of them are similar in that, you're providing something to your customers every single month that they are paying you for on a recurring basis.
So instead of just buying a product from you one time, your customers are signed up or subscribed to pay every single month.
The most typical version of this that we've seen in the past has been magazine subscriptions.
But the two versions that I'll mention now is one, an online subscription. This is often called a membership site.
And in this type of business, you provide a website with content to your customers, your customers pay you every single month to continue to have access to this material.
Most often, this is educational material, but it could be any sort of digital material that your customers or subscribers are paying you to have access to.
Now the great thing about starting a membership site like this is that your profits will snowball from one month to the next.
As you work every single month to acquire new customers, you will experience a little bit of churn where some of your customers decide to discontinue their subscriptions.
But the majority of your subscribers, if you're running your site well, will stick around. And that means that every single month, you will have more members than the previous month, which means that you will have more subscription payments coming in.
36. Subscription Business
Another version of this subscription business model. The subscription business model is based on the idea of selling a product or service to receive monthly recurring subscription revenue.
You could consider selling subscription boxes that you deliver to your customers every month.
They initially sign up, but then they pay you every single month for a package that you mail them containing items that are centered around a certain theme.
The more profitable version of this business definitely tends to be the digital version of a membership site because the expenses for that business model, will be much lower, which means you're able to keep very large profits every single month.
37. Clothing Rental Subscription
This is very different from the rest of the businesses I have mentioned up to this point because it belongs in that category of larger businesses with lower profit margins.
This type of company allows the consumer to rent different clothing or accessories or other items for a relatively low monthly or weekly fee.
This is due to the fact that you need to purchase the items that you are going to rent out. That will be one of your first expenses.
You're probably also going to need to hire some people to serve your customers.
This business model will allow you to serve a large number of customers and there's a big demand for this right now.
Clothing brands of all sorts have been appearing and even big well-known established companies have started to offer this, which is proof that it is a profitable business model in 2022.
Service Online Business Ideas
Service-based business can literally include any niche that you can think of from beauty all the way down to professional services and everything in between.
This is such a broad area which makes it great because anybody can do it. You just have to figure out what type of service it is that you want to offer.
38. Closing / Sales
As a salesperson, you're closing for a company meaning you are working as a commission-based salesperson.
And I don't mean go door to door, although you might if you want.
For example, for every sale, you can make a 20% commission. So if you're selling something for $1000 you will get $200 per sale.
This is one of the highest-paid skills. And you can start without a college degree.
The average annual salary for a salesperson in companies like IBM, HP, and Microsoft is over $142,000 a year.
39. Teaching Skills
Chances are that if you have a skill, other people can benefit from learning it. Here are some examples that you can teach online:
Playing instrument
Cooking
Arts & Crafts
Singing
Entrepreneurship
Life coaching
And the list really goes on.
The most cost-effective way to advertise your teaching services is by word of mouth and through local neighborhood groups.
You can also post flyers in cafes and retail shops to spread the word in your local area.
40. Virtual Travel Agent
A virtual travel agent is just what it sounds like. A travel agent that works remotely.
You will be answering inquiries and helping with the booking of flights, planning trips, etc.
This can be a simple task but it does take up some of your time. It also pays well like many other online business ideas on this list. Consider this job if you love working in the travel industry but want to do all that work from the comfort of your living room couch.
Just make sure you have a stable internet connection and a working headset and get to work!
41. Accounting / Bookkeeping
I know, way less glamorous than running a digital marketing agency or becoming an influencer.
But, this can be a very profitable business idea for those of you who are good with numbers.
It can be helpful if you're already a certified public accountant, enrolled agent, or QuickBooks expert, but you don't have to be.
In fact, there are short-term training programs to teach you about accounting and taxes, and bookkeepers don't need a specific degree. You can also launch an accounting or bookkeeping business without a lot of overhead expenses.
All you need is a computer and some marketing spend to promote your services.
Tax season is the busiest time of year for accountants and bookkeepers, but the money you make during tax time can help you cover your bills throughout the rest of the year.
42. Social Media Consultant
The world of social media is a little bit in flux right now.
Major social networks like Facebook and Twitter are reporting declining user numbers, so why is this idea on this list?
Well, although user rates are in decline, 77% of businesses still use social media for sales, marketing, and customer service.
Most of these businesses don't have a budget to hire a full-time social media manager.
Home-based consultants advise their clients on social media strategy, run ads, and analyze postings and ad spend.
An experienced social media manager can charge $120 or more per hour, and all you need is a computer and an internet connection to get involved with this job.
43. College Admissions Consultant
Not really a numbers person? Then consider our next online business idea, college admissions consultant.
Getting into college has become increasingly competitive and expensive over time.
Thirty years ago, only about half of high school grads applied to college.
Now, two-thirds of high school grads are applying to college.
The cost of attending a public university has also increased more than 200% in the last 30 years.
Given the increased competition and cost, parents and students are hiring college consultants to help them navigate the confusing admissions process.
If you have a background in education or connections with local schools, starting a business in this field can be very lucrative.
You'll work directly with the student to assess their strengths, advise them on what colleges they should apply to, and review their college applications and essays.
44. Freelance Wrting
If you like to write, freelance writing is an online business idea that's perfect for you. There are lots of ways to get started.
Poetry magazines and other outlets that accept submissions from writers with no experience will pay you even if you've never had a single byline.
Alternatively, if you have years of experience in a particular industry, you can pitch blog ideas to companies in that sector. You can also make money from technical writing or resume writing.
A great way to pitch your writing services is on freelance job sites like Fiverr and Upwork. Once you grow into an expert freelance writer, you can charge $1 per word or more.
Not bad really for a business that you can start in your living room!
45. Translation Services
You might think that with online tools like Google Translate that the need for human translators is going down, but the reverse is actually true.
Over the last ten years, the market has doubled in size, reaching 49.6 billion U.S. dollars in 2019., making this one of the most lucrative small business ideas.
As the country becomes more diverse, the need for professional translators is increasing in:
Healthcare
Law
Finance
Entertainment
Education
And other industries.
A skilled freelance translator, particularly one who is certified by the American Translators Association, can bring in six figures per year.
You can promote your services on freelancing websites, directly pitch your business to companies like Honda, Netflix, and Microsoft, or work with government agencies.
46. Virtual Assistant
A virtual assistant is someone who offers basic support via the internet to an individual or executive.
In just the same way that a personal assistant in an office works with an executive, a virtual assistant provides similar services online including:
Managing email accounts
Scheduling appointments
Making phone calls
Planning trips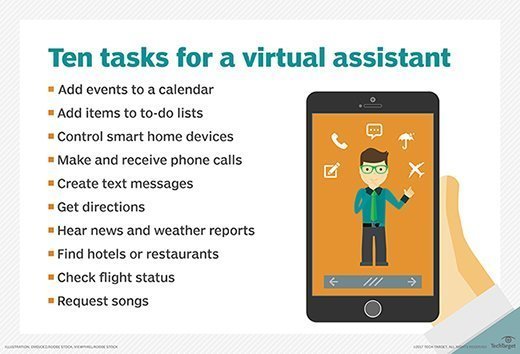 Virtual assistants are found at the lower end of the spectrum because of the simpler training that is required and the straightforward nature of their tasks. and anyone is capable of doing it if they complete the training.
However, virtual assistants that are native speakers might earn up to $60 per hour.
47. Personal Consulting Business
Okay, it isn't as scary as you think. Millions of people are looking for answers and they are mindlessly searching the internet for advice.
And in most cases, their main source of consultation becomes Google search and unfortunately, those advices are not personalized they end up getting generic advice from the internet.
Do you have any knowledge on a subject which you can give consultation to somebody?
Regardless of whatever skill you have, there are people who would be looking for and searching for.
Be it health and fitness related. Maybe food and diet and nutrition-related. And some of these are just examples.
Just make sure that some fields would require a license to get into it and you don't want to be in violation of any laws.
But the question comes down to only one thing: do you have tons of knowledge in a specific field? Then you may have what it takes to be highly paid as an online consultant.
Some of the popular consulting niches are:
And even things like gardening.
A great place to also check out is clarity.fm. Clarity works as a middleman between independent consultants and those looking for expert advice.
For example, if someone is looking for help with a specific business question they can go on Clarity and browse qualified professionals and set up a call with them which could be you.
48. Content Editorial
The editorial services industry is actually quite broad in scope, covering everything from technical editing to content creation, but in this case, I'm mostly referring to the editorial side of things including:
Copyediting
Technical editing
Substantive editing
Formating
These are skills that are relatively easy to learn but provide a lot of benefits to your clients so people are willing to pay a pretty high rate for these editing services
There's also a lot of different opportunities here with how you can use these skills.
You can become a freelancer, or you can start an editing agency.
49. Personal Training
If you're passionate about fitness, then consider starting a personal training business right in your home studio.
You can also visit your clients' homes, or use the great outdoors if you're lucky enough to live in a place that has a temperate climate year-round.
Most personal trainers charge between $40 and $70 per hour.
But you can charge a higher fee by getting certified by a national fitness organization.
By getting certified, you can also ensure that you keep your clients safe while they're training.
Art And Craft Business Ideas
If you're into art and have a niche that suits your skill set, take a look at these ideas for starting up an art and craft online business.
And discover how to turn your passion into a serious business,
Let's dive in.
50. Selling Art Prints Online
If you go on Pinterest you will find an entirely new world of printables and then if you go an Etsy you will find entire shops of printables.
And these are simply documents that make your life easier.
They could be checklists, they could be templates, they could be worksheets, They're just PDFs that someone has created and they have made them available for download.
So that you can purchase them, download them, and print them out.
If you want to and create your own binder of whatever it may be there are loads of people out there who love to have things that help them organize their life printables are really really popular.
you don't have to reinvent the wheel just have a look at Pinterest and Etsy see what's selling and then create something similar but with your own touch.
51. Photography Business
Photography is easy to learn and you only need a camera to get started.
Improve your online photo gallery or portfolio and start getting gigs.
And if you think you can't afford a camera you can always use your smartphone. Some bloggers will pay for good pictures from smartphones.
52. Interior Designer
The ability to merge color options, available materials, and the best virtual designs is a unique art. If you're good with colors interior design is one business idea for you to explore.
Although it may take time to build a portfolio it is a business venture worth taking.
Be certain to document all your projects create a reputable social media presence and continually share your finished projects in your space.
53. 3D Artist
A 3D artist specializes in using complex software to create graphics and animations for a wide assortment of media including video games and television.
To become a 3D artist you would have to know how to:
3D artists must have artistic and creative skills.
54. Voice Over Artist
What is the voiceover?
Well, essentially it's just providing your voice to read some text and you can make really good money doing this.
So you might be saying "well I don't really have a good voice I'm not a professional voice-over artist."
People don't really care what they want is your accent.
So if you've got an American accent there might be people in England who need some content read out in an American accent, that can work for you.
If you've got an Indian accent people are looking for that Indian accent for their kind of specific project.
55. Video Blogging
Honestly, video blogging is a totally new resource for introducing ideas and products over the Internet. We sure do know about text blogging but now videos are used as a preferable way of representation.
This form of exchanging information may perhaps involve a lot of resources but it is all worth it.
If pictures say a thousand words then video blogging goes beyond that. You can make thousands of monthly income by becoming a successful video blogger.
56. Woodworking Business
We all have furniture lying around that we may want to sell or get rid of but some people see this as a booming business.
Woodworking business usually doesn't require as much capital to start.
In hardware stores, home improvement stores, and online stores, you can easily find materials for cheap.
When you're pricing your services and products, you can charge a lot of money so your hard work may really pay off.
57. Become an Influencer
If you have a sizable social following, then you can translate that into a lucrative online business. Brands pay a lot of money for people to recommend their products to friends.
I know what you're thinking right now.
"Aren't influences rich?"
Yes and no.
To become an influencer you just need to have some online presence and a decent amount of following on social media.
And these days as you know the more followers you have the more money you could potentially make.
Brands are set to spend up to $15 billion on influencer marketing by 2022.
And the amazing thing is that you could become a social media influencer for free.
And how you could do that is basically by building a large following on social media platforms such as Instagram or TikTok and then charging companies to advertise to your followers.
For this side hustle, it can also be a good idea to join influencer communities, such as influence.co and Tribe, which businesses and brands use to find influencers.
Side Hustle Business Ideas
Because of the current times, everyone needs a way to make more money so that's no rocket science.
In fact, according to a new study 1 in 3 people need money from side hustles to survive.
In this section, you'll find the best ways to make extra money.
All of these side hustles I'm going to talk about are either personally done by me or I know somebody who has personally done it.
So you can trust me on that.
Also not only that some of these are very scalable which can be turned into a high-paying full-time gig.
Let's get started.
58. Become a Product Tester
You can earn about $10 per test and if you provide live feedback you can actually earn up to $60 to $70 per test using a site called UserTesting.
Companies actually are looking for feedback on their sites, apps, or products and this website basically just connects people to these companies.
They look for different people from all sorts of backgrounds to test different websites, apps and even sometimes physical products to provide them feedback.
So you just review and also answer some of the questions for whatever you're testing and you get paid for it.
This is really an easy way to use your free time to make more money online.
59. Sell Stuff Online
Our homes are stuffed with unused and used stuff which we barely use once or twice and then dump them inside our homes to go out and buy more stuff.
You can literally sell your stuff on marketplaces like:
I personally know a few of my friends who make a full-time living selling things online.
Just make sure the items are in good condition and just go ahead and post them.
Also, not only that you can buy and flip new stuff online it's something called retail arbitrage.
60. Teach English Online
Everyone's trying to learn English around the world. And as an English native or at least someone who's from the western world and speaks English every day you have a huge advantage when it comes to side hustle like this.
There are tons of websites that will allow you to teach English online to foreign people.
To get started you will probably need to have at least a bachelor's degree of some sort so keep that in mind.
And if you don't have one no big deal, you can still freelance on your own on websites like QKids or Cambly will pay you up to $16 to $21 to teach kids.
The programs are designed in a way that once your application gets approved you are pretty much good to go.
You follow certain basic steps and you could be teaching kids all around the world using your computer.
Best Online Business in 2022 Final Words
So, those are the best online business ideas in 2022 for any aspiring entrepreneurs that want to start making money online.
With that being said, I want to make sure that you take action.
Find an online business niche that fits you the most. Stick to one, take action on it and go all in.
I guarantee you if you do that for a couple of months you'll change your life too just like I've been able to do.