Do you write blogs or any kind of sales copy that you want to get ranked in search engines? In this Outranking review, we are going to take a look at this new AI-powered SEO content creation tool.
I'm going to show you all the features and functionalities of this tool and compare it with other AI SEO tools so you can make a decision based on whether this is suitable for you or not.
Let's get started.
💡 Note
In this Outranking.io review, I'm going to walk you through this platform, and at the end of this tutorial, you'll know exactly how to use this tool to create and optimize your content for SEO. So if you want to work along with me, you can start your Outranking.io free trial where no credit card is required.
Outranking Dashboard & How To Use It
Outranking.io is an AI writing assistant software and SEO optimization tool that helps do keyword research, write, and optimize content for higher organic traffic.
This is their dashboard, and for me is super minimalistic, which I really like.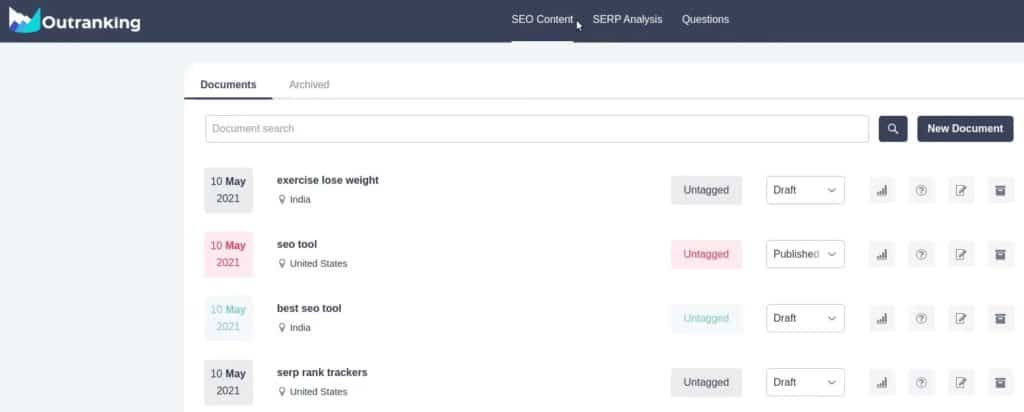 The founder mentioned it they are inspired based on Grammarly UI because they found that is most productive to most users.
And I think he is right because there is no moving around the screen, there is no going back, closing the start menu, or something like that.
Basically, you have 3 different functions:
Let me focus on SEO content first since that is the most probably you are going to be using.
Outranking SEO Content
To get started, we need to click on "New Document" and you will get access to the new document you can create.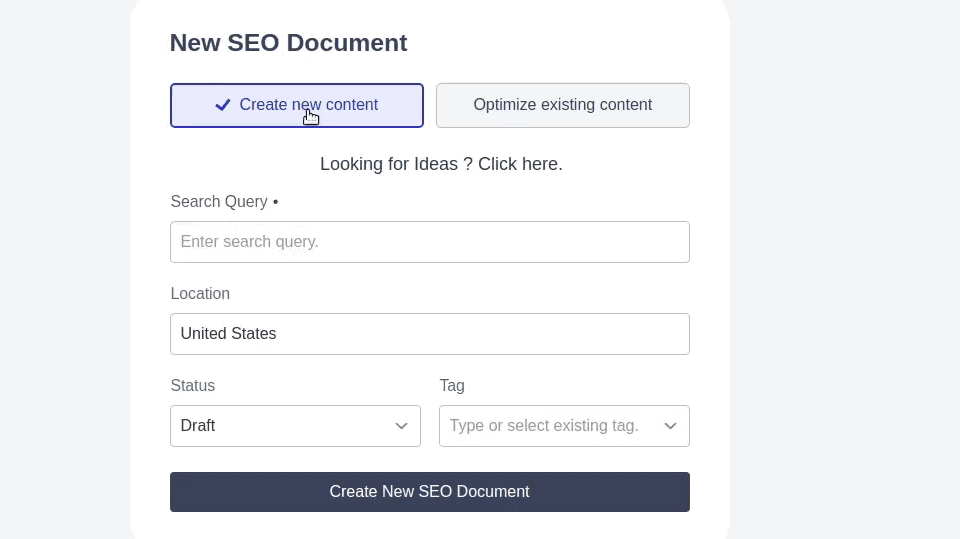 Inside that, you can either create a brand-new blog post or article, or you can optimize something which has been already published and you will get an extra field import URL where you can put your URL, and based on that, you can keep on optimizing it.
In this case, I'm just going to create a new document.
And one more thing is that if you click on "Looking for an idea?"
Let's say, for example, you have the main keyword, but you are still not sure whether you want to write for that or a secondary keyword or something else, then you click on that it will show all the related keywords it found for this particular keyword with its: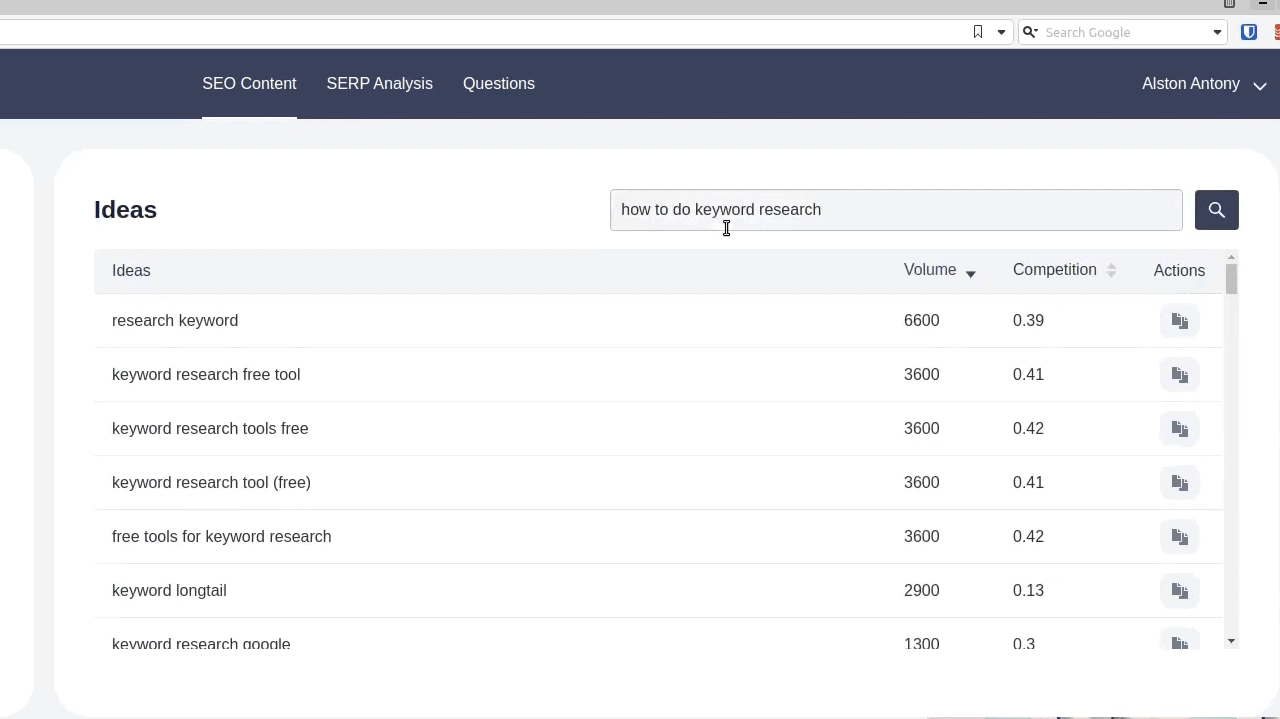 And here you'll get hundreds of related keywords you can target.
You can target based on location.
Location is important to target your target audience. If your audience is coming from specific geolocation; it can be country, state, or city, then target those guys.
And what this tool does is, whatever the location you are putting here, it will scrape all the competitor listings, which are already ranking based on that location so it will be more accurate results.
For example, I'm in the United Kingdom, if I put Poland in my city and it should bring that also in a display, or if I want to choose a different country, that is also a possibility with Outranking.io.
And tags are mainly for your internal management of all the articles. You can assign tags and you can use tags to categorize them also.
You can pretty much skip if you don't want to because tags are not very important for SEO.
SEO Score
Once you put all of the information required it will start collecting the SERP data.
The first thing is, the optimization SEO score is in real-time, which means it will automatically get periodically checked and will show you the optimization SEO score.
This is the first screen you will end up seeing.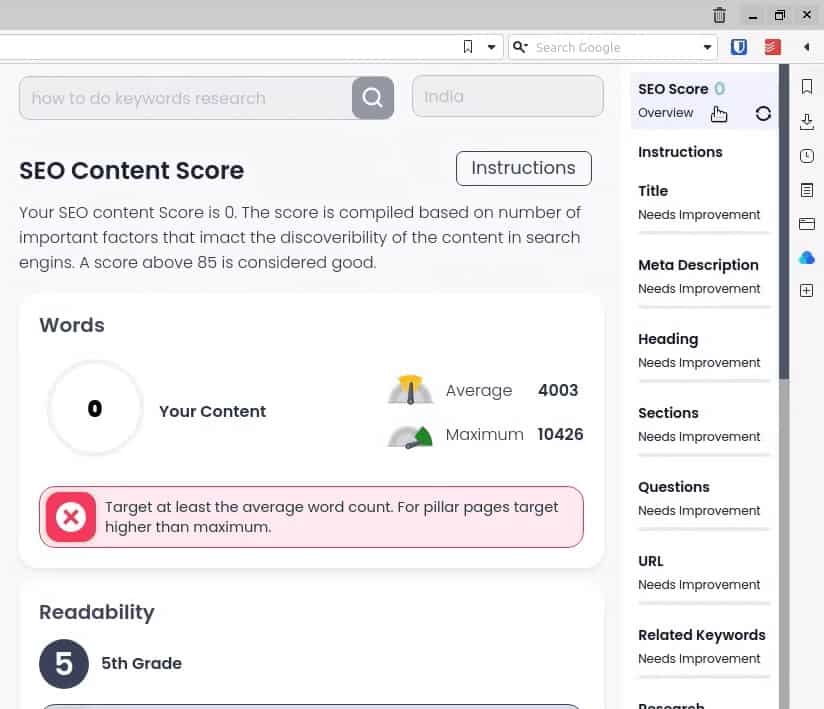 And also, if you found that it's not updating or if there is an issue, just press the refresh button, and it will automatically refresh all the scores for you.
It is zero for me because I am using a brand-new blog post, not something which I have already created.
If you have created a blog post and pasted it, you will see some ratings automatically, which makes sense.
Basically, this is an overview that shows
It shows what is important, why this is important, so this is just to get a quick overview guide on what to do.
These two scores are really important for you.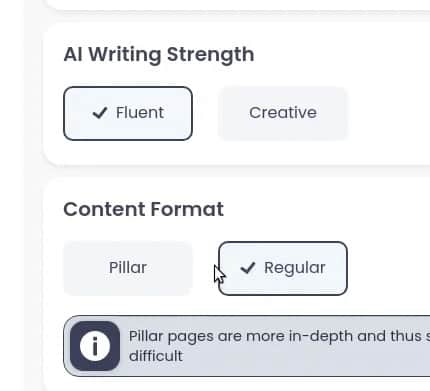 And the SEO score feature you can also find in the Inkforall which is also a great AI SEO writer. You can read more in this Inforall review to see how it compares with Outranking.
AI Writing Strength
I would suggest you test it on your niche or in your industries to see which works best for you. Basically, two different styles, so do you want fluent or creative? You just test it out and see.
Content Format
And content format, this is another one where usually most of the blog posts you'll be writing will be regular, but what pillar does mean it usually refers to creating a big content piece, with a lot of paragraphs, a lot of subsections, a lot of resources and everything.
Basically, creating the best link-worthy content or best content on that subject area in that industry.
So, when you pick a pillar, it will take too much effort on your end to make sure to get a different SEO score.
Regular will be easier to take a sore.
So, if we want to create an in-depth article, make sure to choose a pillar post.
And also, typically they will analyze the 20 different URLs we just get currently ranking for this particular keyword.
Adding Existing Content
And let's say, for example, you have created a different article, you've done a really great job on optimizing the SEO and the structure of the content is perfect and you want to make use of that page also, but it's not ranking on top 20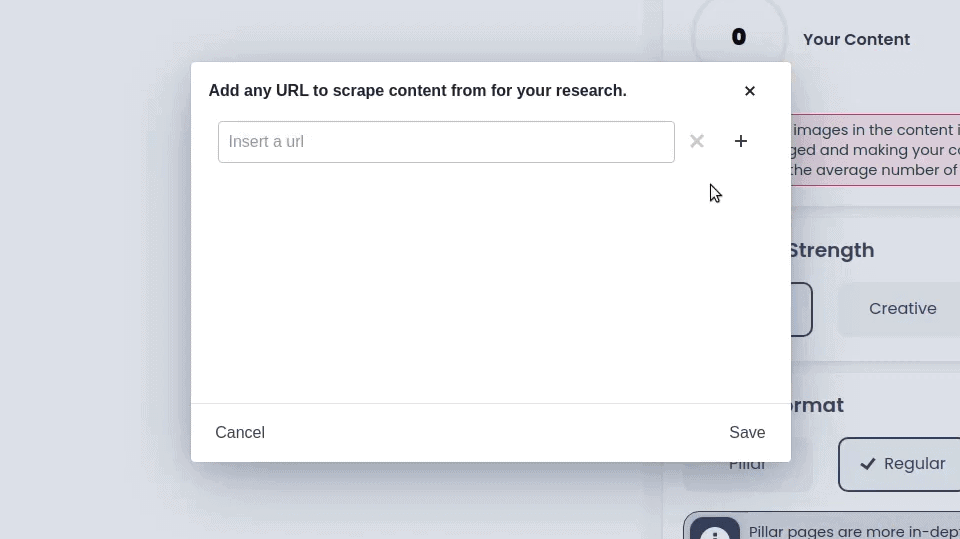 In that case, you can bring that URL, and it will take data from that are also inside here.
So, this is how the Outranking AI SEO Score works.
The second step is instruction.
Instructions
This is more beginner-friendly. For example, they have tried to make this tool into a logical format value.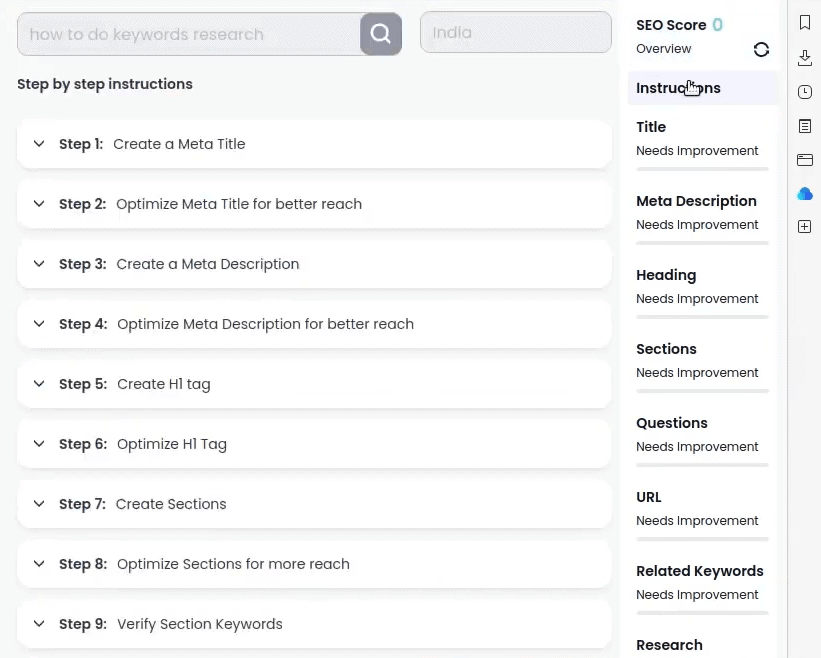 It consists of optimizing the meta title, and meta description, then you move on to the H1 or the create sections, which means outline or just sections within the article and you optimize each section with related keywords.
And you verify the section keyword, and this is what related keywords and all those stuff.
And finally, you add questions as a FAQ or subsection. It's usually good to educate your audience and also getting ranked on featured snippets or "people also ask" sections.
If you don't what all of these phrases mean they give you in-depth instructions on what to do, how to use them, and it will link to one of these tools.
In this case for better ease of explaining, I'm just going to be going one by one inside this section.
Meta Title
The title is the first one where you are going to be optimizing the meta title. Usually, this tool, what it does is it shows the top 20 titles, which it got from research, and based on that, you can either copy-paste and rewrite it.
It also provides one more feature and I'm not a big fan of this feature, but it does provide a rewrite option within URLs.
For example, I like this title, but I want to rewrite it. But when as soon as I press refresh, there is no control over it.
It's going to be just giving you one version. I can't protect keywords or just choose whichever version I want and there is no undo option from here.
That's why I don't really use this or won't use this in the future but besides that rewrite option, overall the meta title optimization feature is good.
HFW Keywords
The HFW keyboards stand for high-frequency words. What that means is, these are the words that are mostly used inside this particular meta title.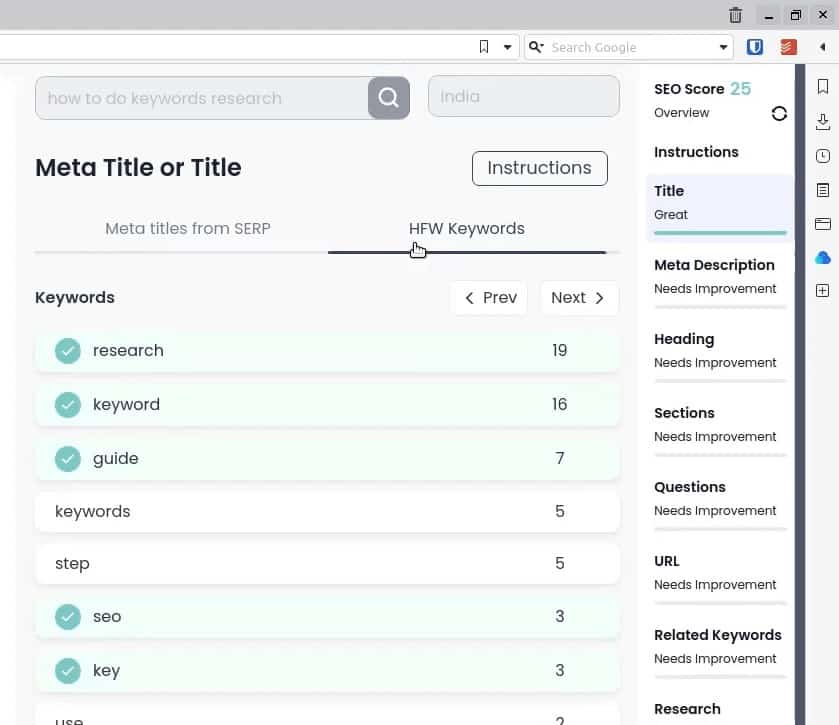 So, it should take the compilation data from all the meta titles and show these are the most used words.
Ideally, if you're optimizing for SEO, make sure to include as many related words as possible; what these guys are doing, but don't do keyword stuffing, that is a bad SEO practice.
Make it sensible, make it readable, and make it try to include these keywords.
And also, if you noticed, as I started putting some content, you can see in the top right corner the SEO score already started improving so that it will keep on updating.
I also can click on refresh anytime and you can see a bar that means it automatically refreshed again.
So that is the meta title and HFW keywords.
Meta Description
A meta description optimization is the same process as optimizing the meta title, but this time, it is bringing me all the meta descriptions, which is automatically ranking for this.
I can pick one of them or I can rewrite based on that, or I can use these as inspiration and write my own meta description.
Similarly, these HFW keywords are also presented where we see the top-used words for it.
These are also the same instructions as WordPress meta titles.
H1 Heading
And H1 title is the important SEO factor for on-page SEO to show what your article or blog post is about.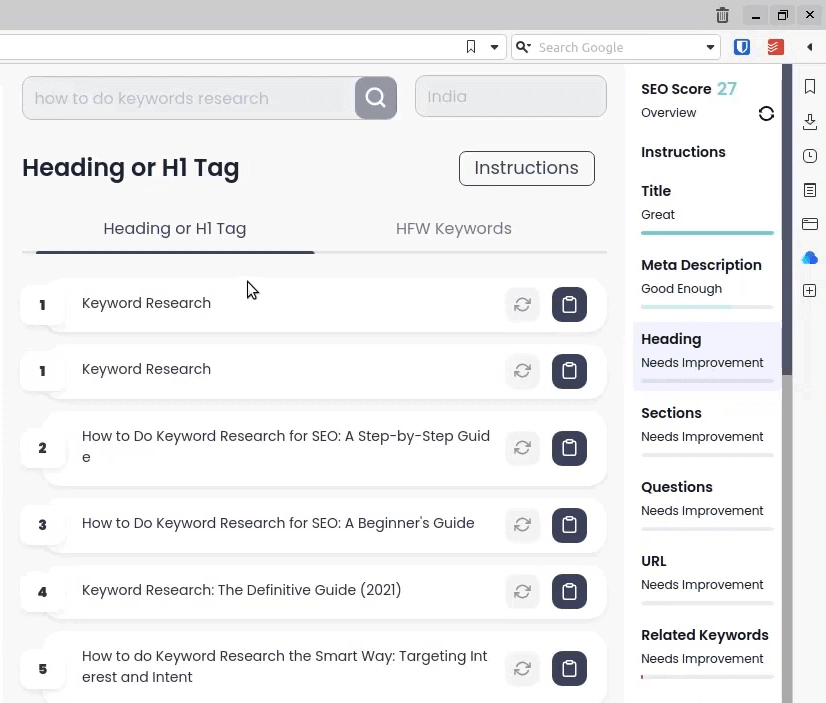 So, this shows heading tags, which are currently used, similar with HFW, it's showing the HFW keywords also here.
So, these three are pretty same features, but just for different elements.
Sections
If I go to the sections, this is where I now start to create outlines or sections like with H2, H3 for my article.
What it does is first, it will create a compilation of all the H2s, H3s, H4, all this stuff, and give me an option so I can tick whichever subheadings I want and include them in my article which is great.
And once I click on it, I can expand and see what are the other subheadings also available within that that is possible.
And I can create and add an outline to the editor based on that.
HFW keywords are also similar, where it automatically brings all the keywords mostly used.
This is really good for other topic relevancy or natural language processing because the algorithm looks for this stuff.
And also, it's really good for making sure that you optimize your content towards the most used words in the industry.
And also, you can filter it by whatever titles you want that is on filtration options also available.
So that is what this section does.
Questions
The next section is questions. This is the section where it gives you the option to find all the questions related to it.
First are questions from the content.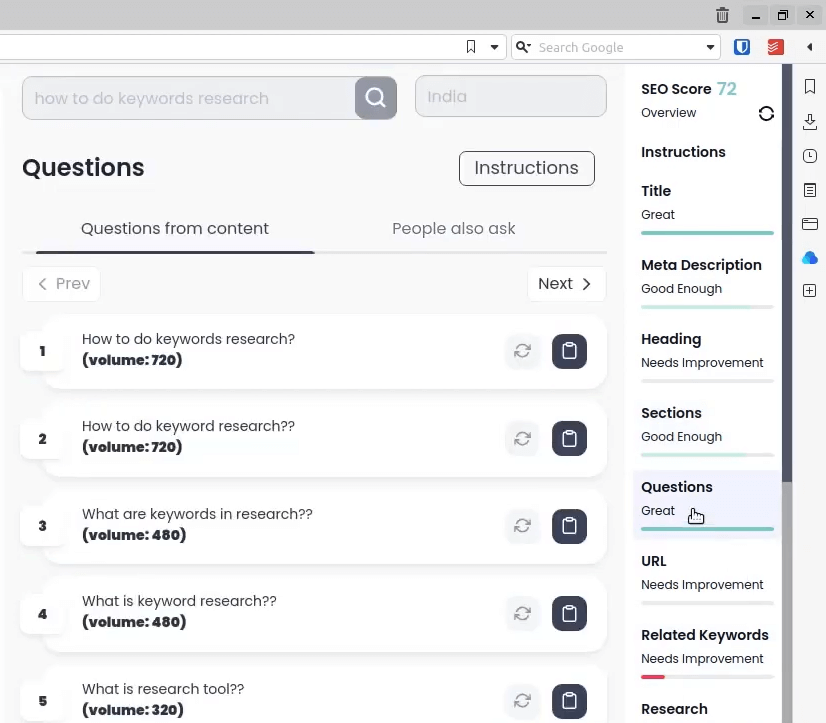 This means these are the questions that the top 20 ranking websites you are currently using within their content.
And if that is a search file for that, it will show you.
In this case, you can either make it as a subsection or as a FAQ schema, it depends on your use case, but I would suggest it as a subsection and also frequently asked questions whenever it makes sense.
So based on that, you can choose whatever question you want.
And also the cool thing is that the questions are very relevant to me because these are the questions that competitors are answering, so that makes sense.
And I can just keep on scrolling through all the different questions. I'm not sure how many questions it generates, but that is available under different questions out there.
So, you choose based on that, but this is just one data source.
We do have another option called "People also ask" where in this case, it shows all the questions directly from Google search pages.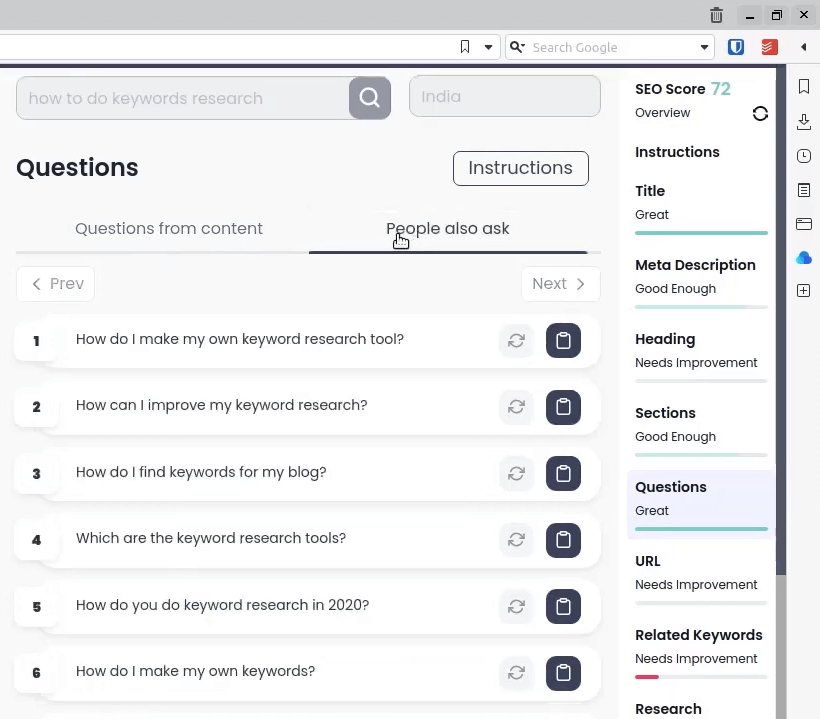 If you type any information or question keyword, you typically will see people also ask snippets.
But usually, you will see 1-4 different questions. When you click on load more, you will start seeing all the different other questions also.
In this case, what it does is it will bring all those questions also into play.
And you can get an idea immediately and start doing research for that.
So, this is what people also ask section. It does directly come from Google, not your competitors' sites.
URL
URL, no explanation needed. This just shows what are the most used words on the URL.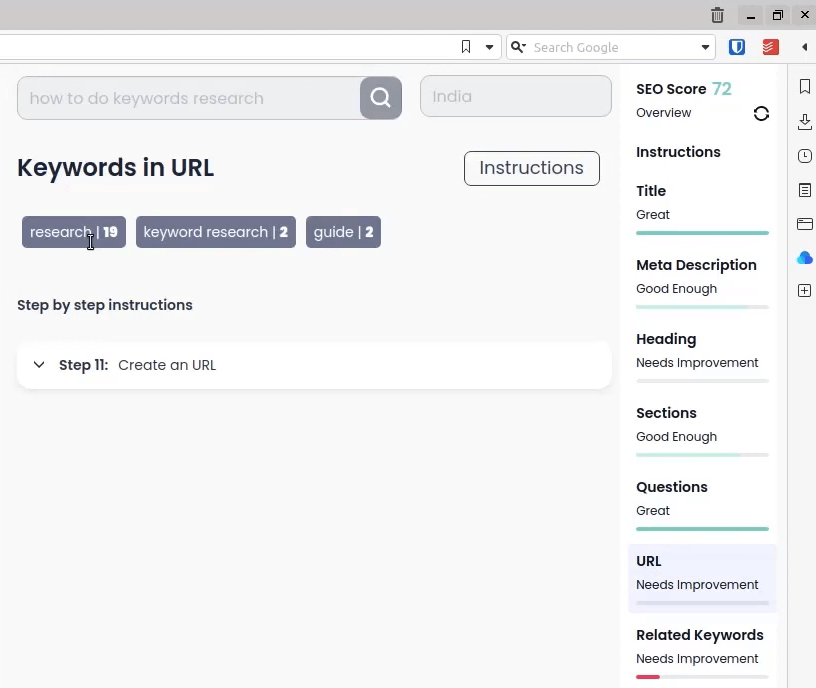 For example, if I want to create a subpage inside my website, based on this, I will create a "keyword research guide".
It does not matter that much, but you can easily do this, and it gives you the counting option also based on the top 20 results for that.
Related Keywords
The related keyword as well will show all the related keywords it found for this particular keyword, which I entered.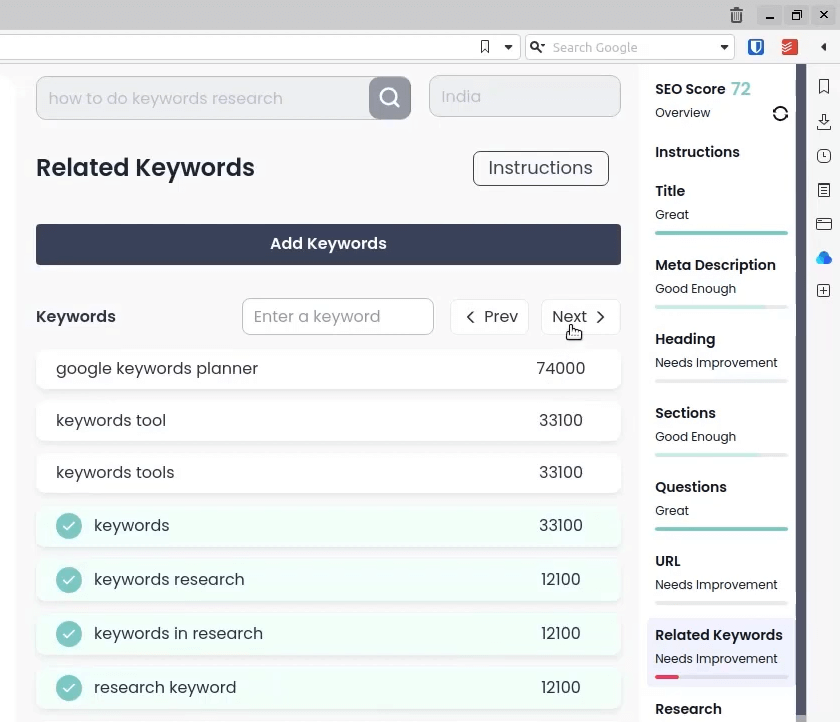 And also whenever a particular keyword that I've already used, it will automatically say I've used this keyword.
And do remember that related keyword, if let's say, for example, you add this keyword inside just as a text and press refresh, then it won't update yet because what, from the founder's perspective was, these keywords need to be highlighted in some way with it's in H2 or it's in H3, or it's in H4, or it has been bold or italic, or something like that.
They normally will consider as a related keyword.
I requested a suggestion for it, I'll show you guys in a later stage in this guide when I talk about the content depth functionality.
You also have the option to browse through the list, for example, I only want two related keywords, I can search for them.
And if I click that save, it will now use this keyword plus all the related keywords it can find for this particular term.
So, we can do that and that move keywords into this mix.
And also, this is one of my favorite features – adding keywords manually.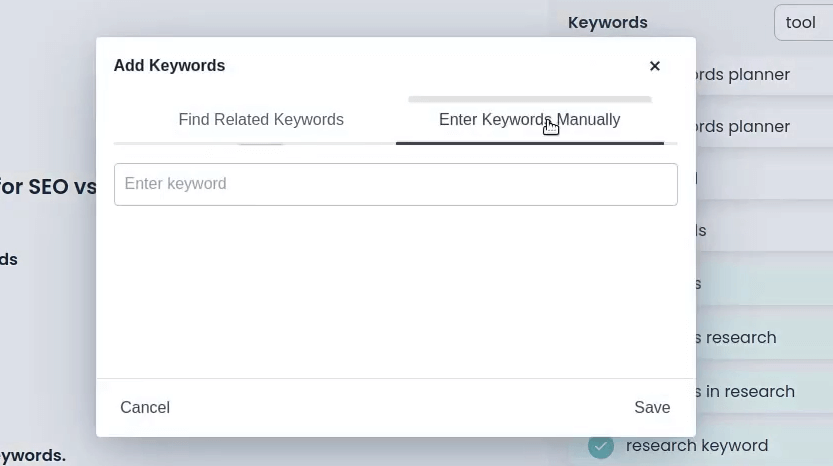 Let's say, for example, I don't want to use this tool for my keyword research. I have my personal favorite dedicated keyword research tool.
I can do the keyword research there and bring the list as a new line text or a comma-separated one and I can paste this and I can see all the data within here, but it's a bit still restrictive since we can't highlight these things unless it's optimized in an HTML format.
So, this is what the related keywords section does.
Research
The research section as well, it will just scrape the entire content, which the competitors are having on their Webpage, and it will show you the backlink data and everything.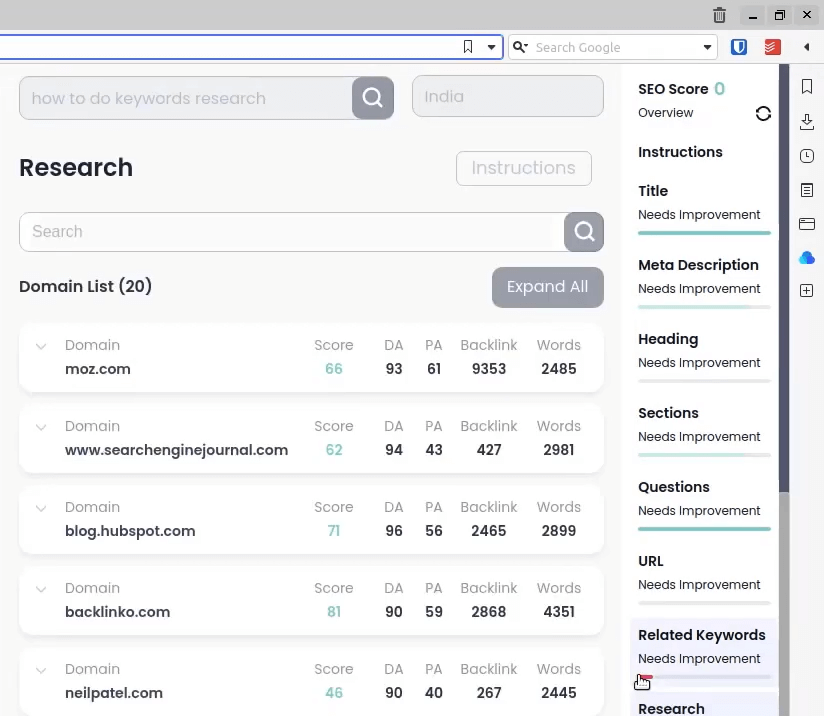 Basically, it will show you the data and when you open it, you will see all the content which is coming from this page and you can also search through it.
So, if you want to find data inside that without opening a new URL, you can see the content presented here.
So that is what it should do.
Content Depth
Content depth is the same. Unlike related keywords, it shows the logically related secondary keywords.
Content depth just shows all the different pieces of text, which are mostly used in that particular tool.
It will also show which word is used a lot so I will try to make use of this word.
So that is how content depth also works. It's not just for keywords but just for words also.
Outranking SERP Analysis
Outranking SERP Analysis is like a holy grave for a data guy, and let me show you what I'm talking about.
First, you want to choose how many results you want, from 10 to 50. This means how much competitor data you want to analyze.

And also, you can choose different device preferences because Google does change their SERP ranking for desktop and mobile so you can choose based on that.
And you type whatever keyword or phrase you want, for example, I'm going to put "how to find low competition keywords"
Now, what it will do is it will go out and scrape 30 different sites and try to bring all sorts of results from them.
So, it went out to all these 30 different ranking pages and collected all different databases.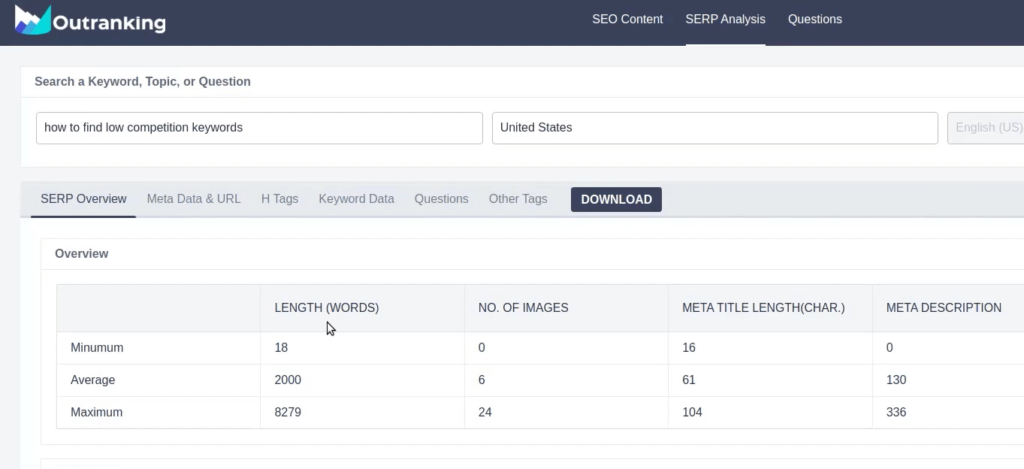 It shows the total number of words on the top 30 results. It also shows what is the average, what is the maximum, what is the minimum, what is the number of images being used on this by the top 30.
Meta title length, what is the minimum, what is the maximum meta description, and does it have a featured snippet, does it have a questions people ask also section.
How many pages are missing meta description, missing meta titles, all these things you need to know.
And also you can directly see the SERP results.

It shows the total length for each one, how many backlinks they do have in this case, what is the do-follow, what is the no-follow, and the SEO score, according to the Outranking AI formula.
And it's also showing you how many external site links are there.

For example, it shows what are the external links these guys are linking to and related keywords also giving you.
Let me go and go into different tabs.
Meta Data & URL
For example, if I go into metadata and URL, it should show you all the results regarding SEO metadata URLs.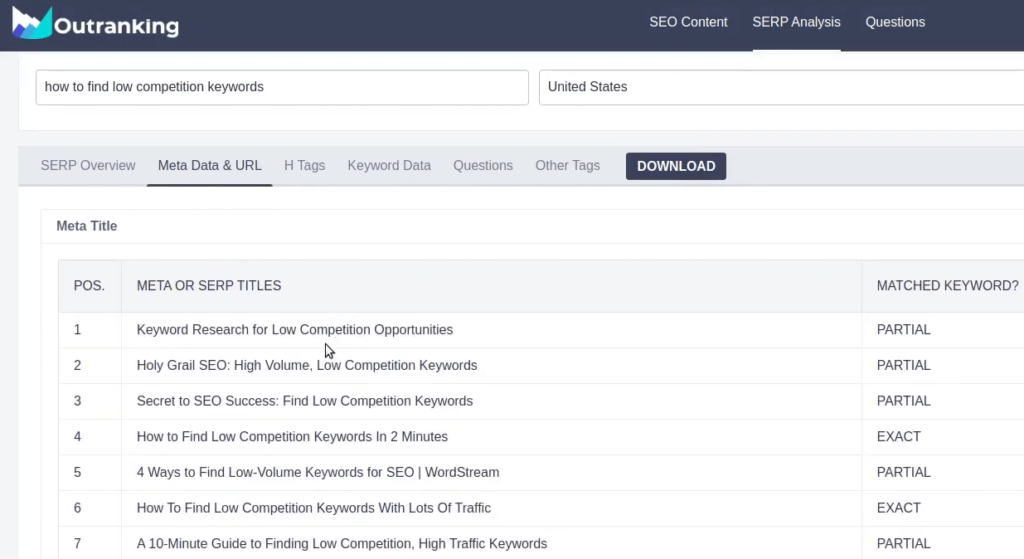 For example, choose all the meta titles, it shows whether the exact keyword is matched, or is just a partial.
Whether there are any frequent keywords.
Meta description and the same thing, it shows all the meta, whether directly used frequency keyword, and also partial or exact keywords.
Meta property. It's like an old description, as structured data. It shows all those data descriptions and as well, these are the description mostly used in social media when you share.
And in social media, this text and title may be used for that.
Keyword Data
If I go into keyword data, now it shows all the most used keywords.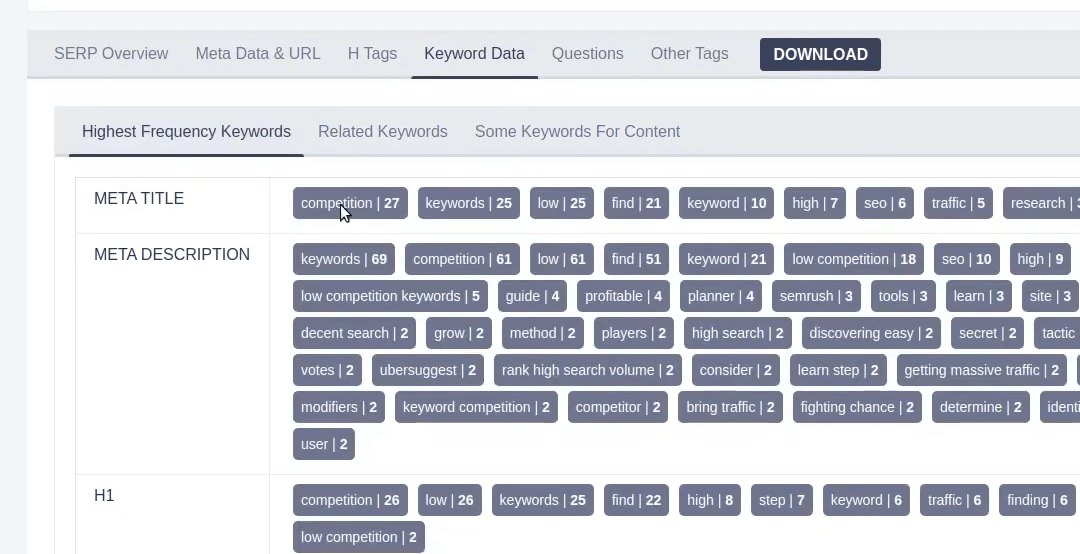 For example, I can immediately say meta title. These are the keywords, which are getting used. Meta description, these are the most keywords getting used. It's true, these are the most keywords.
So, with this also, I can easily plan out my content and structure it and make sure that I use these keywords also to make sure that it's relevant.
For example, it takes page URL, all the list, unordered list, all texts for majors and context.
If there are any tables that also will take content within the content.
If I go into the relevant keyword, it will show all the relevant keywords with the data it provided.
And it also shows how many times it was used on different sections.
Besides that, you can also see:
And the crazy thing is if you click on download, it will get all the data from here in an Excel spreadsheet.
Outranking Questions
This feature is specifically for you if you want to find a lot of questions related to your keywords.
I just inserted one keyword and you can see it brought almost 560 different questions.
So it works very similarly to AnswerThePublic.
Outranking Pricing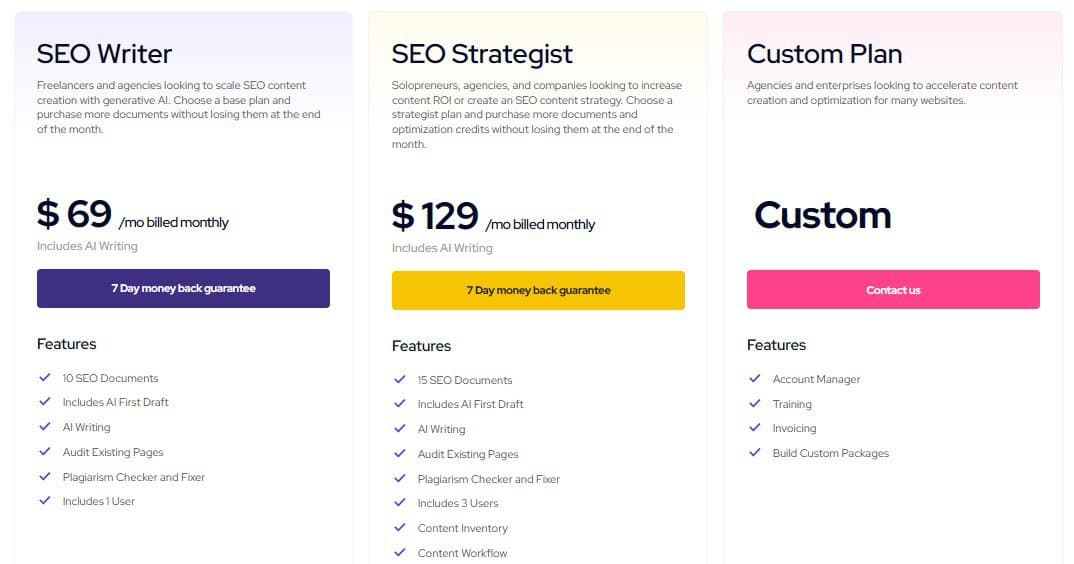 Outranking.ai has 3 different pricing plans:
Outranking also offers a completely free plan for our readers where you'll get access to 2 SEO documents/searches 2000 characters of AI writing, SEO content editor, featured snippets, and so much more.
Outranking Pros & Cons
Here are the pros and cons of Outranking based on our testing:
Pros
Professional SEO tools while keeping it beginner-friendly

Clear step-by-step instructions for users to optimize their content

Detailed SERP analysis tool

Efficiently create comprehensive content in a brief amount of time

Lower price compared to competitors

Optimizes content and allows you to write articles faster

6

Saves time on research

Powerful AI SEO tools not available on any other platform
Cons
Lack of variety for long-form content

Requires specific input data for optimal results

No free plan available
Outranking Alternatives
Here is a list of the Outranking alternatives:
Outranking Review Final Words
So this is my Outranking review. We went over all the features and functionality, I showed everything.
This is why I told you this is like a database, many databases you are getting for this in one place.
I personally see a lot of potential in this, especially considering the fact that they are just launched the product.
You can export all this into an Excel document. You can give it to an SEO person or writer to use this asset research if they want, or if you want to put it into a different system or application that is also possible.
Hopefully, this helps you to understand how this great SEO AI tool work.