However, if you try and focus on all of them at once you are going to wear yourself out.
It's very important as an affiliate marketer to just master one traffic source at a time, focus on it, get traffic, see the results before you move on to the next traffic source.
So today I'm going to talk about all the best paid traffic sources for affiliate marketing and then we're going to get into some more strategies on how to improve performance on your paid traffic campaigns.
Let's get started.
Before Starting Paid Traffic Affiliate Marketing Campaigns
For almost all of these paid advertising traffic sources that we'll talk about today, you'll need a pre-sell page or a landing page.
You can't send people straight to your affiliate links otherwise you'll get banned. So if you want to do affiliate marketing like a pro, make sure to check out:
So first major piece of advice is you always need to use a pre-sell page or a landing page before running paid ads.
Now there's a number of reasons for this.
First off, if you're doing advertising on Google, YouTube, Facebook, Instagram, or basically any other major ad network, you have to use a pre-sell page.
They do not allow you to directly link to the affiliate offer itself. It's just necessary for 90% of the traffic out there.
The second reason you do this is because it warms up the traffic.
Even if you were allowed to direct link to affiliate offers, it wouldn't be worthwhile. I tried it and that's what held me back for four years.
You want to warm up the audience, you need to sell them. Again, people don't want to just step in, see a product and say, "Oh, okay. It's $50, I don't want to buy this."
You need to explain to them and create the rationale, give them a video, give them an article that really convinces them of why this product is something they'd want to buy.
This should be a way of educating them.
People hate being sold, and the recommendation coming from an article or a video is going to have a massive effect on conversion rates.
You should be seeing 30% conversion rates when people click over to the affiliate offer that you are promoting and you will not get that if you are direct linking to anything.
And this is what actually held me back in affiliate marketing. I kept trying to do it the hard way by not having a website. I failed way more than I ever succeeded.
But once I actually started using pre-sell pages and I loved using Builderall to create them, then I actually started making sales.
So my point is before you even start to think about paid traffic for affiliate marketing you need to have a sales process and for this, you're going to need a website or a sales funnel. Obviously, you can use both.
If you're struggling at this point, make sure to check out these guides:
👉 How to build an affiliate marketing sales funnel
👉 How to create an affiliate marketing website
Pro Tip
In case if you don't want to build your sales funnels from scratch, I highly recommend checking out Builderall Funnel Club, which is the largest library of over +400 done for your sales funnels where you can also find a lot of funnels for affiliate marketing.
Benefits Of Paid Traffic For Affiliate Marketing
While SEO and content marketing is something you will have to prepare for (for longevity and unstoppable income), I prefer to do all my initial testing and research with a paid traffic campaign, and here is why.
I always recommend to people who have a budget to start immediately with affiliate arbitrage using paid traffic and will show you an example.
But first, here are the benefits to starting first with a paid traffic campaign
Most of the biggest online affiliate marketers (who earn more than 7 figures annually) are doing it through paid advertising.
It is an essential affiliate marketing skill you will eventually need to master if you want to really make a living online doing this.
Now, let's take a look at the best paid traffic sources for affiliate marketing.
1. Facebook Ads
Facebook is probably by far in a way the top paid traffic source for affiliate marketing that works right now. It's like that probably for any affiliate network that's out there. It is still the lion's share of traffic.
However, the prices of Facebook ads have increased over time because the number of advertisers on the platform has increased.
And not a lot of affiliate marketers are actually relying on the platform for traffic, which is not always a good thing to do because you don't want to rely on one single traffic source.
Facebook's method of allowing you to target your audience based on:
Location
Demographics
Interests
Behaviors
Engagement
And you can use any combination of the targeting methods.
So, you can really, really dig down into Facebook and use their platform to advertise specifically to people who would be interested in what you're promoting.
However as I explain in my guide to Facebook ads for affiliate marketing, there are some cons of running ads on Facebook as an affiliate.
Facebook doesn't really like affiliates, let's just be honest.
You don't want to be putting out affiliate links straight up on Facebook, otherwise, you get banned.
And that is again, because affiliates are highly aggressive, especially performance marketing affiliates who are running highly aggressive angles, such as celebrity angles and all that kind of stuff.
These types of platforms like Facebook and Twitter do not cater too well to those types of campaigns and you will likely be banned if you're running that type of stuff.
If you're running ads as an affiliate on Facebook then you need to be extremely careful in providing good content.
One strategy with Facebook ads is to again create listicles or content that people enjoy reading, they enjoy engaging with, run engagement ads to that page at the same time, while you're trying to run a conversion campaign.
This will boost your quality score at the same time, giving you a cheaper cost per click.
There are many strategies on Facebook ads that we cover inside our Top Affiliate Training.
2. Google Ads
Many people use Google Ads for affiliate marketing for a long time.
The key to success with search ads is to start by targeting keywords that have buyer intent or keywords that are most likely to convert into leads and customers.
The thing with Google ads is when you have a good ad and you do things right you can get really laser-targeted traffic.
And the reason why you can get that is when people go on Google search engine, and they're typing for a specific solution to their problem, they're looking for something that they need or want more information of.
And imagine your ad is basically displayed as one of the top results on Google.
What are the chances of those people actually clicking in to check out your ad?
Quite a lot.
With Google Ads, it's very targeted traffic if you set things up right.
If you get good at Google Ads, you can definitely do well with affiliate marketing, paid traffic that way.
And what really works on Google search is by setting up either a lead capture form so you can collect your own email addresses and at the same time deliver content through your website, or another strategy that works is if you can find affiliate offers that are other forms or other types of lead capture offers.
So, if you can use the front page of a website that you've built and tap into another affiliate offer through the backend, then this actually works well, and Google sees this as a separate website.
You definitely do not want to get caught for double serving, which is running two domains at the same time from different accounts. This is a strategy that works for affiliate marketers in terms of running offers on Google search.
Now, another strategy is to build a full-out website and create actual content that you can put onto the Google Ads and run your pages like listicles or reviews.
Just like Facebook, Google is actually been known to not really like affiliates that much and that is because a lot of affiliates were highly aggressive over the years and put in pitching products through simple, what they call bridge pages.
This is just by getting an ad, sending it to a bridge page, and then just trying to get a sale immediately.
Again, make sure it follows their guidelines because especially Google will just immediately ban you for no reason sometimes so you have to be very careful to make sure that your campaigns follow their ad guidelines.
3. Microsoft Ads
Microsoft Ads or Bing Ads is one of those traffic sources that is excellent for affiliates especially because it's cheaper than Google Ads, there's a lot of search traffic and they don't mind you using bridge pages as much as Google does.
Because as mentioned earlier Google doesn't like that because people on their platform were not having a good experience so they started to really crack down on affiliate offers.
However, on Bing advertising or Microsoft advertising, you can still do this, but I'm sure that down the line, it's going to also be a problem for people using Bing so I guess while the action is hot, you can still focus on Bing and do that type of strategy.
So Bind Ads is another search engine platform that you can actually buy search ads but at the same time, you can also get audience ads.
Audience ads are kind of like native ads which I'm going to talk about here in a bit
I highly recommend Microsoft Ads to start since you can get much cheaper search traffic and they are more lenient in their rules for advertising, especially for affiliates.
4. YouTube Ads
YouTube ads by far and away started surging in a big way in the last part of 2021 and have come back big.
Over the last 24 months, there's been a real upward trend when it comes to YouTube advertising.
And the reason for that is YouTube is actually the second largest search engine in the world.
So, when people are searching for something on the YouTube search engine, let's say they want to find a particular solution or product and they do the search, then they see your ad running before they find organic search results, that's highly targeted traffic.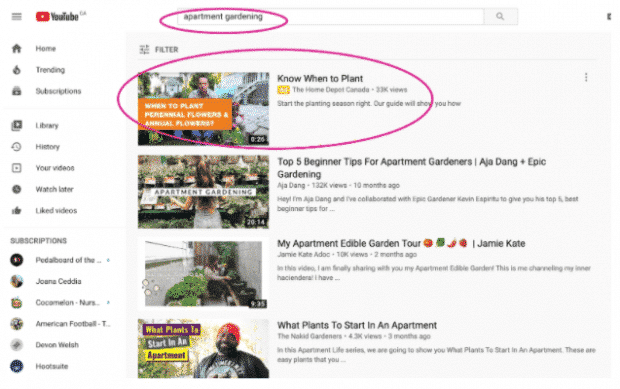 And not only that you can put your ad before or after, in the middle of the other videos, or even on the sidebar, so lots of ways to target there.
It seems like they're a little friendlier to advertisers than Facebook's been lately so a lot of people have been moving budget off of Facebook to YouTube ads and doing really well with it, especially with higher ticket stuff.
And YouTube is actually part of Google so when you actually open a YouTube ad account, you're actually going to do it through Google ads.
Again, if you understand how to do this with YouTube, you can get really good quality traffic for affiliate marketing so that's something worth checking out as well.
And if you want to learn more, make sure to check this step-by-step guide on how to use video for affiliate marketing.
5. Solo Ads
The next one I want to talk to you about is solo ads.
Solo ads are, for those of you that don't know, it's basically a way for you to tap into somebody else's email list.
Let's say, for example, you are in the health & fitness niche and you have an affiliate product that you're promoting and you go to a platform like Udimi, and you look for somebody in the health and fitness niche who has a large email.
And what you would do through this platform, contact them and ask them that you have this offer and if will they run your solo ad.
So, they'll email the list and basically show them your affiliate offer.
And when you agree to that, through this platform is pretty simple to do, then you can get fast traffic literally within 24 hours and start seeing some sort of results very quickly.
Here you can find out more on solo ads for affiliate marketing.
My Advice on Running Solo Ads
Now, the thing about solo ads you've got to remember is that there's been a lot of talk about solo ads being, they are work or they are fake.
As with anything, you need to do your own due diligence, you need to know what you're doing when it comes to solo ads.
Always do small traffic runs, buy small amounts of traffic, get your feet wet, see what kind of results other people are getting.
Do your own research before you put your money down for that traffic.
And this is with any form of paid traffic that I've mentioned to you, if you start putting in a lot of money initially, that's a fool's game because you don't know how that traffic will convert for you.
So always test more and build and see what's working, invest more in what's working, and obviously cut on what is not.
So, you can check out solo ads from Udimi. This my affiliate link where you'll get like a $5 discount for your first purchase if you want to check that out.
6. TikTok Ads
TikTok is a great way to do affiliate marketing itself.
I've tried TikTok ads yet however, I've heard through the grapevine that there's a ton of cheap traffic on TikTok.
I believe it's another one of those traffic sources that is going to do well with a younger demographic so if you have offers that are catering to the people in their 20s or 30s then maybe that is something you want to test TikTok ads.
7. Snapchat Ads
Snapchat ads are a younger demographic so if you have a product that is related to a younger demographic let's say between 18 and 30 it usually tends to work better there.
And I mean obviously, it goes younger but those people don't generally have credit cards so if you're trying to sell stuff for the younger demographic this works well as as well.
And this is because a lot of the younger people are looking for auto insurance, loans, mortgages, maybe on a new house all of these things tend to work well on snap ads
Now of course make money online also works on snap ads however it's a little more strict when it comes to putting up those ads.
So you have to be careful about how you word your ads, your videos have to be very well articulated so that you do not break the rules on Snapchat ads.
8. Native Ads
If you're not running Native ads, then you are really missing out on a vast amount of traffic from all around the world.
Native ads are basically the ads at the bottom or at the sidebar of every article you read on major news networks where it says "you may also be interested in" or "you may also like these articles"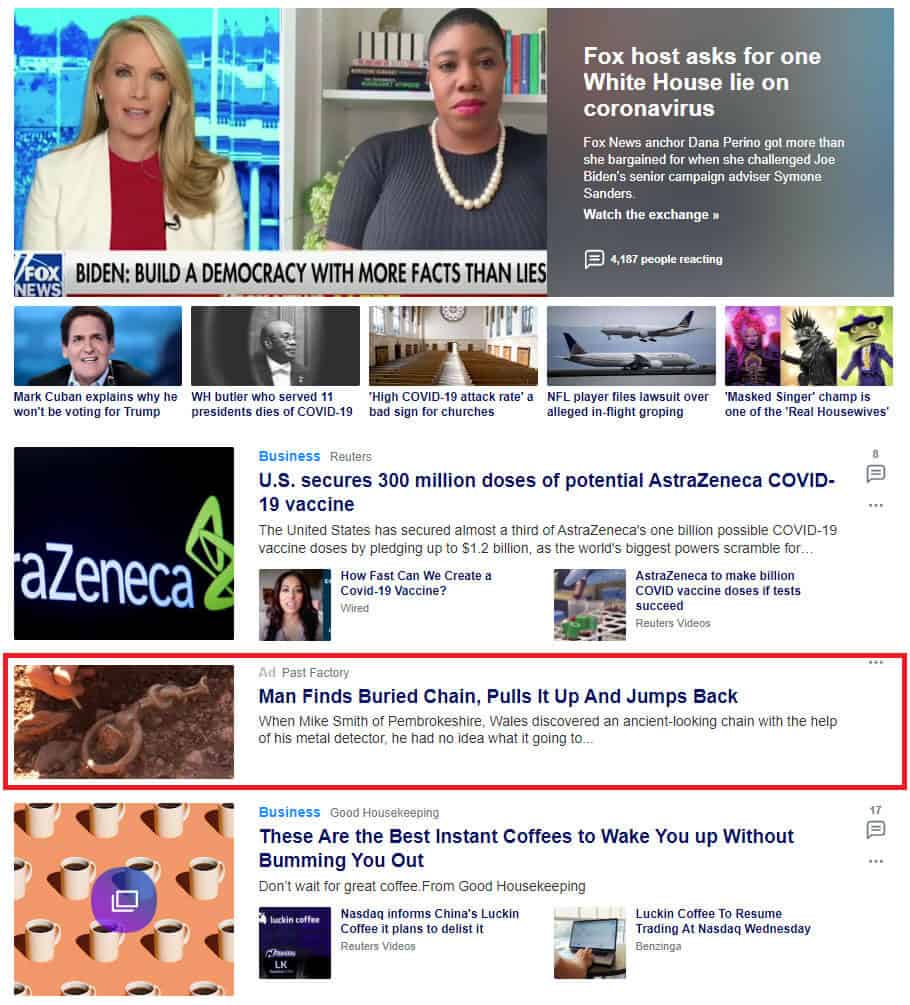 And basically, they are their pictures with a headline and a description. And when you click on it goes to another article which is designed by the advertiser themselves which looks like an article.
Simply put, you're making your ad and your page look like another news site or another article related to the topic you're advertising on.
it works extremely well because people are usually engaged in their reading content they see your ad they think they're getting more content they go there and then eventually they click on something if you're trying to get a sale it's very easy to do as long as you know how to target the right placements and you use really great images.
Big ones would be:
Taboola
Outbrain
Rev Content
Nativo
Gravity
There's a lot of other ones out there that can work really well. It can be much cheaper traffic than Google or Facebook with less converting.
So, you're going to go for more of a volume play on clicks versus maybe more targeted clicks and some of these other channels. So those are the big ones.
A lot of people who have had trouble on and getting banned for running affiliate campaigns are removing a lot of their budget over to native ads because native ad platforms are a little more lenient for affiliates.
You can run more aggressive advertorials; you can run more aggressive offers on native ad platforms.
Now, the more popular a native ad platform is, or the more money they make, the more strict they become. This is just how it works. They want to protect their empire, will say.
For example, Taboola and Outbrain are a little bit more strict than if you were to go to Rev content, MGID, or Content ad.
So, if you're running a super high aggressive type of offer and you don't think you'll be approved on Taboola or Outbrain, and then try it on Rev content, MGID, or content ad, and you might actually get approved there.
Now as those other platforms develop their systems and make more money, they're obviously going to implement more strict rules so now is the time to try it out.
9. Pinterest Ads
I have seen a lot of people in my affiliate marketing team people are having success with affiliate offers on Pinterest especially listicles or lists of products related to the same category.
So you could have "10 of the Best Home Improvement Products" and you can have a list and then pictures of them all on Pinterest.
And the traffic itself is actually extremely high quality.
The only problem is they don't have the massive numbers like you would see on Google and Facebook.
But you can get very targeted with it. All kinds of niches on there, so something to keep in mind.
10. Linkedin Ads
linkedin ads are also very pricey and they are related more to the business area.
So if you're selling some recurring affiliate programs like software that works well on Linkedin.
Wealth-related, investment-related, anything about finance these all seem to work well on Linkedin.
But again you're going to be paying a high price for those clicks so you might want to focus on high ticket offers.
11. Twitter Ads
I have actually not ran twitter ads myself, however, I know other people are having a lot of success there.
One day I might try it, one day I might not.
There are just so many other options out there but Twitter ads is a big platform and I see them all the time on my feed so I'm not going to ramble on because I really honestly haven't tried them myself.
But it is something to definitely check out as you continue looking for new traffic sources.
12. Push Notification Ads
These are excellent ad types for anyone who wants to get right into people's phones and you want them to see a notification every time they open their phone.
But you can also get the desktop ones that pop up on people's computer screens and when they're just browsing a website all of a sudden a pop-up comes up on the bottom right corner.
Push ads are actually a great traffic source for affiliate marketers because they allow you to do many things that Facebook will not allow you to do.
For example, you can run sweepstakes style offers which are email submits you can run casino, dating, make money online, crypto all of these things you can do on push ads which makes it attractive for many affiliates.
These are push notification ads you can get them in many different places as well.
13. Influencer Marketing
The next one I want to talk to you about is influencer marketing. We're talking about people on whether it's Facebook, Twitter, YouTube, all these different platforms; these people have built up their accounts to thousands, if not millions.
And what you can do is strategically tap into their traffic and basically start getting traffic to your affiliate offer. And there are now even websites that facilitate this.
One of the best ways to find influencers is by shoutcart.com.
This site allows you to basically communicate with and find out about Instagram accounts that are related to your niche which have a high following.
What you can do through Shoutcart is contact these Instagram or TikTok influencers and get traffic from them to your offer.
14. Email Marketing with PPC
The last type of traffic source is supercharging email marketing with paid ads. Now, in the other sections, I spoke about collecting emails, especially through Google search traffic or even your Facebook campaigns.
If you can collect emails from your website or a landing page you have full control over what you can send to your email subscribers.
And this is one of the strategies I use every single day is I build email lists using a platform called Builderall MailngBoss.
There are other platforms out there like MailChimp, GetResponse, Aweber, but many of them do not allow affiliate marketing.
But the point here is you need to leverage paid advertising to build an email list because then you are actually building yourself an asset online and you have full control over this traffic for when the other platforms just don't let you do what you want to do.
As an affiliate marketer, you definitely have to build a list and this is one of the best strategies you can do is to put it on your website, put a form so that when you send traffic there, people will actually join your list if you have something to a good affiliate marketing lead magnet.
How To Get The Most of Paid Traffic For Affiliate Marketing?
Now, I want to share with my top tips I have for you to amplify your paid traffic affiliate marketing campaigns.
1. Test Multiple Affiliate Offers
My second tip for paid advertising is you want to test offers to see what converts best.
One of the mistakes that a lot of affiliates make is to fall in love with whatever their offer.
They just love that one product whereas, with paid advertising, you can't fall in love with any particular offer. You need to just test, test, test, and go with whatever pays you the most money.
Take emotion completely out of the situation and just focus on the data of what pays you the most money.
Having one offer just puts you in a dangerous place because if that offer goes away, then you're left without an income source. And also, some offers don't convert as well as other offers so again, you need to test.
Some products go away, some affiliate networks go away as well so once again, you should have multiple offers that you are testing.
So, when you're building out your marketing funnels, when you're building out your ads or your pre-sell page, you should basically make your ads blind so that they can apply to not just one product but you can market multiple products.
So, an example would be is that you don't get too specific on the one product or the one company, you keep everything in your marketing high level so that again, it gives you the flexibility for people to buy, whatever it is you end up recommending.
Pro Tip
Struggling to find affiliate products to promote? Make sure to check out the best Clickbank products to promote where I also share my tips on how to promote them.
2. Keep an Eye on New Paid Adverstising Trends & Platforms
Keep an eye on up-and-coming new platforms. They often have much cheaper traffic and you get a lot better exposure with it because there are less people you're competing with unless we add buyers who are competing with on these newer platforms who aren't jumping on it yet.
So, it can be good to test that sort of thing.
The same with organic free traffic, if you're trying to leverage these platforms for organic, you often get a lot more exposure organically to newer platforms because they're trying to drive views and that really gets people committed to that platform.
And the same is true for the ads. They want people who are paying in there to have really good results.
So, you get some really good exposure early on, on these ad platforms when there's less competition and just more algorithm friendliness to your ad campaigns.
3. Build Your Email List From Day One
My last piece of advice is to never forget to build your email list if you want to build a sustainable affiliate marketing business.
I know marketers who were making thousands of dollars per day and now are making nothing because they never built a list. Once their ads stopped working, their income goes to zero.
Now what's great is if you have an email list, you keep making money even if your ads are turned off.
Inside Builderall MailingBoss I have an email list of over 43,000 people who have signed up for various email list promotions of mine over the years.
That helped me also create another income stream right there from my email list.
And you can build multiple lists as well.
So, you can build an SMS notification list, you can build, chatbot lists, notification lists, and more.
There are a lot of ways that you can build up your digital assets while you are doing paid advertising to generate money.
My advice is, get people on as many different lists as possible, and it'll help you in the long term.
Paid Traffic For Affiliate Marketing Final Words
So now you know everything about paid traffic for affiliate marketing.
Let me know what is your best paid traffic source for your affiliate business, where you got your first sales from, or if you're still testing, where you are most excited to buy traffic from, and really sink your teeth into affiliate marketing and ad buying.
It's a fun process to do. I leveraged Facebook, that's where I got my first sale. I want to hear what you've done to.
And if you're not ready for paid traffic yet, make sure to check out this list of best free traffic sources for affiliate marketing.