There are many AI copywriting tools coming out and I've tested and reviewed on the blog most of them.
And today, we'll cover Peppertype in terms of pros, cons, ease of use, and how it compares with some of the best Ai writers like Rytr.
Let's find out.
Peppertype AI Tools
Peppertype AI has 34 different copywriting tools that you can use.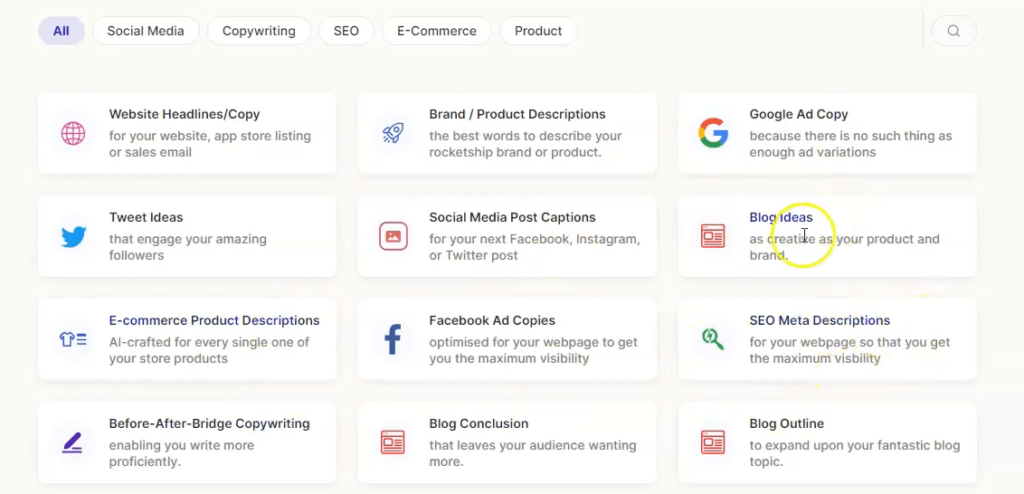 And a lot of you might be familiar with Jarvis.
Regulars to this blog know that I've been using Jarvis for several months which is my number one recommendation.
It does offer just about every other type of content that you would need that we're going to do some testing to see what we can come up with as far as a blog post, just using a couple of their different tools.
And now I'm going to go over some of these tools.
Let's create long-form type content.
Peppertype AI Blog Ideas
To create an article with Peppertype AI we need to start with the "Blog Ides"
And I'm just going to type in "lose weight fast"
I'm going to throw that in here and let's just see what it comes up with something very generic like "lose weight fast"
And here are the blog ideas.
So pretty good.
And once we choose the idea for our blog post, next we're going to create a blog outline.
Peppertype AI Blog Outline
To create an outline, first, we need to type in the product/brand name.
So my brand name is going to be "lose weight report" and the topic that we're going to talk about.
Now it's going to go out there and let's see what it can do for us.
Here are our blog outlines.
I will select the second option, copy that and paste it into the "Blog Intro" tool which leads as to the next tool.
Peppertype AI Blog Intro
Since we have the blog idea and the outline all we need to do is to paste it into the "Blog Intro" tool.
And it generates for us 3 different intro ideas.
So that's pretty cool. Really high quality. There is no fluff which I really like.
So one thing I wanted to do was try out the content expander.
Peppertype AI Content Expander
So I'm just going to put in the project name a "lose weight report" again.
And then "what sentence or thought would you like to expand upon?"
I'm going to type in "Health benefits of weight loss"
And let's see what it does for us.
So all it had was like 4 words and look what content it brought back.
And it just literally went off and wrote 4 large sentences for us. And so you could easily just take that first part.
But let's expand one more sentence using this tool but this time using some more advanced options like keywords and tone voice.
We're going to type in "How to make losing weight, easy"
And keywords are going to be: run, lift weight and drink lots of water.
So, we want to mention those three keywords
And look at what it came out with.
And you can see it used these keywords in the content.
And so the more I use this, the more I'm actually liking this software because now all you would do is just do the other two headlines and you'd have another two large paragraphs.
But let's finish this article with a conclusion.
Peppertype AI Blog Conclusion
And we know it's for a blog called "lose weight fast" and then we can go ahead and throw in the blog topic that we generated before.
We can also do a call to action if we want it to, and then we can do create the paragraph.
So I'm going to take this first one. Losing weight is hard, but losing weight fast is even harder. So it included what we wanted. This is why it's important to have a place.
So you can see that you can still use this to do long-form content.
It just takes a few more clicks.
And this is the entire article that we generated.
So we've got a 450-word high-quality article.
If we continued on, we would have a 650-word article in a matter of about 10 minutes and you can see it's really nice.
Peppertype AI Lifetime Deal on AppSumo
And if you do want to pick this up, this is a really cool time because if you want to avoid having to pay monthly, you get a lifetime deal on AppSumo
So, if you want to jump in on this and you actually want to test this out before this comes off of AppSumo, you can purchase it for a one-time payment of $39.00 to $199.00.
They have 207 reviews on around a five-star. That's a lot, anything over a hundred means it is really good software and people are really liking it.
Peppertype AI Pricing
Peppertype.ai has 3 different pricing plans:
Starter Plan – $35/month
Growth Plan – $199/month
Enterprise Plan – Custom pricing
They do have a pretty good price compared to other AI copywriting software because even on the lowest plan you get unlimited content generation.
Also, if you pay yearly it will cost you $25 a month or $300 a year.
And right now, as a Jarvis member, I pay $1,200 a year to use the unlimited plan.
If we go monthly, then you're looking at $35 a month. It's still a really good price – $420 a year.
So it's still 1/3 the cost of other more expensive competitors.
Peppertype AI Alternatives
Here are some Peppertype alternatives:
Jasper AI
Copy.ai
Nichesss
CopySmith
Shortlyai
ContentBot.ai
Peppertype AI Review Final Words
And there you go. This is my Peppertype AI review. There's so much more you can do using this cool AI copywriting tool.
So far I'm really liking Peppertype. I like how simple it is to use the software. However, when it comes to the quality of the copy is comparable with some cheap software like Nichesss
And this is different than Jarvis. This is it goes out and just produces the content for you. We're not doing any writing. We just it's as good as the input we put in, but we're not going in and pushing a button to write more for us.
Leave a comment below if you like this and you want to see me do some tutorials on how to use Peppertype AI.